Driving in Greenland
Driving in Greenland is unlike anywhere else in the world. The longest road runs for about 51kms, there are no roads between towns, and there is no car ferry to transport your vehicle from one place to the next. You are therefore confined to a small area around each town.
That being said, with Greenland's arctic weather conditions, hiring a car can be very practical for your visit. Only Nuuk and Sisimiut have a bus service, but even then, waiting in the cold for a bus is not fun.
We work with quality car rental companies around the country and can easily help you secure the best deal.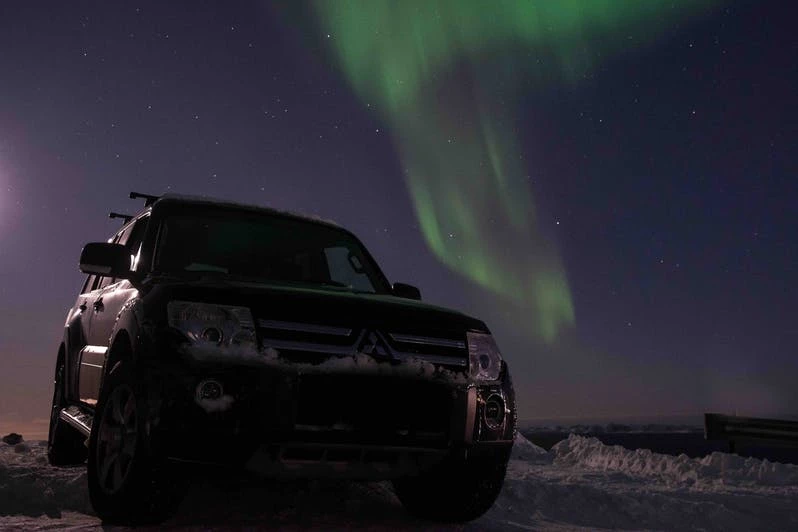 Tips for driving in Greenland
Given the small size of even the largest towns in Greenland, you'll rarely have issues with traffic congestion or impatient drivers. Most drivers are very courteous, and if you avoid peak hour (which in Nuuk lasts about 15 minutes), you'll find driving in Greenland stress free.
The most important things to be conscious of if you are visiting during Winter, are the snow and ice conditions of the roads. However, cars are equipped with winter tyres, the roads are generally well cleared, and gravel or sand is regularly laid. This means that driving is safe so long as you maintain a speed that is appropriate to the conditions. If in doubt, take it slow, and pay attention if the car tells you it is slippery!
Keep an eye out for pedestrian crossings! These may be marked with lines on the road, but these are not visible when they are covered in snow. Pedestrian crossings are also signalled with a blue and white sign on either side of the road.
Give way to dog sleds. If you are above the Arctic Circle or in East Greenland during Winter, remember that dog sleds always have the right of way.
Rules and regulations
The driving laws in Greenland may be different to those in your home country, so make sure you take the following on board:
Drive on the right hand side of the road
The minimum age is 18 and a valid driver's licence is required. If your driver's licence is not written with the Latin alphabet, you need an international driver's license.
In most towns, the speed limit is 40km/hr. If you are driving in Nuuk – there are some roads where the speed limit changes to 60km/hr. Keep an eye out for the changing speed limit signs as you run the risk of a fine if you exceed them.
For safety and legal reasons, drivers must keep headlights on at all times and all passengers must wear a seatbelt.
As with everywhere else in the world, driving under the influence of alcohol or drugs, and using a mobile phone while driving are forbidden. If you are seen by police, you will be fined.
Enjoy your stay and drive with care