The world's largest island is easy to get to, but there are limited options to get you there. There are no bridges, tunnels, or ferries that connect it with other countries, so you must fly. In particular, you must fly from either Denmark or Iceland. There are no flights from North America or elsewhere in Europe at this stage.
Flights to Greenland
To fly to Greenland you have 2 airlines to choose from
Icelandair
Icelandair flies from Keflavik International Airport (KEF) directly to several places in Greenland. During Summer, there are daily flights to Kulusuk (KUS) on the east coast and, on the west coast: Ilulissat (JAV) in the north, Nuuk (GOH) in the middle, and Narsarsuaq (UAK) in the south. During Winter, it is primarily Kulusuk (KUS) and Nuuk (GOH) that are serviced.
Icelandair offers flights from Iceland to Greenland, with smooth flight connections from all its destinations in the US and Europe.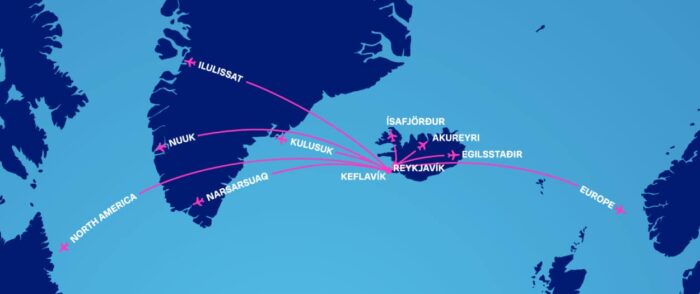 Air Greenland
Air Greenland is Greenland's national airline, with more than 50 years of experience flying in extreme Arctic conditions. They operate the primary route to Greenland between Copenhagen and Kangerlussuaq, with up to 10 flights/week during Summer. They also have direct flights from: Keflavik Airport (KEF) in Iceland to Nuuk (all year round), Keflavik Airport (KEF) to Ilulissat (Summer only), and Copenhagen Airport (CPH) to Narsarsuaq (UAK) (also only during Summer).
Whichever way you choose to travel to Greenland, Air Greenland is the only airline that will fly you from place to place while you are there. With a fleet of helicopters and small aircraft, they connect settlements with 50 people or more to the rest of the country.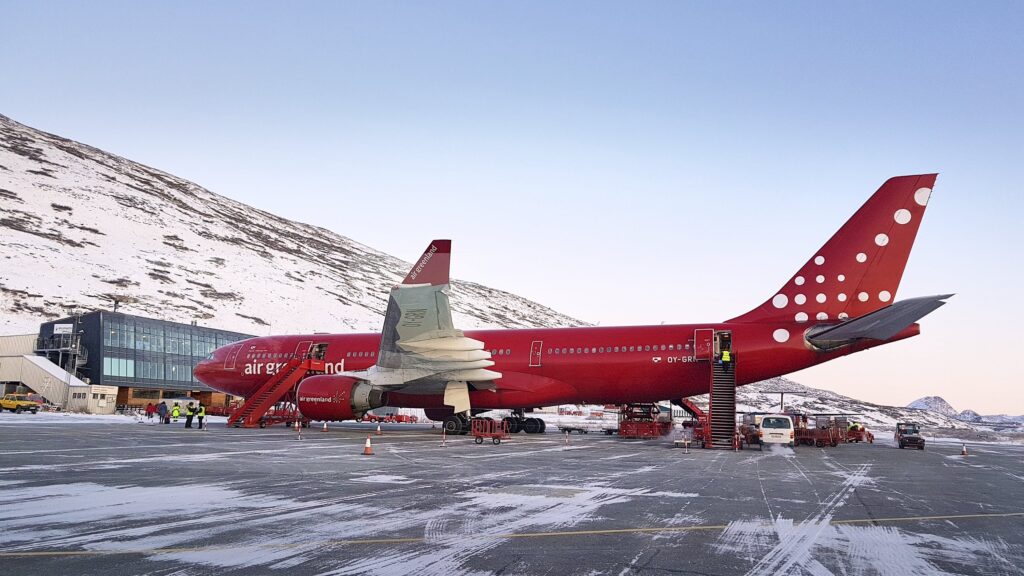 Frequently asked questions
1. How much does it cost to get to Greenland?
The average price for a standard economy return ticket is between 3,000 and 5,000 Danish Krone (DKK), depending on the season. This is roughly equivalent to USD$500-800 or EUR€400-670. Note: this only covers your direct international flight, which may not take you to your final destination. It does not include any onward flights within Greenland.
2. How much does it cost to travel within Greenland?
There are no roads in Greenland. To visit several different places or to arrive in your desired destination from your international landing point, your only options are to take a boat (not always possible) or fly. Depending on where you are trying to get to, it may cost you the same or even more than the price of your international flights to Greenland. For this reason (and to avoid surprises), many people choose a vacation package with flights, hotels and experiences included. If you are visiting the West coast of Greenland, there is another long-distance option.
The Sarfaq Ittuk Passenger Ferry plies a weekly route from Ilulissat in the north to Qaqortoq in the south, with stops at each of the major towns and some of the small settlements in between. It operates from April to January and, if you have the time, is a fabulous way to travel in Greenland and meet local people.
3. Do I need a tourist visa to visit Greenland?
A normal Schengen visa is not valid for travel to Greenland.Although Greenland is not part of the Schengen agreement, it is part of the Danish Realm. Therefore, if you do not need a tourist visa to enter Denmark, you also don't need a visa to enter Greenland. However, if you do need a visa to enter Denmark, you should state on your application that you also wish to travel to Greenland so you are issued with the correct visa.
It is best to check the New to Denmark website for the most up-to-date details of visa requirements.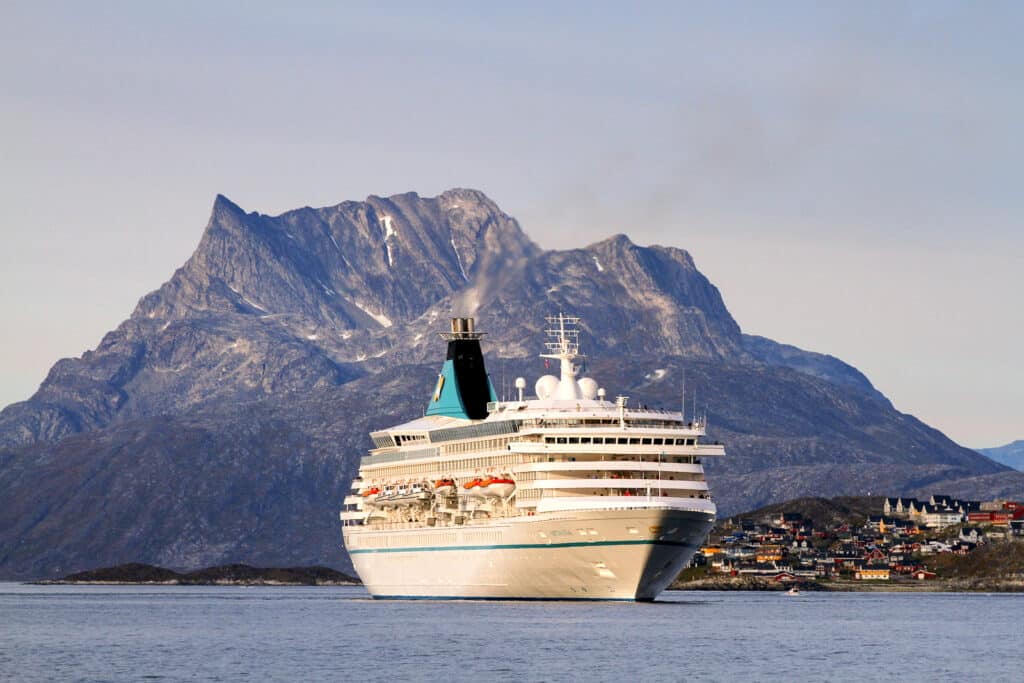 4. Is there a ferry between Iceland and Greenland?
There are no ferries to Greenland from other countries. The only way to arrive in Greenland by ship is to take a trans-atlantic cruise that incorporates Greenland. Within Greenland, Sarfaq Ittuk is the only passenger ferry.
5. Are there highways in Greenland?
No. There are no roads at all between the cities, towns and settlements of Greenland. Every town is like an island that is surrounded by either mountains, water or ice, and the only way to travel between them is either to take a boat (not always possible) or fly. There are a few places where small settlements are close enough to a town that it is possible to hike to them (during Summer) or ski, snowmobile, or dogsled (only above the Arctic Circle and in East Greenland) to them during Winter. In the far North, it is also possible to drive across the sea ice to reach nearby locations.