The Ultimate Travel Guide to Aasiaat
Aasiaat is off the beaten tourist path in Greenland, making it an interesting town to visit for a few days while in the Disko Bay area. So what is there to do once you arrive? How do you get there? And where exactly is Aasiaat? Read on to discover everything you need to know in order to plan an incredible travel experience in and around Aasiaat.
Colorful houses line the shore while howling sled dogs announce your arrival.
Welcome to Aasiaat! One of the "undiscovered" major towns in Greenland.

With a population of 3,164 people (2019), Aasiaat is the 4th largest city in Greenland and the logistics and education hub of North Greenland. Although not known for tourism, there is plenty to do, including uncrowded whale watching tours in the Summer and dog sledding in the Winter.
This Ultimate Travel Guide to Aasiaat contains all the information you need to plan and get the most out of your visit to this off-the-beaten-path location.
Chapters
Where is Aasisaat?
What is the best time to visit Aasiaat?
What should I pack for a visit to Aasiaat?
How do I get to Aasiaat?
How do I get around Aasiaat?
Things to do in Aasiaat
Accommodation – where to stay in Aasiaat
Restaurants and cafes – where to eat in Aasiaat
Nightlife in Aasiaat
Souvenir Shopping
Emergency Information
Book your trip to Aasiaat
Where is Aasiaat?
"Aasiaat" means "spiders" in Kalaallisut (the Greenlandic language). Although Greenlandic place names tend to be descriptive, no one is sure exactly why it is called this as there are no more spiders in Aasiaat than in the rest of Greenland (ie there are very few).
Aasiaat is located on a small island of the same name and is part of a larger archipelago that runs along the southern part of Disko Bay. This "land with a thousand islands" is a great area for kayaking as the numerous low islands provide protection from the wind, and camping spots are easily accessible.
What is the best time to visit Aasiaat?
Aasiaat has a lot to offer during both Summer and Winter. The best time to visit comes down to what you would like to experience.

Winter and Spring
Although the temperature stays well below zero, these are perfect conditions for skiing, dog sledding, snowmobiling, and ice fishing adventures. The dark skies also mean that you have front row seats to one of nature's most spectacular light shows – the incredible Northern Lights.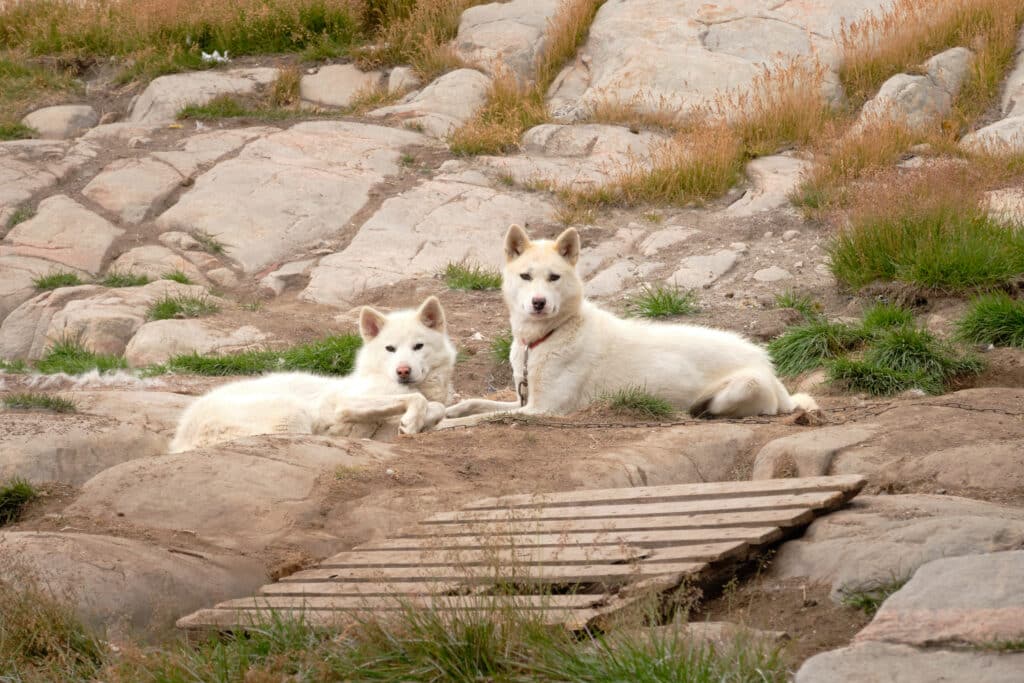 Summer and Autumn
Summer brings 24 hours of daylight to Aasiaat, and a popular pastime is to go sailing or kayaking through the archipelago under the Midnight Sun. Out on the water, you have a very good chance of randomly spotting some of the many whales that visit the area during this season. Or you can take a specific Whale Watching tour that utilizes the experiences of the local hunters to take you to where the whales were last seen.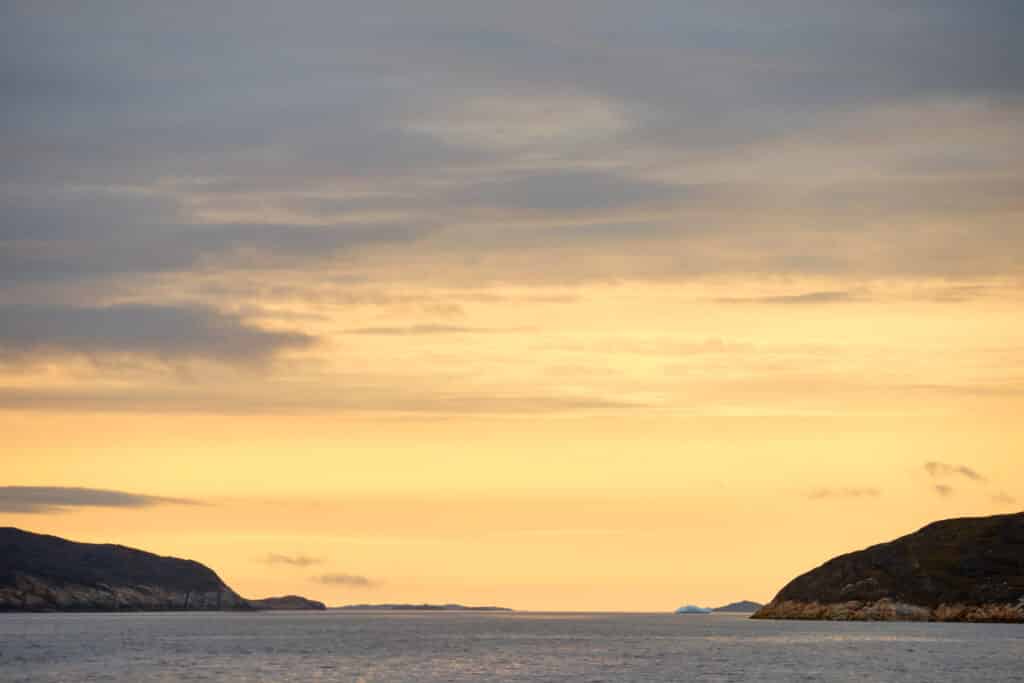 Summer is also the time for festivals in Aasiaat, including:
June 21 – Greenland National Day celebrations with bonfires, choirs, and people in national dress
June – Midnight Sun Marathon. As the name suggests, this is a marathon run under the Midnight Sun. Given the small size of Aasiaat island, you can expect to do quite a few laps
July – Aasiaat Kulturfestival with music, art, and Greenlandic food
August – Nipiaa Rock Festival. The largest annual rock festival in the Disko Bay area.
When you are planning your trip to Aasiaat, particularly if you are traveling in winter, it is also useful to know the time of sunrise and sunset. Enter your date of travel into the Aasiaat page at meteogram.org to discover how much daylight you will have, as well as the times of the different twilights, golden hour (for photographers), and a lot more.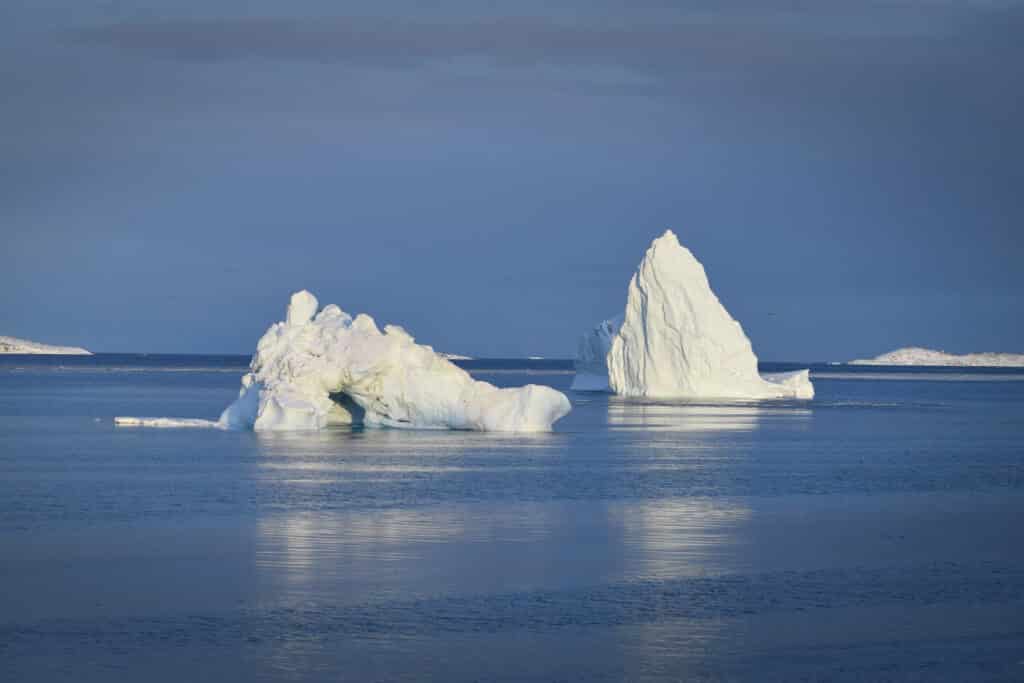 What should I pack for a visit to Aasiaat?
The season you are visiting and what you plan to do while in Aasiaat will largely determine what you should pack for your trip.
Clothing
Regardless of when you plan to visit, you should always follow the layering principle with your clothing. All buildings are heated to a comfortable temperature, but when you are out and about you need to be prepared.
During Summer, you should always carry at least a mid-weight hoodie/sweater and windproof/waterproof jacket. Other warm clothing (such as a light down jacket, warm head covering, and gloves) is also recommended, as you just never know what the weather will do. That being said, don't forget your sun hat, insect repellent, and head net.
During the colder months, you will need much heavier outer layers (top and bottom) and insulated boots. Tour providers have suits that will keep you warm while out on excursions, but you also need to be prepared for while you are outside exploring on your own.
In all seasons, make sure you bring sunscreen. The sun can be very strong in the Summer and even in Winter. It is easy to get sunburned when you spend the whole day outside enjoying nature.
If you do forget something or discover that you have not brought sufficient layers, head to the sports section of Anuni (near the Pisiffik supermarket) for your best chance to pick up additional clothing.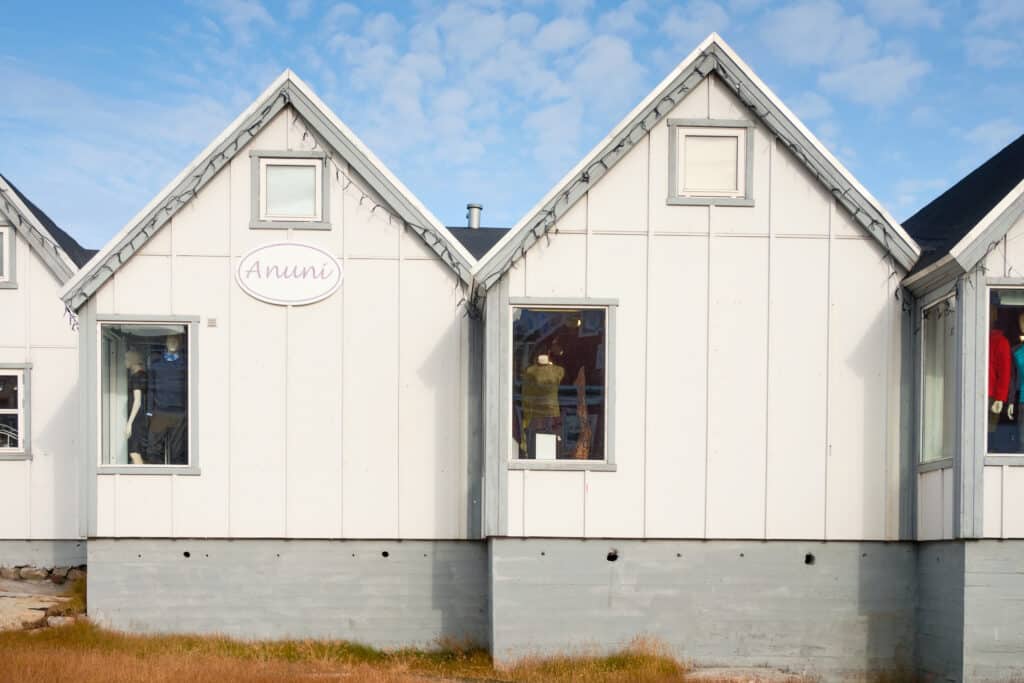 Outdoor gear
If you are planning an extended, independent kayaking trip, you should bring all of your own equipment with you to Greenland. That being said, it is possible to purchase very basic outdoor gear upstairs in the Pisiffik supermarket.
Electronics
Greenland uses the Standard European Plug (230 V) for its electrical outlets, so make sure you pack at least one of these if your electronics come from elsewhere in the world.
Don't forget your camera and at least one spare battery! Colder temperatures drain camera batteries more quickly. Make sure you don't miss a shot at the end of the day by bringing along a power bank if you use your phone or spare batteries for your camera. If you are planning to photograph the Northern Lights, you want to bring your own sturdy tripod. If you have one, of course.
Useful Apps
Maps.Me-appen er et fantastisk offline navigationsværktøj. Download We are big fans of Maps.Me app here at Guide to Greenland. Download the app and the map of Greenland while you still have internet access (internet is not prevalent and very expensive in Greenland), and you'll be set to find your way around during your stay. The app shows streets, places of interest, restaurants, accommodation, and even some hiking trails. It can also tell you the best way to walk, drive or cycle from where you are to where you want to go – just remember to turn on your GPS when you arrive!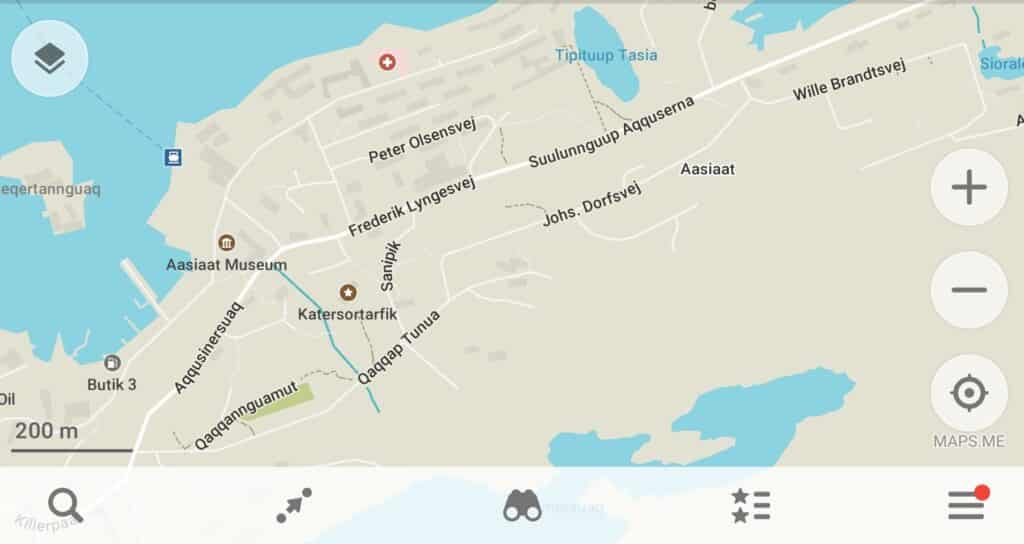 If you plan to photograph the Northern Lights with your phone, download both the SpaceWeatherLive (Android, iOS) app to monitor the likelihood of the lights appearing, as well as one of the Northern Lights photography apps that allow you to set long exposure times on your phone.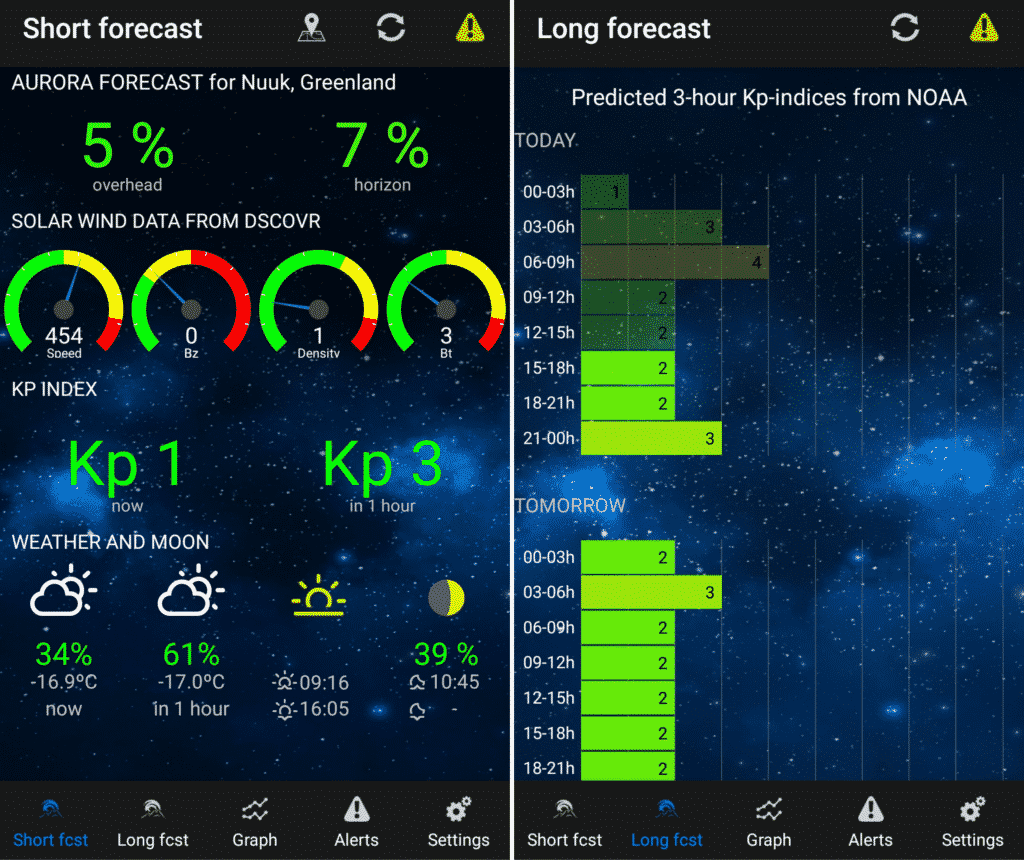 How do I get to Aasiaat?
Aasiaat is located on a small island that is only accessible by sea or by air. Both modes of transport are very common, though flights run far more frequently during Winter than boat transfers.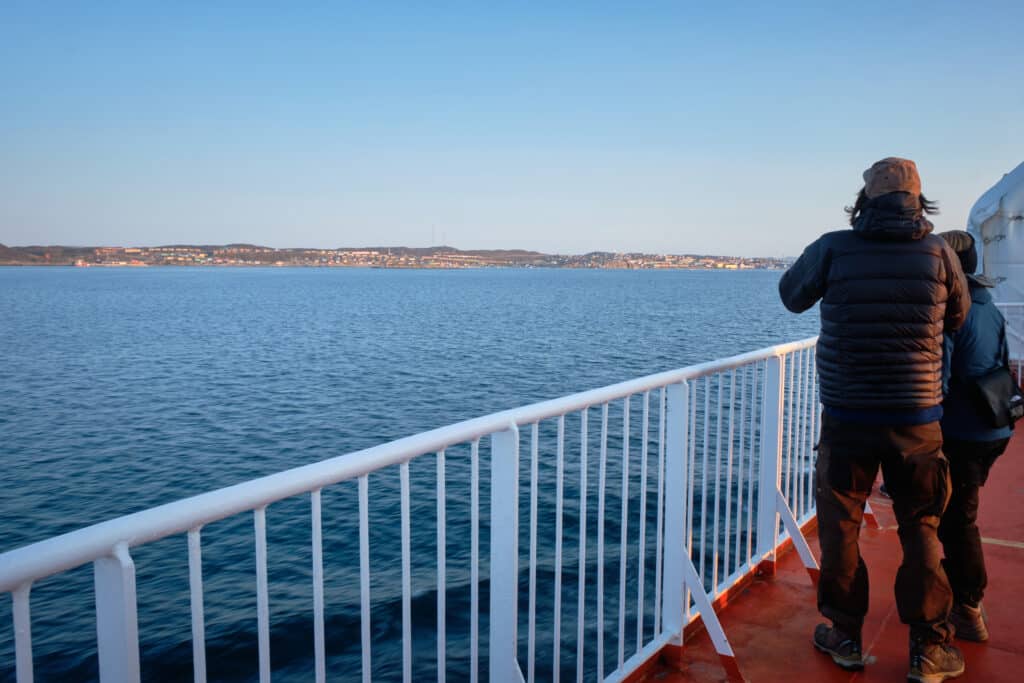 Flying to Aasiaat
There are no direct international flights to Aasiaat. You must fly into Kangerlussuaq, Nuuk, or Ilulissat first and catch an onward connection from there. Given the number of combinations, it is best to check the schedules from our flight's page to see which days each airline flies to where. However, the following will give you a general idea.
From Denmark, Air Greenland flies direct from Copenhagen to Kangerlussuaq on most days.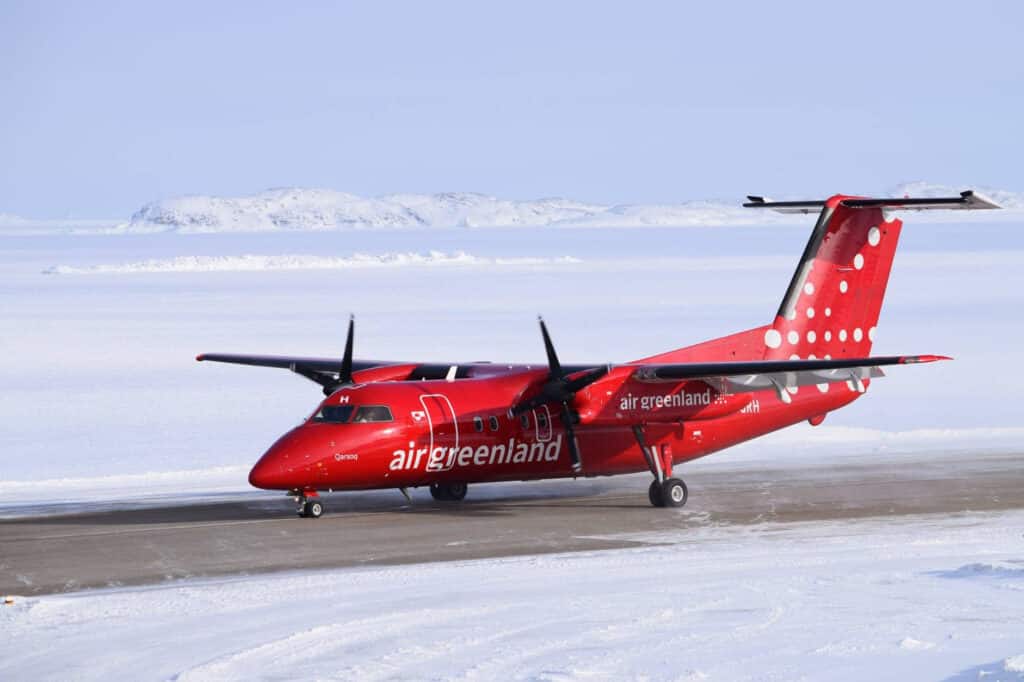 From Iceland, Air Iceland Connect offers direct flights from Reykjavik Domestic Terminal to Ilulissat during the Summer, and direct flights to Nuuk all year round. Air Greenland does the same from Keflavik Airport.
If you are already elsewhere in Greenland, Air Greenland will fly you to Aasiaat with a connection through Nuuk, Kangerlussuaq, Ilulissat, Qeqertarsuaq, or Sisimiut. It is best to check the schedule to see which days each of these flights is scheduled.
Arriving by boat to Aasiaat
DiskoLine is the main boat transfer company operating in Disko Bay. They offer direct boat transfers to Aasiaat from Ilulissat and Qeqertarsuaq and transfers with at least one stop from other settlements in the area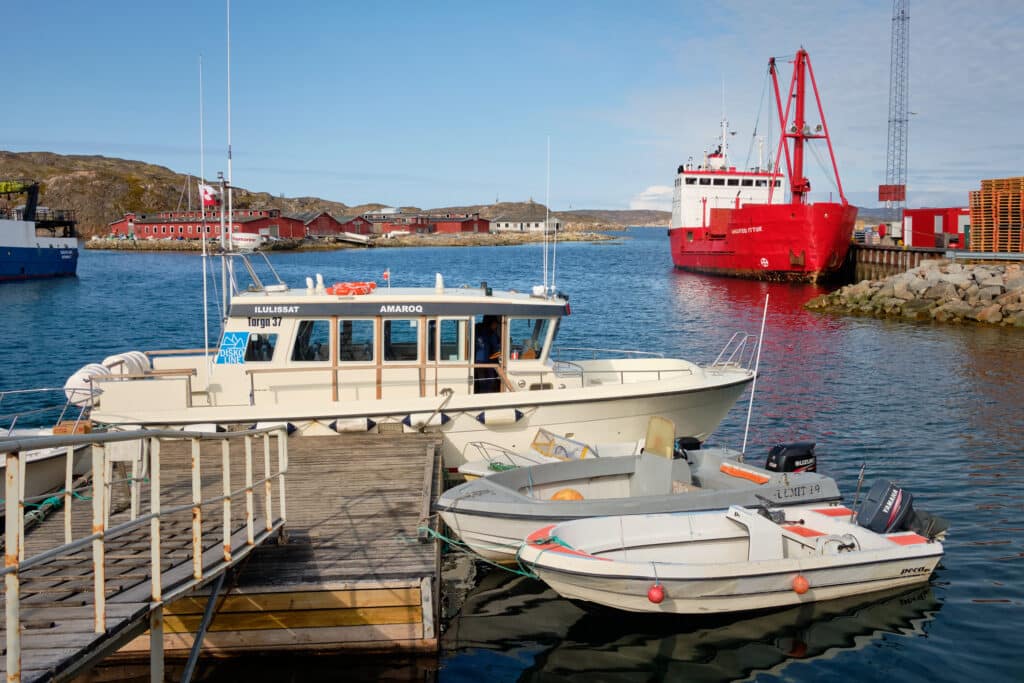 Aasiaat is also one of the stops along the route of the Sarfaq Ittuk Passenger Ferry that runs up and down the West Coast of Greenland. The exact schedule depends on the time of year, so check their schedule to plan your itinerary.
If you are taking a cruise to Greenland, Aasiaat may be one of your ports of call. If so, your cruise ship will typically dock for about 4 hours, so there will be limited time to explore beyond the town.
How do I get around Aasiaat?
Walk / taxi
Once you have arrived in Aasiaat, it is very easy to get around independently. Given the small size of the town, people generally just walk. However, there are also a few taxis – particularly useful if you need to get to the airport.
Water Taxis
If you want to reach one of the two other settlements in the area, DiskoLine offers transfers once/week to Kitsissuarsuit and once or twice/week to Akunnaaq. Otherwise, getting around the islands can only be done on an organized tour.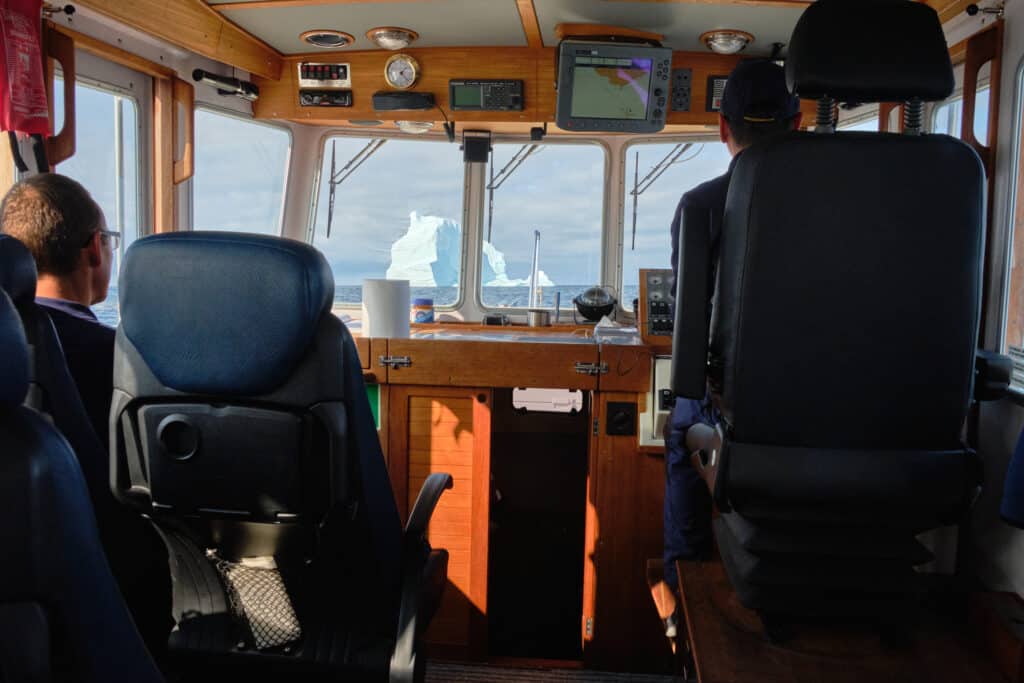 Things to do in Aasiaat
Although Aasiaat is not on the normal tourist route in Greenland, there is still plenty to keep you occupied. No matter what time of year you visit! Here are some suggestions:
Explore the city
The harbor
The harbor is an essential part of Aasiaat's infrastructure and a focal point for the town. Go for a wander along its length towards the Seamen's Home, stopping by the local market to see what the fishermen and hunters have brought in. You may also see repairs being done to some of the ships in dry dock.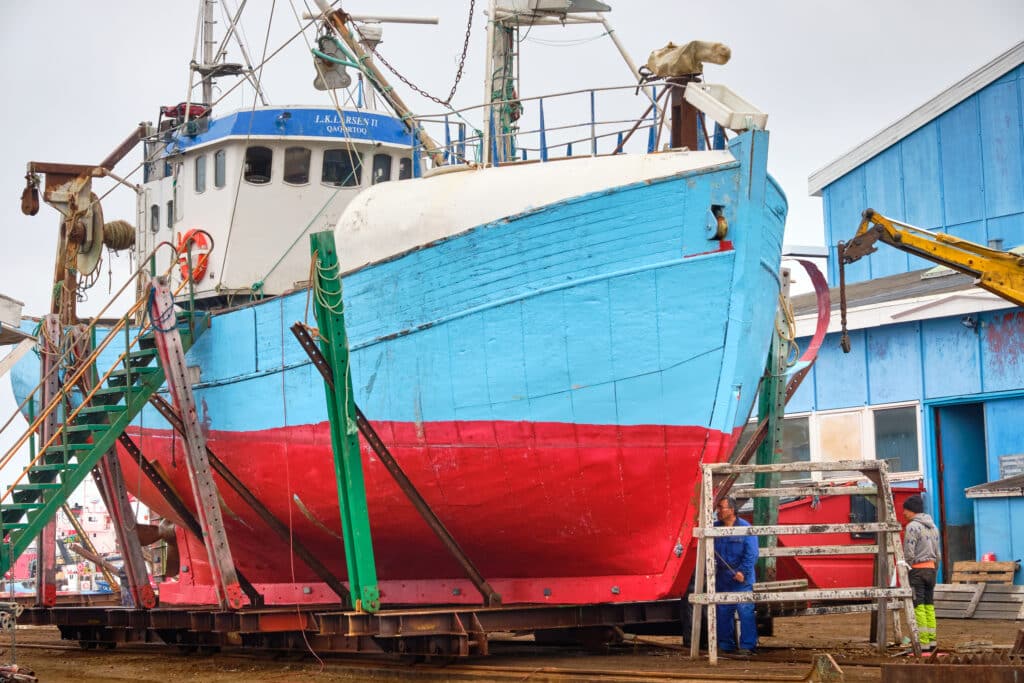 The Aasiaat Museum
The museum is well worth a visit, with some of the best displays of kayaking and dog sledding in Greenland. Housed in the old Governor's residence from 1860, it also tells the history of the settlement of Aasiaat, and of Greenland in general, in English, Danish, and Greenlandic.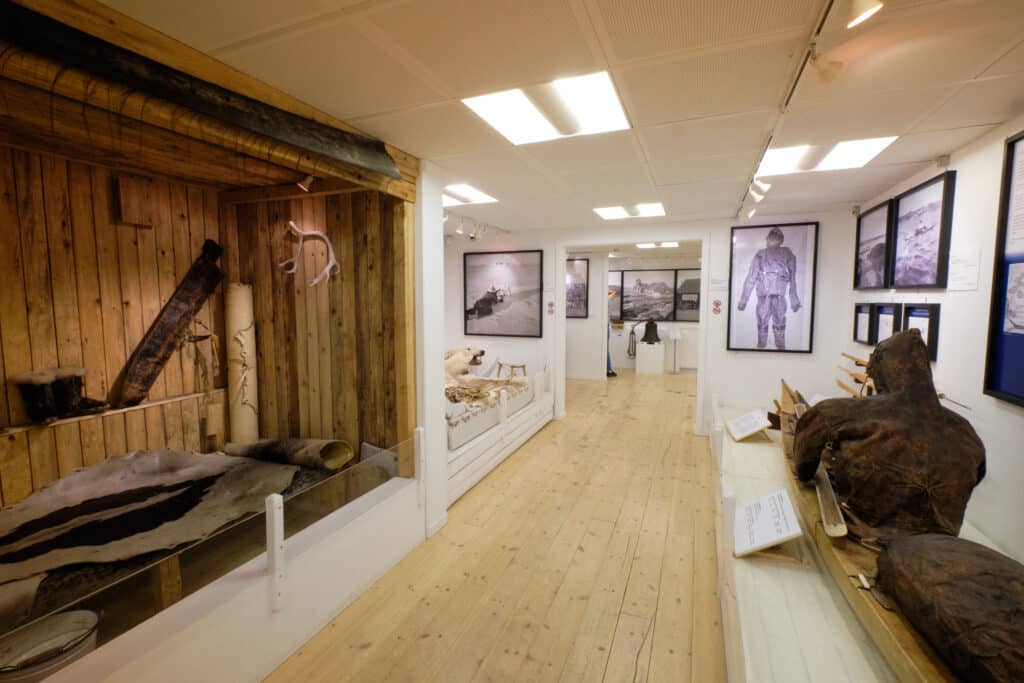 Just up the hill from the Museum, you will find Aasiaat's impressive church. Don't miss the amazing artwork on the back wall, and the model ship that hangs in the center of the church.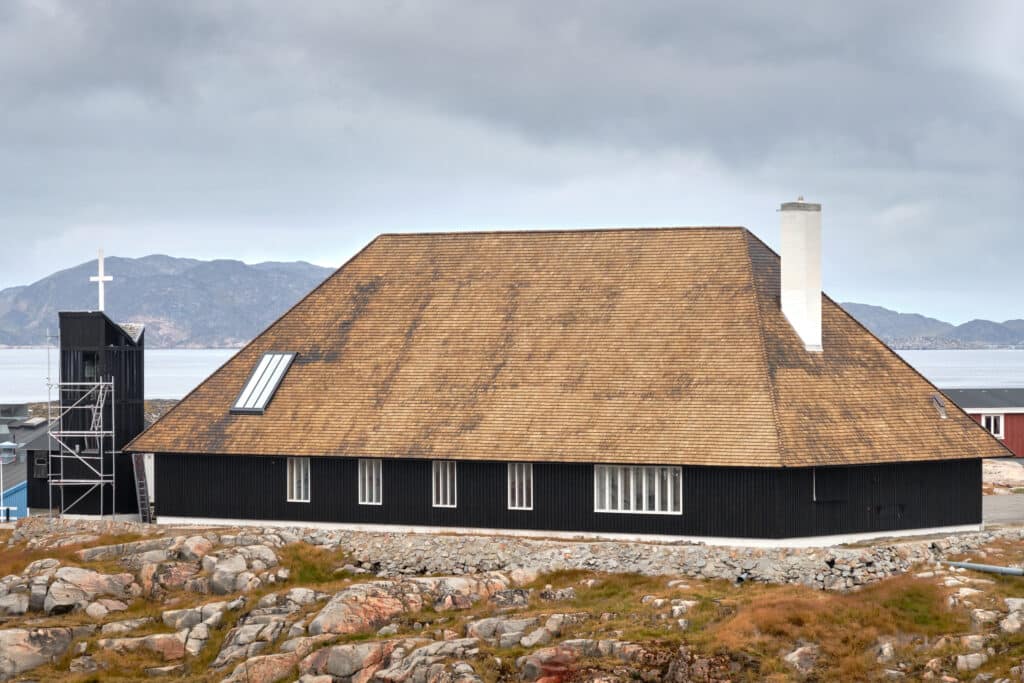 Other cultural attractions
For many more impressive works of art, climb the hill to the large Community Hall. The famous Danish painter, Per Kirkeby, spent the Summer of 1969 in Aasiaat. The 21 paintings he created during his stay completely cover one of the long walls.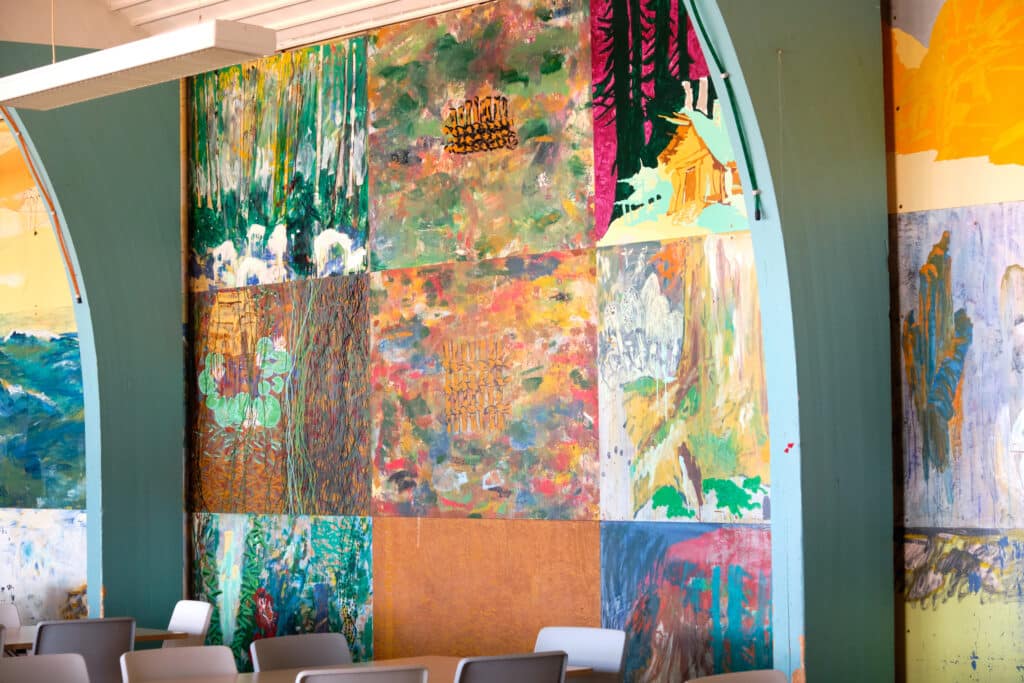 Further artwork can be found on a stroll around town. Wander amidst the long apartment blocks between the hospital and the Pisiffik supermarket to check out the incredible murals on the ends of the buildings.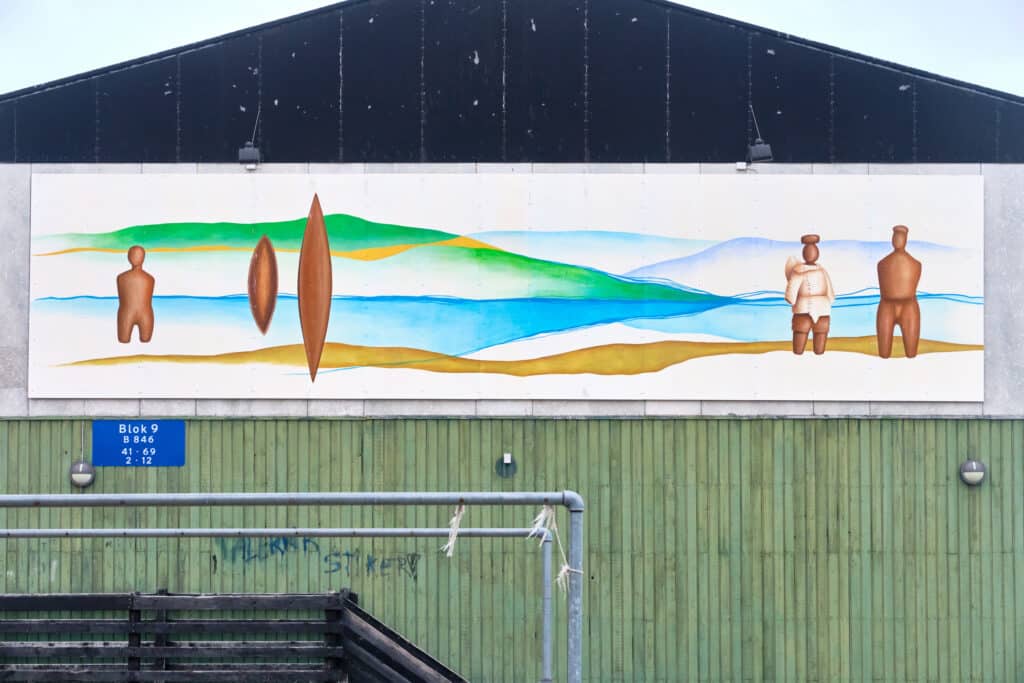 When you reach the far end – make sure you pop into the town library, which now occupies the historically-listed Girl's School from colonial times.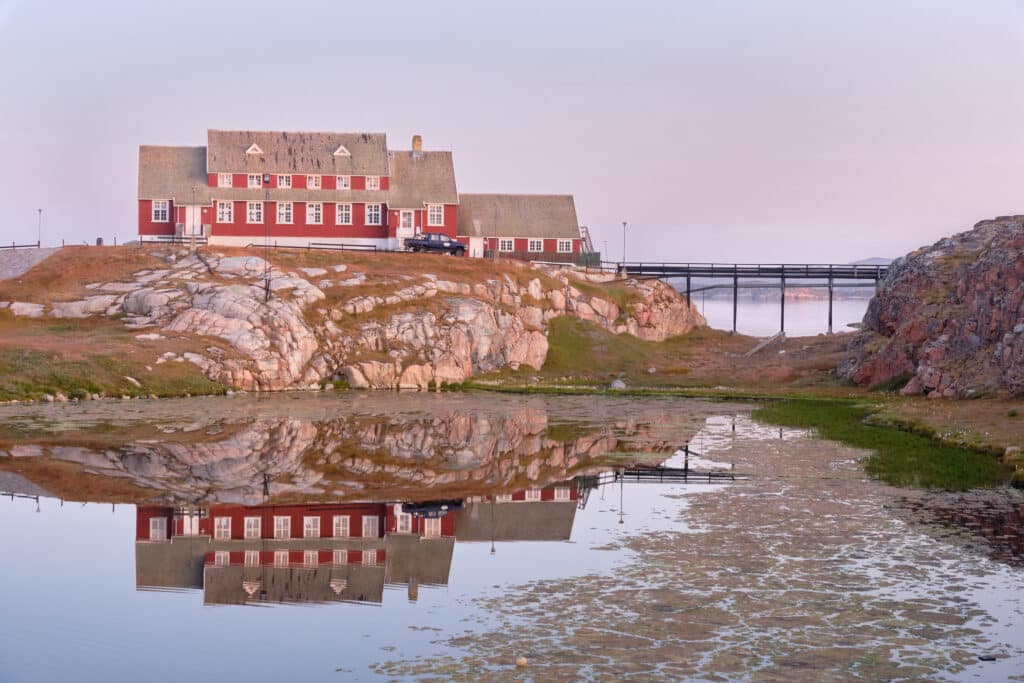 There are also at least 4 very finely carved sculptures located around the town. See if you can find them all!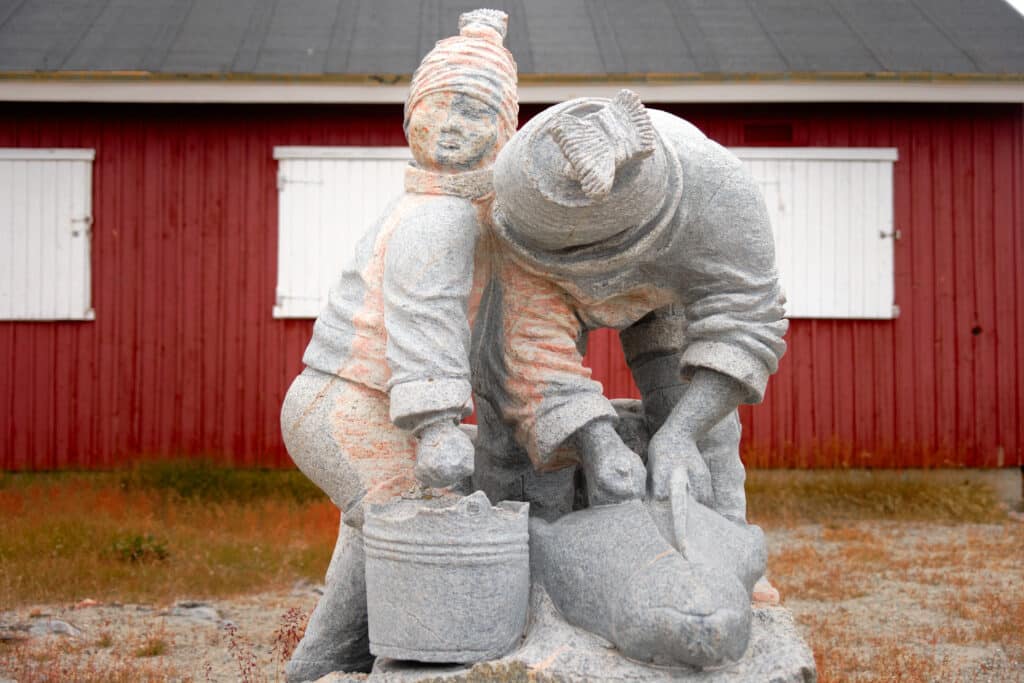 Finally, visit the amazing, modern fitness center to relax in the sauna or work out at one of the best gyms in Greenland.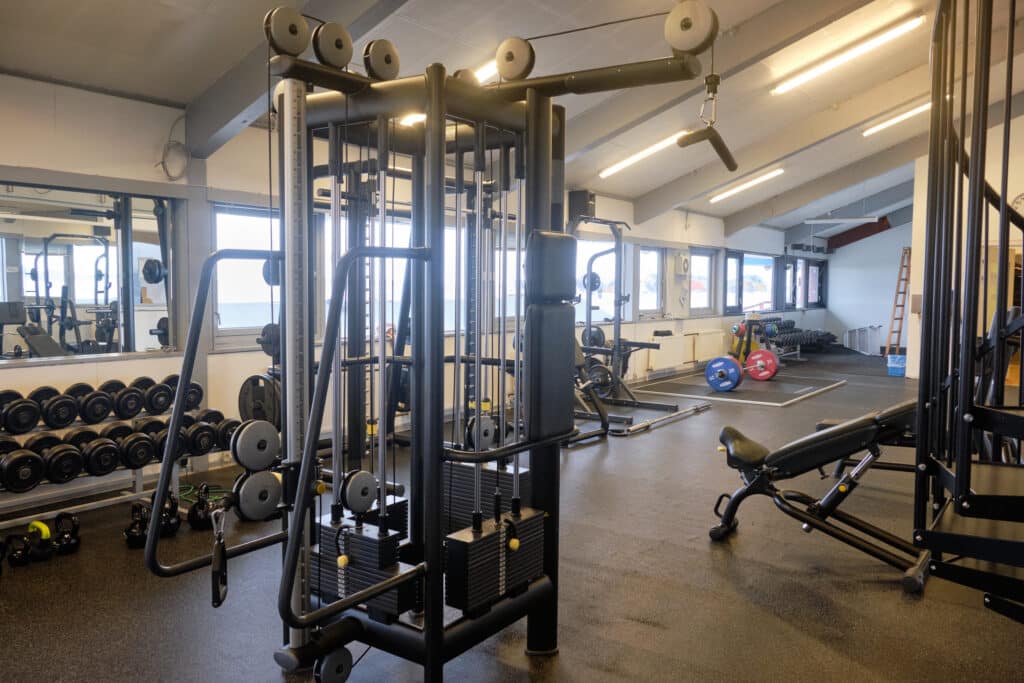 Outdoor Adventure
Aasiaat is a unique town in Greenland in that it does not have a mountain nearby. For this reason, although you can easily wander and explore this island, most people take to the water for their outdoor adventure.
Summer activities
During Summer, sailing between the islands in the archipelago is the thing to do. Depending on which direction you head, you can visit a whale graveyard (whaling was a big industry in the area many years ago). Visit a hot pool (though it will probably not be as warm as you are hoping!). Or sail past a wreck, and visit the settlements of Akunnaaq or Kitsissuarsuit.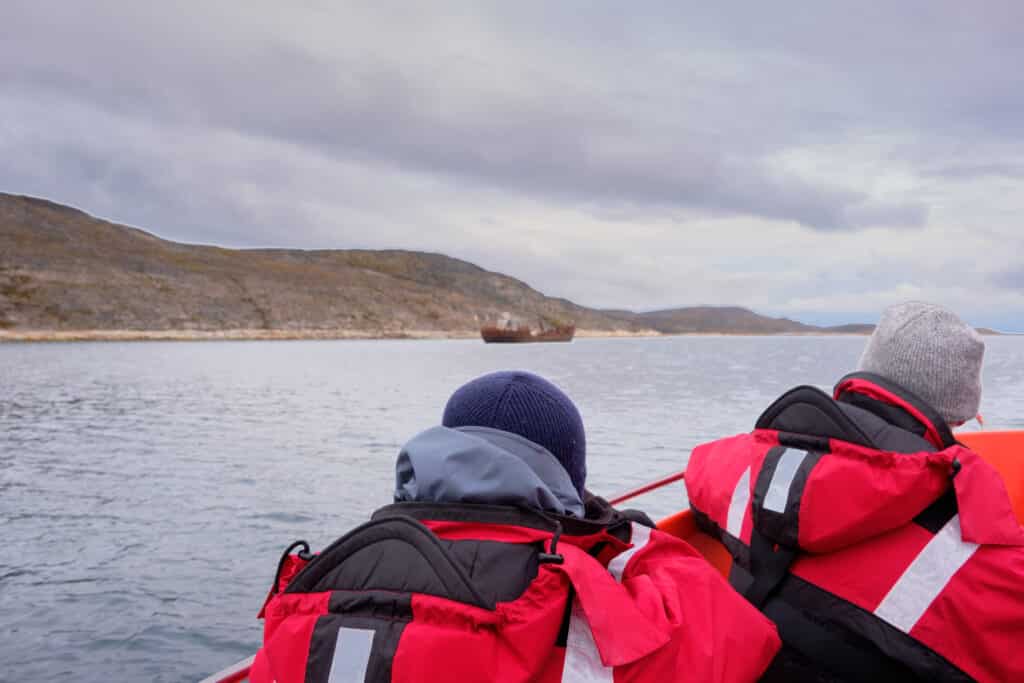 Alternatively, you can book a dedicated whale watching tour that specifically takes you to places that the whales are known to visit or where they were last seen by the hunters and fishermen. Humpbacks are the most common, though Minke, Fin, and Blue whales have also been sighted.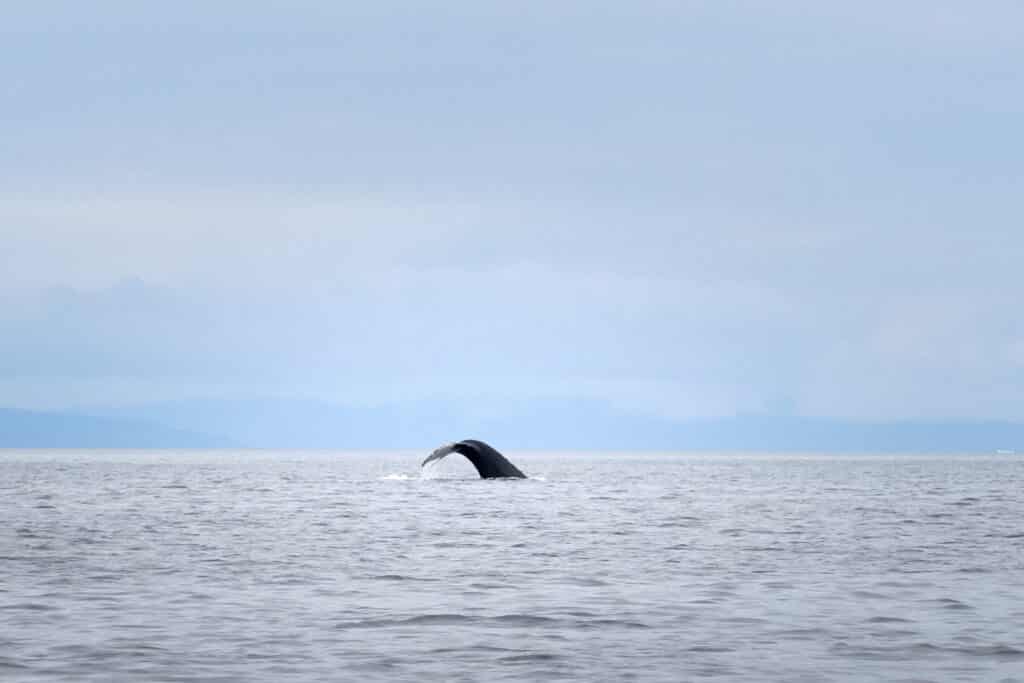 If you prefer to head out on the water under your own power, the Aasiaat archipelago is perfect for kayaking excursions. The islands offer good shelter on the waterways and provide easy landing spots for wild camping.
Winter activities
During Winter the sea freezes around Aasiaat opening up a wealth of opportunities to explore further afield.
Dog sledding is the traditional Winter mode of transport in Greenland. There are several mushers (dog sled drivers) in Aasiaat who are accustomed to taking visitors out to experience this cultural heritage. Tours can often be tailored to your interests.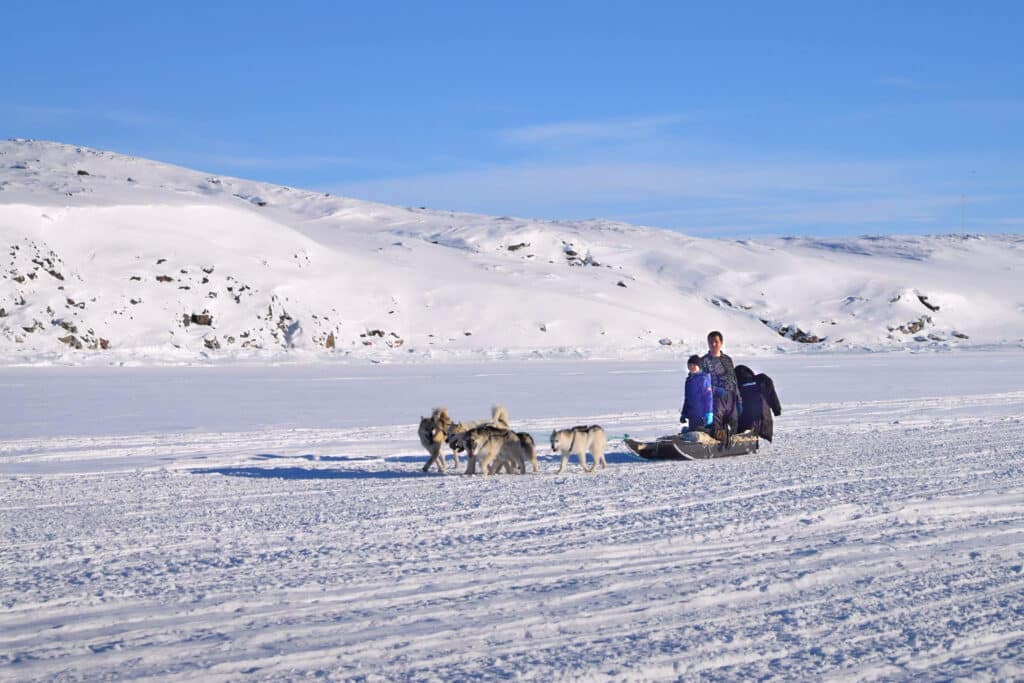 The same is true for the newest form of Winter transportation in the Arctic – the snowmobile. With a snowmobile tour, you can reach more distant locations and also have a kick of adrenaline as you race across the icy landscape.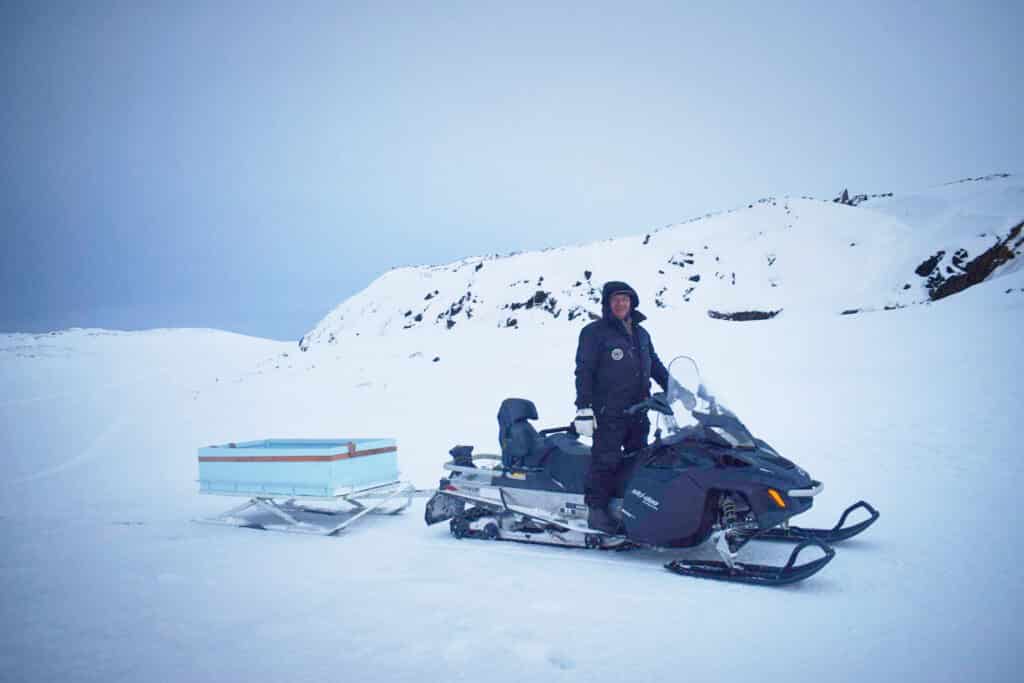 The same is true for the newest form of Winter transportation in the Arctic – the snowmobile. With a snowmobile tour, you can reach more distant locations and also have a kick of adrenaline as you race across the icy landscape.
And cross-country skiers can rent equipment at the local ski club to enjoy several kilometers of groomed trails.
Witness the Northern Lights
If you visit Aasiaat between September and April, you have a great chance to see the incredible Northern Lights. Although they are often visible from the center, it is best to head to the edge of the houses for the darkest skies.
Accommodation – where to stay in Aasiaat
Aasiaat has a small number of accommodation options available to visitors.
The Seamen's Home (Hotel Sømandshjemmet) is part of a special organization where any profit is used to support the community through a wide range of social programs. They provide a variety of high-quality rooms and apartments, host Aasiaat's conference facilities, and offer many of the tourism services available in the area. Their cafeteria is one of the main places to eat in town.
Self-catering accommodation is available at Nattoralik Guesthouse, which has free Wi-Fi and several lovely rooms that overlook the harbor. Hope Hostel and Aasiaat Guesthouse (rooms and apartments) are the main other options in town.
Restaurants and cafes – where to eat in Aasiaat
There are a reasonable number of places to eat out in Aasiaat, though not all are open all the time.
The Seamen's Home Cafeteria has a set daily menu for lunch and dinner that is reasonably priced and offers the choice between 2 hearty meals. You can even go back for seconds at no extra charge! They have a great view over the harbor and also serve breakfast. They do not, however, serve alcohol.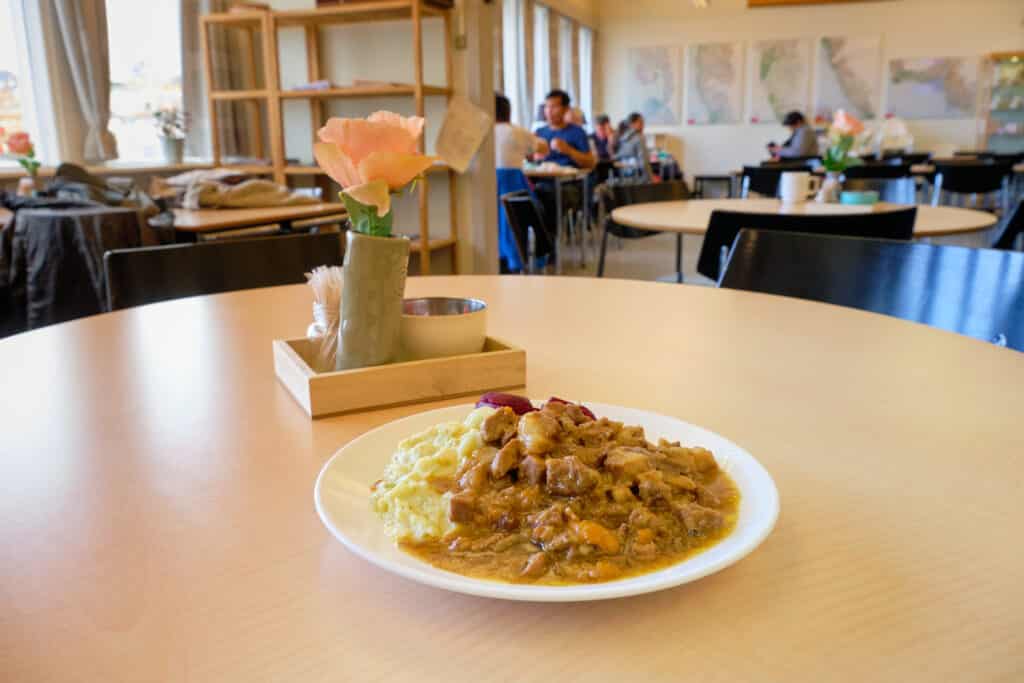 Restaurant Nanoq is open Fridays and Saturdays and serves an oriental buffet or a la carte international cuisine. It opens on request on other days.
Café 3 is located near the fisherman's market right on the harbor. It has a lovely interior and offers both fast food (pizzas, sandwiches, nachos) as well as proper meals and steaks. It also has a good selection of smoothies and coffee.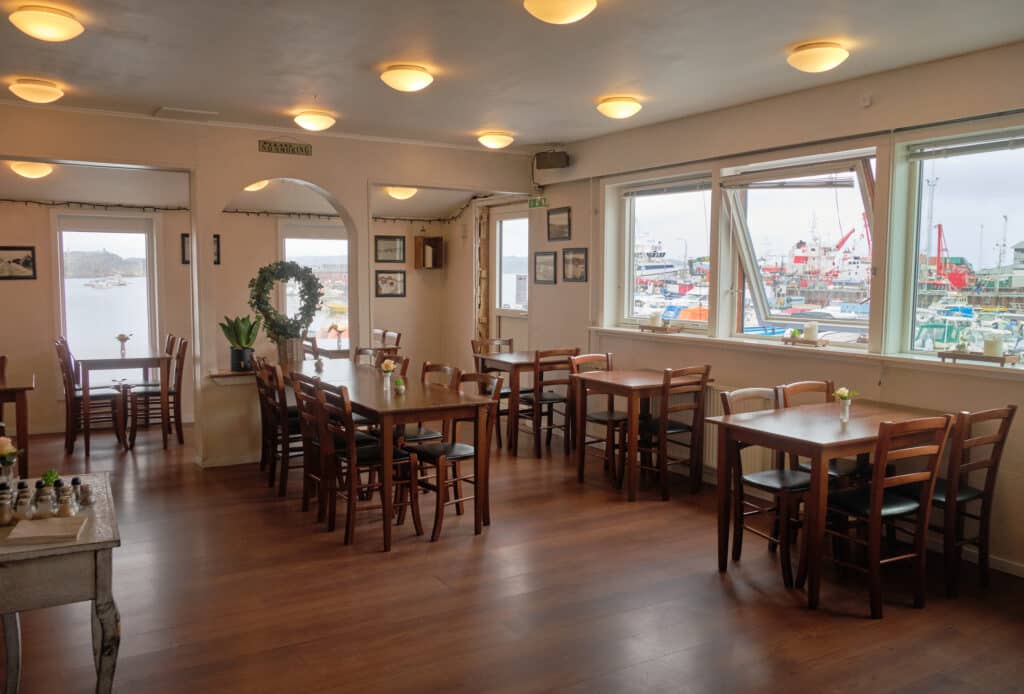 Cafe Tulugaq is open on Thursdays, Fridays, and Saturdays serving pizza, burgers, and other fast food.
Café Puisi is the Asian-style cafe in town, which also serves fast food (hotdogs and burgers) and has poker machines for those with too much Danish Krone.
A final possibility (especially if the weather is fine), is to shop for pastries, bread, cheese, processed meats, and other items at the large supermarkets in town and make your own picnic.
Nightlife in Aasiaat
Nightlife in Aasiaat is centered around the building that hosts Restaurant Nanoq and Restaurant Tulugaq).
The bar – Nanuaraq – is open every night of the week, with the addition of a disco "Nanoq" on Friday and Saturday nights from midnight.
"Tulugaq" bar is open every Thursday, Friday, and Saturday from 6 p.m.
Souvenir Shopping
Being off the beaten tourist path, Aasiaat has limited souvenirs available for visitors. Your best bet is to look in the Seamen's Home (Hotel Sømandshjemmet) and the Museum.
If you forgot – or haven't got a chance to buy your souvenirs in Greenland, discover a selection of Greenlandic Accessories, Clothes, Souvenirs, Cards & Posters, Books, and Home decor in The Greenland Store where you can find everything from Greenland online! 
Emergency Information
Emergency: 112
Police: (+299) 70 14 24
Hospital: (+299) 89 22 11
Book your trip to Aasiaat
Aasiaat is a low-key, off-the-beaten-path place to visit on your vacation to Greenland. Guide to Greenland brings together most of the tours offered around Aasiaat on one platform. We think that is an easy way to plan and book your travel to Aasiaat.
We invite you to explore all of our tours around Aasiaat and contact us with any questions you may have.
Other interesting articles