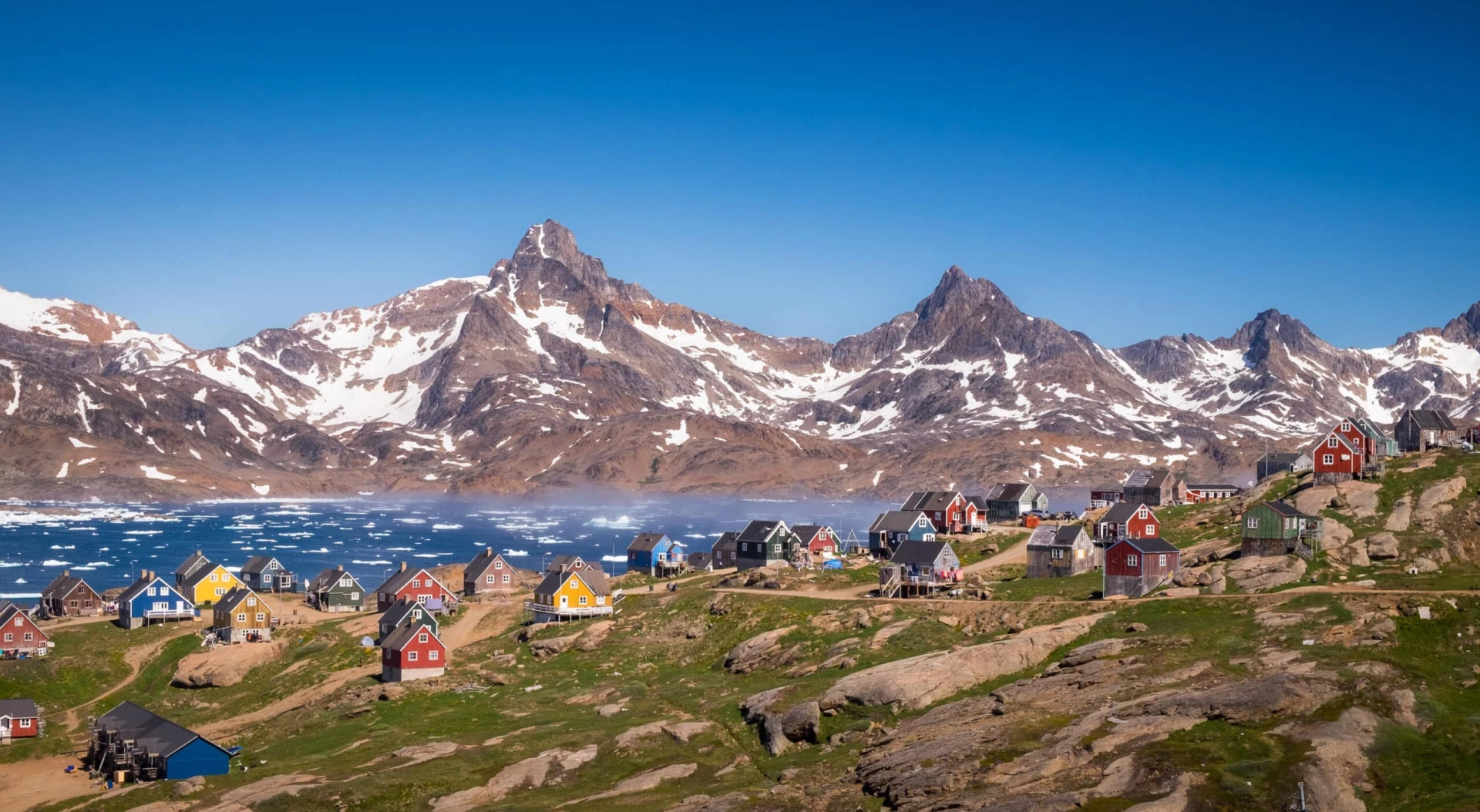 The Ultimate Travel Guide to Tasiilaq
Tasiilaq is the largest town in one of the most isolated parts of Greenland. So where is it exactly? How do I get there? What is there to do and how long should I stay? Read on to discover everything you need to know for the best travel experience in Tasiilaq.
---
---
Hiking spectacular rugged mountains, iceberg diving, heliskiing, dog sledding, and sailing amongst the icebergs in the incredible Sermilik Icefjord are just some of the many experiences that draw visitors to one of the most remote corners of Greenland.
Welcome to Tasiilaq! Home base for those with an adventurous spirit.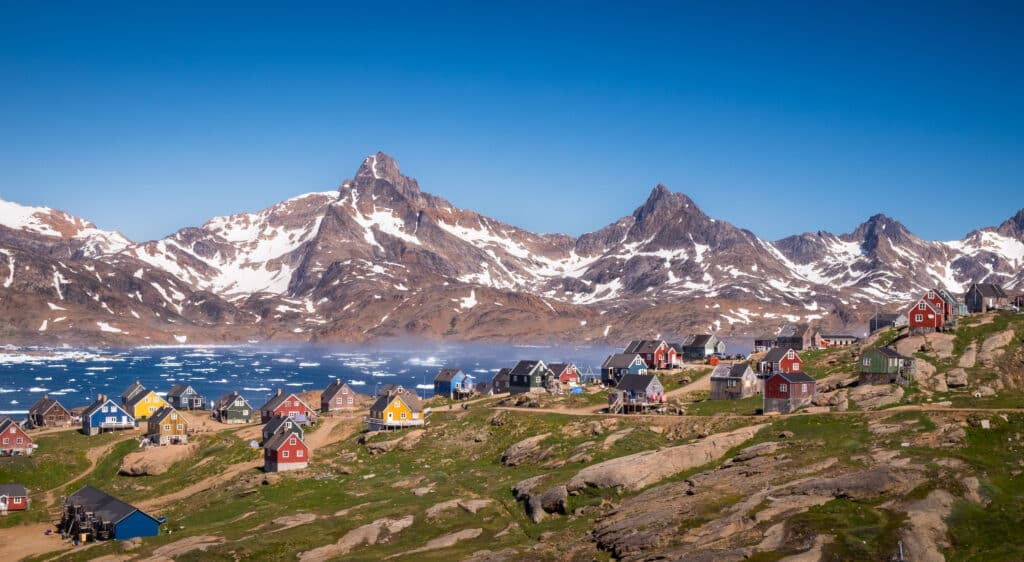 With a population of just over 2,000 people (2019), Tasiilaq is the largest town on the East coast of Greenland. Outdoor adventure is what calls visitors to this remote but beautiful corner of the world's largest island, which features innumerable jagged mountains, glaciers, and icebergs. 
This Ultimate Travel Guide to Tasiilaq contains all the information you need to plan and get the most out of your visit to Tasiilaq – the hub for East Greenland.
Where is Tasiilaq?
"Tasiilaq" means "like a lake" in Kalaallisut (the Greenlandic language) – a reference to the shape of King Oscar Fjord and how it is largely protected from the open ocean by the relatively narrow entrance. 
The town is located on the East coast of Greenland about 100km south of the Arctic Circle and is the primary town that services almost every settlement in East Greenland. The exception is Ittoqqortoormiit, which is about 800km further north.  It is a short, 2-hour flight from Iceland to get there and about 680km from Nuuk – the capital city of Greenland.
Situated on Ammassalik Island and facing the beautiful King Oscar Fjord, it doesn't matter where you are in Tasiilaq, there are incredible views of the rugged mountains that are so characteristic of this part of East Greenland.
What is the best time to visit Tasiilaq?
The best time to visit Tasiilaq really depends on what you are looking to experience.

Winter and Spring
The colder temperatures allow for a wide range of Winter and Spring activities in East Greenland. Good quality ice and extensive snow coverage are more likely to exist from February to April, which is the high season for Winter / Spring visits.
You should think about visiting Tasiilaq during the Winter / Spring if you:
Enjoy snow-based outdoor activities such as heliskiing, cross-country skiing, snowshoeing or snowmobiling
Would like to experience dog sledding
Want a unique cold-water diving experience around icebergs under the sea ice
Want to try your hand at ice fishing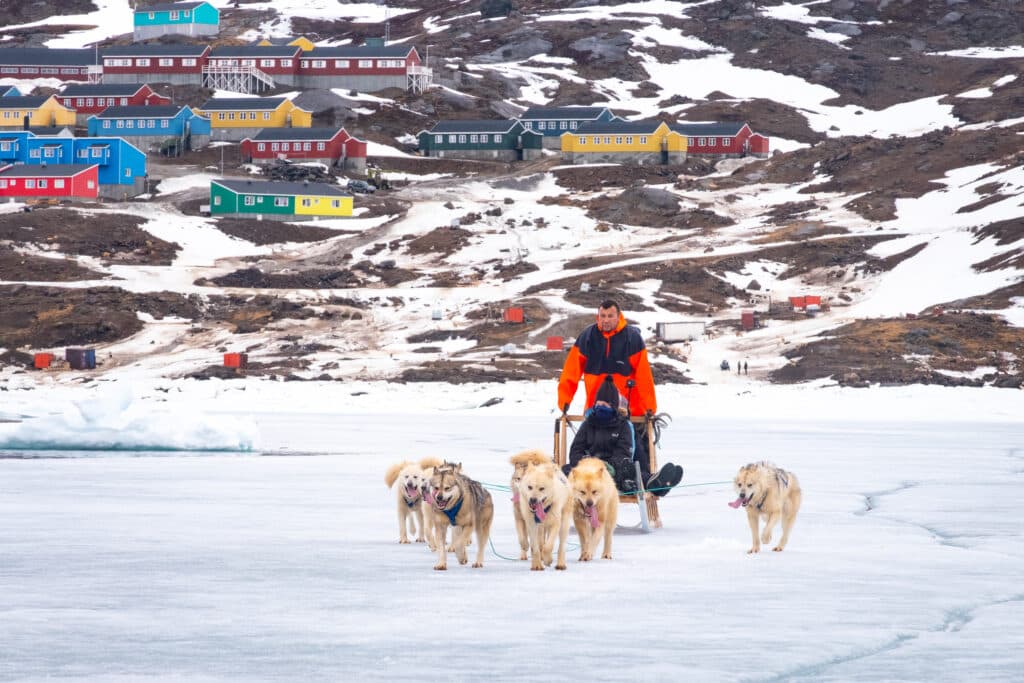 Summer and Fall / Autumn
Starting around June and going through until late September, Tasiilaq's climate is milder but very changeable. You should be prepared for any kind of weather if you are visiting during the Summer / Fall / Autumn, but doing so will allow you to:
Kayak in the King Oscar Fjord
Explore the underwater world of icebergs on a cold-water diving experience
Try your hand at fishing
Participate in Greenlandic National Day celebrations on June 21. These typically involve people dressed in the National Costume with traditional Greenlandic food, music and dancing near the heliport.
Visiting the surrounding settlements to see how daily life operates in East Greenland is possible all year round, but the season will determine how you get there.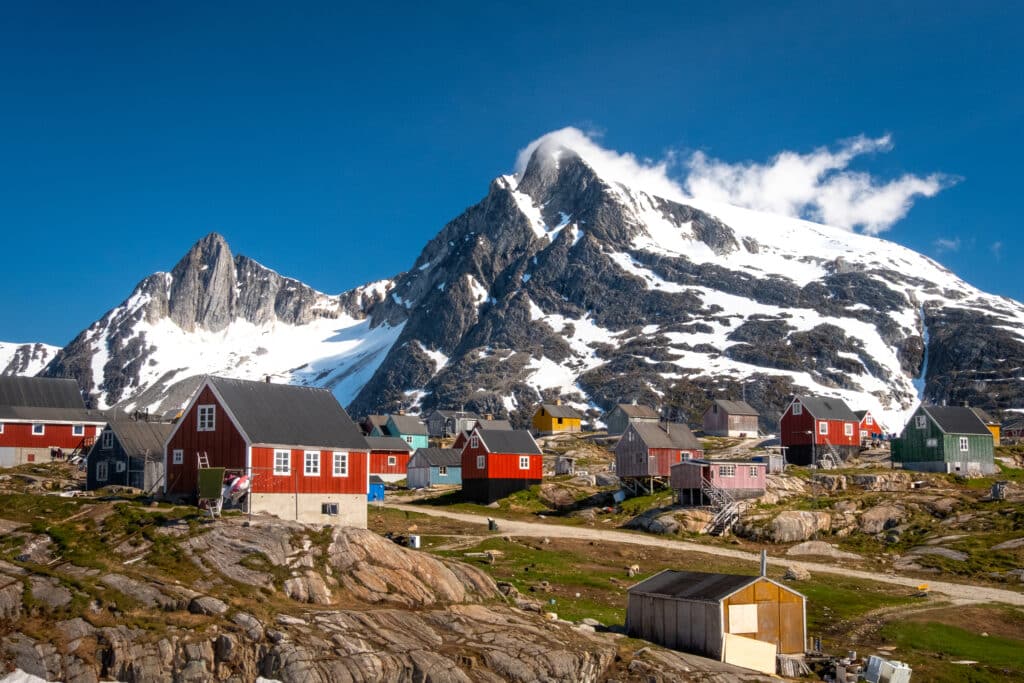 When you are planning your trip to Tasiilaq, particularly if you are traveling in winter, it is also useful to know the time of sunrise and sunset. Enter your date of travel into the Tasiilaq page at meteogram.org to discover how much daylight you will have, as well as the times of the different twilights, golden hour (for photographers), and a lot more.
What should I pack for a visit to Tasiilaq?
What you should pack for a trip to Tasiilaq depends on the season you are visiting and what activities you are planning to engage in.
Clothing
Regardless of when you plan to visit, you should always follow the layering principle with your clothing. All buildings are heated to a comfortable temperature, but when you are out and about you need to be prepared.
Read our full article on the best clothing to pack for a trip to arctic Greenland, or watch the video versions here.
In all seasons, make sure you bring sunscreen. The sun can be very strong in the Summer and even in Winter it is easy to get sunburned when you spend the whole day outside enjoying nature. If you are visiting during Summer, it is also a very good idea to bring insect repellent and a head net – or buy them once you arrive.
---
---
Due to its remoteness, there are limited opportunities to buy clothes once you arrive in Tasiilaq, so try to bring everything you need with you. It is better to bring too much than too little, but also keep in mind the 20kg restriction on checked-in luggage (top tip: wear any heavy or bulky clothing).
If you do discover that you have not brought sufficient layers of clothing, visit the Tourist Information Office or upstairs at the large Pilersuisoq supermarket to see what they have.
Electronics
Greenland uses the Standard European Plug (230 V) for its electrical outlets so make sure you pack at least one of these if your electronics come from elsewhere in the world.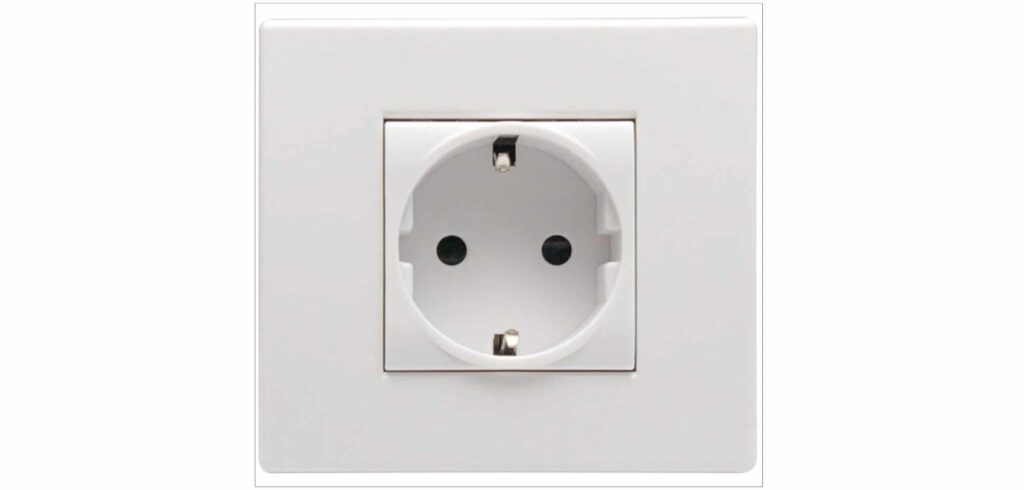 Don't forget your camera! Tasiilaq is ridiculously picturesque so you will regret it if you do!  Also, if you are planning to photograph the Northern Lights or to take a time-lapse of icebergs moving in Sermilik Fjord you will want to bring your own sturdy tripod if you have one.
Outdoor Adventure Gear
Most visitors to East Greenland do so as part of an organized tour. The logistics for getting around, the absence of marked trails, and the real possibility of encountering a polar bear require a high level of backcountry experience that few people possess. A guided tour takes care of all of this for you so that you can relax and enjoy the experience without worry.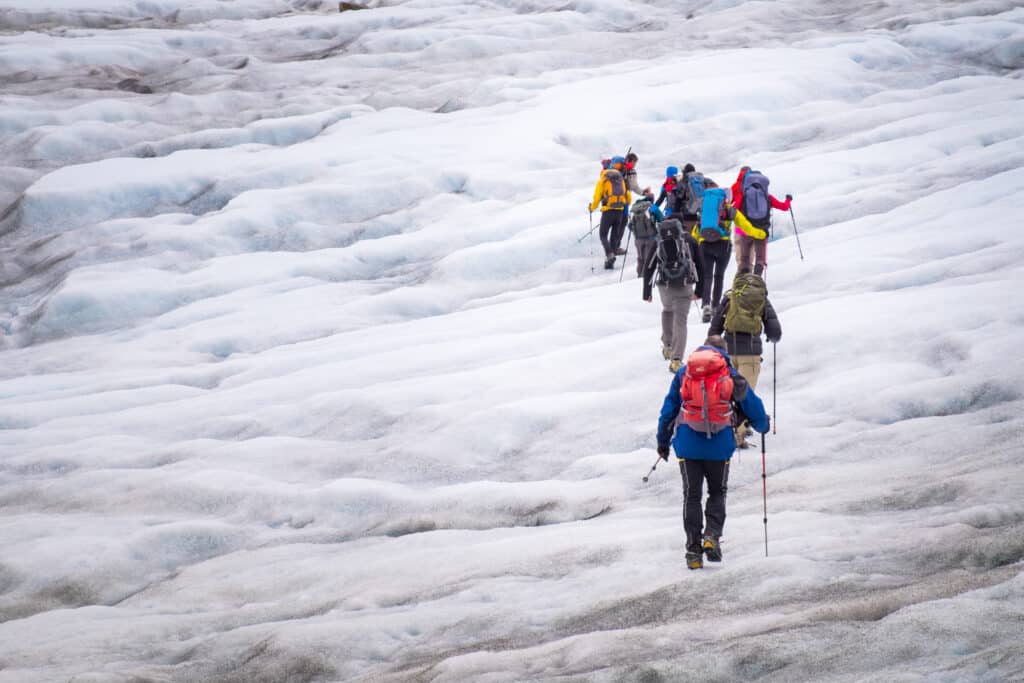 If you do have extensive back-country experience and know-how to use a rifle, visiting the Tourist Information Office is an easy way to source anything you need – including tents, kayaks, snowshoes, and other outdoor gear. Equipment can also be hired directly through the local tour providers, many of who can also outfit entire expeditions if enough advance notice is given. If you are bringing your own stove, it is better to bring a multi-fuel one than one that relies on gas canisters. That way you can be sure to have no issues in purchasing fuel once you arrive. 
Useful Apps
We are big fans of Maps.Me app here at Guide to Greenland.  Download the app and the map of Greenland while you still have internet access (the internet is slow and very expensive in East Greenland), and you'll be set to find your way around during your stay.  
The Maps.me app shows streets, places of interest, restaurants, and accommodation, and even some hiking trails. It can also tell you the best way to walk, drive or cycle from where you are to where you want to go – just remember to turn on your GPS when you arrive!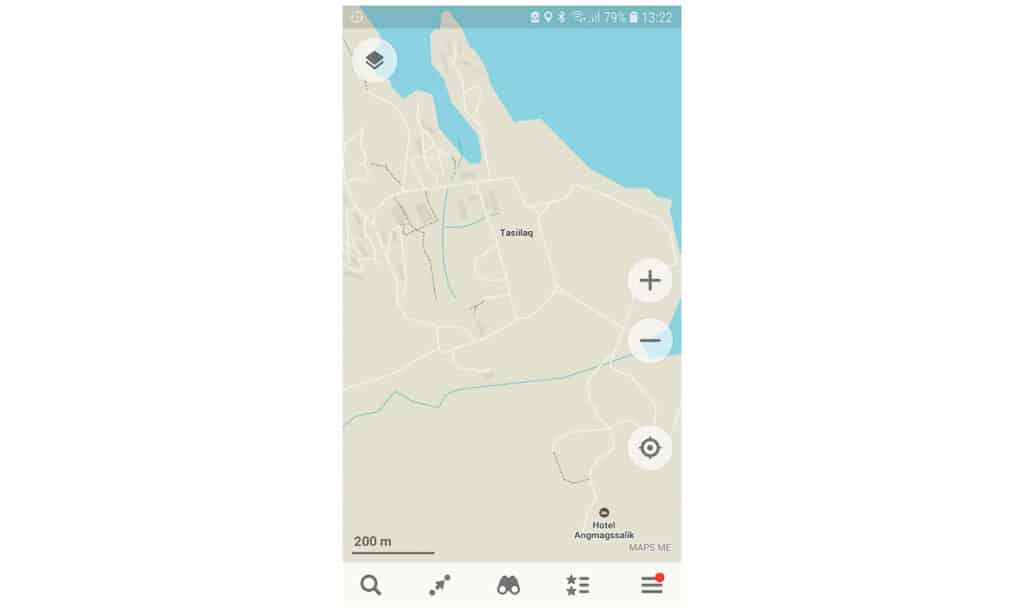 If you want to know the most likely times to see the Northern Lights, download the Northern Light Aurora Forecast (iOS/Android) app to monitor the likelihood of the lights appearing and, if you want to photograph them with your phone – one of the Northern Lights photography apps that allow you to set long exposure times.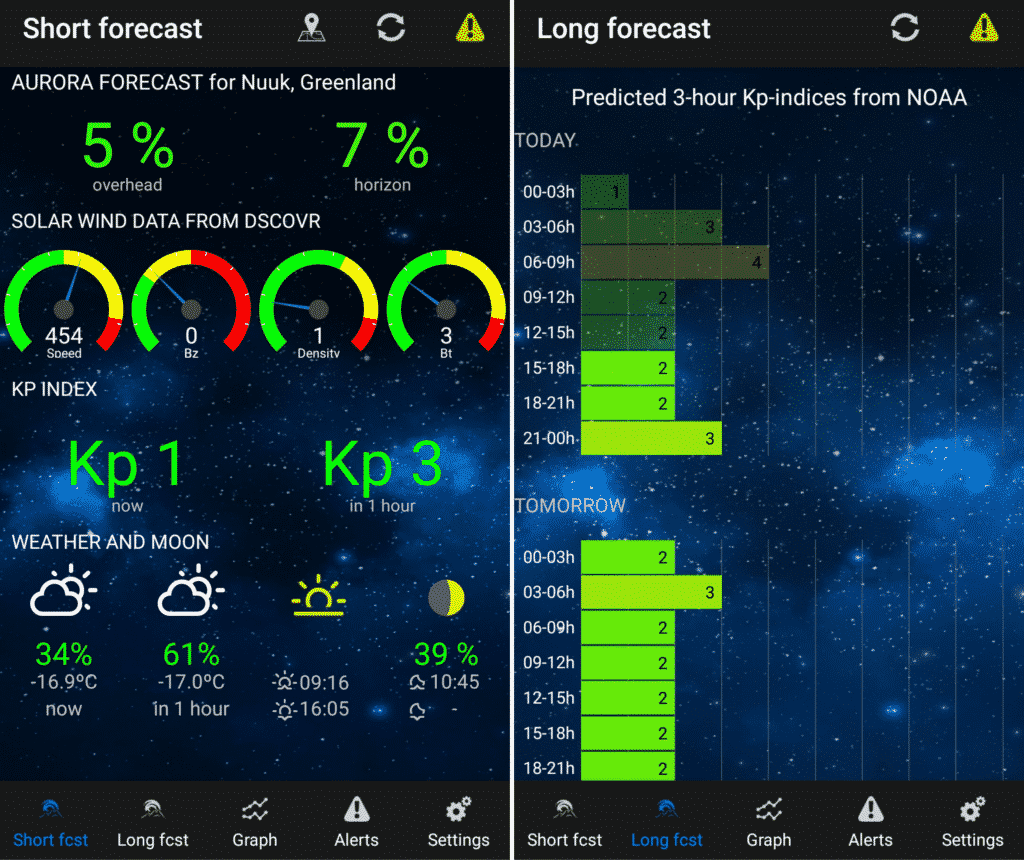 How do I get to Tasiilaq?
Although Tasiilaq is the largest town in East Greenland, it is not the easiest place to get to. Roads stop on the outskirts of town so access is only via air or sea. The airport is located on a different island to Tasiilaq, so you must make your way there by either helicopter or boat.
International flights to Tasiilaq
The easiest way to fly to Tasiilaq is from Iceland. Flights are operated by Air Iceland Connect out of Reykjavik Domestic Airport (not Keflavik International Airport) and arrive at Kulusuk (where the airport is located) directly. From there, it is a 10-minute helicopter flight with Air Greenland (all year) or a ~1-hour boat transfer (Summer only) to arrive in Tasiilaq.
Arriving from Denmark is more complicated and requires flying all the way to the West coast of Greenland before turning around and flying back to the East coast.
Departures vary depending on the time of year, so it is best to check the schedule on our flight page to see which days each airline flies. Note that helicopter transfers don't necessarily connect with other flights.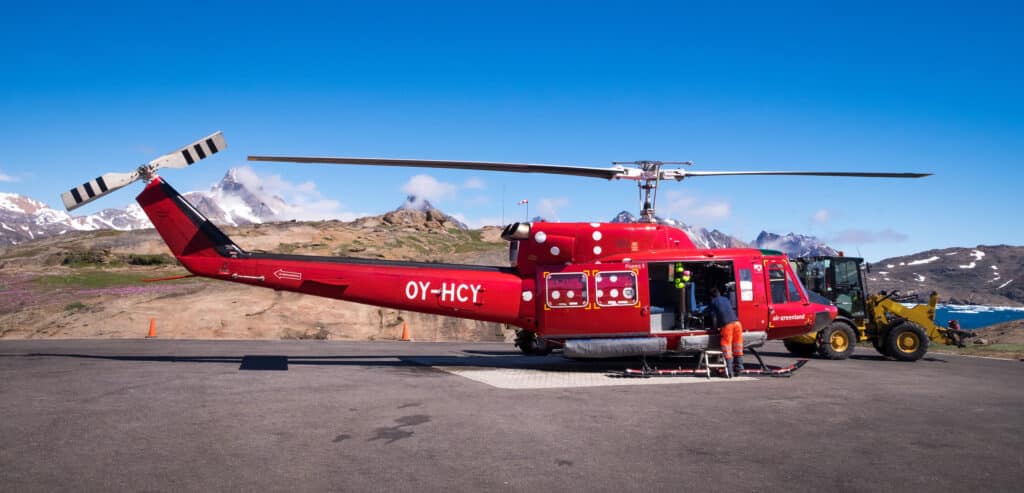 Domestic flights to Tasiilaq
If you are already planning to be in Greenland and want to add Tasiilaq to your itinerary, Air Greenland offers flights from Nuuk to Kulusuk and then onto Tasiilaq. These flights only operate on certain days, so check the schedules on our how to get to the Greenland page to figure out when you can fly.
---
---
Arriving by boat to Tasiilaq
During Winter and Spring, Tasiilaq is surrounded by sea ice and it is not possible to access the town via the sea. Even the large, ice-strengthened supply ships cannot make it through, meaning that the town and the settlements it services must stock enough items to last from November through to June.
Once the ice has dispersed, it is possible to arrive at Tasiilaq from the airport in Kulusuk via boat. Local tour operators also provide transfers to and from the settlements of Tiniteqilaaq and Kuummiut via the fjords, and journeys should be arranged in advance.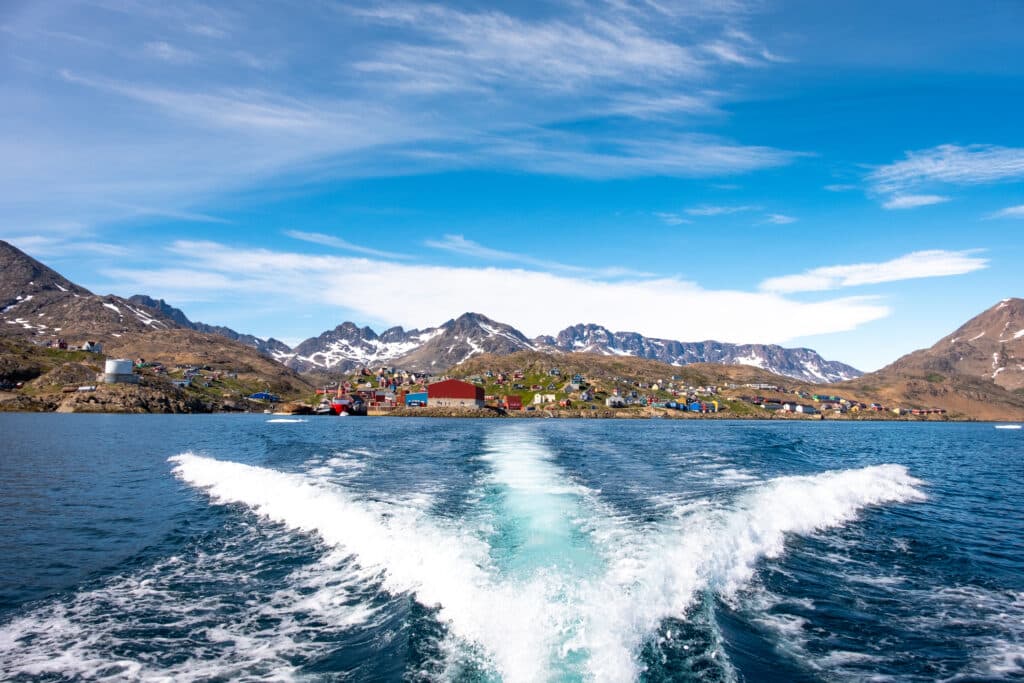 There are no ferries that travel to the other regions of Greenland from Tasiilaq, and only a very few cruise ships call into the port. It is truly one of the most remote places in Greenland.
How do I get around Tasiilaq?
Given its small size, Tasiilaq has limited use for public transport. Although there are a few taxis in town (cash only), by far the most common way to get around is to walk. It won't take long to figure out that Tasiilaq is a very hilly place, so be prepared for a good workout!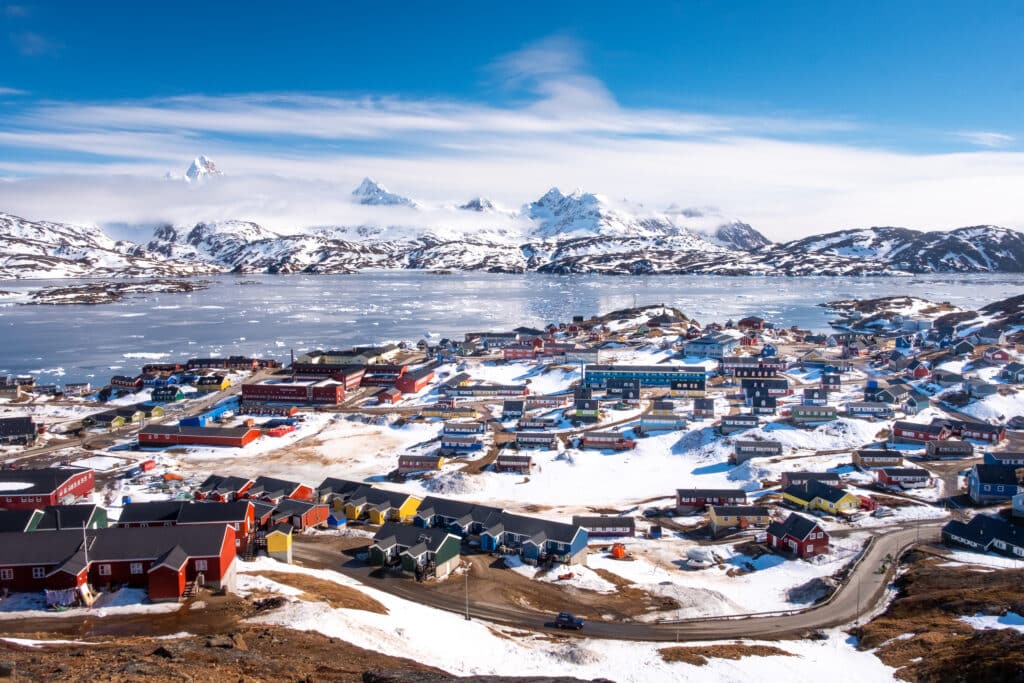 If you want to explore further afield, you will need to join one of the local tour operators. Boat transfers/tours operate during the warmer months, and traveling by dog sled or snowmobile is the alternative to flying when the fjord is frozen. There are helicopter transfers to each of the settlements, but departures are limited.
Things to do in Tasiilaq
Most visitors to Tasiilaq come to experience the remote, untouched wilderness of East Greenland. For this reason, most tourism opportunities are focused on outdoor adventures. However, there are plenty of stunning views to be had from anywhere in town for those who are less mobile, and several opportunities to experience East Greenlandic culture (which is different from the culture in West Greenland) and the way of life in this distant corner of the world.
Explore the town
You can easily spend a day in Tasiilaq exploring the town on a self-guided tour. Opening hours vary, but make sure you call in to visit:
Tasiilaq Museum
Housed in the old Tasiilaq Church and incorporating several other structures, the Tasiilaq museum is definitely worth an hour or more of your time. Try to catch one of the awesome guided tours if at all possible to hear more in-depth stories about the artifacts on display. 
TIP: If there are no guided tours running, the museum exhibits have explanations in English, Danish, and German.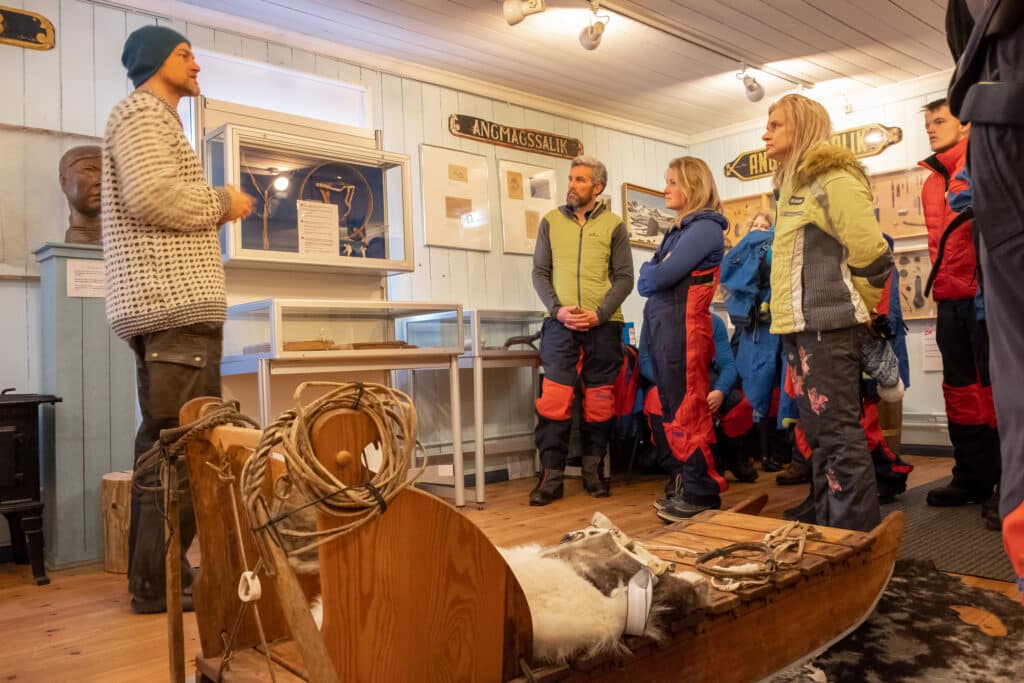 Tasiilaq Church
The modern pentagon-shaped structure on top of the hill in the middle of town is Tasiilaq's new church. The tall spire will help you locate it. Head inside to see the beautiful interior with sealskin adornments to the altar area, a model Umiaq (women's boat) hanging from the ceiling, and Bibles in the West Greenlandic language (East Greenlandic is not a written dialect).
TIP: Don't miss the impressive baptismal and the murals near the ceiling that showcase East Greenlandic scenery.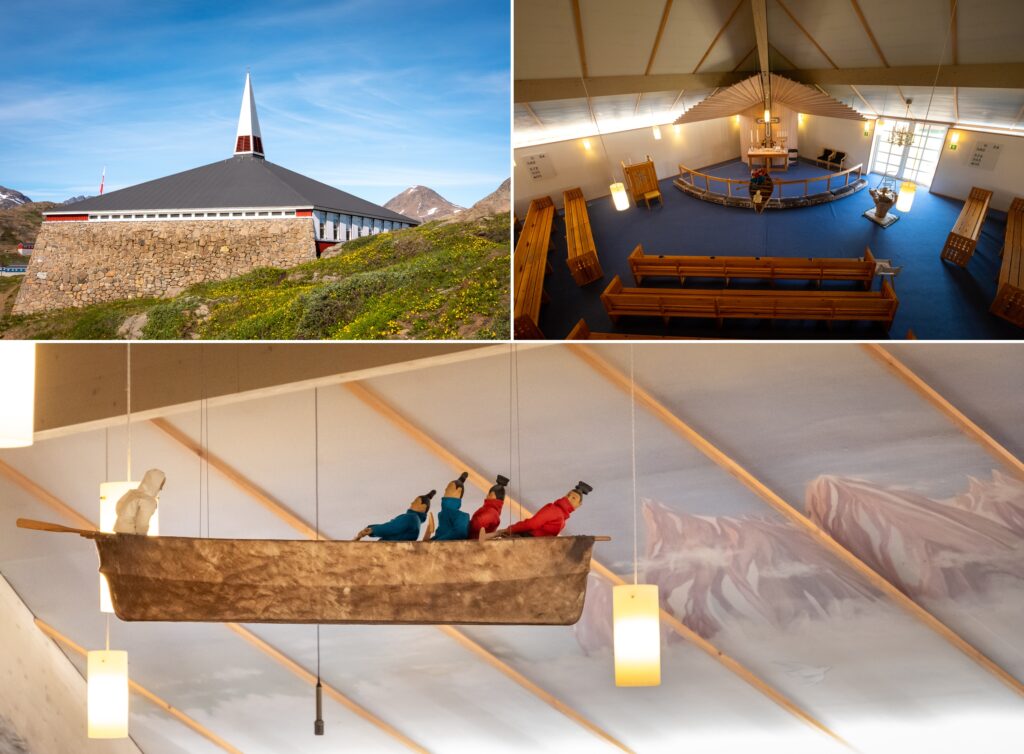 Stunk Artisan Workshop
Several of the local artisans work out of this large workshop near the center of town. Here you will often see them working primarily reindeer antler (but also Narwhal tooth), carving it into some of the best tupilaks to be found in all of Greenland. The first room you enter has several display cases with pieces for sale.
TIP: Ask if you can visit the workshop itself and talk with the artisans directly. Many of them speak at least a little English and you may be able to commission a piece, depending on how long you are staying in town.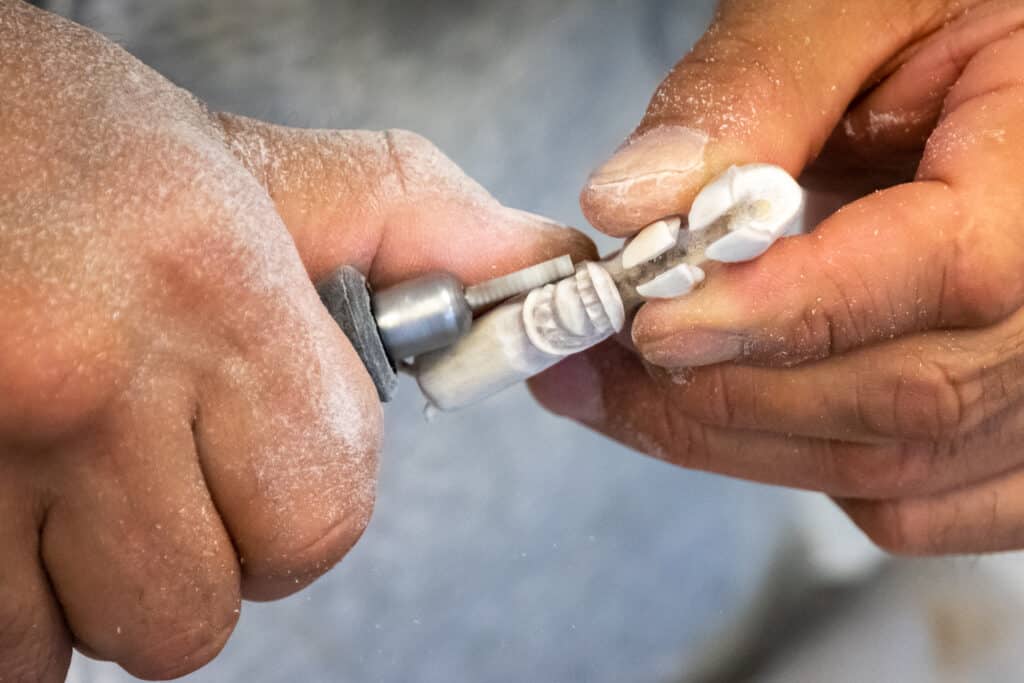 Tourist Information Center
Even if you are on an organized tour and don't really need additional information, it is worthwhile popping into the Tourist Information Center in Tasiilaq. It has one of the most extensive ranges of souvenirs in town (its souvenir shop is called Arctic Art), a pole outside showing distances to many places around Greenland and the world, and the best ice cream cones in town. 
TIP: Given sufficient notice and enough interested people, the tourist office can arrange drum dance performances and other cultural activities.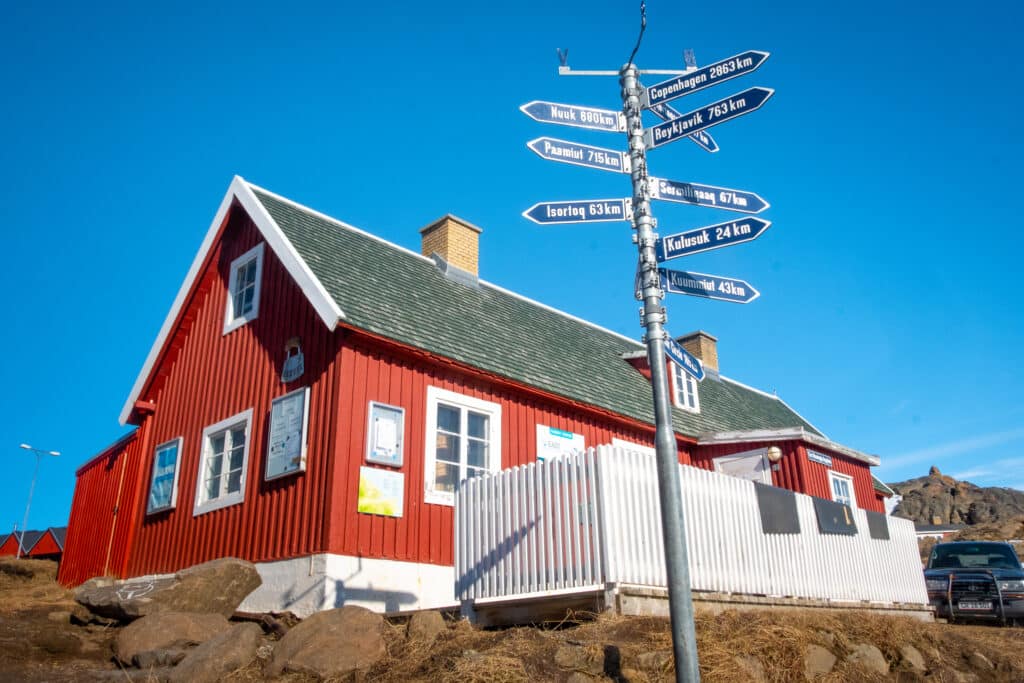 Tasiilaq Harbor
The lifeline of Tasiilaq and the East coast settlements, Tasiilaq Harbor is a hive of activity during the Summer months with boats constantly coming and going. You may even be lucky and see the large supply ship from Royal Arctic Line delivering goods.
TIP: Locked in by sea ice, the harbor lies dormant during the winter. However, walk along the fjord in either direction from the harbor for amazing views of the mountains opposite and icebergs in the fjord.
Dog Town
As you leave town along the road to the North, or you head out into the Flower Valley, you will pass through Tasiilaq's "dog towns". These areas are where the majority of the local Greenlandic sled dogs are kept. During Summer, they will all be chained though you will likely find puppies roaming around freely (dogs must be chained once they reach 6 months). During Winter, they may be largely de-populated as the hunters and tour providers take their teams out into the backcountry.
TIP: If you visit the "dog towns" remember that Greenlandic sled dogs are not pets. You must never approach an adult dog without its owner giving you permission to do so, though playing with the puppies that run under your feet is generally fine.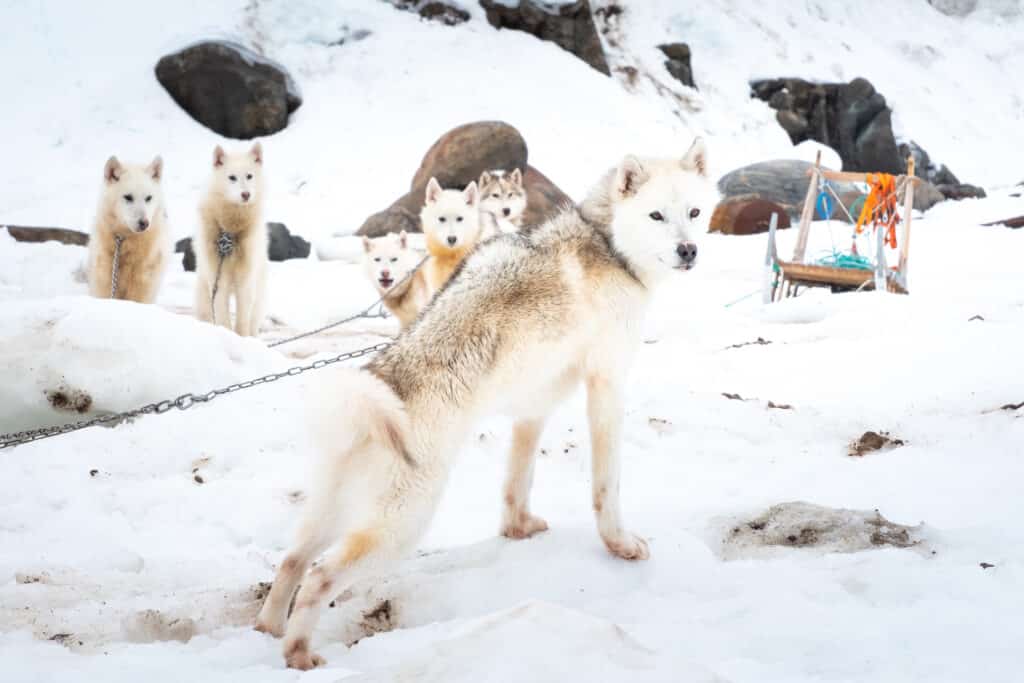 The Post office
At first glance, the Tasiilaq branch looks like any other post office in Greenland. However, if you are at all interested in stamps or you are a stamp collector (philatelist), you will want to spend some time here. The country's stamp fabrication facility (called "Filatelia") operates out of the back office, which is why this remote location contains such an extended selection of Greenlandic stamps.
TIP: For the serious collector, this is one of the best places to find the first day of issuing stamped envelopes.
The large Pilersuisoq
Pilersuisoq is a chain of supermarkets that service the smaller towns and settlements throughout Greenland. It may seem like an odd inclusion in an exploration of the town, but these supermarkets are a key meeting place for the community and must stock absolutely everything. For this reason, the large Pilersuisoq in Tasiilaq is a fascinating insight into daily life in remote East Greenland. 
TIP: Keep an eye out for everything from rifles and reindeer antlers to your more typical grocery items. This is also a great place to buy delectable pastries, and you may find locals selling all sorts of odds and ends outside, including souvenirs.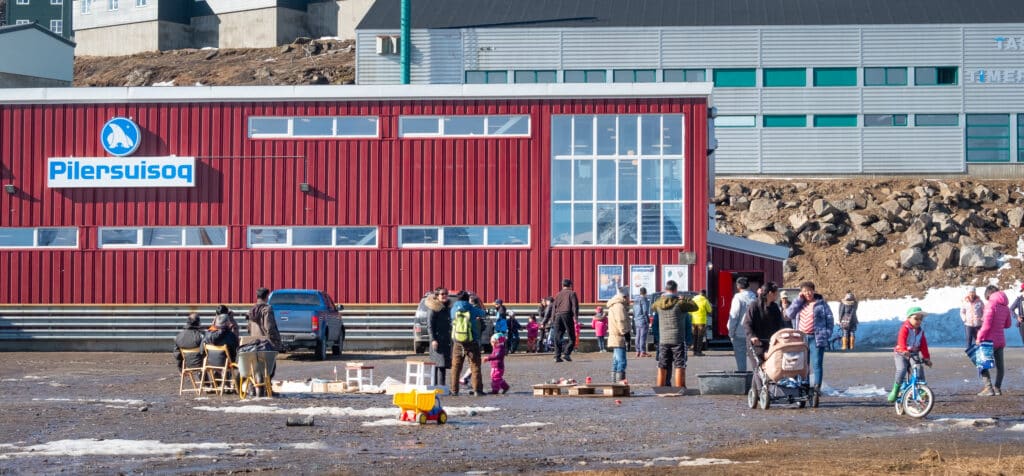 Visit the Sermilik Fjord
One of the highlights of a trip to Tasiilaq is a visit to the Sermilik Fjord on the other side of Ammassalik Island. An uncountable number of icebergs in all shapes and sizes make their way down this fjord from their birthplace at the Helheim glacier – one of the most productive glaciers in Greenland.
During Summer, boat tours and transfers to Tiniteqilaaq will take you quite close to these large ice sculptures. And once you arrive, you can sit back and watch the infinitely slow and mesmerizing ballet as they are carried along by the tides and currents in the fjord.
During Winter, you can reach the Icefjord by either dog sled or snowmobile. No matter which of these modes of transport you choose, the vista at the end of the journey is the same – unbelievable numbers of large icebergs trapped in the sea ice.
Get close to a Glacier
The scenery of East Greenland is rocky, jagged mountains and glaciers. During the Summer, the Knud Rasmussen Glacier and the Hann Glacier (which flows directly from the great Greenland Icesheet) are within a full-day trip from Tasiilaq. For a slightly shorter excursion, sail past the large icebergs that have made their way out into the Atlantic Ocean, or experience hiking on a glacier with crampons.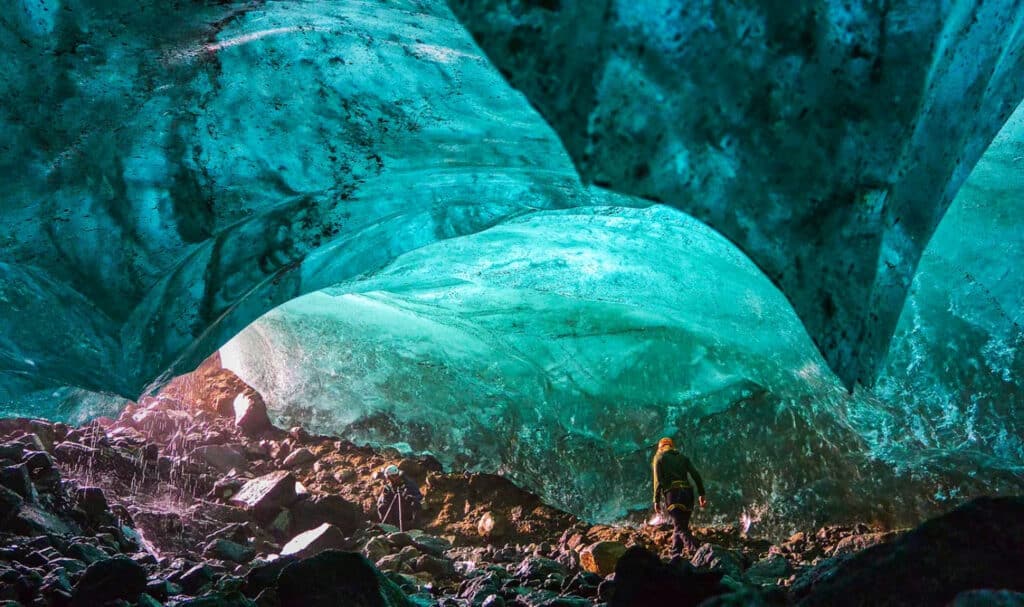 Depending on which excursion you choose, your tour may also include a stop at the abandoned settlement of Ikateq or the abandoned WWII airbase of Bluie East Two.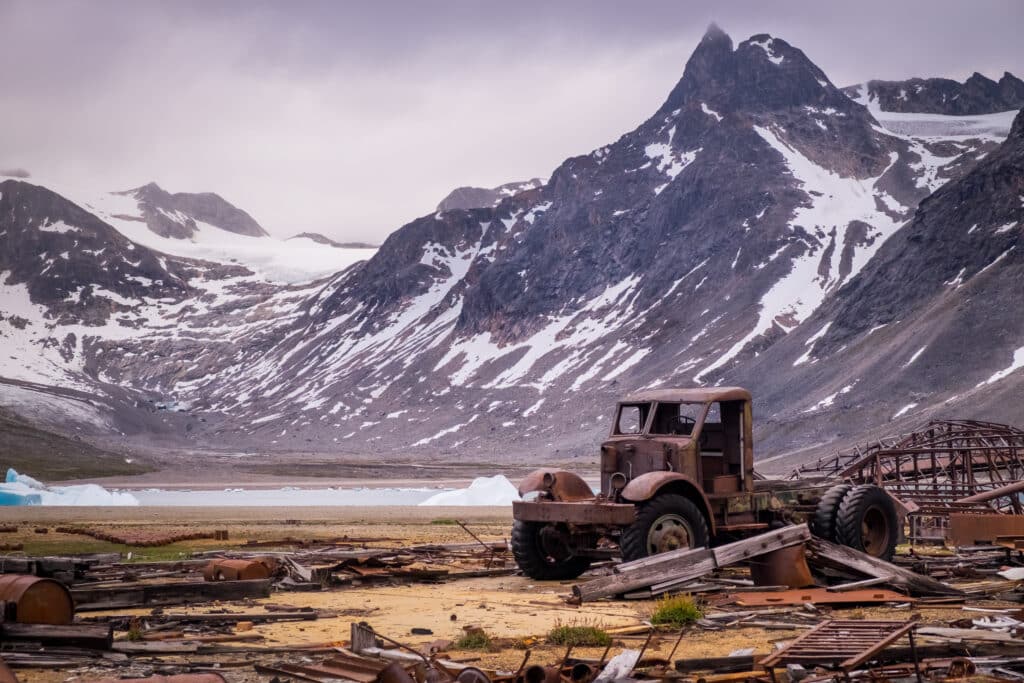 ---
---
Dive with Icebergs
We are all familiar with the saying "it is only the tip of the iceberg that you see". Well, from Tasiilaq you have the opportunity to see the rest of it in a cold-water dive in the Arctic. During Summer there is always the possibility to spot whales both on the way to the dive site and whilst diving. During Winter, access to the dive sites may be by dog sled with the opportunity to also dive below the sea ice.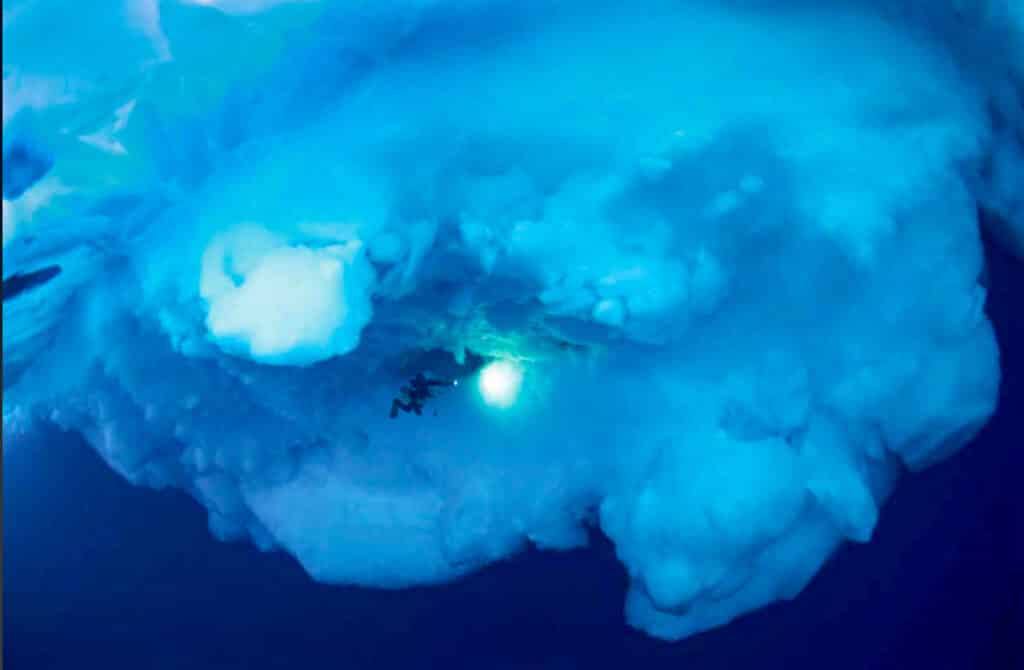 Witness the Northern Lights
If you visit Tasiilaq between September and April, you have a good chance of seeing the incredible Northern Lights.  Although they will be visible from the center of town, they are even better if you head to the outskirts, or spend at least one night in a camp or in one of the smaller settlements.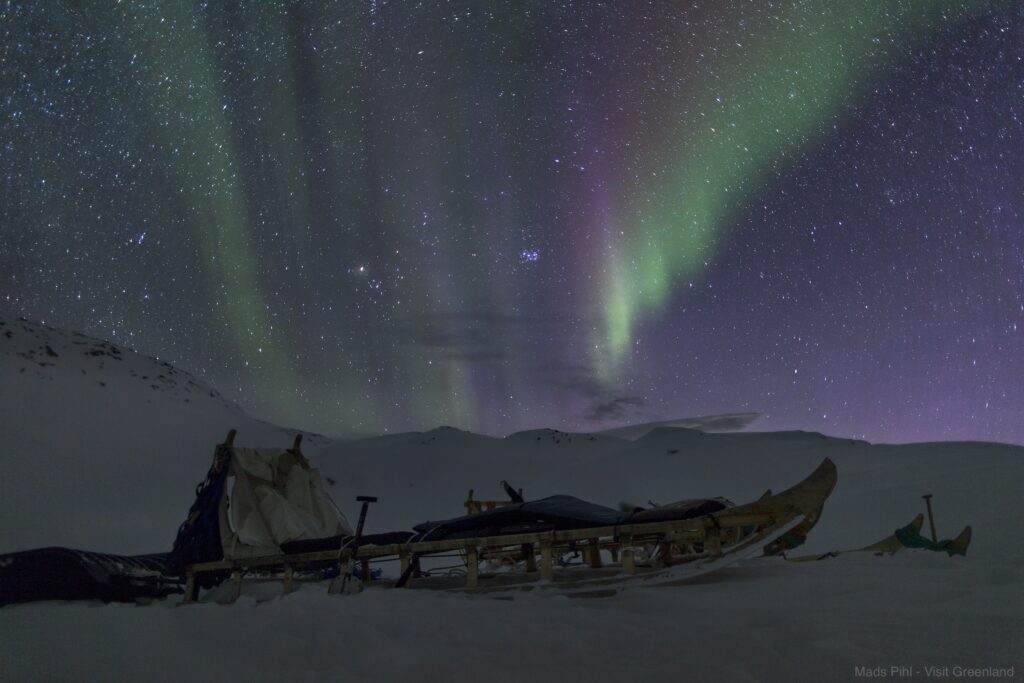 Hike the majestic peaks
Hiking in East Greenland is an incredible experience. While there are a few short hikes you can do independently from Tasiilaq (to the high viewpoints around town, the Flower Valley, and up Qaqartivakajik/Sømandsfjeldet – the Seamen's Mountain), if you are a keen trekker, you should consider one of the longer, multi-day hikes that will take you to truly wild and remote places.
Remember, given the real possibility of encountering polar bears in the East, we highly recommend that you undertake any multi-day hike (or even a long day hike) with a guide.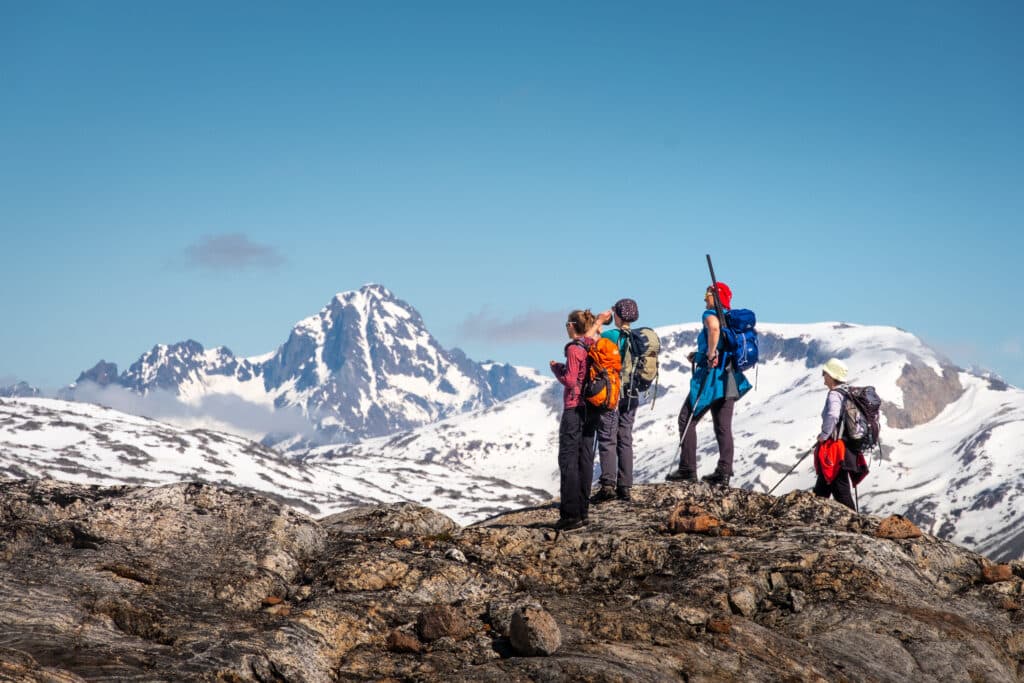 Kayak the King Oscar Fjord
For those of you who prefer to explore with a paddle, you can kayak right out of Tasiilaq. Look up at the impressive icebergs from the waterline and hopefully spot a whale or two as you make your way along the King Oscar Fjord with its majestic mountains forming an impressive backdrop to your adventure.
An alternative is to kayak amongst the millions of icebergs in the Sermilik Fjord out of Tiniteqilaaq.
As with hiking, we recommend that you do not go kayaking alone. Polar bears swim, and it takes very little time to develop hypothermia in the waters around Greenland if you run into trouble.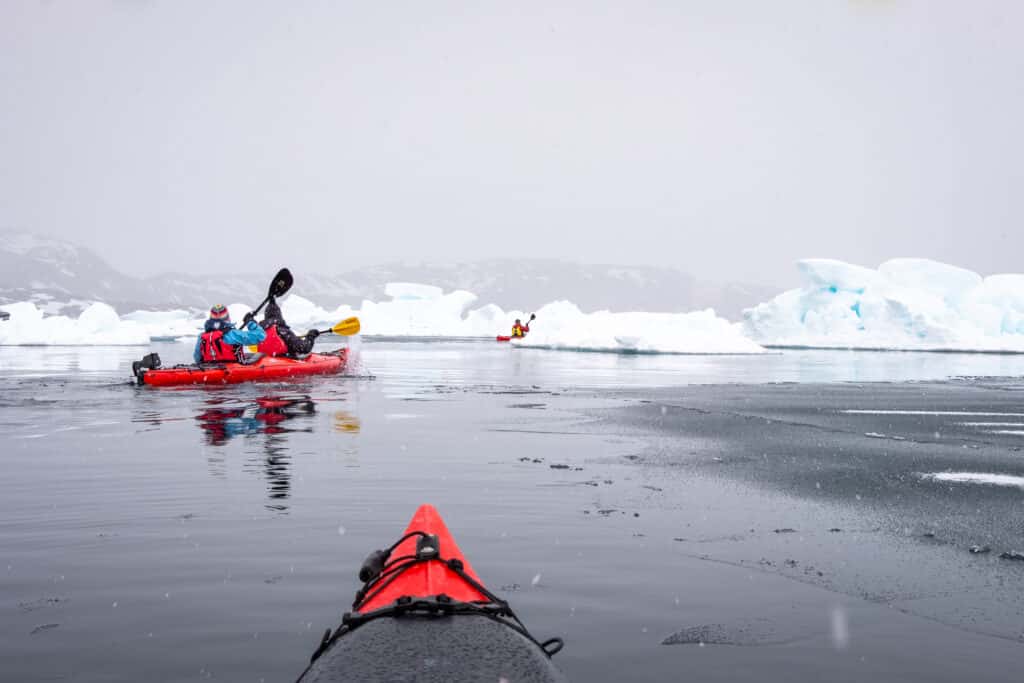 Go Whale Watching
Tasiilaq and Ammassalik Island are typically visited by large numbers of whales during the Summer months. Minke, Fin, and Humpback whales are all relatively common and the local tour operators keep track of where they are to be found to ensure the best whale watching experience possible.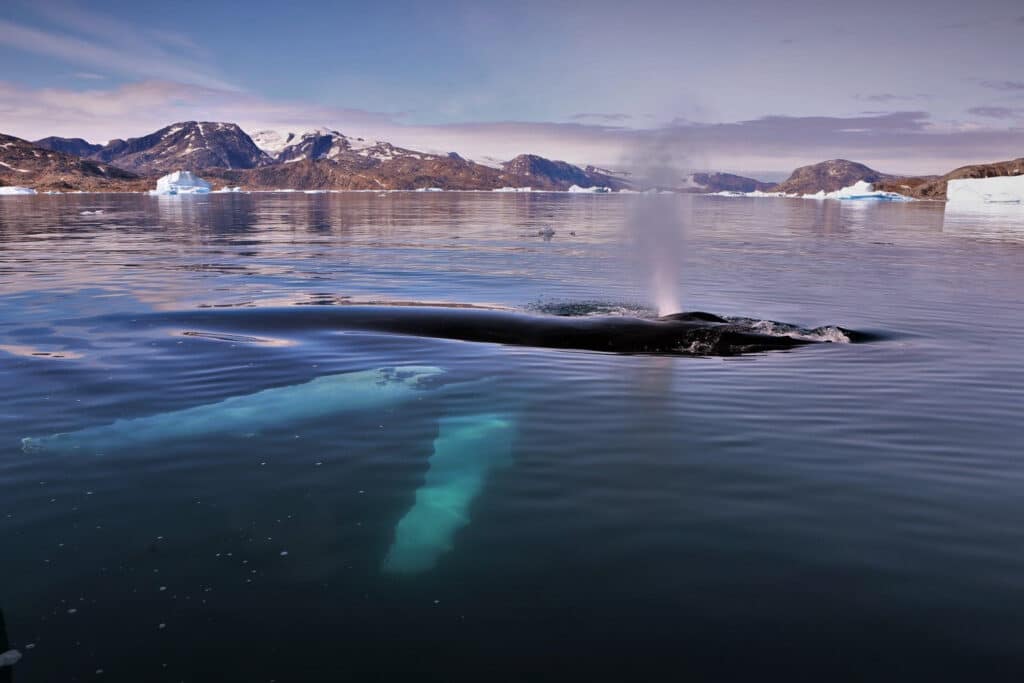 Experience Dog sledding
Greenland has the most extensive dog sled culture in the world.
From Tasiilaq, there are several dog sledding tours for those who wish to experience this traditional mode of Winter transportation. They range from a couple of hours to several days, with the exact route dependent on the sea ice and snow conditions.
Head out on a Snowmobile
A faster way to travel larger distances is via snowmobile. If you would like the adrenaline rush of speeding across the sea ice and snowy landscape, you can head out on a snowmobile excursion from Tasiilaq either for a few hours or overnight.
Go Heliskiing
The spectacular mountains of East Greenland provide endless opportunities for remote skiing experiences. Heliskiing is very popular from Tasiilaq and combines a panoramic aerial view of the area with the opportunity to ski in pristine snow.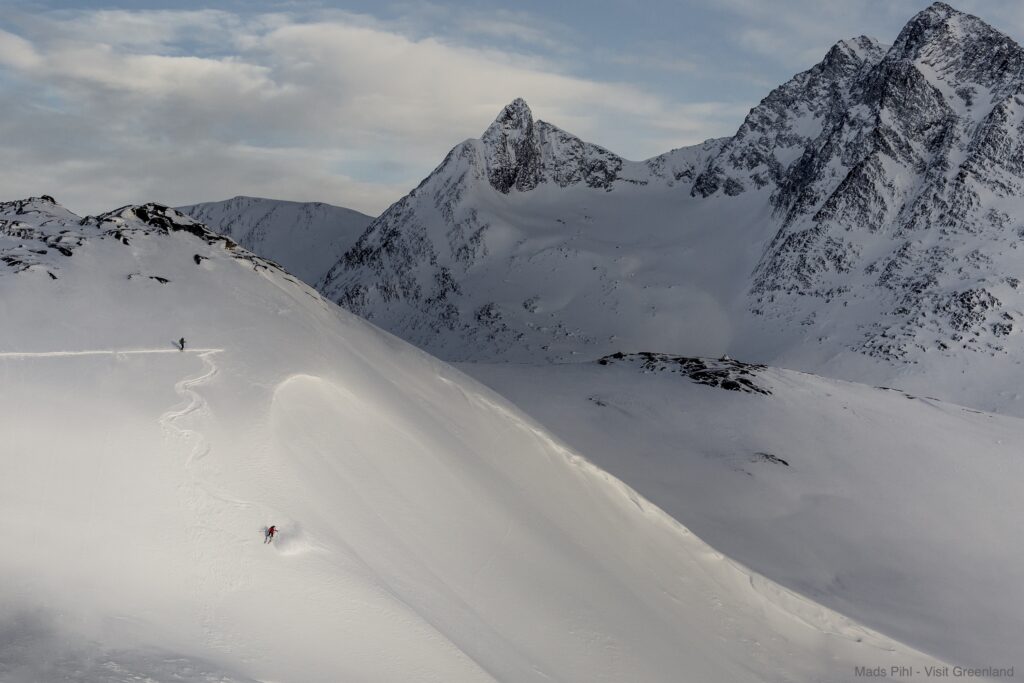 Hike with Snowshoes
During Winter / Spring, strap snowshoes to the bottom of your hiking boots to explore the Flower Valley and other circuits around Tasiilaq. We recommend guided tours due to the possibility of encountering a polar bear.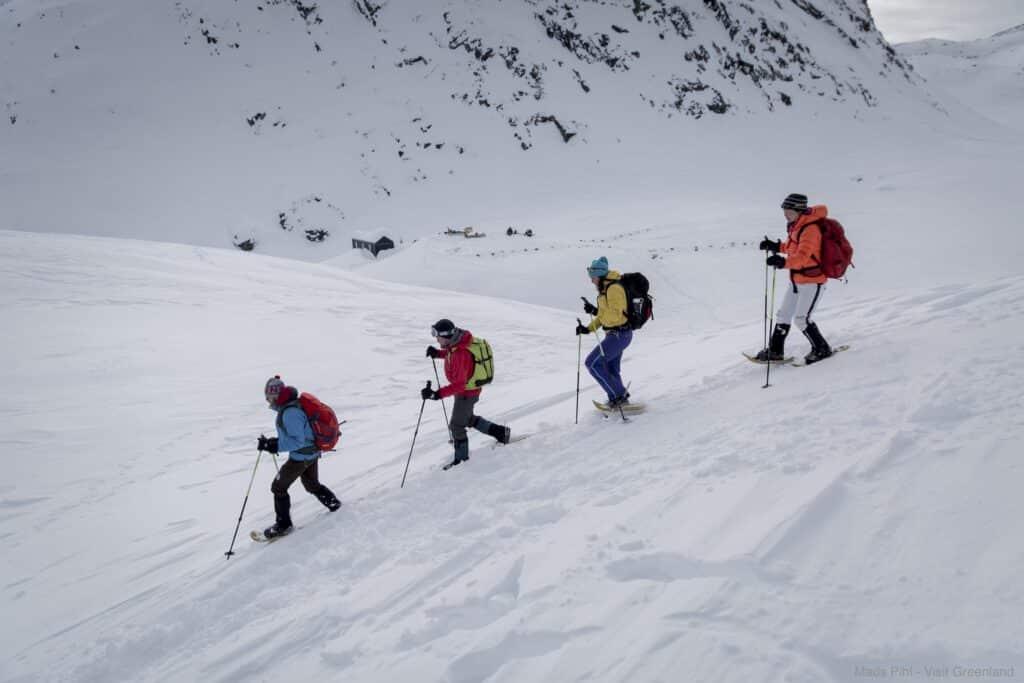 Accommodation – where to stay in Tasiilaq
Despite its size and remoteness, Tasiilaq has a number of accommodation options for visitors.
---
---
Hotels/Hostels
Hotel-style accommodation can be found at the Hotel Angmagssalik (the largest accommodation provider in Tasiilaq), and the Red House. Both offer meals, souvenirs, and have wonderful views of King Oscar Fjord and the mountains opposite. The Red House also offers dorm room accommodation.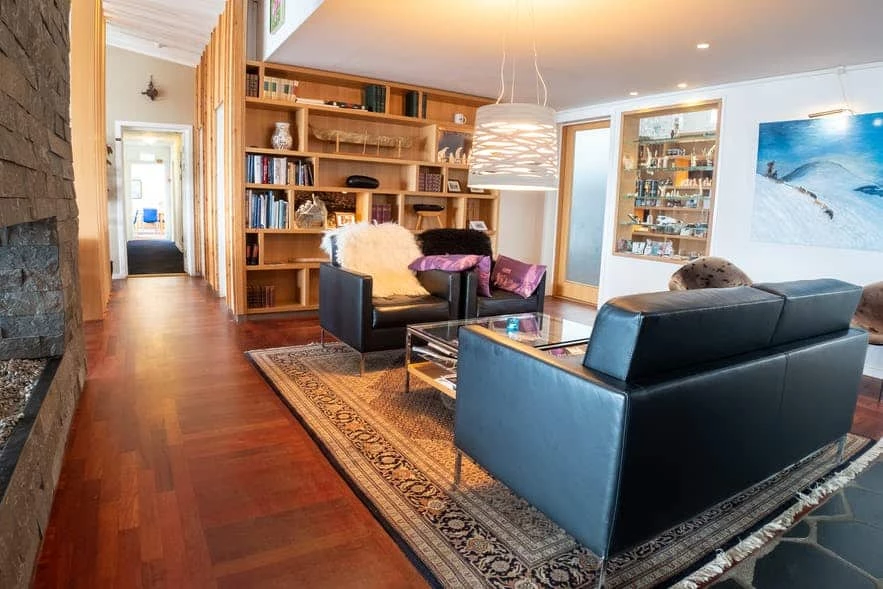 Arctic Dream has several comfortable shared houses in Tasiilaq where you can choose to have meals included or self-cater and cook for yourself.
Camping
If you are on a tight budget, you may consider staying at the Flower Camp, which is located in the Flower Valley. This camp has toilet facilities and a kitchen/dining tent with gas burners and tables. You can rent a tent and/or sleeping equipment if you do not have your own, and it is an amazing place from which to see the Northern Lights.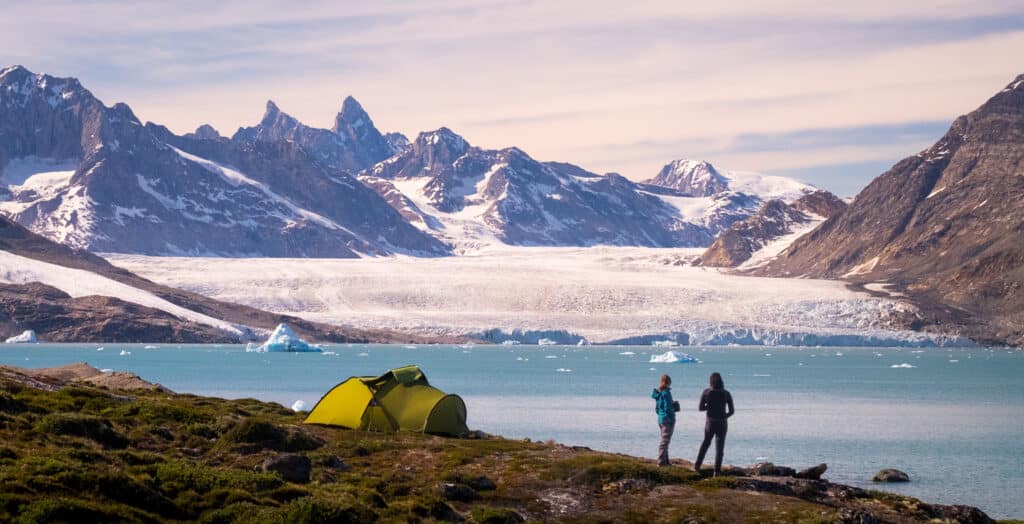 If you are self-sufficient, there is also a dedicated camping area near the heliport. This is actually owned by The Red House so inquiries should be made there or at the Tourist Information Center beforehand.
Accommodation in the Settlements
Overnight stays in the settlements around Tasiilaq are usually arranged as part of a multi-day tour. The operators that offer tours with an overnight stop will take care of these arrangements for you.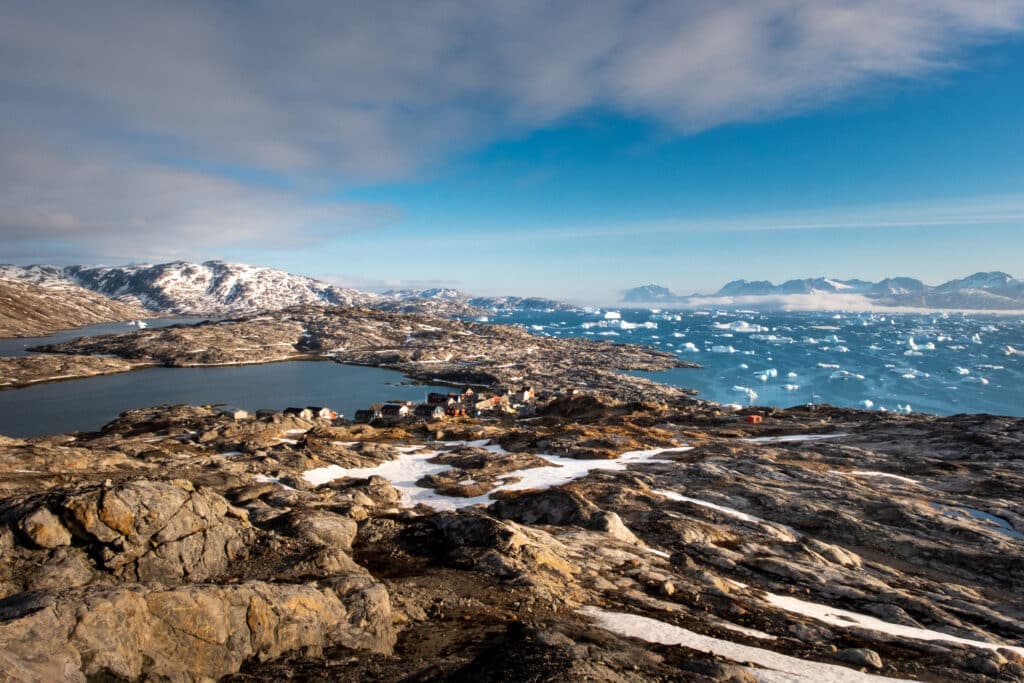 If you are traveling independently, you can arrange accommodation through the Tourist Information Office in Tasiilaq or with one of the tour operators. The exception is Kulusuk, where you can book directly with the Hotel Kulusuk or the Kulusuk Hostel (depending on the season).
Restaurants and cafés – where to eat in Tasiilaq
When it comes to eating dinner in Tasiilaq, your best options are found at the three main accommodation providers.
If you choose the catered option at Arctic Dream you can look forward to delicious home-cooked meals and a large buffet breakfast. The menu depends on what is available locally and whatever takes the fancy of the cook – but there is always plenty of delicious food on the table.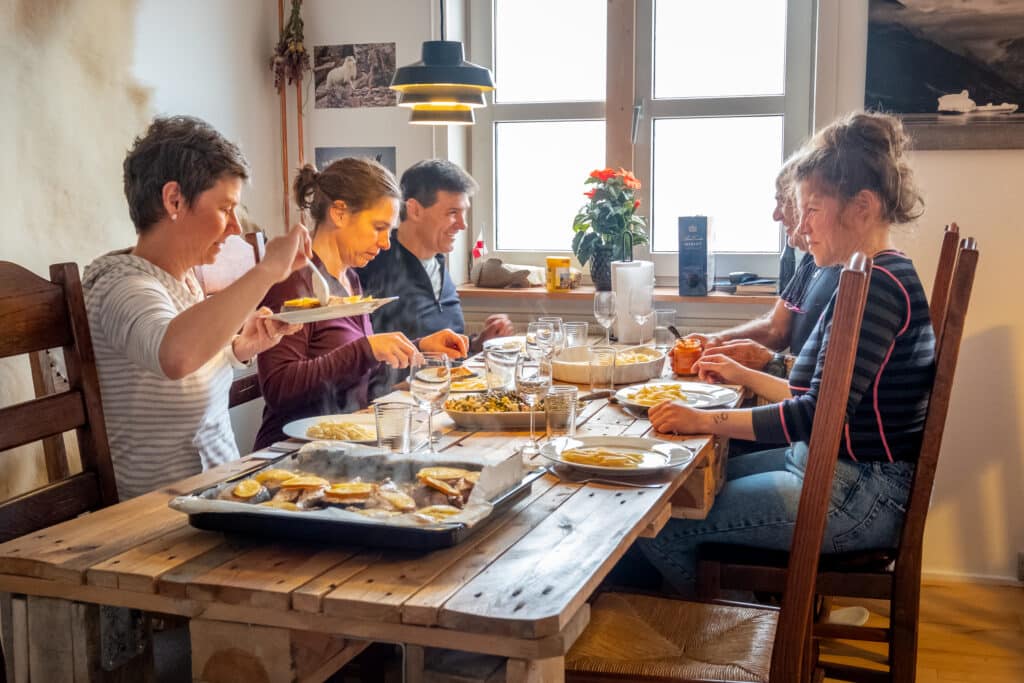 Dinners at the Red House feature Greenlandic produce with an Italian twist. Whale and seal meat are often on the menu, and although you can just turn up at night, it is better if you book in advance earlier in the day. 
The Hotel Angmagssalik offers breakfast for their guests, but also lunch and dinner for anyone in town – as long as you let them know in advance. The menu is not a la carte, but rather a daily offer that the cook determines in the morning.
The hotel also has a bar and café where you can enjoy a cup of coffee with cake, a beer, or perhaps a pre-dinner drink while overlooking the town. Pull your chair up to the open fireplace or sit outside on the terrace for one of the best views in town.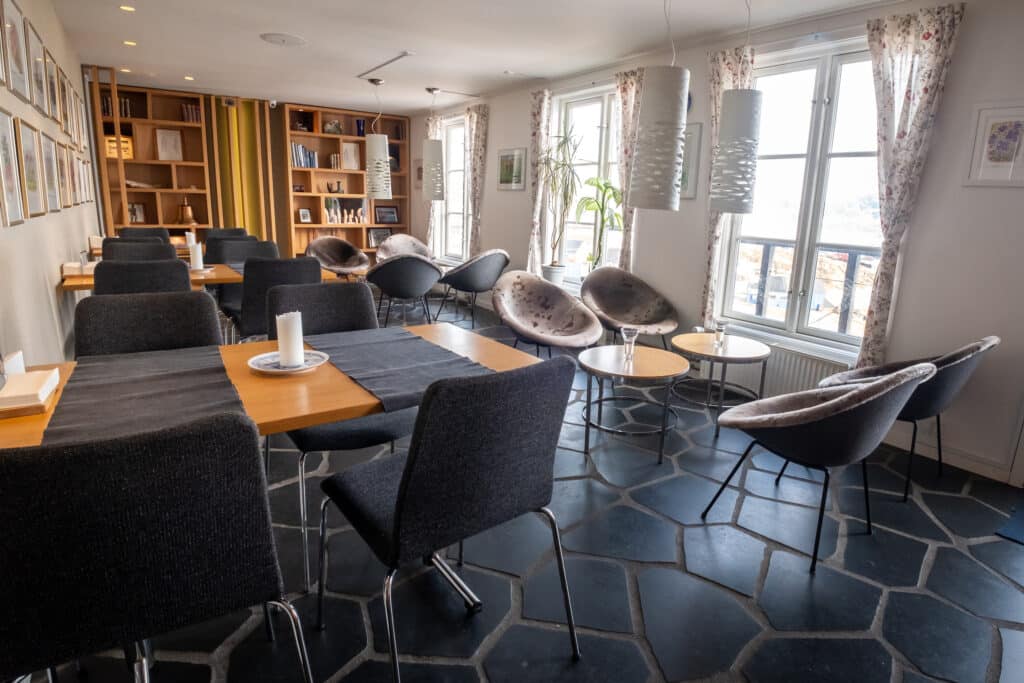 Tasiilaq also has Café Neriusaaq – a former bookstore and casual meeting place in town. It is located in the large yellow building with an outdoor deck, just over the crest of the hill from the grey municipal building. They mainly serve fast food options of burgers, fries, chicken wings, and hot dogs, as well as several types of coffee. 
Nightlife in Tasiilaq
There are a few places to go in town if you want to head out for the evening. Opening times vary depending on the time of year (your best bet is to ask once you get to Tasiilaq) and the action doesn't really start until 11 pm.
The nightclub "Klubben Angmagssalik" is housed in the big black building on the way out to the Flower Valley, and the bar/discotheque "Ammauu" is located straight down the hill towards the harbor from the small Pilersuisoq.
Ammauu is generally considered nicer and usually has live music on Saturday nights. You may also have the chance to experience Greenlandic Polka. Look for when everyone jumps up, converges on the dance floor, and starts to swing each other around. It is a fantastically fun dance if you get the chance to try it.
For a more cozy and mellow evening, head to the bar in the Hotel Angmagssalik, which will open if there are enough guests.
Souvenir Shopping
Tasiilaq is a great place for souvenir shopping, with several different options. The Tourist Information Office offers a wide variety of souvenirs at all price points in their shop: Arctic Art. The Hotel Angmagssalik also has a good selection of souvenirs and other gifts for sale.
Alternatively, if you are looking to buy a carving and want to purchase directly from the creator, head into Stunk – the artisan's workshop. The tupilaks they create are some of the best in all of Greenland and you may be able to commission a specific piece. The other places in Tasiilaq source most of their carvings from here.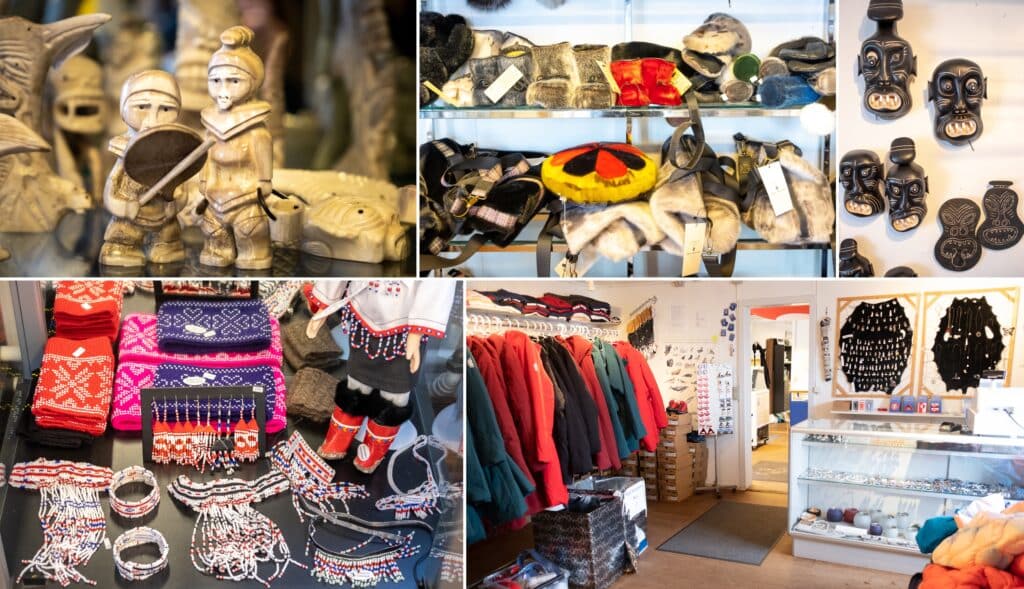 With all souvenir shopping, remember there are restrictions on what can be taken out of Greenland. To avoid issues, it is safest to buy things made from reindeer antler, musk ox, seal, or lamb. Please have a look at the current list of restrictions before you travel, or ask the staff at the Tourist Information Center for advice.
TIP: Do not be afraid of buying local crafts from the artists themselves if offered on the street. The price is usually fair, but you will have to pay in cash.
If you forgot – or haven't got a chance to buy your souvenirs in Greenland, discover a selection of Greenlandic Accessories, Clothes, Souvenirs, Cards & Posters, Books, and Home decor in The Greenland Store where you can find everything from Greenland online!
Emergency Information
Emergency: 112
Police: (+299) 701224
Hospital: (+299) 981211
Book your trip to Tasiilaq
Tasiilaq is unlike anywhere you will have ever been before and a destination for those looking to experience the remote arctic wilderness. Guide to Greenland brings together most of the tours offered around Tasiilaq on one platform and is an easy way to plan and book your travel to East Greenland. 
We invite you to explore all of our tours around Tasiilaq and contact us with any questions you may have about them.
---
---
Other interesting articles