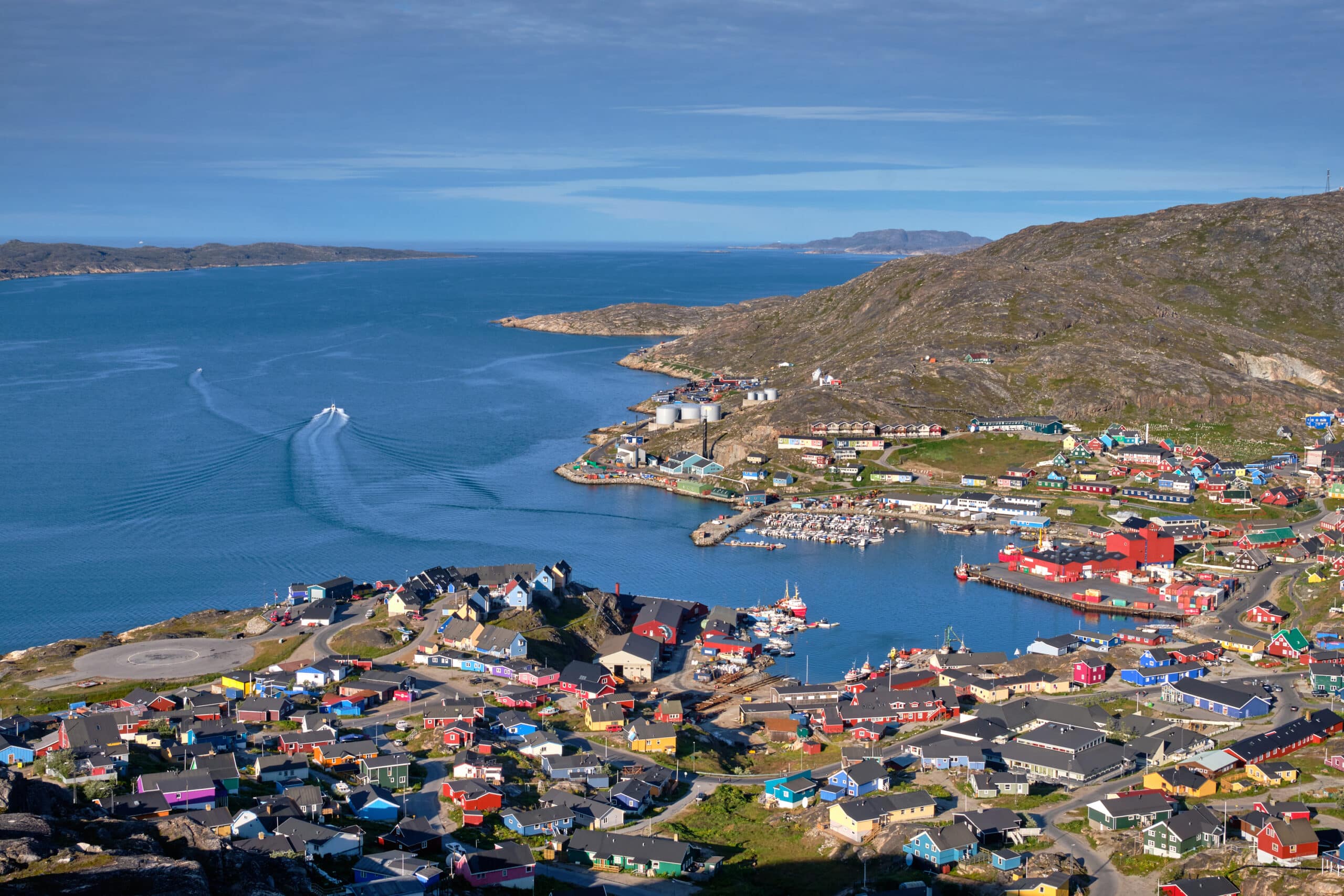 The Ultimate Travel Guide to Qaqortoq
Qaqortoq is the largest city in South Greenland and the perfect base from which to explore the Norse (Viking) ruins encompassed by the extensive UNESCO-listed Kujataa World Heritage Site. But where exactly is Qaqortoq? How do I get there? And what should I do once I arrive? Read on to discover everything you need to know in order to plan an incredible travel experience in and around Qaqortoq.
---
---
Colorful houses, mild weather, and easy access to glaciers, hot springs, and Viking ruins.
Welcome to Qaqortoq! The gateway to the Viking settlements of Greenland.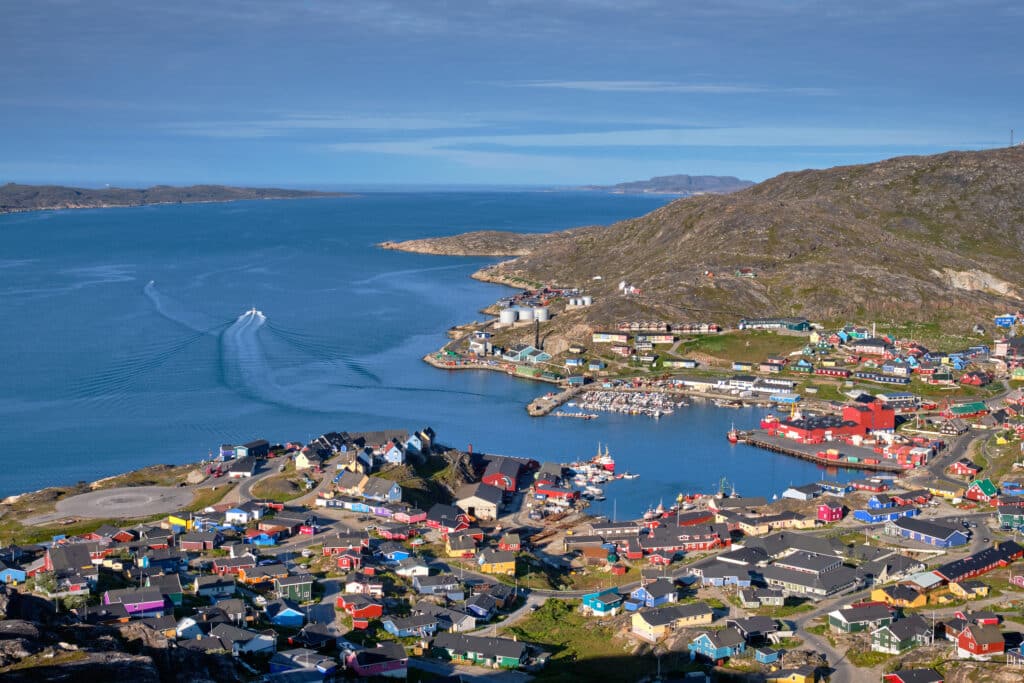 With a population of just under 3,000 people (Jul 2019), Qaqortoq is the 5th largest city in Greenland. It is the logistics and commercial hub of South Greenland. It has sufficient tourist infrastructure to make your trip very comfortable and is one of the best places to arrange excursions to the many attractions of the South.
This Ultimate Guide to Qaqortoq contains all the information you need to plan and get the most out of your visit to the capital of South Greenland.
Where is Qaqortoq?
Qaqortoq means "white" in Kalaallisut (the Greenlandic language). A slightly ironic name, as South Greenland is actually one of the greenest areas of the world's largest island. The city is located on the south coast of Greenland at a lower latitude than Iceland. A fact that surprises many visitors!
This southern location allows for some degree of agriculture to take place. This is one of the reasons the Norse (Vikings) chose to settle in the region and an important (and rare) opportunity for Greenland to grow some of its own produce.
What is the best time to visit Qaqortoq?
Qaqortoq is primarily a summer destination for both local and international tourists. The weather is relatively mild and the main tourism office is open with a wide variety of excursions to suit all interests.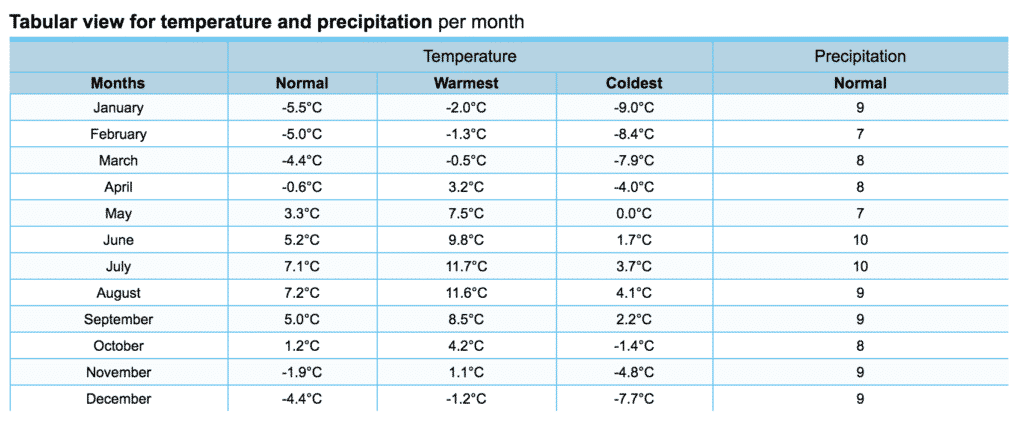 Summer is also the time for festivals, including: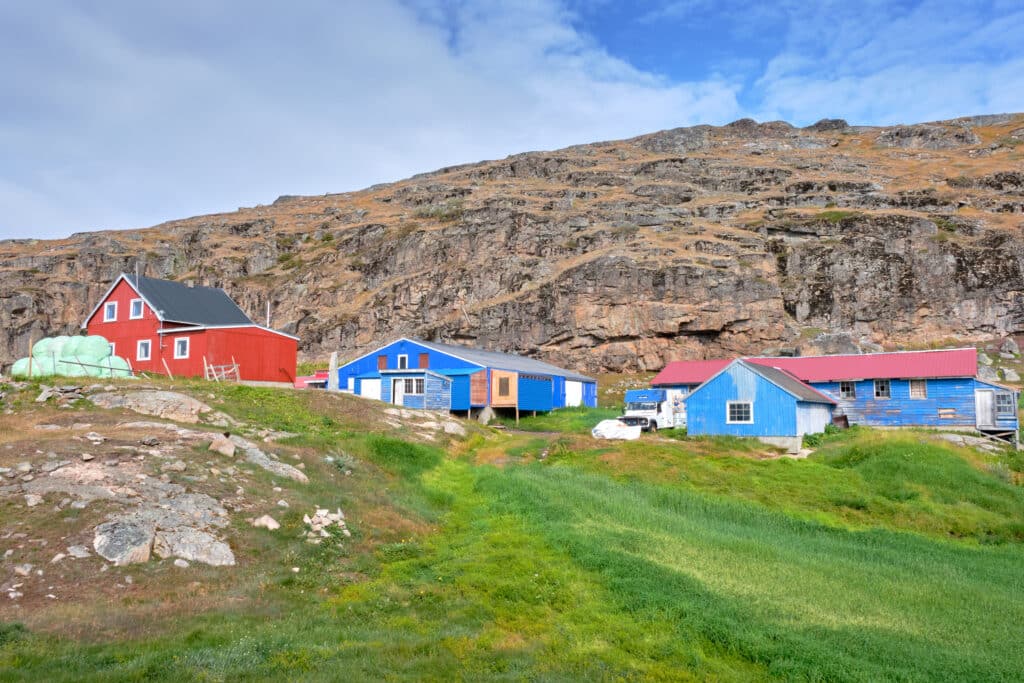 There are still some excursions that run during the winter months (particularly helicopter tours), and self-sufficient visitors can always bring their own skis and/or snowshoes to enjoy the pristine backcountry and the incredible Northern Lights.
---
---
When you are planning your trip to Qaqortoq, particularly if you are traveling in winter, it is also useful to know the time of sunrise and sunset. Enter your date of travel into the Qaqortoq page at meteogram.org to discover how much daylight you will have, as well as the times of the different twilights, golden hour (for photographers), and a lot more.
What should I pack for a visit to Qaqortoq?
The season you are visiting and what you plan to do while in South Greenland will largely determine what you should pack for a visit to Qaqortoq.
Clothing
Even though most people choose to visit South Greenland during the summer when the weather is fairly mild, you should still follow the layering principle with your clothing. All buildings are heated to a comfortable temperature, but when you are out and about you need to be prepared.
Read our full article on the best clothing to pack for a trip to arctic Greenland, or watch the video versions here.
In all seasons, make sure you bring sunscreen. The sun can be very strong in the Summer and even in Winter. It is easy to get sunburned when you spend the whole day outside enjoying nature. If you are visiting during Summer, it is also a very good idea to bring insect repellent and a head net. Or buy them once you arrive.
---
---
If you do forget something or discover that you have not brought sufficient layers, head to Tamat Sport(near the harbor) or upstairs to Pisataat in the large Pisiffik supermarket for some limited outdoor clothing options.
Outdoor gear
If you are planning to hike extensively, you should bring the majority of your own equipment with you to Greenland. That being said, it is possible to purchase basic tents, sleeping bags, personal emergency beacons, knives, fishing equipment, and a whole host of other outdoor gear in Qaqortoq at Sissami, near the fish market. This is also the place to go to purchase your camping gas and dried trekking food.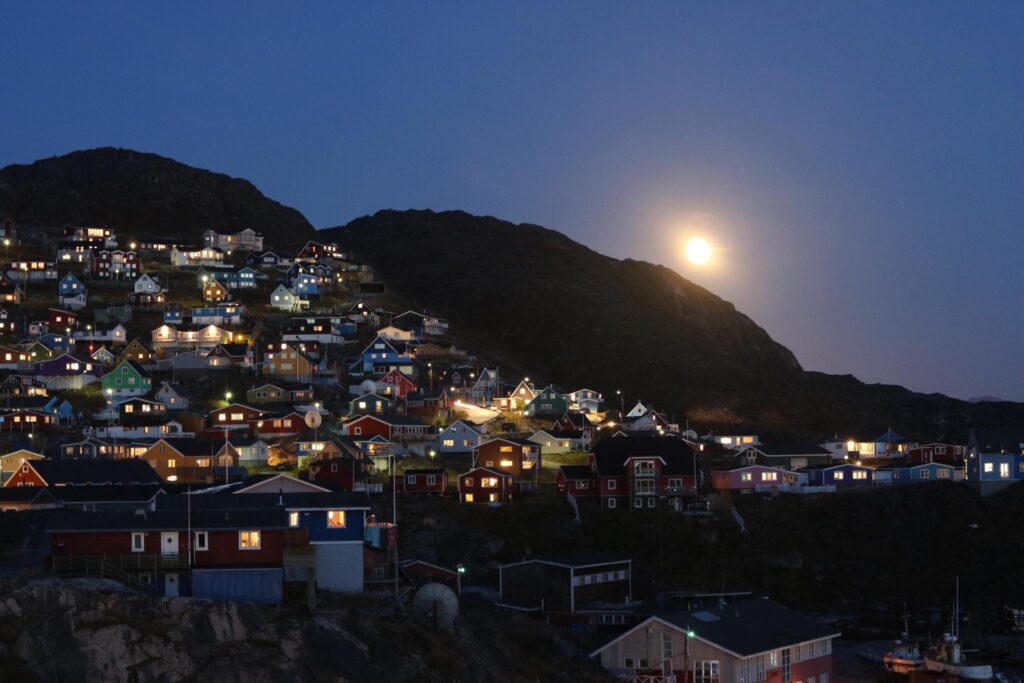 Electronics
Greenland uses the Standard European Plug (230 V) for its electrical outlets. Make sure you pack at least one of these if your electronics have a different type of plug.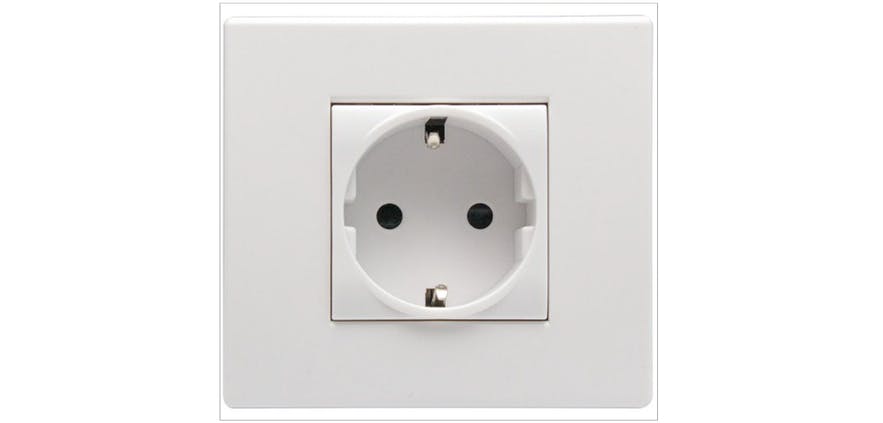 Don't forget your camera and at least one spare battery! Colder temperatures drain camera batteries more quickly. Make sure you don't miss a shot at the end of the day by bringing along a power bank charger if you use your phone or spare batteries for your camera. If you are planning to photograph the Northern Lights, bring your own sturdy tripod if you have one.
Useful Apps
We are big fans of Maps.Me app here at Guide to Greenland. Download the app and the map of Greenland while you still have internet access. The internet is not available everywhere and is very expensive in Greenland. You will be set to find your way around during your stay. The app shows streets, places of interest, restaurants, accommodation, and even some hiking trails. It can also tell you the best way to walk, drive or cycle from where you are to where you want to go. Just remember to turn on your GPS when you arrive!
If you want to know the most likely times to see the Northern Lights, download the Northern Light Aurora Forecast (iOS/Android) app to monitor the likelihood of the lights appearing and, if you want to photograph them with your phone – one of the Northern Lights photography apps that allow you to set long exposure times.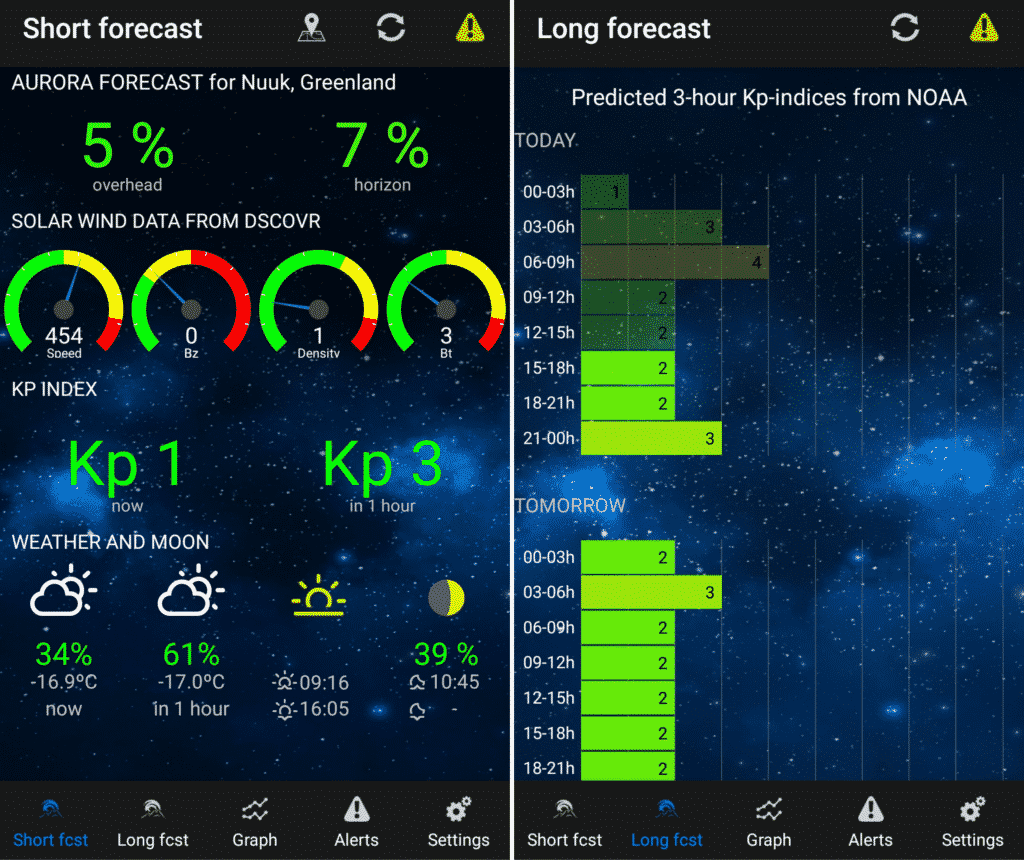 ---
---
How do I get to Qaqortoq?
Although Qaqortoq is the largest city in South Greenland, it does not yet have an airport. For this reason, access is currently via helicopter or boat transfers only.
Flying to Qaqortoq
At the moment, there are no direct flights to Qaqortoq. You must fly into Narsarsuaq and then either take a helicopter or boat transfer from there to Qaqortoq. This will change in the future once the new airport (scheduled to be opened in 2023) is built.
For both domestic and international flights to Narsarsuaq, departures vary depending on the time of year. It is best to check the schedule on our how to get to Greenland page to see which days each airline flies, but the following will give you a general idea.
International flights direct to Narsarsuaq only operate during the summer. Air Iceland Connect has departures from Reykjavik Domestic Airport a few times per week, and Air Greenland provides a limited number of direct flights from Copenhagen.
If your schedule doesn't allow you to take a direct flight, you will need to fly to Narsarsuaq via Kangerlussuaq (with Air Greenland from Copenhagen) or Nuuk (with Air Iceland Connect or Air Greenland from Reykjavik).
---
---
If you are already elsewhere in Greenland, Air Greenland will fly you to Narsarsuaq with a connection through Nuuk.
Once you arrive in Narsarsuaq, there are daily helicopter transfers to Qaqortoq.
Arriving by boat to Qaqortoq
From Narsarsuaq, both Blue Ice Explorer and Disko Line offer boat transfers to Qaqortoq. These usually operate all year round and a fast trip will take about 2 hours in a comfortable, heated boat. In winter, it can take longer depending on ice conditions.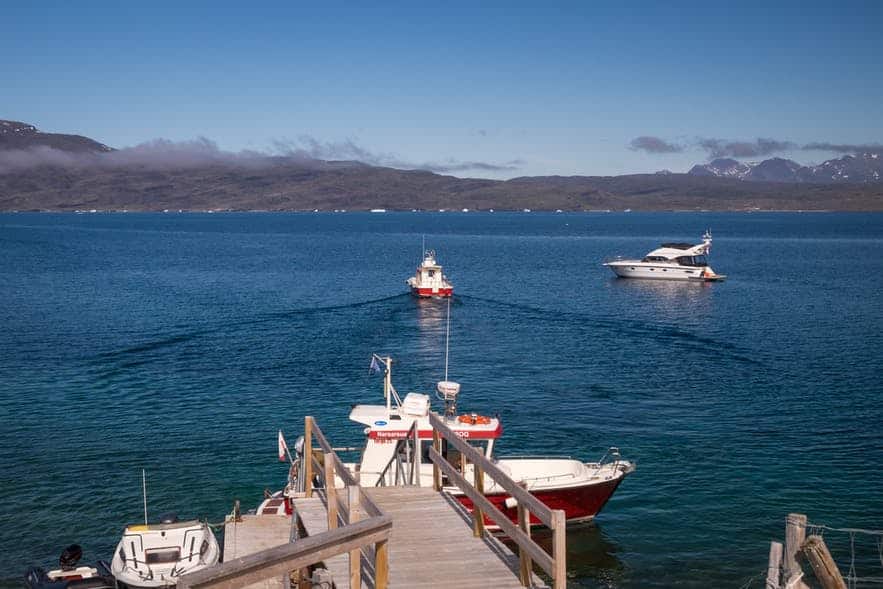 Qaqortoq is the southernmost destination of Arctic Umiaq Line's Sarfaq Ittuk Passenger Ferry that runs up and down the West Coast of Greenland. The exact schedule depends on the time of year, so check their schedule to plan your itinerary.
If you are taking a cruise to Greenland, Qaqortoq will likely be one of your ports of call. If so, your cruise ship will typically dock for less than 12 hours. So you will have limited time to explore the city and its surroundings unless this is your jumping-off point.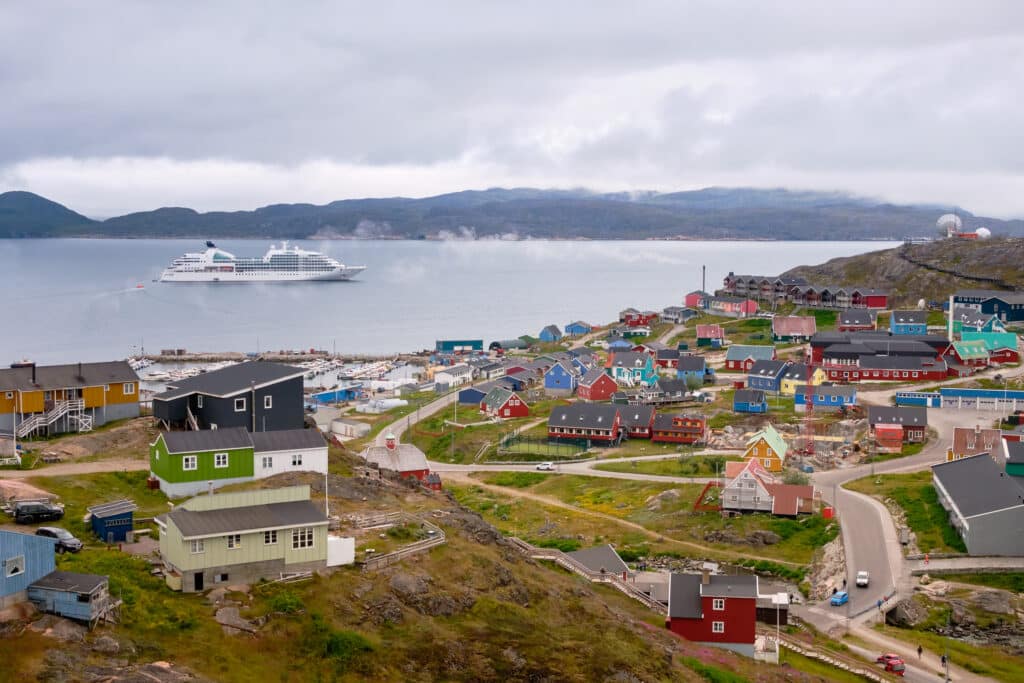 How do I get around Qaqortoq?
Once you have arrived in Qaqortoq, it is very easy to get around independently. Given the small size of the city, people generally just walk. However, there are also a few taxis in Qaqortoq if you would prefer to save your legs from the hills!
Water Taxis
If you want to explore the islands and the fjords around Qaqortoq, one option is to go via water taxi. There are both group tours and private tours available to popular sites, or you can create your own itinerary and book a private boat for up to 6 passengers for as long as you like.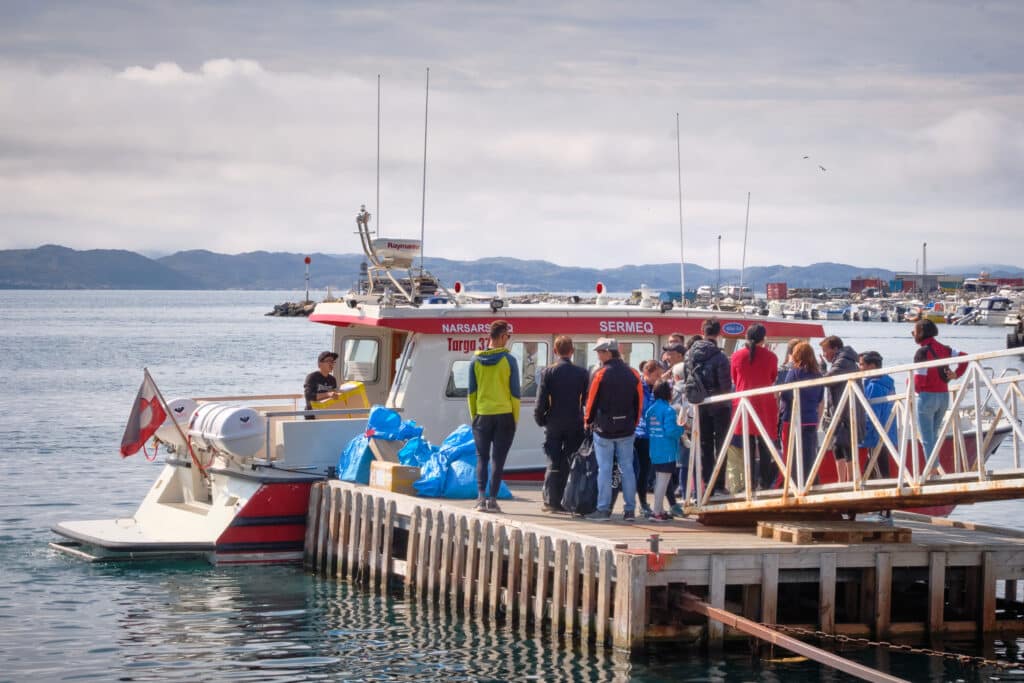 Helicopter
You can also arrange to visit nearby islands and fjords via helicopter. There are group helicopter tours available to all the major sites in South Greenland, as well as the possibility to charter a helicopter to suit your own itinerary. If you want to fly to Narsarsuaq, Narsaq, or Nanortalik, check the schedule at Air Greenland.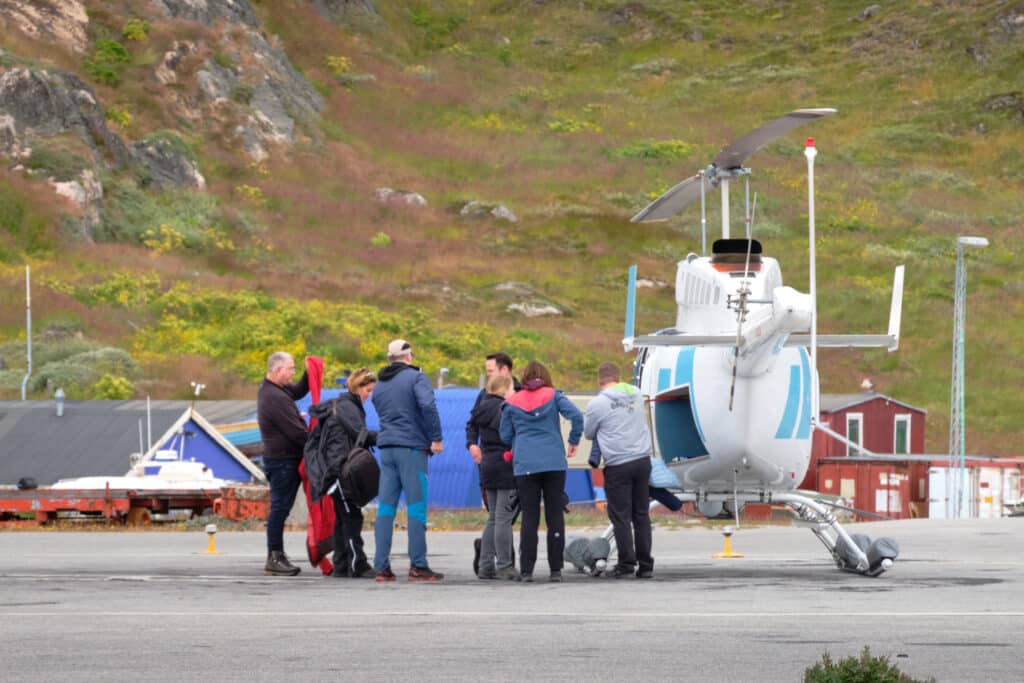 Things to do in Qaqortoq
Although visiting the Norse (Viking) settlements will be one of the highlights of your stay in Qaqortoq, here are some other suggestions for how to enjoy your time in the South:
Explore the city
Qaqortoq has quite an extensive historic area near the port with many well-preserved buildings still in use. The Qaqortoq Museum is housed in the oldest of these and features exhibitions that include information about the different cultures to have lived in Greenland, traditional kayaks and other hunting equipment, and some of the best tupilaks you will ever see (carved by Aron and Cecilie Kleist).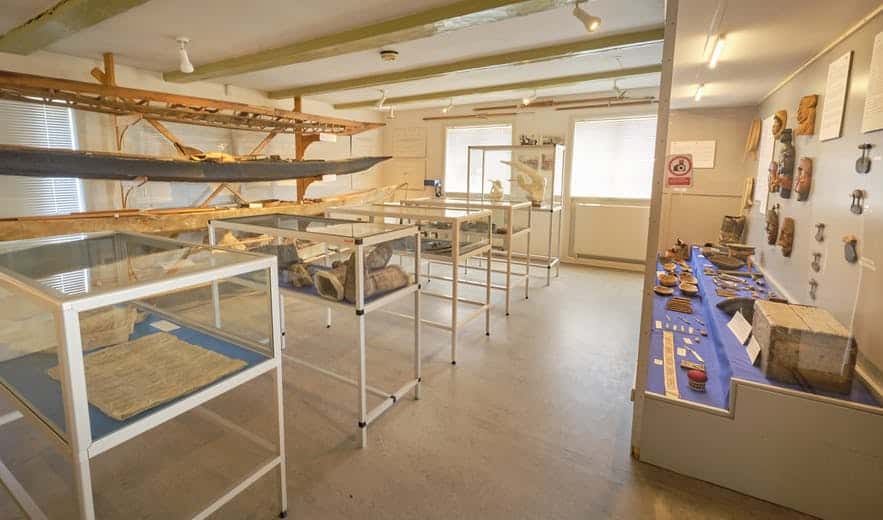 The entrance fee to Qaqortoq museum furthermore includes entrance to the Nordbo Museum (North Viking Museum) and Tele Museum, as well as the old "Annaasisitta Oqaluffia" (The Saviors Church), which was built in 1832.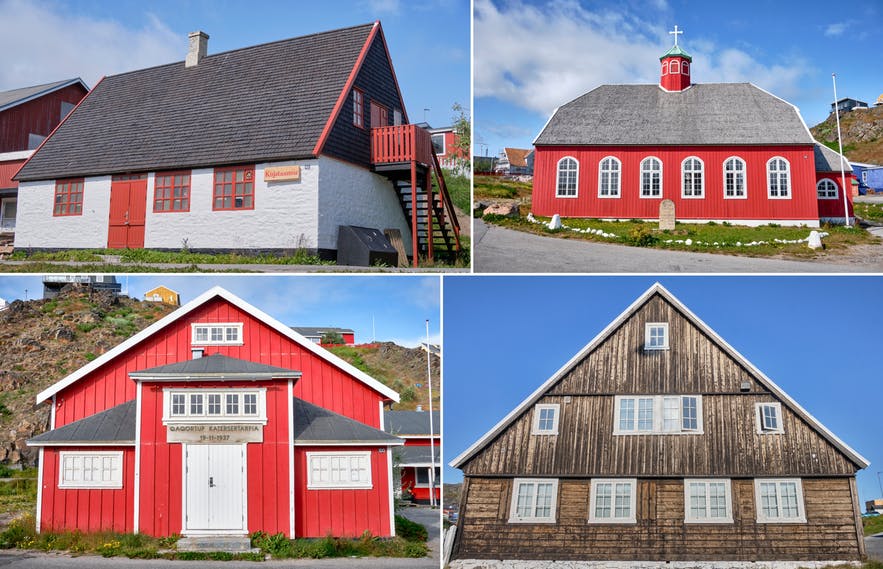 On your stroll through town, you should come across several of the pieces that make up the open-air "Stone and Man" exhibition (you can also sign up for a more extensive tour). Local artist Aka Høegh initiated this project and worked with visiting Nordic artists to create over 30 stone carvings and sculptures that can now be found all over town. Keep a sharp eye out as you walk around!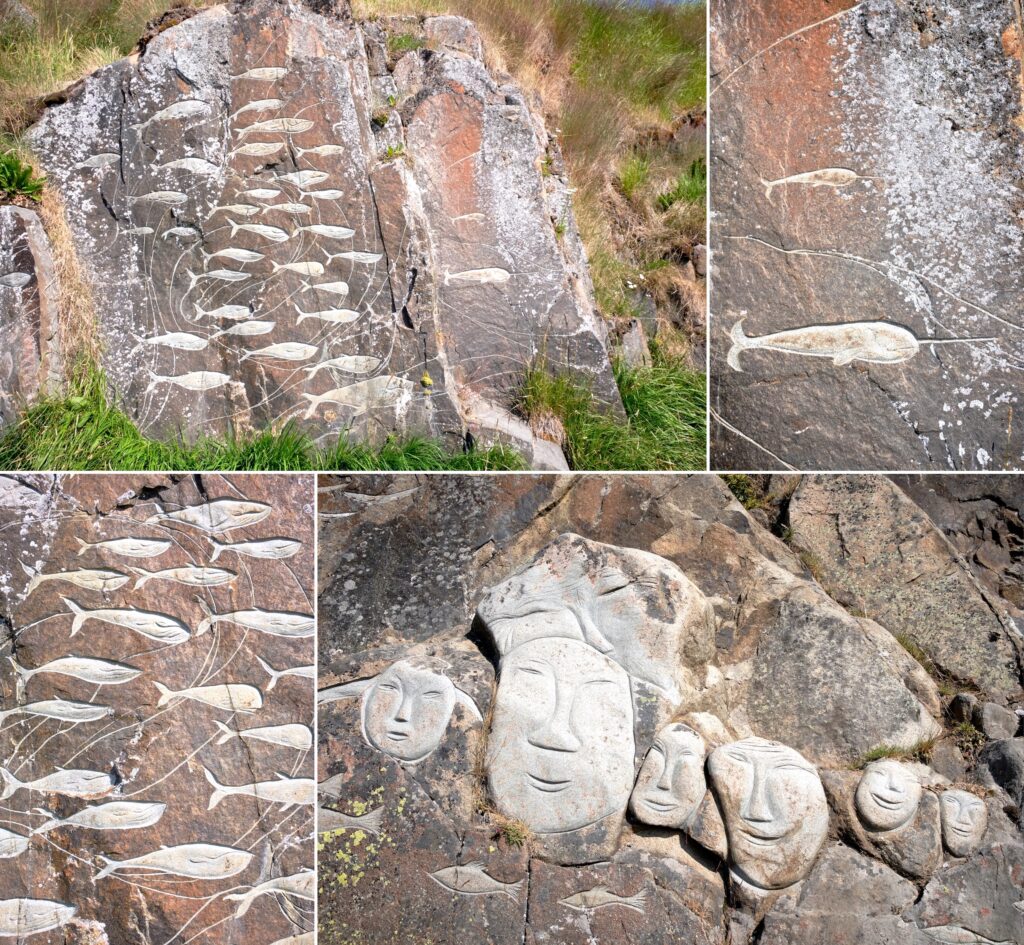 Another important building you should at least poke your head into is the modern Gertrud Rasch's Church up on the hill above the harbor. One of the first things you will see is the enormous mural on the left side wall, but don't miss the bibles written in the Greenlandic language, the altarpiece that features flora from South Greenland, nor the extraordinary paintings by award-winning Danish artist, Bodil Kaalund, on the back wall.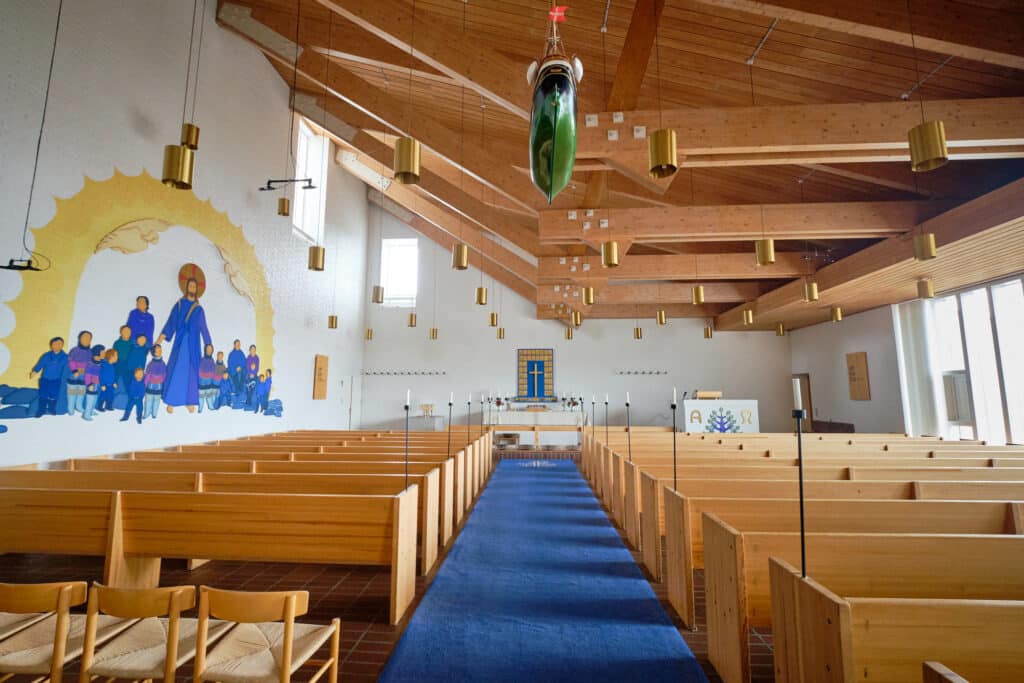 Sustainable seal hunting is an important part of Greenlandic culture, and sealskin is used extensively throughout the country. Learn more about the hunting of seals and the use of sealskin both historically and today on a guided tour of Great Greenland's tanning and production facility on the far side of the harbor.

Experience the Kujataa World Heritage Site
One of the highlights of a trip to South Greenland is the opportunity to visit several Norse (Viking) ruins. The 3 key sites of Hvalsey, Igaliku, and Qassiarsuk are contained within 5 protected areas where Viking (10th – 15th century) and Inuit/modern (18th century to present) farming cultures coincide. This juxtaposition of the cultural landscape is the reason that UNESCO inscribed Kujataa as a World Heritage Site in 2017.
Hvalsey Church is the most directly accessible site from Qaqortoq. Take a boat tour or helicopter flight to visit this church from the 12th century – the best-preserved Norse ruin in Greenland.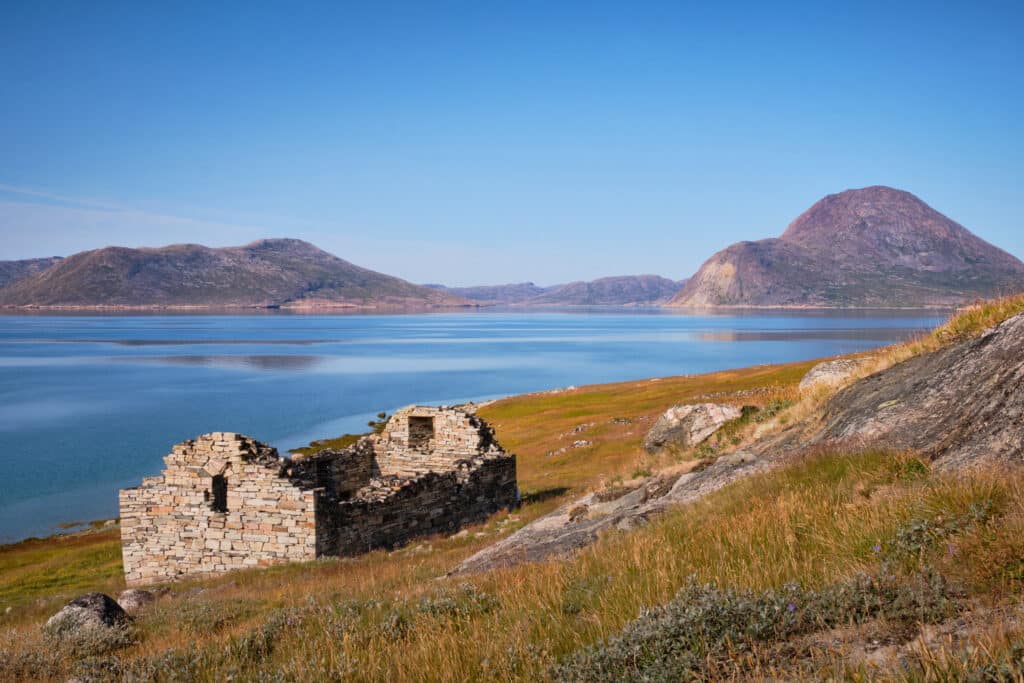 It may be possible to combine your trip to Hvalsey with a visit to Upernaviarsuk – an agricultural research and training station where new techniques for growing fruit and vegetables are tested. Upernaviarsuk sells their produce in supermarkets around Greenland, so if you see fresh food that is labeled as Greenlandic – it likely came from here. You can also visit Upernaviarsuk on a dedicated tour.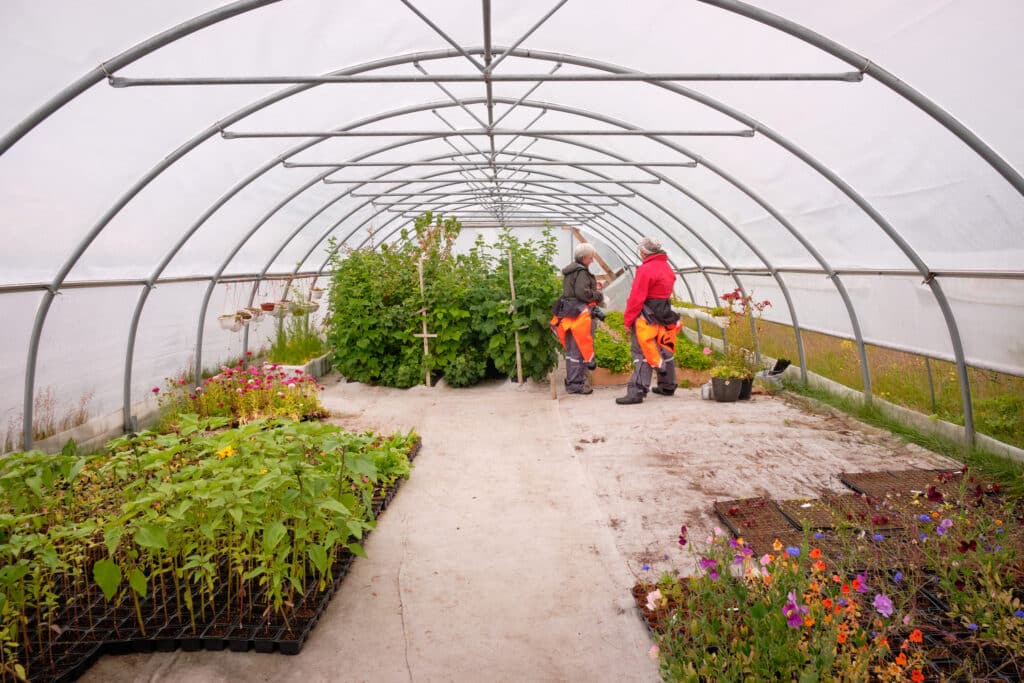 Igaliku is a small sheep-farming community and the location of one of the most important religious sites in Viking South Greenland. You can still see the remains of the episcopal residence, Garðar Cathedral, and two large cow barns here. There are also several beautiful day-hikes in the area. Maps and short descriptions can be found at the hotel and hostel.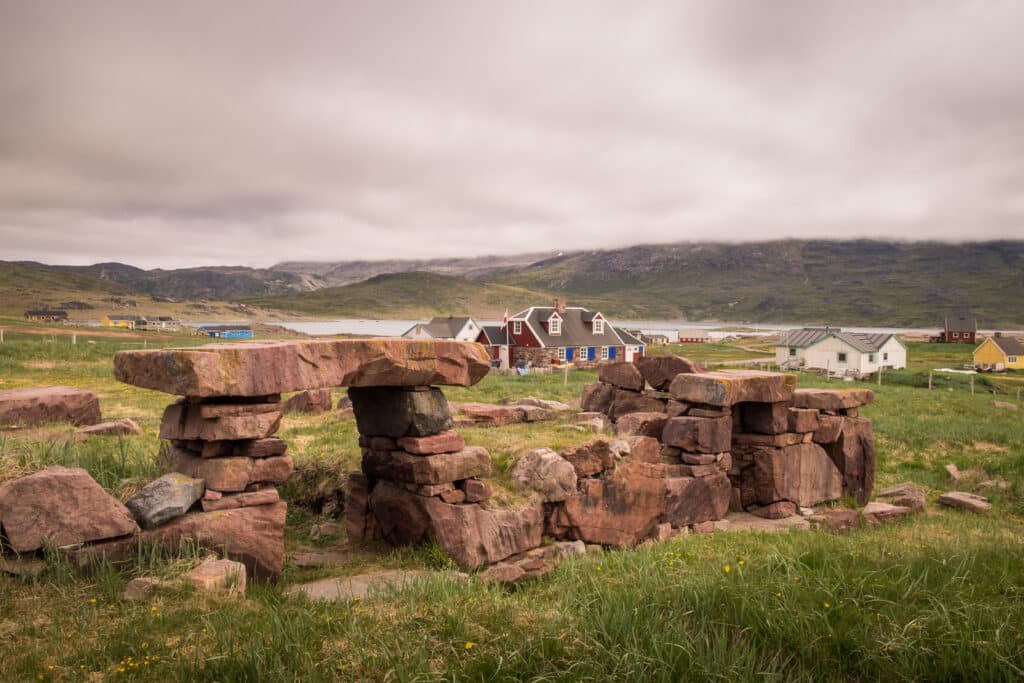 Qassiarsuk hosts the other main Norse site (Brattahlíð) and is where Eric the Red settled in South Greenland. The ruins of his settlement are some of the most visited in Greenland and are enhanced by reconstructions of his longhouse and also Thodhildur's church.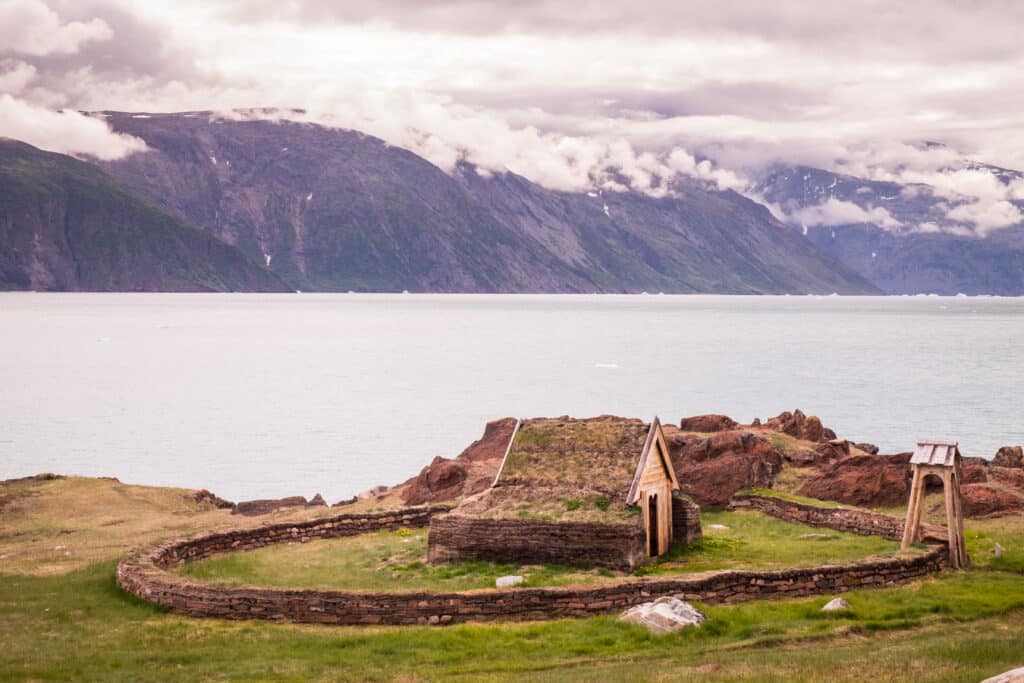 Although there are day-tours to both Hvalsey and Igaliku from Qaqortoq, the easiest way to see all three of the key Norse sites in South Greenland is on a multi-day tour. There are several different options available ranging from 4-day boat-based tours to more active 8-day tours that include kayaking and hiking.
---
---
Outdoor Adventure
The Norse (Viking) ruins are undoubtedly one of the highlights of South Greenland. However, the area also has a wealth of natural beauty to enjoy.
Visit the Ice
Glaciers and icebergs abound and can be visited on either a boat tour or an unforgettable helicopter flight. You can also hike to the glacier near Narsarsuaq before you take your transfer to Qaqortoq.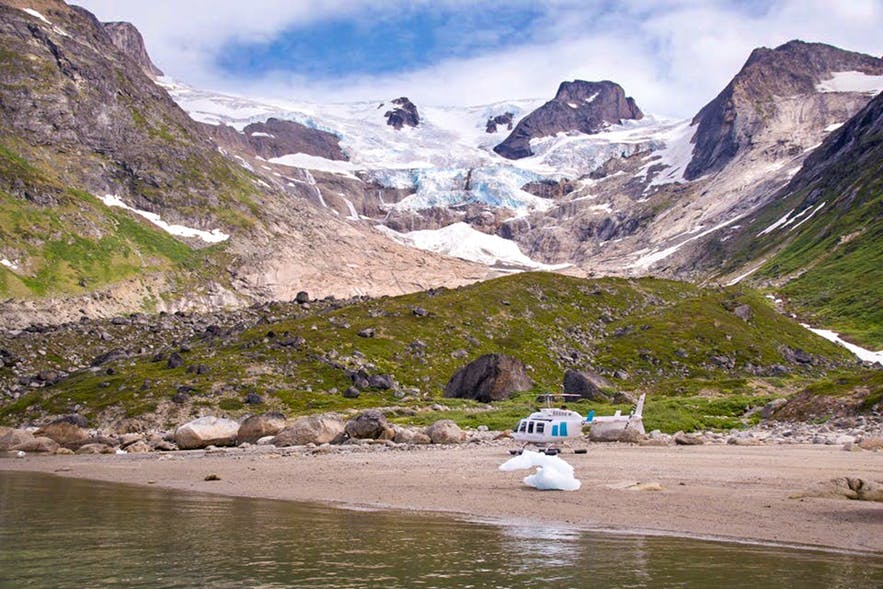 Hiking
In fact, hiking is a very popular activity during the warmer months in South Greenland. From Qaqortoq, we recommend hiking around the large lake near town (Tasersuaq). It is a relatively easy outing with great views of the lake, town, and fjord. You can also pick crowberries and blueberries along the way if you are there at the right time of the season. Or join the locals for a dip in the cold waters!
Other great short hikes are to the top of any of the hills immediately surrounding Qaqortoq. Especially at sunrise and sunset! There are loads of cairns up there but most of them don't really signify anything. Just wander around (carefully) and explore to find your favorite view.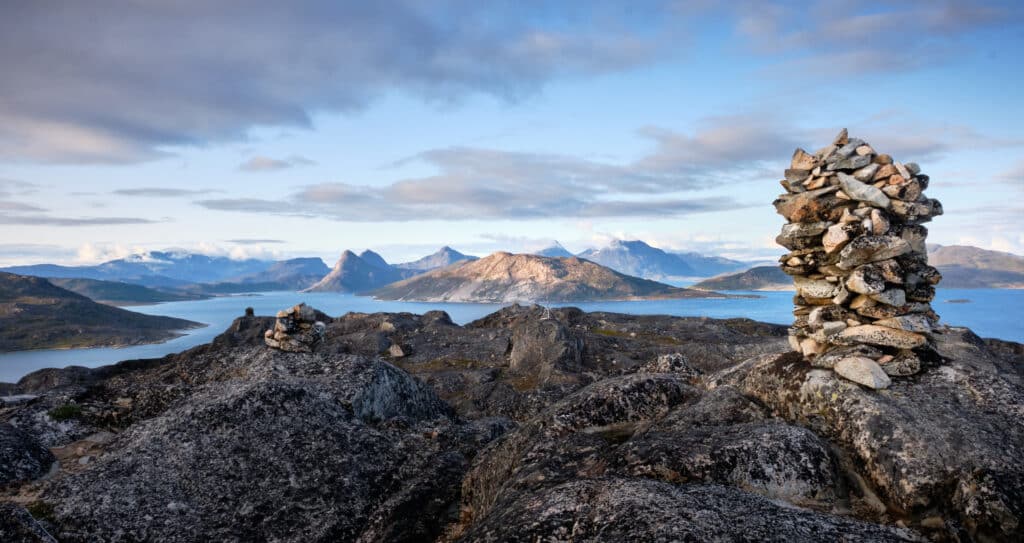 For those looking for longer hikes – there is a fabulous 3-4 day hike from Qaqortoq to Igaliku. That also passes by the Hvalsey Church. It is a relatively easy hike with the highest elevation being just over 400m. But you must be self-sufficient (you need to carry a tent and all your supplies with you) and know how to navigate in the back-country.
Kayaking
If being out on the water is more your thing, kayaking is also very popular in the area. You may be able to rent a kayak in Qaqortoq for a short paddle or join a tour that incorporates kayaking as part of the program.
Soak in a Hot Pool
South Greenland is also home to one of the few thermal pools in the country. Unlike its close neighbor, Iceland, Greenland is not volcanic. It only has a handful of places where you can soak in warm water in the middle of nowhere. One of these is the Uunartoq Hot Spring – which can be visited on an easy day-trip from Qaqortoq by either boat or helicopter, or as part of a multi-day tour. There's nothing quite like soaking in a hot pool with a wide vista of icebergs and mountains!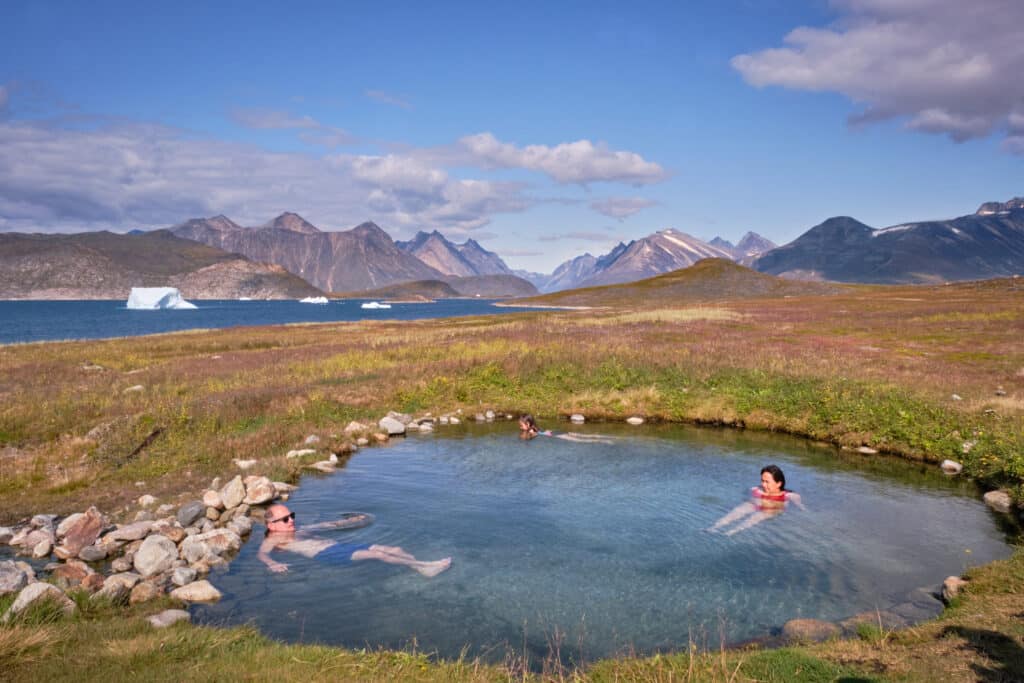 ---
---
Witness the Northern Lights
If you choose to visit Qaqortoq outside of the main tourist season and find yourself there between September and April, you have a great chance to see the incredible Northern Lights. Try to head out of town a little for the darkest skies and best views.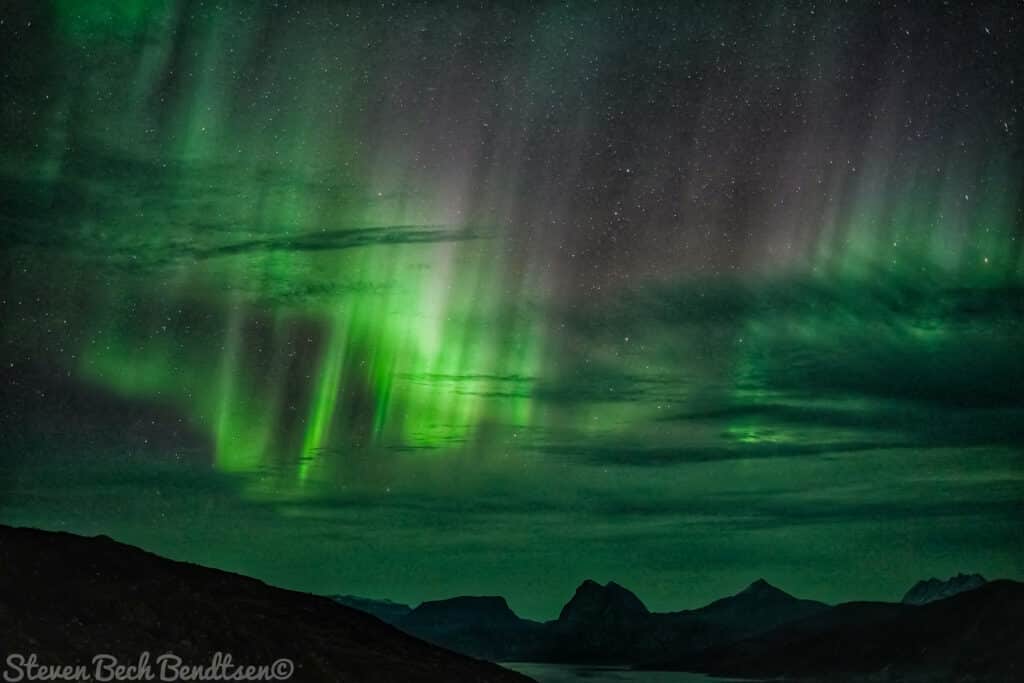 Accommodation – where to stay in Qaqortoq
Qaqortoq has a number of accommodation options available to visitors.
The 4-star Hotel Qaqortoq is the premier accommodation and conference center in town with both single rooms and apartments available. It is located just above the harbor and also provides two of Qaqortoq's four eating establishments.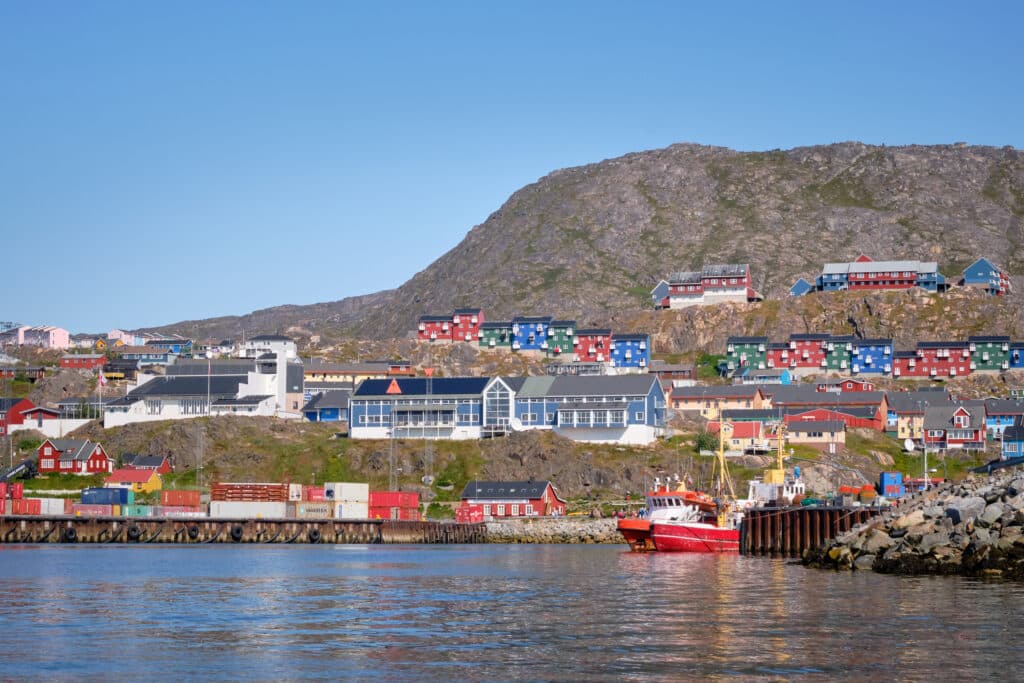 Other accommodation is available at Siniffik Inn (private and dorm-room accommodation with private and shared bathrooms), 60N Apartments, Wig-Wam Accommodation (rooms and cottages), and Sulisartut Højskoliat (rooms may be available if there are no students staying). There are also several Airbnb properties available, ranging from single rooms to entire apartments. You can easily book accommodation in Qaqortoq here.
Restaurants and cafes – where to eat in Qaqortoq
While there are several places to stay in Qaqortoq, the number of places to eat is limited.
The Nanoq Brasserie at the Hotel Qaqortoq is the town's fine dining experience and is only open in the evening. Although it specializes in different types of steak, there are a few other options available as well, including a "Greenlandic Symphony" tasting plate with reindeer, musk ox, and lamb.
Next to a famous city fountain, in the heart of Qaqortoq, you will find Ninu- Arctic Kitchen- restaurant. It is a cozy dining place where depending on the season you can taste dishes made with local ingredients such as lamb, fish, reindeer, or musk ox in an innovative way.
Another great restaurant-style option for lunch or dinner is INBOX: a Little Thai Corner. Hidden in the harbor around the fish market side of the large red building, it offers traditional Thai food as well as Thai food with a Greenlandic twist. Seal or Musk Ox curry anyone?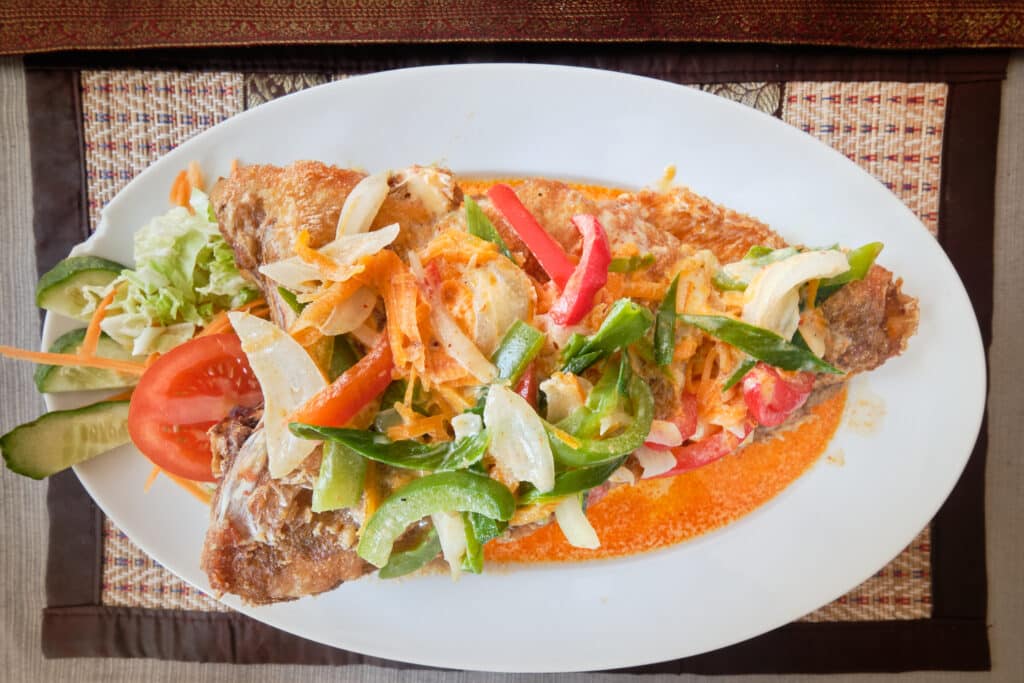 If you are looking for more informal dining and are hungry for sandwiches, burgers, pasta, meat dishes, or salads, head to Nanoq Café (Hotel Qaqortoq) or Heidi's Café (at Siniffik Inn), both of which offer similar menus.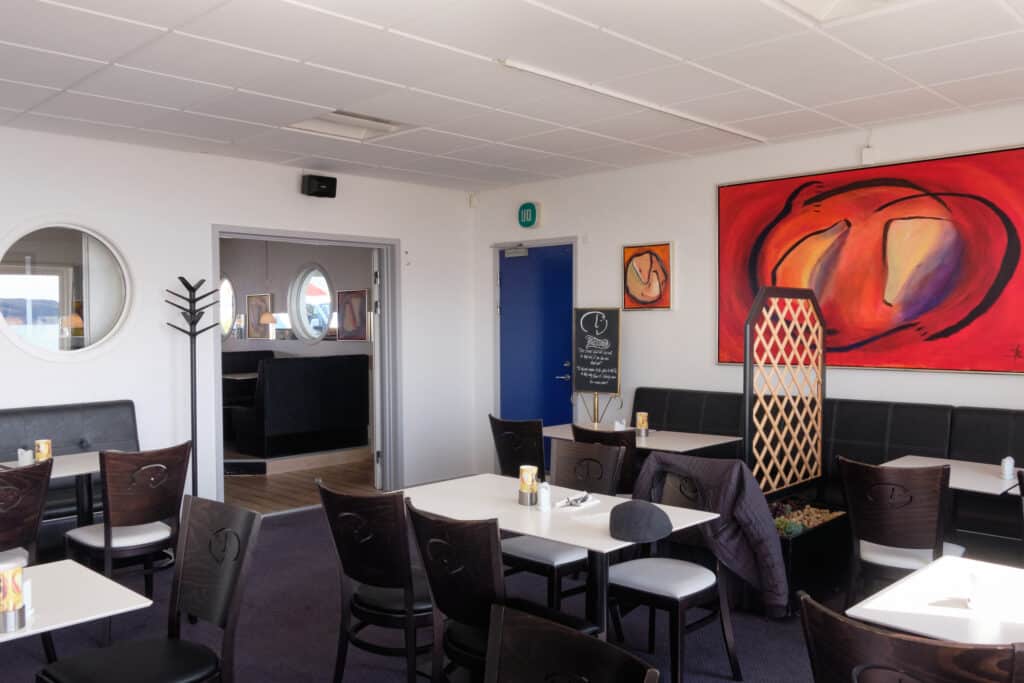 A final possibility (especially if the weather is fine), is to shop for pastries, bread, cheese, processed meats, and other items at the large supermarkets in town and have a picnic. Set yourself up at one of the tables in the town square with a view of Greenland's oldest fountain. You can also head out to Lake Tasersuaq or up to one of the viewpoints overlooking Qaqortoq for a meal surrounded by nature.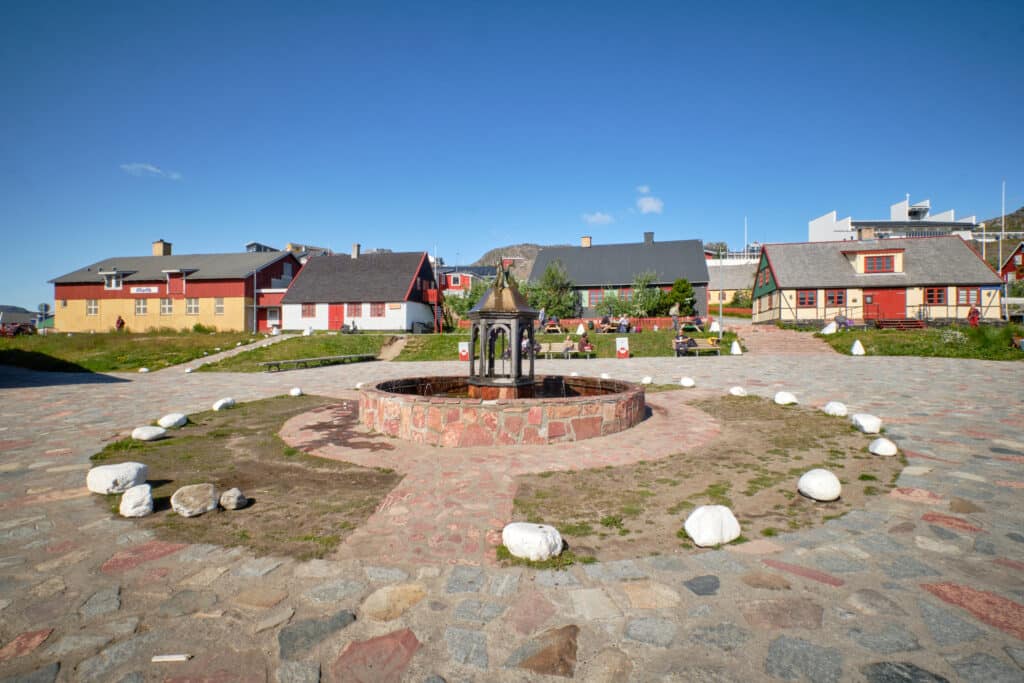 Souvenir Shopping
Qaqortoq is a great place to shop for souvenirs. The Tourist Information Office in the harbor has a huge selection at all different price points or, if you are specifically after something made from sealskin, head over to the Great Greenland factory. They have a large showroom with a wide range of very fashionable products – all produced in Qaqortoq. Note: if you would like to make a purchase, check beforehand that you will be allowed to bring items made of sealskin into your country of residence. This is not currently the case for visitors from the USA, for example).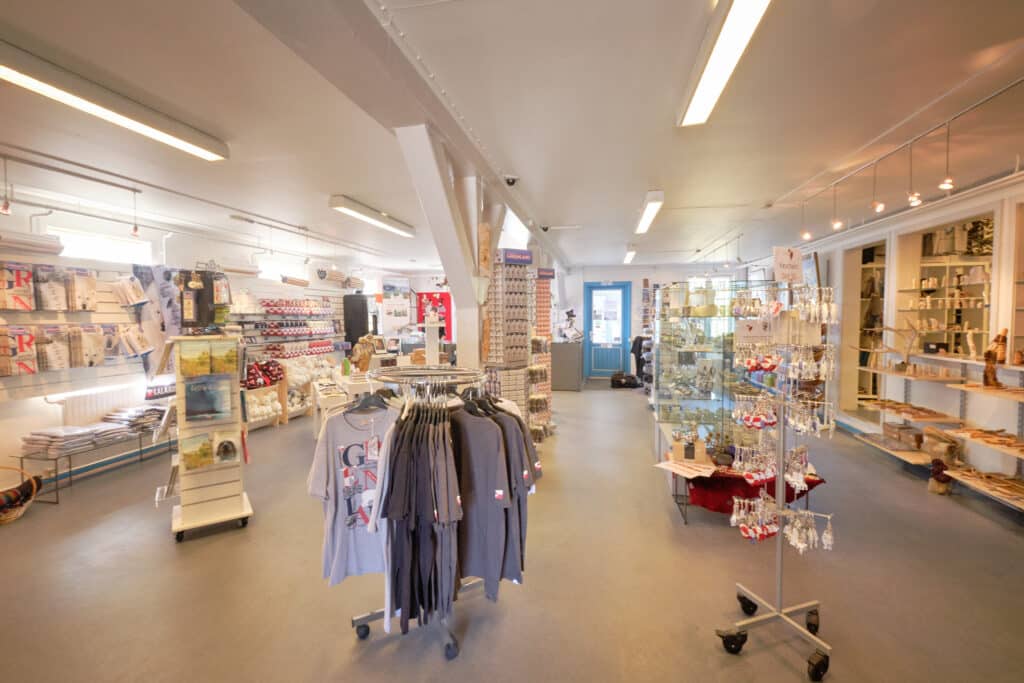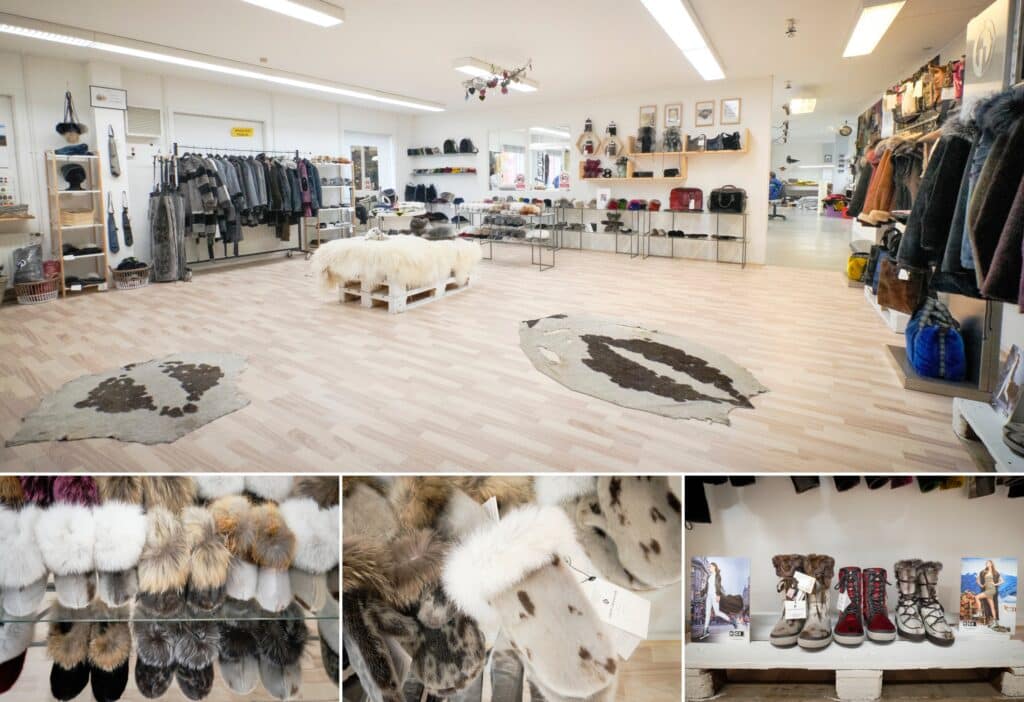 Another great souvenir idea: bring home some hair- and skin-care products that are made locally using Greenlandic herbs and plants. You can find Inuacare products in the main Tourist Information Centre and the reception of Hotel Qaqortoq – or visit them directly in town.
If you forgot – or haven't got a chance to buy your souvenirs in Greenland, discover a selection of Greenlandic Accessories, Clothes, Souvenirs, Cards & Posters, Books, and Home decor in The Greenland Store where you can find everything from Greenland online!
Nightlife in Qaqortoq
If you want to hit the town after a day exploring around Qaqortoq, your only option during the week is the Hotel Qaqortoq.
However, if you are in town on a Friday or Saturday night and have the stamina to stay up until midnight, check out what is happening at the Rock House near the harbor. It is the main bar in town, boasts the longest bar in South Greenland, and there may be live music if you are lucky.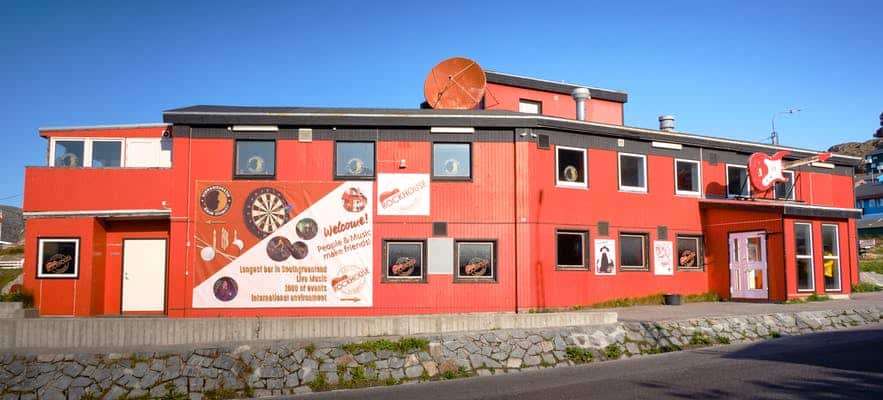 Book your trip to Qaqortoq
Qaqortoq is a relaxed and relatively warm place to visit on your travels to Greenland. It is a great location from which to explore the Norse (Viking) history of the country. Guide to Greenland brings together most of the tours offered around Qaqortoq on one platform. It is an easy way to plan and book your travel to South Greenland.
We invite you to explore all of our tours around Qaqortoq and contact us with any questions you may have about them.
---
---
Other interesting articles