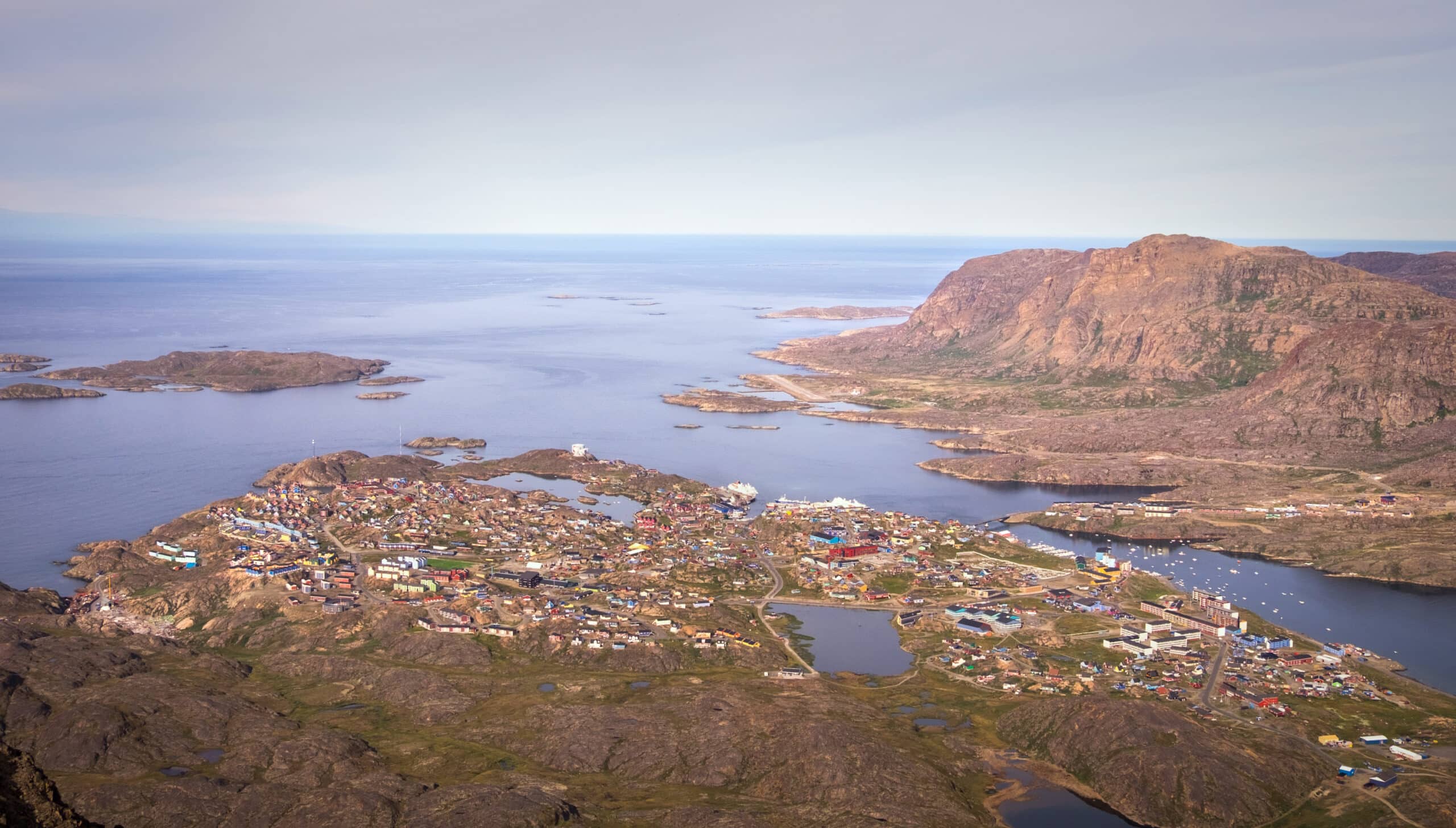 The Ultimate Travel Guide to Sisimiut
Sisimiut is located on the Arctic Circle and forms one of the end-points of the famous Arctic Circle Trail. But what else is there to do when you visit? And how do you get there? Read on to discover everything you need to know in order to plan an incredible travel experience in and around Sisimiut.
---
---
Wander up through the brightly colored houses to explore one of the most extensive and beautiful backcountry areas in Greenland.
Welcome to Sisimiut! An outdoor lovers' paradise.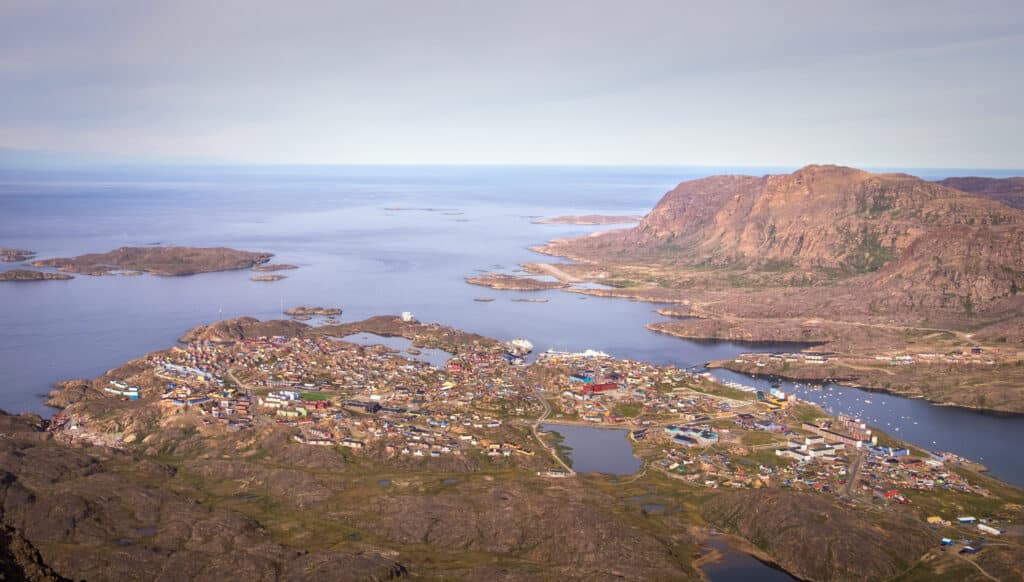 With a population of 5,509 people (2019), Sisimiut is the 2nd largest city in Greenland. Surprisingly, it is also one of the most overlooked! Although many cruise ships call in on their way along the West coast, the other main visitors are hikers undertaking the Arctic Circle Trail during the Summer. Usually, they end up spending one night or perhaps two at most before moving on. But there is plenty to keep you occupied for several days in this beautiful town – even if you don't hike.
Urban Arctic – Daily life in Sisimiut from Destination Arctic Circle.
This Ultimate Travel Guide to Sisimiut contains all the information you need to plan and get the most out of your visit to this vibrant town surrounded by gorgeous nature.
Where is Sisimiut?
"Sisimiut" means "the residents of the place with fox dens" in Kalaallisut (the Greenlandic language). It is located about 320km North of the capital of Nuuk on the West coast of Greenland. Right on the Arctic Circle. This means that the Sun merely skims the horizon during the longest and shortest days of the year. But it doesn't actually rise or set.
What is the best time to visit Sisimiut?
Sisimiut has a lot going on during both Summer and Winter. The best time to visit comes down to what you would like to experience.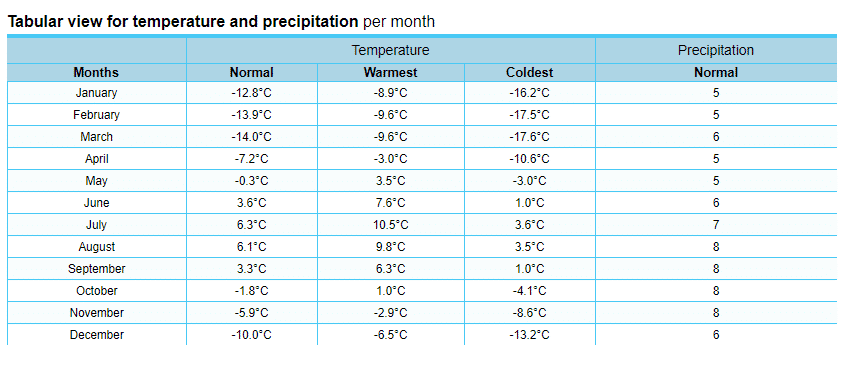 Winter and Spring
Although the temperature stays well below zero, these are perfect conditions for exploring the incredible backcountry on skis or snowshoes, dog sleds, or snowmobiles.
Dog Days from Destination Arctic Circle. Dogsledding in Sisimiut and the National Dogsledding Championships which moves from town to town each year.
The dark skies also mean that you have front row seats to one of nature's most spectacular light shows. The incredible Northern Lights.
There are also two large events that take place in Sisimiut during the Spring:
March/April – Arctic Circle Race: the world's toughest cross-country ski race
April – Arctic Sounds Festival: one of the biggest music festivals in Greenland
Summer and Autumn
Sisimiut's location on the Arctic Circle means that the Sun merely skims the horizon on the longest day of the year, it doesn't actually set. This means that throughout the Summer there seems to be almost endless daylight – perfect for hiking, kayaking, or heading out to explore on a boat trip.
There is one Summer festival in Sisimiut:
July – Arctic Hiking Festival. The perfect way to explore the backcountry around Sisimiut with a variety of hiking themes to choose from
And, if you are in town on the 21 June (the longest day of the year) make sure you join in the Greenland National Day celebrations, which usually include bonfires, choirs, and people in national dress.
When you are planning your trip to Sisimiut, particularly if you are traveling in winter, it is also useful to know the time of sunrise and sunset. Enter your date of travel into the Sisimiut page at meteogram.org to discover how much daylight you will have. As well as the times of the different twilights, golden hour (for photographers), and a lot more.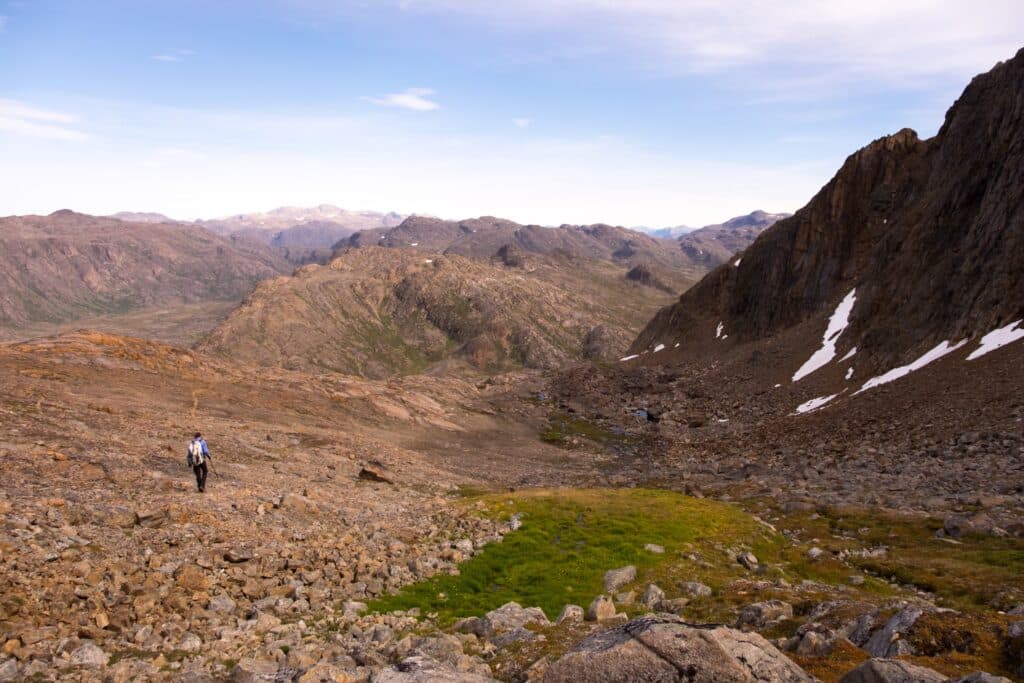 What should I pack for a visit to Sisimiut?
The season you are visiting and what you plan to do while in Sisimiut will largely determine what you should pack for your trip.
Clothing
Regardless of when you plan to visit, you should always follow the layering principle with your clothing. All buildings are heated to a comfortable temperature, but when you are out and about you need to be prepared.
Read our full article on the best clothing to pack for a trip to arctic Greenland, or watch the video versions here.
In all seasons, make sure you bring sunscreen. The sun can be very strong in the Summer. Even in Winter it is easy to get sunburned when you spend the whole day outside enjoying nature. If you are visiting during Summer, it is also a very good idea to bring insect repellent and a head net. Or buy them once you arrive.
---
---
If you do forget something or discover that you have not brought sufficient layers, there are several options in town. Sisimiut Sport near the Brugseni supermarket and Sisimiut Outdoor are the best choices for active outdoor gear. Polar Magasinet, Anuni, and Torrak Fashion are great if you are looking for something more stylish.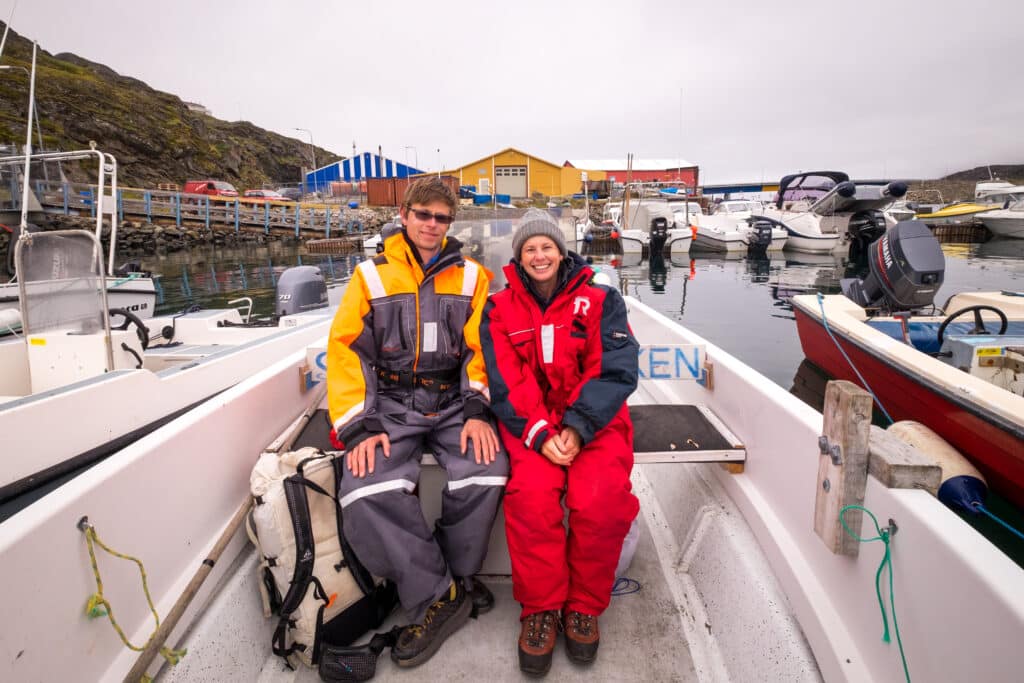 Outdoor gear
If you are planning an extended hiking trip, you are better off bringing your own gear with you. However, both Sisimiut Sport and Sisimiut Outdoor carry outdoor gear (including dry trekking meals), though the range is likely to be smaller than you are used to.
For gas for a camping stove, you could also try Sirius Greenland, Stark (the hardware store), or your accommodation provider (especially Hotel Sisimiut).
Electronics
Greenland uses the Standard European Plug (230 V) for its electrical outlets, so make sure you pack at least one of these if your electronics come from elsewhere in the world.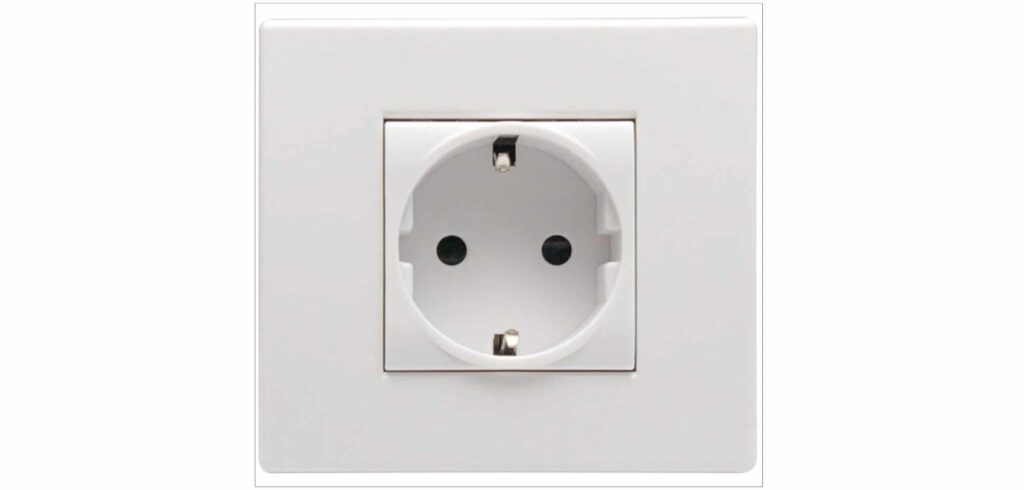 Don't forget your camera and at least one spare battery! Colder temperatures drain camera batteries more quickly so make sure you don't miss a shot at the end of the day by bringing along a power bank charger if you use your phone or spare batteries for your camera. If you are planning to photograph the Northern Lights, you will want to bring your own sturdy tripod if you have one.
Useful Apps
We are big fans of Maps.Me app here at Guide to Greenland. Download the app and the map of Greenland while you still have internet access (the internet is not available everywhere and is very expensive in Greenland), and you'll be set to find your way around during your stay. The app shows streets, places of interest, restaurants, accommodation, and even some hiking trails. It can also tell you the best way to walk, drive or cycle from where you are to where you want to go – just remember to turn on your GPS when you arrive!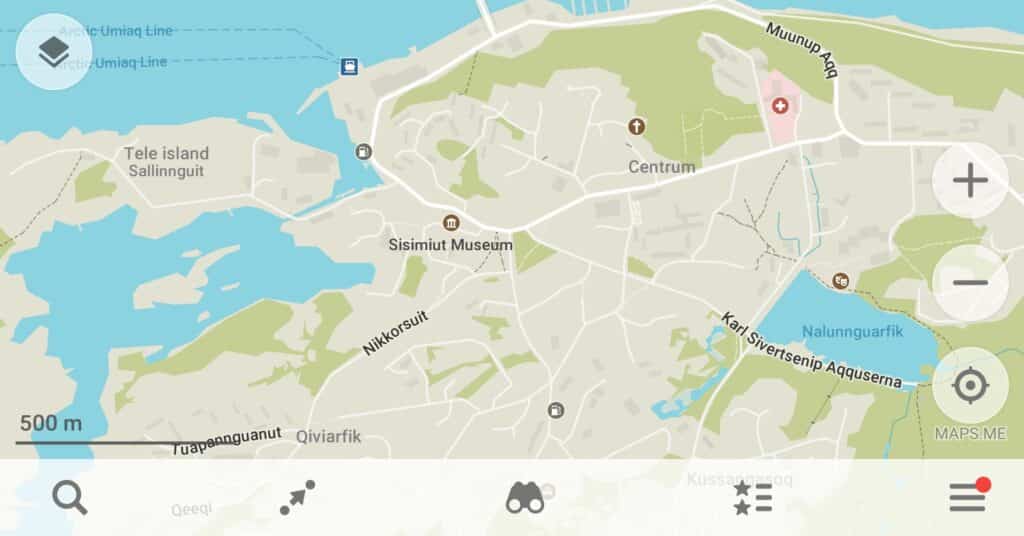 If you want to know the most likely times to see the Northern Lights, download the Northern Light Aurora Forecast (iOS/Android) app to monitor the likelihood of the lights appearing and, if you want to photograph them with your phone – one of the Northern Lights photography apps that allow you to set long exposure times.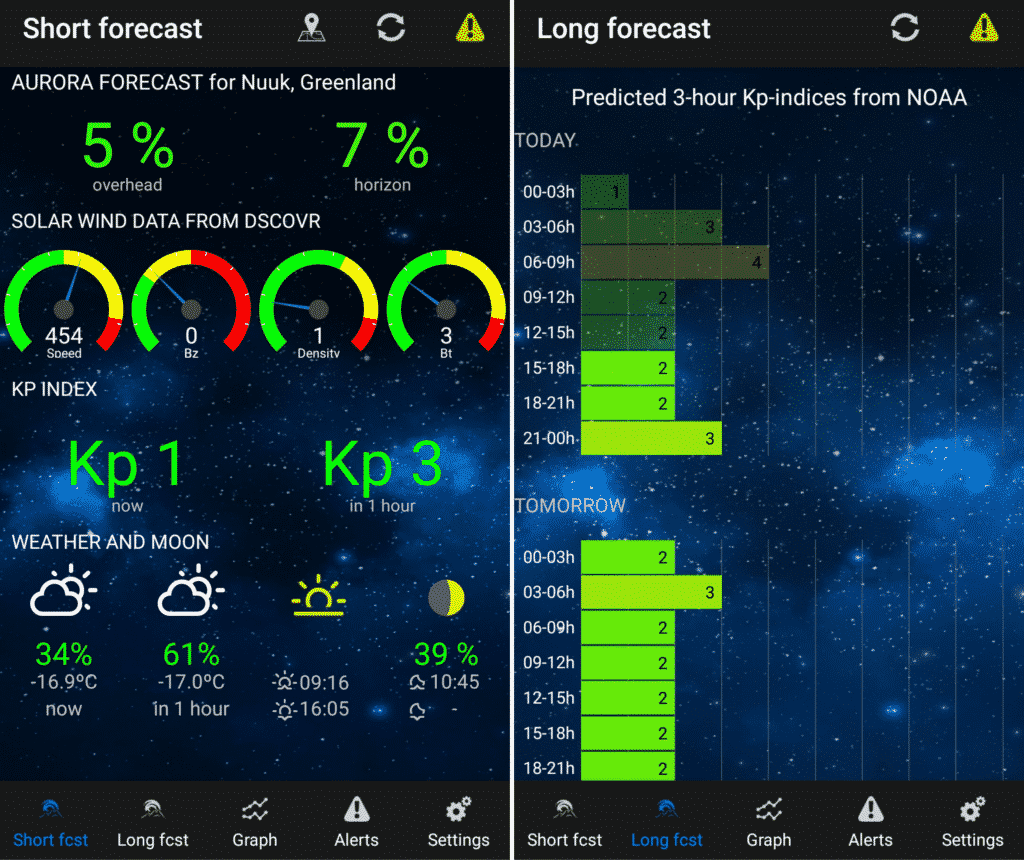 ---
---
How do I get to Sisimiut?
Located on the West coast of Greenland, it is possible to reach Sisimiut either by ship or by flying.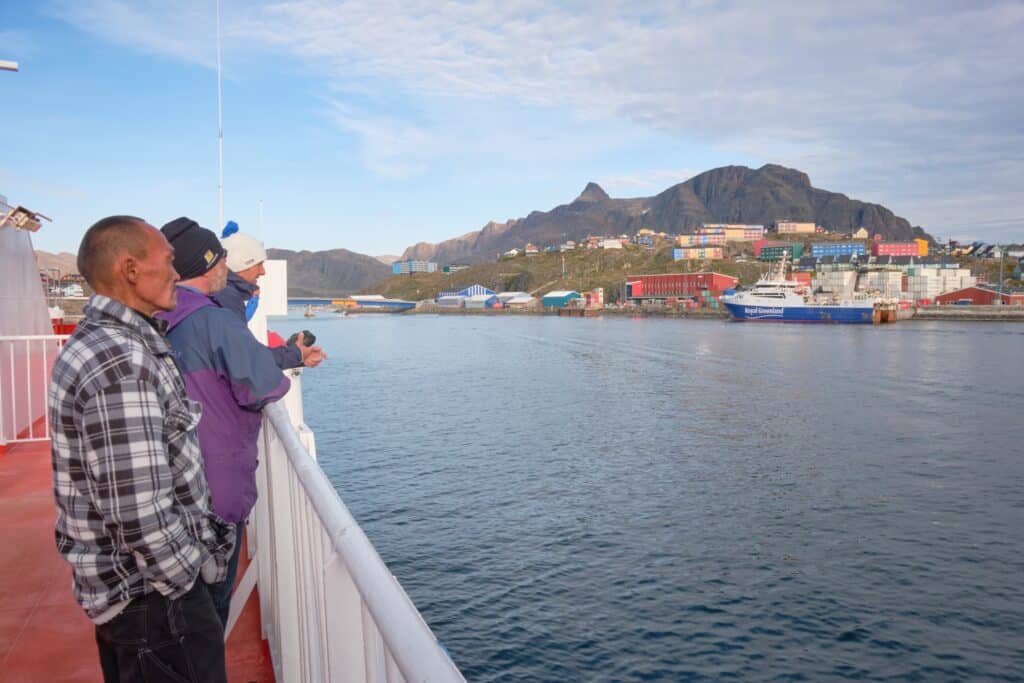 Flying to Sisimiut
Although Sisimiut is the second-largest town in Greenland, there are no direct international flights. You must fly into Kangerlussuaq or Nuuk first and catch an onward connection from there. Given the number of combinations, it is best to check the schedules from our how to get to Greenland page to see which days each airline flies to where, but the following will give you a general idea.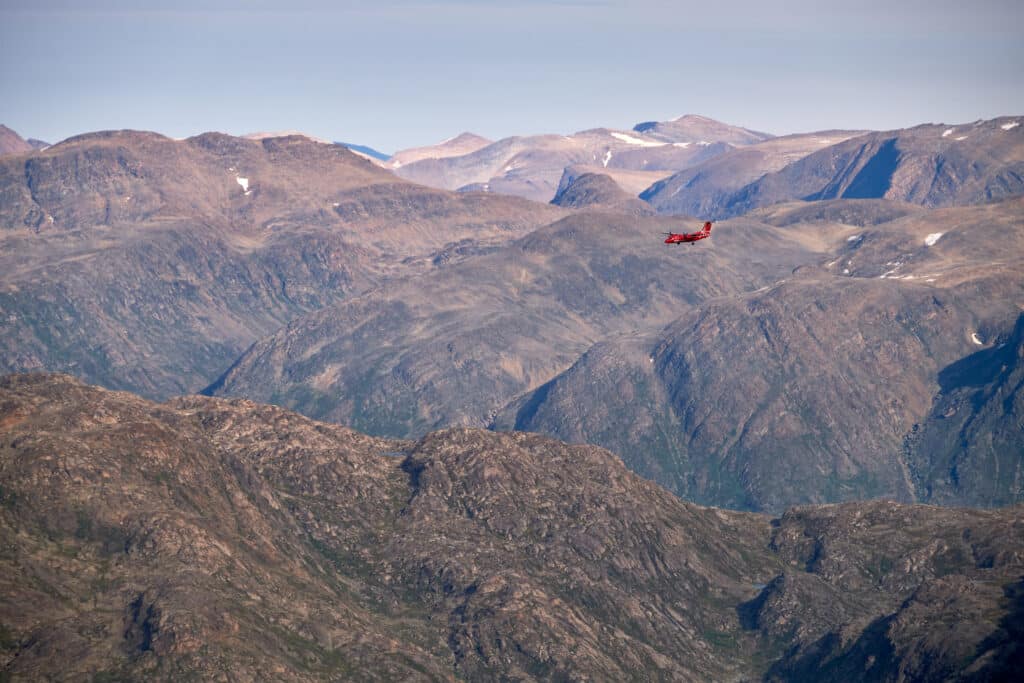 From Denmark, Air Greenland flies direct from Copenhagen to Kangerlussuaq on most days.
From Iceland, Air Iceland Connect offers direct flights from Reykjavik Domestic Terminal to Nuuk all year round. Air Greenland does the same from Keflavik Airport.
---
---
If you are already elsewhere in Greenland, Air Greenland will fly you to Sisimiut with a connection through Nuuk or Kangerlussuaq, and occasionally through Ilulissat, Aasiaat, or Maniitsoq. It is best to check the schedule to see which days each of these flights is scheduled.
Arriving by boat to Sisimiut
Sisimiut is one of the stops along the route of the Sarfaq Ittuk Passenger Ferry, which runs up and down the West Coast of Greenland. The exact schedule depends on the time of year, so check their schedule to plan your itinerary.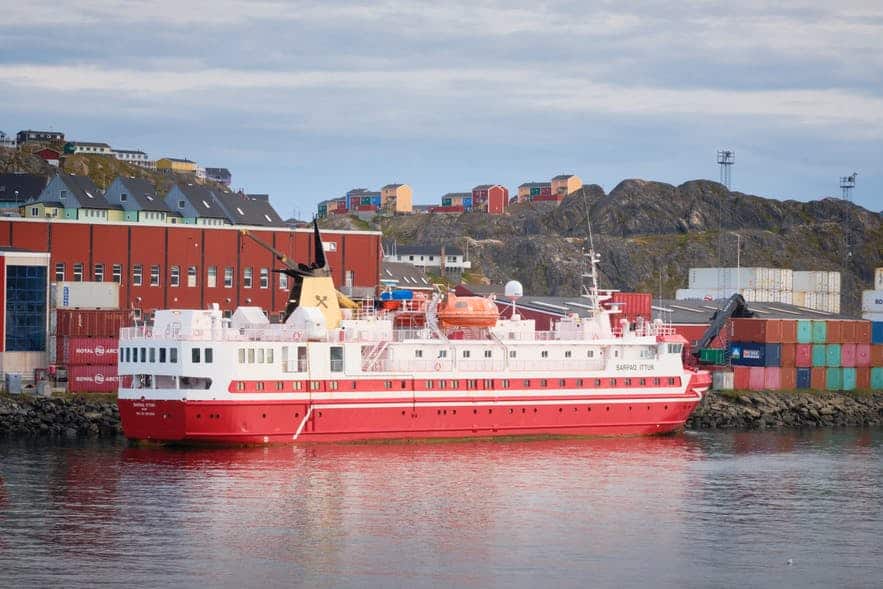 If you are taking a cruise to Greenland, Sisimiut may be one of your ports of call. If so, your cruise ship will typically dock for between 5 and 10 hours – depending on the cruise line. But if you only have 5 hours, there will be very limited opportunities to explore beyond the outskirts of town. However, with a 10-hour layover, it should be possible to head into the backcountry with one of several different tours.
How do I get around Sisimiut?
Walk
Once you have arrived in Sisimiut, it is very easy to get around independently. Most of the interesting sights are within walking distance, and the steep hill up from the harbor will keep you fit.
Bus
There is a bus service in Sisimiut, which can be particularly useful if you need to get out to "dog town" or the start of the Arctic Circle Trail and don't feel like walking. Buses call past each stop roughly every 20 minutes, with the times usually posted on the shelter.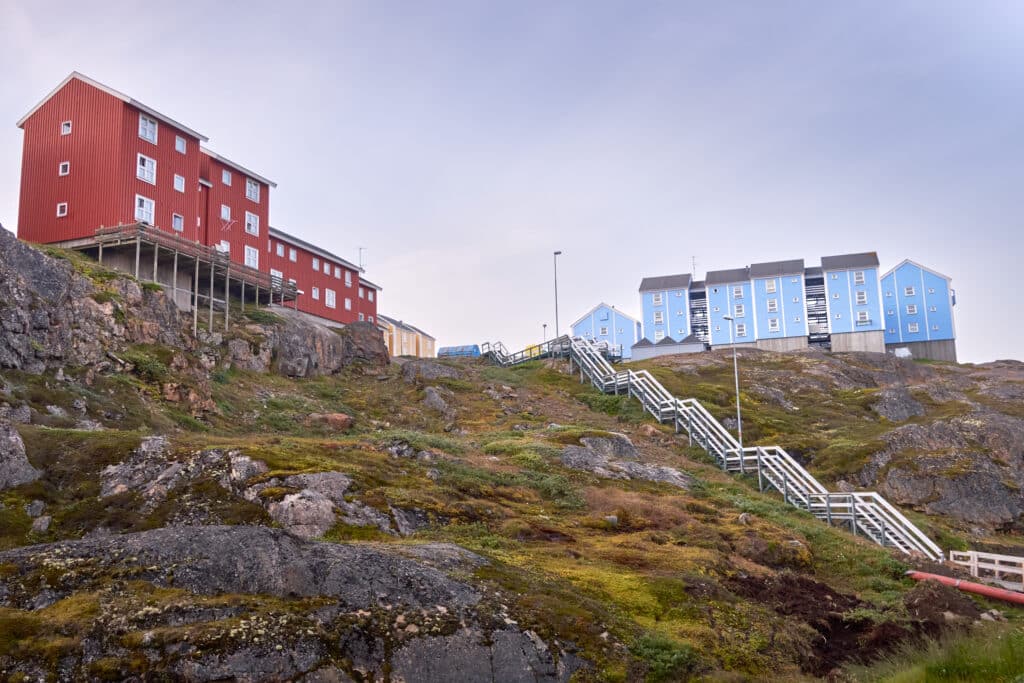 Taxi
To get from the airport into town, or for a quicker way of getting around town, Sisimiut has plenty of taxis.
Water Taxis
If you want to explore the fjord around Sisimiut or visit one of the abandoned settlements, your only option is to go with one of the tourism providers on an organized tour.
Things to do in Sisimiut
As the second-largest city in Greenland and with an extensive and beautiful backcountry, there is plenty to keep you occupied in Sisimiut, no matter what time of year you visit. Here are some suggestions:
Explore the city
Learn about the city of Sisimiut and discover all the incredible viewpoints around town on an e-bike tour. Given the size of Sisimiut (it is quite spread out), this is a very good way to see all the major sights but also get off the beaten track and explore places you likely wouldn't find for yourself. Don't worry about the city's many hills – electronic bikes are fantastic for taking the hard work out of climbing them!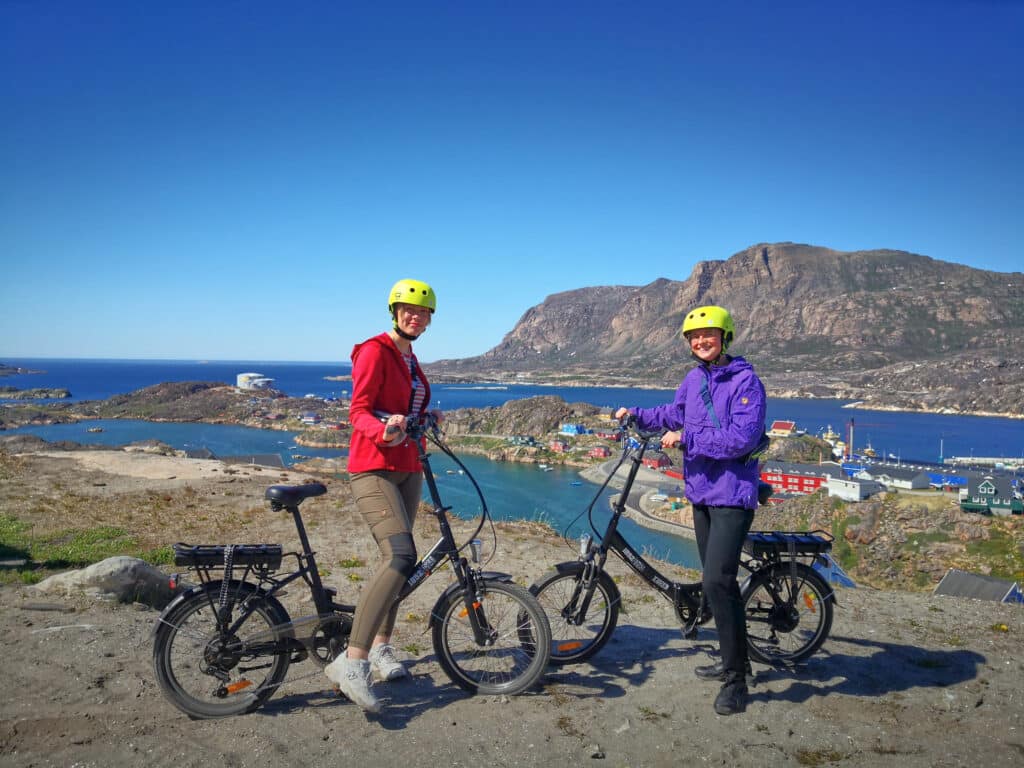 Visit Tele Island (Sallinnguit) for one of the best views of Sisimiut and a historical walking tour. Learn about the Inuit way of life before the arrival of Europeans and see ruins from different periods of time, including old gravesites.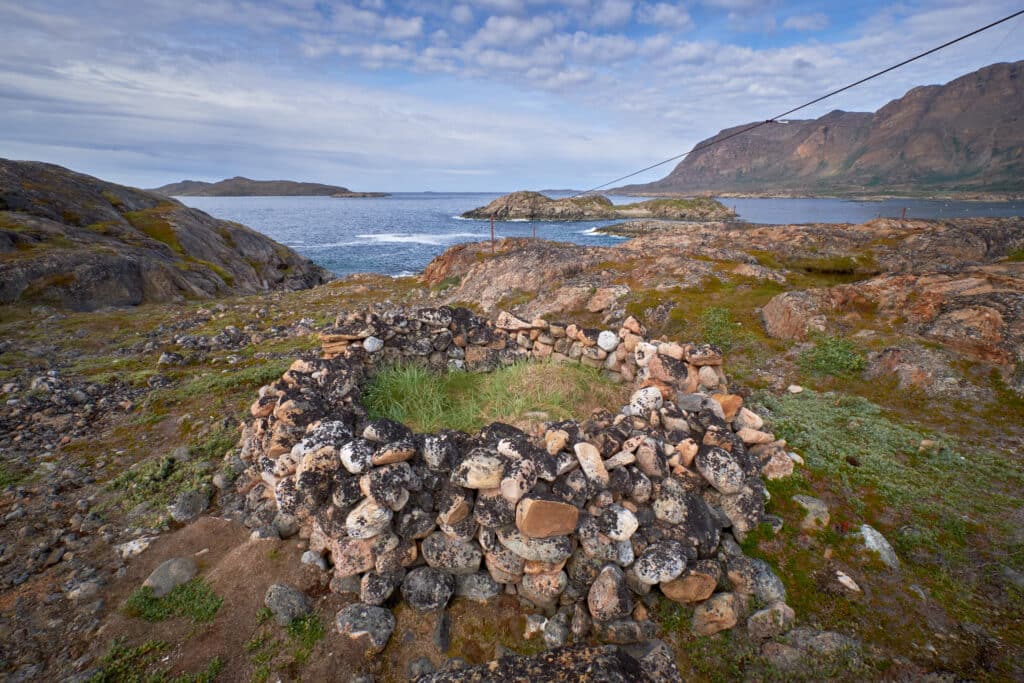 Things to visit
The Sisimiut Museum occupies most of the town's historic center. It encompasses several buildings from the 18th and 19th centuries, with the following of most interest to visitors:
the "Old Shop" (1825). The museum's reception and gift shop
the "Old House" (1756). Sisimiut's oldest building now contains the museum's permanent collection
the Colonial Manager's House (1846). This is where you will find temporary exhibitions
Bethel Church (1775). The "Blue Church" is the oldest church in Greenland
the turf house (last in use in 1993). A reconstruction of a typical early-20th century Greenlandic house
Enter through the enormous whale jawbones and also explore the "outdoor exhibitions" that are located between the buildings.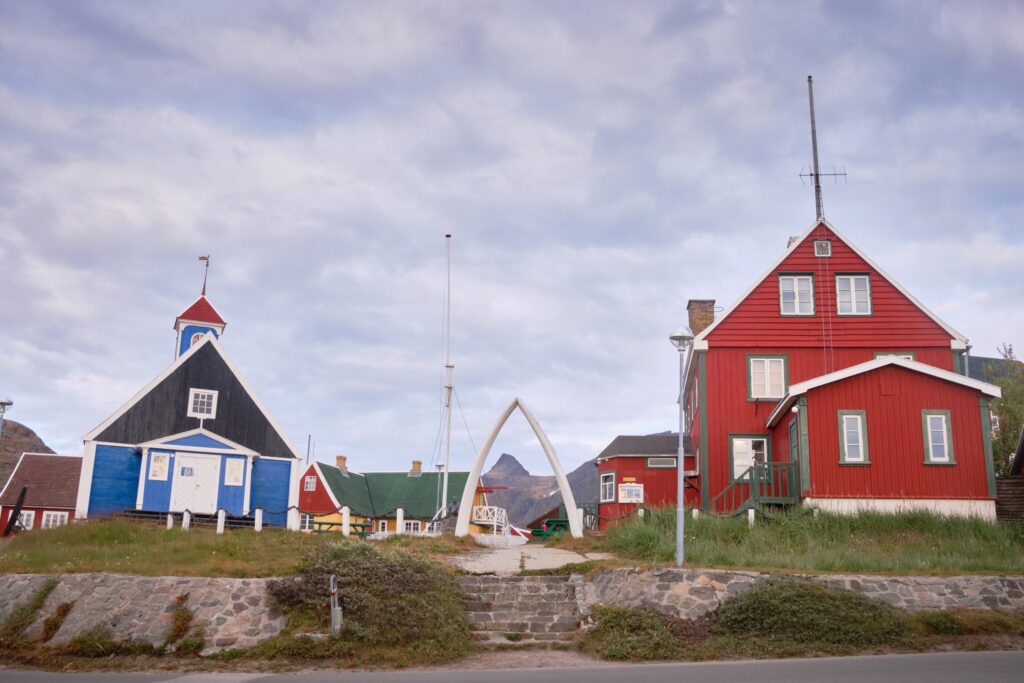 Just up the hill from the museum, you will find Sisimiut's impressive Zion church. It is not generally open except around each mass, but you may be able to ask in the museum to have it opened. It is worth seeing! The interior is absolutely stunning!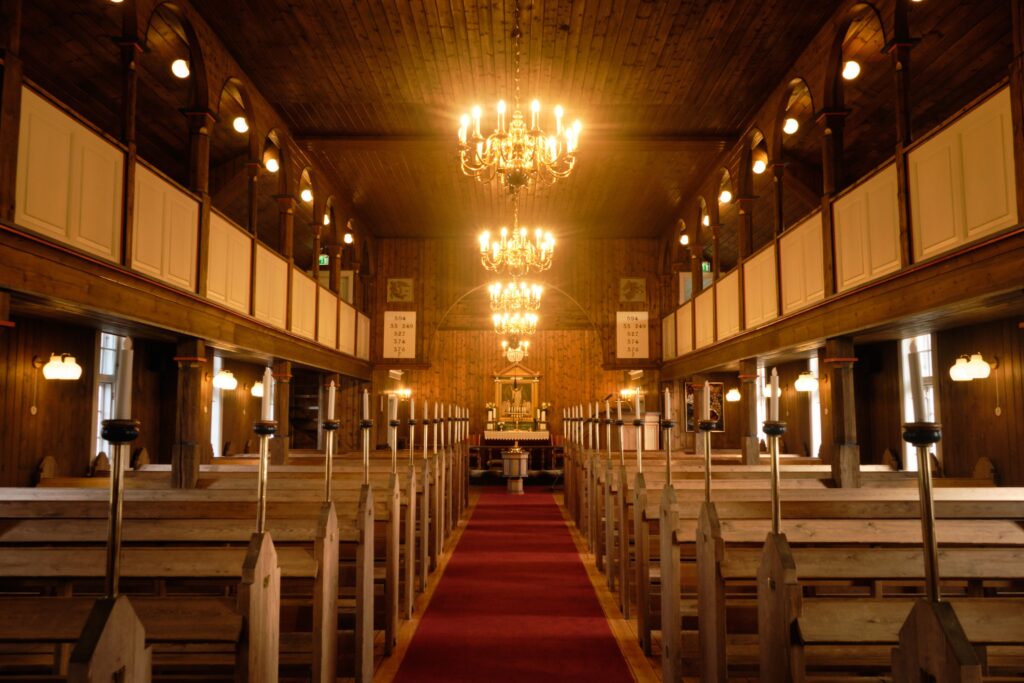 Taseralik is Sisimiut's very active Culture Center. The cinema is located here, and there are often art exhibitions and performances in this beautiful, modern building that overlooks the Nalunnguarfik lake.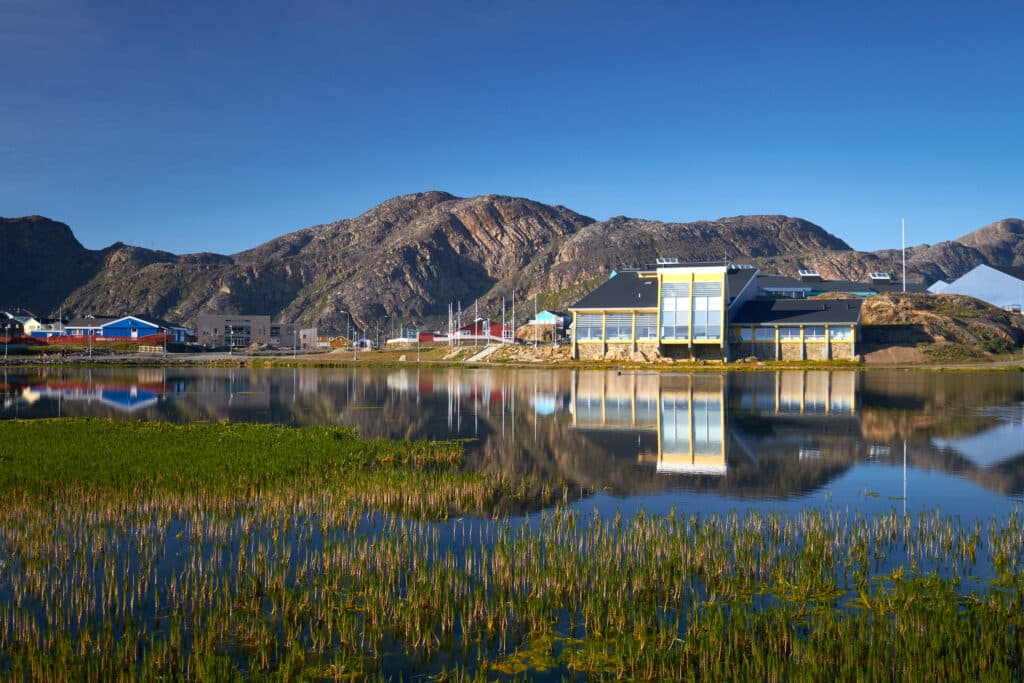 Arctic Spa
Treat yourself and indulge in the Arctic Spa at the Hotel Sisimiut. They have a fabulous small sauna that is housed within an old shipping container (awesome design!) and a "Wilderness Bath" (ie hot tubs) outside where you can relax in the warm water. It is incredible to sit back and watch the Northern Lights play overhead!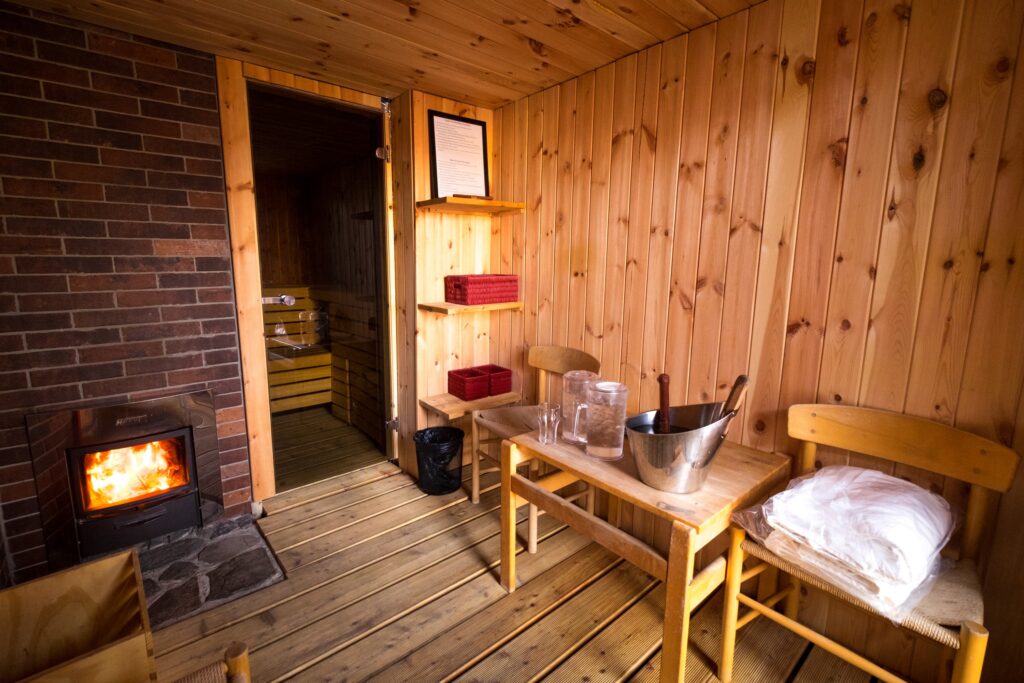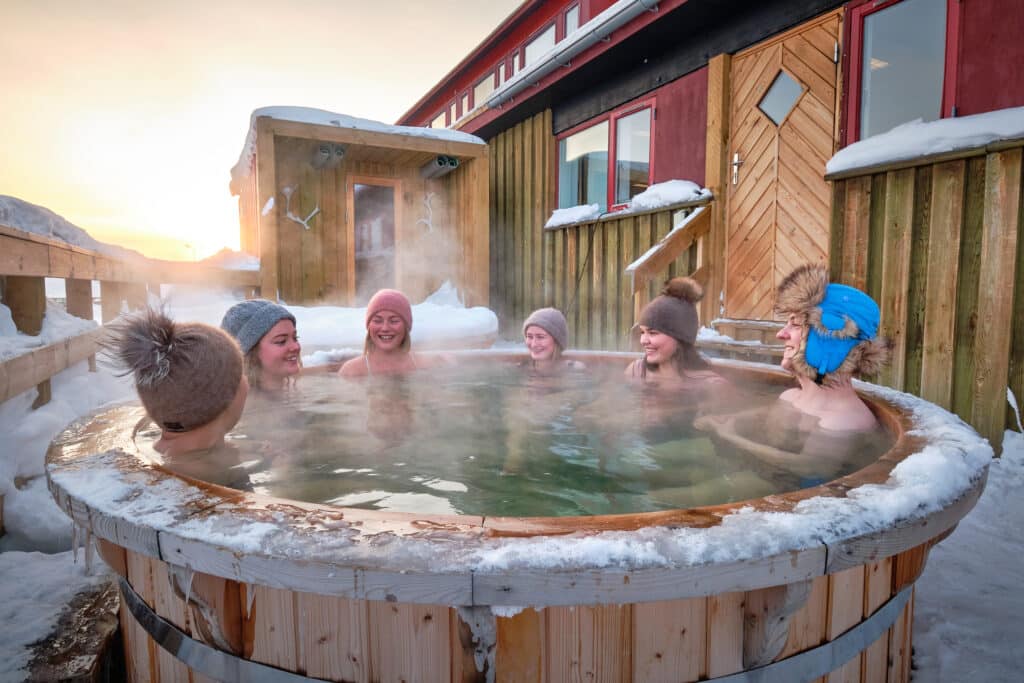 For those interested in geology, visit the extensive rock and mineral collection at KTI Secondary School (Kalaallit Nunaanni Teknikkimik Ilinniarfik). Yes, it seems like an odd location for it, but it was established by a teacher who used to work at the school and has now grown into the largest collection of minerals in Greenland.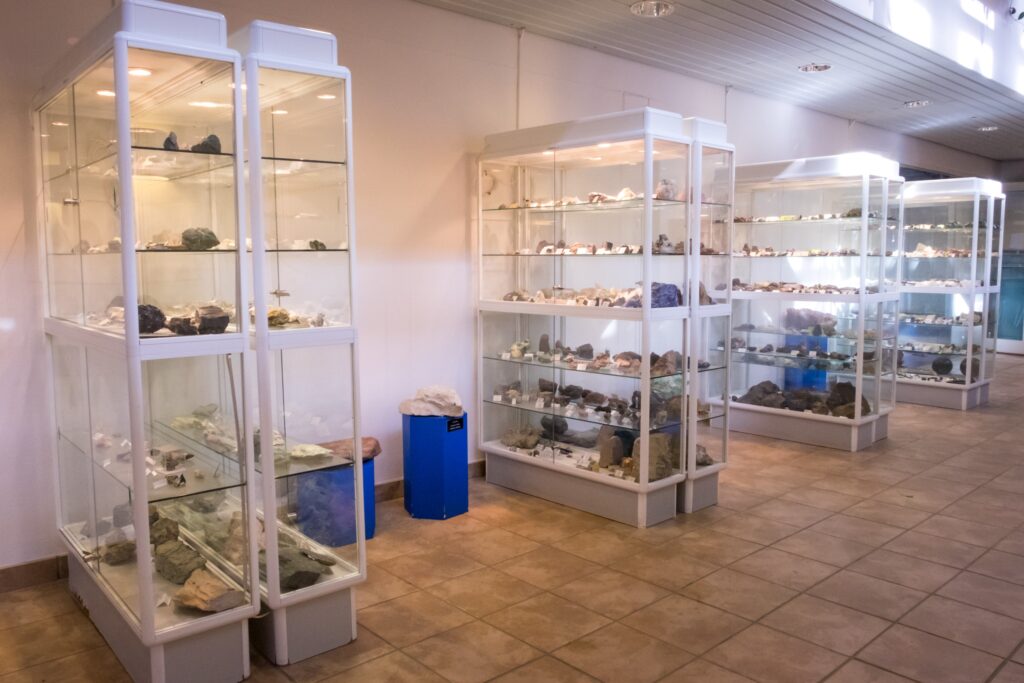 Finally, if you are a very keen walker, the Hotel Sisimiut has 2 self-guided walks around town: the "Town Walk" (~6kms) and the "Art and Culture Memorials in Sisimiut" walk (~7kms).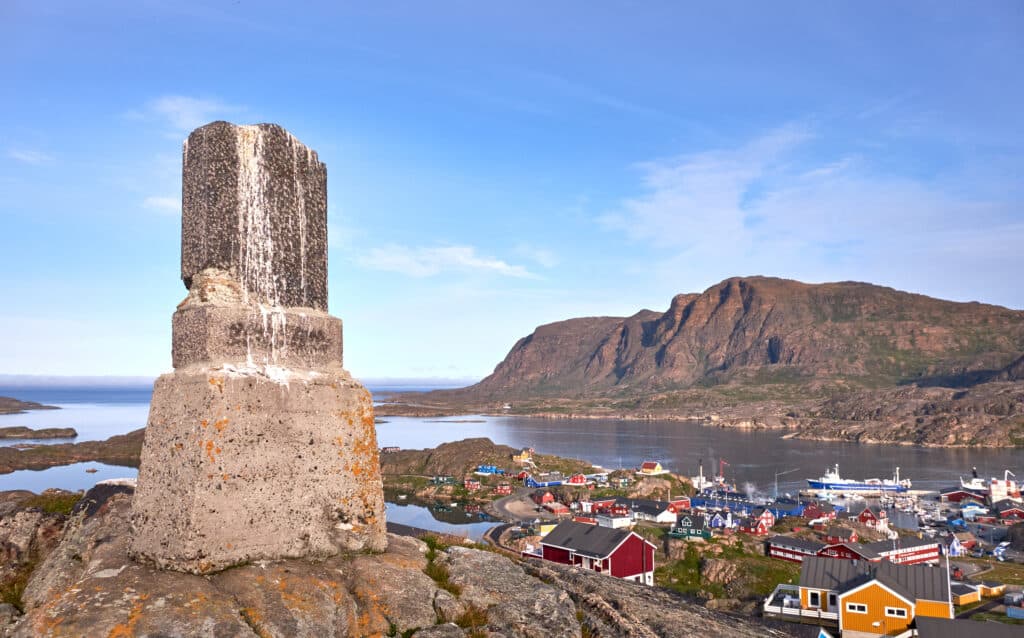 Outdoor Adventures in Sisimiut
Sisimiut fronts an enormous and impressive backcountry that extends for about 200km – all the way to Kangerlussuaq and the Greenland Ice Sheet. Regardless of whether you are visiting during Summer or Winter, you will never grow tired of this spectacular area, nor of the waterways and fjords that border it.
Hiking
Hiking is extremely popular in Sisimiut and you will often find people out picking wild berries and mushrooms on the weekend as they walk. There are several fantastic trails to choose from, including the 160km long Arctic Circle Trail that goes all the way to Kangerlussuaq.he city
---
Palasip Qaqqaa
The most popular day hike from Sisimiut is the one that climbs Palasip Qaqqaa. "Priest Mountain" rises up from behind the airport and is a 3 – 5hr return hike reaching an altitude of 551m. There are great views over Sisimiut from the top.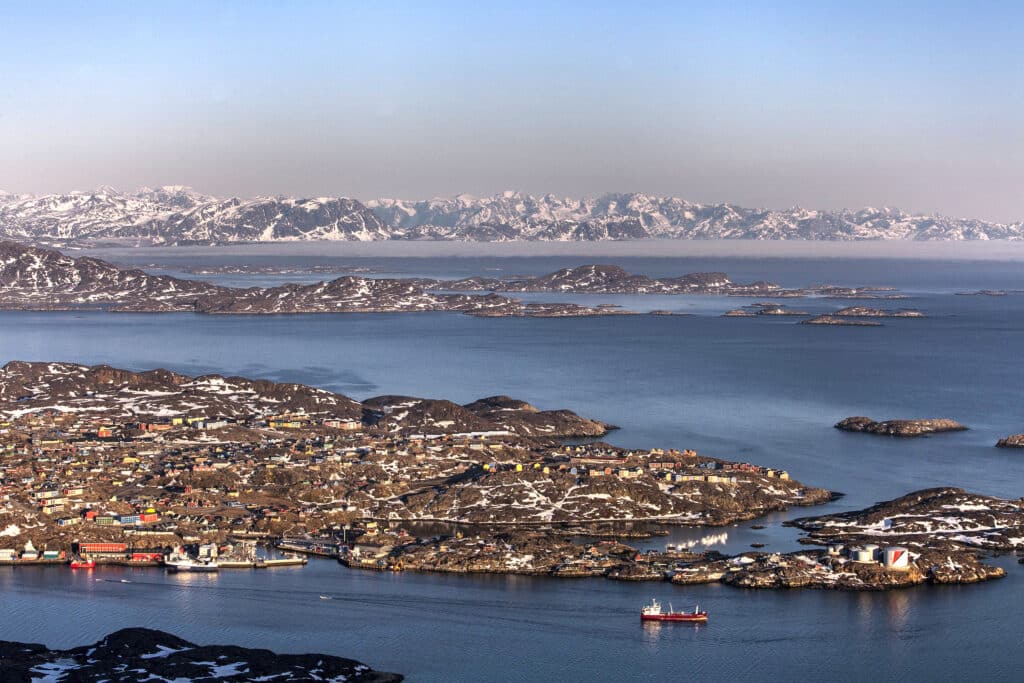 Nasaasaaq Moountain
The other mountain to climb on the outskirts of Sisimiut is the iconic, pyramidal Nasaasaaq Mountain. This 784m tall peak offers a stunning 360-degree panorama over Sisimiut, the fjords, and the backcountry valleys leading off into the distance. However, be warned that the summit is quite narrow, and the final push to the top is challenging and involves the use of ropes.
An alternate viewpoint is to hike to the end of the bluff overlooking Sisimiut when you reach the saddle. Nasaasaaq is a 5 – 6-hour return hike and there are easier and more difficult routes to get to the saddle point.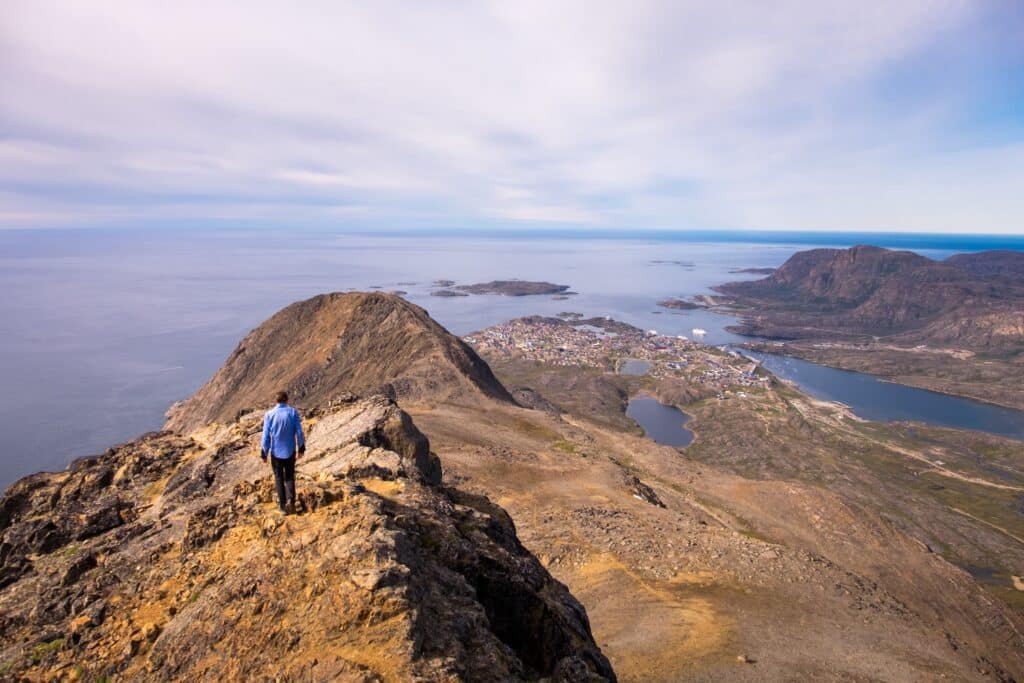 The UFO hike
The UFO hike. Yes, believe it or not – you can hike to a UFO from Sisimiut! If you don't specifically want to climb a mountain, this is an amazingly beautiful hike through a gorgeous valley that leads to the Kangerlusarsuk Tulleq Fjord and one of the most interesting backcountry huts you'll ever find! It is not a difficult hike except for the distance (if you plan to do it all in one day) – 12km each way.
Assaqutaq
Another beautiful hike that doesn't require mountain climbing is the hike to/from Assaqutaq – an abandoned settlement about 10km from Sisimiut. The best option is to take a boat tour out there and then hike back to town along the trail that follows the fjord.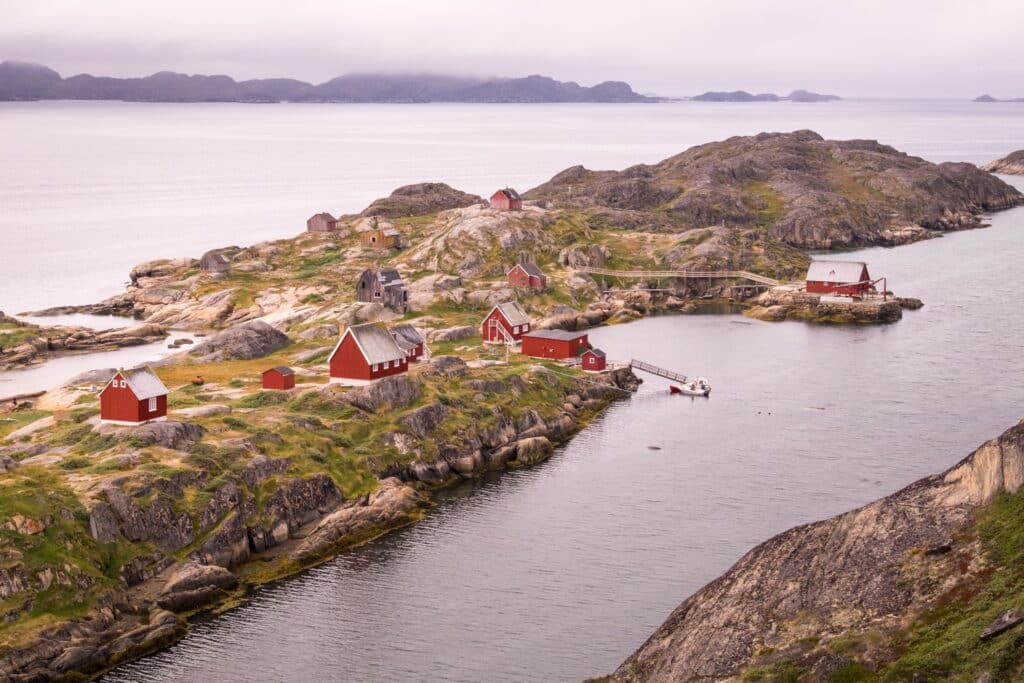 Arctic Circle Trail
Finally, for those that love long-distance hiking – Sisimiut is one of the endpoints to Greenland's most famous trek. The Arctic Circle Trail stretches for 160km between Sisimiut and Kangerlussuaq, and although historically most people start at the other end, there is a growing number of hikers who choose to begin in Sisimiut.
There are two great online resources for this hike – Visit Greenland's Go-to Guide to the Arctic Circle Trail and a trail-notes description of the route at The Arctic Circle Trail.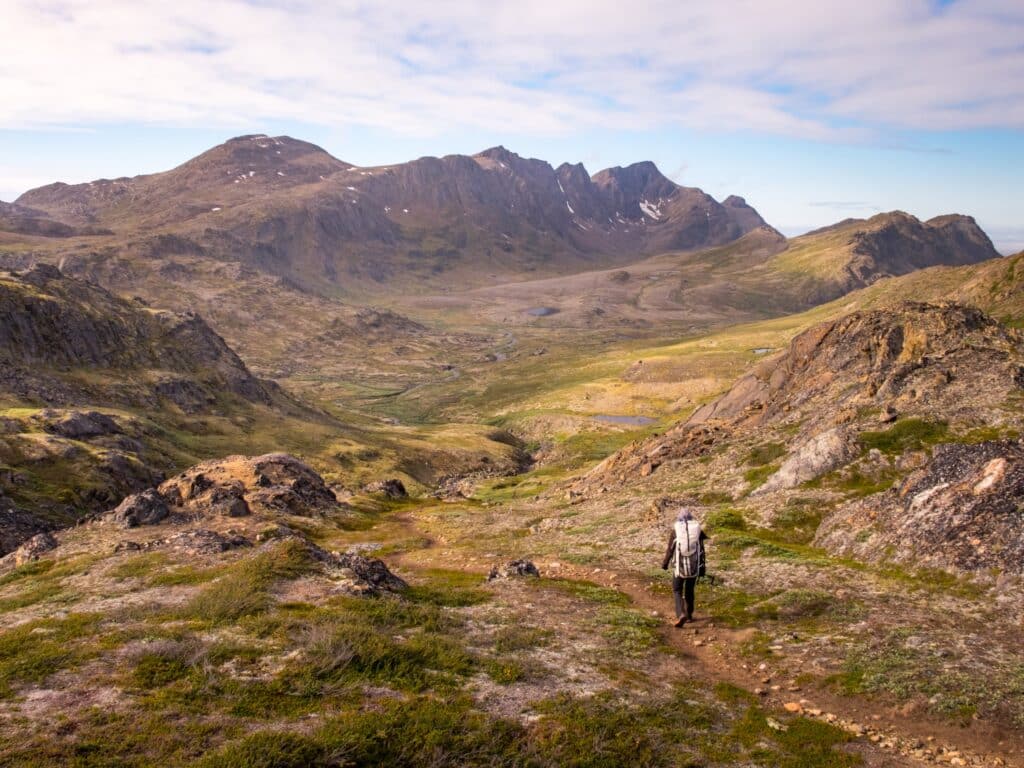 Biking
If you are not a big hiker but want to explore a little of the backcountry around Sisimiut, opt for an e-bike tour. The electronic bike will help with any hills you encounter and allow you to venture out into the wilderness easily.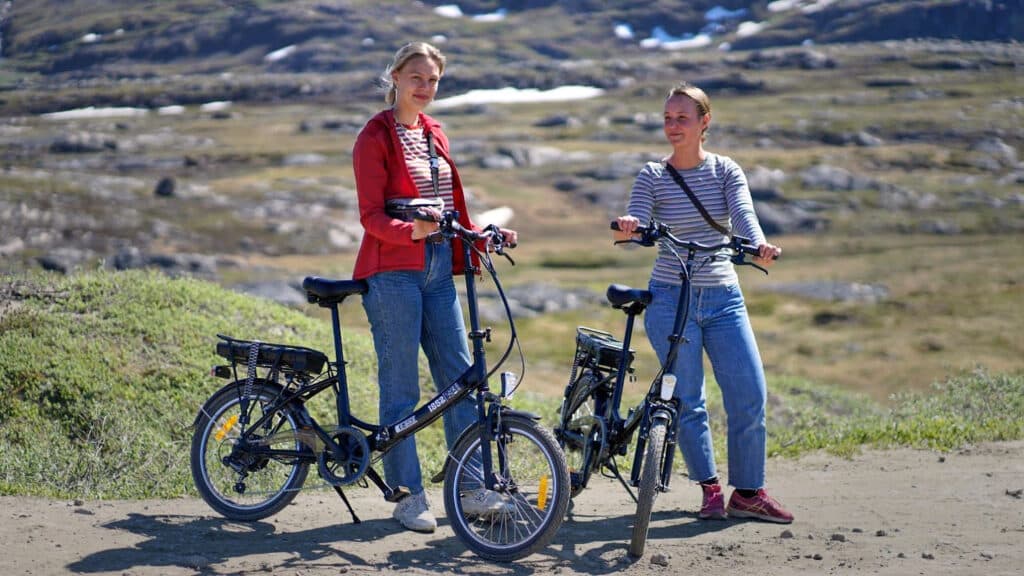 Sailing
Getting out on the water is one of the must-do activities when visiting Greenland during the Summer. There are several boat tours that depart from Sisimiut, ranging from a general "sea safari", to settlement visits, to fishing excursions, and you may be lucky and see whales and seals along the way.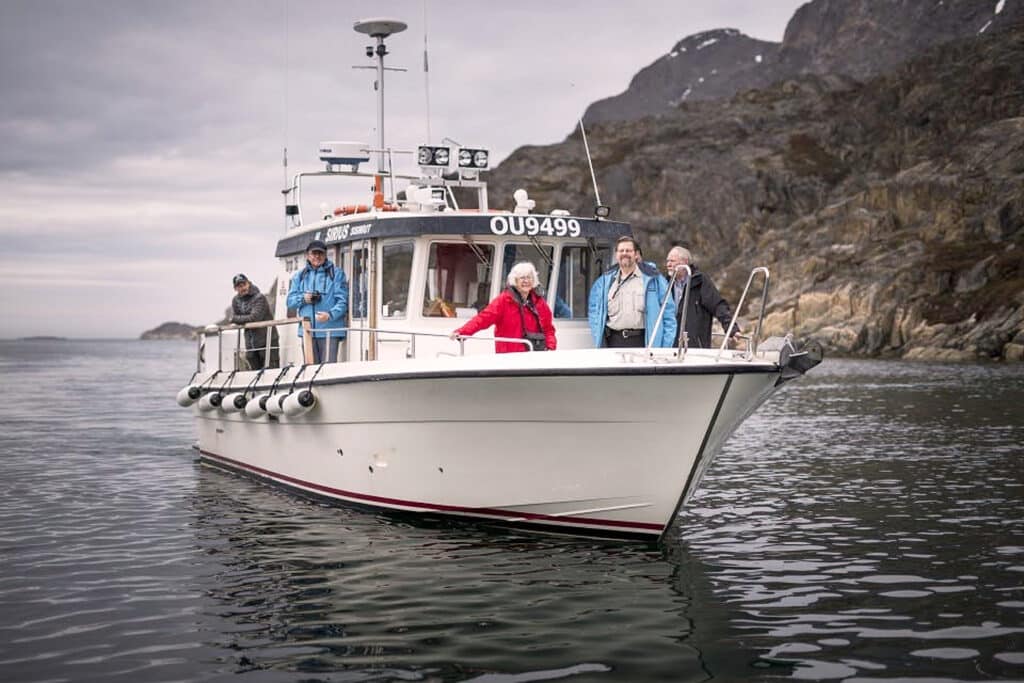 Kayaking
If you would prefer to explore the waterways under your own power, kayaking tours run all year round from Sisimiut. Here you can have the full experience of kayaking as the Inuit do, as some tours actually utilize traditional Greenlandic qajaqs. Interesting fact: the English word: kayak comes from the Greenlandic word: qajaq, which is essentially pronounced the same way.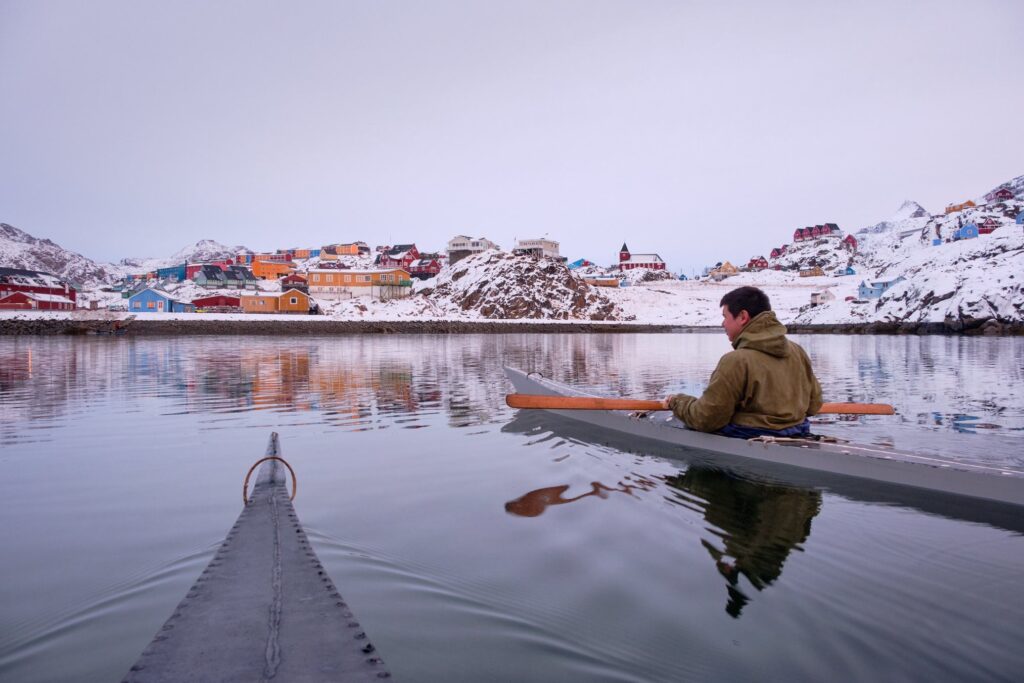 Dogsledding
If you are visiting Sisimiut during the colder months, make sure you experience the traditional Arctic form of Winter transportation on a dogsledding tour. There are several excursions that explore the backcountry around the town and, for the really adventurous, it is even possible to take a multi-day dogsled expedition between Sisimiut and Kangerlussuaq.
Snowmobiling
For a more modern adrenaline rush, learn how to ride a snowmobile while visiting Sisimiut, or join an excursion on the "monster snowmobile". You can even do a night snowmobile tour to the darkest places around Sisimiut for the best views of the magical Northern Lights.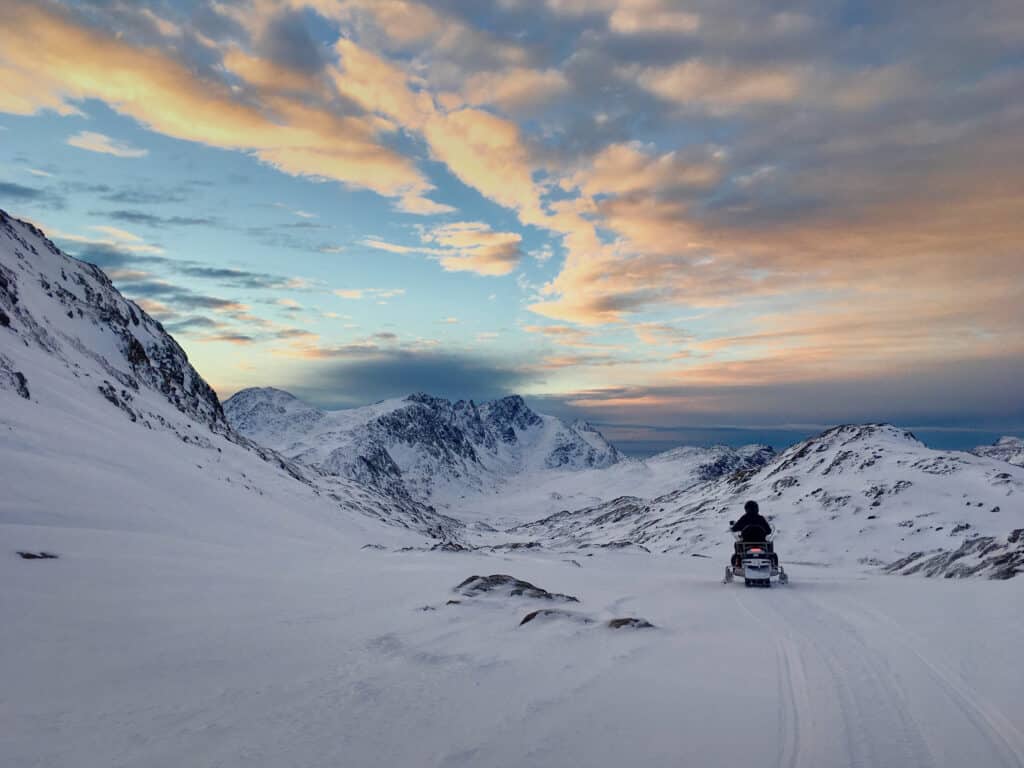 Rough Riders from Destination Arctic Circle on Vimeo.
Snowshoeing
For those who like to walk but find themselves visiting Sisimiut in winter – don't despair. Strap on some snowshoes and head out for a snowshoeing adventure in the beautiful backcountry. Keep a keen eye out for the well-camouflaged Arctic hare and ptarmigan while you hike, as you are most likely to see them on this type of quieter activity.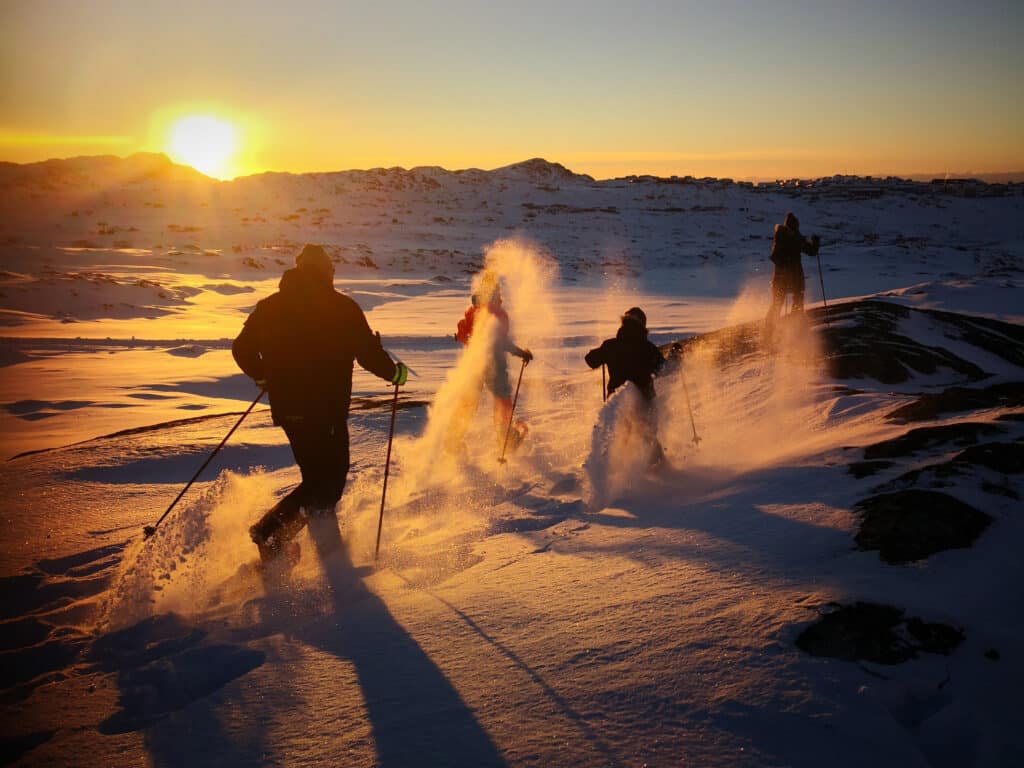 Skiing
Given that Sisimiut hosts the Arctic Circle Race – the world's toughest ski race – it is not surprising that cross-country skiing is huge in the area. The Sisimiut Cross-country Ski Center grades a track around Nalunnguarfik lake in town, as well as several trails (for beginners, intermediate, advanced, and disabled skies) that head out into the backcountry.
For downhillers, Sisimiut also has a ski center that is generally open from January to May (dependent on snow conditions). It is located ~6km from town with a bus service running several times per day and has runs for the beginner (10% of the pistes), intermediate (60%), and advanced skiers (30%).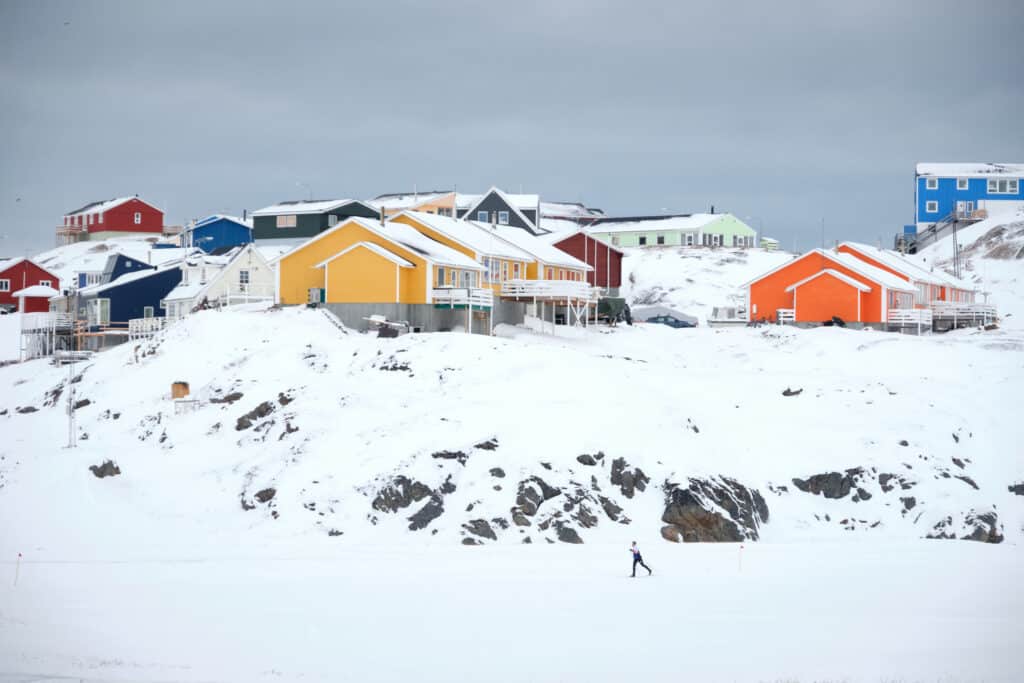 Witness the Northern Lights
If you visit Sisimiut between September and April, you have a great chance to see the incredible Northern Lights. Although they are often visible from the center of town, it is best to head to the edge of the houses for the darkest skies. Or escape town entirely on a multi-day adventure or snowmobile tour.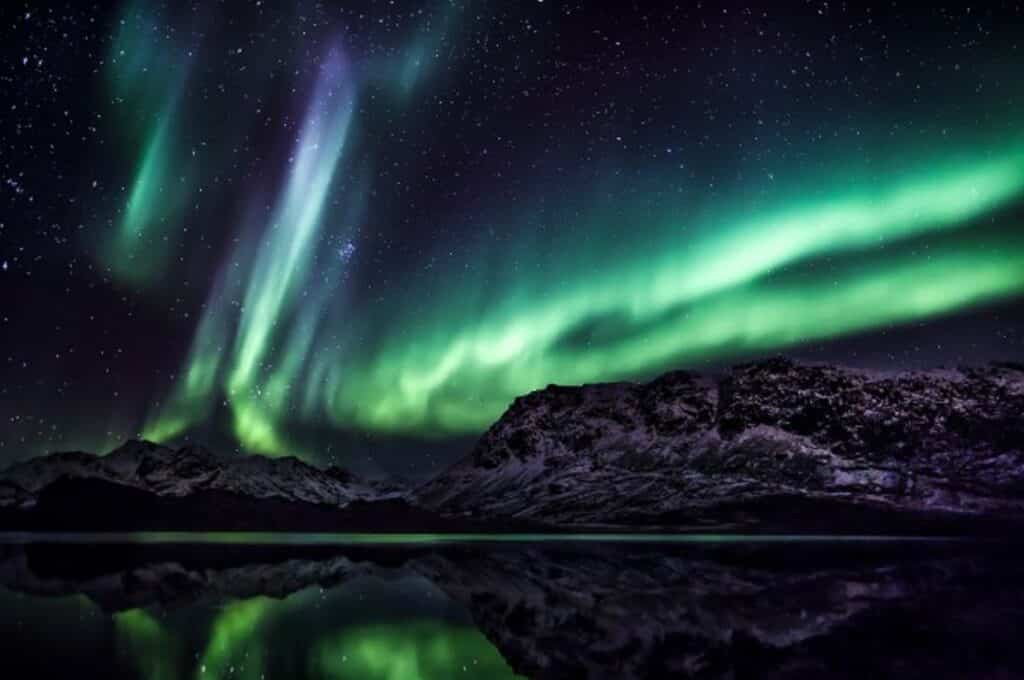 Accommodation – where to stay in Sisimiut
Although Sisimiut is a large town by Greenland standards, there are only a few places to stay.
The Hotel Sisimiut is one of the high-quality accommodation options in the city. They offer comfortable rooms, conference facilities, an Arctic Spa, and the town's fine dining restaurant. They are located at the top of the hill and are only a short walking distance to "dog town", the start/end of the Arctic Circle Trail, and the spectacular backcountry around Sisimiut in general.
---
---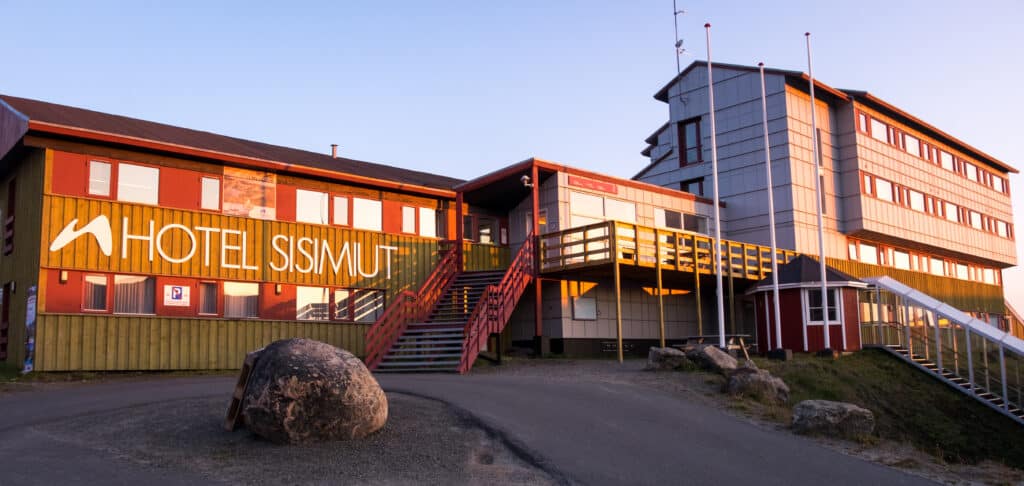 The Hotel Sisimiut Seamen's Home is another high-quality accommodation provider that offers lovely rooms, meeting rooms, and a very reasonably priced cafeteria that is hugely popular with both locals and visitors. They are also part of a special organization where any profit is used to support the local community through a wide range of social programs.
For those on a budget, the Sisimiut Youth Hostel is the cheapest accommodation in town and a place where you can also cook your own food. Other options include the isi4U Hostel and other properties on Airbnb.
Restaurants and cafes – where to eat in Sisimiut
There are quite a few places to eat out in Sisimiut, so there is bound to be something amongst the following to cater to your taste buds.
The Nasaasaaq Restaurant and Brasserie at the Hotel Sisimiut is the fine dining option in town. They offer everything from seafood to steak to stews to burgers and even have a takeaway menu you can order from. They have a Friday lunch buffet, as well as buffet brunch on Saturdays and Sundays. And their weekly Traditional Greenlandic Buffet is a must-eat if you are in town on the correct day.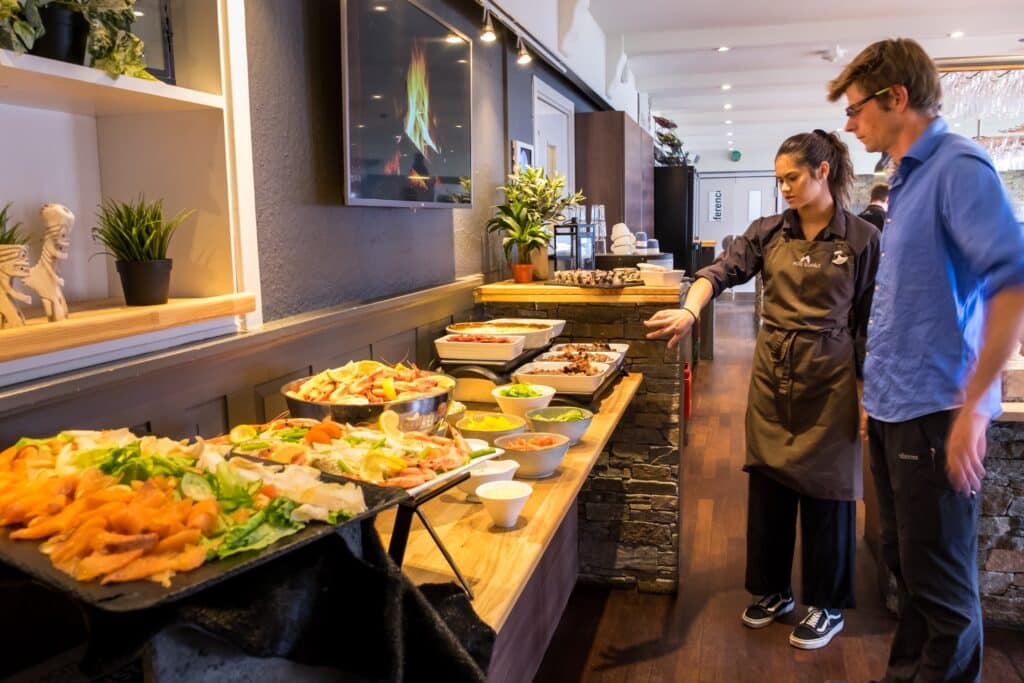 ---
---
The Seamen's Home Cafeteria has a set daily menu for lunch and dinner that is very reasonably priced. Alternatively, you can order a wide range of food – from burgers to steak – from the menu. This is the most popular eatery for locals and visitors, and there is often a queue of workers from the harbor the instant it opens. Note: they do not serve alcohol.
Sisimiut has a number of cafés including Café Taseralik at the cultural center, Café Naapiffik (with a variety of sandwiches, cakes, and coffee), the Asian food based Café Sisimiut, and JZ bakery – a local favorite for sandwiches and pastries. If you are looking for fast food, Pizzaria Amigo serves pizza, burgers, and hotdogs, and the Yellow Grill down by the gas station in the harbor offers a similar menu.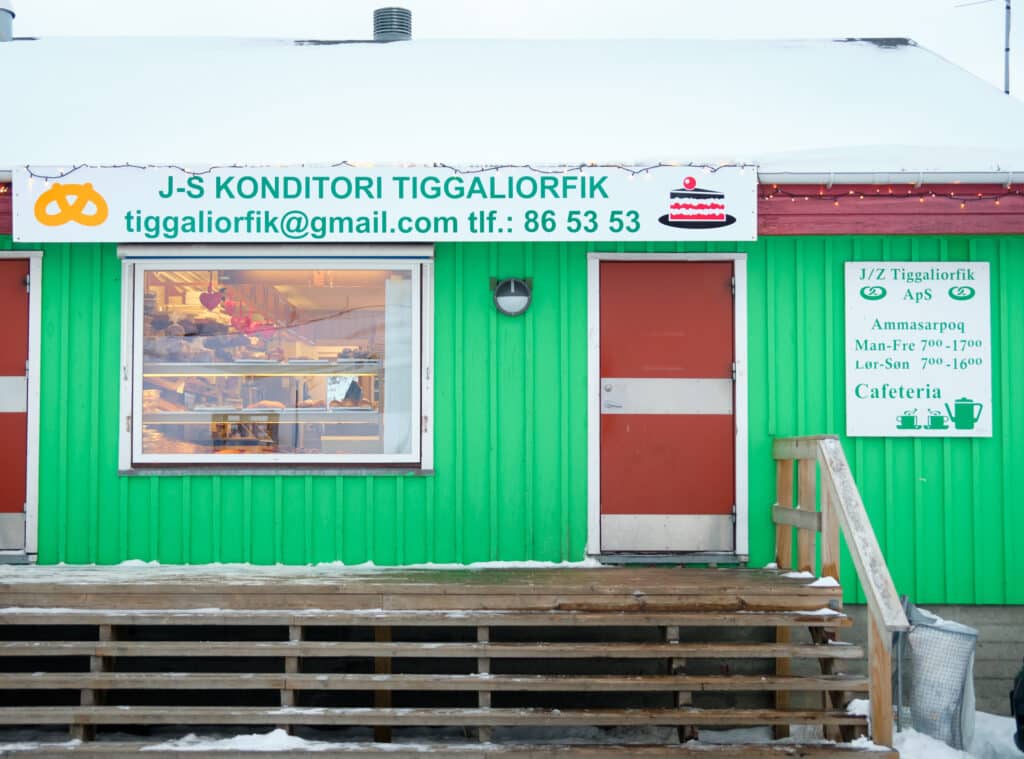 A final possibility (especially if the weather is fine), is to shop for pastries, bread, cheese, processed meats, fruit, and other items at the Brugseni and Pisiffik supermarkets and make your own picnic.
Nightlife in Sisimiut
There are three main options for a night in the town of Sisimut.
If you are after low-key beers and food, Pub Raaja is the place to go in Sisimiut. On the weekend, there is always live music and this is a great place to see some of the excellent local bands.
Club Starlight is the city's nightclub/discotheque, or if you are after something more relaxed – head to the comfortable bar of the Hotel Sisimiut.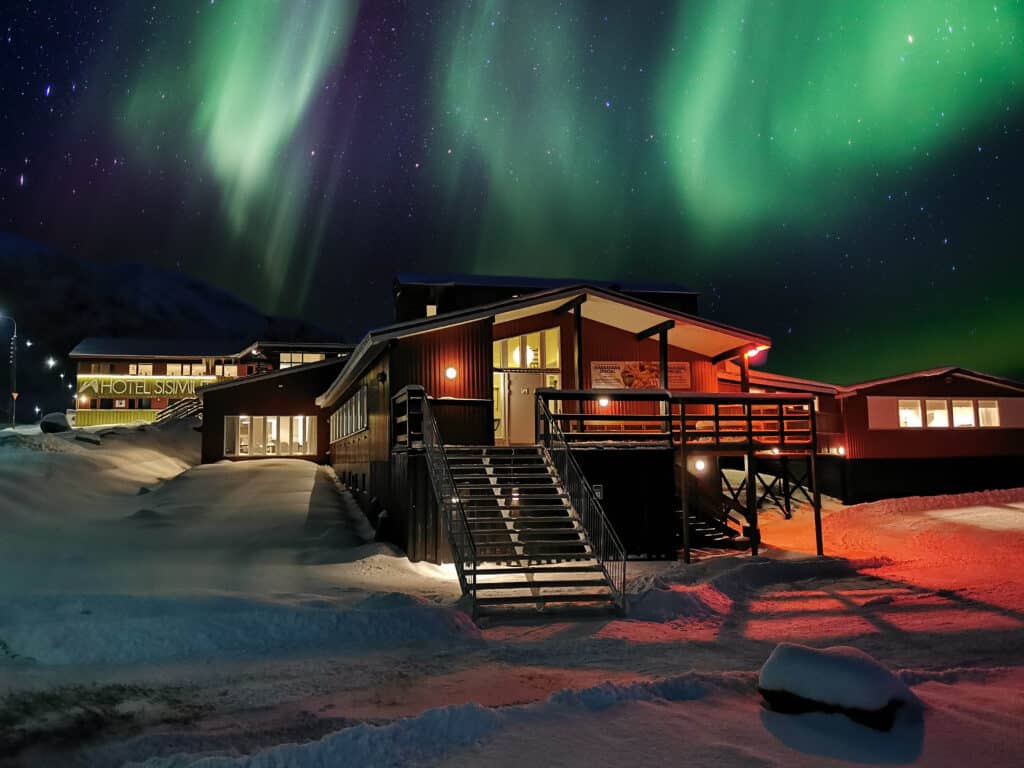 Alternatively, if you are after a more natural evening out, take a late evening stroll to enjoy the Midnight Sun during summer, or the magical Northern Lights during winter.
Souvenir Shopping in Sisimiut
Sisimiut is a great place for souvenir shopping! Visit the local artisans working from the Sisimiut Workshop of Arts near the harbor. You can usually watch them create and buy directly from the workshop (cash only) if you pay them a visit.
Mersortarfik Panigiit (up the road from the Hotel Sisimiut) specializes in sealskin products and Greenlandic minerals and gemstones in particular. This is a large store that looks like someone's house and is only open for a couple of hours each afternoon. Check opening hours before you go.
Qiviut is the place for souvenirs made from musk ox wool. This is the warmest wool in the world and lighter than you can imagine. It comes with a hefty price tag (due to the difficulty in harvesting it) but is a beautiful and cozy investment.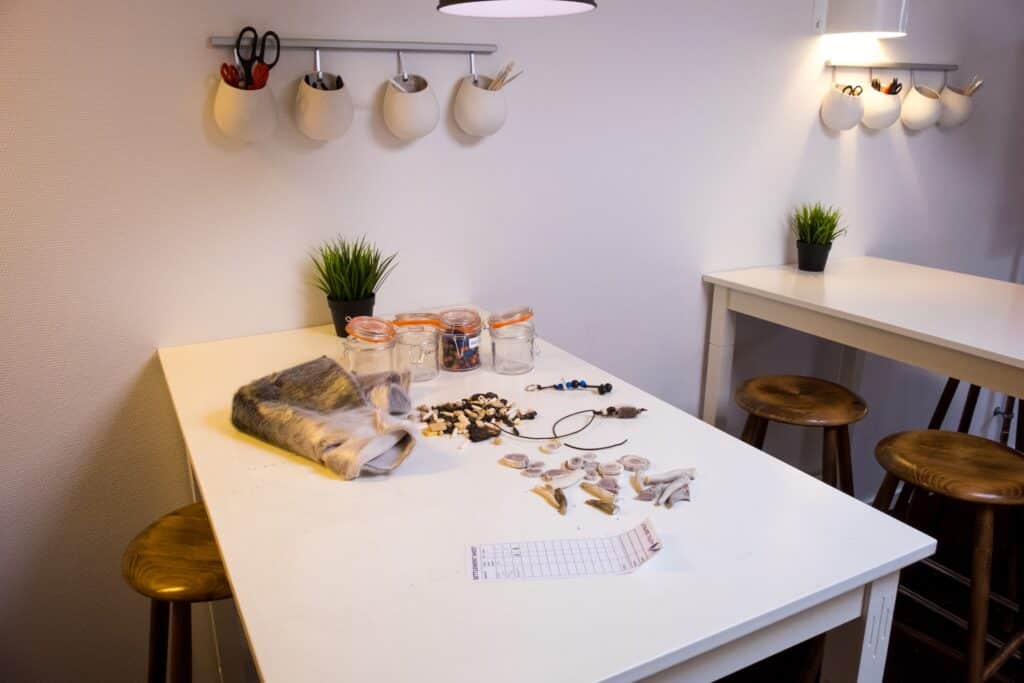 Last but not least, both the Hotel Sisimiut Seamen's Home and Hotel Sisimiut offer a wide range of souvenirs in their foyers. You can even have a go at making your own Greenlandic souvenir at the Hotel Sisimiut.
With all souvenir shopping, remember there are restrictions on what can be taken out of Greenland. To avoid issues, it is safest to buy things made from reindeer antler, musk ox, seal, or lamb. Please have a look at the current list of restrictions before you travel.
If you forgot – or haven't got a chance to buy your souvenirs in Greenland, discover a selection of Greenlandic Accessories, Clothes, Souvenirs, Cards & Posters, Books, and Home decor in The Greenland Store where you can find everything from Greenland online!
Book your trip to Sisimiut
Sisimiut is the perfect place to spend several days, especially if you are a nature lover and enjoy being outdoors. Guide to Greenland brings together most of the tours offered around Sisimiut on one platform and is an easy way to plan and book your travel to Greenland's second-largest city.
We invite you to explore all of our tours around Sisimiut and contact us with any questions you may have.
---
---
Other interesting articles