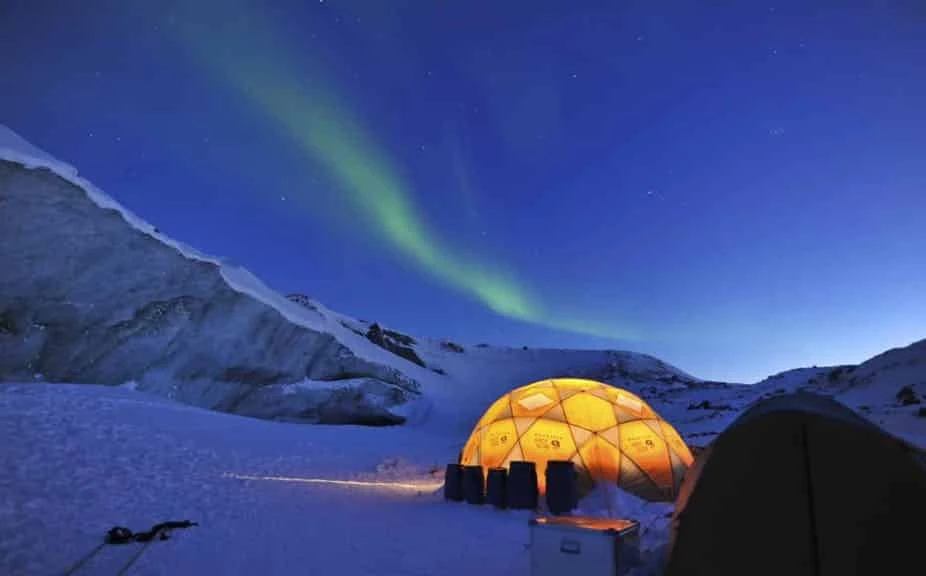 Ultimate Travel Guide to Kangerlussuaq
With abundant wildlife and the easiest access to the enormous ice sheet, Kangerlussuaq is so much more than a pitstop on your way to somewhere else in Greenland. But how do you get there? And what is there to do if you stopover? Read on to discover everything you need to know in order to plan an incredible travel experience in and around Kangerlussuaq.
---
---
Welcome to Kangerlussuaq! Where the Greenland Ice Sheet is right on your doorstep.
With a population of 519 people (2020), Kangerlussuaq is a small town, even by Greenlandic standards. However, its role as the country's primary aviation hub means that it is well-equipped with modern infrastructure, ensuring a comfortable stay as you explore its magnificent backcountry.
This Ultimate Travel Guide to Kangerlussuaq contains all the information you need to plan and get the most out of your visit to the gateway of Greenland.
Where is Kangerlussuaq?
"Kangerlussuaq" means "big fjord" in Kalaallisut (the Greenlandic language). It is located about 319km (straight-line distance) North of the capital of Nuuk on the west coast and is Greenland's only "inland" town. Technically it is still on the coast, but it does lie ~160km from the main coastline, at the end of the big fjord for which it is named.
What is the best time to visit Kangerlussuaq?
Kangerlussuaq offers plenty of options for outdoor adventurers during both Summer and Winter. The best time to visit comes down to what you would like to experience.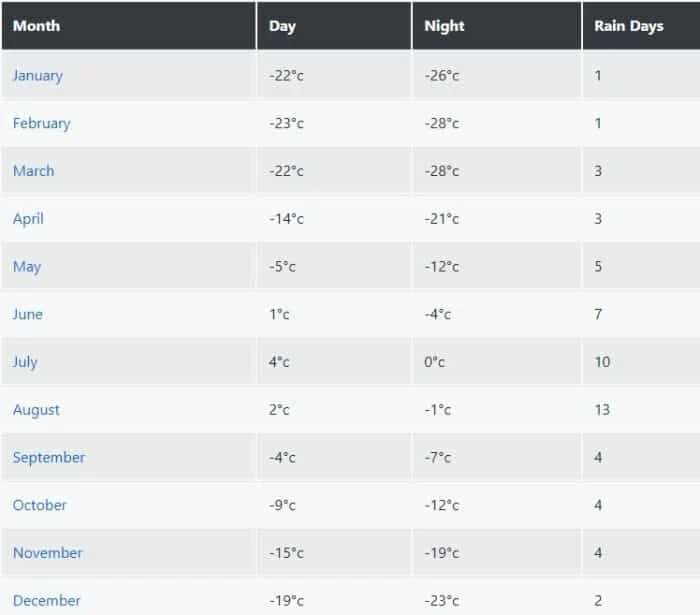 You can see the current weather forecast for Kangerlussuaq at the Norwegian Meteorological Institute and NRK
Winter and Spring
Don't be put off by the cold temperatures! This is the perfect time for dogsledding. Greenland is the only place in the world where sled dogs are still used for traditional practices, and you can help preserve this culture by embarking on a dogsledding trip with an experienced musher.
You can also go wildlife spotting – particularly for the enormous musk oxen (a type of goat), though you may also spot the relatively common reindeer (caribou) and if you have keen eyes, ptarmigan (grouse), Arctic hare, and Arctic fox in their winter camouflage.
You can still (usually) reach the Greenland Ice sheet and Russell Glacier during winter to experience that enormous world of ice, and with more than 300 clear nights per year and almost no light pollution, Kangerlussuaq is one of the best places in the world to see the spectacular Northern Lights.
Summer and Autumn
While dogsledding dominates winter in Kangerlussuaq, hiking and wildlife spotting are the primary activities during the summer. Hiking options range from a couple of hours through to the ~8-day, 160km Arctic Circle trail that takes you from Kangerlussuaq all the way to Sisimiut on the coast.
You can also still visit Point 660 (the Greenland Ice Sheet) and the Russell glacier, and go wildlife spotting during the summer and autumn months.
When you are planning your trip to Kangerlussuaq, particularly if you are traveling in winter, it is also useful to know the time of sunrise and sunset. Enter your date of travel into the Kangerlussuaq page at timeanddate.com to discover how much daylight you will have, as well as the times of the different twilights, golden hour (for photographers), and a lot more.
What should I pack for a visit to Kangerlussuaq?
The season you are visiting and what you plan to do while in Kangerlussuaq will largely determine what you should pack for your trip.
Clothing
Regardless of when you plan to visit, you should always follow the layering principle with your clothing. All buildings are heated to a comfortable temperature, but when you are out and about you need to be prepared.
Read our full article on the best clothing to pack for a trip to arctic Greenland, or watch the video versions here.
In all seasons, make sure you bring sunscreen. The sun can be very strong in the summer and even in winter it is easy to get sunburned when you spend the whole day outside enjoying nature. If you are visiting during summer, it is also a very good idea to bring insect repellent and a head net – or buy them once you arrive.
---
---
Given that Kangerlussuaq is a very small town, you really must bring everything that you will need.
Electronics
Greenland uses the Standard European Plug (230 V) for its electrical outlets, so make sure you pack at least one of these if your electronics come from elsewhere in the world.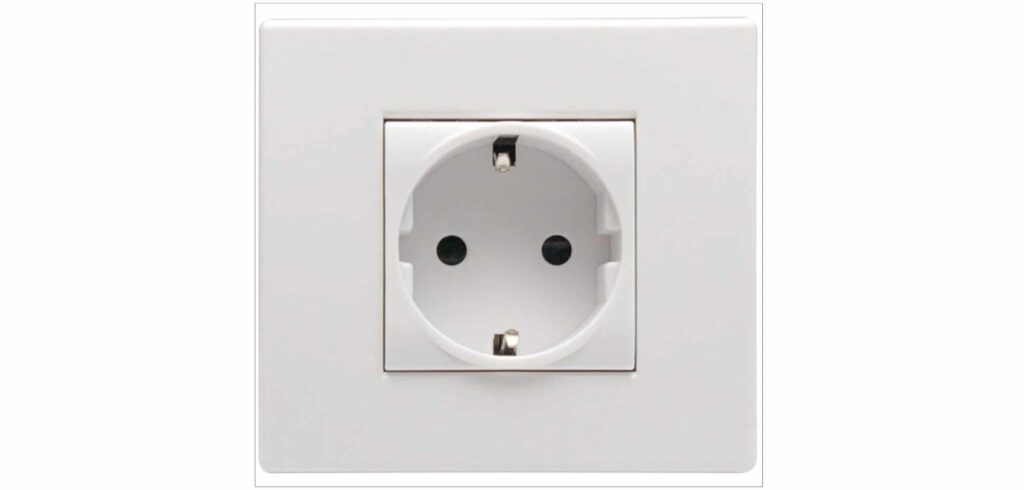 Don't forget your camera and at least one spare battery! Colder temperatures drain camera batteries more quickly so make sure you don't miss a shot at the end of the day by bringing along a power bank charger if you use your phone or spare batteries for your camera.  If you are planning to photograph the Northern Lights, you will want to bring your own sturdy tripod if you have one. 
Useful Apps
We are big fans of Maps.Me app here at Guide to Greenland.  Download the app and the map of Greenland while you still have internet access (the internet is not available everywhere and is very expensive in Greenland), and you'll be set to find your way around during your stay.  The app shows streets, places of interest, restaurants, accommodation, and even some hiking trails. It can also tell you the best way to walk, drive or cycle from where you are to where you want to go – just remember to turn on your GPS when you arrive! 
If you want to know the most likely times to see the Northern Lights, download the Northern Light Aurora Forecast (iOS/Android) app to monitor the likelihood of the lights appearing and, if you want to photograph them with your phone – one of the Northern Lights photography apps that allow you to set long exposure times.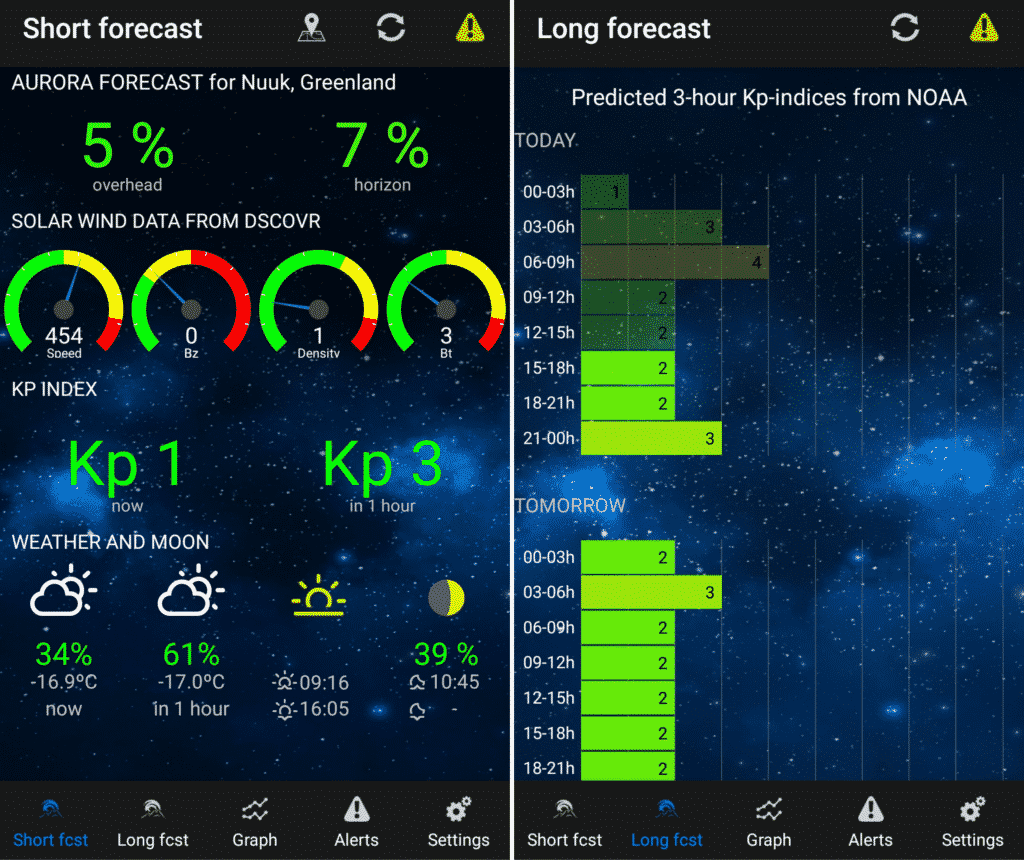 ---
---
How do I get to Kangerlussuaq?
Unless you are coming by cruise ship, most people arrive in Kangerlussuaq by air. That being said, it is possible to hike from Sisimiut during the summer or dogsled or ski during the winter. A new ATV track has just been created that is starting to allow "road" access, but arriving in this way is not yet common practice.
Flying to Kangerlussuaq
For such a small town, Kangerlussuaq is one of the easiest places in Greenland to get to. This is because it is the main international airport for the country and Air Greenland flies there directly from Copenhagen on most days.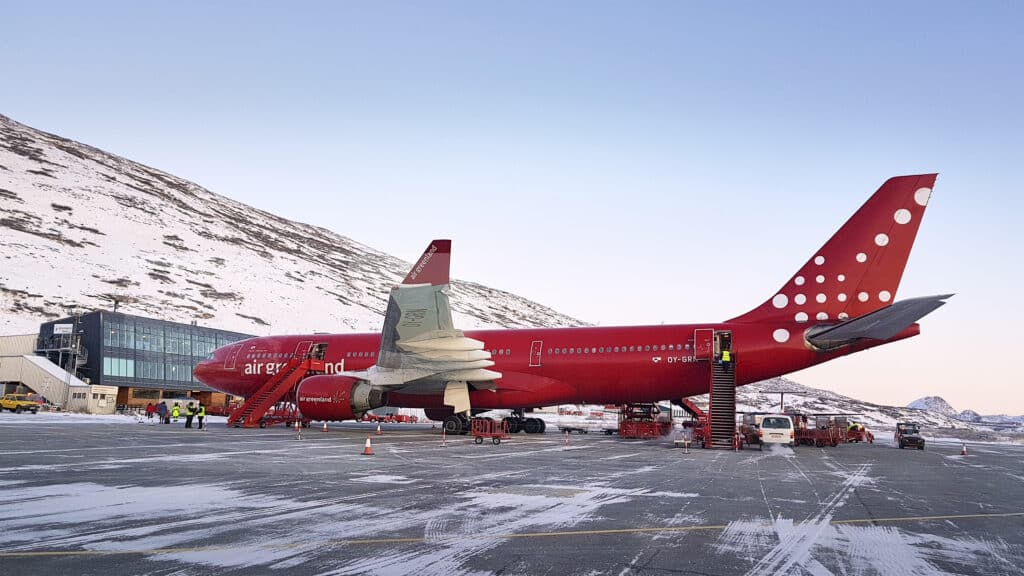 Unfortunately, there are no direct flights from Iceland. The best route if you are coming from Reykjavik is: Keflavik/Reykjavik – Nuuk – Kangerlussuaq.
---
---
If you are already elsewhere in Greenland, there are direct flights to Kangerlussuaq with Air Greenland from Ilulissat, Aasiaat, Sisimiut, Maniitsoq, Nuuk, and Narsarsuaq.
How do I get around Kangerlussuaq?
Walk
Once you have arrived in Kangerlussuaq, it is very easy to get around independently. The supermarket is direct across the road from the airport, and two of the accommodation options (and several of the restaurant options) are within the airport building itself. Kangerlussuaq is not very big and mercifully flat (unlike many places in Greenland), and most people walk to wherever it is they need to go.
Bus
Although it is only a small town, Kangerlussuaq is quite spread out along both sides of the runway. If you don't feel like walking, there is a bus service that runs on a loop through both sides of the town.
Taxi
Kangerlussuaq also has taxis if you don't want to wait for the bus and don't feel like walking.
Things to do in Kangerlussuaq
Many people assume that Kangerlussuaq is just a necessary pitstop before traveling on to where they actually want to go in Greenland. But they would be mistaken. The town itself is a fascinating example of how a military installation can become a civilian community, and its extensive backcountry is one of the best places to see musk oxen and access the Greenland Ice Sheet.
Explore the town
One of the best ways to learn about the history and evolution of Kangerlussuaq is on a guided city tour. Founded in 1941 as an American airbase, most of the buildings have now been converted for civilian use but the architecture itself is very distinctly military. Learn the full history (including from before the arrival of the Americans) by visiting many of the key sites around town with a knowledgeable guide.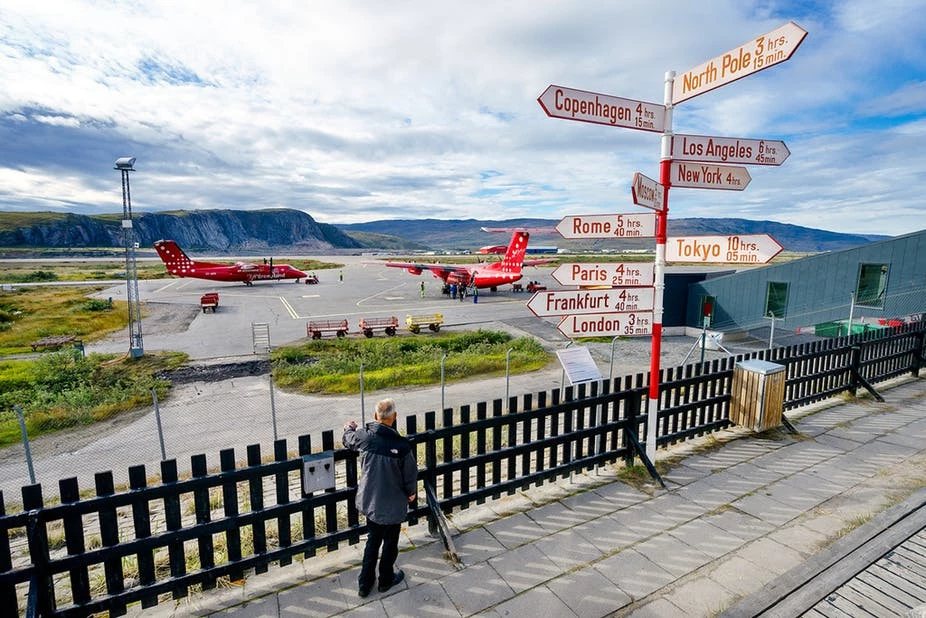 Alternatively, you can learn about the history and development of the Kangerlussuaq area on a visit to the former US Airbase Headquarters, now the Kangerlussuaq Museum. Although the Base Commander's office is unchanged since he last walked out of the door, other rooms have been converted into exhibition spaces that dive into the story of Kangerlussuaq itself, the story of Air Greenland and SAS (the two airlines that have serviced Greenland), and the history of scientific research in the area – particularly in the discipline of meteorology.
Outdoor Adventure
Kangerlussuaq is surrounded by an extensive backcountry that extends all the way from the Greenland Ice Sheet and merges with the Sisimiut backcountry at some point further west. It is a vast outdoor playground that (unlike in most of Greenland) does not require a boat to explore!
---
---
Visit the Ice Sheet at Point 660 and Russell Glacier
By far the easiest (and cheapest) way to visit the incredible Greenland Ice Sheet is to take a road tour from Kangerlussuaq. Elsewhere in Greenland, you must join a scenic flight or hike for many days to reach the ice sheet, but here it is a relatively comfortable road trip that takes just a little over an hour.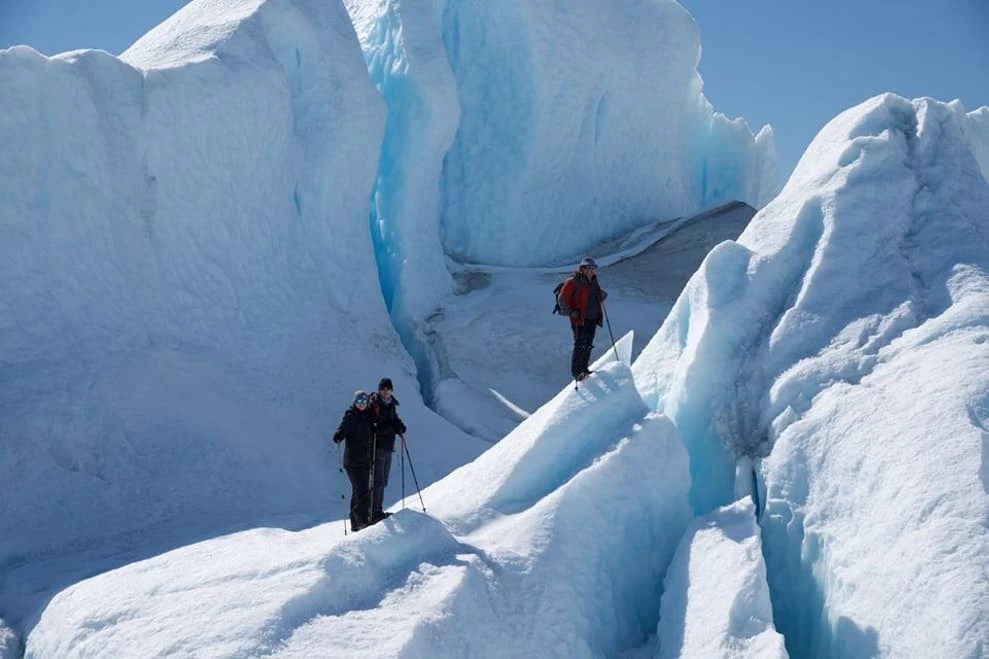 The road was originally constructed back in the late 1990s/early 2000s when several car companies expressed an interest in cold-testing their automobiles on the ice sheet. And although this never eventuated, it is now used almost daily by scientists and tourists to access the ice. You can enjoy
The road ends and the journey into a world of ice begins at Point 660. You can choose the most suitable excursion for your travel: Make a quick stop and have a few hour tours, enjoy a full-day adventure on the Ice sheet, taste Greenlandic specialties with a view of the glacier or even try 2-day overnight adventures where you camp on the ice sheet itself.
Many visitors choose to combine this with a stop at the magnificent Russell Glacier, whose 60m high glacier face is so close that it towers above you and you feel you can almost reach out and touch it!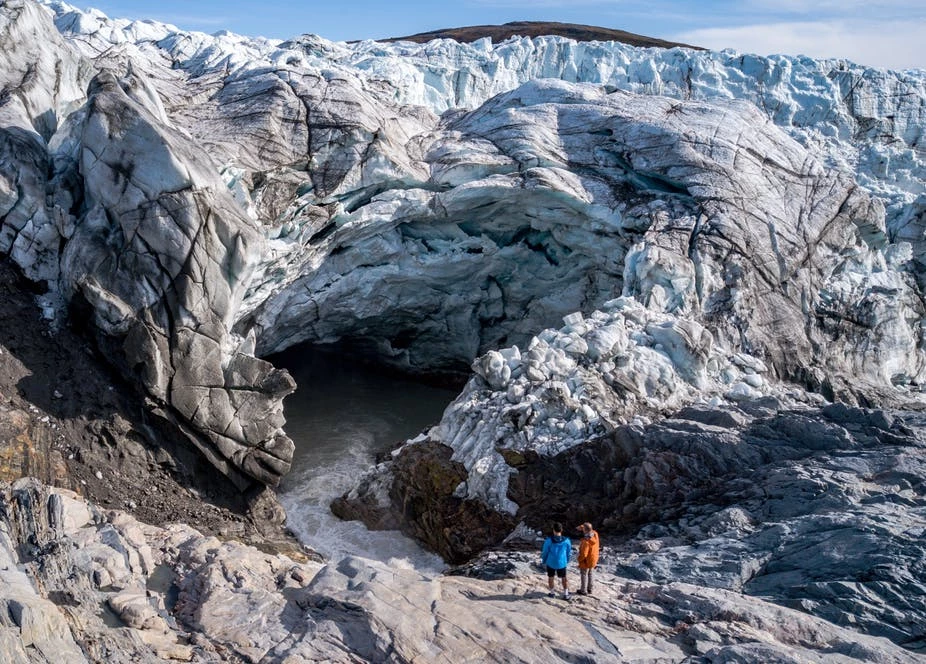 There are many different options for exploring the Ice Sheet and Russell Glacier including scenic flights and hiking options. Generally, road-based tours operate in both summer and winter.
Go hiking
Kangerlussuaq is one of the endpoints to Greenland's most famous long-distance hiking trail – the Arctic Circle Trail. The other is Sisimiut, located 160km away on the main coastline of West Greenland. Several hikers each year choose to extend the classic route by beginning (or ending) their trek at either the Russell Glacier or Point 660, but if you are not up for hiking those distances, there are several other options around Kangerlussuaq itself.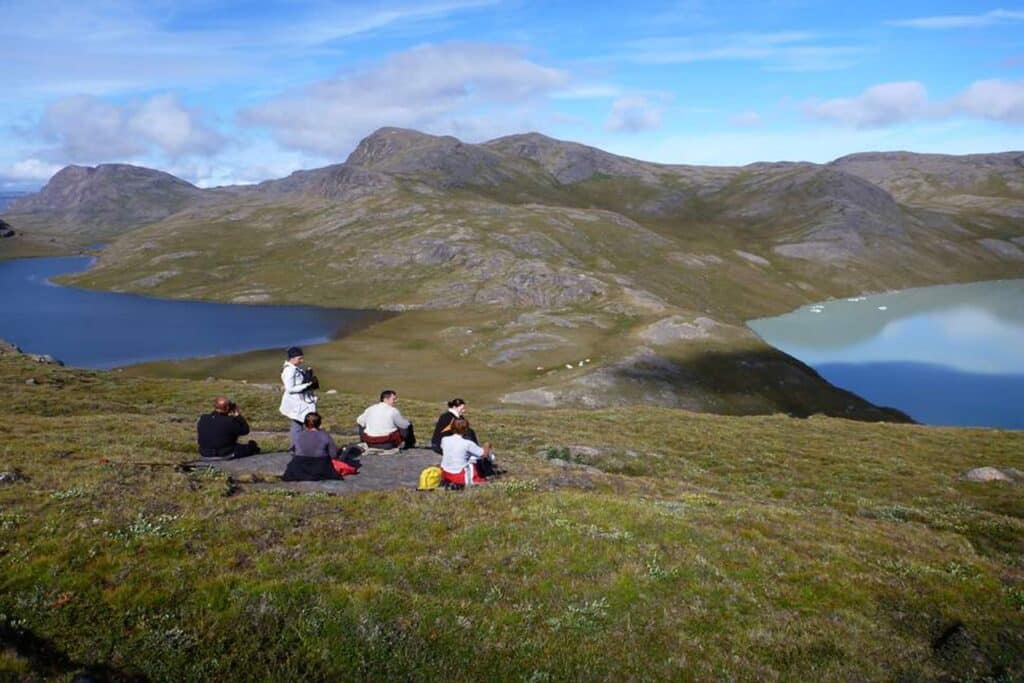 The easiest day-hike is along the road to Lake Ferguson and Restaurant Roklubben. Indulge at the restaurant or take your own picnic to eat sitting on the rocks overlooking the water. You can visit the memorial to King Willy (a famous local musk ox) and also take a detour up a short hill to reach the scattered remains of an aircraft at Air Crash Site #2. The Black Ridge hike and the Kangerlussuaq Ridge hike are other relatively short options offering two different perspectives over the town itself.
There are two main options for longer day hikes near Kangerlussuaq. Sugarloaf Mountain and Garnet Rock can both be reached on a long day hike, but most visitors prefer to take advantage of organized tours that transport you to the trailhead and eliminate a lot of walking along gravel roads.
---
---
Observe Wildlife
Kangerlussuaq is one of the best places in Greenland for land-based wildlife observation. Keep a sharp eye out and you may be able to spot reindeer (caribou), musk-oxen, Arctic hare, Arctic foxes, and ptarmigan (grouse) on your excursions. Even better is to join a specific wildlife observation tour for the best chances to see the different animals and to learn about their importance to the Greenlandic way of life.
In particular, Kangerlussuaq is known for its musk oxen. These animals form one of the largest populations in the world and are descendants of 27 animals that were relocated to the Kangerlussuaq area from North-East Greenland in the 1960s.
Remember, if you do happen across a herd of musk-oxen, make sure you keep your distance. They are not dangerous but can charge if they feel trapped.
Take a Scenic Flight
Another great way to go wildlife spotting is from the air. There are several scenic flights from Kangerlussuaq that take you out over the Arctic Tundra and the immense Greenland Ice Sheet for birds-eye views of these remarkable landscapes. See how many musk oxen you can spot in the rolling valleys before exploring the crevasses, meltwater lakes, and moraines of the ice sheet from an aerial perspective.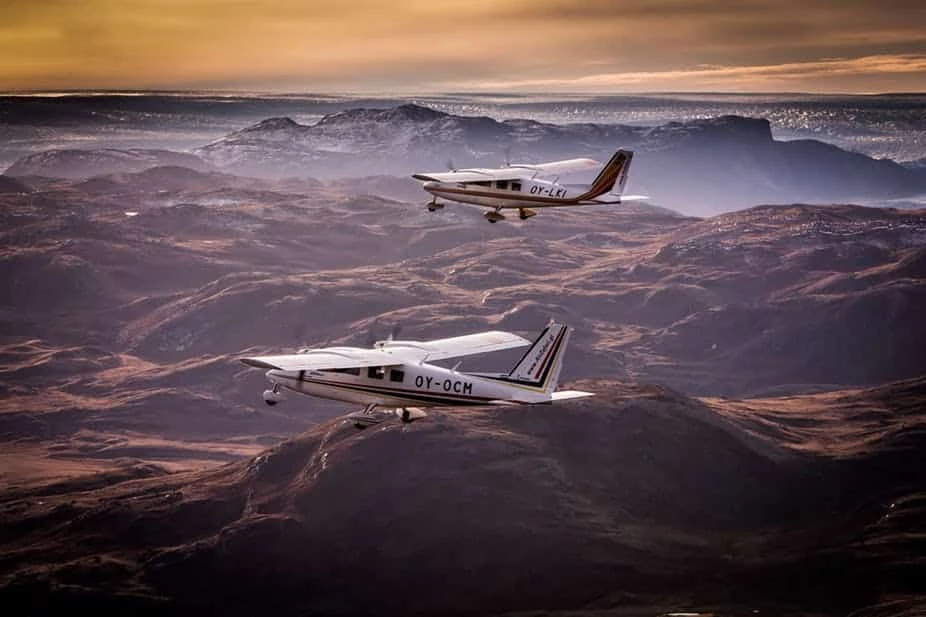 Go dog sledding
While hiking is the primary activity of summer, dog sledding dominates the winter in Kangerlussuaq. The relatively flat landscape around Kangerlussuaq makes for easier dog sledding than in other parts of Greenland, and there are many tour options that range from a few hours to several days. You can even dog sled all the way to Sisimiut along the popular route taken by locals.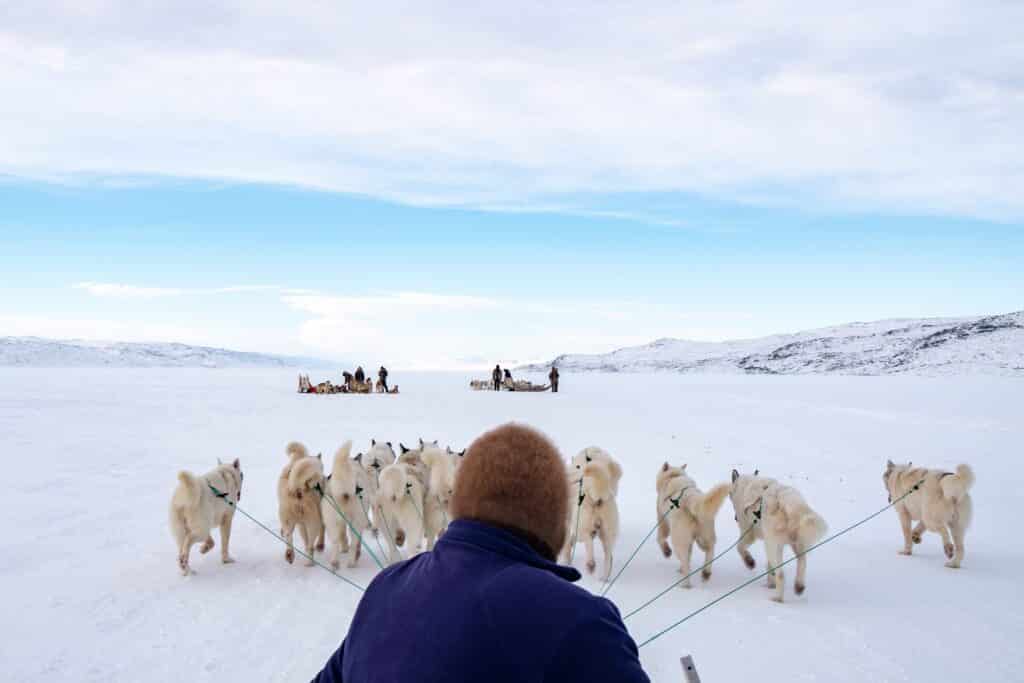 Greenland is the only place in the world where sled dogs are still used for traditional purposes, but every year there is growing pressure from the easier, faster, and (in some ways) cheaper snowmobiles. Exploring the Kangerlussuaq area with an experienced musher is one way to help preserve this important cultural practice while enjoying one of the oldest forms of Inuit transportation.
---
---
Witness the Northern Lights
If you visit Kangerlussuaq between September and April, you have a great chance to see the incredible Northern Lights.  Although they are often visible from the center of town, it is best to head to the edge of the houses for the darkest skies or take a tour into the surrounding countryside for an unforgettable experience.
Accommodation – where to stay in Kangerlussuaq
Although Kangerlussuaq is a very small town, it is currently the primary air hub for Greenland. For this reason, there is a lot of accommodation available – especially since it must be able to house travelers delayed by adverse weather.
The Hotel Kangerlussuaq is the fanciest accommodation in town and is located within the airport building itself. They offer single rooms through to suites, conference facilities, one of the town's fine dining restaurants as well as a cafeteria and bar.
Other comfortable options include Polar Lodge (100m from the airport terminal) and Old Camp (about 2km from the terminal along the road to Kellyville). Both offer private rooms with shared facilities, as well as a kitchen for guests. For those on a tight budget, the Kangerlussuaq Youth Hostel is the cheapest accommodation in town.

Guide to Greenland can help to book your accommodation fast and easily. Learn more here.
Restaurants and cafes – where to eat in Kangerlussuaq
Kangerlussuaq boasts two of the best restaurants in all of Greenland as well as several other cheaper options.
Restaurant Muskox within the Hotel Kangerlussuaq is one of the two fine-dining options in town. Order a multi-course meal created from local ingredients and pair it with one of the many options in the extensive, international wine collection. Alternatively, venture out to Restaurant Roklubben on the shores of Lake Ferguson for excellent seasonal food with stunning views.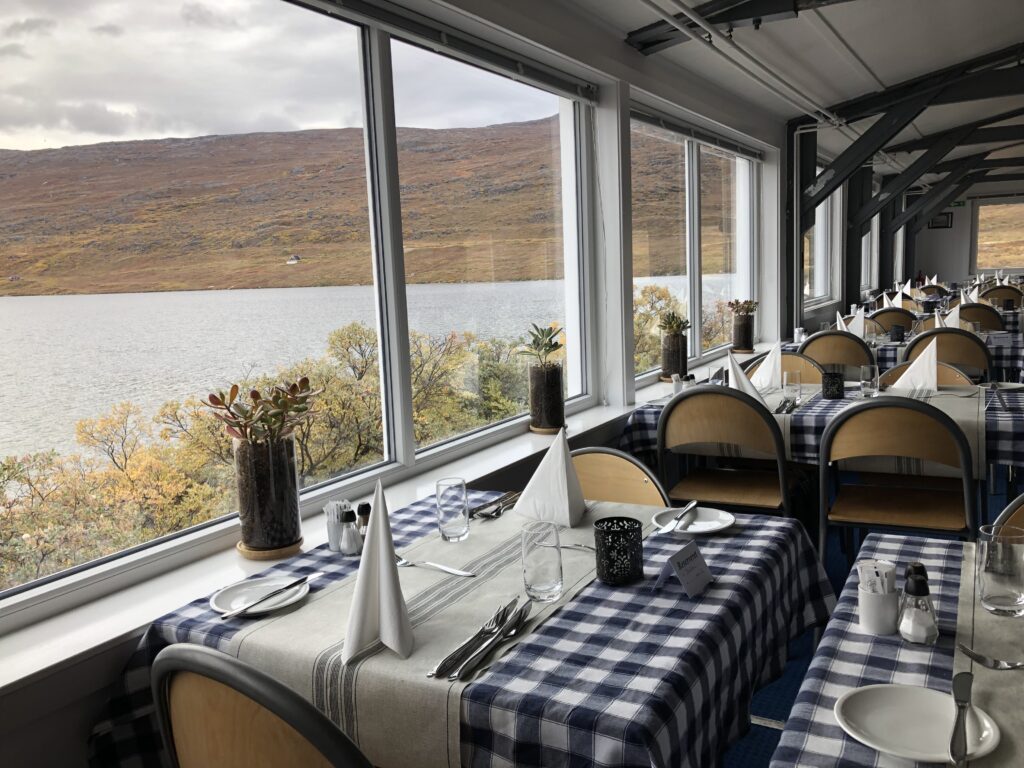 For a more casual option, the Hotel Kangerlussuaq Cafeteria offers a wide range of food to suit all tastes and a dazzling array of pastries and desserts, or you can head to one of the take-away joints on the other side of the runway.
A final possibility (especially if the weather is fine), is to shop for pastries, bread, cheese, processed meats, fruit, and other items at the Pilersuisoq supermarket and make your own picnic to take with you. Head to Lake Ferguson or Black Ridge for some of the best views near town.
Nightlife in Kangerlussuaq
While the Green Bar in the Hotel Kangerlussuaq is a great place to stop by for a coffee during the afternoon, it is also open until late and is a wonderful place to hang out in the evening. They have a large selection of exotic drinks – including the famous Greenlandic Coffee!
Souvenir Shopping in Kangerlussuaq
Given that Kangerlussuaq is the primary air hub for Greenland, there are plenty of options for souvenirs. The airport terminal itself incorporates a general souvenir shop, and you can find three more stylish options (By Heart, Niviarsiaq, and Vivi's Shop) within 100m of the terminal. Polar Lodge and Old Camp also have a selection of souvenirs.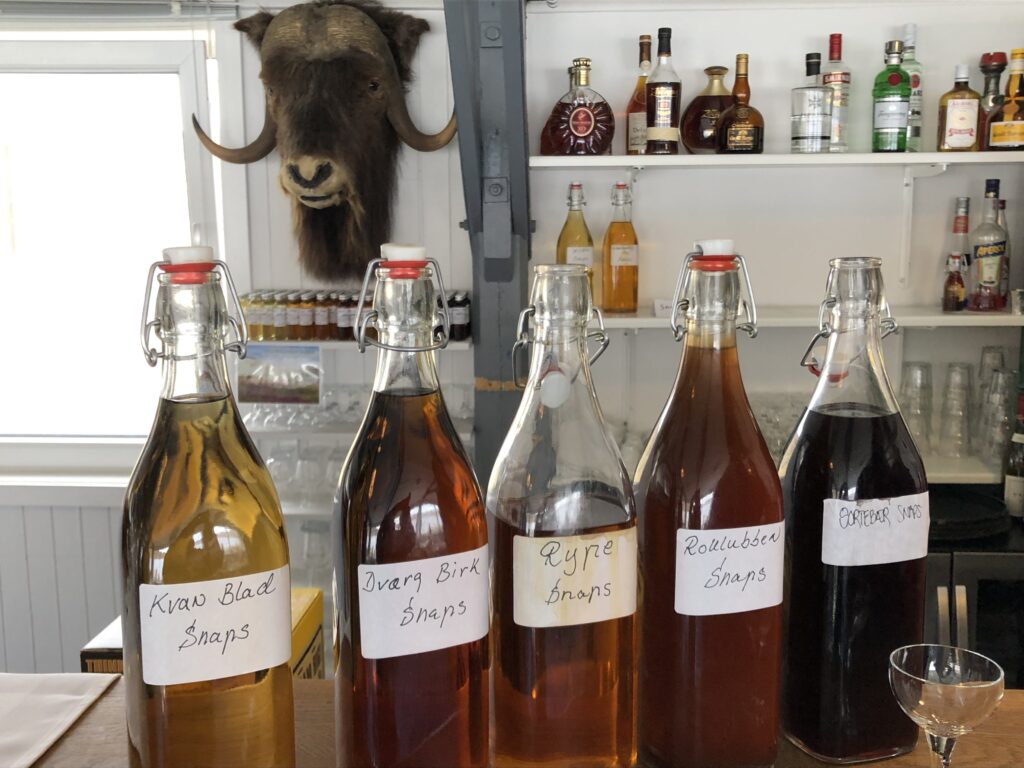 With all souvenir shopping, remember there are restrictions on what can be taken out of Greenland. To avoid issues, it is safest to buy things made from reindeer antler, musk ox, seal, or lamb. Please have a look at the current list of restrictions before you travel.
If you don't have enough luggage allowance to purchase your souvenirs while in Greenland but would like a souvenir from your visit, check out The Greenland Store online. All items are by local Greenlandic designers and artists and there is a wide range of accessories, clothing, souvenirs, cards, posters, books, and home decor available.
Book your trip to Kangerlussuaq
Kangerlussuaq is much more than just a stopover on your way to somewhere else in Greenland. Guide to Greenland brings together most of the tours offered around Kangerlussuaq on one platform and is an easy way to plan and book your travel to the town.
We invite you to explore all of our tours around Kangerlussuaq and contact us with any questions you may have.
---
---
Other interesting articles