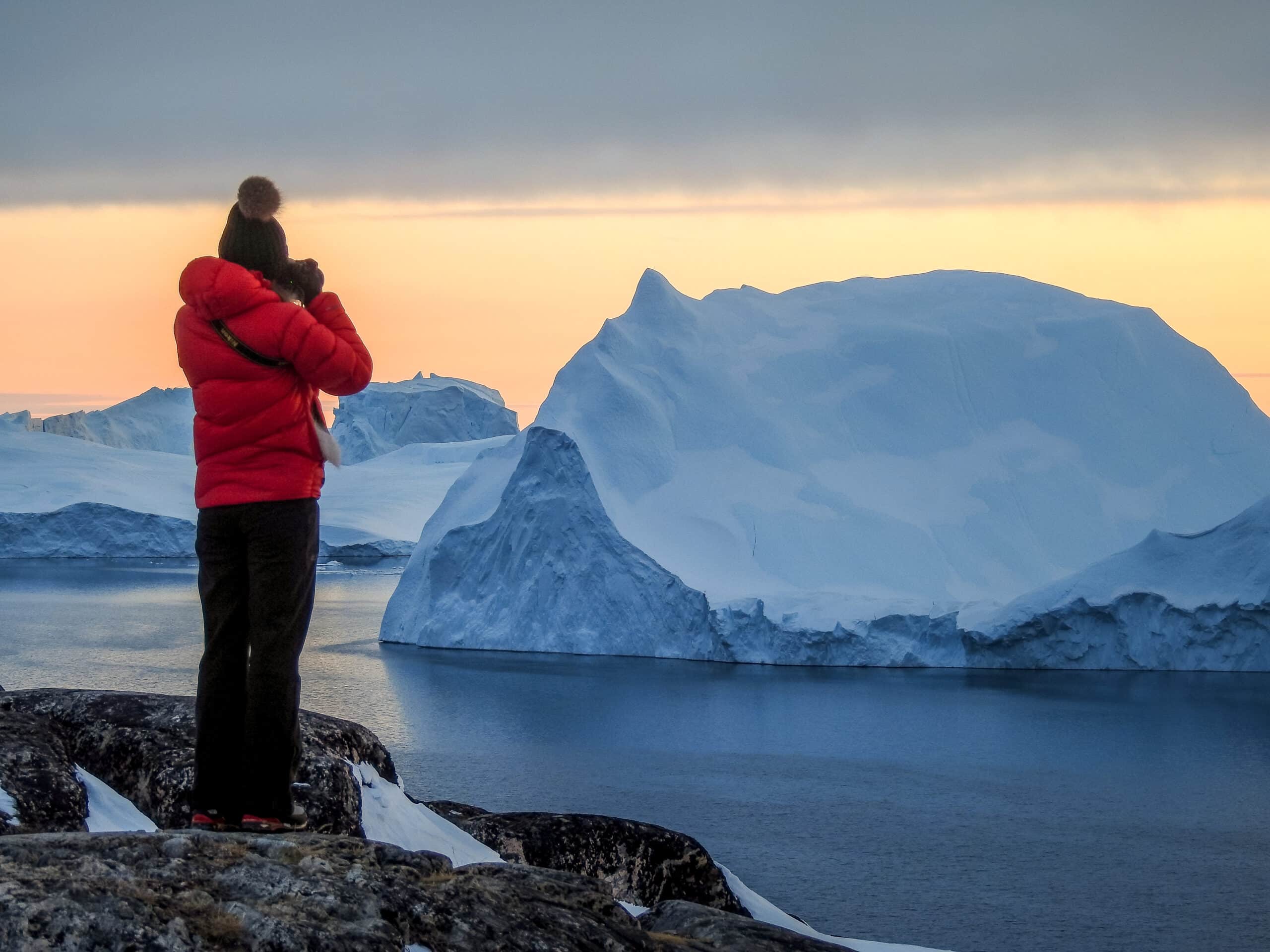 The Ultimate Travel Guide to Ilulissat
Ilulissat is the most visited tourist destination in Greenland due to the famous Ilulissat Icefjord. But where is it? How do I get there? How long should I stay? And what is there to do in Ilulissat once I arrive? Read on to discover everything you need to know in order to plan an incredible travel experience in Ilulissat.
Imagine waking up to the view of enormous icebergs floating right past your window.
Welcome to Ilulissat! And its UNESCO World Heritage-listed Icefjord.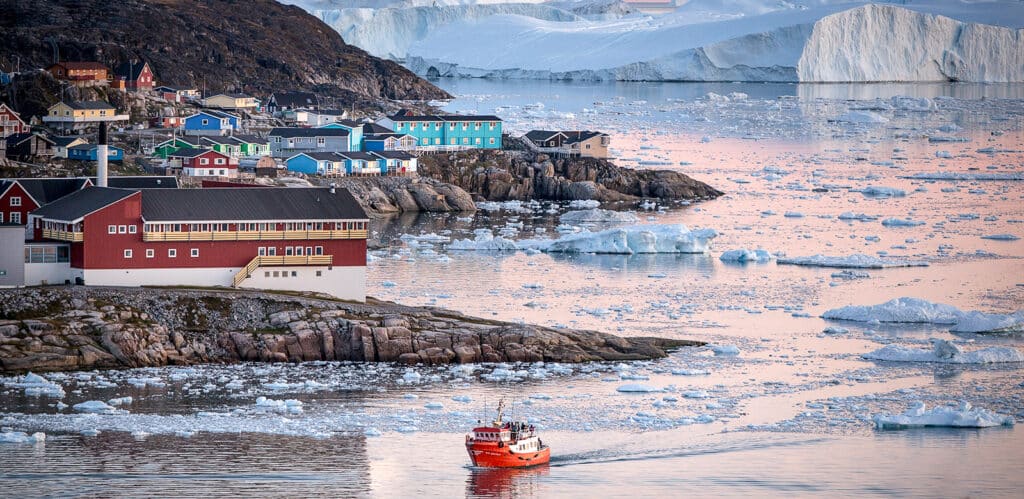 With a population of 4,905 (2018), Ilulissat is the third-largest city in Greenland (behind Nuuk and Sisimiut). Rightly famous for its incredible Icefjord, the community offers several ways to experience these enormous ice sculptures. But there are plenty of other natural and cultural activities that you should also include in your itinerary to the largest town on Disko Bay.
This Ultimate Travel Guide to Ilulissat contains all the information you need to plan and get the most out of your visit to the iceberg city.
Chapters
Where is Ilulissat?
What is the best time to visit Ilulissat?
What should I pack for a visit to Ilulissat?
How do I get to Ilulissat?
How do I get around llulissat?
Things to do in Ilulissat
Accommodation – where to stay in Ilulissat
Restaurants and cafes – where to eat in Ilulissat
Nightlife in Ilulissat
Ilulissat Itineraries
Book your trip to Ilulissat
Where is Ilulissat?
"Ilulissat" means "Icebergs" in Kalaallisut, the Greenlandic language. Quite fitting really given the skyscraper-sized icebergs that adorn its doorstep! It is located on the west coast of Greenland about 350km north of the Arctic Circle, which means the sun never dips below the horizon during Summer, and never rises during Winter!
The town sits on the shores of Disko Bay, whose nutrient-rich waters attract a wide range of seals and whales during the appropriate season. In fact, this is one of the best places to go for whale watching in all of Greenland.
What is the best time to visit Ilulissat?
Ilulissat is absolutely stunning, no matter the time of year. The best time to visit really comes down to what you are looking to experience, though you should be prepared for cold weather during Winter/Spring and mosquitoes and flies during June/July/August.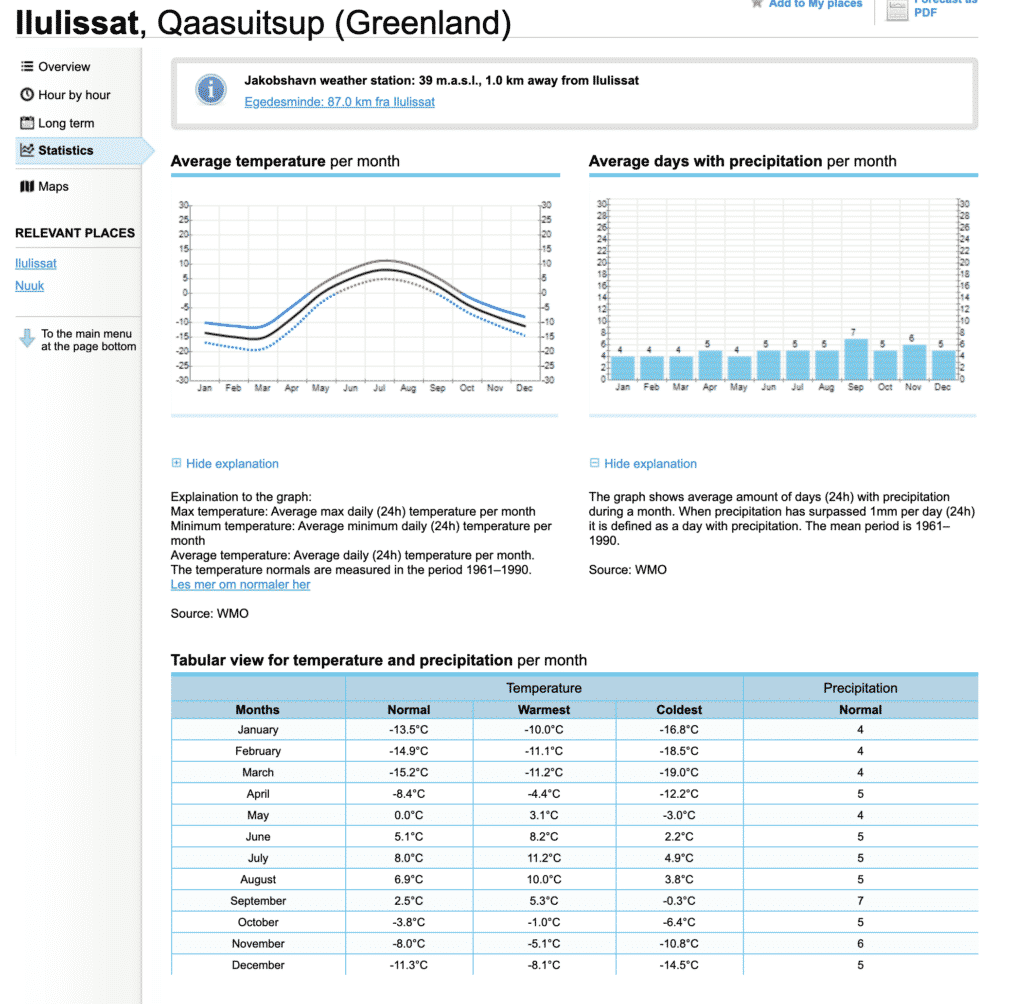 Winter / Spring in Ilulissat
Yes. It is much colder in Ilulissat than you are probably used to. But don't let that put you off. There are some experiences that are only available when the temperature plummets.
You should think about visiting Ilulissat during the Winter / Spring if you:
Want to go dogsledding
Want to experience the Northern Lights – best months are from October to April
Enjoy snow-based outdoor activities such as cross-country skiing, snowshoeing or snowmobiling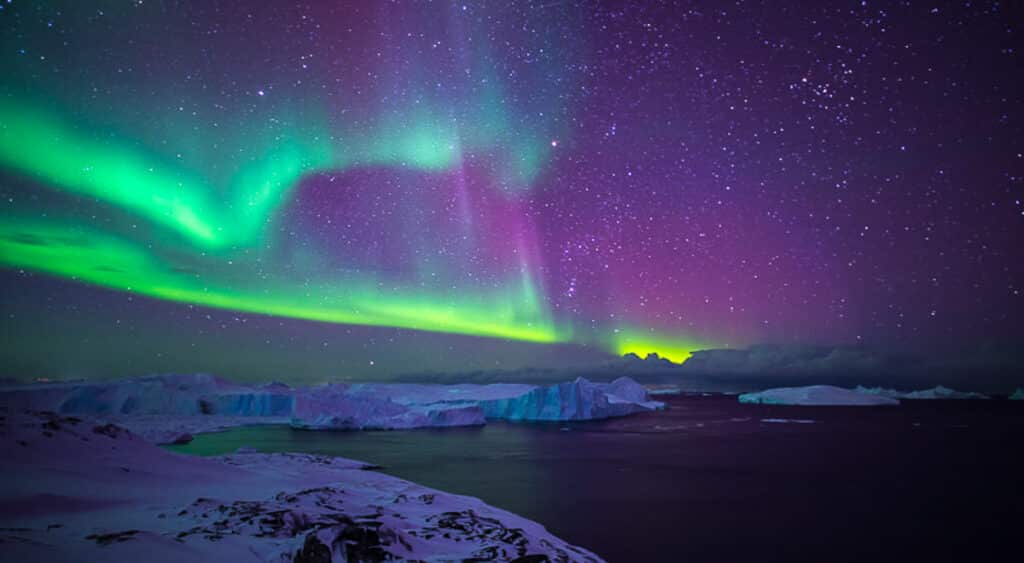 There are also a few events to enjoy during this period:
January: Mitaartut – a Greenlandic tradition where disguised individuals go door to door "demanding" to be let in and receive gifts. While it sounds like Halloween, it is actually much more impressive, as the idea is not to dress as a fictional character, but as the scariest and most unrecognisable creature possible!
March: Preliminary dogsled races for the national championship
April: Arctic Palerfik – the final dogsled race of the season, where hunters farewell the winter months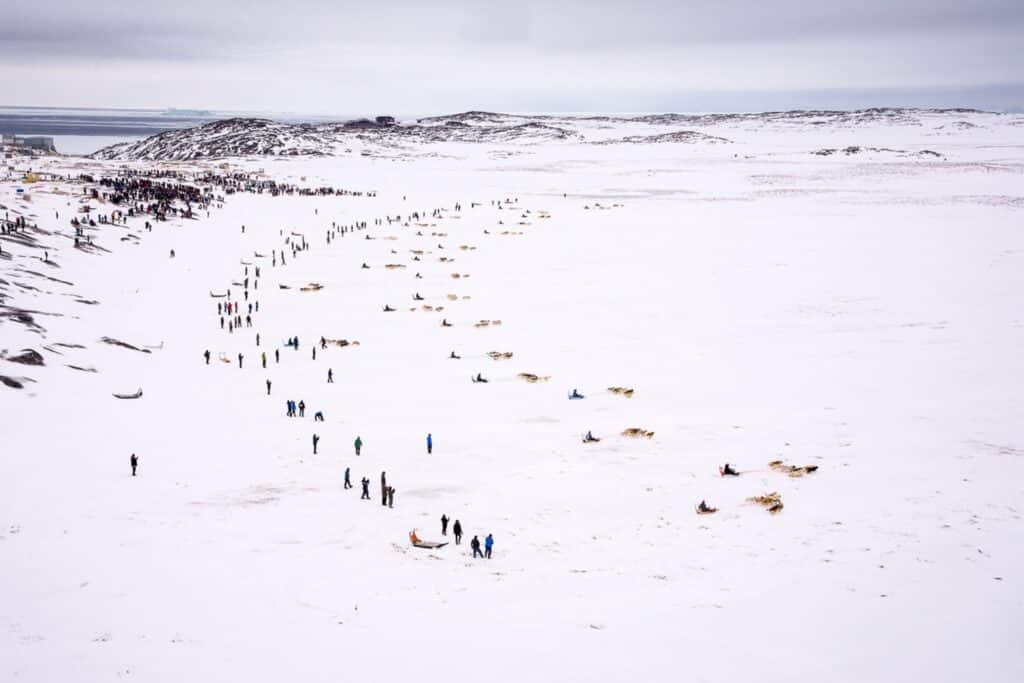 Summer / Fall in Ilulissat
The warmer months bring endless daylight, which allows you to fit a whole lot more into your day! You should consider visiting Ilulissat during this period if you are interested in:
Enjoying the Midnight Sun
Close up views of enormous icebergs from a scenic boat tour
Kayaking amongst the icebergs
Whale Watching
Hiking
Fishing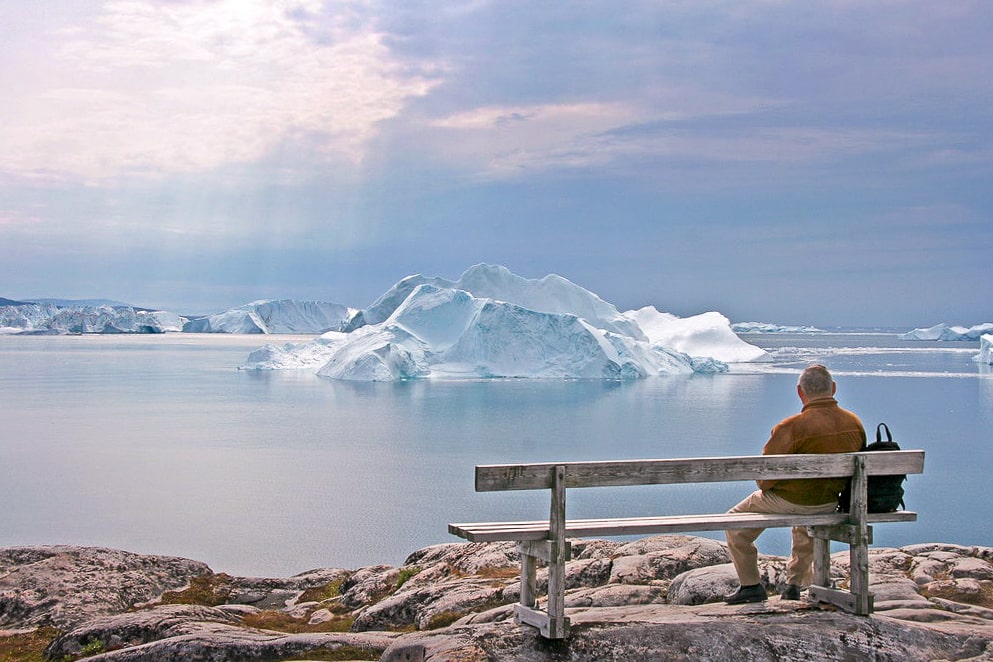 Ilulissat also has several key summer events including:
June 7 – Knud Rasmussen Birthday – Free entry to museum where cakes and coffee are served
June 21 – Greenland National Day celebrations with bonfires, choirs, and people in national dress
In June – Arctic Midnight Orienteering – a 4-day orienteering event with several races involving challenging navigation over demanding terrain
In June – Kangia Race – a 3-day adventure race over difficult terrain where participants must camp in the backcountry
August – Disko Arts Festival – a week of experimental music and art from emerging local and international artists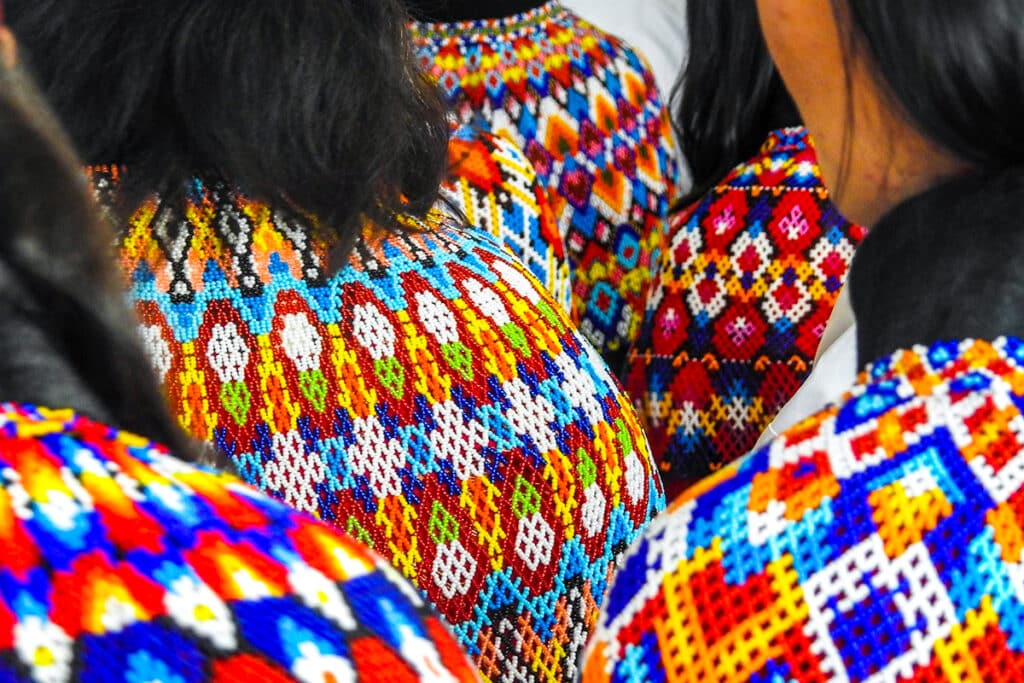 What should I pack for a visit to Ilulissat?
What to pack for your trip to Ilulissat depends on what season you are visiting and what activities you want to enjoy.
Clothing
The secret to the success of staying warm in the Arctic is layered clothing. At the very least, you will want to bring a base layer (long thermal underwear), a mid-layer of warm fleece or a light down jacket, and a waterproof outer layer (top and bottom), which will also help to cut the wind. Don't forget your warm head covering, gloves or mittens, and a scarf or a buff as well!
Read our full article on the best clothing to pack for a trip to arctic Greenland, or watch the video versions here.
During the colder months, you should ramp this up by adding extra layers, including a heavier winter jacket and insulated boots. There are several stores in town that sell outdoor gear if you find yourself underdressed – try Sarah, Butik 56, Pilu Sport, and Torrak Fashion (inside the Pisiffik store) in particular.
Electronics
Greenland uses the Standard European Plug (230V) for its electrical outlets. Make sure you pack at least one of these if your electronics come from elsewhere in the world.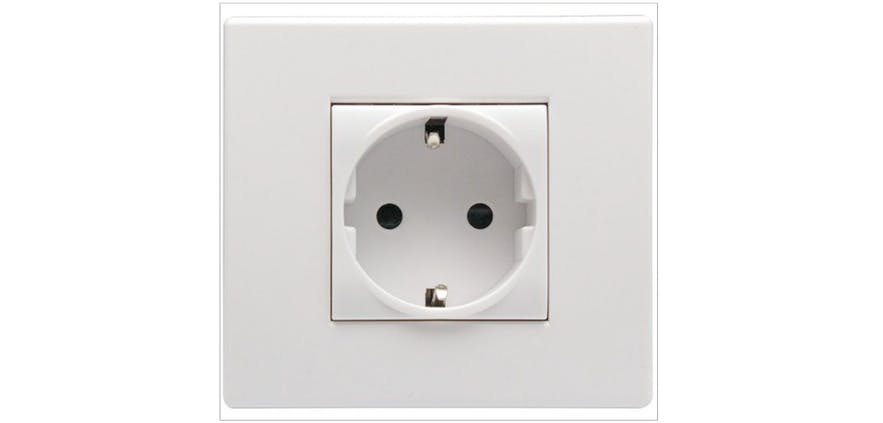 Along with your camera, remember to bring plenty of memory cards and spare batteries. You will take many more photos than you think while visiting Ilulissat. The cold temperatures will drain your batteries faster than normal. If you plan to photograph the Northern Lights, you will also want to bring your own sturdy tripod if you have one.
Useful Apps
The Maps.Me app is a fantastic offline navigation tool. Download the app and the map of Greenland while you still have internet access (internet is not prevalent and very expensive in Greenland). That way, you'll be set to find your way around during your stay. The app shows streets, places of interest, restaurants, accommodation, and even some hiking trails. It can also tell you the best way to walk, drive or cycle from where you are to where you want to go. Remember to turn on your GPS when you arrive!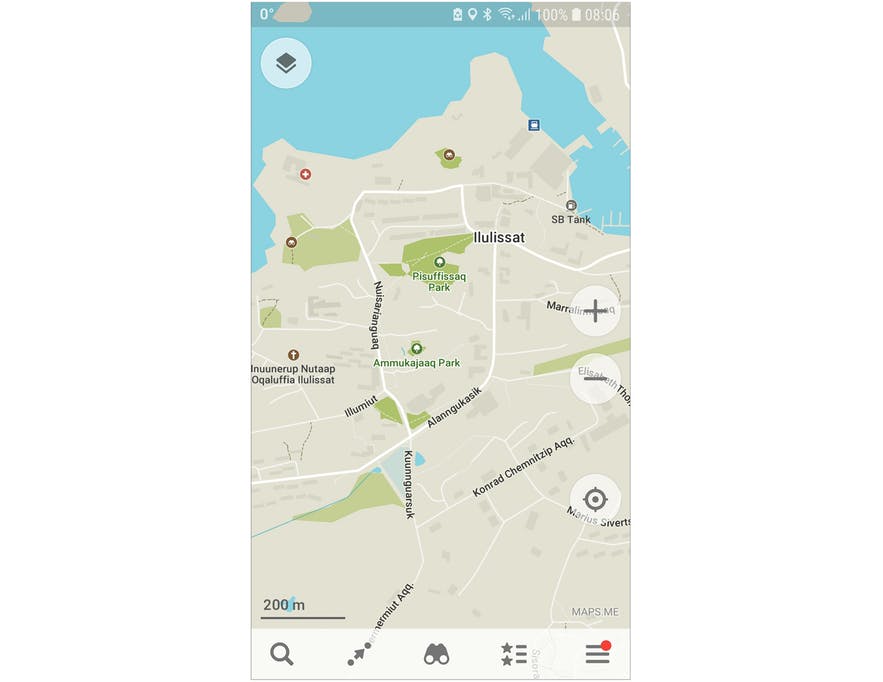 If you plan to photograph the Northern Lights, download the SpaceWeatherLive (Android, iOS) app to see the likelihood of the lights appearing. If you plan to use your phone to take pictures, you will also need to download one of the Northern Lights photography apps that allow you to set long exposure times on your device.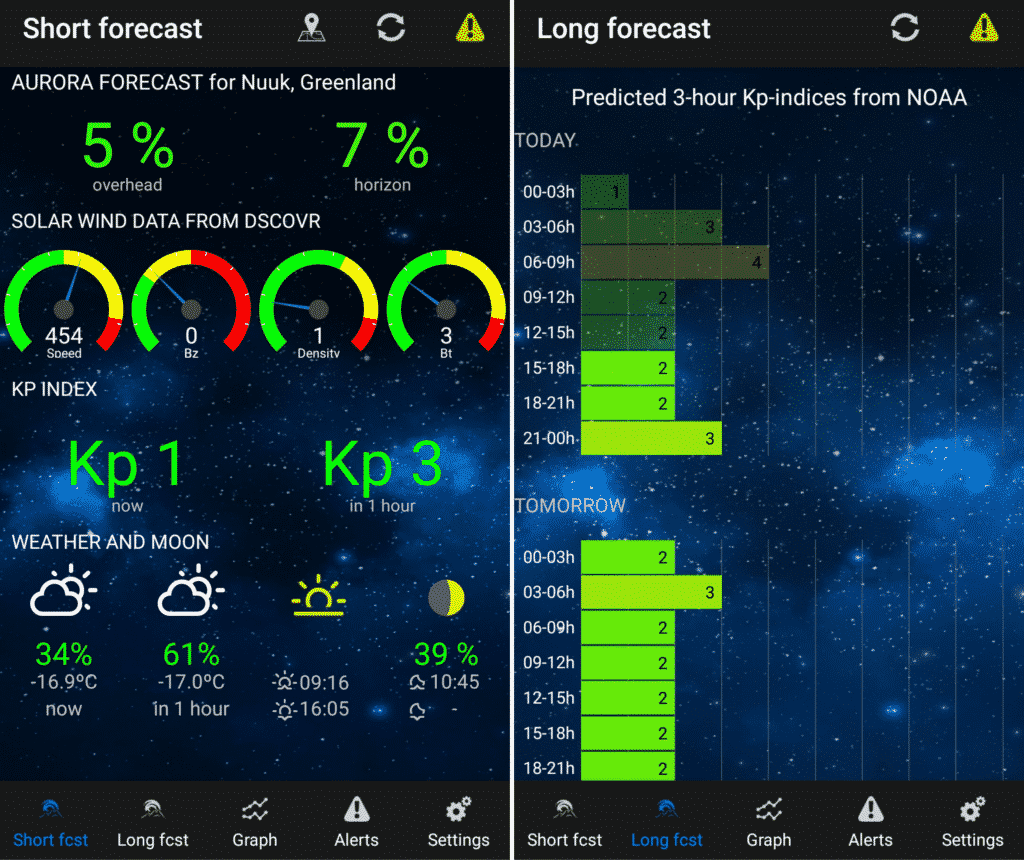 Other
If you are visiting during June/July/August, it is highly likely that you will meet the infamous Greenlandic mosquitoes and flies. Come prepared with a head net and insect repellent, or you can buy these in almost any local shop once you arrive. You will need them!
How do I get to Ilulissat?
Although Ilulissat is quite far north and all roads stop a few kilometers from town, it is relatively easy to reach by plane or boat.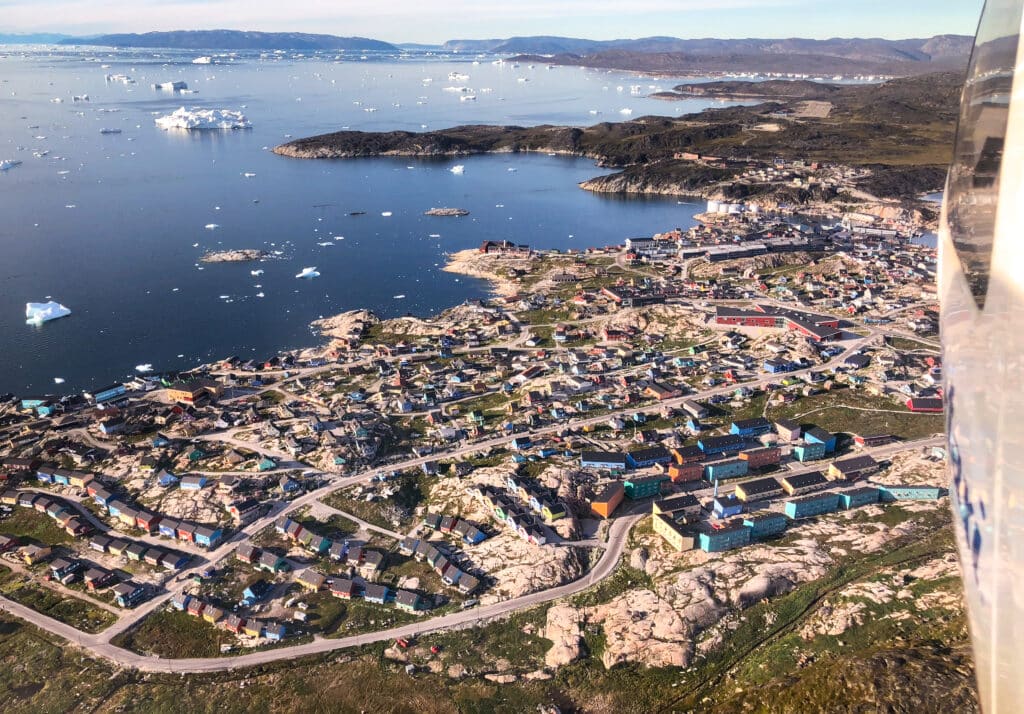 International flights to Ilulissat
You can fly to Ilulissat from either Iceland or Denmark.
Flights from Iceland are direct and can be booked with either Air Greenland (out of Keflavik International Airport) or Air Iceland Connect (Reykjavik Domestic Airport). Flights from Denmark are operated by Air Greenland and arrive to Ilulissat via Kangerlussuaq.
In all cases, departures vary depending on the time of year, so best to check the schedule on our flight's page to see which days each airline flies.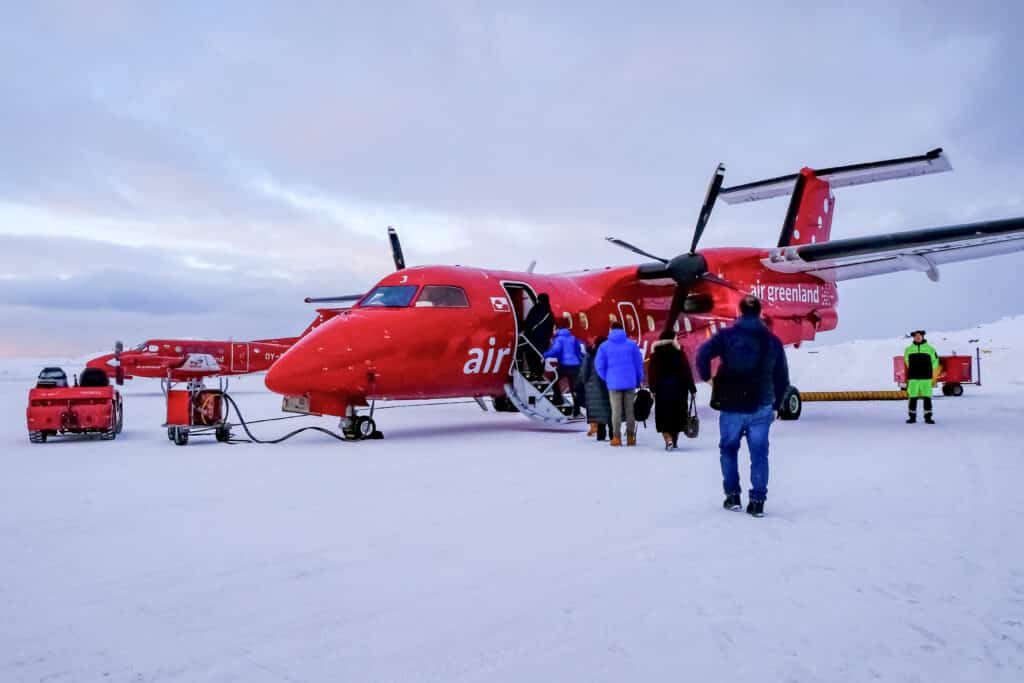 Domestic flights to Ilulissat
If you are already in Greenland and want to add Ilulissat to your itinerary, Air Greenland has flights from several towns including Nuuk, Kangerlussuaq, Aasiaat, Qeqertarsuaq, Qasigiannguit, Qaarsut, and Upernavik. Not all towns have daily flights, so check the schedules at Air Greenland to figure out when you can fly.
Arriving by boat to Ilulissat
If you are taking a cruise to Greenland, Ilulissat is most likely on your schedule. Although the majority of cruise ships dock for somewhere between 6 and 12 hours (only a few stay for more than a day) if Ilulissat is the first or last stop on your voyage it is worthwhile taking a few extra days to explore the city and its surroundings. During the high season, it is not uncommon to find 2-3 cruise ships docked near Ilulissat, ferrying their passengers to land in zodiacs.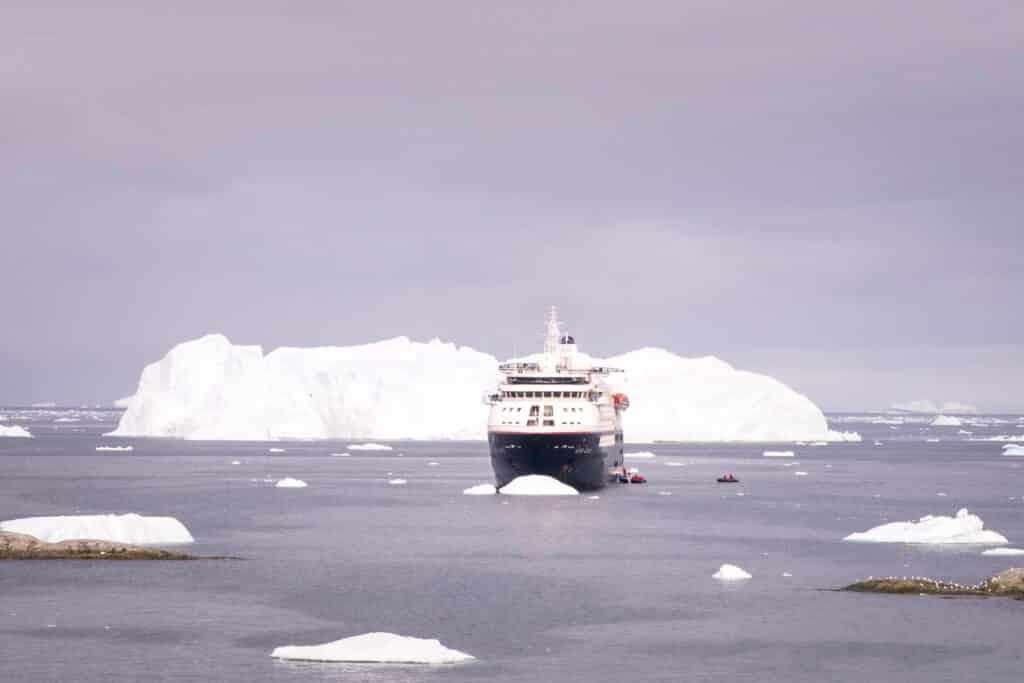 If you are coming from elsewhere in South or West Greenland and want an alternative to flying, look into the Sarfaq Ittuk Ferry operated by the Arctic Umiaq Line. This ship docks in Ilulissat once per week as it shuttles passengers between there and Qaqortoq in the South. The exact schedule depends on the time of year, so check the schedule to plan your itinerary.
If you are already in the Disko Bay area, Disko Line runs ferries between the main towns and settlements in the region. Check their schedule for when each settlement is serviced.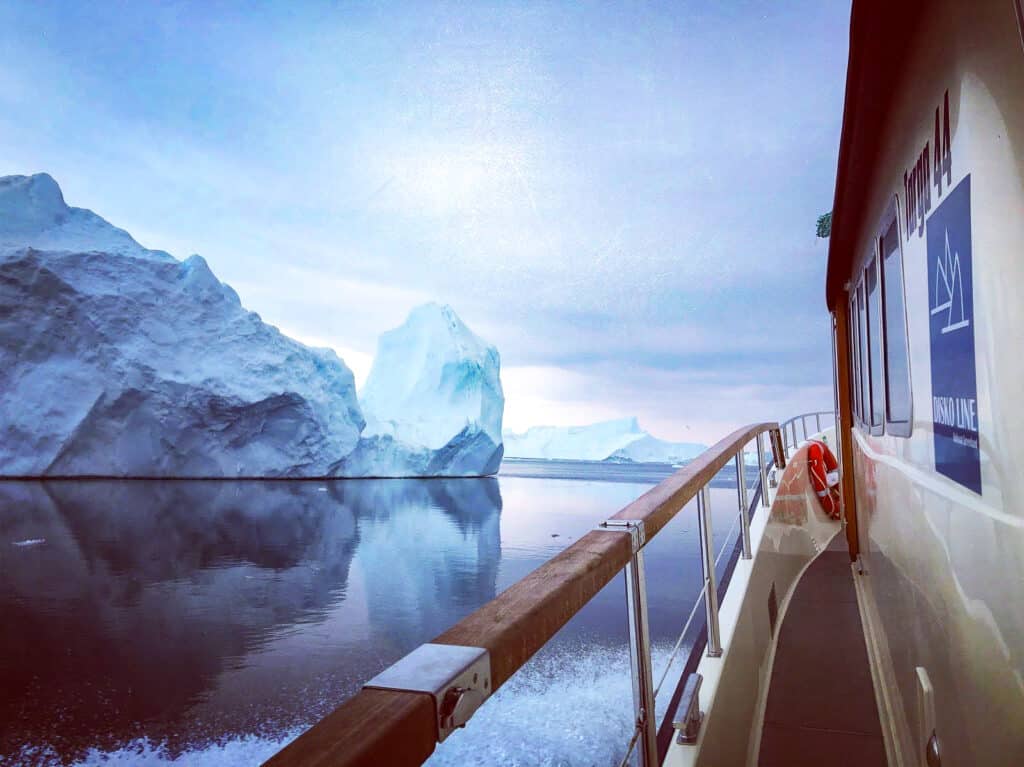 How do I get around llulissat?
Once you have arrived in Ilulissat, it is very easy to get around.
Walking around Ilulissat
The city is reasonably small, so for many people, it is possible to walk to wherever you want to go. There are quite a few ups and downs to give you a good workout, and while it is easy to follow the roads, keep an eye out for staircases that may provide a shortcut. Maps.Me has most of these marked and is a great app for finding the most efficient way to where you are trying to go.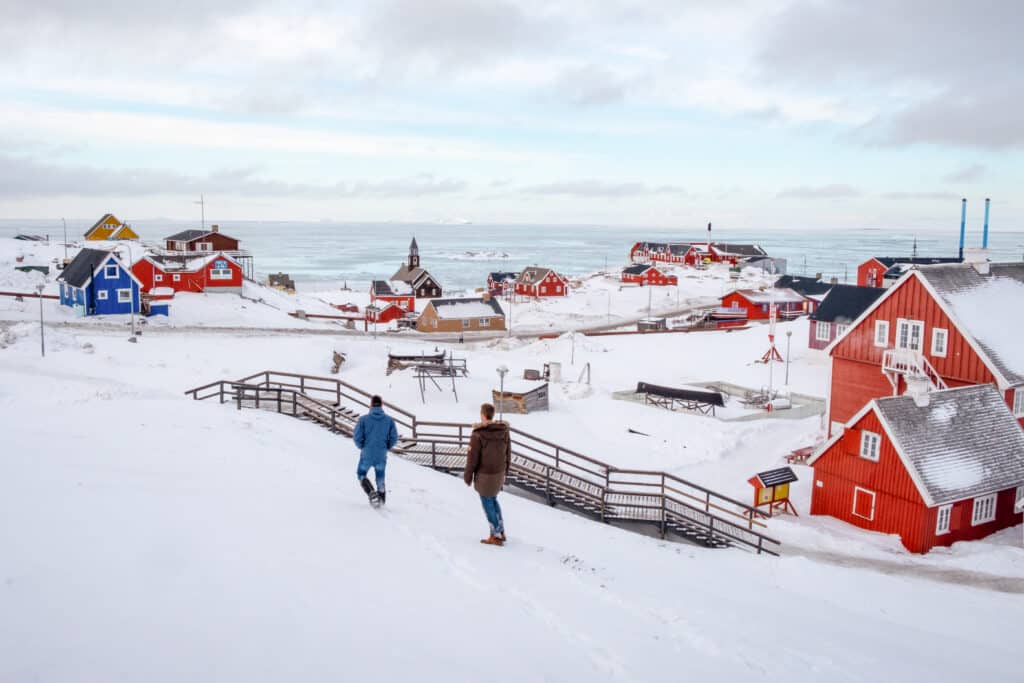 Oh, and if you are walking around during Winter, make sure you give way to dogsleds! Actively look for the dogsled yield signs as the sleds have the right of way but are quiet and fast.
Taxis
If you are not up to walking, then jump in one of Ilulissat's many taxis. Although it is significantly more expensive than the free option of walking, if the weather is bad, you need to be somewhere at a specific time, or need to get from one side of town to another – it is the most convenient way to do so. You might want to book in advance too, as the taxis are almost always busy!
Water-based taxis
If you want to explore Disko Bay and some of the neighboring islands, you will need to go via Ilulissat's water-based taxis. You can join one of the many tours available, or charter a taxi for a private excursion.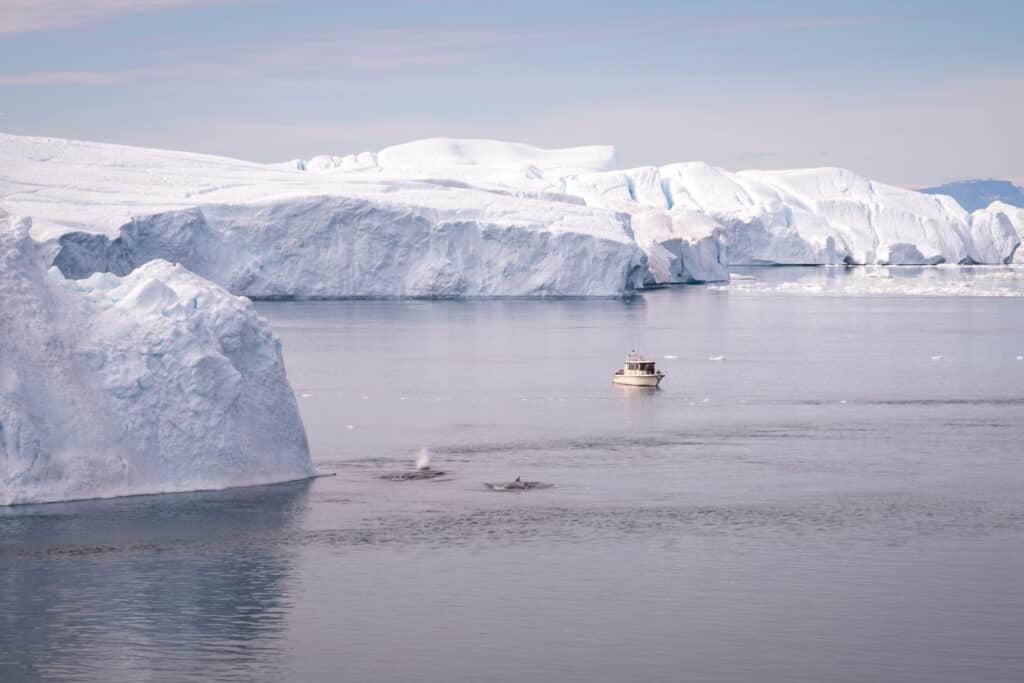 Things to do in Ilulissat
Although Ilulissat is a small town by world standards, it is surrounded by gorgeous backcountry. Some of the world's most productive glaciers, the magnificent Disko Bay, and of course, the UNESCO World Heritage-listed Ilulissat Icefjord. There is no shortage of things to experience during your stay, including:
Explore the city
Join a City Walk for a guided introduction to the history of Ilulissat and learn what daily life is like several hundred kilometers north of the Arctic Circle. It is also a great way to get your bearings when you arrive and find hidden places to return to during your stay.
Your City Walk will undoubtedly lead you past the Ilulissat Museum (Knud Rasmussen Museum). Here you can learn more about local history and polar exploration; the Ilulissat Art Museum, which features temporary exhibitions (local and international) as well a permanent collection of works by Emanuel A. Petersen; and the most photographed church in all of Greenland – the Church of Zion.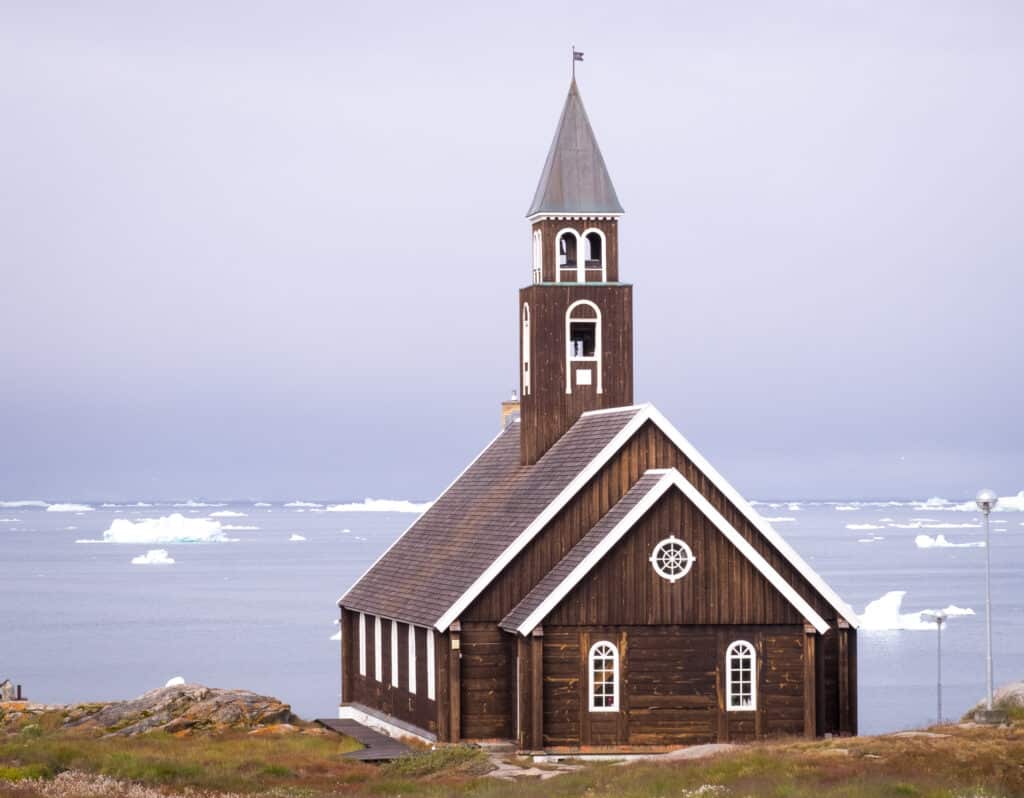 If you are interested in a different type of cultural experience, enjoy Greenlandic hospitality at its finest and a large variety of Greenlandic delicacies and cakes at a traditional Kaffemik with a local family; learn your first words in Kalaallisut (the Greenlandic language); feed a team of sled dogs and learn about dog sledding from a musher, and settle in for some "ghost stories" featuring some of the truly frightening Greenlandic myths and legends.
Ilulissat is also the perfect place to purchase your mementos from Greenland, with several large souvenir shops in the main part of town. There is also the local "Inuit Artist Workshop" (a red building you'll pass walking to the harbor from the center of Ilulissat) where you can buy directly from the artisans for slightly cheaper rates. They only accept cash, but there is an ATM close by.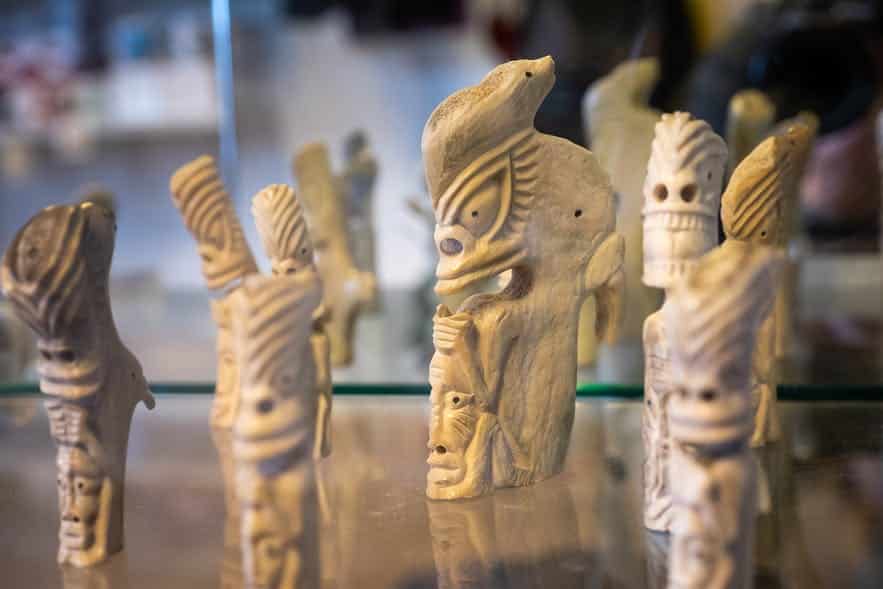 A note to remember
Make sure you ask about whether you can take your item out of the country as there are restrictions on what can be exported from Greenland. You may need the store to provide a CITES permit, depending on what you buy.
If you forgot – or haven't got a chance to buy your souvenirs in Greenland, discover a selection of Greenlandic Accessories, Clothes, Souvenirs, Cards & Posters, Books, and Home decor in The Greenland Store where you can find everything from Greenland online!
Explore the Kangia (Ilulissat) Icefjord and Disko Bay
Ilulissat is famous for its enormous icebergs, some of which originate from Sermeq Kujalleq. This fast-moving glacier is also the most productive in the northern hemisphere and is found at the head of Kangia (Ilulissat) Icefjord, just south of the town. Exploring this Icefjord is the "must do" activity while you are visiting Ilulissat, and there are several ways to do so.
There are a wide variety of boat tours that will take you as close as safely possible to the towering icebergs at the mouth of the Ilulissat Icefjord. Some are normal scenic boat tours, while others are focused on seeking out whales (in the correct season), photographing the icebergs and surroundings, or fishing.
Explore by kayak
Another, more active, way to explore the Icefjord from the water is to head out on a kayak tour. No previous experience is required, and from your vantage point just above the waterline, the views of the massive icebergs are even more impressive.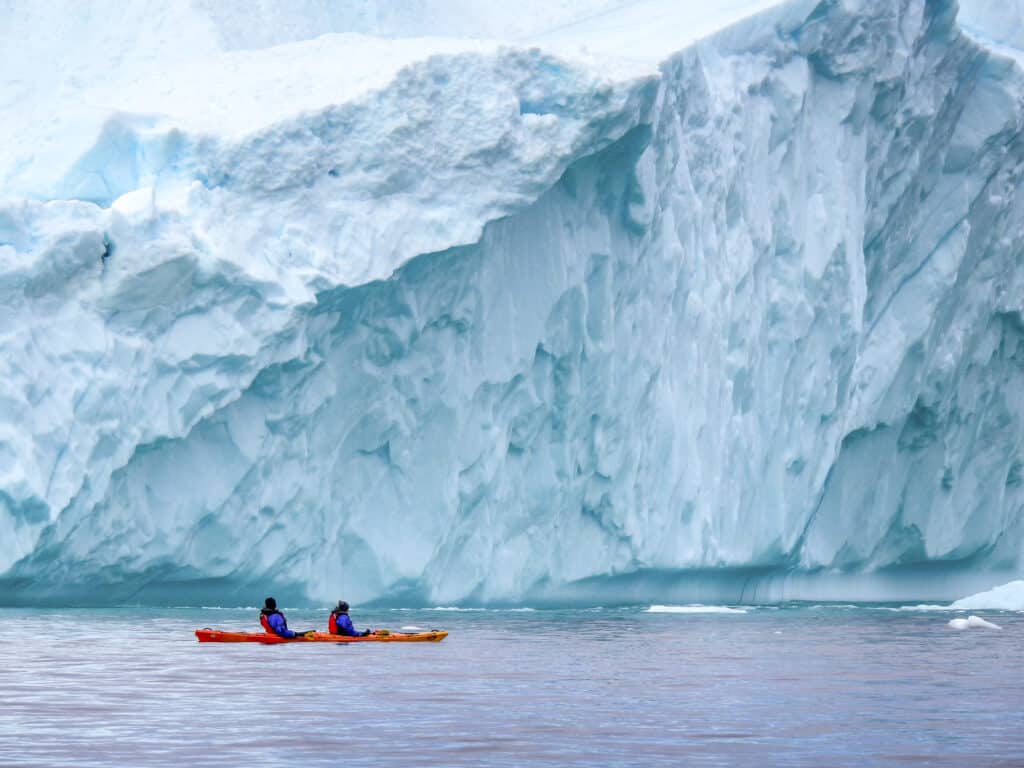 Both boat and kayak tours have several departure times during the day, and you can even head out under the midnight sun during the Summer months.
Explore by foot
Given the Kangia Icefjord is only a few kilometers south of Ilulissat, it is also possible to explore it directly on foot – either hiking during the Summer or with snowshoes during the Winter.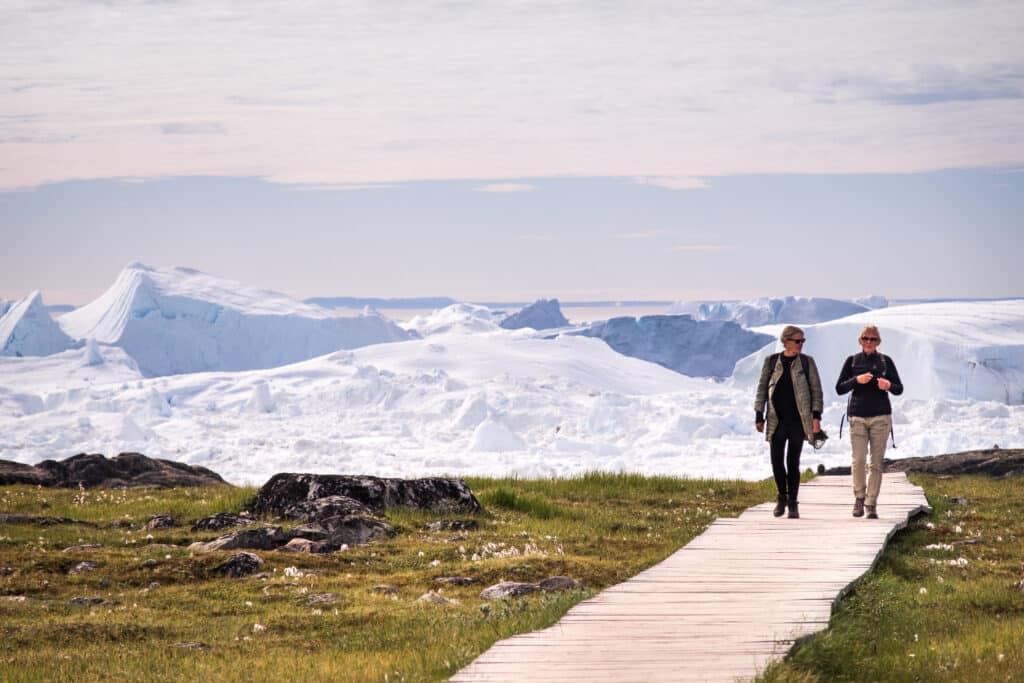 The shortest hiking trail (1.5km each way) from the old heliport to the Icefjord past the Sermermiut archaeological site has been made accessible to all with the construction of a wooden boardwalk. There are stunning views of the Sermermiut valley and the icebergs at the mouth of the Icefjord from this walk, so if this is all you are able to fit into your schedule, you will still see many of the highlights. If you would like to learn more about Sermermiut and the Icefjord, make sure you sign up for the guided hike.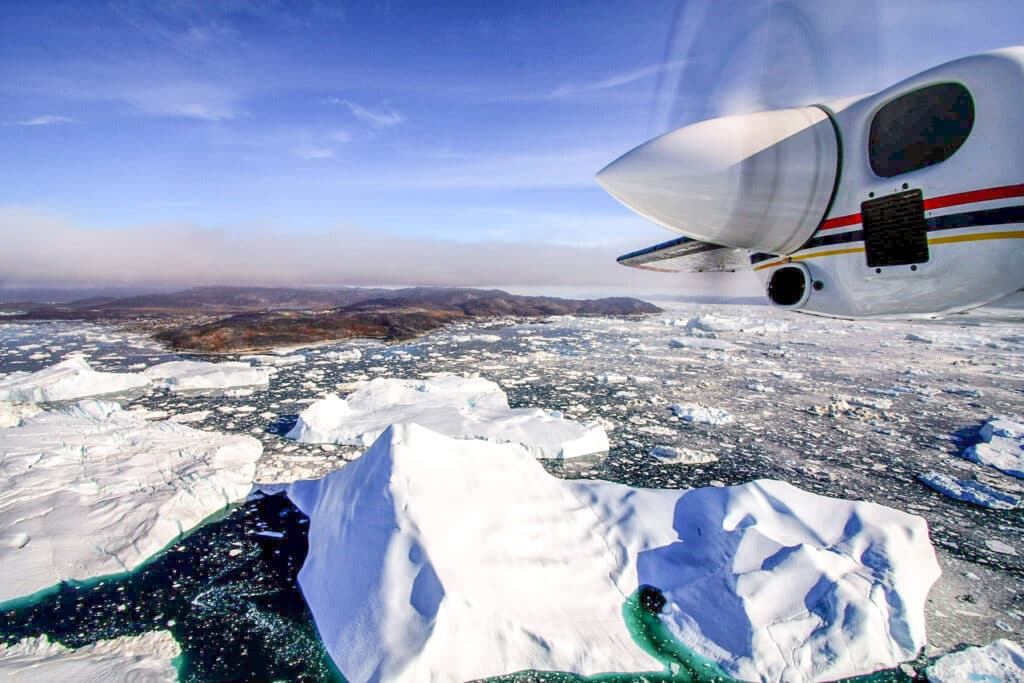 Finally, for the ultimate view of the Icefjord, treat yourself to one of the scenic flights that offer birds-eye views over the area. There are several to choose from, each with a different route, to cater to all budgets.
Explore the Eqip Sermia Glacier
Sermeq Kujalleq is not the only glacier near Ilulissat. Eqip Sermia is located about 90km north of the city and is another very active producer of icebergs. The cool thing about Eqip Sermia is that it is relatively easy to access, which means you can actually see the icebergs calve off the face of the glacier!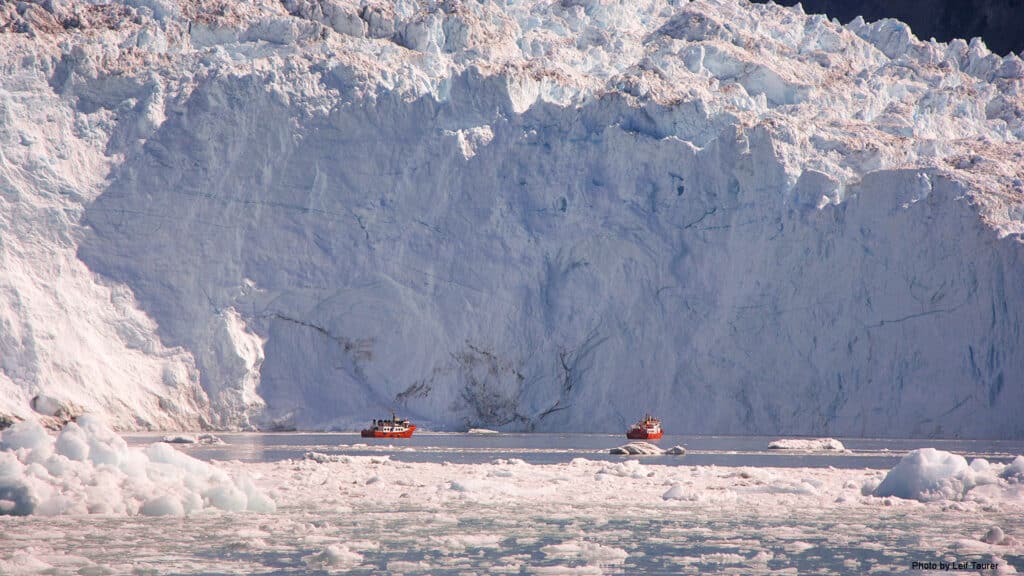 There are several boat tours to Eqip Sermia that leave from Ilulissat. These all take you as close to the glacier as safely possible and give you time to experience the sights and sounds of the glacier as it cracks and calves.
You can even stay overnight (or for several nights) at the Eqi Glacier Lodge (book very early as it sells out quickly), which also allows you to hike to the moraine overlooking the Glacier and hike and/or camp on the Icesheet itself!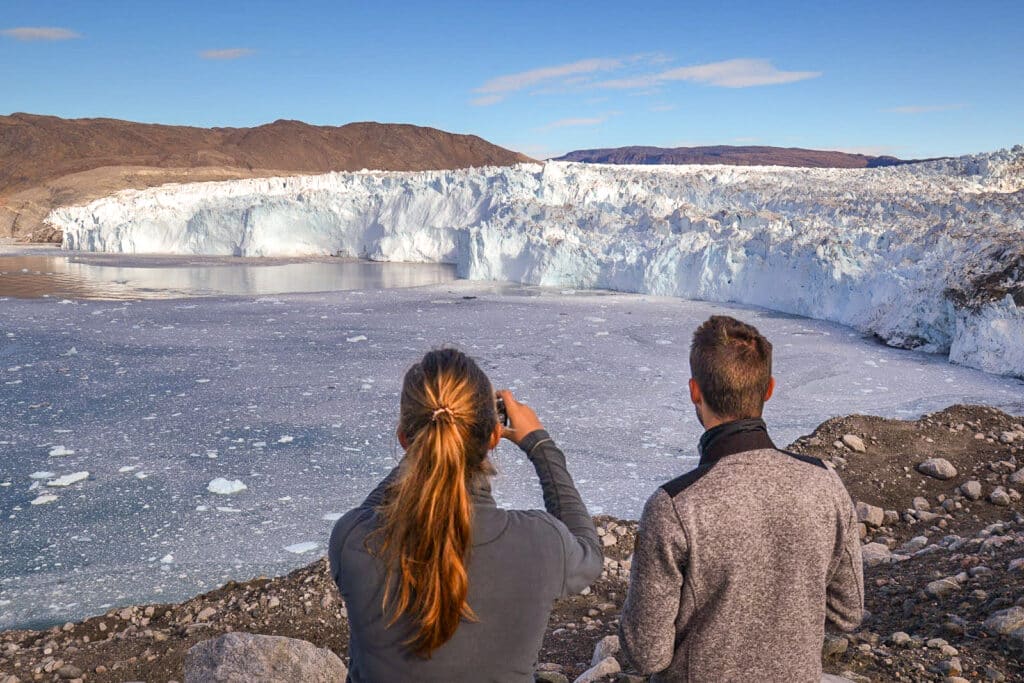 Visit a small Greenlandic settlement
There are several small settlements around Ilulissat that make for a fascinating day-trip, or even longer.
Oqaatsut (Rodebay) is home to about 30 people and used to be an Inuit settlement, a whaling station, and a trading post. You can come for one day or several, with a wide range of tours (follow the link) that will offer you a glimpse into daily life in this small Greenlandic settlement. And, if you are an experienced hiker, it is possible to actually hike the 23km back to Ilulissat from here. The local restaurant is also worth visiting!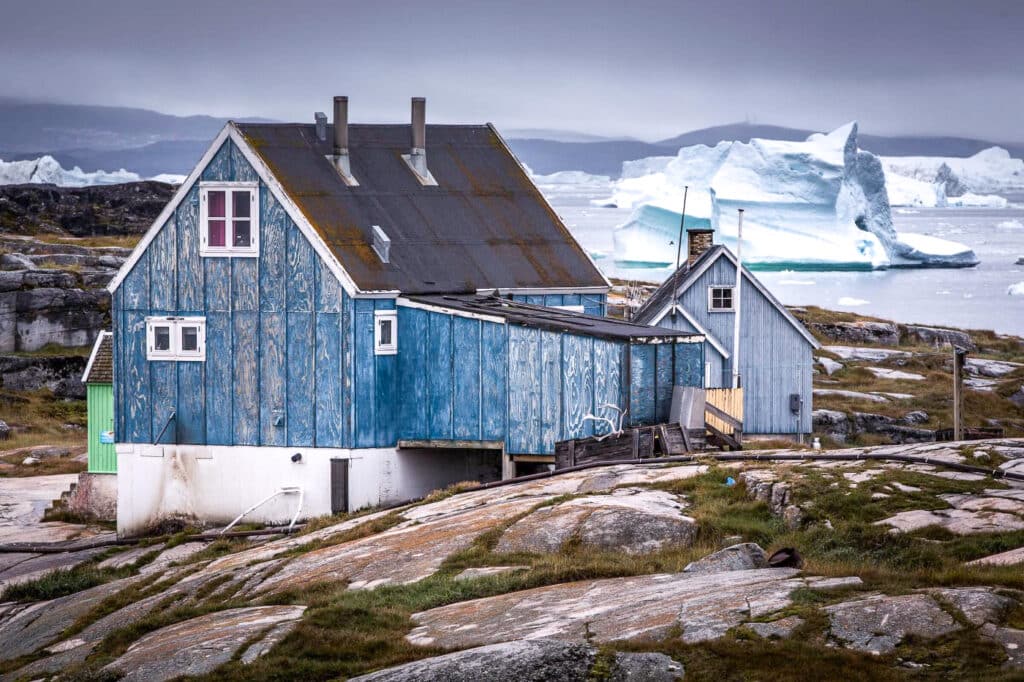 Ilimanaq is the other relatively easily accessed settlement near Ilulissat and is usually a great place to see whales in the correct season. You must cross the mouth of the Icefjord to get there (think stunning views of massive icebergs en route), and it is possible to stay overnight at the beautiful Ilimanaq Lodge. For both culture lovers and nature lovers, there are several different experiences on offer once you arrive, and you can easily add the boat shuttle across the icefjord during the booking process (follow the link).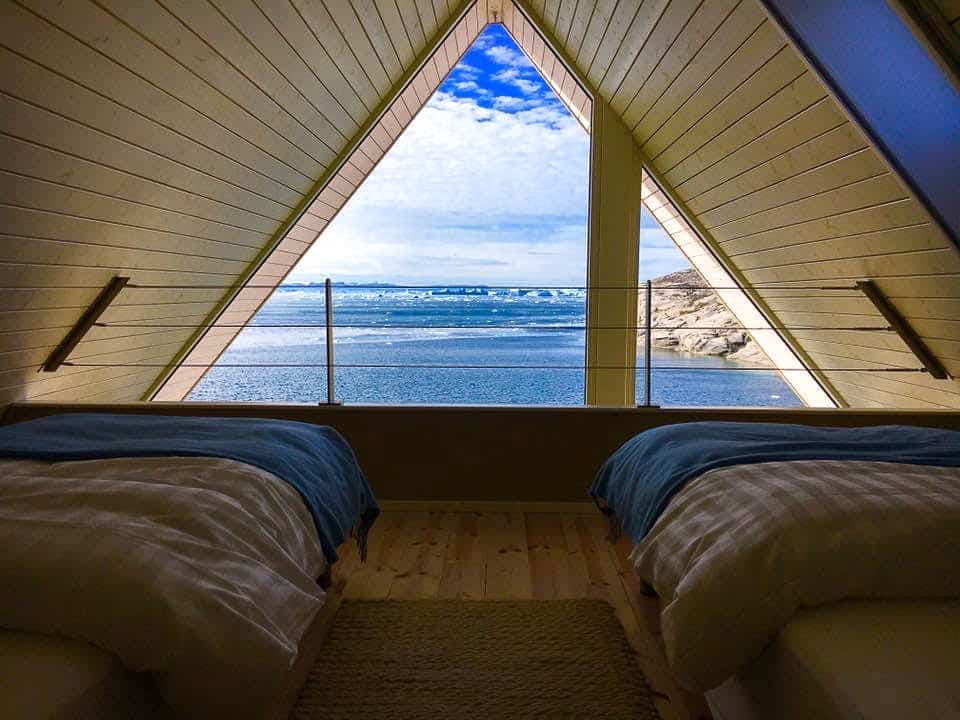 Embrace the midnight sun
Between mid-May and mid-July, the Sun never sets on the town of Ilulissat nor on its enormous icebergs. This experience, known as the Midnight Sun, only occurs above the Arctic Circle and means 24 hours of daylight for you to enjoy the marvelous scenery and explore the area.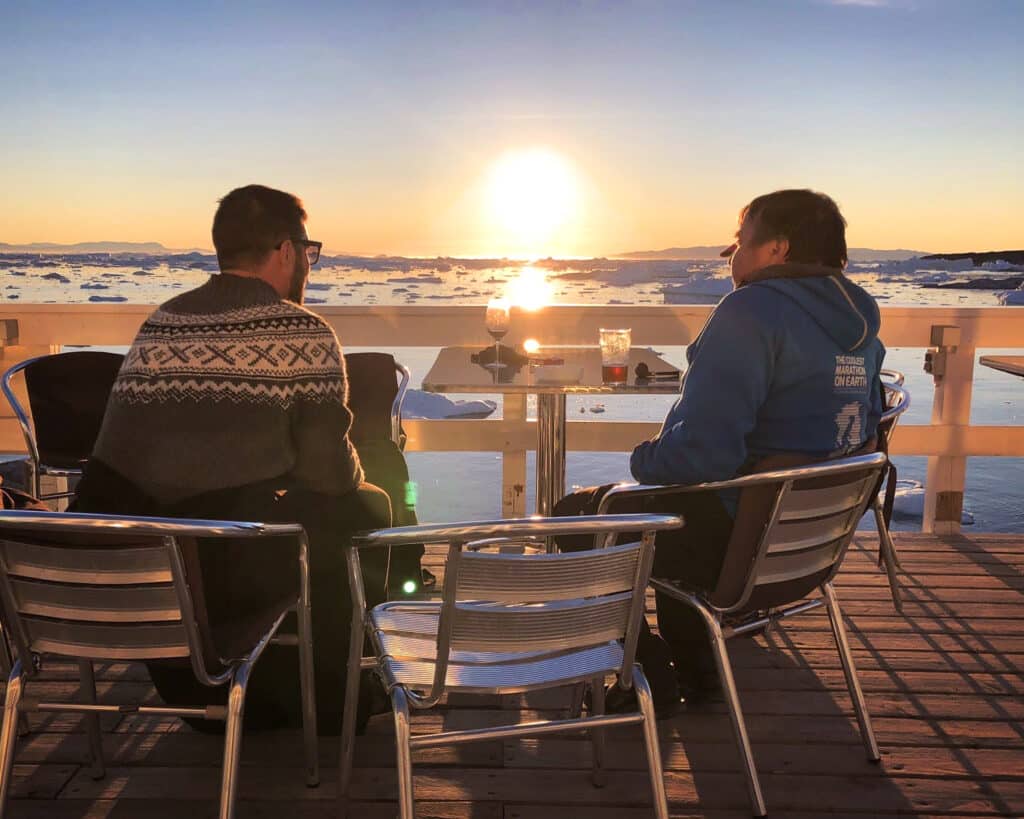 If you are a keen photographer – the light is truly spectacular in the late evening. So select a later departure time for any boat, kayak, or hiking tour you may head out on (if the option is given) or join a specialized photography tour to capture the most incredible images and improve your photography skills at the same time.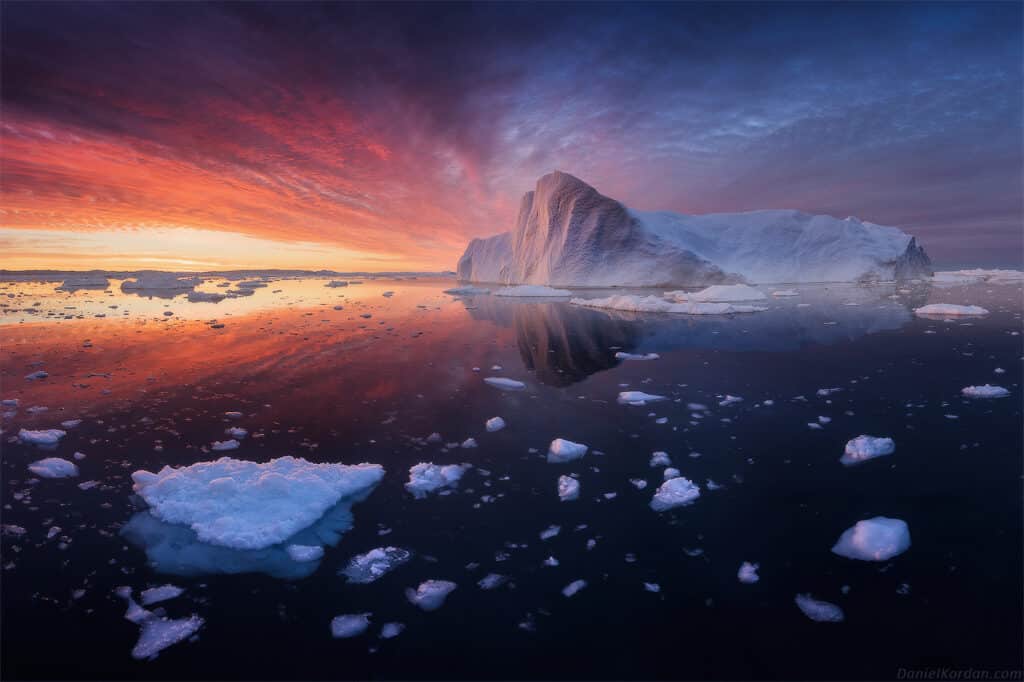 Witness the Northern Lights
If you visit Ilulissat between September and April, you have a good chance of seeing the incredible Northern Lights. Given the size of the town, it is often possible to see the lights from wherever you are staying. However, it will be much better if you head to the outskirts of town on a guided tour.
If you want to learn how to capture awesome Northern Lights photos, make sure you sign up for a Northern Lights photography tour. A professional photographer will guide you through the secrets of night sky photography and how to capture the best possible aurora images.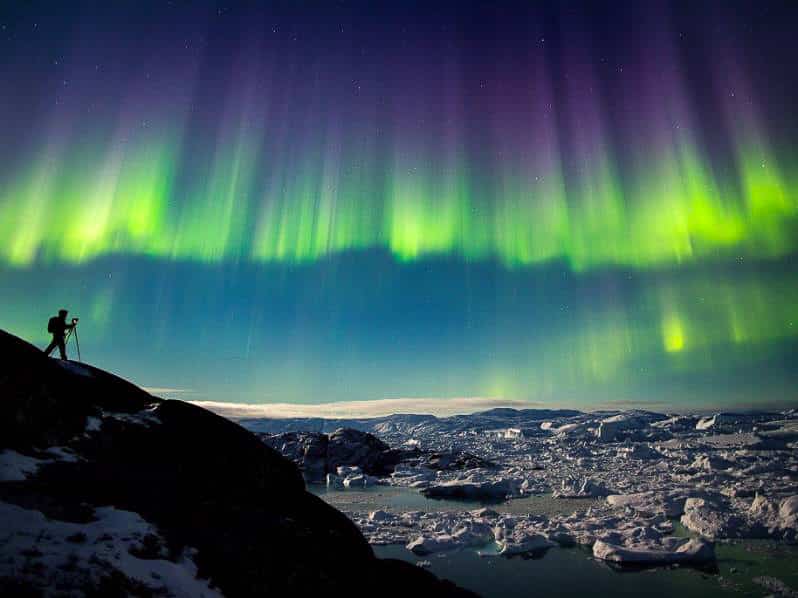 The weather is usually more stable during March and April and we generally recommend you stay for a week for the best chance of seeing them. That will also give you plenty of time to try dogsledding, go snowshoeing or snowmobiling, and engage in the many cultural activities in Ilulissat.
Outdoor Adventure
While boat tours offer a relaxed and gentle way to experience the spectacular Ilulissat area, if you would prefer to explore in a more active way, there are also plenty of options.
Summer and Autumn / Fall
If you are visiting during the Summer and Autumn / Fall months, take advantage of the long days and head out on foot for some incredible views.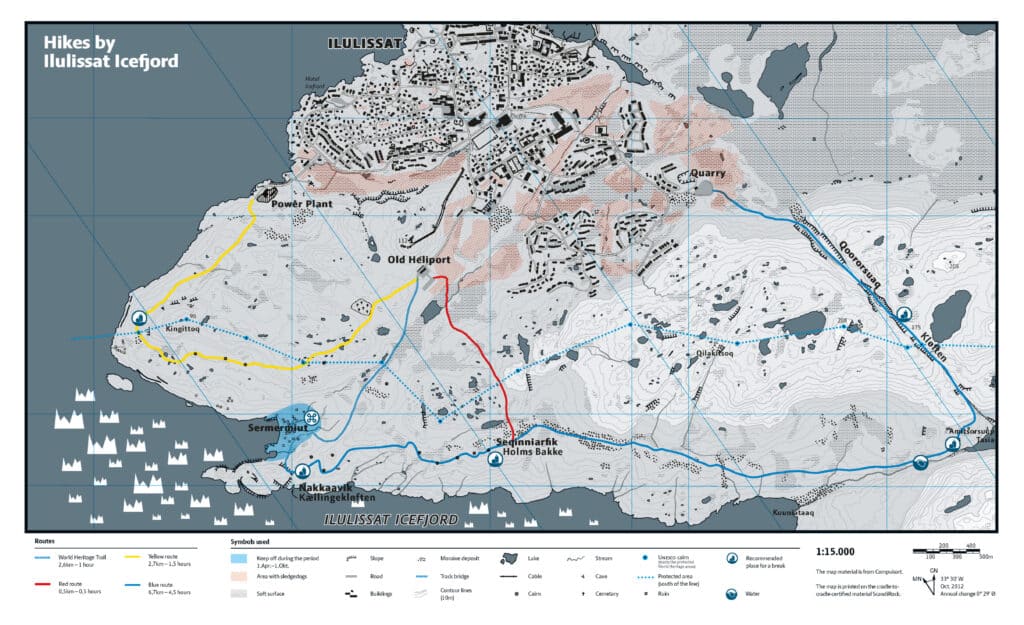 The most common hike is the 1.5km boardwalk to the Icefjord that passes by the Sermermiut archaeological site. This route is accessible to all (including prams and wheelchairs) and is a beautiful outing that takes in several amazing viewpoints. If you want to learn more about Sermermiut and the Icefjord, consider taking a guided hike along this route.
For a longer hike, set out along the yellow route with its views into Disko Bay, or the blue route which leads you further along the Icefjord. You can also take a boat out to the settlement of Oqaatsut and hike the 23km back to town.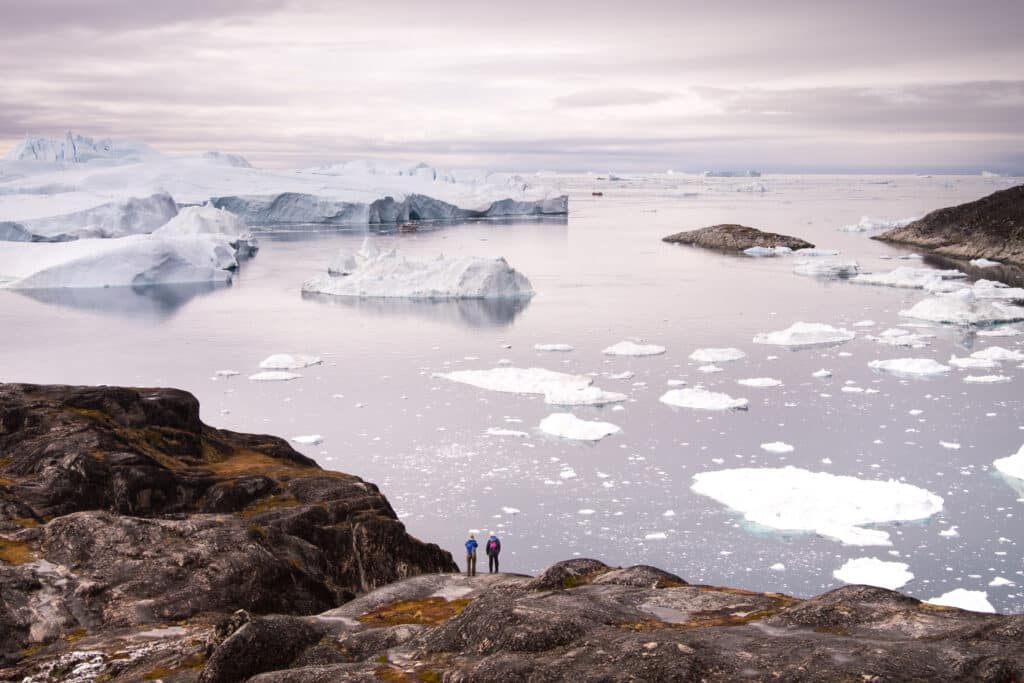 For those who would like to get up close and personal to the massive icebergs and possibly whales, embark on one of the kayaking excursions on offer from Ilulissat. No previous experience is necessary but the memory of looking up at these behemoths from the waterline will stay with you forever.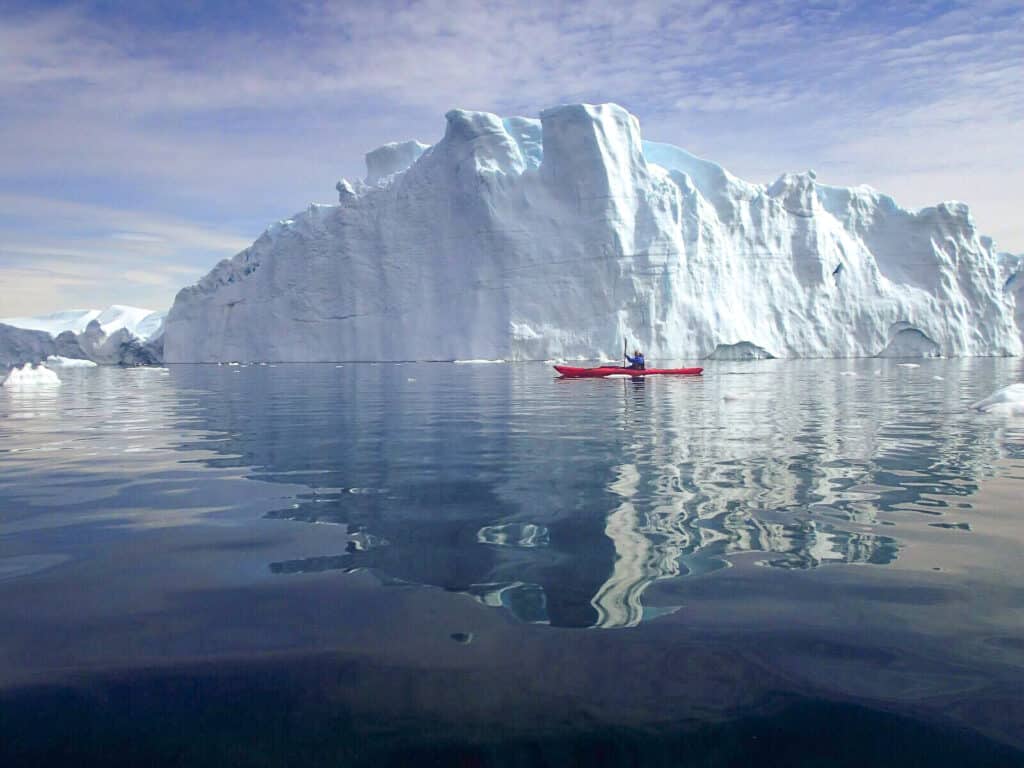 Winter and Spring
During the Winter and Spring months, snowshoeing and snowmobiling are the key activities around Ilulissat. Snowshoe tours tend to follow the hiking routes around town, while it is possible to get further afield (including to the settlement of Oqaatsut) and chase the northern lights on a snowmobile.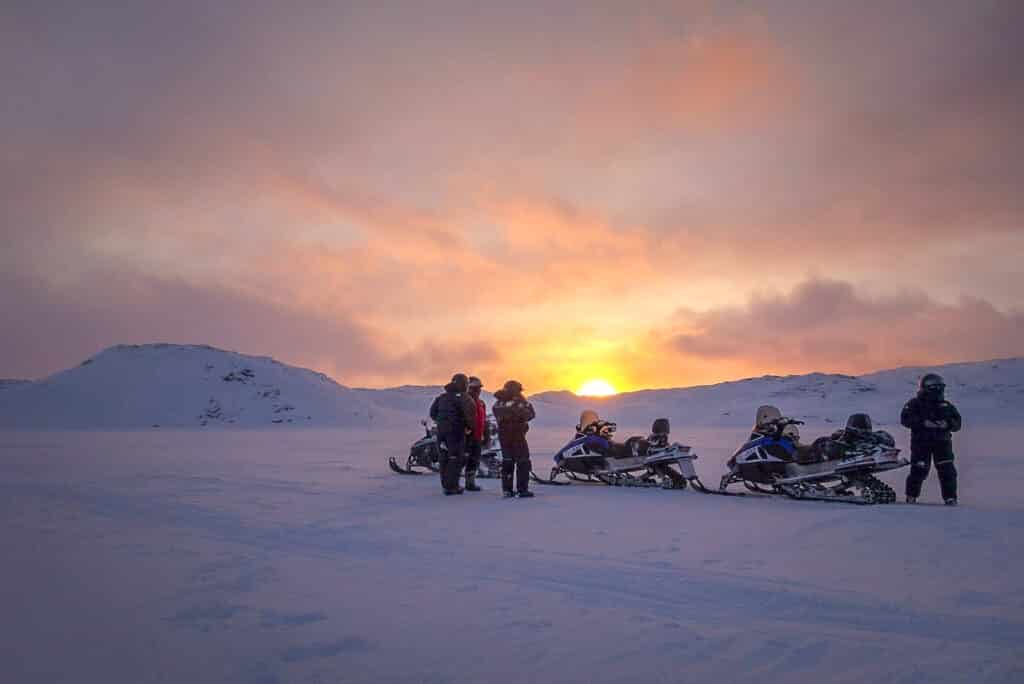 If you have always wanted to try dog sledding, you have an opportunity to do so from Ilulissat and Oqaatsut. And if you are traveling with your own skis, there are groomed trails and plenty of backcountries to explore in the area.
Accommodation – where to stay in Ilulissat
Ilulissat has a wide variety of accommodation options available to visitors, from hotels to individual rooms in private houses.
The 4-star Hotel Arctic is about a 20-minute walk from the center of town (they run a free shuttle during the day) and is one of the premier accommodations in Ilulissat. It offers rooms of different standards, suites, and a full 5-star conference center. You can even stay in an igloo!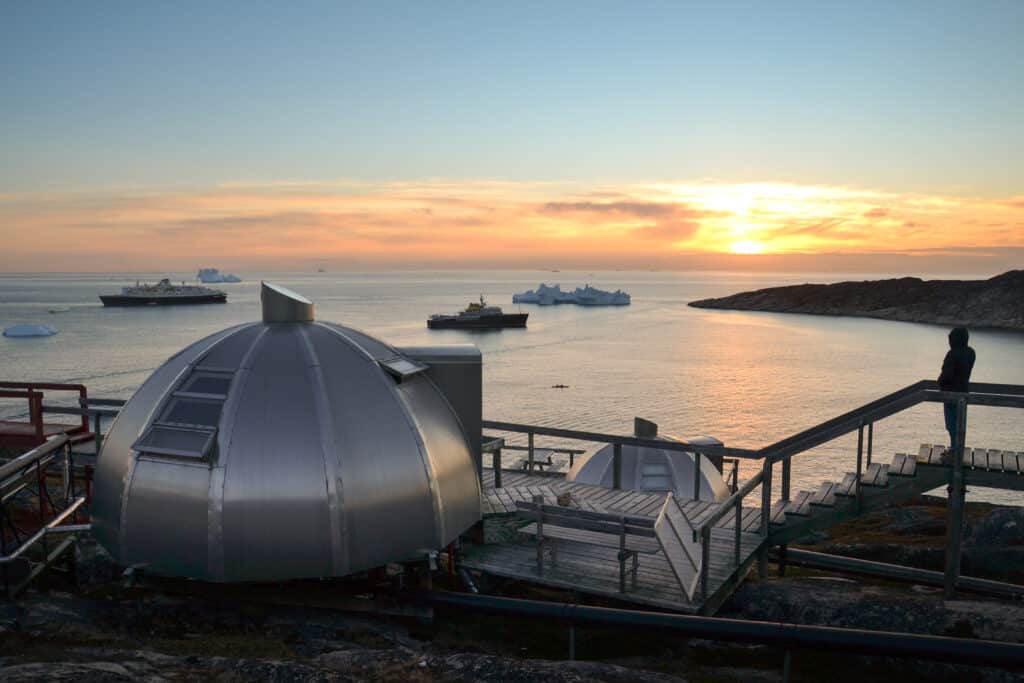 Hotel Icefiord is another beautiful accommodation option. Situated right on the fjord with stunning views of the icebergs, it offers single/double rooms, suites, and apartments. The beginning of the Yellow trail to the Icefjord is just up the road, and it has a wonderful terrace if the weather is nice.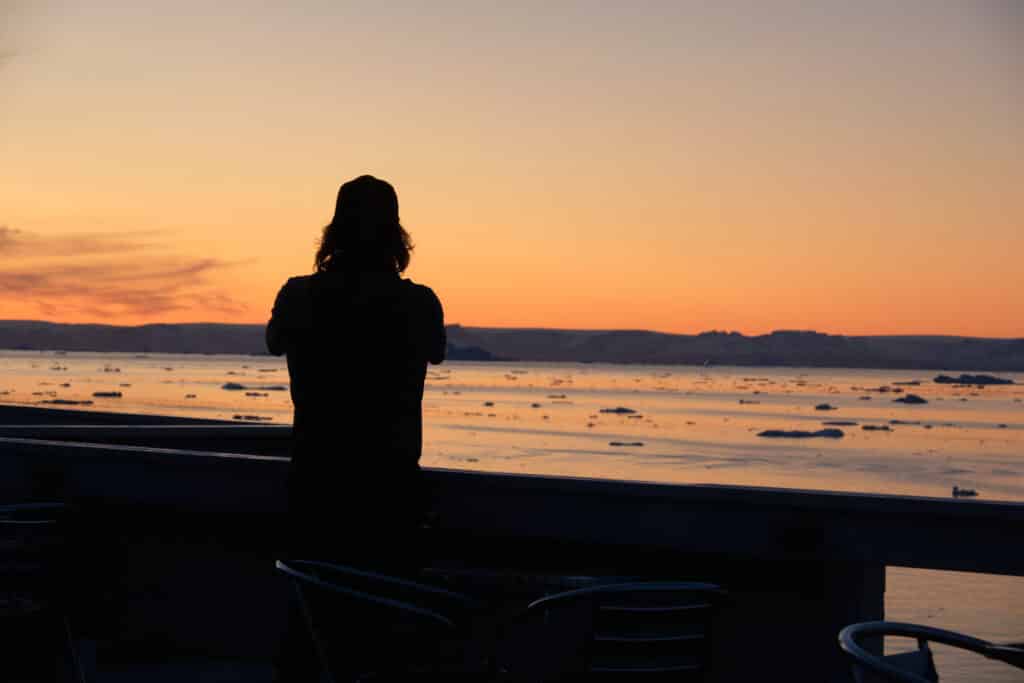 ---
There are a few other hotels in Ilulissat that all offer amazing views of the fjord, or you can elect to stay at one of several hostels, guesthouses, or apartments if you are on a tighter budget or would prefer to prepare your own meals. Use your favorite accommodation finder to see what is available.
Airbnb is established in Ilulissat and there are several accommodations listed under Ilulissat and Ilulissat Icefjord. Options range from single rooms to entire apartments.
For the really budget-conscious, it is possible to camp near Ilulissat. You are allowed to camp almost anywhere in Greenland, but there are rules about staying inside a UNESCO area. Therefore, most people camp just outside the UNESCO area by the old heliport and take a shower at the local gym in the center of the city. There are no facilities near the heliport so you must be fully self-sufficient.
Accommodation outside of Ilulissat
If you are looking to spend some time outside of Ilulissat and don't fancy camping, there are options available at:
Eqi Glacier – lodge accommodation
Ilimanaq – lodge accommodation
Oqaatsut – dormitory beds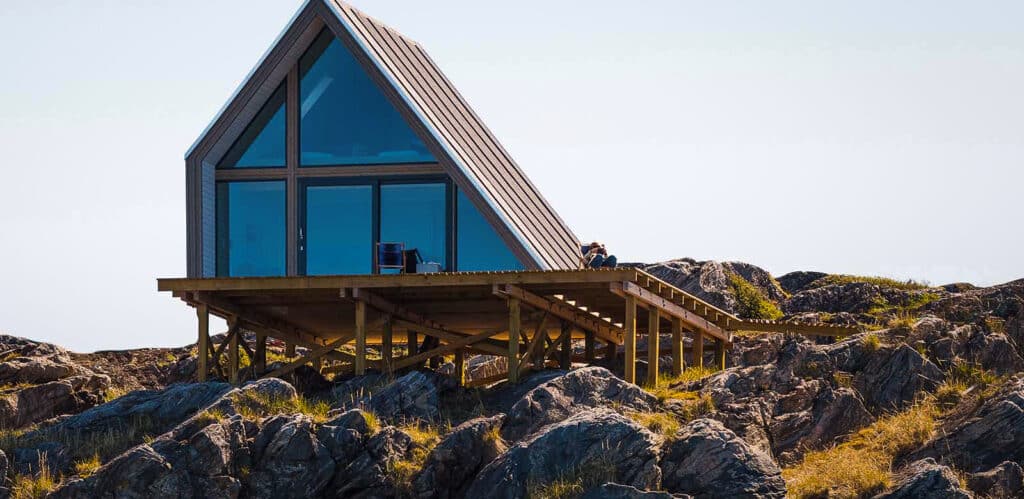 Restaurants and cafes – where to eat in Ilulissat
There are several amazing cafes and restaurants to choose from in Ilulissat. Many of the restaurants at the large hotels do buffets during the Summer months. There is a particular focus on Greenlandic-fusion food amongst all providers. Here are some suggestions:
Greenlandic Buffets (Summer only)
Ulo Restaurant at Hotel Arctic offers a Greenlandic buffet and a Greenlandic BBQ buffet with incredible views of the icebergs floating the in fjord
Hotel Hvide Falk also offers a Greenlandic smorgasboard with a view during the summer months, but you must book and order in advance
Restaurant Icefjord also offers a Summer BBQ on the terrace featuring locally caught produce.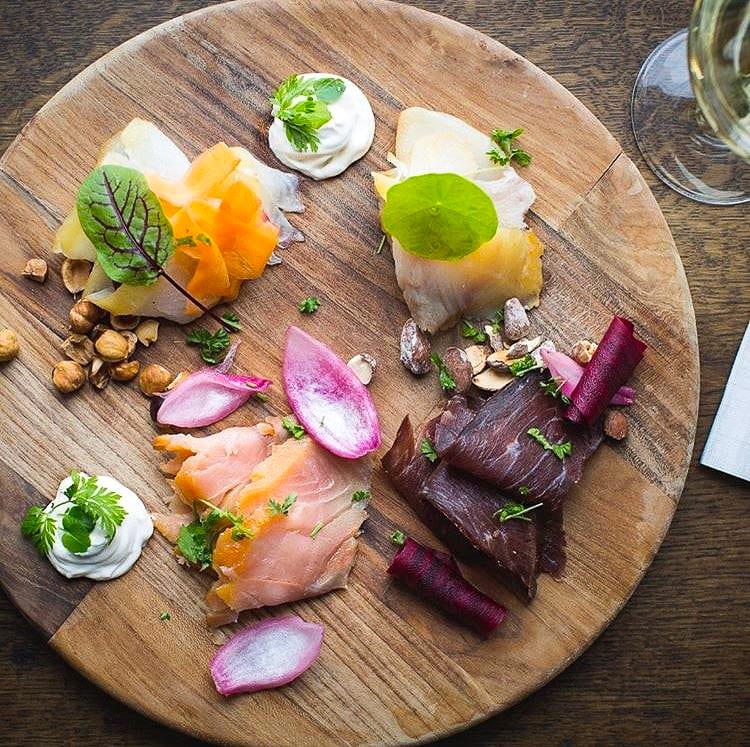 Greenlandic Food
Restaurant Mamartut is not located near the center of town, but rather, close to the old heliport. However, making a trip out here for the home-style cooking (including a Greenlandic Tapas plate) is well worth the effort! The name, which means "that which tastes good", does not disappoint!
Both Restaurant Ulo (for fine dining, gourmet experience) and Cafe Ferdinand (more casual dining) in the Hotel Arctic offer a la carte Greenlandic food all year round. They also offer one of the best views in Ilulissat for you to enjoy with your meal.
Restaurant Icefjord also offers a very fine dining evening experience, and you can purchase organic smoked Greenlandic products directly from their smokehouse.
Restaurant Hvide Falk combines the freshest Greenlandic ingredients with current asian food trends to create a truly masterful fusion experience.
Greenlandic Beer
Bryggeriet ("The Brewery") is the home of the Brewery Immiaq, which enhances the taste of their beers with berries and herbs gathered in the mountains and valleys around Ilulissat. Unfortunately it is not open every day, but if it is – they also offer amazing gourmet food!
You can find beers from the other breweries in Greenland in most bars and the large supermarkets.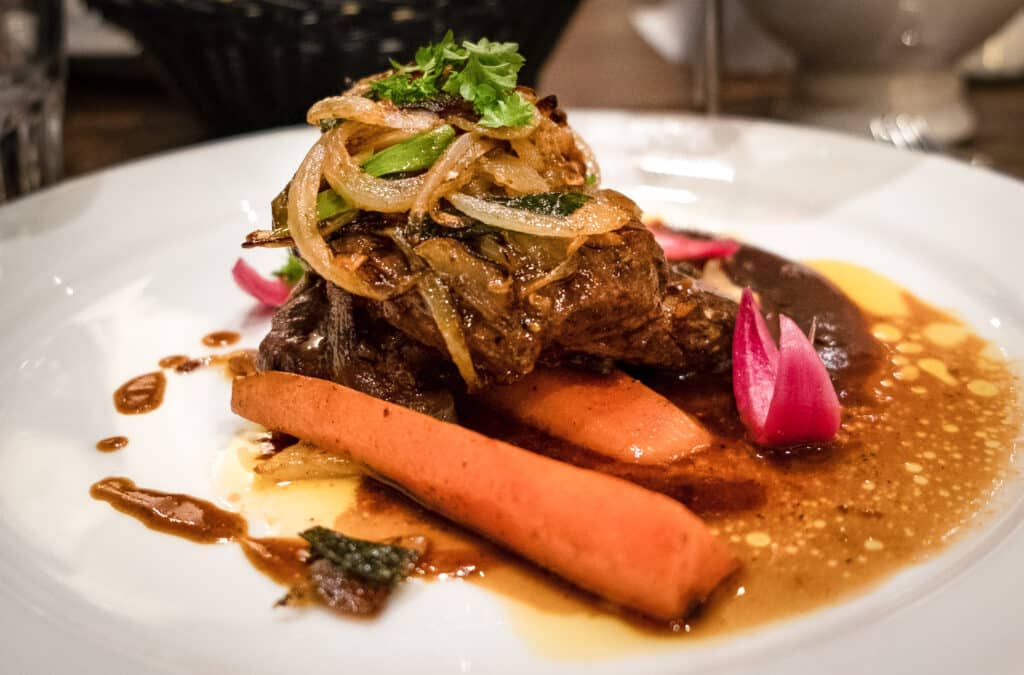 Other top picks
Cafénnguaq – a cosy cafe with an environmental conscience. Great for coffee, sandwiches and smoothies in a relaxed setting. They also have an extensive Sunday brunch!
Cafe Tupilak – for Saturday brunch, reindeer and fish dishes, and cakes
Inuit Café – a great option for Greenlandic or Thai food, and coffee and cheesecakes
Eating outside of Ilulissat
H8 restaurant in Oqaatsut serves an excellent fish platter and is one of the few places where you can actually buy the Greenlandic National Dish of seal soup (Suaasat).
Restaurant Egede in Ilimanaq is has an a la carte menu of dishes made from fresh Greenlandic ingredients by top professional chefs.
Nightlife in Ilulissat
If you want to hit the town in Ilulissat, Naleraq – is pretty much your only option. There is live music every Friday and Saturday night which ranges from rock to pop, to blues.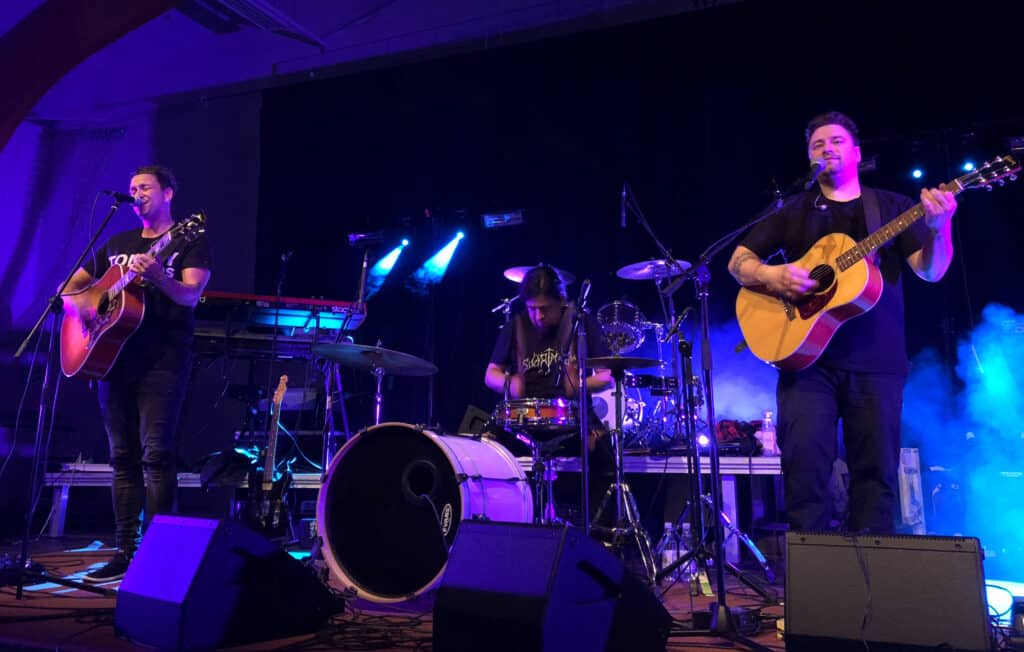 Ilulissat Itineraries
There is plenty to do in the Ilulissat area to keep you occupied for many days. The most difficult decision will be how long you stay and what to include in your visit!
Pre-packaged itineraries take care of all the logistics for you and will introduce you to the highlights of the area of Ilulissat. Itineraries are available for trips of all different lengths.
If you would prefer to arrange individual experiences, here are some recommended itineraries for your stay in the Ilulissat area. Note: it is best to book the individual tour components early to ensure there is space.
For the Culture Lover
Day 1 :
Head straight out to the Icefjord on a guided tour of the Sermermiut Settlement
Arrange an Ilulissat City Walk for after lunch so you can get your bearings and understand a little about Ilulissat
Head out to Restaurant Mamartut for a dinner of Greenlandic Tapas
Day 2:
Visit Oqaatsut or Ilimanaq on a full day excursion for a taste of daily life in a small Greenlandic settlement. Even better to stay at least overnight
Sample Greenlandic Beer and grab some dinner at Bryggeriet ("The Brewery") if it is open
Day 3:
Visit the Ilulissat Museum (Knud Rasmussen Museum) to learn a little about the history of Ilulissat and the amazing exploits of Greenland's most famous arctic explorer
Experience a traditional Kaffemik with a local family and hear about how it is to live above the Arctic Circle
Visit the Ilulissat Art museum for a more in depth look at the paintings depicting Greenland in the early 20th Century
Explore Ilulissat's souvenir stores for a little something to remind you of your trip to Greenland
Enjoy the incredible views and a night of fine dining at Restaurant Ulo or Restaurant Icefjord to celebrate your trip to Greenland
For the Nature Lover
Day 1:
Get your bearings and understand a little about the city with the Ilulissat City Walk
Lunch of Greenlandic Tapas at Restaurant Mamartut on your way out to
Explore the Ilulissat Icefjord on foot either independently or on a guided tour
Day 2:
Head up to Eqi Glacier on a day tour or an extended trip. It is a great idea to stay one or more nights
If you have the time and budget. That way you can hike to the moraine near the glacier and the Greenlandic Icesheet.
Day 3:
'Full day trip (or even longer) to either Oqaatsut or Ilimanaq. Remember that from Oqaatsut, you can hike the 23km back to Ilulissat.
Sample Greenlandic Beer and grab some dinner at Bryggeriet ("The Brewery") if it is open
In Winter, head out on a Northern Lights excursion
Day 4:
Go on a boat tour or kayaking amongst the enormous icebergs at the mouth of the Ilulissat Icefjord (Summer)
Go on a snowshoe, snowmobile or dogsled excursion in the backcountry around Ilulissat (Winter)
Explore Ilulissat's souvenir stores for a little something to remind you of your trip to Greenland
Enjoy the incredible views and a night of fine dining at Restaurant Ulo or Restaurant Icefjord to celebrate your trip to Greenland
Emergency information
Emergency situation: 112
Police: (+299) 70 14 22
Hospital: (+299) 94 32 11
Book your trip to Ilulissat
Ilulissat is an incredible and majestic place to visit on your travels to Greenland. Guide to Greenland brings together most of the tours offered around Ilulissat on one platform and is an easy way to plan and book your travel to the city.
We invite you to explore all our tours around Ilulissat. Contact us with any questions you may have about them.
Other interesting articles