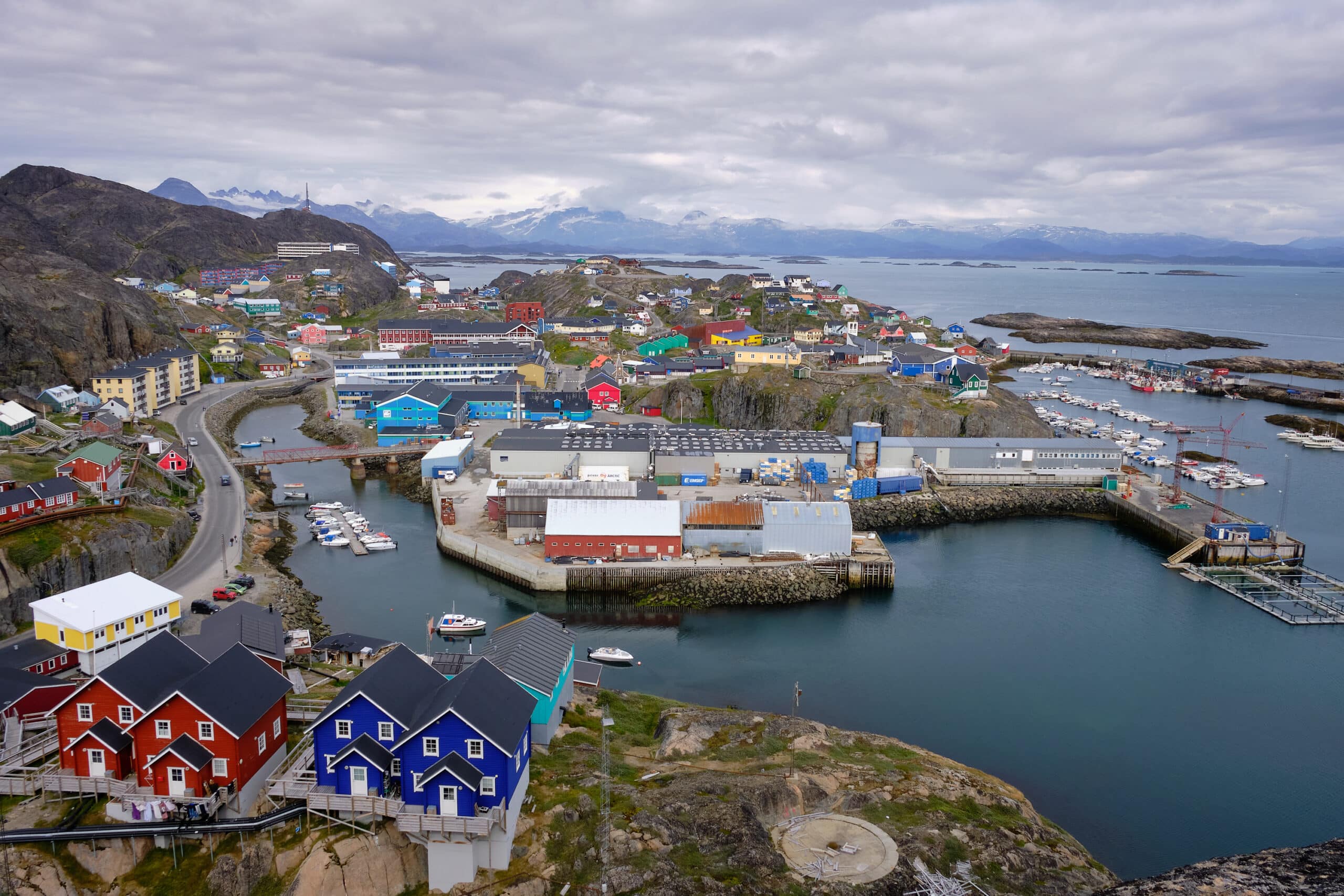 The Ultimate Travel Guide to Maniitsoq
Maniitsoq is home base for rugged mountain scenery and an endless number of glaciers on the West Coast of Greenland. But what are the best ways to enjoy these spectacular surroundings? And how do you get there? Read on to discover everything you need to know in order to plan an incredible travel experience in and around Maniitsoq.
---
---
Relax or pump up the adrenaline in one of the most beautiful parts of Greenland.
Welcome to Maniitsoq! A fishing, whale watching, and skiing paradise.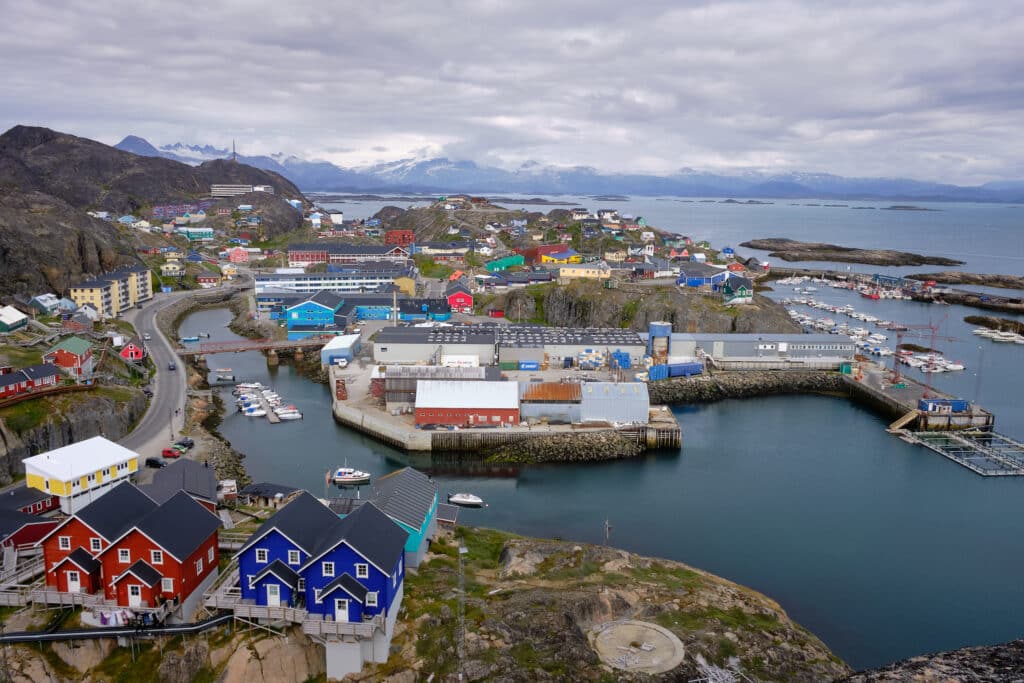 With a population of 2,626 people (2019), Maniitsoq is the 6th largest town in Greenland and one of the hidden gems of the country. Although the canals and bridges of the "Venice of Greenland" have disappeared under the pressure of change, nothing can take away the majestic beauty of its surrounding mountains that secret glaciers around every corner.
This Ultimate Travel Guide to Maniitsoq contains all the information you need to plan and get the most out of your visit to this small-town gateway to enormous adventure.
Where is Maniitsoq?
"Maniitsoq" means "uneven place" in Kalaallisut (the Greenlandic language). It is located about 148km (straight-line distance) North of the capital of Nuuk on the West coast of Greenland, and it quickly becomes clear how it got its name once you arrive.
What is the best time to visit Maniitsoq?
Maniitsoq is a nature-lovers paradise during both Summer and Winter. The best time to visit comes down to what you would like to experience.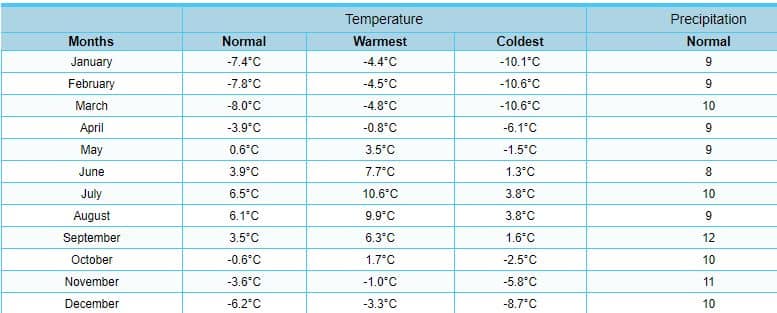 Winter and Spring
If you are a skier – Maniitsoq is the place for you. Enormous numbers of jagged mountains drop straight into the fjord and offer no end of virgin snow for heliskiers and ski-mountaineers. The mountains are also a mecca for ski tourers – with extended camping trips that also take in the majestic beauty of the fjords and glaciers.
Even if you are not a skier – Maniitsoq in Winter-Spring is still a marvelous destination. The locals are keen snowmobilers, there are endless snowshoeing opportunities, and dark skies mean that you have front row seats to one of nature's most spectacular light shows – the incredible Northern Lights.
Summer and Autumn
While skiing dominates winter, river fishing, whale watching, and sailing the fjords are the primary activities during Summer. The pristine rivers near Maniitsoq offer plenty of opportunities for fly-fishers, pods of humpback whales are commonly seen, and the Eternity Fjord is often said to be one of the most beautiful in all of Greenland.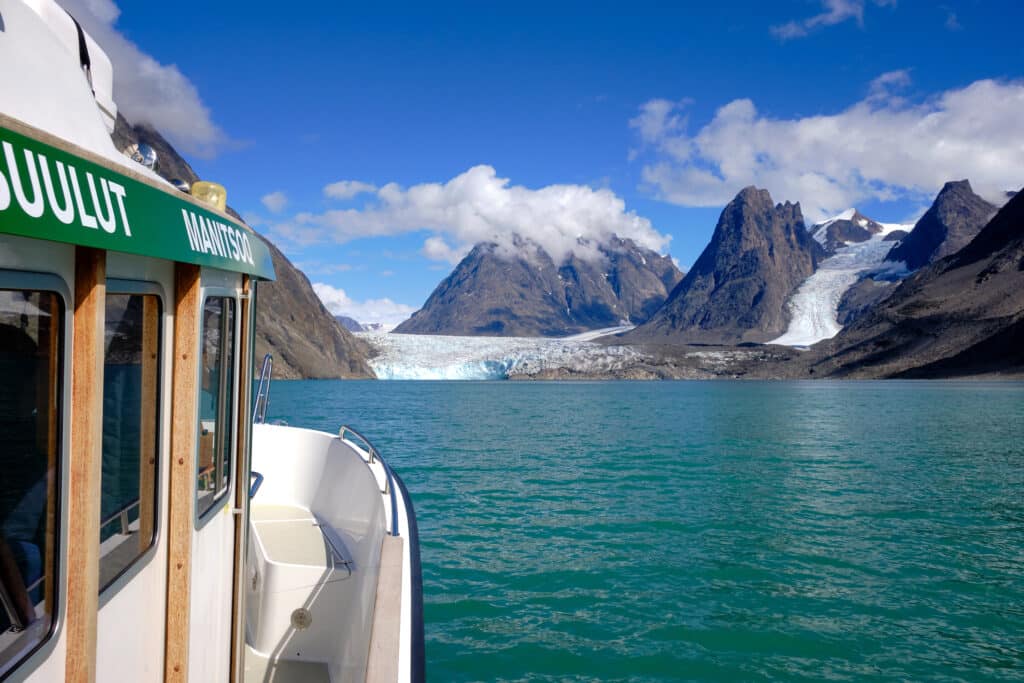 When you are planning your trip to Maniitsoq, particularly if you are traveling in winter, it is also useful to know the time of sunrise and sunset. Enter your date of travel into the Maniitsoq page at meteogram.org to discover how much daylight you will have, as well as the times of the different twilights, golden hour (for photographers), and a lot more.
What should I pack for a visit to Maniitsoq?
The season you are visiting and what you plan to do while in Maniitsoq will largely determine what you should pack for your trip.
Clothing
Regardless of when you plan to visit, you should always follow the layering principle with your clothing. All buildings are heated to a comfortable temperature, but when you are out and about you need to be prepared.
Read our full article on the best clothing to pack for a trip to arctic Greenland, or watch the video versions here.
In all seasons, make sure you bring sunscreen. The sun can be very strong in the Summer and even in Winter it is easy to get sunburned when you spend the whole day outside enjoying nature. If you are visiting during Summer, it is also a very good idea to bring insect repellent and a head net – or buy them once you arrive.
---
---
Given that Maniitsoq is a fairly small town, it is best to pack everything that you will need. However, if you do forget something or discover that you have not brought sufficient layers, you could try looking both upstairs and downstairs in Pisiffik, as well as in Rita Sport.
Outdoor gear
If you are planning an extended hiking or skiing trip, bring all your own gear with you. Basic camping gear can be found in Rita Sport as well as upstairs in Pisiffik and Brugseni. Pisiffik also has a small selection of dry trekking meals and both Pisiffik and Brugseni have a small amount of gas for camping stoves.
Electronics
Greenland uses the Standard European Plug (230 V) for its electrical outlets, so make sure you pack at least one of these if your electronics come from elsewhere in the world.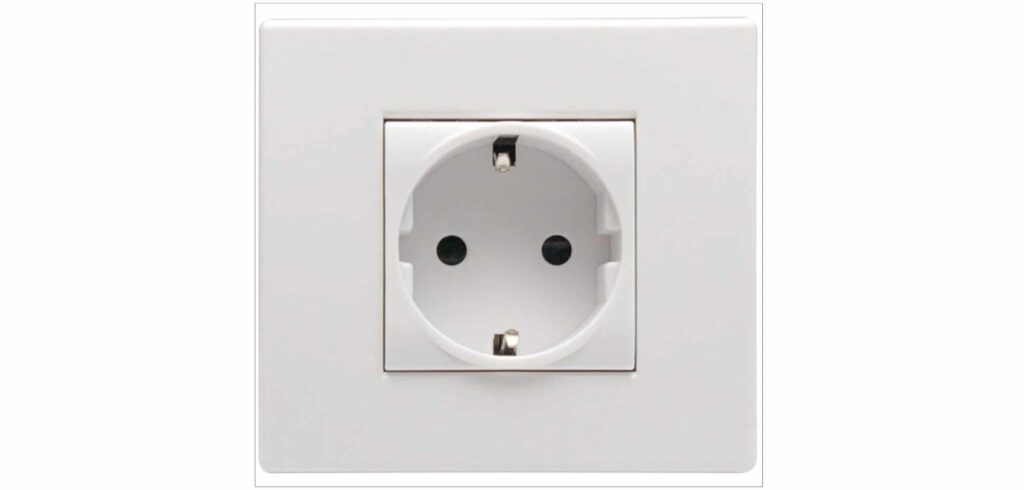 Don't forget your camera and at least one spare battery! Colder temperatures drain camera batteries more quickly so make sure you don't miss a shot at the end of the day by bringing along a powerbank charger if you use your phone, or spare batteries for your camera. If you are planning to photograph the Northern Lights, you will want to bring your own sturdy tripod if you have one.
Useful Apps
We are big fans of the Maps.Me app here at Guide to Greenland. Download the app and the map of Greenland while you still have internet access (internet is not available everywhere and is very expensive in Greenland), and you'll be set to find your way around during your stay. The app shows streets, places of interest, restaurants, accommodation and even some hiking trails. It can also tell you the best way to walk, drive or cycle from where you are to where you want to go – just remember to turn on your GPS when you arrive!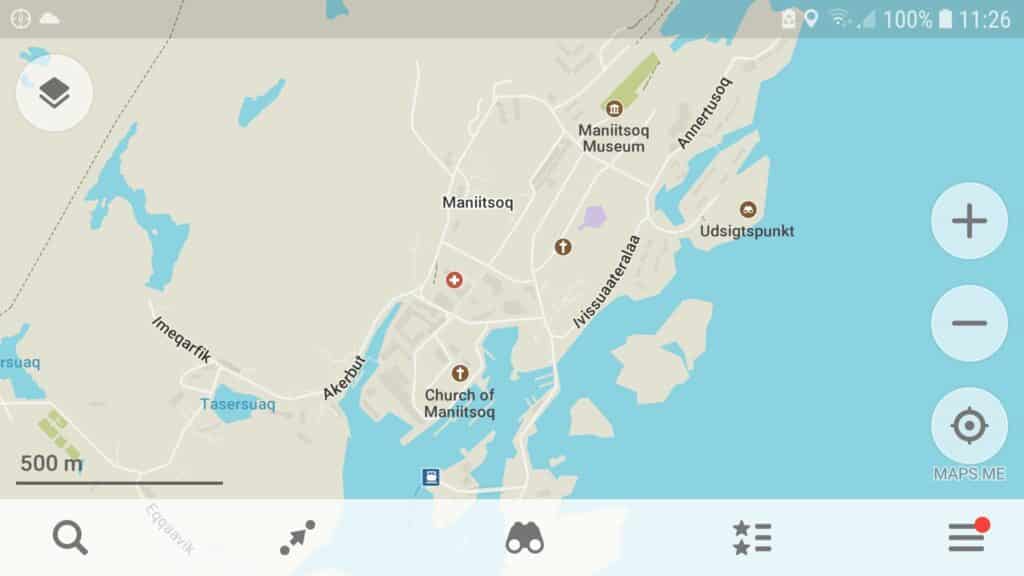 If you want to know the most likely times to see the Northern Lights, download the Northern Light Aurora Forecast (iOS/Android) app to monitor the likelihood of the lights appearing and, if you want to photograph them with your phone – one of the Northern Lights photography apps that allow you to set long exposure times.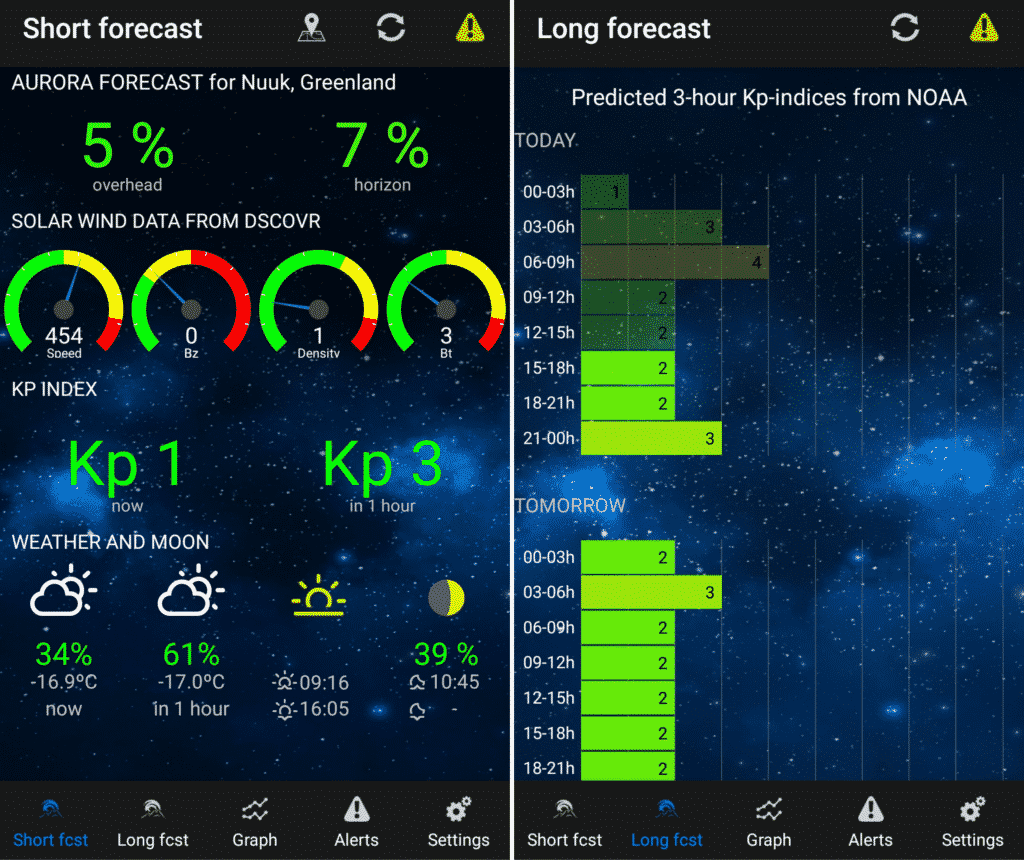 ---
---
How do I get to Maniitsoq?
Located on the West coast of Greenland, it is possible to reach Maniitsoq either by ship or by flying.
Flying to Maniitsoq
If you plan to fly to Maniitsoq, you will first need to fly into Kangerlussuaq or Nuuk. Given the number of combinations, it is best to check the schedules from our flights page to see which days each airline flies to where, but the following will give you a general idea.
From Denmark, Air Greenland flies direct from Copenhagen to Kangerlussuaq on most days.
From Iceland, Air Iceland Connect offers direct flights from Reykjavik Domestic Terminal to Nuuk all year round. Air Greenland does the same from Keflavik Airport.
---
---
If you are already elsewhere in Greenland, you will also need to get yourself to Nuuk or Kangerlussuaq to catch an Air Greenland flight to Maniitsoq.
Arriving by boat to Maniitsoq
Maniitsoq is one of the stops along the route of the Sarfaq Ittuk Passenger Ferry, which runs up and down the West Coast of Greenland. The exact schedule depends on the time of year, so check their schedule to plan your itinerary.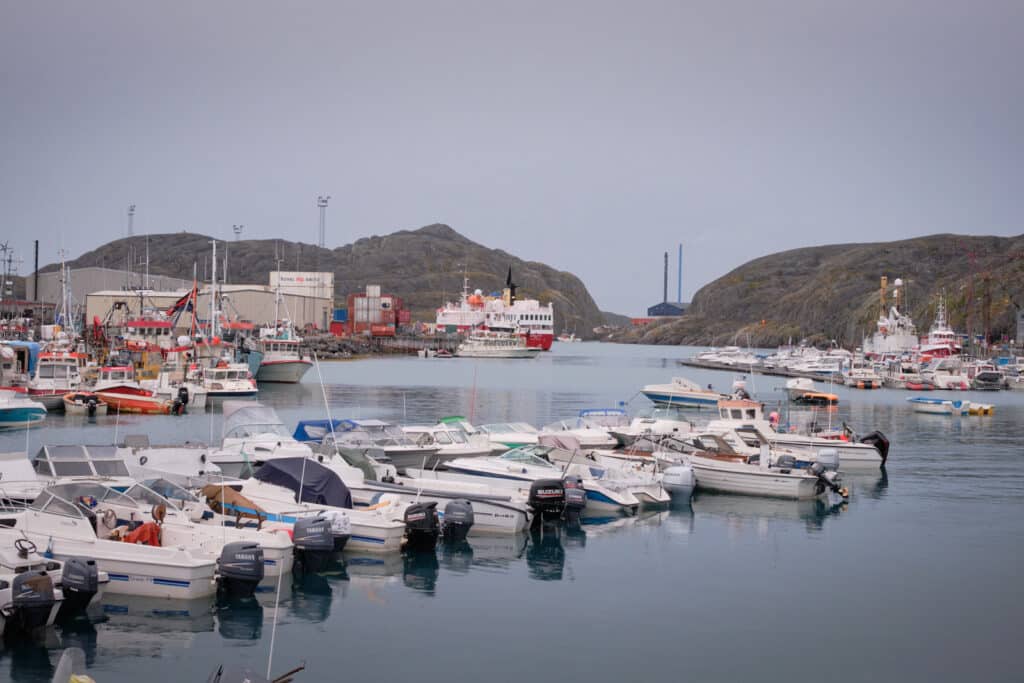 A comfortable and faster alternative is to catch the Maniitsoq Tour Boat shuttle that runs between Nuuk and Maniitsoq a couple of times per week and only takes 4 hours.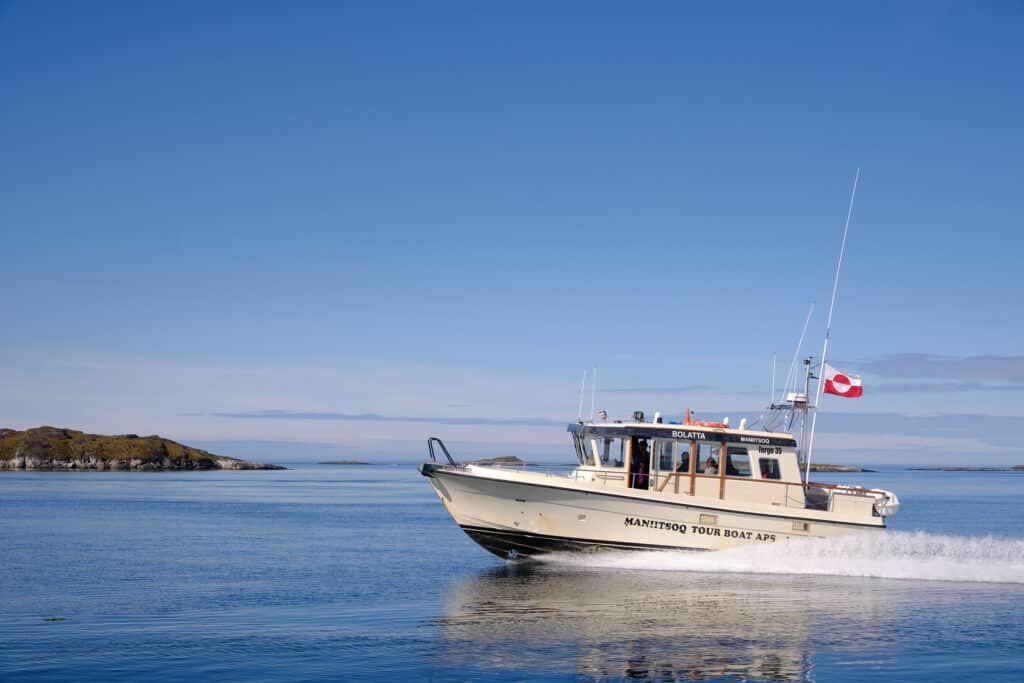 How do I get around Maniitsoq?
Walk
Once you have arrived in Maniitsoq, it is very easy to get around independently. Everything of interest is within walking distance, and surprisingly, most of the hills for which the town is named can be avoided! It is only if you want a good view over the town or to head out on a hike that you must be prepared for a bit of a workout.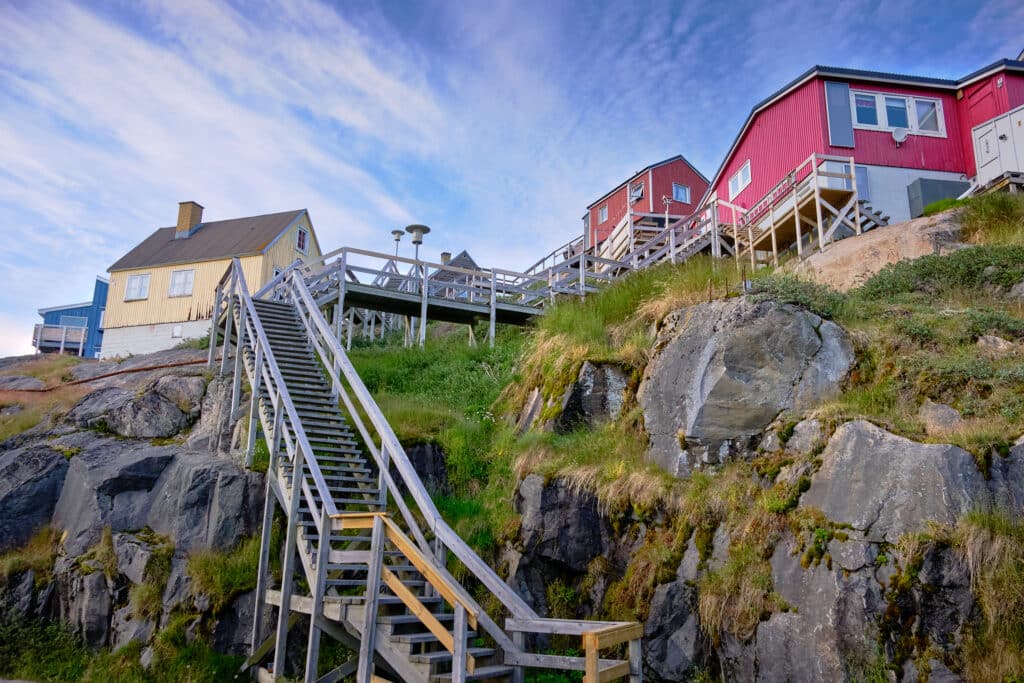 Bus
The area occupied by the town of Maniitsoq is actually quite spread out. For this reason, there is a bus service to help you get around. Buses call past each stop roughly every 15 minutes during peak times and every 30 minutes outside of these times. Best to download the schedule before you arrive as not all shelters have the timetable posted.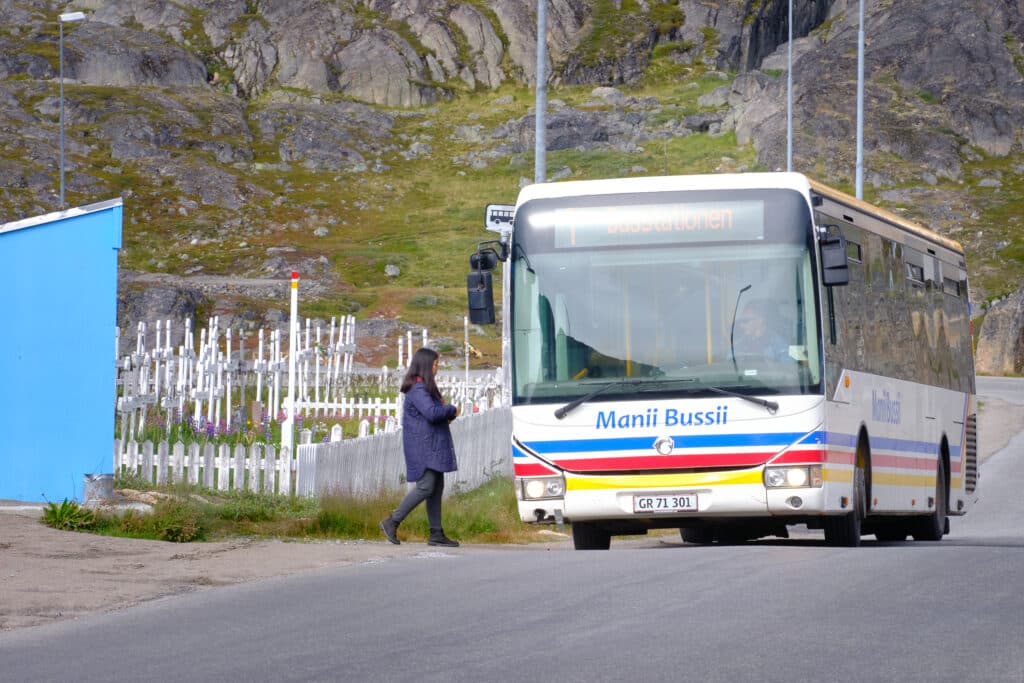 Taxi
To get from the airport into town, or for a quicker way of getting around town, Maniitsoq has plenty of taxis.
Water Taxis
If you want to visit one of the settlements (Atammik, Napasoq, Kangaamiut) near Maniitsoq, you can do so with the Maniitsoq Tour Boats. They also offer boat charters to take you wherever you want to go in the fjords around Maniitsoq.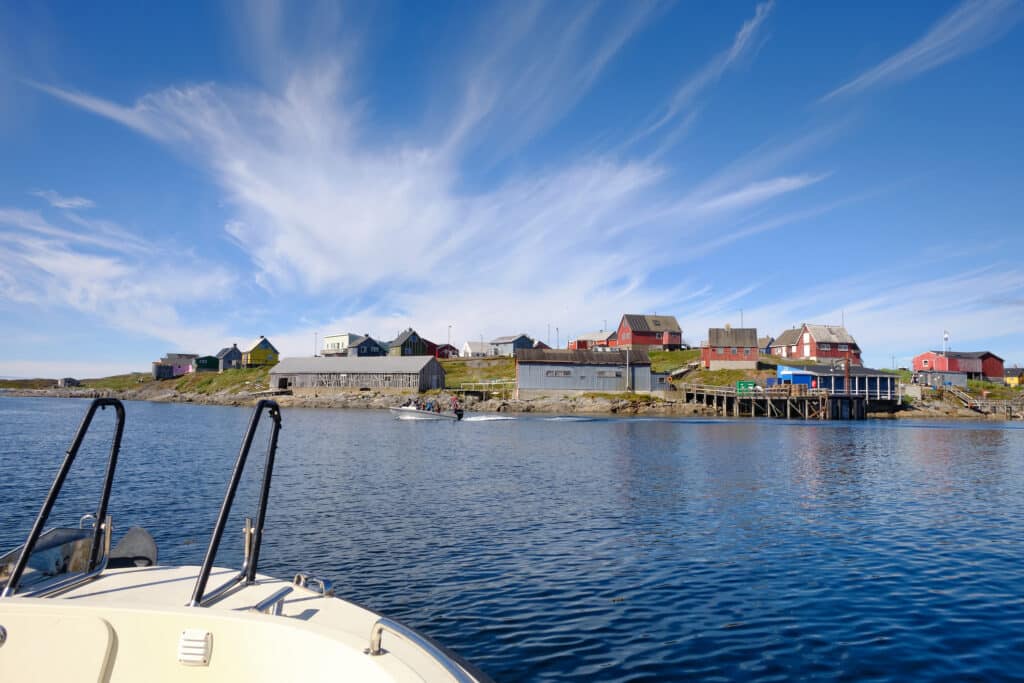 Things to do in Maniitsoq
Most people visit Maniitsoq as the gateway to other outdoor adventures in the area. However, there are a handful of attractions in town that you should also check out:
Explore the city
Although there is no guided city tour at the moment (there is one in the works for the near future), go for a wander around the town as it follows the valleys between the hills. We'd also suggest climbing to the top of any of the many staircases (and perhaps a little further) for incredible views over the town, the fjords, and the surrounding mountains. Although the staircases are built to access houses, they are public thoroughfares – so you are most welcome to use them.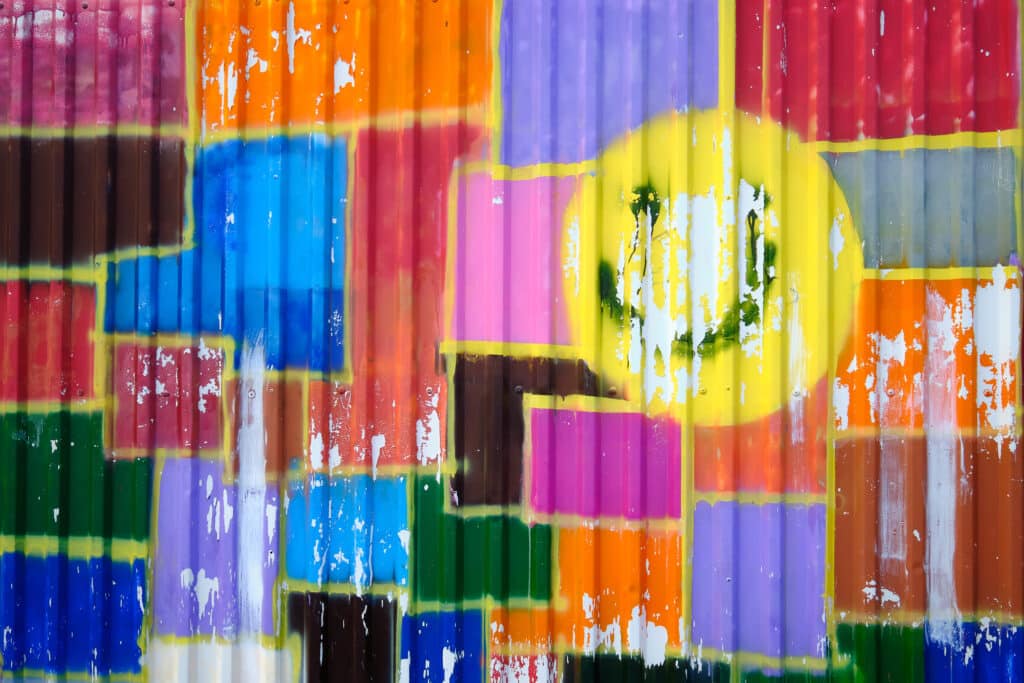 The Maniitsoq Museum consists of 4 beautifully reconstructed historical buildings that have been moved from their original positions near where the Pisiffik supermarket is currently located. 2 more buildings from the same era – the Church of Elijah and small chapel – are still located at their original position.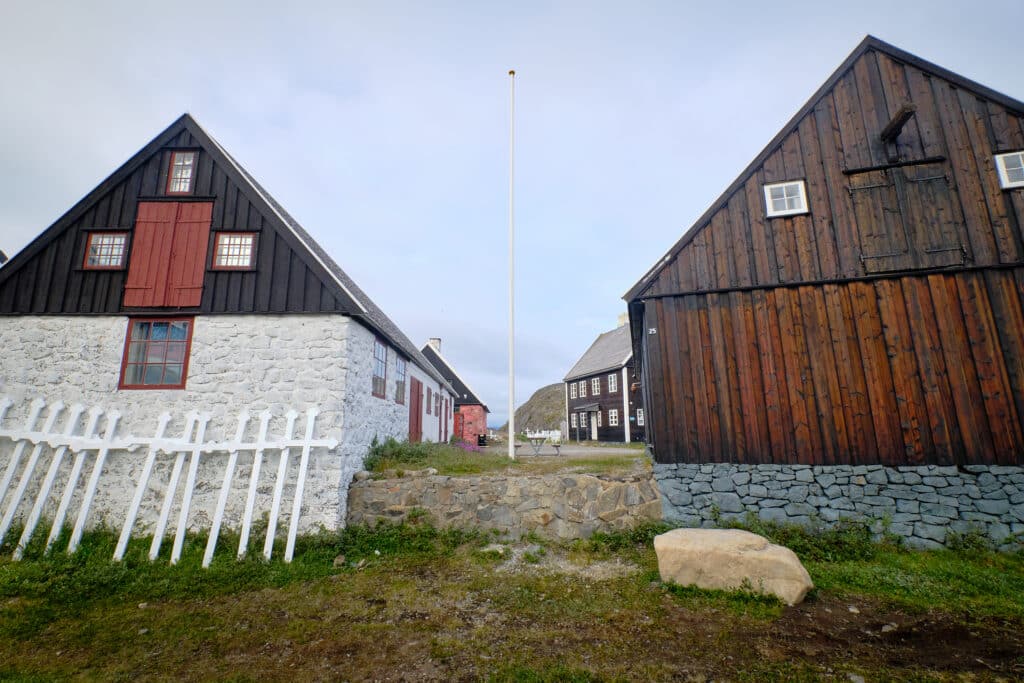 The buildings that now make up the museum consist of:
Assistant housing (B-16; larger black building) – downstairs displays amazing carvings by artists from the Kangaamiut and Maniitsoq area. The middle-floor contains two rooms dedicated to several artists of the Maniitsoq area, including the well-known Gitz-Johansen, while a third room displays artefacts from the old Elijah church in the center of town. The upper floor contains items from the old trading post in Maniitsoq.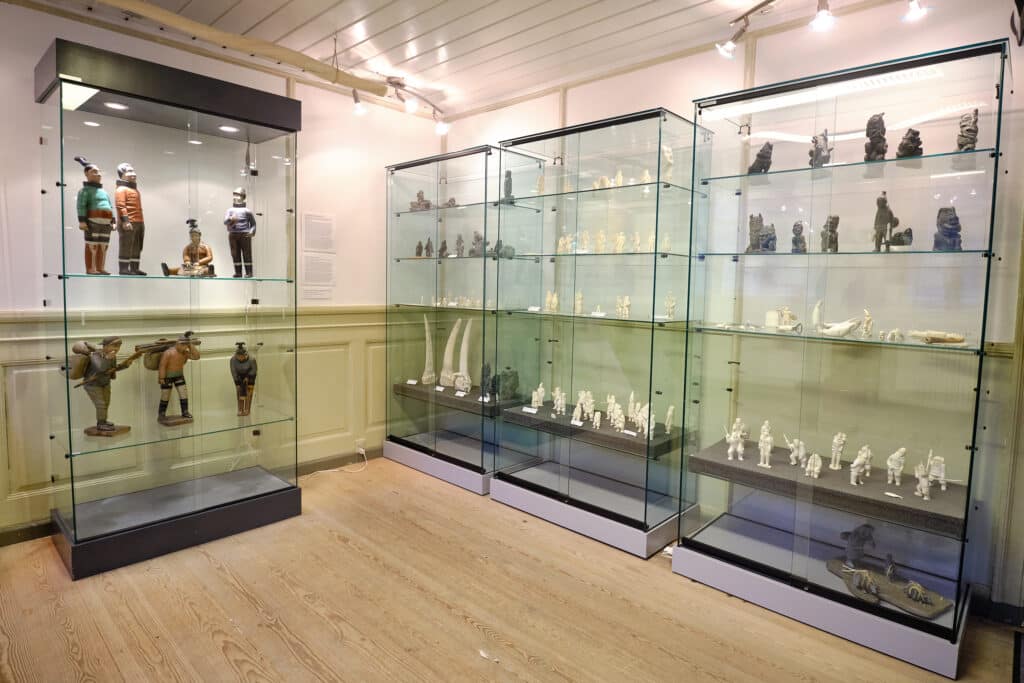 Provisions Stall (B-25; smaller black building) – downstairs has a display about reindeer hunting (Danish and Greenlandic only) and upstairs is used for temporary exhibitions. If there is no temporary exhibition, this hall features panels that tell the story of the cultures that occupied Greenland at different times, as well as detailed information about the rituals of the Greenlandic Angakok (shaman). These are presented in English, Greenlandic and Danish.
Carpenter's Workshop (B-56; white building) – downstairs has a beautiful display of the West Greenlandic National Costume, as well as several old Ulos (women's knives). Upstairs contains traditional kayak frames as well as artefacts from throughout Greenlandic history.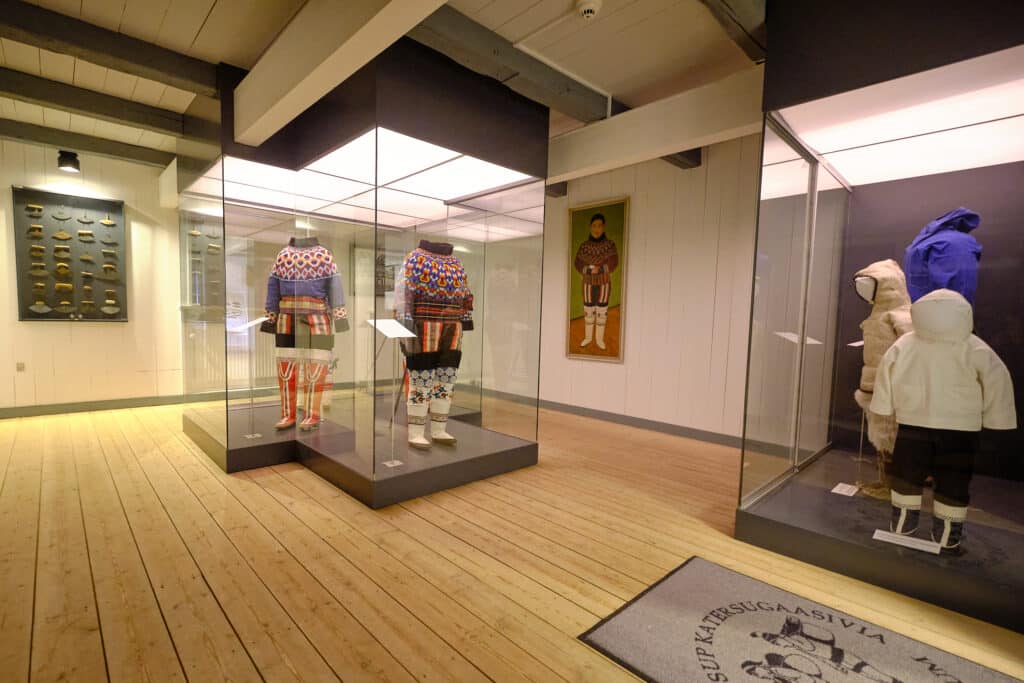 Coopers Workshop (B-28; pink building) – used for museum storage
You can't miss Maniitsoq's main church – the large, white building with twin bells that sits above the center of town. Inside is plain and beautiful with sealskin around the altar and a basin decorated with fish motifs. Look up to see the impressive organ nestled on a mezzanine level.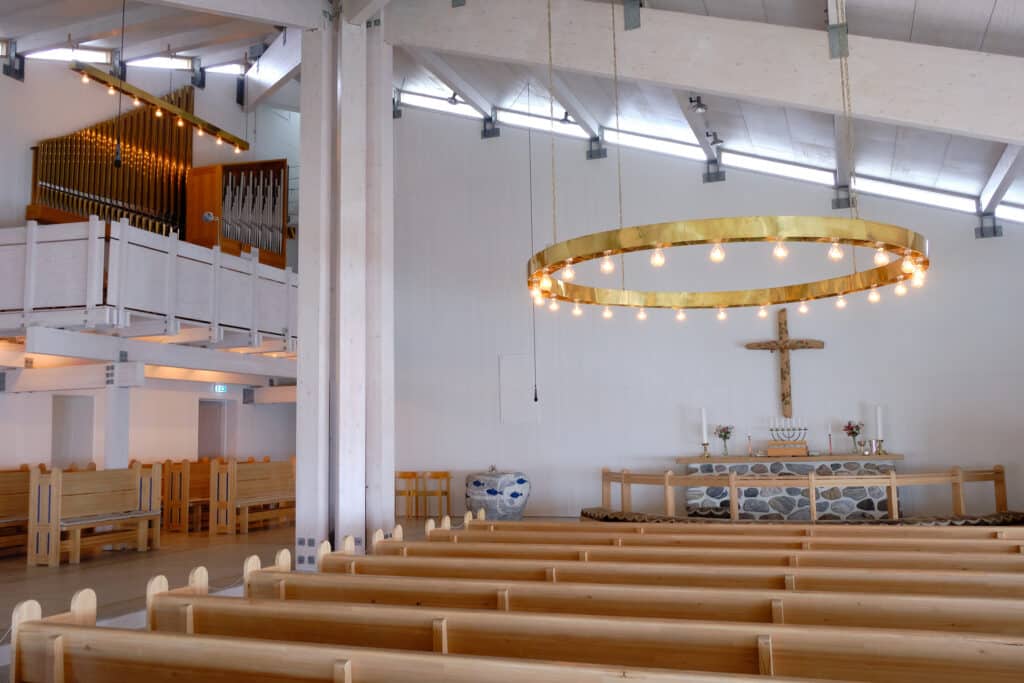 Head out to Maniitsoq's premier whale-watching spots with unparalleled views across the fjord. The main, lower one has a boardwalk leading out to it with a shelter, picnic tables, and an information board about the type of whales you may see. There is also an upper viewpoint (accessed via the heliport) which also has picnic tables set up. Bring a picnic to enjoy while you are waiting and watching.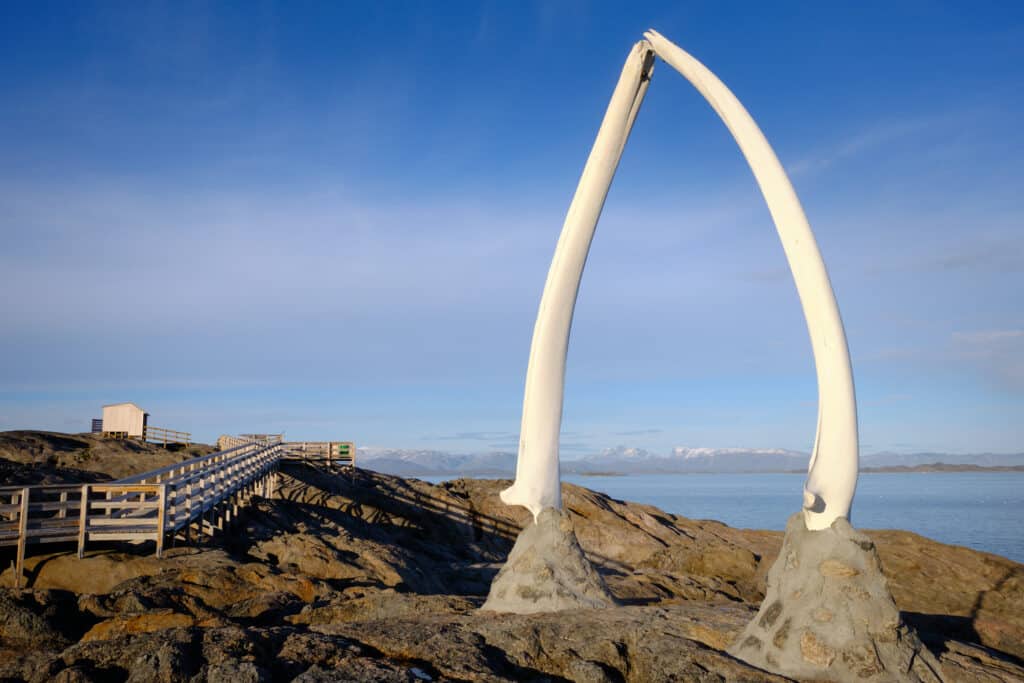 Outdoor Adventure
Maniitsoq is surrounded by some of the most rugged landscape in West Greenland – perfect for those who enjoy being outdoors. However, given tourism is still developing in the area, many of the following activities will only run for groups or those willing to pay the equivalent of 4 people.
---
---
Fishing
The rivers around Maniitsoq offer some of the best fishing in all of Greenland. Sail to pristine rivers where you will likely meet no more than a handful of other people, and you may even have the entire place and the river full of fish to yourself! Both spinning and fly-fishing are very popular, and Arctic Char (up to 5kg) is the catch of the day during July-September. You can even try your hand (literally) at catching Char using nothing but your fingers.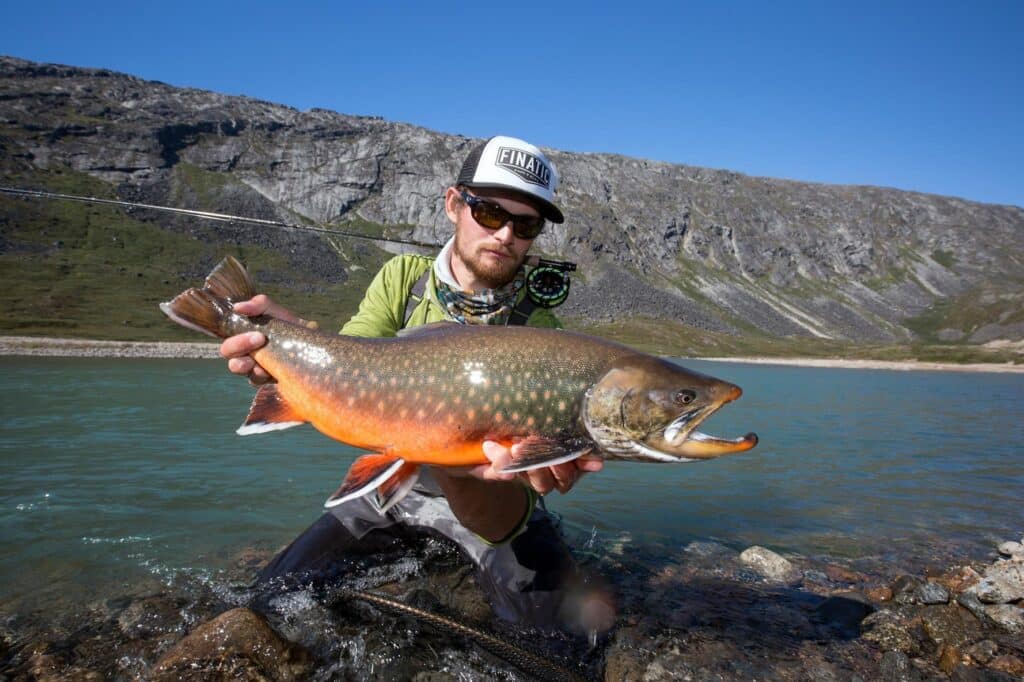 Sailing
Getting out on the water is one of the must-do activities when visiting Greenland during the Summer. The fjords around Maniitsoq are truly spectacular and feature tall mountains that drop straight down into the sea, bird cliffs filled with wildlife, and innumerable glaciers. The Eternity Fjord is the best known – and for good reason. Glacier, after glacier, after glacier, after glacier line the route along the fjord. Some are hanging, but there are also a few that reach the water and where you can witness chunks of ice calving into the sea. This experience definitely rivals the more touristed Eqi Glacier near Ilulissat!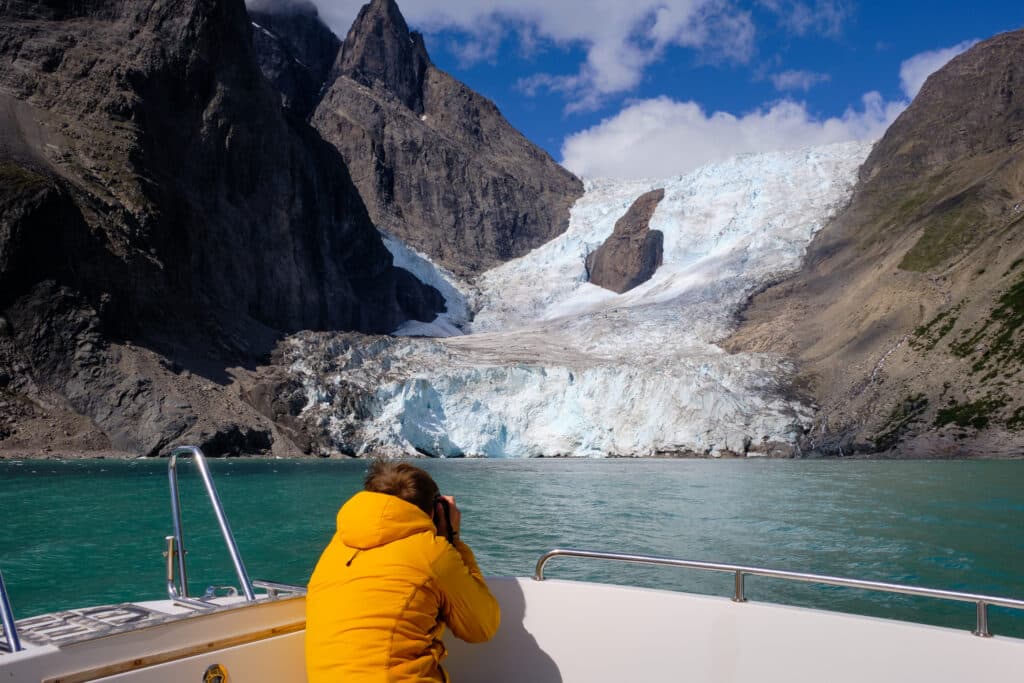 Whale Watching
During the Summer months, there are many whales that pass quite close to the town of Maniitsoq. While you can often view them from the Whale Watching spots overlooking the fjord, you can increase your chances of spotting them and get closer with a dedicated whale watching boat tour. The local captains know where the whales were last seen and bring you as close as possible while still maintaining a respectful, non-disruptive distance. The playful Humpbacks are most common, but it is possible to also see Minke whales and Fin whales.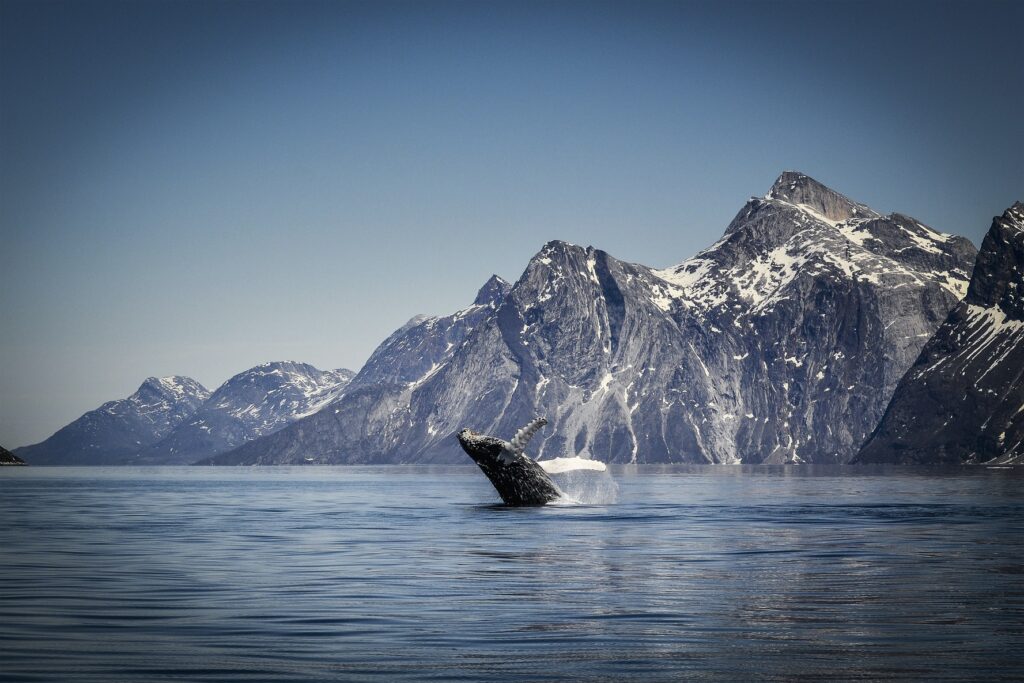 Skiing
For ski-tourers and heli-skiers, the tall mountains in this part of Greenland offer incredible views and 1500m runs straight down to the ocean in perfect snow. Bill Gates and Warren Buffet have both skied here – enjoying the natural beauty and solitude of a place where you are unlikely to meet others.
It is also a magnet for ski-mountaineers, with award-winning director/photographer Jimmy Chin teaming up with free-skiing champion, Kit DesLauriers, to showcase some of the insane opportunities of the region.
Hiking / Snowshoeing
There are innumerable hiking/snowshoeing opportunities in the area that allow you explore the mountains and capture incredible views.
The most popular trail from the town is the relatively easy ~4km Flower Valley hike that starts from below the telecommunications tower (and stairs) near the Museum. Be prepared for a boulder scramble over the first km or so which will deliver you to a vibrantly green valley that is filled with flowers at the right time of year. The trail loops back to the other end of Maniitsoq via a pass through the hills. Simply follow the pipeline back home.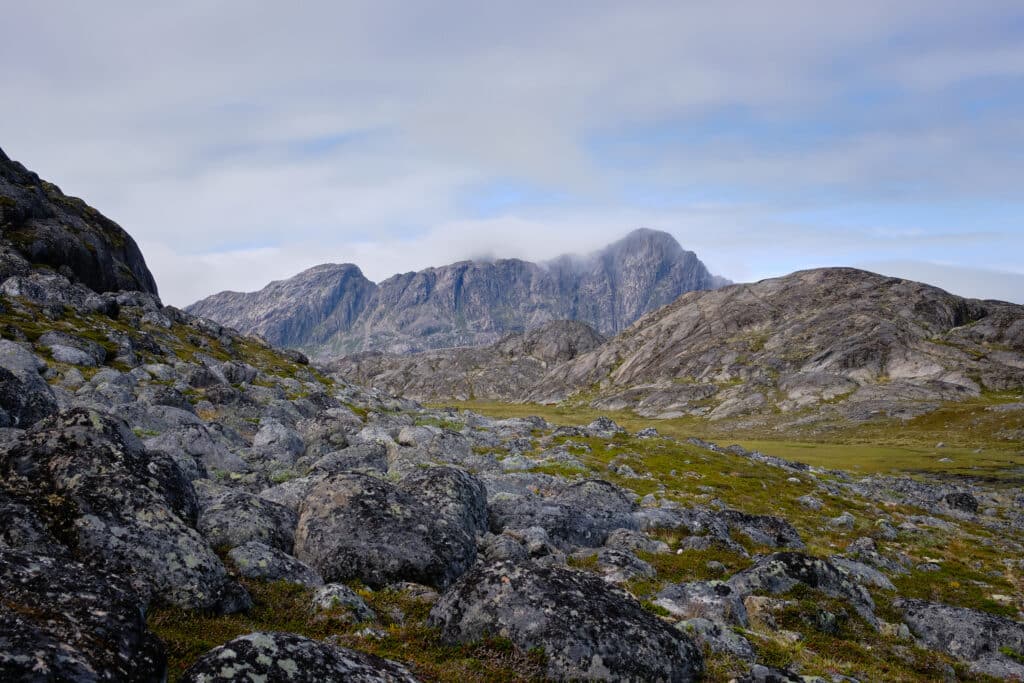 There are also longer hikes that you can embark on directly from Maniitsoq. The trail leading to the top of Ivianguisat (at least 9 hours return) is marked with white crosses, and there is a project to mark a multi-day trail around the entire island.
Guided hikes and snowshoe tours ranging from day trips to more than a week are currently being developed for the area.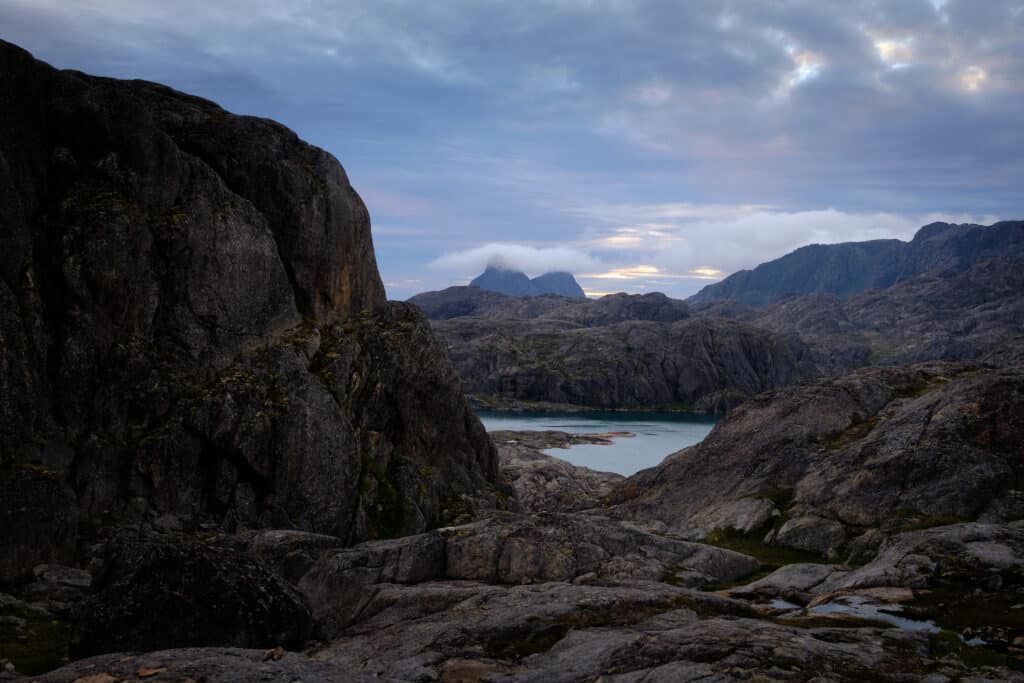 Kayaking
With its many islands and beautiful fjords, the Maniitsoq area holds great potential for kayakers. Although there are no tours currently available, there are plans to develop kayaking options – including on this incredible lake.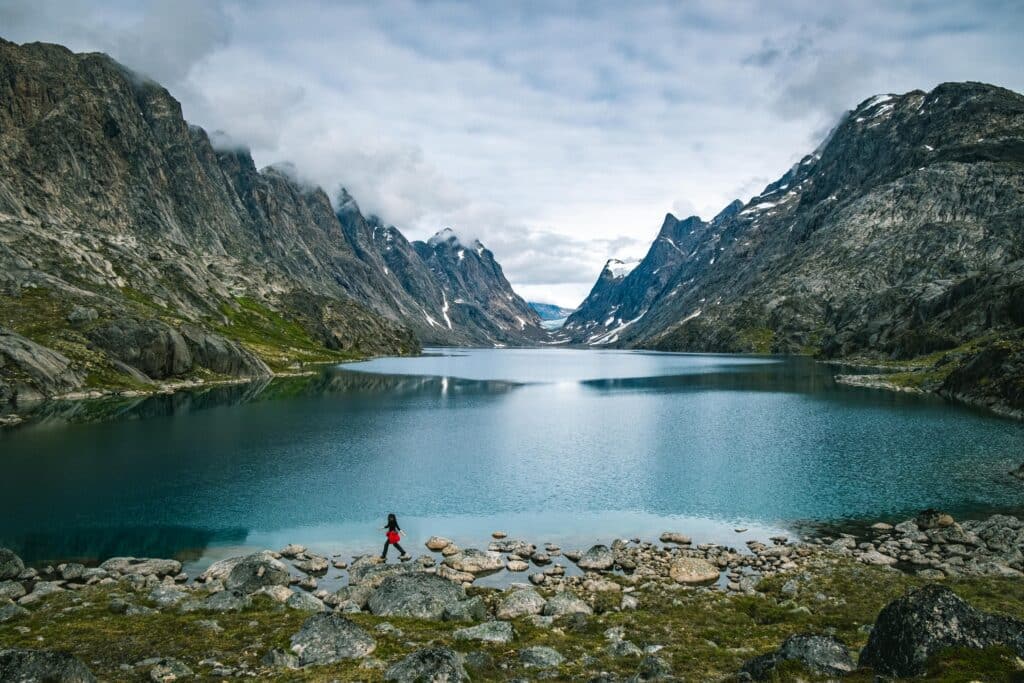 Witness the Northern Lights
If you visit Maniitsoq between September and April, you have a great chance to see the incredible Northern Lights. Although they are often visible from the centre of town, it is best to head to the edge of the houses for the darkest skies.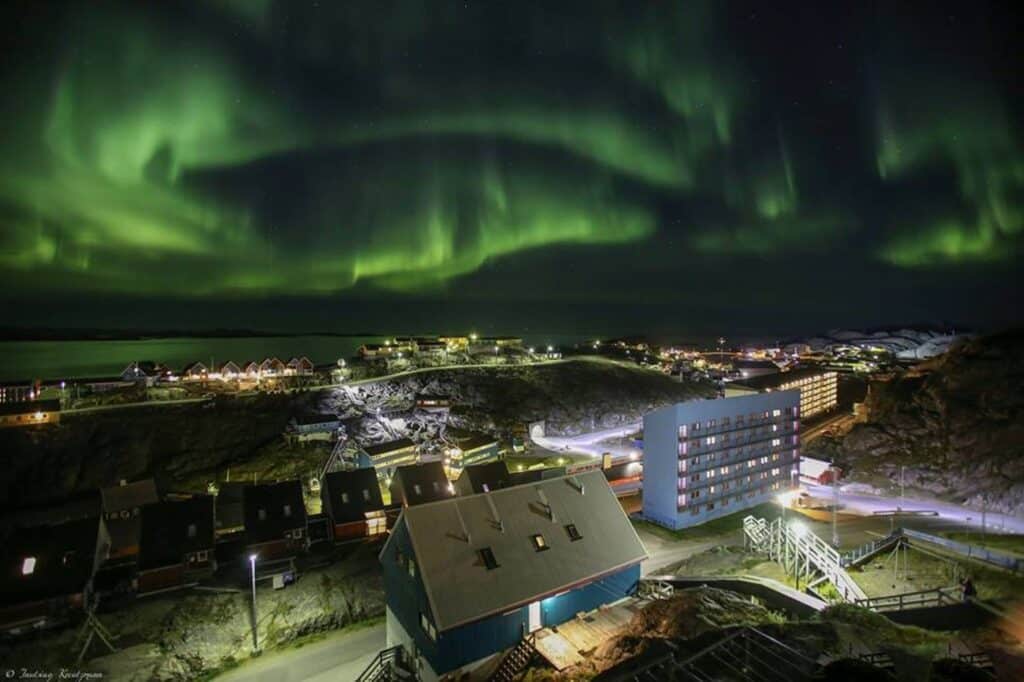 Accommodation – where to stay in Maniitsoq
Although Maniitsoq is a relatively small town, there are a good number of accommodation options to choose from.
The 3-star Hotel Maniitsoq overlooks the harbor and fjord and is the fanciest accommodation in Maniitsoq. They offer comfortable rooms, conference facilities, and the town's fine dining restaurant, all with an incredible view. You may even see a whale from your bedroom window.
The Hotel Heilmann Lyberth is a centrally located accommodation option that features a café and comfortable rooms with private bathrooms. There is a common sitting area, as well as a microwave, fridge, and coffee/hot water machine for guests to use.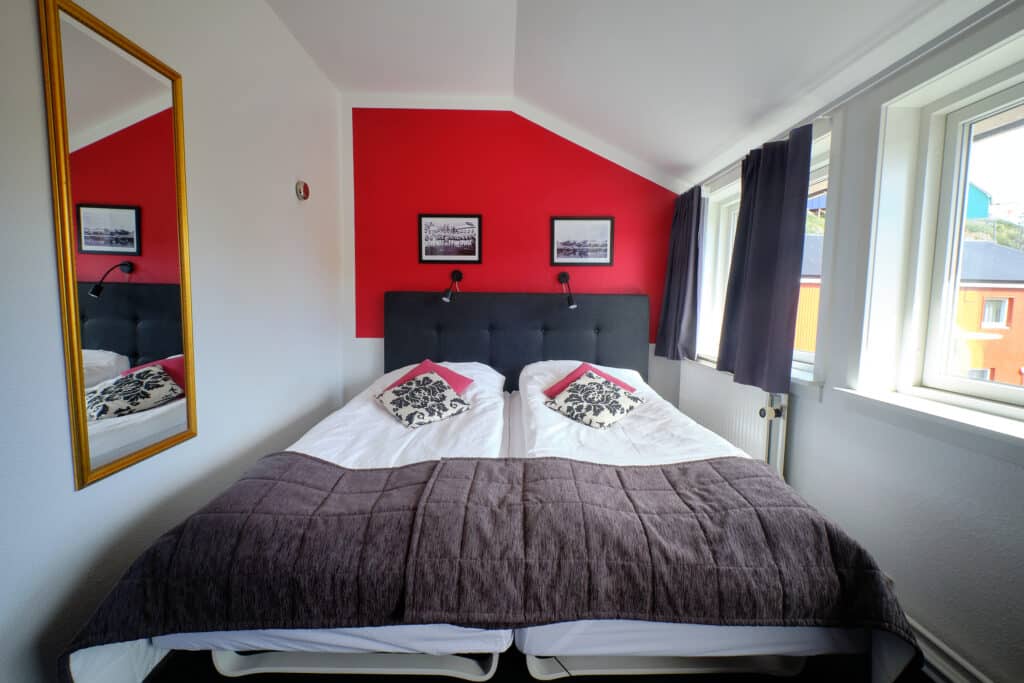 Hotel Toppen Garni is also located near the center of town (next door to Rita Sport) and offers 9 single rooms with private bathrooms and a common kitchen. This hotel is affiliated with Hotel Maniitsoq, so registration and all logistics are managed through them. Please note that hotels do not provide transportation to or from your arrival/departure.
Guide to Greenland could help to book your accommodation fast and easily. Learn more here.
At the time of writing, there is only one accommodation listed on Airbnb for Maniitsoq. However, this should grow in the future.
Restaurants and cafes – where to eat in Maniitsoq
There are a few places to eat out in Maniitsoq, so there is bound to be something amongst the following to cater to your taste buds.
The Hotel Maniitsoq Restaurant is the fine-dining option in town. Enjoy your meal with a wide selection of wines and a panoramic view over the harbor and fjord to the archipelago and mountains on the other side. In Summer, you should also keep an eye out for the whales that are likely to pass beneath your window view.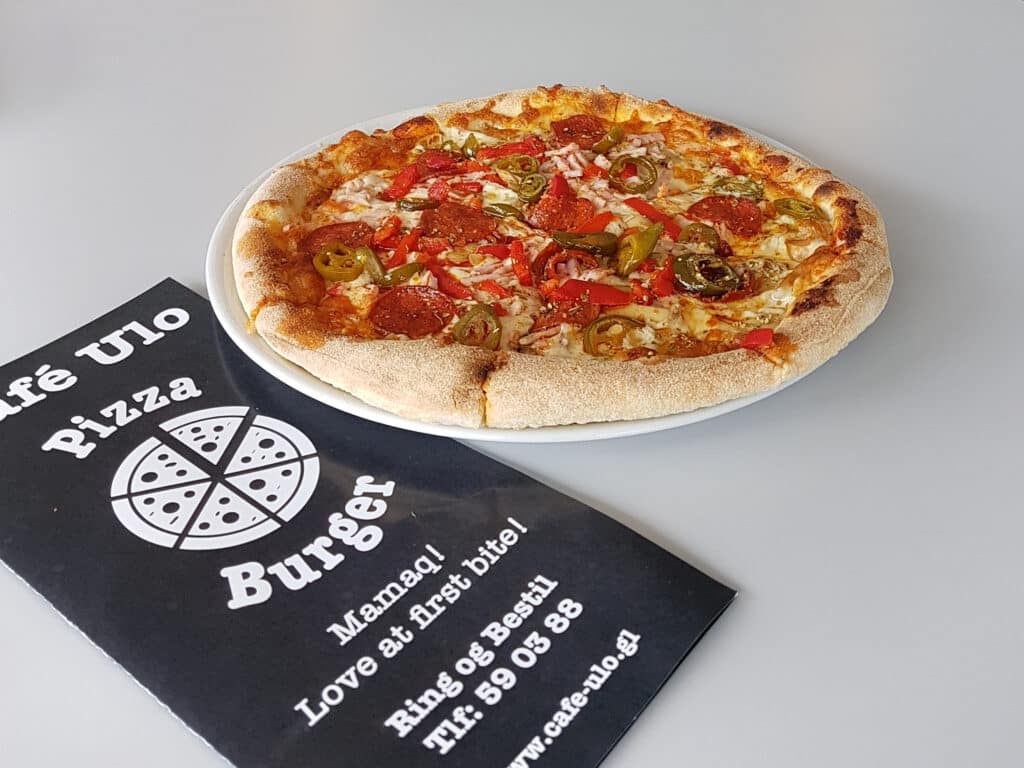 Despite its unassuming surroundings (it is located in the sports hall), Café Ulo makes some of the best pizza in all of Greenland! They offer a large selection of pizzas and burgers, but also serve up huge portions of main meals.
Café Puisi is the Thai restaurant in town offering a wide selection of asian-style dishes – including a selection of vegetarin options. It also has a small selection of burgers, chicken and chips, etc.
Café Pølsemik is your fast food option with hot dogs, burgers, and chicken & chips.
A final possibility (especially if the weather is fine), is to shop for pastries, bread, cheese, processed meats, fruit and other items at the Brugseni and Pisiffik supermarkets and make your own picnic. The whale watching spots are pretty perfect for lunch on a beautiful day!
Nightlife in Maniitsoq
Nightlife in Maniitsoq revolves around the pub – Nattoralik – which also occasionally features live music. Otherwise, head to the bar at the Hotel Maniitsoq for drinks overlooking the harbor and fjord.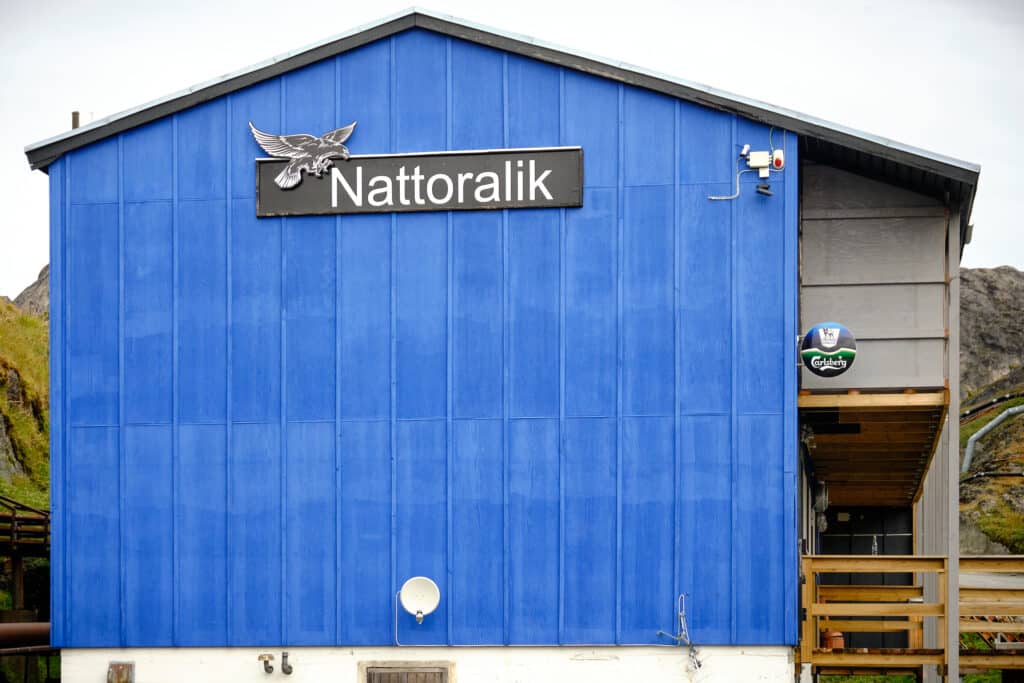 Souvenir Shopping in Maniitsoq
Given Maniitsoq is not highly touristed, there are not a lot of places to go souvenir shopping. The Museum has quite a few books on sale, while the Hotel Maniitsoq offers a variety of different products. You can also try the yellow Workshop opposite the Hotel to see if the local artisans are carving. If you are lucky – they have some amazing works of art for purchase.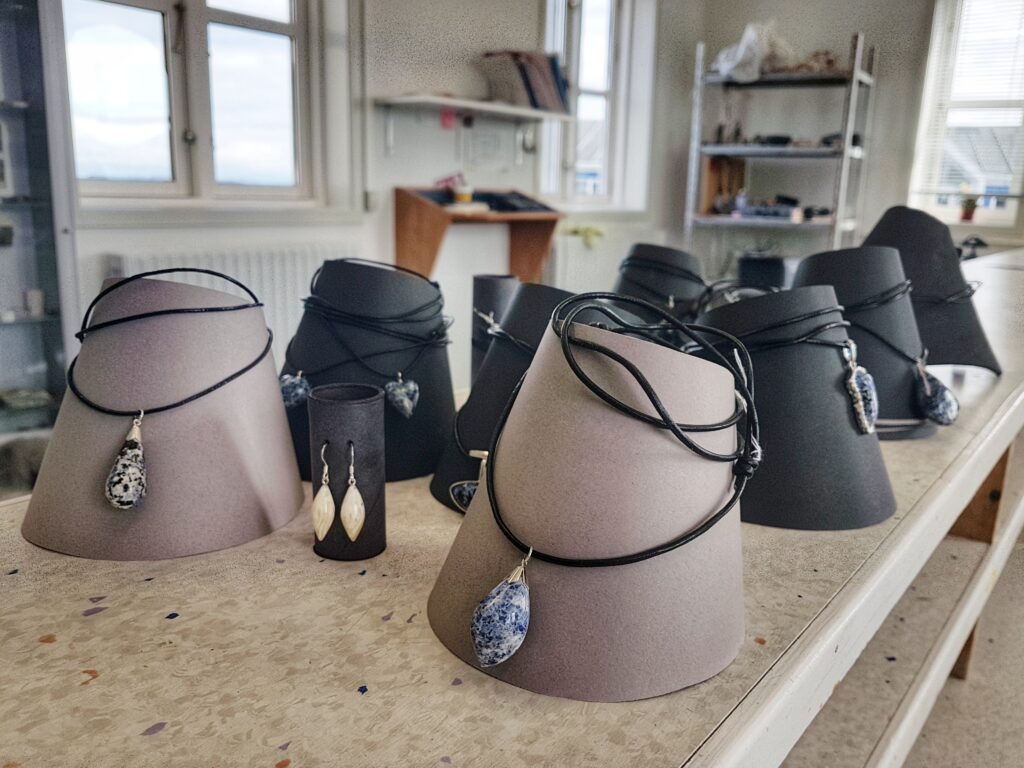 With all souvenir shopping, remember there are restrictions on what can be taken out of Greenland. To avoid issues, it is safest to buy things made from reindeer antler, musk ox, seal or lamb. Please have a look at the current list of restrictions before you travel.
If you don't have enough luggage allowance to purchase your souvenirs while in Greenland but would like a souvenir from your visit, check out The Greenland Store online. All items are by local Greenlandic designers and artists and there is a wide range of accessories, clothing, souvenirs, cards, posters, books, and home decor available.
Book your trip to Maniitsoq
Maniitsoq is the perfect place to base yourself if you want to explore some of the most rugged landscapes in West Greenland. Guide to Greenland brings together most of the tours offered around Maniitsoq on the one platform and is an easy way to plan and book your travel to the town.
We invite you to explore all of our tours around Maniitsoq and contact us with any questions you may have.
---
---
Other interesting articles