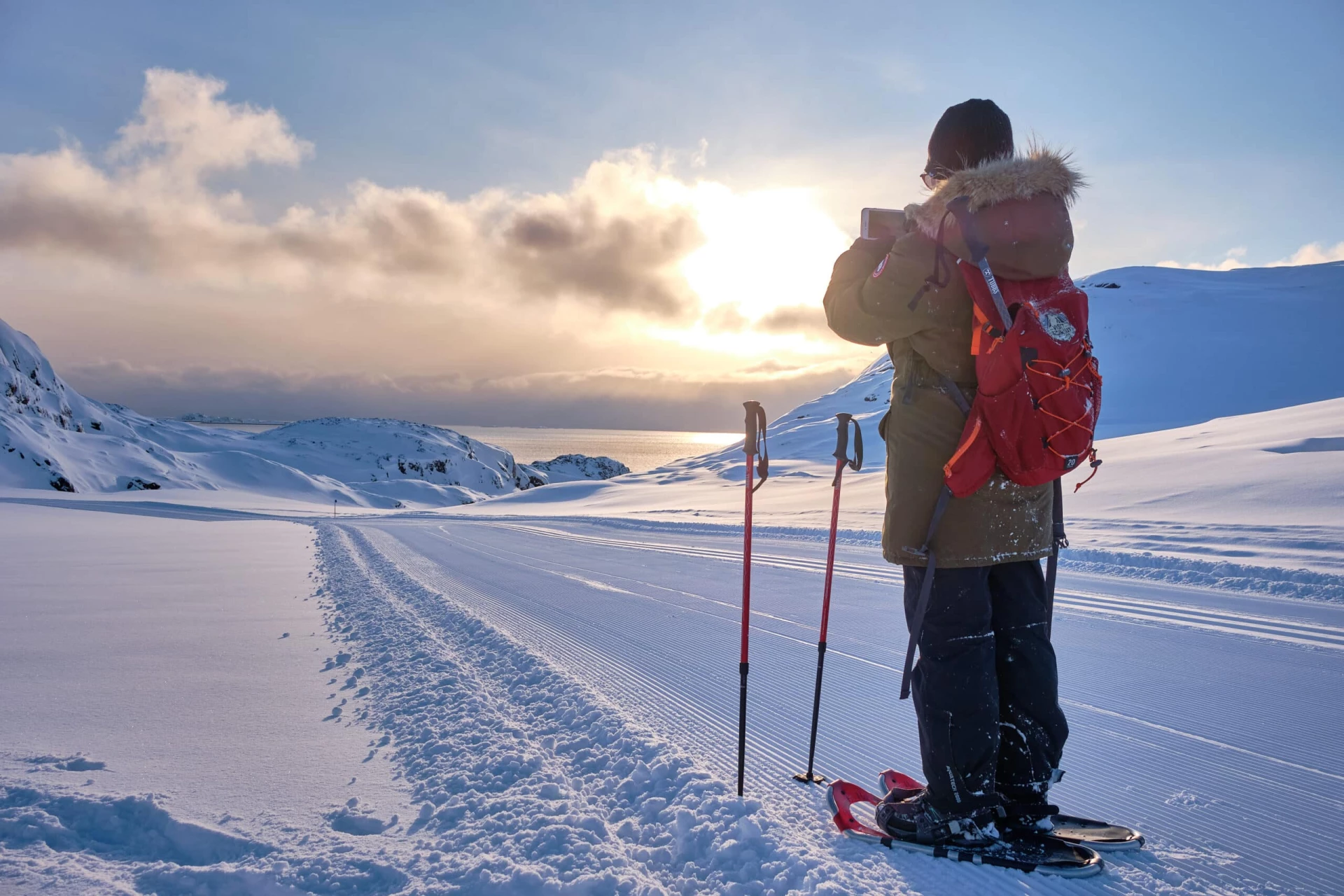 Best clothing to pack for a trip to Arctic Greenland
The secret to dressing for a comfortable holiday in the Arctic is layering your clothing and protecting your extremities. Read on for our recommendations on how best to dress so that you can fully enjoy your Greenland vacation – whatever the season.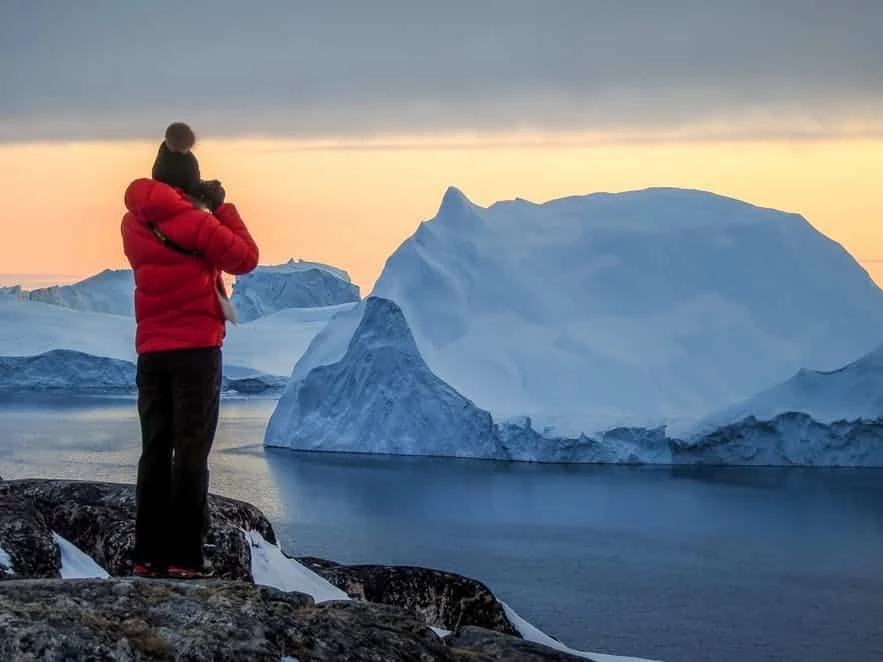 ---
---
"There is no such thing as bad weather, only unsuitable clothing" – is a quote often used by those living in the Arctic. And it is absolutely true! Although temperatures in Greenland may look daunting from your home country, so long as you follow our recommendations in this ultimate guide to clothing, you will have an enjoyable and comfortable visit.
Video versions
If you would prefer to watch videos that summarise the following article, check out our YouTube Channel:
What to wear in Summer
What to Wear in Winter
How do I protect my body from the cold?
Layers, layers, and more layers. When you pack your bag for Greenland, make sure you include the following:
Layer 1 – Base Layer
The base layer sits next to the skin, so it should be soft, comfortable, and able to wick away perspiration. Merino wool is best for this, but polyester also works well and is cheaper. Whatever you do – don't wear cotton!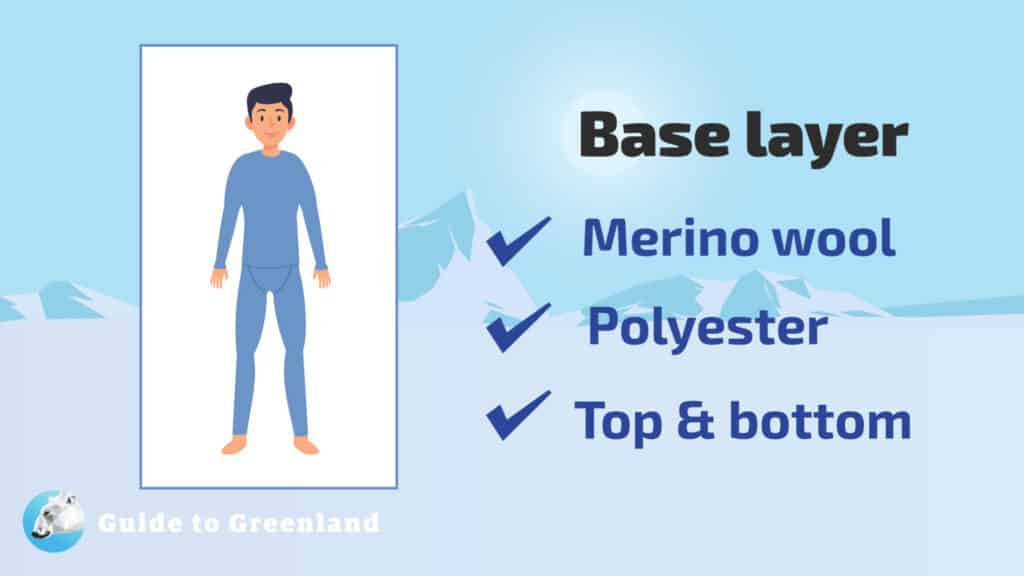 We recommend that you bring a complete base layer (long sleeves and long legs) no matter what time of year you visit Greenland. You may not use it (especially the bottoms) but it is better to be safe than sorry. They can also double as pajamas.
During winter, or if you are hiking, kayaking, or doing any form of strenuous exercise, we recommend you bring two base layers. This allows you to be active in one set and have a "clean" set for relaxing in the evening. It also allows you to double up the layer if it is particularly cold.
Layer 2 – Mid Layer(s)
Depending on the expected temperature and how much you feel the cold, you may need to pack one or more mid-layers. Go for flexibility. The idea is that you add or remove these layers depending on the conditions and your activity level.
Typical options for mid-layers include shirts, hoodies, fleece, woolen sweaters, or lighter down jackets for the top half, and pants that are quick-drying for the bottom half.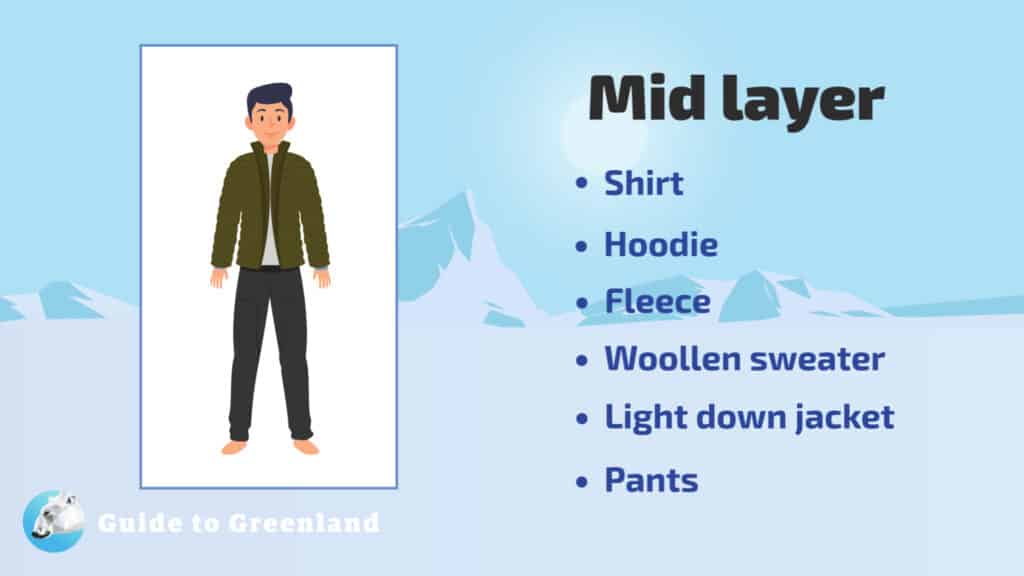 During Summer in Greenland, you may only need to wear a single mid-layer during the day (especially if you are active). However, you will still want a warm mid-layer for the evenings.
During Winter, you will often find yourself wearing more than one mid-layer on the top half of your body. Come prepared with several to choose from and make sure you can layer them one on top of the other.
For the bottom half, you should consider packing two mid-layers – one for inside (where it is always warm), and a fleece-lined option for when you are outdoors. It is very important that these are not too tight.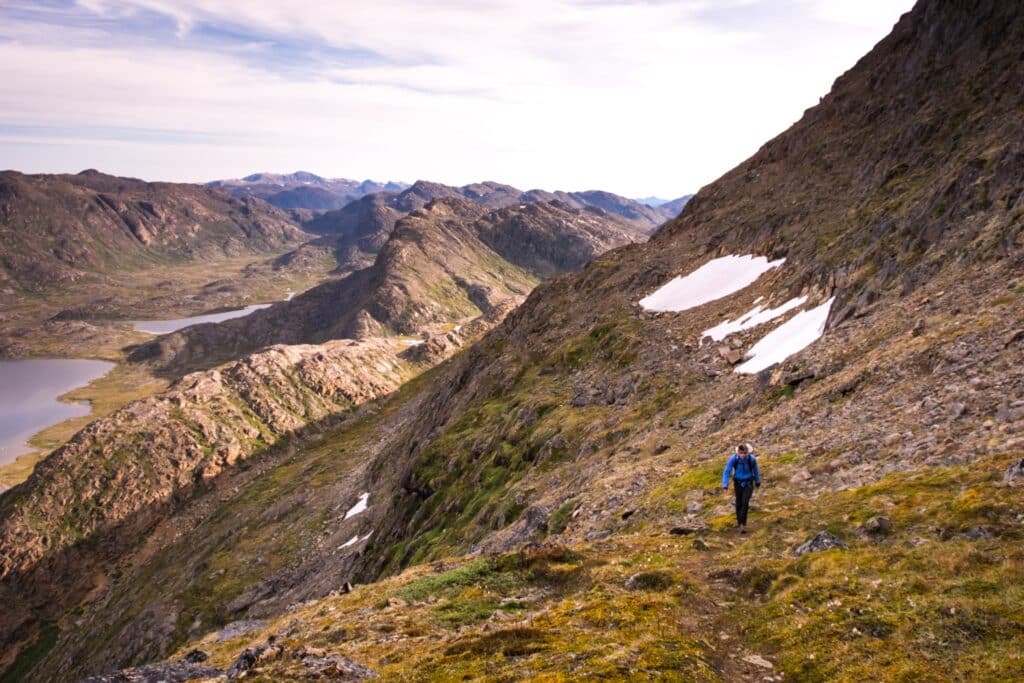 If you are hiking, kayaking, skiing, snowshoeing, or doing other forms of strenuous exercise – you will find yourself constantly adjusting the number of mid-layers you are wearing. Make sure you don't get too hot before removing a layer, as you want to sweat as little as possible while outdoors.
Again – if there is one rule of thumb for the mid-layer(s) – it is to never wear cotton!
Layer 3 – Outer Layer
It is very important to get the outer layer correct, as it allows the mid and base layers to function correctly. It is often referred to as a "shell" and is your ultimate protection against the elements.
It absolutely must be windproof – no matter which season you are visiting.
During Summer, a non-insulated jacket and rain pants are usually sufficient. These should also be waterproof as there is potential for it to rain in Greenland.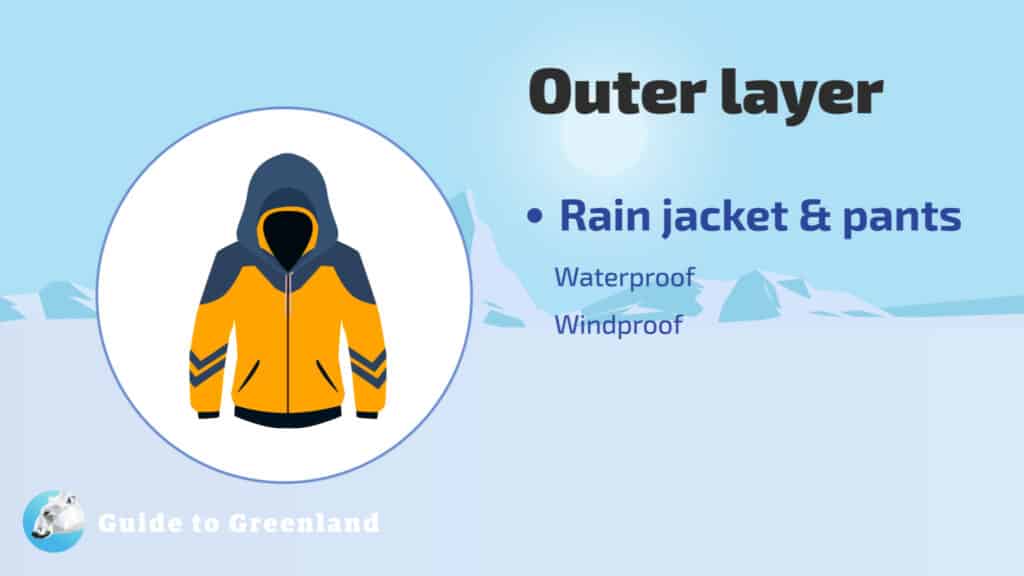 During Winter, you should opt for insulated pants and jacket. Look for ones with lots of bulk and a mechanism (drawstrings, elastic, etc) for tightening it around the body to ensure air can't enter or escape. It is actually the layer of air trapped inside that keeps you warm. If you already own a ski jacket and pants, these will do. If you do not, you will need to purchase a specific winter jacket and pants.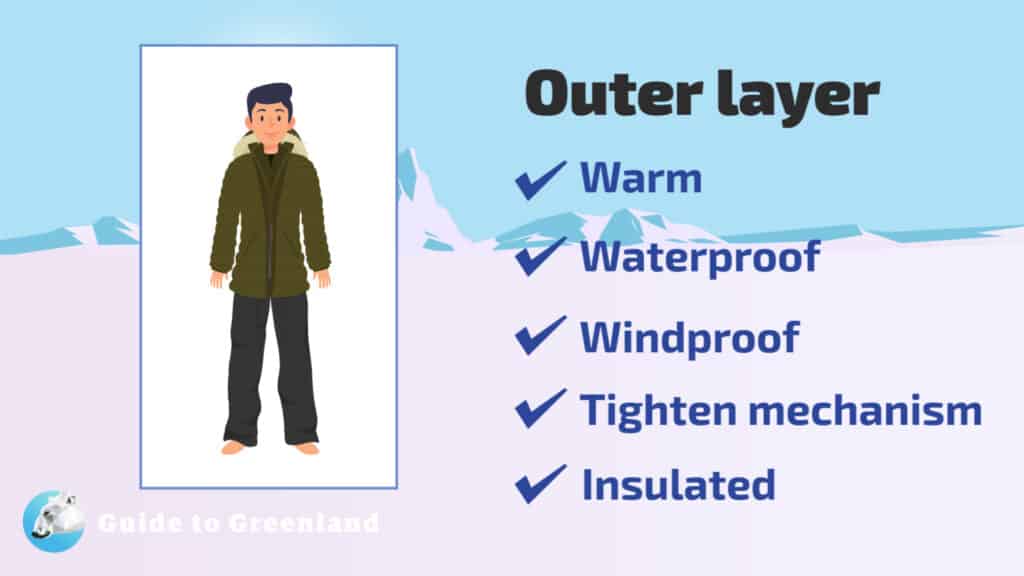 If you are doing a dog sledding or snowmobiling tour, specialized winter equipment may be included by the provider. If not, it can usually be rented. Definitely use the equipment if it is provided, and we highly recommend renting the equipment if it is not. It will make the difference between you enjoying your once-in-a-lifetime experience or suffering through it.
Now we've got the bulk of your body covered, let's work on the extremities.
How should I cover my head & neck in the Arctic?
It is commonly said that a person loses 20% of their heat through their head. So we need to cover it up!
In Summer, you should pack both a sun hat AND a winter hat for your holiday to Greenland. The midnight sun brings endless daylight to many parts of the country and only a couple of hours of twilight in the remainder. This means long days spent outdoors under the strong Arctic Sun. Many people end up sunburned because they don't take precautions, and we don't want you to be one of them. Make sure you pack a cap and your sunscreen.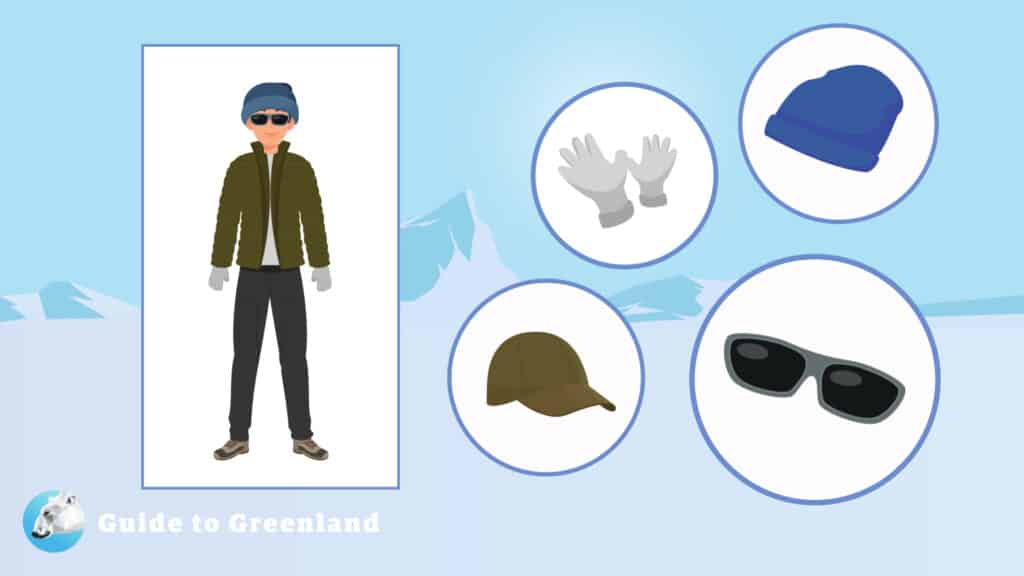 That being said, it can get a little cooler in the evening. Packing a warm woolen hat means you can continue to enjoy the outdoors no matter what the temperature is "overnight".
You might also like to pack a "buff" to protect your neck from the Sun during the day, and also the evening chill. Merino wool ones are the best as they tend to be comfortable no matter the temperature.
During Winter, you need to pack a thick, woolly hat that covers your ears. You also need to bring a buff that can be pulled up to cover most of your face, or you may want to consider a balaclava, depending on the temperature.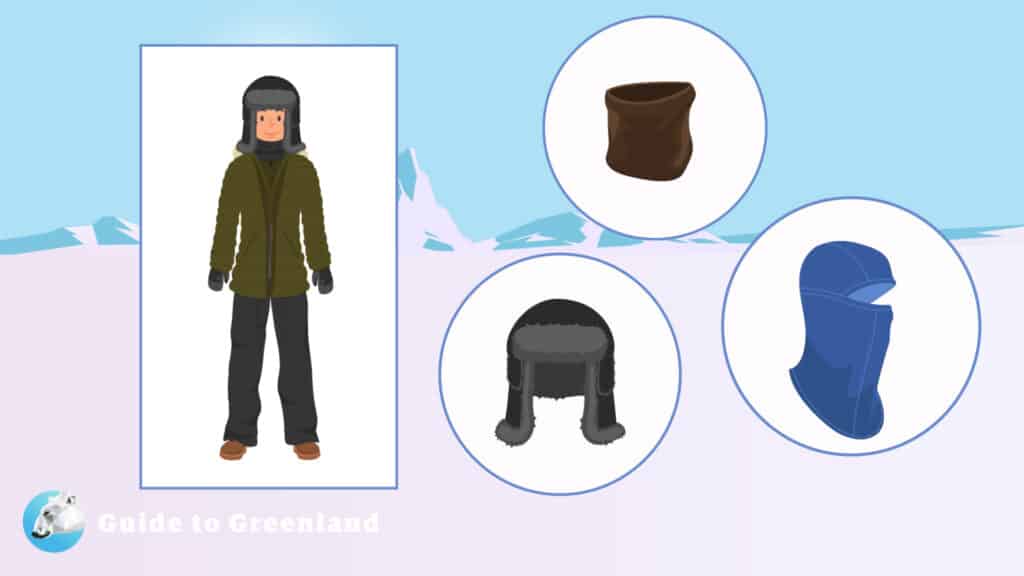 How do I make sure my hands don't get cold?
Gloves are essential for any vacation to Greenland.
During Summer, you can get away with a relatively light pair, so long as they are also windproof. This is essential!
"Why?" you might ask.
Think about wind chill. You don't want to have to sit inside on a boat tour on a beautiful day, simply because your hands are freezing.
If you are visiting Greenland during Winter, you really need to protect your hands carefully. Winter gloves (or ski gloves) that are windproof are a good start, but winter mittens are even better. Keeping all your fingers together in the mitten helps create and maintain warmth.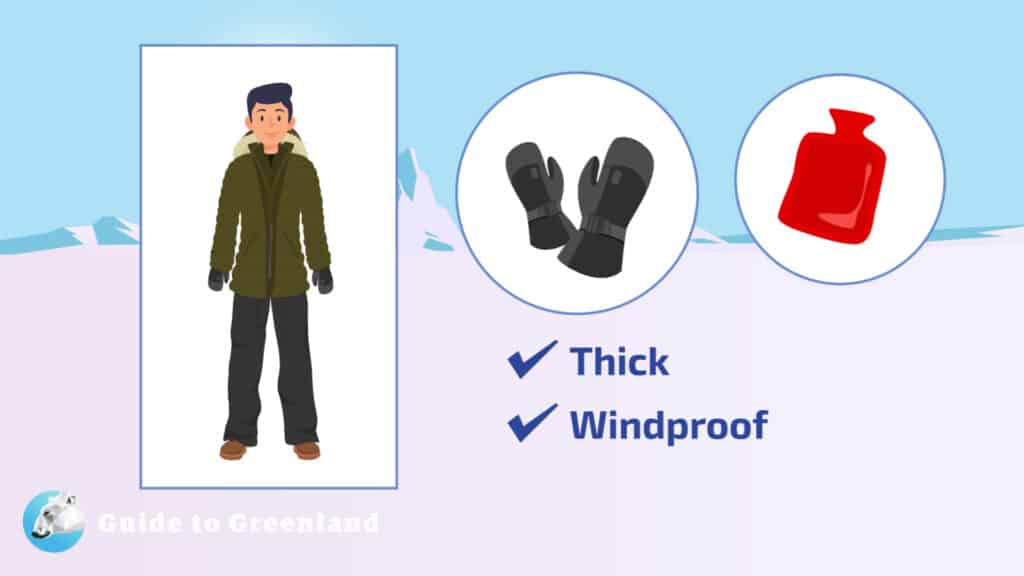 You will also likely want to layer your hand coverings during Winter. Make sure your gloves/mittens will fit over a merino wool liner at the very least, and perhaps even a fleece glove for particularly cold weather.
What do I do with my gloves when I want to take a photo?
If you are using a phone as your camera, try to purchase gloves that have touch-sensitive fingers so you don't need to take your hands out.
For camera photographers, this is a bigger challenge. Once you put gloves (and especially mittens) on, you reduce the amount of dexterity you have to manipulate dials on your camera. If you are going to be doing a lot of photography, you may want to consider special photography gloves that are specifically designed for photographers working in cold temperatures. Have a look at Vallerret Photography Gloves and The Heat Company for options.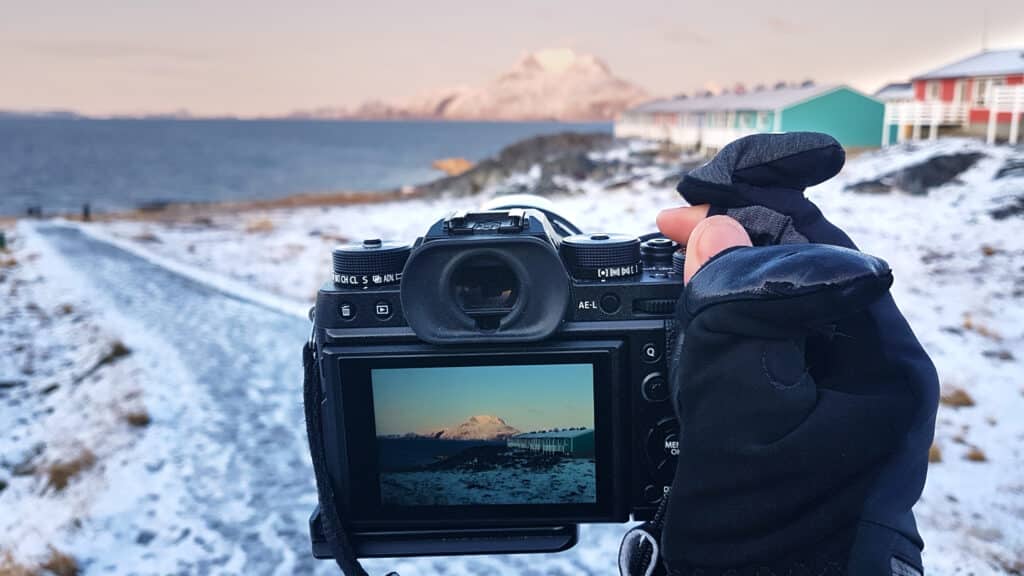 What happens if my hands get very cold?
Finally, it can be very difficult to warm your hands up if they become cold. It is, therefore, a good idea to pack a few chemical hand warmers in your bag … just in case.
What is the best footwear for Greenland?
If your feet are cold. You are cold. End of story. So make sure you pack appropriate footwear for your trip to Greenland!
What kind of socks should I pack?
Without question – woolen socks. Bring at least 3 pairs and, if you are doing a lot of strenuous activity, save one "fresh" pair to change into at the end of each day. It is also possible to layer your socks for cold weather, so long as your shoes are large enough. For those that suffer from very cold feet but want to visit during Winter – have a look at battery heated socks.
What kind of shoes do I need for my Arctic adventures?
You should also very carefully consider your shoes.
During Summer, we recommend waterproof hiking boots with ankle-support as your main footwear. When you go to buy them, make sure you try them on with the socks you plan to wear to ensure you get a big enough size. It is better to have boots that are a little too loose than ones that are too tight – both to save your toenails and to keep your feet warm.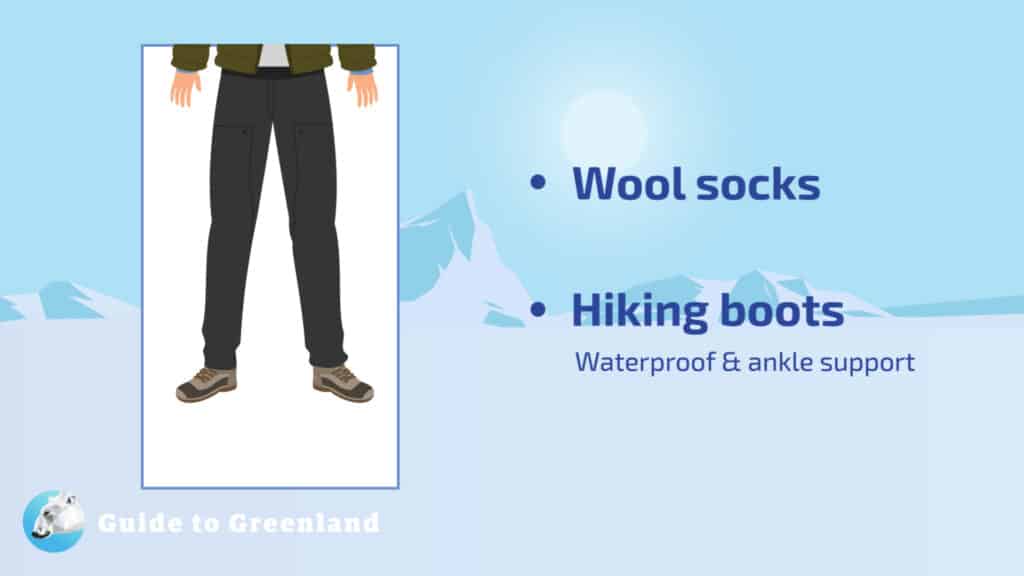 Although hiking boots are not essential for a less-active holiday in Greenland, they are still a good choice because:
They have a lot of grip. This is important no matter if you are hiking in the wilderness or keeping your balance on a boat tour
They have ankle support. Outside of the major towns, roads (even within the town/settlement) are often unpaved and of variable quality. In addition, to get to the best viewpoints and to take shortcuts – it is common to find yourself needing to head off the path.
During Winter, you need insulated boots.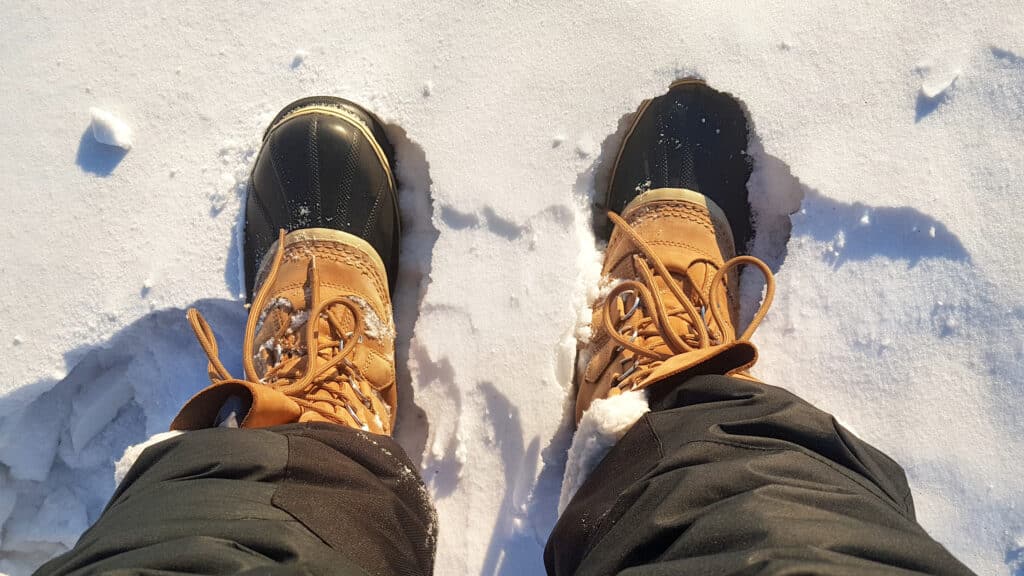 If you are skiing or snowshoeing, an insulated hiking boot is likely sufficient. However, if you are planning to go dogsledding, snowmobiling, or on a Northern Lights tour, you should bring insulated winter boots as you will not be as active. You might also want to add some insulated inner soles to reflect the cold from the ground.
Whichever way you go, try on your boots with the type and number of socks you intend to wear (and inner sole if applicable) to make sure they are not too tight. It is much better for them to be a little too loose, as it is the air trapped inside them that will keep your feet warm.
Should I bring sunglasses to Greenland?
The only part of the body that we haven't touched upon yet is the eyes. Given the strength of the Arctic Sun and the amount of snow and ice in Greenland,yes – it is also important to cover them.
During Summer, polarized sunglasses that are designed for active people are the best choice. You don't want to be fiddling with them every few seconds, and this style tends to stay on your head better than fashion sunglasses.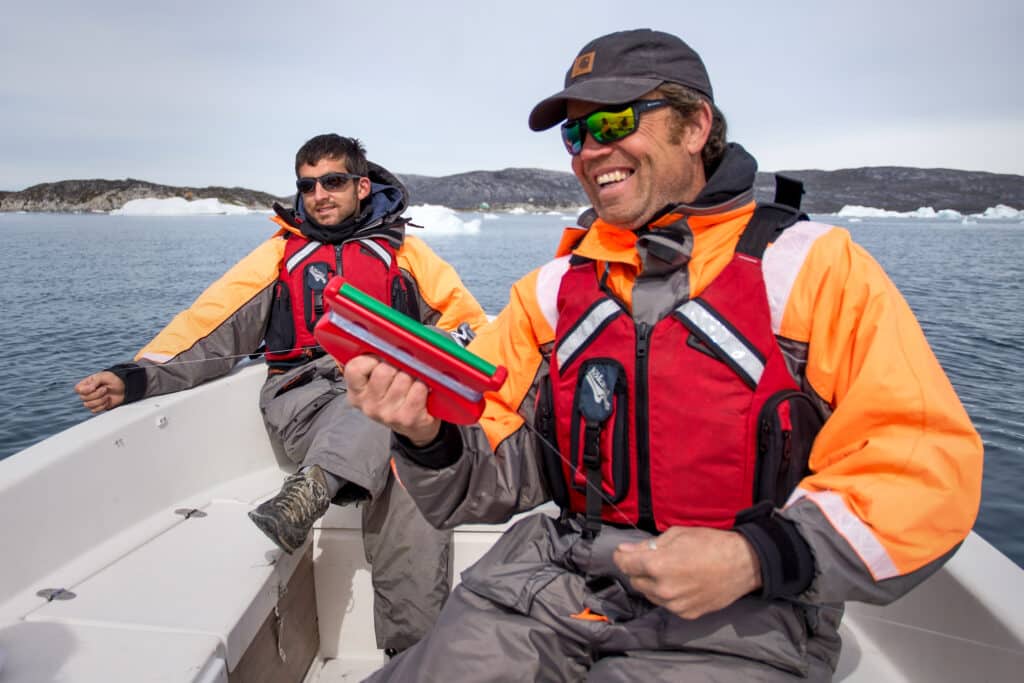 For Winter, swap sunglasses for ski goggles, even if you don't plan to ski. Their close fit means that wind and snow cannot reach your eyes and, combined with an appropriate woollen hat and balaclava or buff, they provide complete protection for your whole face.
Tip! Brush, hoover and wash
Remember, if you are visiting the Arctic, make sure to do your best not to bring any stowaways with you. Brush, hoover and wash your bags, clothes, shoes, and equipment before leaving home.
Enjoy your trip!
Having made your way through our guide to the best clothing for Greenland, you are now ready to pack your bag!
---
---
Other interesting articles