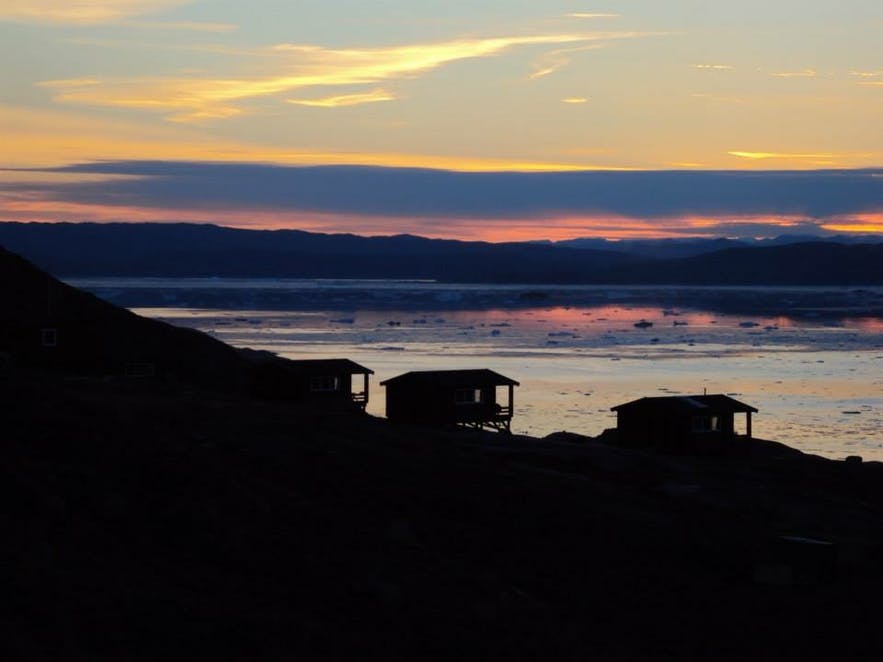 Eqi Glacier – The calving glacier
One of the most amazing environments I have ever been in is the Eqi Glacier – the calving glacier. This breathtaking place is located 90 km north of Ilulissat, where it's possible to hike into the Greenlandic ice sheet.
It takes 3-5 hours to sail op there, depending on which boat you take. You will have 2 hours in front of the ice, and you will get served Greenlandic food. All of a sudden you feel tiny compared to the huge wall of ice. The ice releases air bobbles, and a piece of ice breaks off which makes a huge banging sound, just like thunder. After visiting the glacier, you sail to the Eqi lodge. Here, you can jump off if you have an overnight stay in the cabins, or you can stay on the boat, going back to Ilulissat.
There are guides who welcome the overnight guests, with a short information meeting of distributes the guest into their assigned cabins. There are now 15 lodges, the standard one, and comfort, and there is even a cafe, where all meals take place.
Even if you have an overnight stay or not, the boat sails back to Ilulissat around 14:00, and arrives in the harbor between 18-19. 
We bought the tour via Guide to Greenland.
The picture above is taken from one of the comfortable cabins. This one is placed all the way in front of the glacier. The cabin has water in the tub, shower, and toilet.
There is nothing cozier than sitting on the balcony and enjoying a lovely cup of coffee or a drink with a view you just can't get enough of and literary just can't get enough of.
The standard cabin is without water and a toilet, but it's super cozy and there will be delivered a bottle of water from the cafe. Here, it is also possible to borrow the bathroom.
While being there, it's possible to go for a hike. The hikes can be done during one afternoon, but there is also a longer hike to the ice sheet which takes around 10 hours in total. To get on the ice, it's best to be there for two nights, the first in the cabins and the other in a tent.
This image is taken on the way down to the ice at 22:00 in the evening. Amazing tour, which I can strongly recommend if you have the time for a two nights stay. It's also possible to do the hike on your own, but I would recommend using a guide the first time.
---
For more about the Eqi glacier, look here.
Visit Ilulissat and check out our other tours here.
Other interesting travel blogs