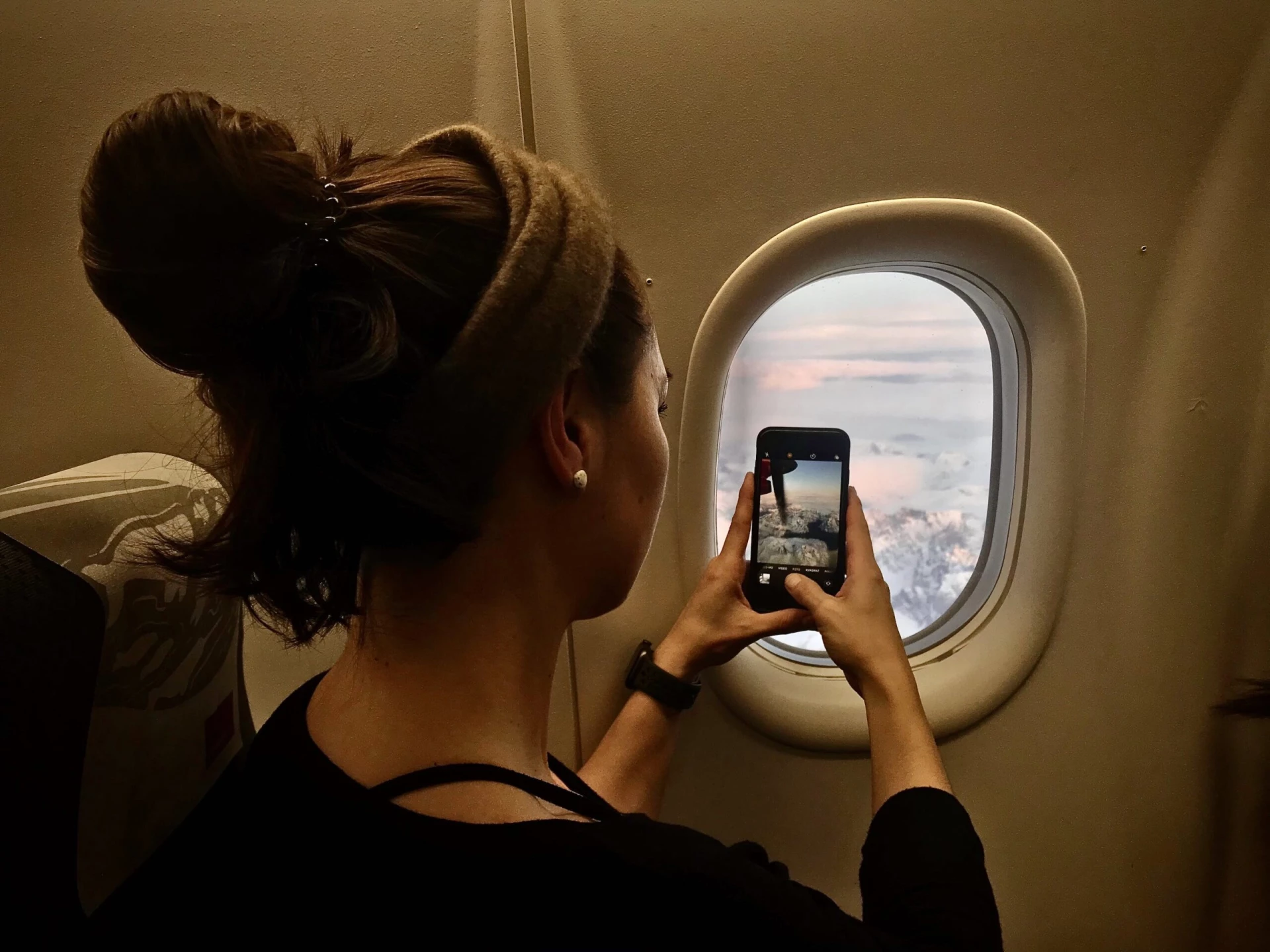 Useful tools for travelling in Greenland
Traveling to Greenland? Here are some of the most useful tools to help you with your planning and while you are here.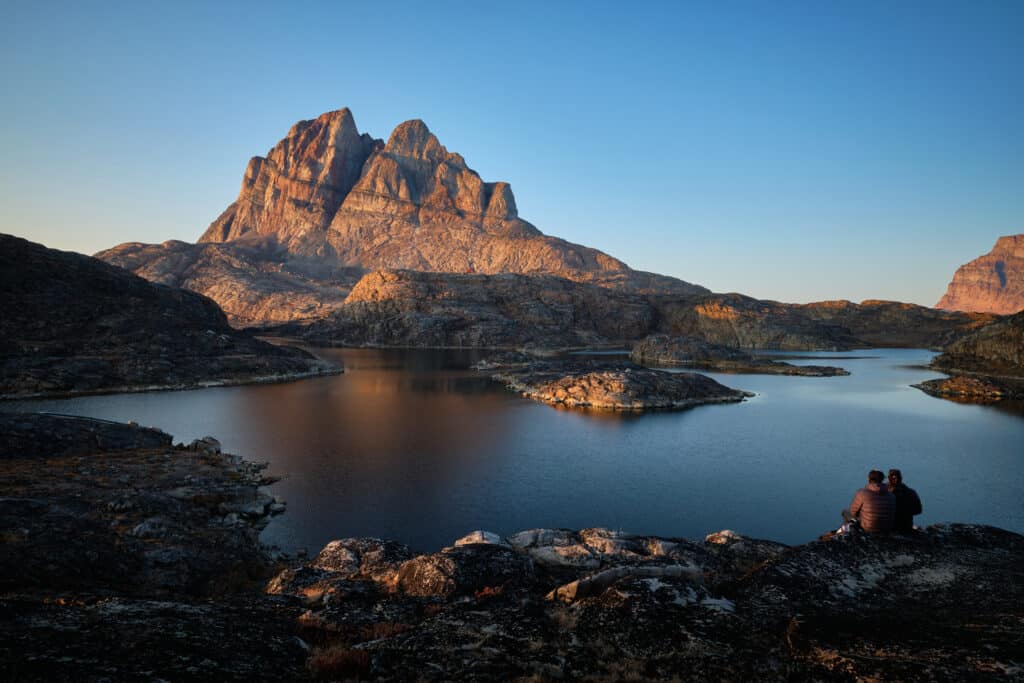 Traveling in Greenland is unlike almost anywhere else in the world. Internet is expensive, mobile phone coverage stops at the outskirts of each town, there are no roads between settlements, and flights are limited.
For these reasons, you can't just wing it as you normally do. Here are 6 tools that we find useful when traveling in Greenland.
---
---
Best map app for your phone
In a vast country like Greenland where internet access is either scarce or expensive, having an accurate, free, and fully-functional offline map is essential. While Google Maps is the most well-known and will work well in offline mode, our favorite is Maps.Me (iOS / Android).
Like Google Maps, this app shows accommodation, restaurants and cafes, viewpoints, places of interest (such as churches), shops, and quickest routes to get to where you are going. It also allows you to pin locations you are particularly interested in and add notes to those pins. Additional features include street numbers (usually) and footpath-only routes, which are extremely useful to discover shortcuts through the random placement of buildings in a Greenlandic town/settlement.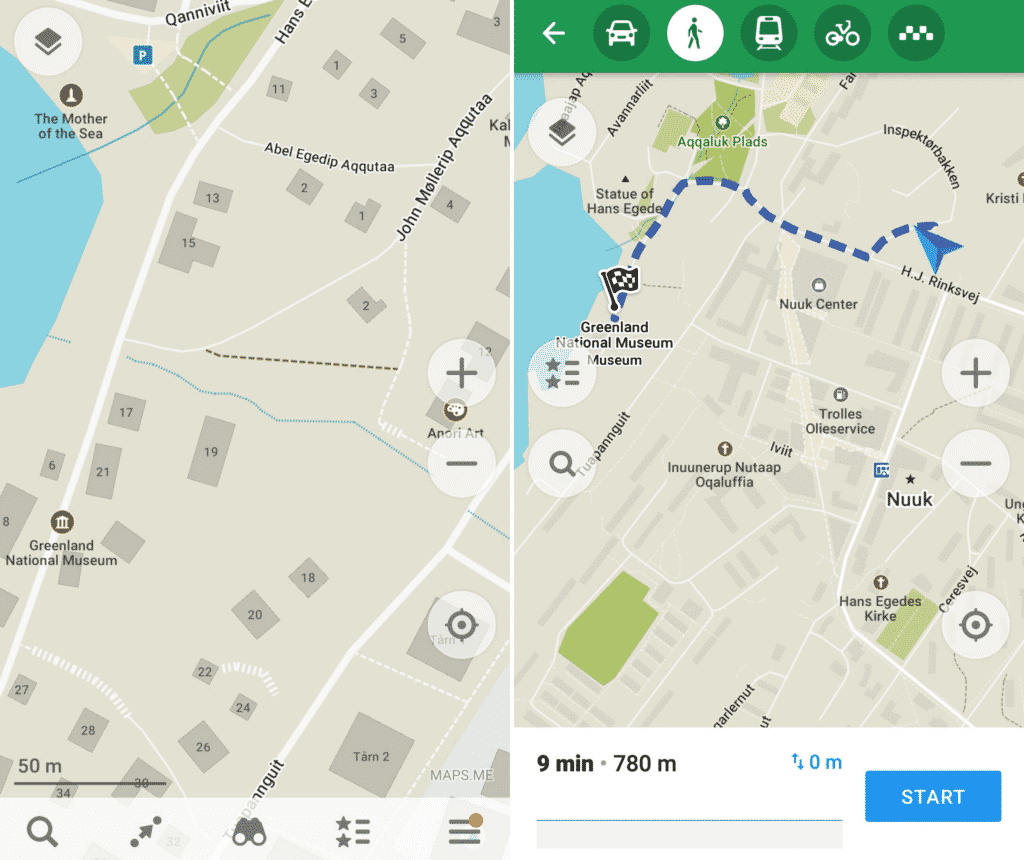 Another cool feature for those who enjoy hiking is that it also displays hiking trails! While not all trails are available (they must be contributed by users through the OpenSource platform), many of the most popular ones are shown.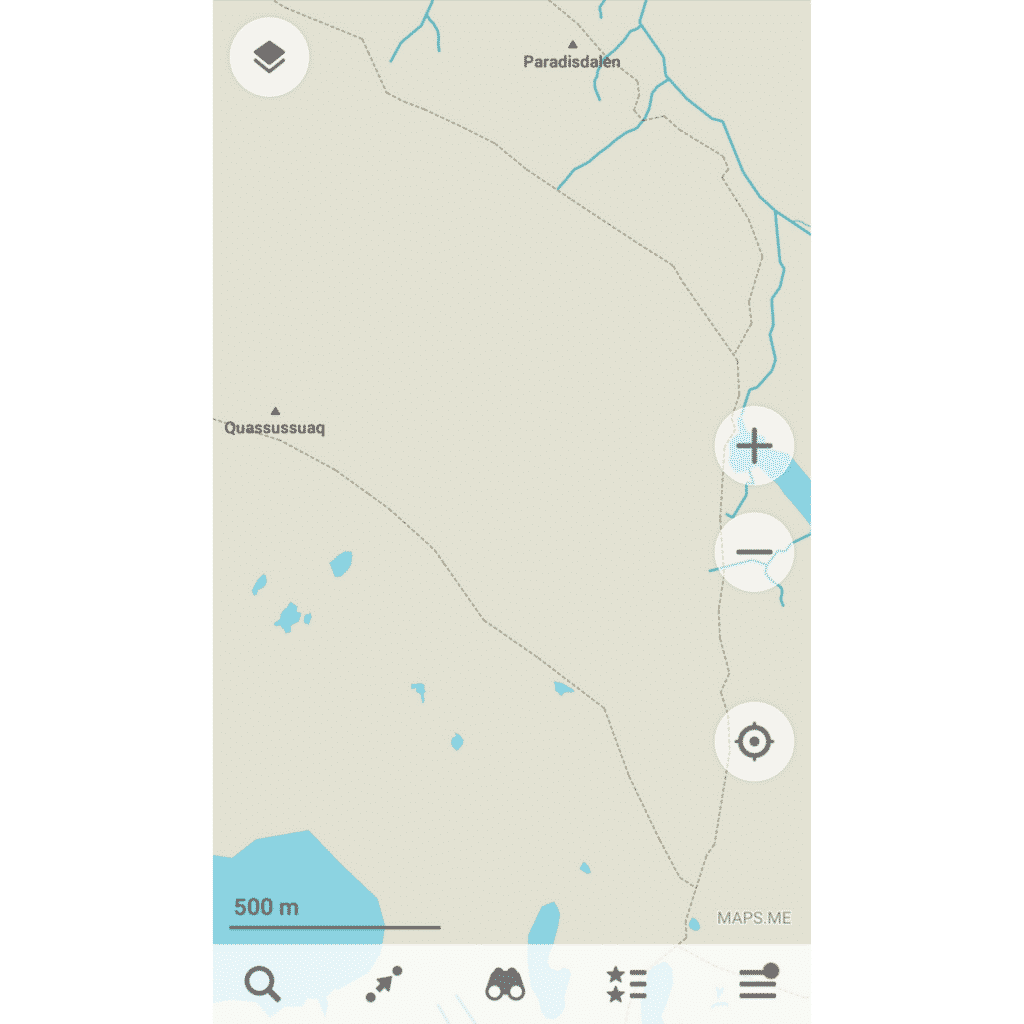 Make sure you download the appropriate map(s) for the different areas you are visiting before coming to Greenland and turn on your GPS while you are here. It will then serve as a great guide in your pocket to help you navigate as you travel.
Best weather apps to use for Greenland
What the weather is going to do is a key question asked by visitors and locals alike. Although the weather tends to be more stable than in Iceland, it is still very changeable, and keeping up to date is a good idea.
​Yr.no is from the Norwegian Meteorological Institute and can be accessed as either an app (iOS / Android) or a website. Most of the main towns of Greenland have their own entry (the weather varies considerably across the enormous island), and the information can be viewed as an immediate summary or as a several-day forecast.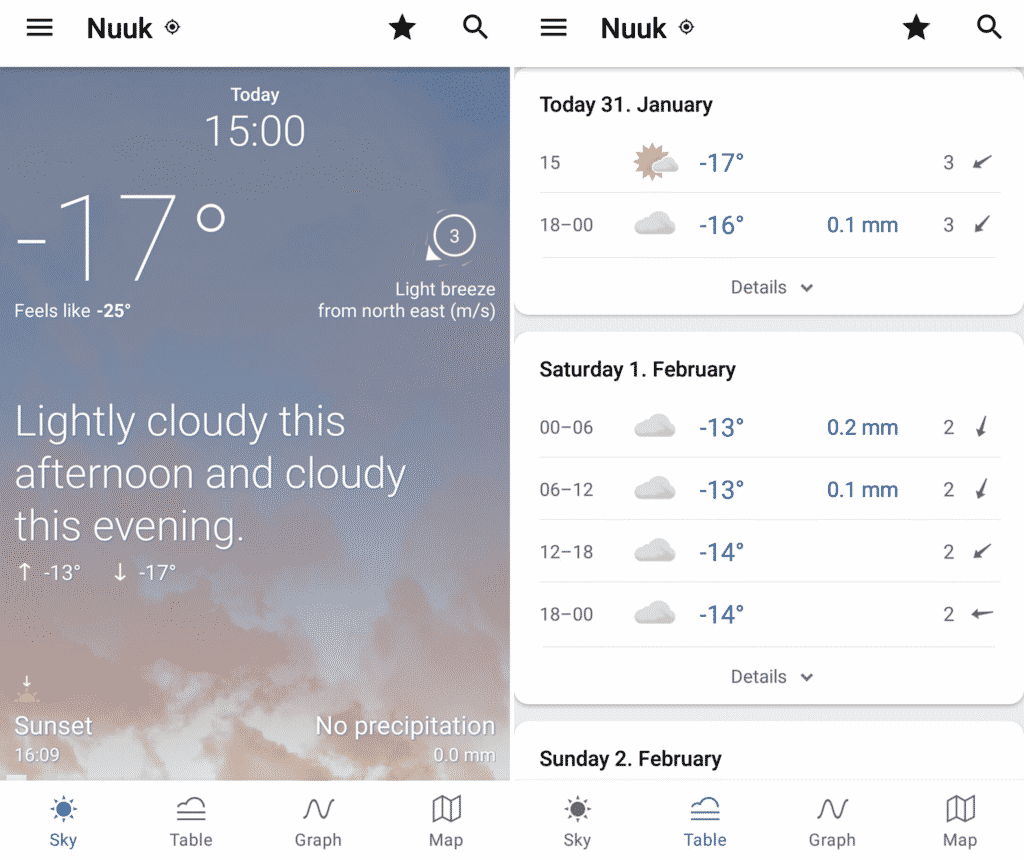 The website also shows average temperature and rainfall for each month of the year, and even has live webcams so you see exactly what it currently looks like outside.
Another, even more-detailed option is ​Windy.com (iOS / Android). This shows weather patterns in real-time, including wind speed and direction, cloud cover and type, and even waves!
It is very useful for kayakers, sailors, and pilots as it shows the wind at different heights and the direction of the wind in each fjord (they can be quite different).
You can spend hours playing with this website/app, and the level of detail you can get to is, quite frankly, staggering. You can also "fast forward" for several days to check out the upcoming weather.
Both the Yr.no and Windy apps require internet access to work, but if you get access – they are great for checking what is coming!
How to check your flight status in Greenland
Checking the status of your flight is something most of us now do when we travel. Is our plane going to arrive and depart on time? This becomes even more important in Greenland where it is relatively common for flights to be delayed or even canceled for the day due to weather.
---
---
There are two websites where you can check for the latest information.
If you are flying Air Greenland, their website contains the updated schedule of departures and arrivals for all locations in Greenland. Select your location to see all flights to and from that location, as well as their current status and expected arrival and departure times.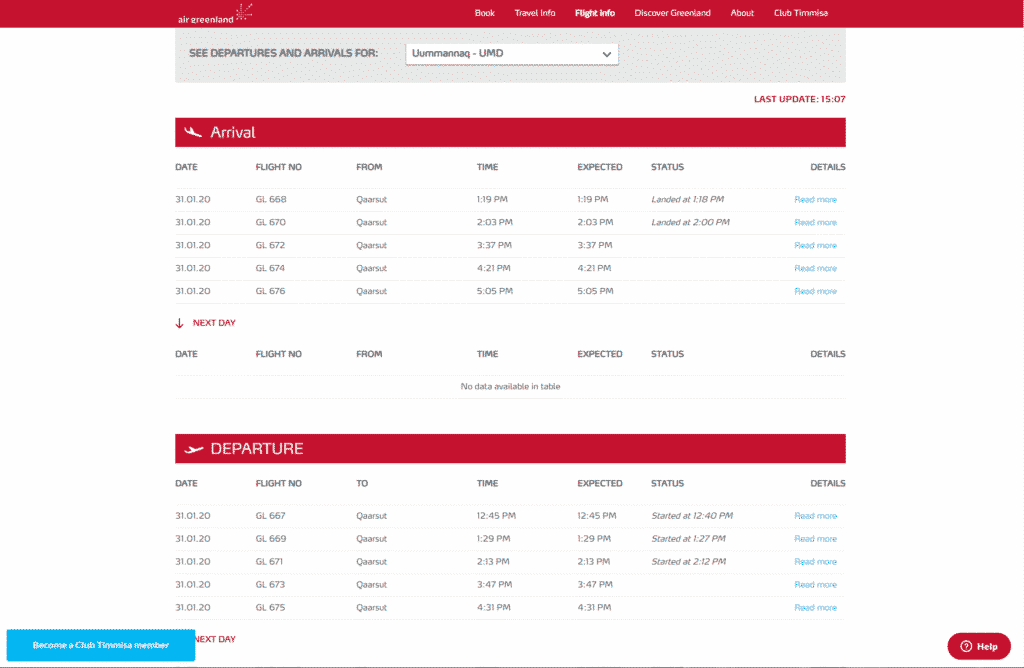 The other option (especially if you are not flying Air Greenland) is Flyinfo.gl. This is operated by the company that runs all of Greenland's airports. Again, select your location to find the most up-to-date information for your arrival/departure time.
Quick Danish lesson: Planlagt = planned, Forventet = expected
Best language app for Greenland
Since 2009, the official language of Greenland has been Kalaallisut – or Greenlandic (specifically West Greenlandic, there are 3 main dialects). Before then, Danish was the official language, so most people also speak this fluently. English comes in third and is quite prevalent – especially in the larger towns and in tourism situations. Greenlanders acknowledge that it is the language spoken most widely in the world, and schools are now starting to teach it from an early age.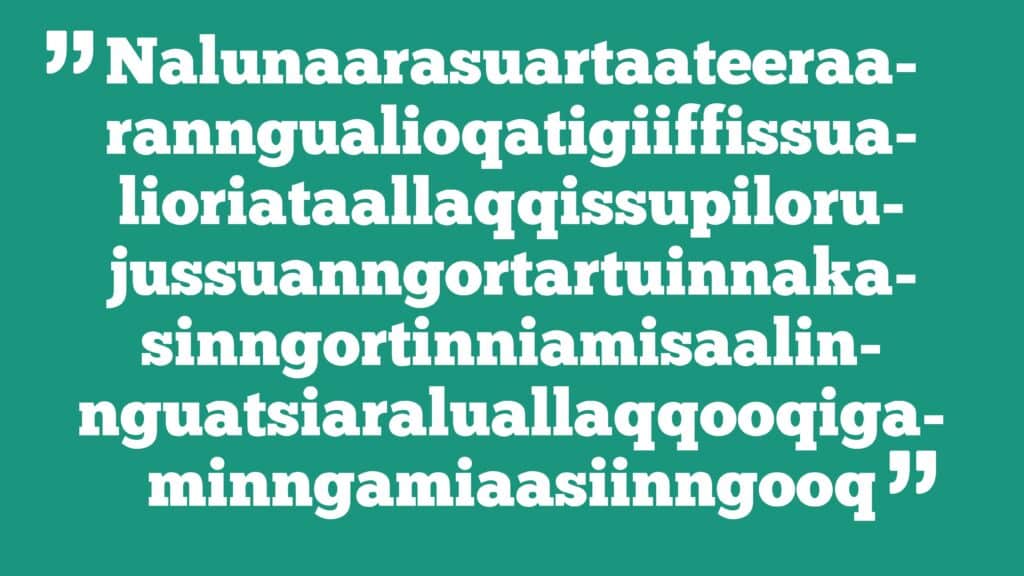 All that means that you shouldn't find it too hard to travel around Greenland. However, when confronted with rows of supermarket products or signage that exist only in Greenlandic and Danish – it is handy to have access to a translator.
Your best bet is to download the free Google Translate app (iOS/Android). While it knows nothing about Greenlandic, make sure you download the Danish dictionary for offline use before you travel. That way you can use it – even while offline.
There are several options to play with, but particularly useful is the option to enter text (the default), or a more imperfect (but easier) method is to use the camera of your phone for a real-time translation of whatever you point at (trust us, there are no "murdered places" in Nuuk!).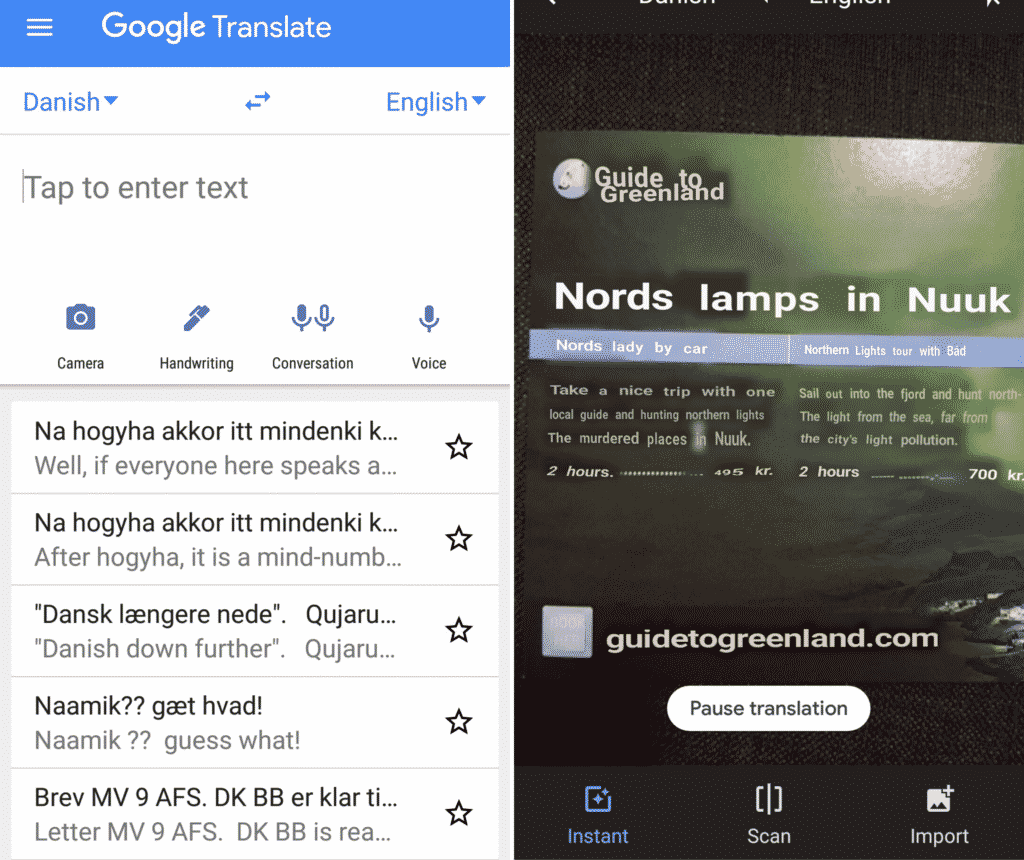 If you are interested in learning a little Greenlandic before you come – have a listen to our mini-course in Greenlandic on YouTube. Otherwise, the "Greenlandic for Travelers" book (available online from the Atuagkat bookstore) is your best choice. It is an English-Greenlandic phrasebook that demonstrates how to say each Greenlandic word using easily recognizable sounds from English.
Best app to check the visibility of Northern Lights
If you are visiting Greenland during Winter, one of the highlights will be to see the magical Northern Lights.
---
---
There are many apps that predict the possibility of seeing the Northern Lights on a particular night, but one of our favorites is the Northern Light Aurora Forecast (iOS/Android).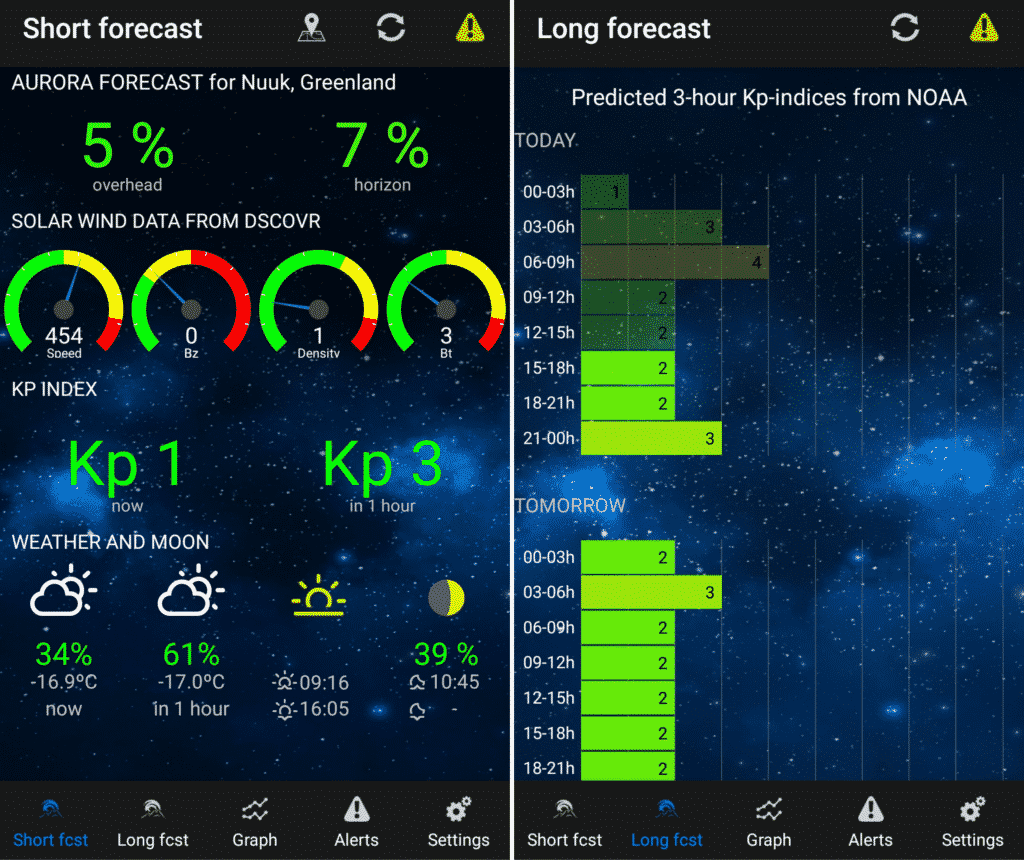 The most important information is:
the Kp number. Shown under "Short fcst", this indicates the probability of seeing the Northern Lights. A Kp=3 or higher is a good predictor of the Northern Lights being visible (assuming there are no clouds), but it is still possible to see them with a Kp of 1 or 2. They may also not appear at all, even with a high Kp number – it all depends on the weather in space.
The weather and moon. You will not see the Northern Lights if it is cloudy, as they are located several kilometers above the ground. They are also much more difficult to see (or need to be stronger in order to see them) if the moon is near full. In this case, their light is drowned out by the bright light of the moon.
the location of the Auroral oval. This is found under "Graph" and shows the location and strength of the Northern Lights in image form.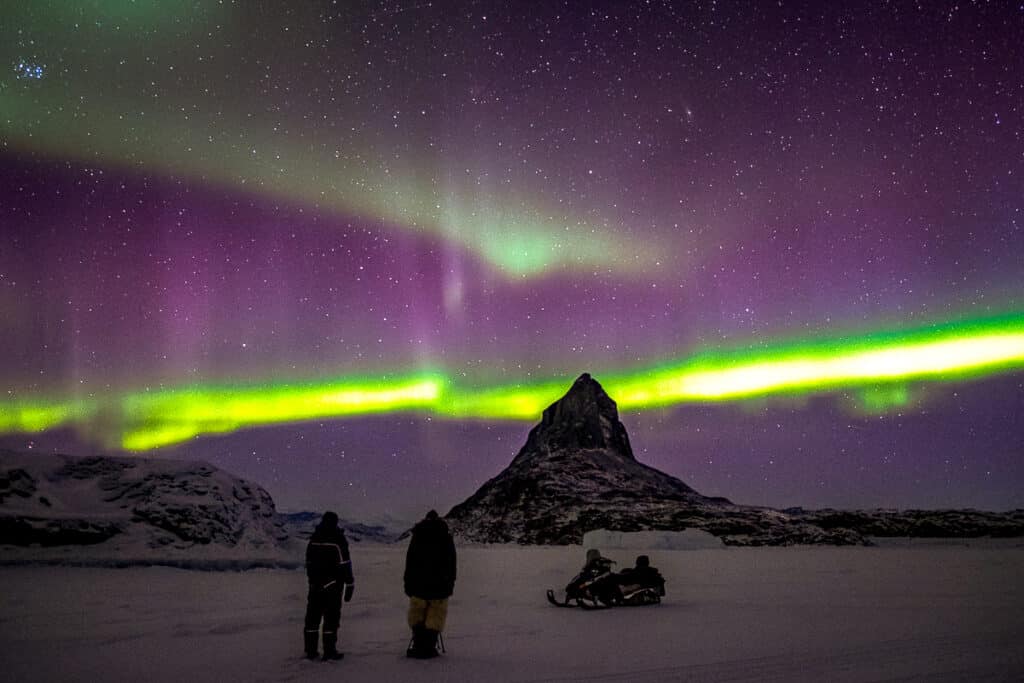 You will need to be connected to the internet or mobile data to access the current forecast, but you can see what the prediction is for days ahead under "Long fcst" (Note: extended forecasts are paid functions).
A website that offers the same information in a relatively easy to interpret manner is Aurora Service Europe.
Emergency numbers in Greenland
In the USA – we all know you dial 911. In Australia, it is 000. What is the emergency services number in Greenland?

No matter where you are or what your emergency is, you should call 112. This is the National Emergency Call Center which will either put you through immediately or contact the local authority (fire, ambulance, police) on your behalf.
For non-emergencies, Isaaffik is the best one-stop-shop for phone numbers for government and other services. Search or select the "Type" from the Infrastructure tab for whatever you need to obtain a list of relevant phone numbers.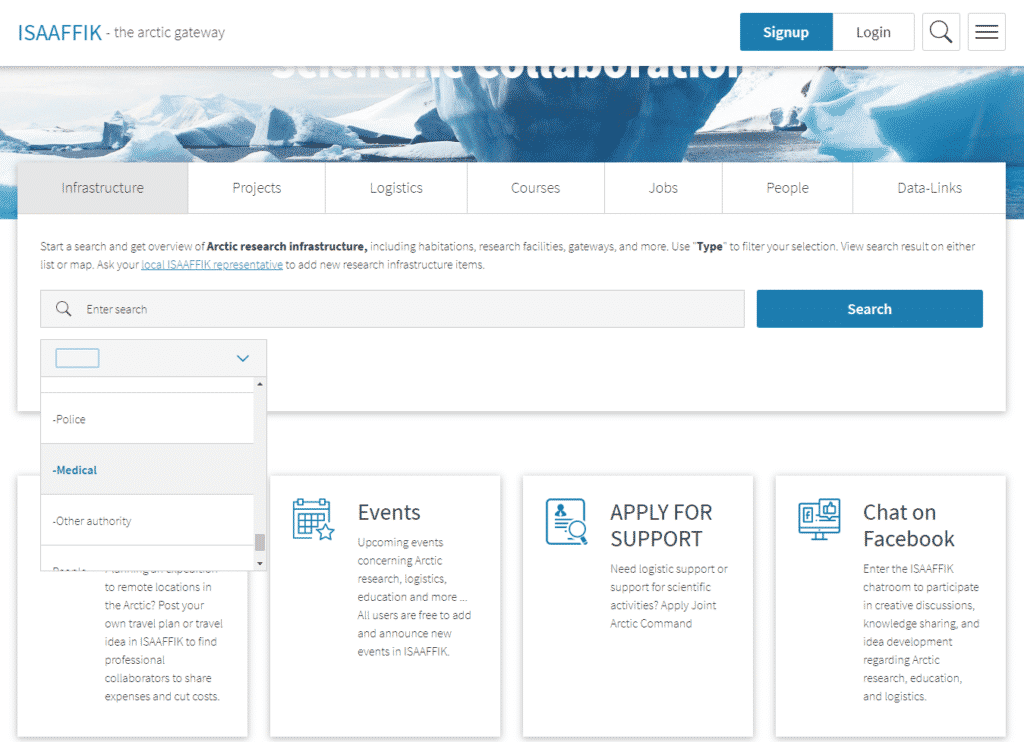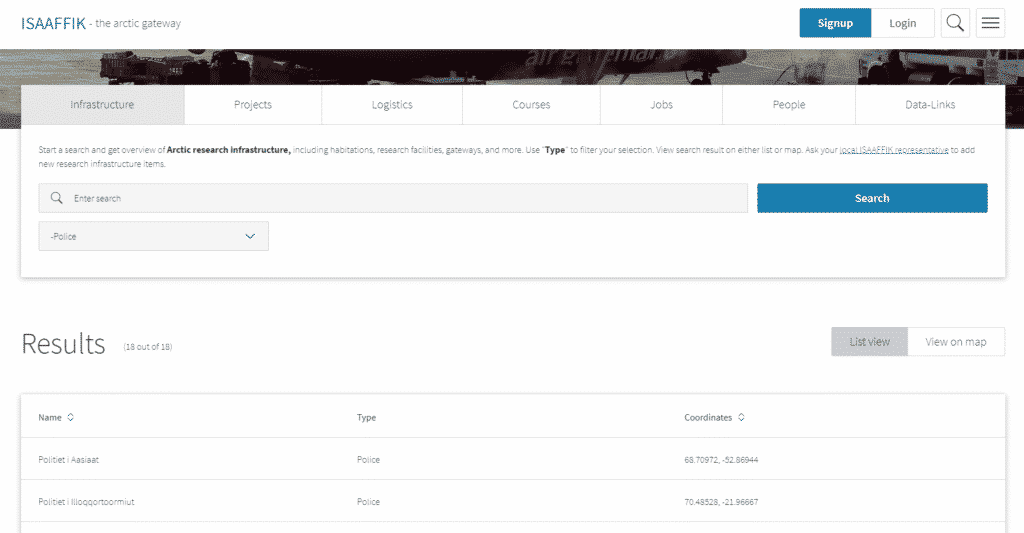 Best resources to start planning your trip
Few people know much about Greenland before planning to visit here on holiday.
To help get you started, we have put together "Ultimate Guides" to many of the largest population centers in the country. These are super-practical and cover everything you need to know including how to get there, where to sleep and eat, and what to do while you are visiting. We will be adding more in the near future but currently, there are guides for the following destinations:
Have a read and start planning. We look forward to welcoming you here in Greenland!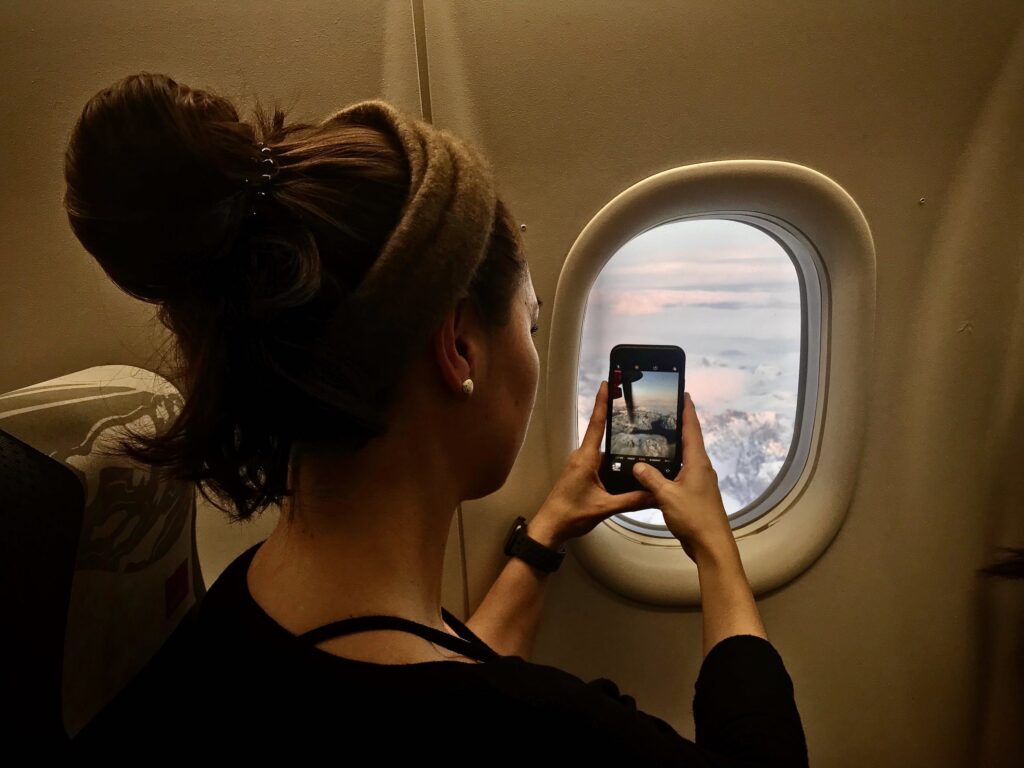 Thanks to Lasse Inuk Kyed for the original article on which this is based.
---
---
Other interesting articles