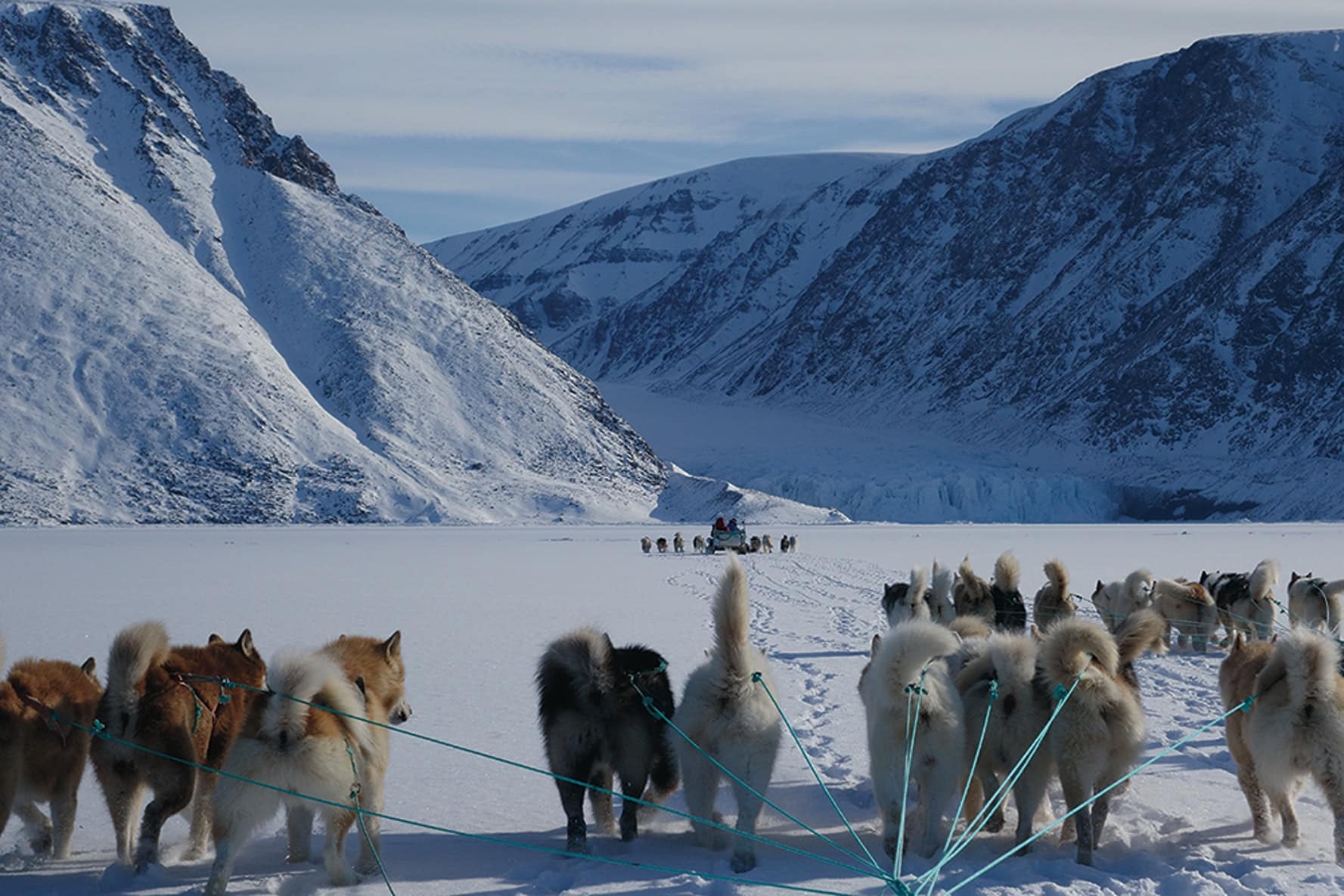 Korean living in Greenland
Kim Insuk is the only resident Korean in Greenland. Here she tells about some of her many experiences in the country she call her "second home".
I first visited Greenland in 2010 and have lived here since 2015, when I came back to start my second master's degree in West Nordic Studies at Ilisimatusarfik (University of Greenland). I write a blog in Korean and was found that way in January by a TV producer from South Korea, planning to produce a TV documentary about the Arctic, focused on animals, nature and people's lives by climate change. 
Tears of the Arctic
Nine years ago, a Korean broadcasting company made a TV documentary about the Arctic and climate change. The program was very successful in Korea, and it became a fine introduction to getting knowledge about the Arctic. The title of the documentary was »Tears of the Arctic,« and showed a quite dark side of the Arctic and Greenland. Because of this, Korean people still consider the Arctic an area with a lot of serious problems. Somehow it is true, but it is not that desperate.
Working with the Korean TV crew would be a good opportunity to show the Korean people what Greenland is like. The first shooting in Greenland kicked off mid-April and finished up in mid-May. Our tour started in Nuuk, through Ilulissat, all the way to Qaanaaq and then back south to Upernavik.
Modern Greenland

In Nuuk, they filmed the big grocery shops, Nuuk Shopping Center, modern buildings, the University, buses and traffic lights. There is so much evidence showing that people in Greenland do not live in igloos and that Greenland is not an island plagued by despair. 

Ilulissat Icefjord has been the only UNESCO World Heritage site in Greenland until recently. South Greenland just became one. We found some people who could take us sailing and tell us what the real situation of Greenland is. We spotted abandoned seal skin around the harbour. When the EU banned the import of seal products into the EU in 2009, the economic situation of seal hunters got worse. Even though the EU made an exception in 2015 for the seal products captured by the Inuit and indigenous communities, still a lot of people are not aware of the amended regulation. The EU failed to inform people about the new regulation. This is one of the reasons that the EU has a hard time getting observer status in the Arctic Council. After hunting the seals, many hunters in Ilulissat just take the meat from the seal because the seal skin is not worth anything anymore.
North Greenland

Then we headed to Qaanaaq, one of the most remote towns. Going there was not easy, as the flight was delayed for three days for various weather reasons. Here we went out seal hunting on a dog sled with three hunters, Naimanngitsoq, Niels and Aleqatsiaq Peary (Aleq). The day we planned to start our hunting trip, Aleq said that the weather looked like it would turn bad, so the hunters wanted to postpone our trip. My TV crew and I checked the weather forecast which seemed fine. However, the weather forecast was wrong and the hunters were right. Snow did not stop falling all day. We were fascinated by the sense of the hunters, and realized that their sense is better than the weather forecasts made by computers. 
On their first day of hunting, they caught a seal. Unlike whales or walrus in Greenland, the number of seals is not limited by the quota system. This is because seals are abundant. Seals have been a very important natural resource for the Greenlandic people. Not only the meat but also the skin and even the bones have been used in everyday life. For Greenlandic people, there is no animal more sustainable than seals. Naimanngitsoq said that when the EU banned the import of seal products, hunters' income drastically decreased. Since then, the number of hunters has decreased as well. EU is affecting not only on the economy but also the hunting culture. The hunters tell their children that they should get an education and get a better job than hunting. Aleq said that they might be the last generation of hunters in Qaanaaq. He added "Look at us. We couldn't go out hunting in time, and now we are stuck in a blizzard. We don't have to be limited by any quota. Nature is already controlling us!"
Unexpected meeting
We dropped by Upernavik on our way down from Qaanaaq to Nuuk. Here we met a Greenlandic girl who is very interested in Korea, and she took us to the most beautiful places. She had taught herself some Korean and introduced me to a group of girls who are interested in not only K-pop but also Korean culture and food.
After one month of traveling with the Korean TV documentary crew, I safely returned to Nuuk. This summer, we are going to film »Summer in Greenland«, and I look forward to revisit all these amazing places.
All over Greenland, people were truly welcoming and very helpful. Life as the only Korean on the world's largest island is giving me a lot of opportunities. I have had so many new experiences that I have never had before. Everyday life here is quite different from the one in Korea, and I learn new things every day. I feel that I found my second home in Greenland.
Insuk's BLOG – here on Guide to Greenland – Insights and photos from both everyday life and exiting adventures.
Read more travel blogs from Insuk Kim
Other interesting travel blogs