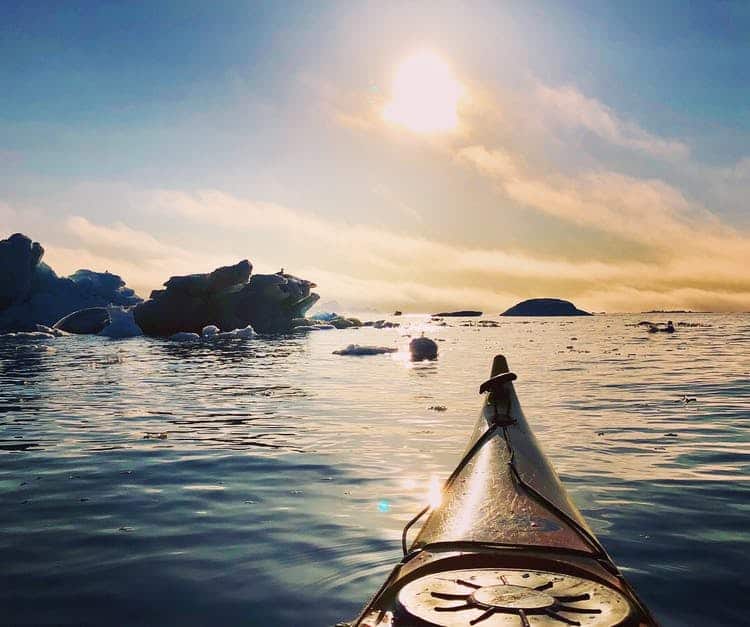 Amazing kayak tour among the icebergs
Paddling among the icebergs is really an amazing feeling!
I have been out several times here in Ilulissat, "The town of the icebergs" and this time it was cloudy with the sun coming through here and there.
The clouds make the ice look bluer and you get to see the contrast a lot better.
This kayak tour lasts about 2-3 hours and everyone can go on this excursion even without any experience. You go to the little red house, take your shoes off, get the suits and the guide will guide you all the way. When you get to the shore he will give you a safety briefing before letting you out in your kayak. The guide will take care of you the whole tour.
So just bring the adventures side of you and your sunscreen, and you are good to go! 😉
So beautiful and calm. A perfect place to be in the present, and enjoy it! I am always a bit scared when I go in the kayak because I have had a bad experience with water as a child, but once I am its like I release everything except for joy 🙂
This is something!! Zigzagging among the ice, the calm and quietness. Just you and your kayak middle of the big disco bay sea and the whales blowing air in the far. This is a perfect place and a special moment you will remember for life. At least I will! 🙂
---
You can read more about Ilulissat in our Ultimate Guide to Ilulissat .
Book you next stand up paddleboard (SUP) or kayaking experience here.
Other interesting travel blogs