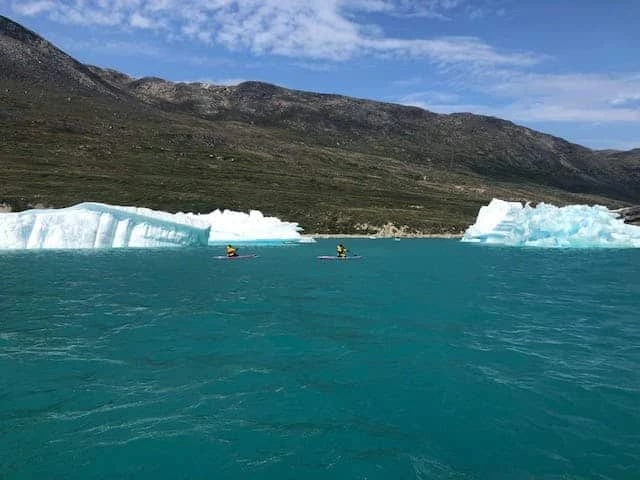 Trying SUP for the first time in Nuuk icefjord
Stand up paddleboarding was more challenging than expected, mostly because of the wind I guess, but it turned out more like sit down paddleboarding instead… But it was still very fun!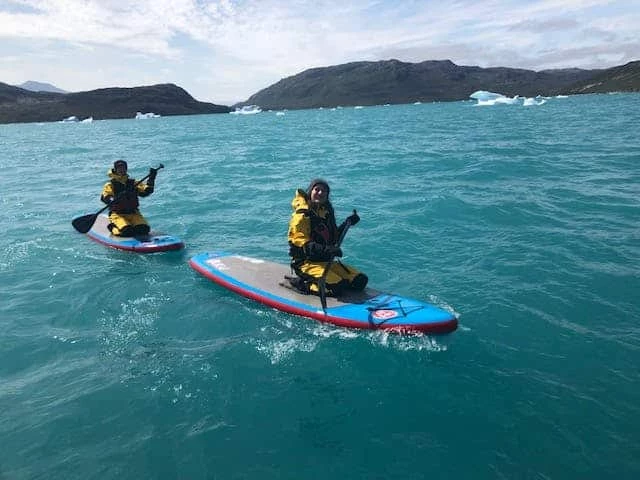 The tour started by the harbor in Nuuk Centrum and we settled down in the boat.
In about two hours we would be in the icefjord. I noticed as we got closer to the icefjord that more icebergs appeared in all kinds of shapes and sizes, and the sun started breaking through the clouds as well.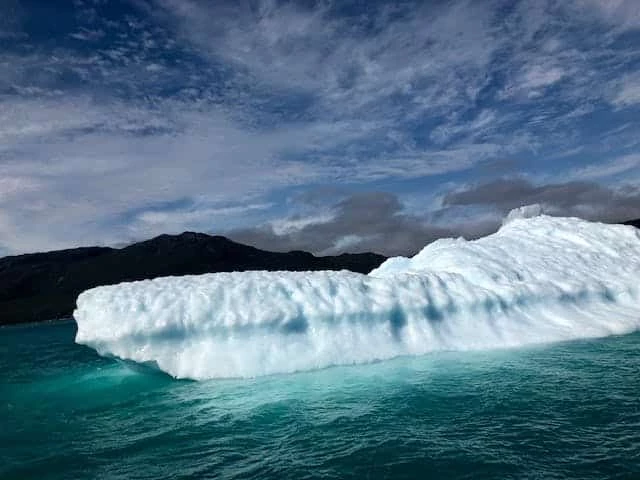 Despite the sun, it was pretty windy so we had to find a spot where the waves weren't that big so we could practice.
As we started to get ready I asked the captain if anyone has ever fallen off in the water, and the answer wasn't making me less worried as he said that it happened many times… But I have decided that I was doing this anyway so there was no reason to hesitate.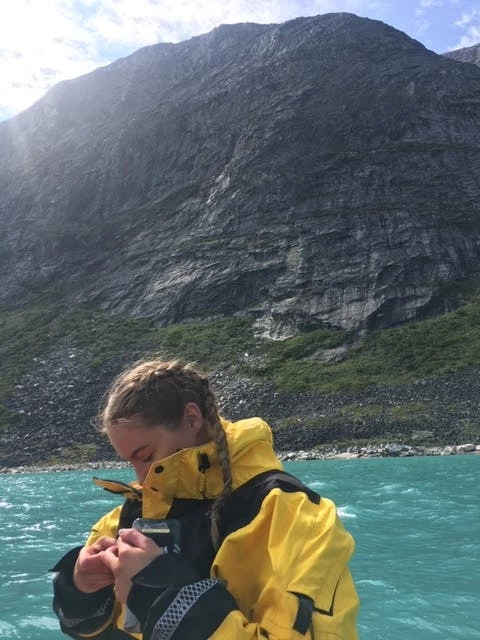 We put on waterproof suits and started to inflate the paddleboards. The crew gave us some basic instructions and we were ready to go.
As I got on the paddleboard, I noticed that it wasn't that hard to keep balance, but I preferred to sit anyway.
After some practice, we went towards the icebergs where the waves were a bit bigger.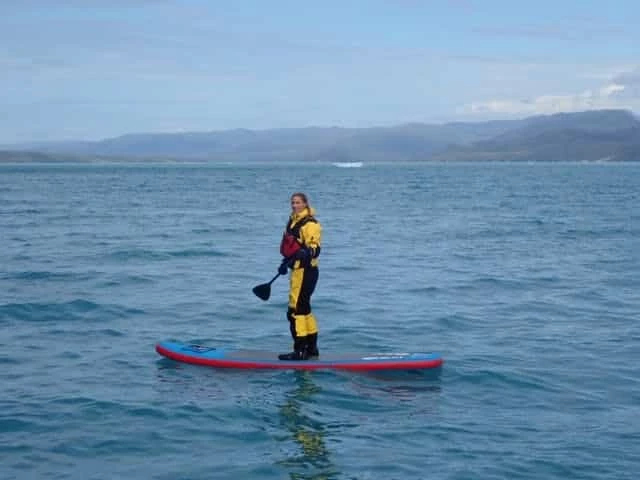 It was a majestic feeling to paddle through big icebergs.
We saw ice breaking off the icebergs and falling into the water and the big icebergs turning around. That could be pretty scary when they started to turn toward us. We kept a safe distance, but we had to paddle fast to not crash in any icebergs.
As you may guess, my arm muscles are a bit sore today…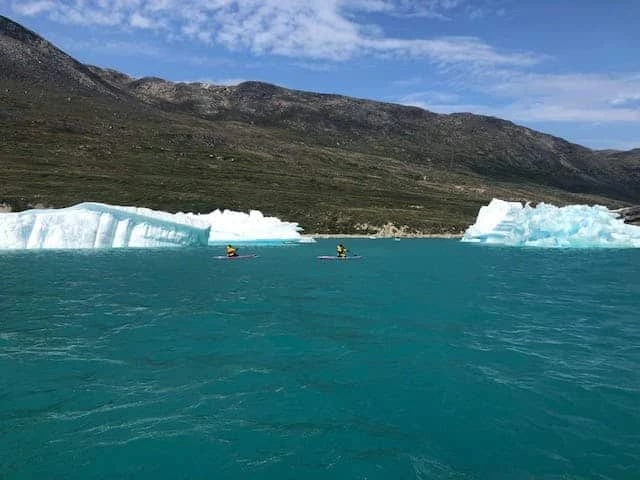 We got back in the boat and sailed to another spot where it was calm water.
Even though I wanted to keep paddling among the icebergs, I understood that it could be dangerous and the crew didn't want to risk anything.
The second spot was beautiful as well! The water was light and blue and the sun was still shining. At that point, the weather was so nice that I kinda wanted to jump in the water.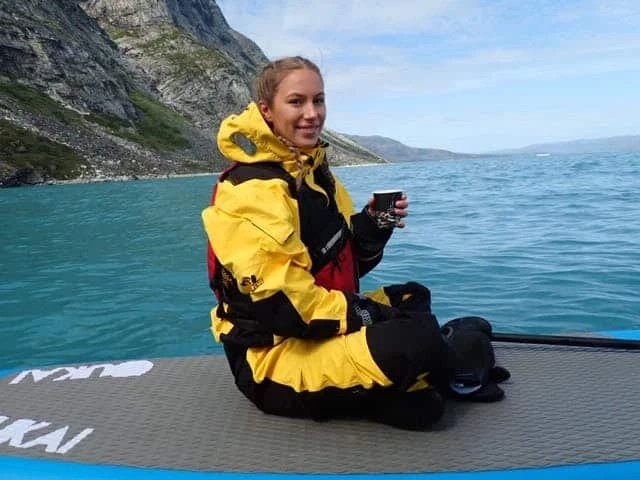 After paddling for about 3 hours maybe, we were exhausted and ready to get back home.
The boat trip back itself was a great experience with so many beautiful icebergs! And I even saw a seal relaxing on one of the icebergs which slid down in the water as we drove past it. Unfortunately, I was too slow to take a picture of it…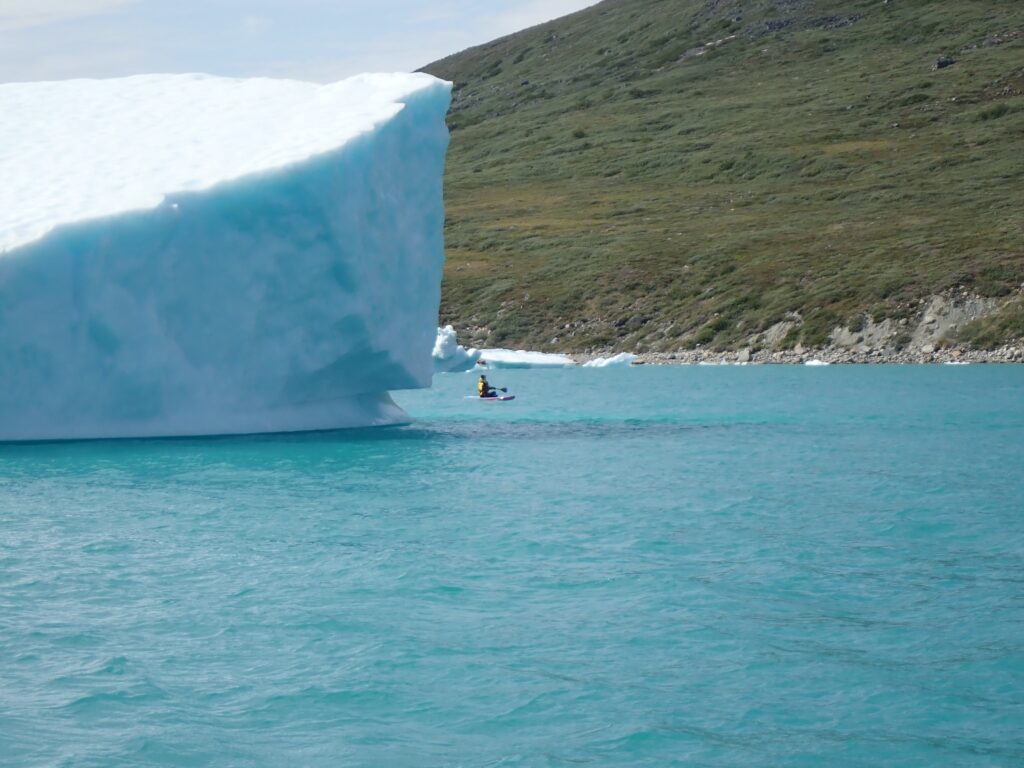 It was really fun to do this, and I would definitely do it again, but when it's not that windy so I can paddle around the icebergs without needing to paddle fast to not crash in any of them. And it would be cool to paddleboard some of the other places in Greenland as well!
Take a look at the paddleboarding and kayaking options in Greenland here!
Read more travel blogs from Ina Andersson
Other interesting travel blogs