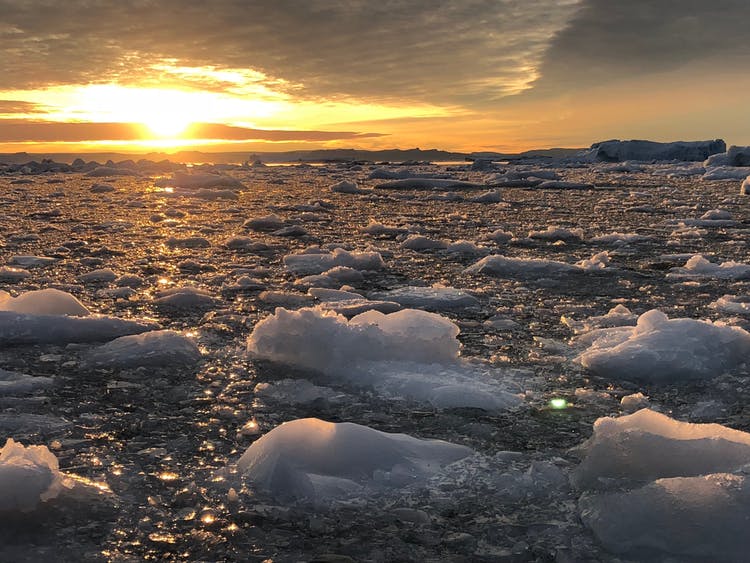 Being close to the sea and the icebergs
The amazing icefiord!
I can´t get enough of it, and I keep taking a bunch of pictures each time I am out every summer! This is my 11th summer here in Ilulissat, so you can imagine how many pictures my hard desk has of these icebergs 🙂
A boat tour among the icebergs is a must while visiting Ilulissat!
A classic picture of the red vessel among the icebergs. So old and cute of a boat, and it's so cosy to be on one. But this time I was on a Zodiac boat, which we were invited to by our friend.
It is a special experience to be on a zodiac, more adventures and closer to the sea so you sense the sea more than when you are on a bigger boat. It is colder, so they actually give you a suit before departure which can also float if needed.
My colleague and I enjoying the hot chocolate that they serve on board.
After a busy day at work, is hot chocolate and a cold beautiful evening at the sea the best thing you can treat yourself with. And you also get an extra good night sleep.
There are so many different shaped icebergs. So beautiful!
Another beautiful sunset picture.
This summer has been a bit more cloudy and rainy in Greenland, while Europe has had all the sunny and dry days. So whenever we have had sunny days we have been out on an excursion or just gone to the top of a mountain and enjoyed these colourful sunsets.
---
Read more about Ilulissat in our Ultimate Travel Guide to Ilulissat.
For an opportunity to experience the beautiful midnight sun, check it out here.
For booking boat tours in Ilulissat, check out our website here.
Other interesting travel blogs