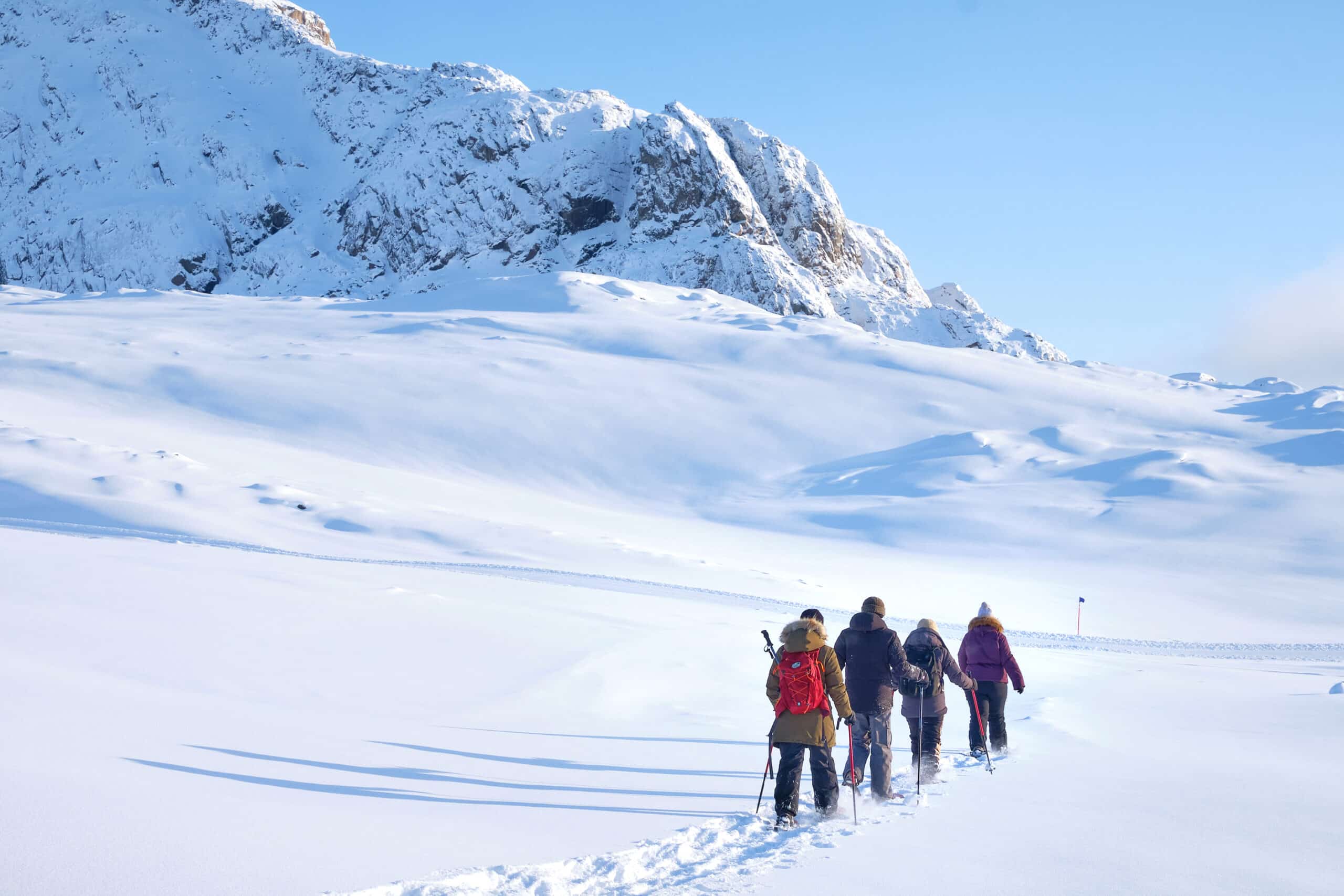 Snowshoeing in Sisimiut
For keen hikers, Sisimiut's amazing backcountry turns into a snowshoeing paradise during the winter. Even a relatively short snowshoe excursion offers fantastic views of snowy mountains and the glistening ocean.
Brilliant blue skies meant that the temperature was about -20 degrees Celsius outside. Despite the cold, it was a glorious February day and I was looking forward to my snowshoe adventure with the Hotel Sisimiut.
We met at the hotel's reception and walked out to where Café Naapiffik is located on the other side of the large lake – Nalunnguarfik. There we donned our snowshoes (with extra assistance for those who had never snowshoed before)
and headed off into the white wilderness.
Snowshoe adventure
Our guide held a good pace that allowed everyone to keep up while also stopping to take photographs, and also told us a little about the area around Sisimiut.
It was perfect snowshoeing! With powder snow creating a blank canvas upon which we drew the tracks of our adventure.
Occasionally, we would come across machine-graded "highways". Sisimiut is famous for hosting the world's toughest ski race – the Arctic Circle Race – and every year, extensive ski routes are groomed to enable this international cross-country ski event.
Every step of the way offered gorgeous views – from the low sun over the ocean
to the pristine mountains, aglow with the sun's final rays for this day.
We enjoyed a picnic of muesli bars and hot Ribena overlooking the ocean at the furthest point of our trek,
Before completing a circuit to bring us back to the hotel.
We were out for about 3 hours in total, and despite the frigid temperature, were never cold … unless we stopped moving. It's amazing what exercising does to ward off the cold, and it is also for this reason that our little picnic was quite short.
Plan your trip to Sisimiut
The snowshoeing adventure with Hotel Sisimiut and Tours is a great way to get out and explore the Sisimiut backcountry on foot during the winter. If you've never given snowshoeing a go – I encourage you to do so. It's not much different from walking, and you get used to the "tennis rackets" (as my Dad calls them, even though modern snowshoes look nothing like tennis rackets) very quickly.
This is just one of the many opportunities to enjoy Greenland's second-largest town during the winter – so check out the following resources.
---
---
Read more travel blogs from Lisa Germany
Other interesting travel blogs