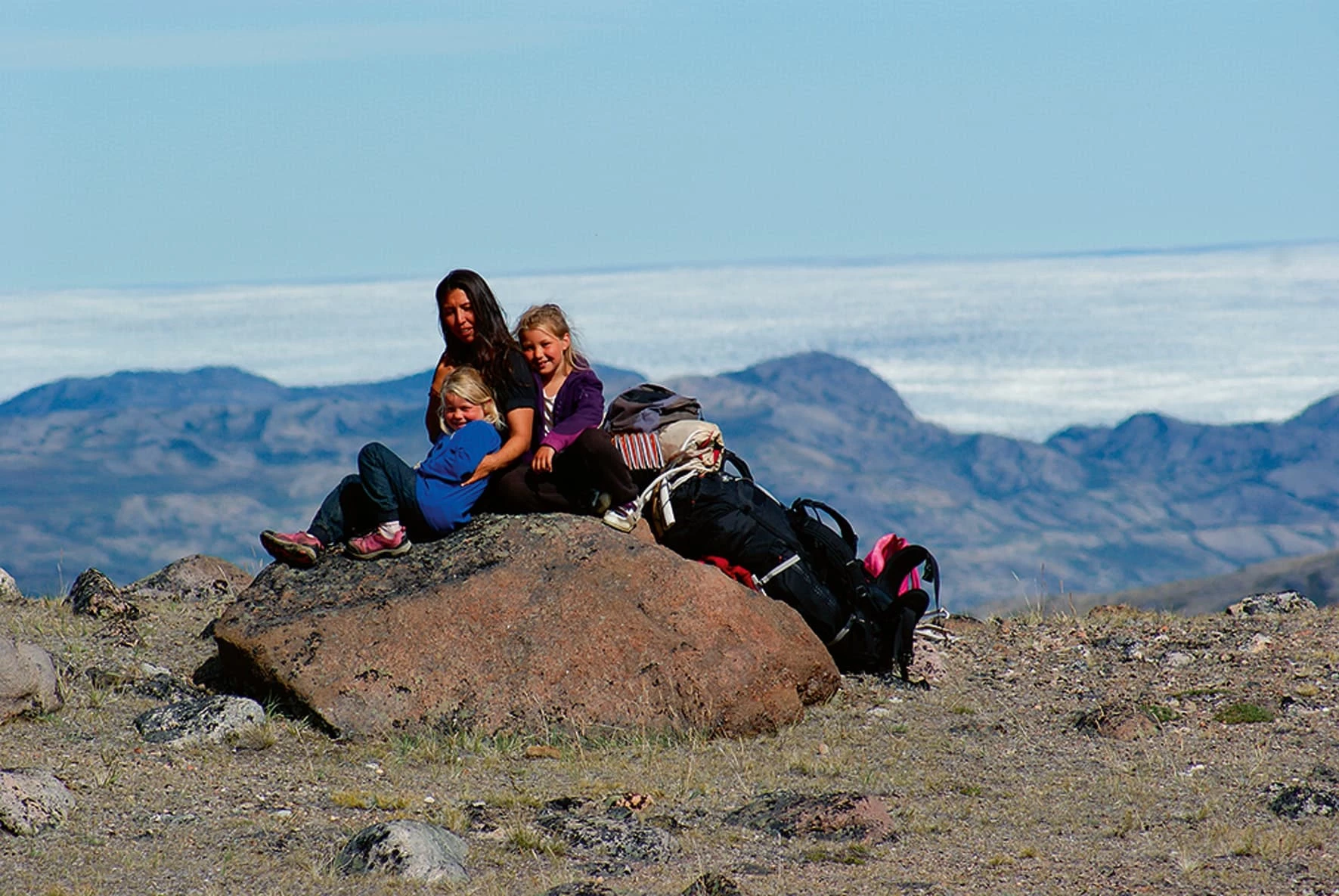 Camping with children in Greenland
As soon as the aircraft arrived at Kangerlussuaq in the morning, we went over to the local store to buy provisions. Then we took a taxi as far out as you can drive, to Tasersuatsiaq (Lake Ferguson). 
We wanted to sleep in the tent from day one and on the map, we had found a campsite located at the other side of the lake that we could easily reach on the first day. To make the hike as much fun and as exciting as possible, we took breaks at short intervals and the girls found it interesting that the water was so clear that you could lie down and drink from the lake.
The camp in West Greenland
The girls managed the tour very well, particularly when you think that they had started the day early and travelled from Denmark. 
Our campsite was next to a stream with a wonderful view of Tasersuatsiaq. The stream gave us water for drinking, cooking, washing-up and personal washing and in addition, functioned as a refrigerator, because we put our two waterproof bags into the stream, to cool our food supplies. 
Many people think this would not be a problem in Greenland, but there are many days in the mountains when the temperature reaches more than 20˚C. 
Greenlandic Water World
The girls spent the first days taking ownership of the place. The stream was some-thing special and each day they discovered something new there. It was a very special stream, smiles Jens-Pavia. 
There were two good, flat rocks to stand on in the stream. We used one when we washed up and collected water and the other when we washed and bathed ourselves. 
The girls threw sticks and leaves into the water where a whirl pulled them under the rocks and they guessed where the things would turn up again. 
Another place in the stream had a natural »bathing pool« with rocks and a sandy bottom and a »water slide« on a slippery rock with seaweed-like plants that provided good speed. 
Time flies in Greenland
The first 14 days passed quickly. Without TV, computers and games the girls had to use their imaginations and they found various branches, reindeer antlers and musk ox horns, all of which were good to play with. 
After two weeks in the same place, we knew the camp and its surroundings so well, that we wanted to see something else. We spent a day scouting to find a site for our new camp and made several trips back to pick up our stuff. We laid out markers using antlers and rocks so that the girls could find their way, turning the trip into a small treasure hunt.
 On one of our walks, there was a very inquisitive reindeer. Until then, we had only seen one in the distance, but we had seen plenty of musk oxen. The girls were able to get very close to the reindeer, before it slowly went on its way.
The influence of nature in Greenland
It was lovely to see how the children's imagination flourished during the trip. At home, they could become bored in a room filled with toys. Here, we never heard that they were bored. The mountains, rocks, the streams, reindeer antlers and what they could otherwise find outdoors became, with their imagination, the best toys. For example, they dis-covered that the fluffy heads from cotton grass would stick in the mud, becoming »dangerous polar bears« with cotton grass fur.
One evening, Liva performed for us as Felix Bluff – a very unfortunate magician. She had never done this at home, but something about these surroundings gave her courage.
The most surprising thing, was that the girls did not tire of each other, although they were together from morning to evening. We had a back-up plan to go to Kangerlussuaq occasionally so they could play with other children, but it was not necessary, concludes Jens-Pavia.
Camping life in Greenland
There are many practical chores when you live outdoors. We had to collect firewood and do the cooking over an open fire, we had to fetch water and pick berries and mushrooms.
We played cards, explored, read and told stories and talked a lot – which we do not always do on a daily basis or on other types of holiday.
We probably had too little sleep, because it was light round the clock, but we had a great holiday, away from television, computers, mobile phones and all the other things that usually take so much of our attention.
We were together in a different way and we will definitely go camping again in Greenland.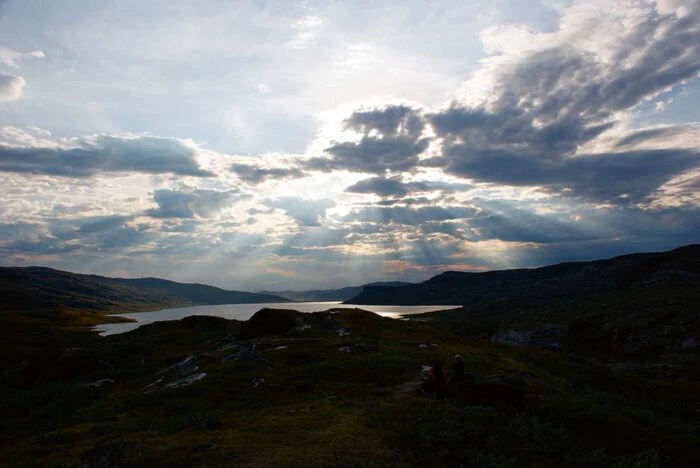 Read more travel blogs from Mads Nordlund
Other interesting travel blogs