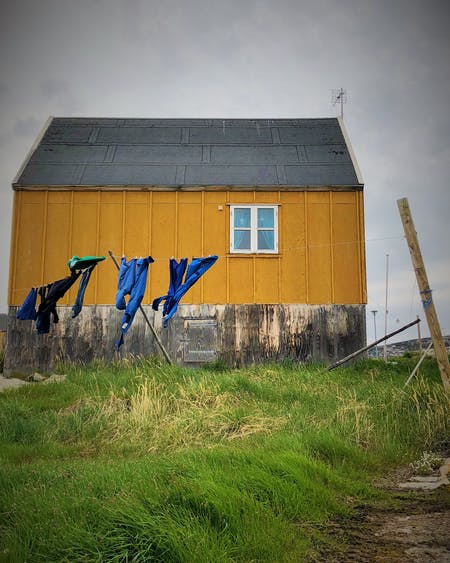 Ilimanaq – A Village Experience
Ilimanaq is one of the smallest villages in Disco Bay, located 15 kilometers south of Ilulissat. It has appr. 50 inhabitants and a small school with 10 students. It is a special experience to visit this charming place.
You have to sail to get to the settlement, and if you leave from Ilulissat you sail through the mouth of the ice fiord, which is the UNESCO world heritage site. In Ilimanaq you can come and explore nature and stay in huts with the best sea view.
Last year 15 luxury huts in Ilimanaq opened, which created tourism in this amazing place. These 15 huts are located right at the waterfront with a great view! You can sit on the terrace with your morning coffee or evening glass of wine while watching whales and fishermen passing by.
Ilimanaq Lodge is the result of collaboration between three parties. And what a great idea this was.
The huts are 40 square meters and contain a nice bath, a toilet, and modern furniture.
These huts have everything you need. A great view from the couch, the terrace, and even from your bed on the first floor.
All the huts have a sea view, and here you can enjoy the sun all day and night with the whales passing by once in a while.
The lodges are designed in such a simple and beautiful style. It's a very calm environment.
Each hut is equipped with solar panels which are very effective with the midnight sun throughout the summer.
The settlement of Ilimanaq
The settlement has two old buildings which they have restored. One of the buildings is today used as a reception with a conference room on the first floor, while the second one is a very nice restaurant with a great sea view. It is also possible just to visit Ilimanaq on a day tour, with the possibility to have lunch and dinner at the restaurant, and the food is amazing! They serve freshly caught fish from the bay, and reindeer or/and musk ox served with vegetables and some local spices. 
These two buildings are from the 1800 but are newly renovated and are now used as a tourist office (closest in the picture) and a restaurant with very delicious Greenlandic dishes.
---
For tours to Ilimanaq check out our tours here.
Interested in reading more about the lodges, click here.
Other interesting travel blogs