The Hotel Icefiord is one of the best accommodation options for travellers visiting Greenland's most popular destination – the Ilulissat Icefjord. Read on to discover this amazing hotel with its front row seat to Disko Bay.
4 years-ago when I started to travel full-time, I quickly realized that I would need to sleep cheaply so I could save my money for the more interesting aspects of my journey. After a 20-year absence, I discovered that the hostels of today are vastly different to the hostels of the early 90s/00s, and embraced hostel dorm rooms as the key to long-term travel. With earplugs, of course.
I therefore jumped at the opportunity to spend 2 nights at the Hotel Icefiord on my last visit to Ilulissat. A rare indulgence that provided a perfect end to my trip.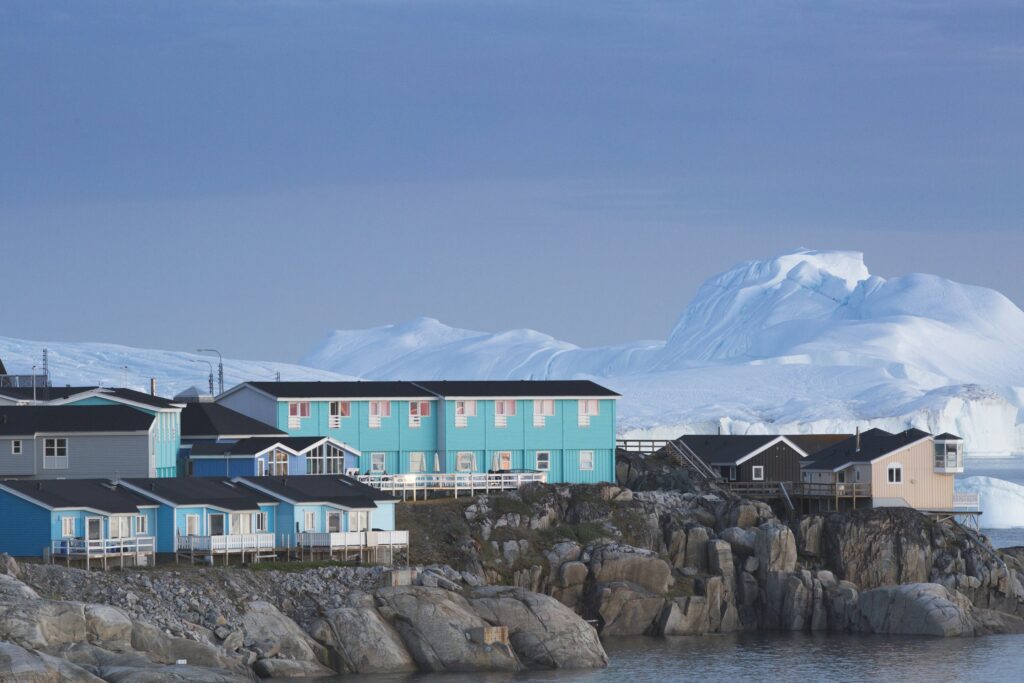 The rooms at Hotel Icefiord
Walking into my room, I was in heaven! A nicely decorated private space with a large, plush bed, awesome shower, tea and coffee making facilities, TV, and an amazing view outside. I left my earplugs in my bag…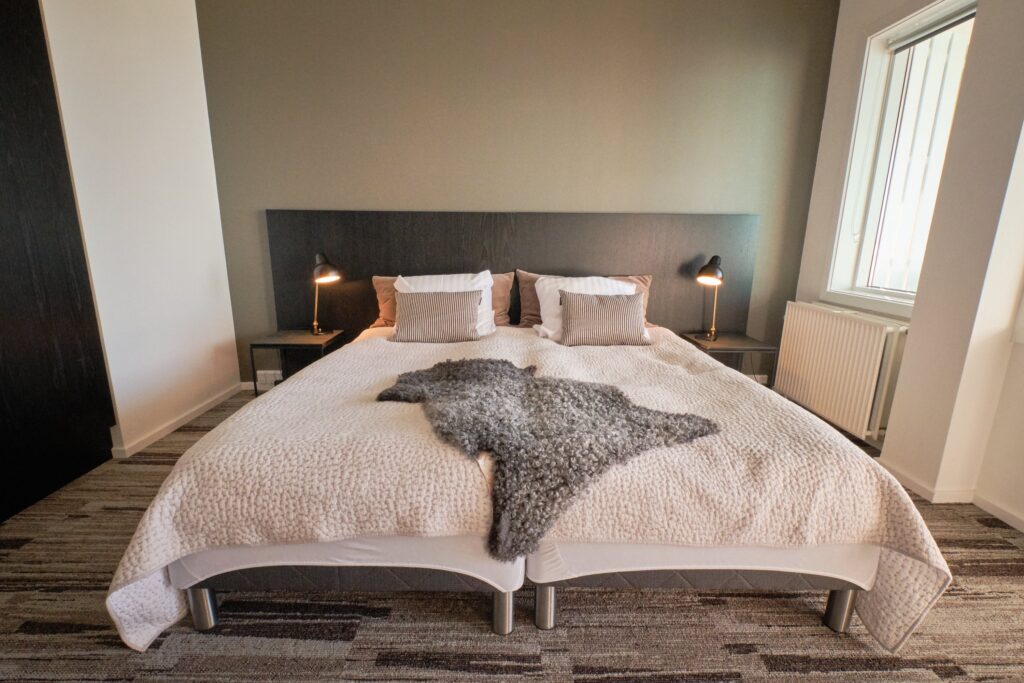 And while this was more than enough for me, the hotel also offers suites and several different type of apartments as options for their guests.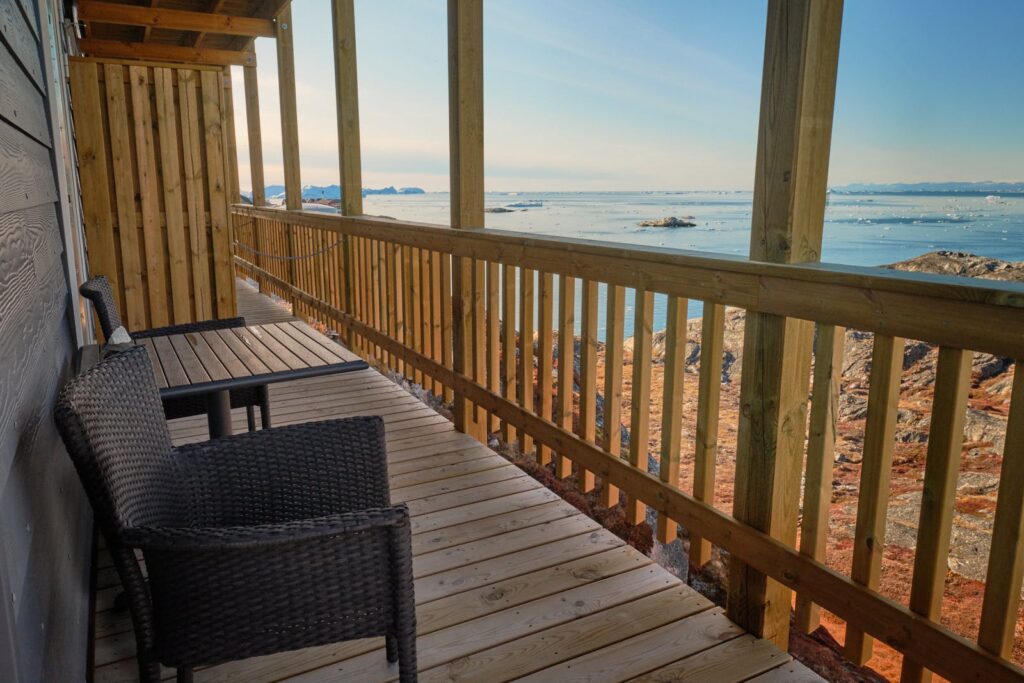 Restaurant Icefiord
After a full day exploring the Ilulissat Icefjord, I indulged further with a 3-course meal at the hotel's top-quality restaurant – Restaurant Icefiord.
---
---
The views are unbeatable!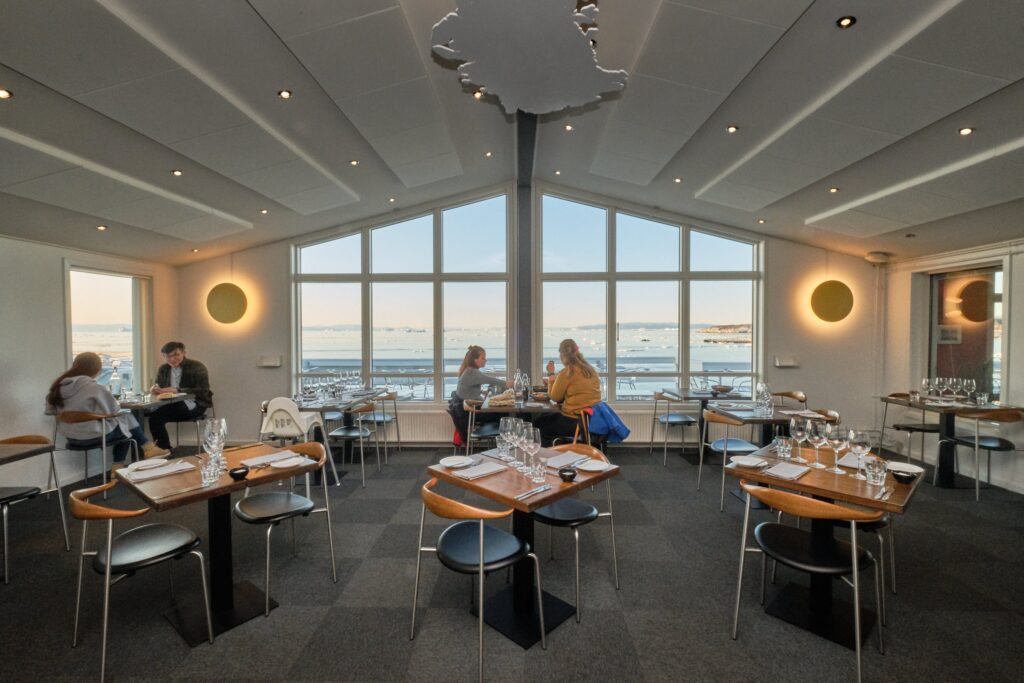 It was too cold to sit outside (it was late September), but the unobstructed views of Disko Bay and the icebergs for which Ilulissat is famous, helped me to slow down and take my time over dinner.
At any time of year, you are guaranteed to see icebergs and boats coming and going from the harbour. And during the Summer months, it is not uncommon to see whales swimming directly in front of the hotel! I did manage to see a couple of blows in the distance, but given how late it was in the season, it was not surprising that there was little whale activity.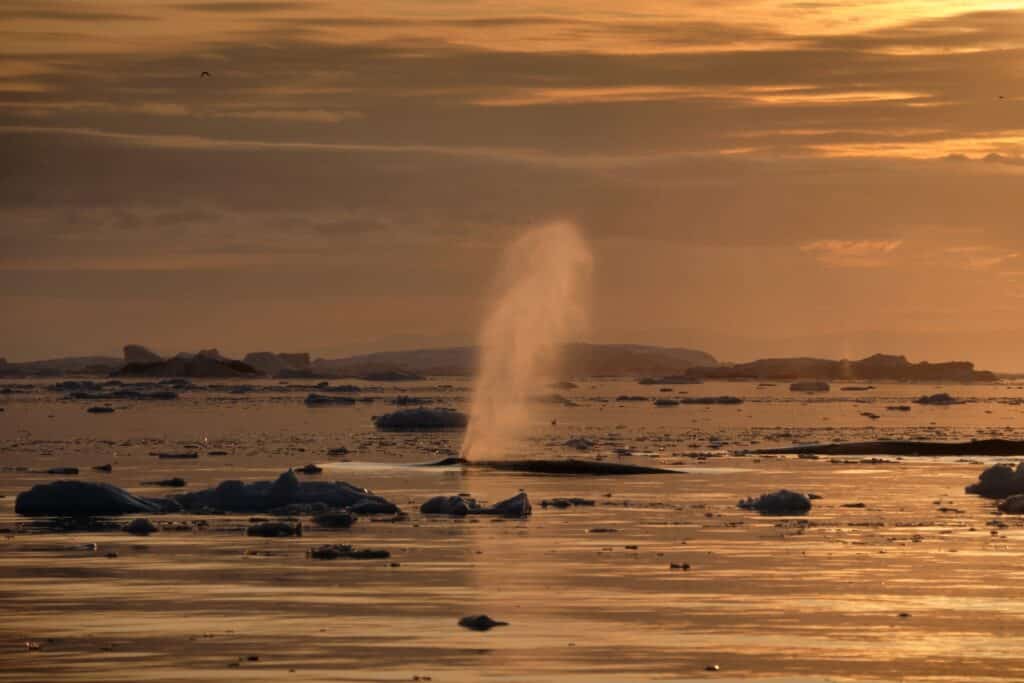 ---
---
My 3-course meal at Restaurant Icefiord
I asked my hostess for recommendations from the menu and she suggested the seafood soup, snow crabs, and chocolate cake. I am always thankful for local advice, but I'd had snow crabs the week before in Qeqertarsuaq, so substituted the lamb dish instead. Greenlandic lamb is some of the best in the world!
The seafood soup was fabulous! Light and fluffy with plenty of fish and snowcrabs, and the creaminess was cut through with a little tartness.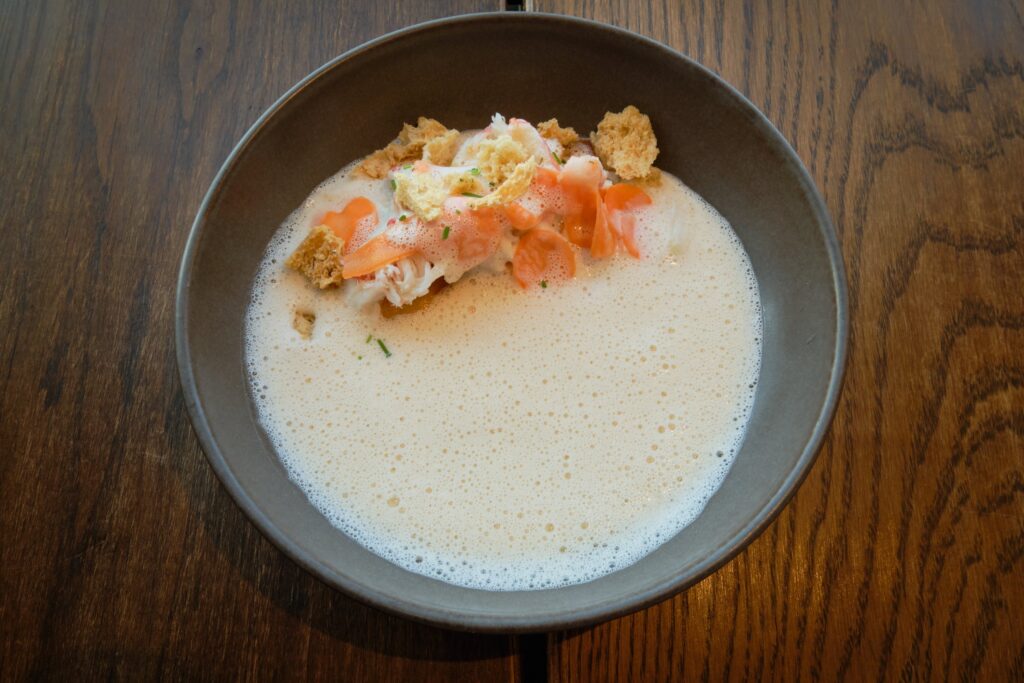 The Greenlandic Lamb was served with roasted celery, celery chips, artichoke purée, and roast potatoes. It was a good-sized portion of medium-roasted lamb with a very flavourful red-wine jus.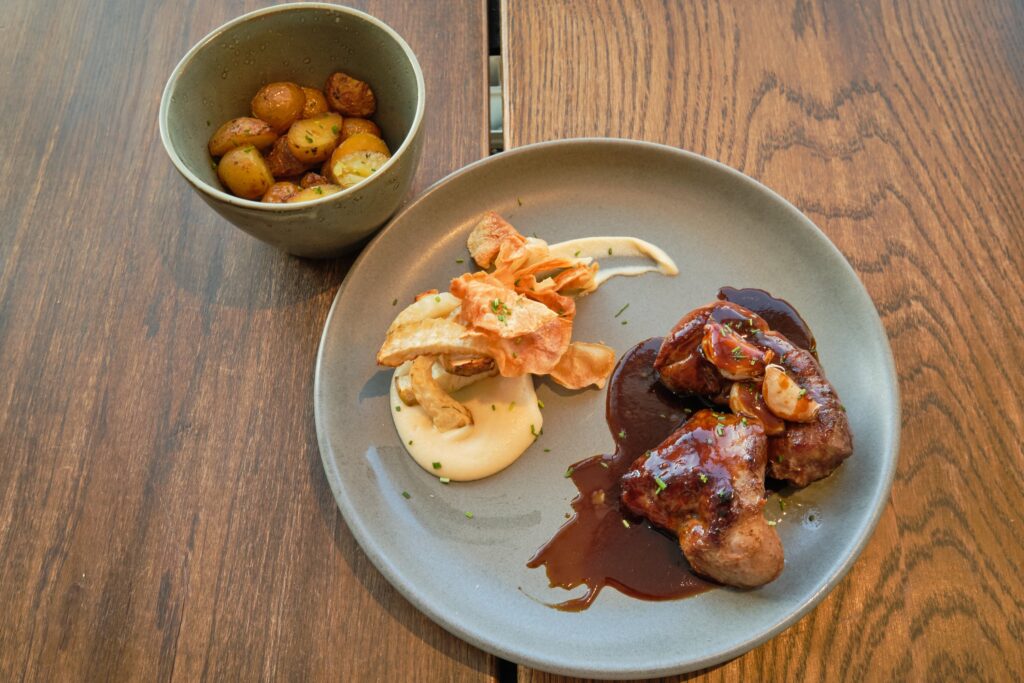 By this stage, I'd already eaten more than twice the amount I usually do at any meal and was feeling pretty full. Fortunately, I have a decent dessert-stomach, and after a pause to sit back and enjoy the ever-darkening, orange sunset, I was ready.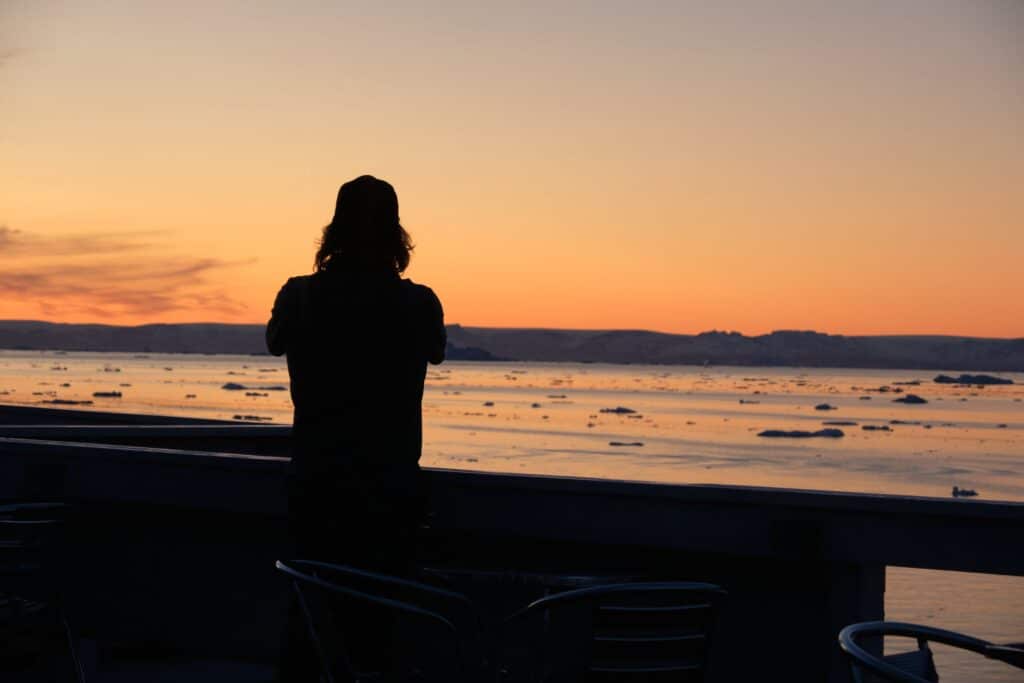 The chocolate cake was delicious and, surprisingly, not too rich. The icecream made with fresh strawberries helped to cut the intensity of the chocolate, which meant that I ended up finishing the whole thing!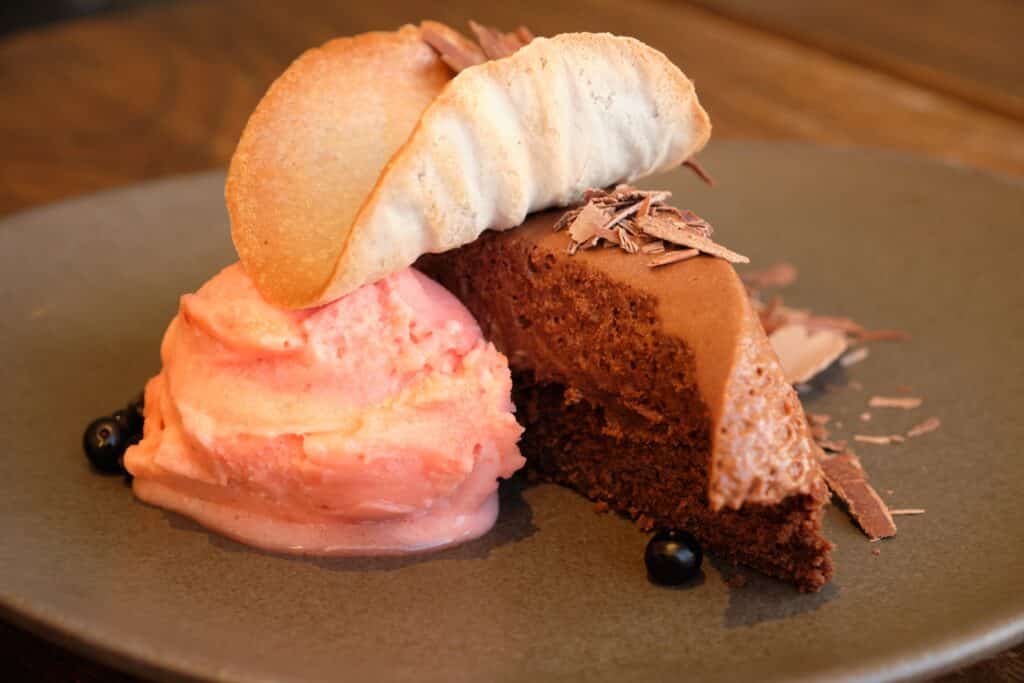 OMG! Wheel me out of here!
Specialities of Restaurant Icefiord
One of the options on the menu at Restaurant Icefiord is "Specialities from our own smokehouse". Yes, the Hotel smokes its own fish, reindeer and musk ox and always has many items for sale in their display fridge in the foyer. With this option – you have the chance to try several of their products at one go … perhaps to figure out which one you'll purchase just before you leave 😉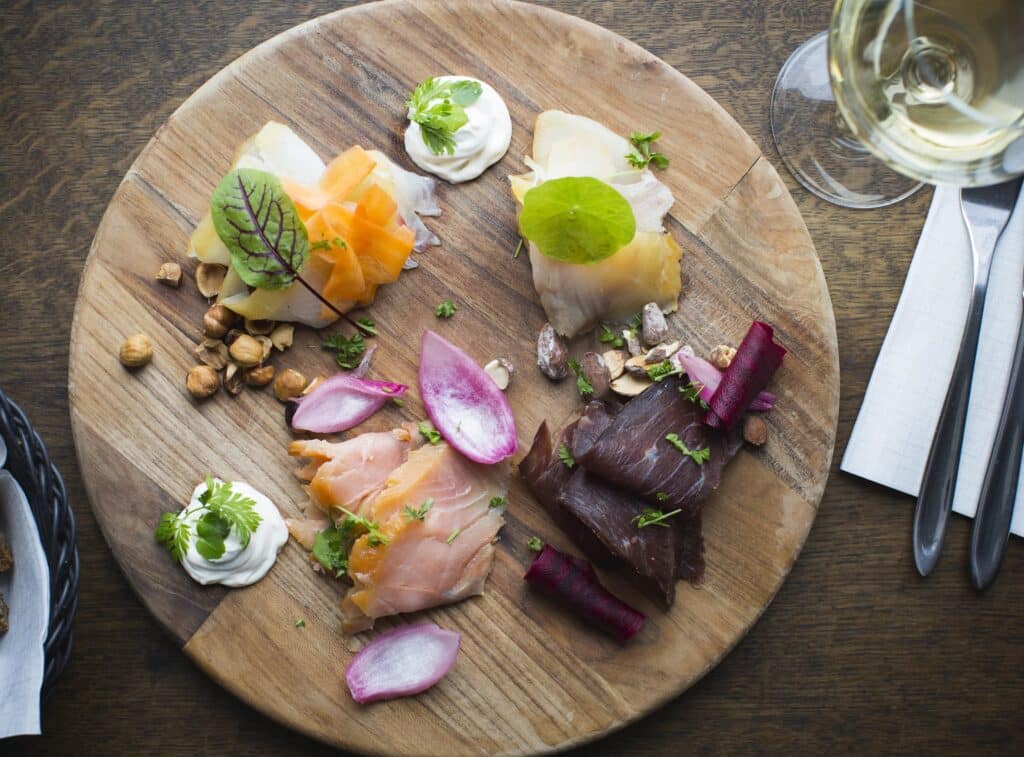 While the a la carte meals at the Hotel Icefiord are fabulous, if you are visiting during Summer make sure you try to catch the weekly Summer BBQ on the terrace. Unfortunately, I was there too late to experience these gastronomical events on this visit, but everything that is cooked up is sourced locally and the setting couldn't be more perfect.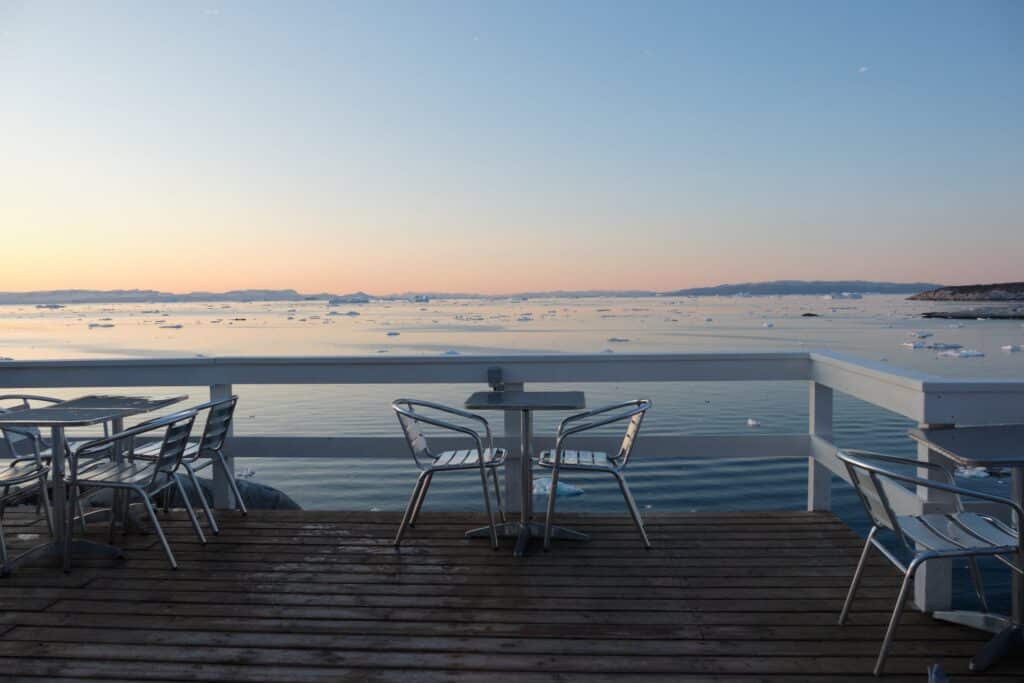 Discover more
If you are planning a trip to Ilulissat, I highly recommend staying at the Hotel Icefiord. The staff are lovely, the views are amazing, and you are just up the road from the start of the Yellow Trail (my favourite) out to the UNESCO World Heritage listed Ilulissat Icefjord.  You also don't need to bring earplugs 😉
---
---
The best place to research your trip to Ilulissat is with the Ultimate Travel Guide to Ilulissat here on Guide to Greenland. This website is also the easiest way to search for and book your perfect excursions in Ilulissat, as it brings the tours from all providers together in the one place.
See you in Ilulissat!