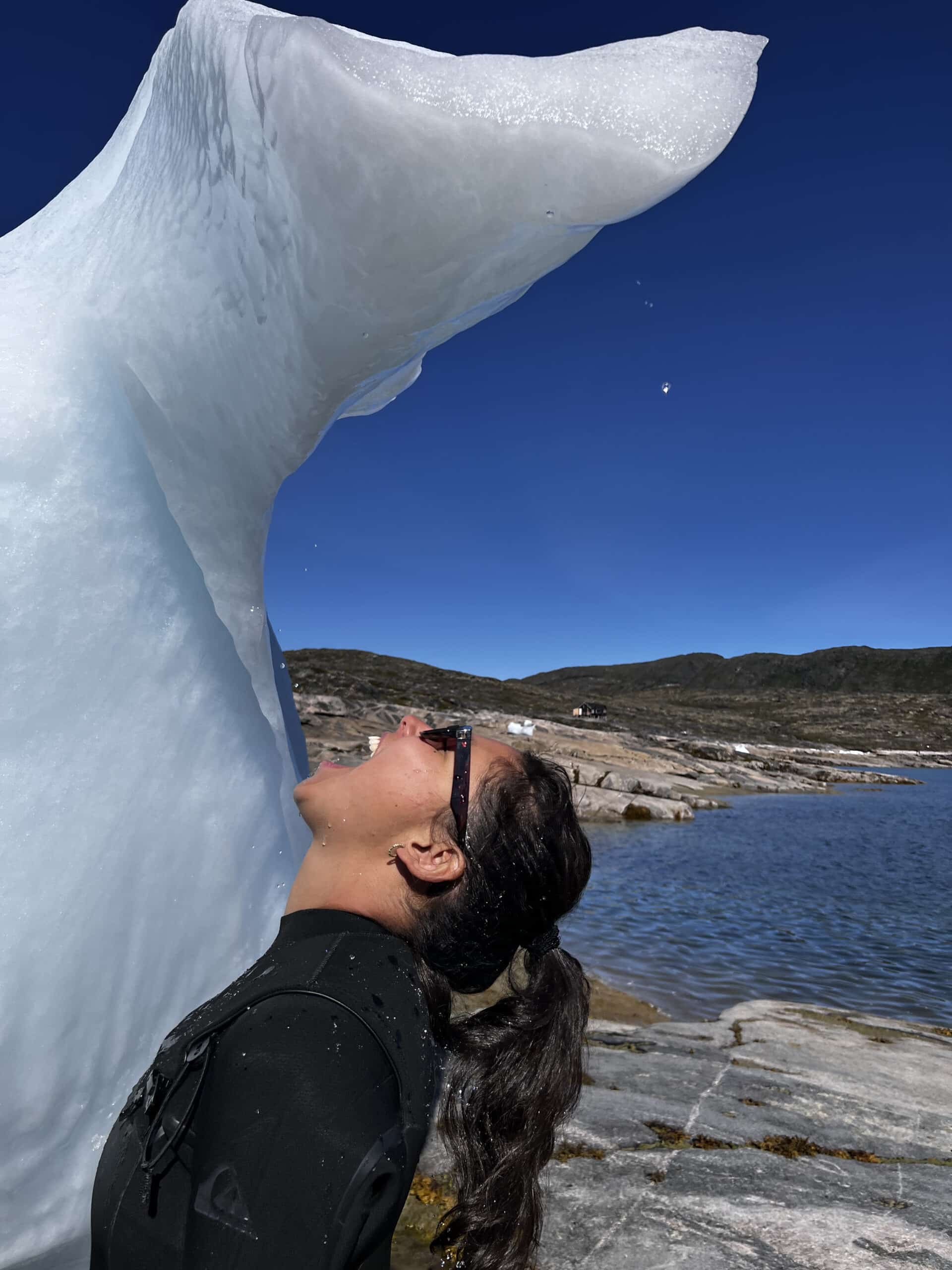 Cabine experience – a weekend away
If you are looking for some peace and quiet away from city life, a weekend in a cabin in Nuuk fjord is just the place for you. A remote and disconnected place, where you can enjoy the surroundings and others company.
In Greenland, it's very popular to have a cabin in the fjord, where you can escape on the weekends. I was lucky enough to join some friends for a weekend filled with experiences and laughter when we spend a weekend in the fjord. I wish to share these memories with you:)
Preparing and arriving
Friday evening when we all got off from work. We headed towards the harbor to load the boat and get going. Warm clothes are essential even though it's summer season, it's still cold at sea.
We headed towards a little settlement called Tatsip Ataa. It took around one and a half hours to sail there, with a quite fast boat. Even the tour there is an experience in itself. The fjord was filled with icebergs and the sun was still warm.
When arriving we unload the boat and unpack into the cabins. My friends own three cabines which they build themselves, and they keep on building more to them. The lates addition to there main cabin is a greenhouse. Below is a picture of a beautiful cabin I slept in, which is not the main cabin but one of the smaller ones.
After unpacking in the cabin and eating a warm home-cooked meal, we went off to explore the area before it got dark. And I'm so glad that we did, because when it gets dark in there, it gets really dark, since there is no light pollution to distrub. The moon was shining so bright, and since it was such a clear night, the reflection of the moon in the sea was just spectacular.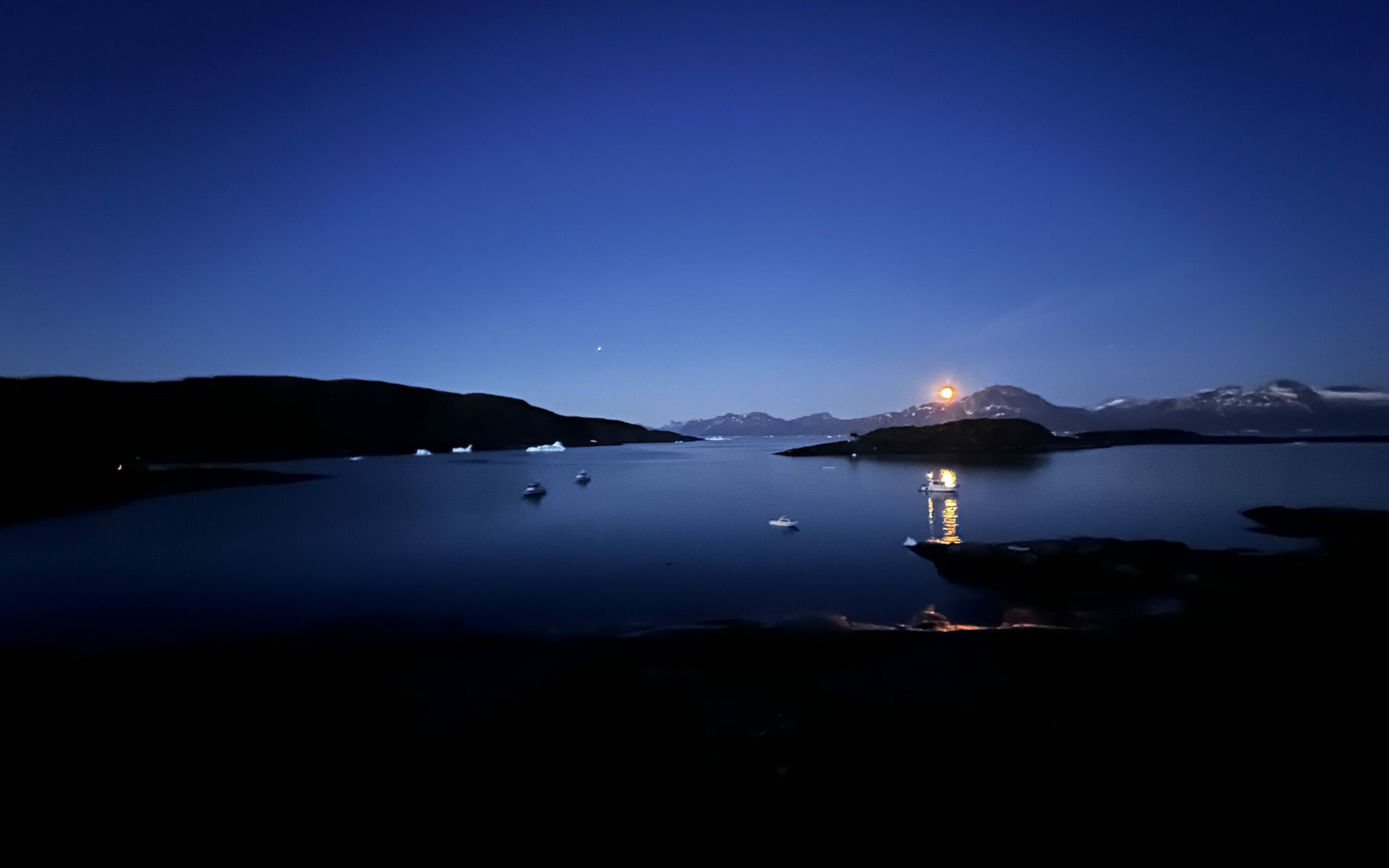 We decided to pull out the card games and some beverage. Right before bed, we decided to drink an Underberg, which has become a tradition when being in the fjord with friends. We have a simple but important way of drinking it. First you place the bottle between your teeth, then you hold a finger in each ear, so you are blocking out any other sounds, and then bottoms up. Since you are blocking out other sounds, it will sound like you can hear the flow of the underberg running through your throat.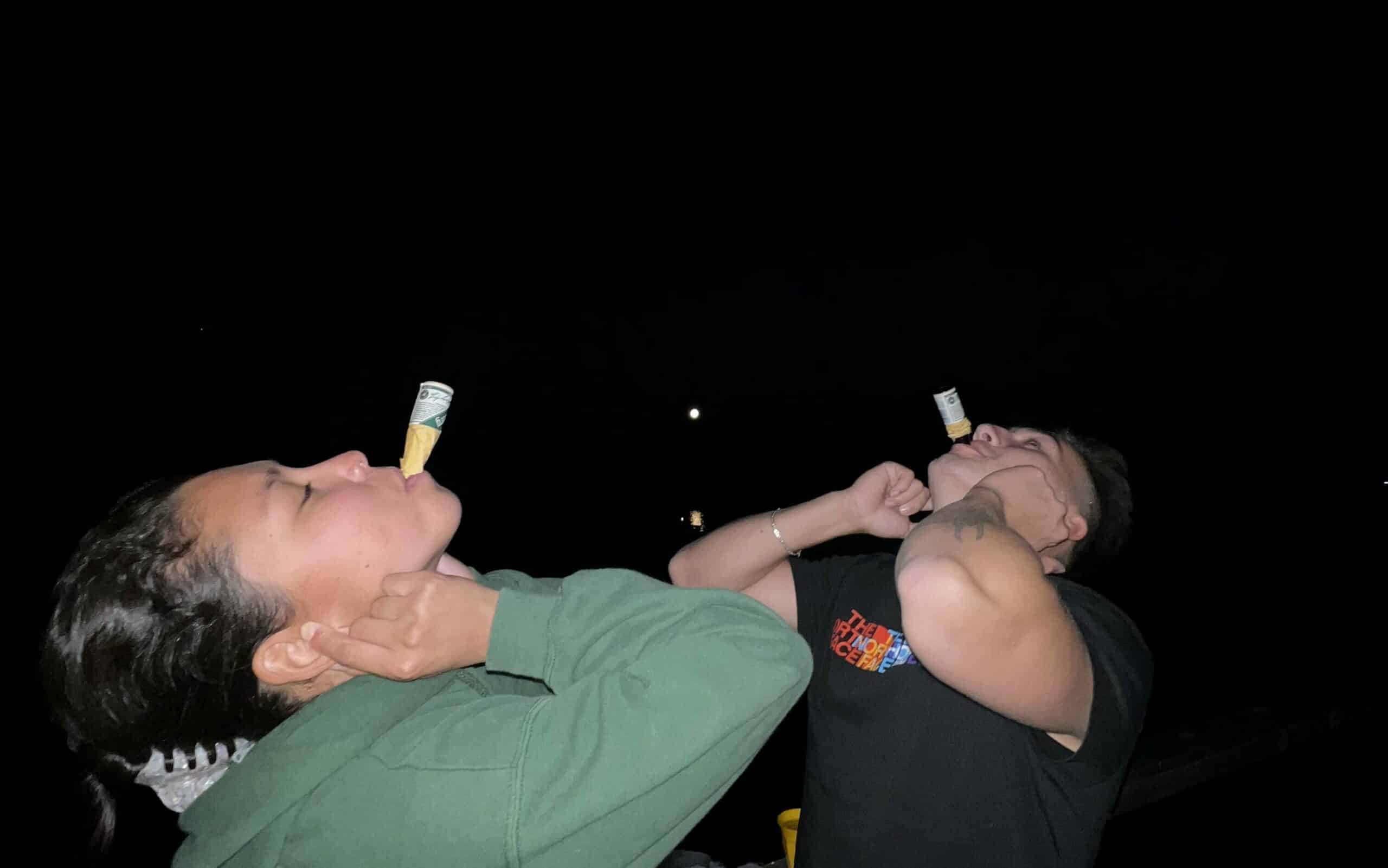 After a very lovely evening with lots of fun games, we headed to bed and we fell asleep immediately. All the fresh air makes you so exhausted.
How to spend a full day in a remote location
Since it was such a clear night, it often means that it will most likely be great weather the next day, and it was! We woke up to the most amazing sunshine and clear blue sky. We started out by walking down to shore to pick up some small ice pieces, to add to out water. It's so lovely to hear the air bobbles inside the ice pop.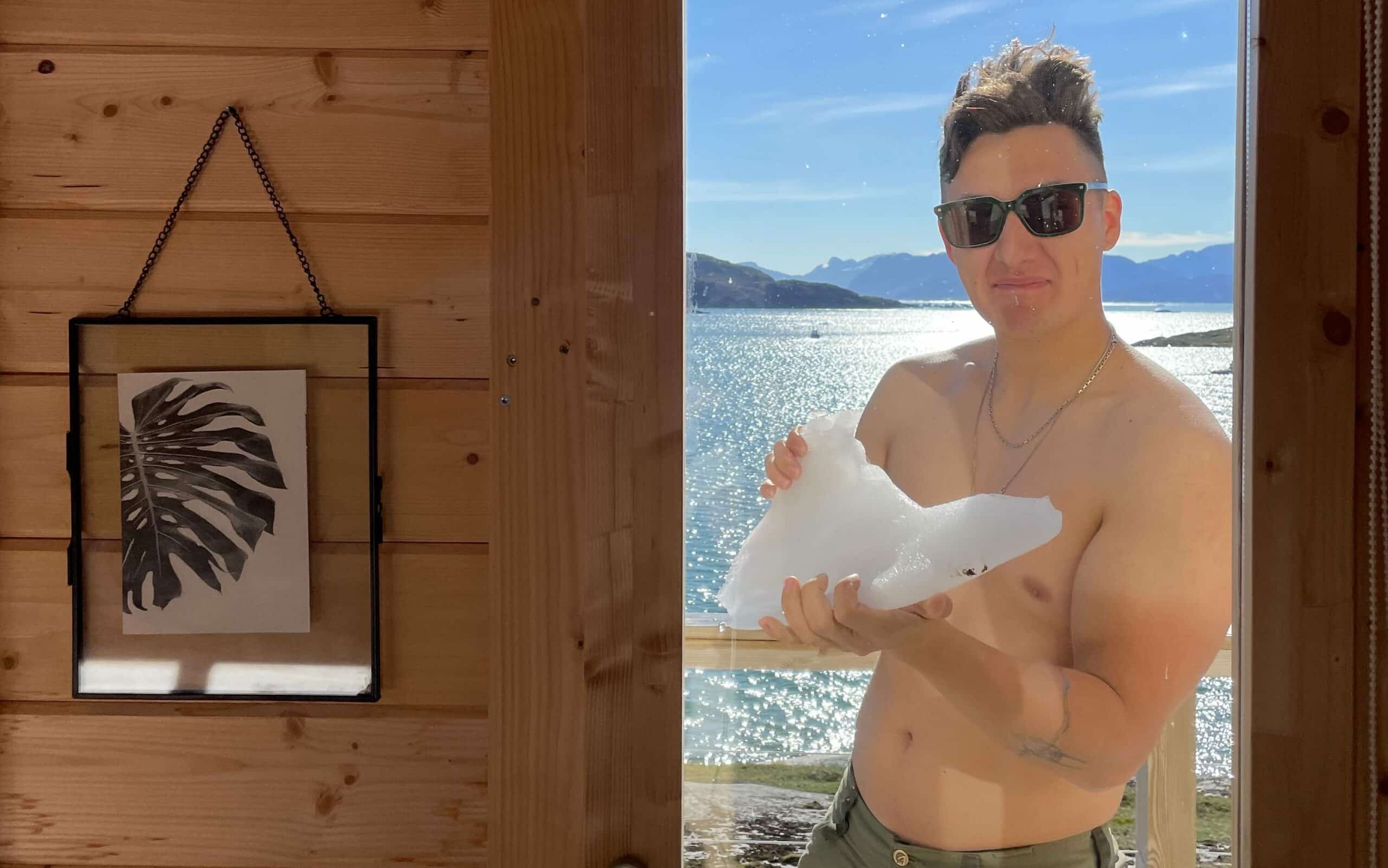 We went on with the day by jumping in our wetsuits and blowing up our paddleboards, so we could go for a swim. Even though it was a warm day, the sea was still quite cold. The wetsuits helps with keeping your warm, but it also prevents mosquitoes from biting you. Not that it hurts getting bitten by a mosquito, it's just annoying when it starts scratching and itching.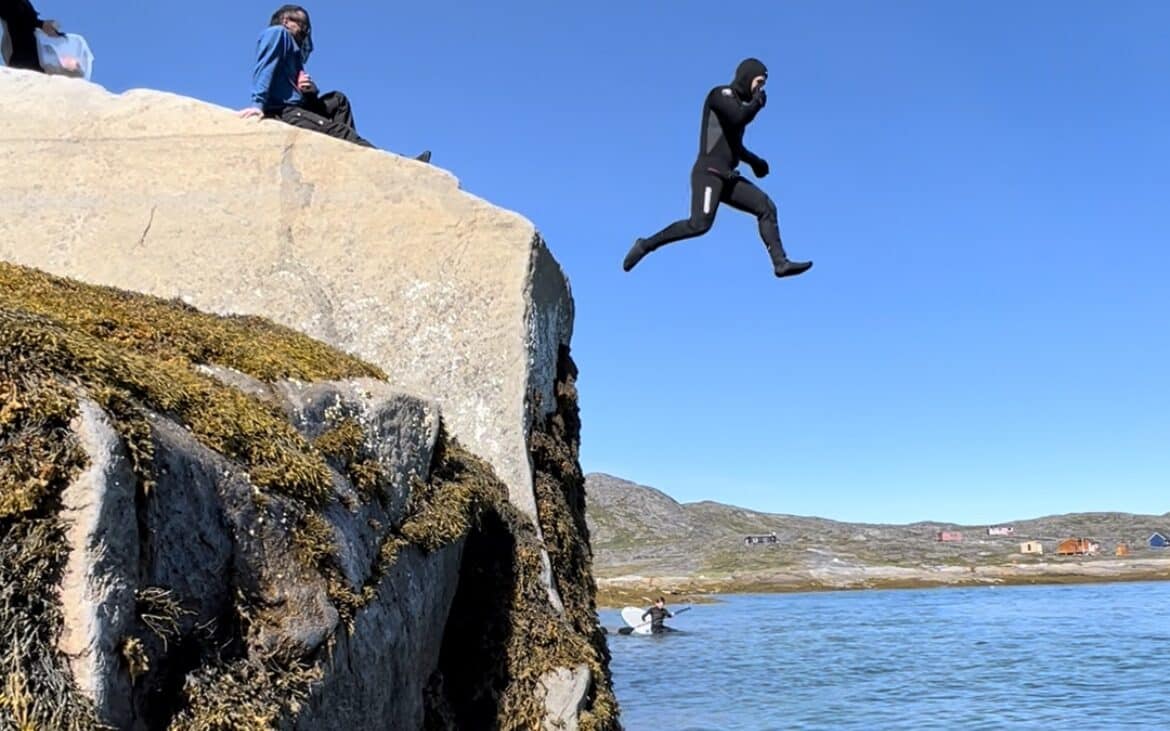 While waiting for the paddleboards to be filled with air, we decided to jump in. And the water was amazing! One thing I really love about Greenland and the Greenlandic culture. We really know how to take advantage of nature and adapt to the temperature and weather, cause we have been doing it for centuries.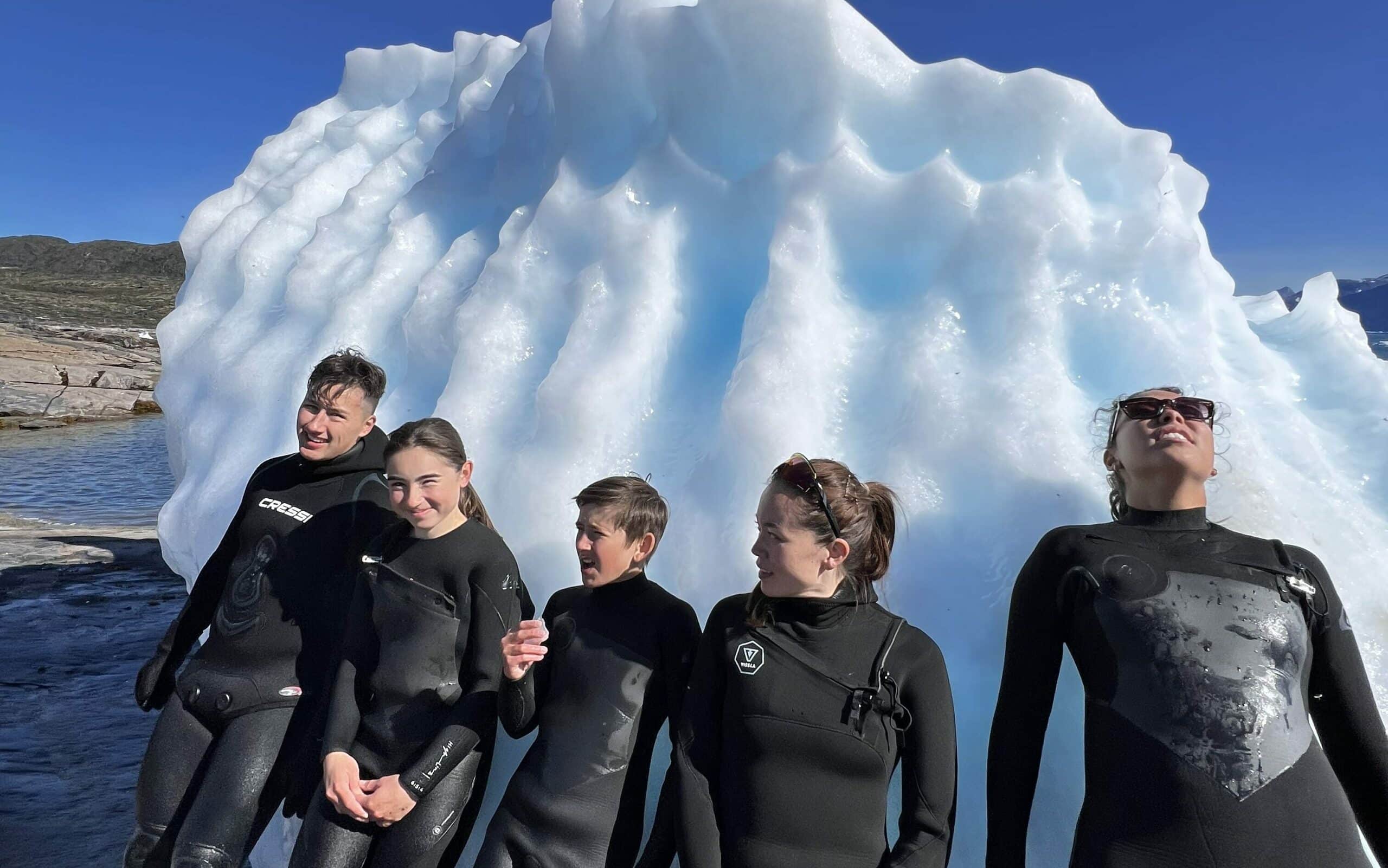 How often do you get to experience a sight like this? The icebergs in Greenland is just breathtaking and it's just a unique part of the Greenlandic nature. Being out in nature makes the time go by so quickly, and everyone is enjoying life to the fullest.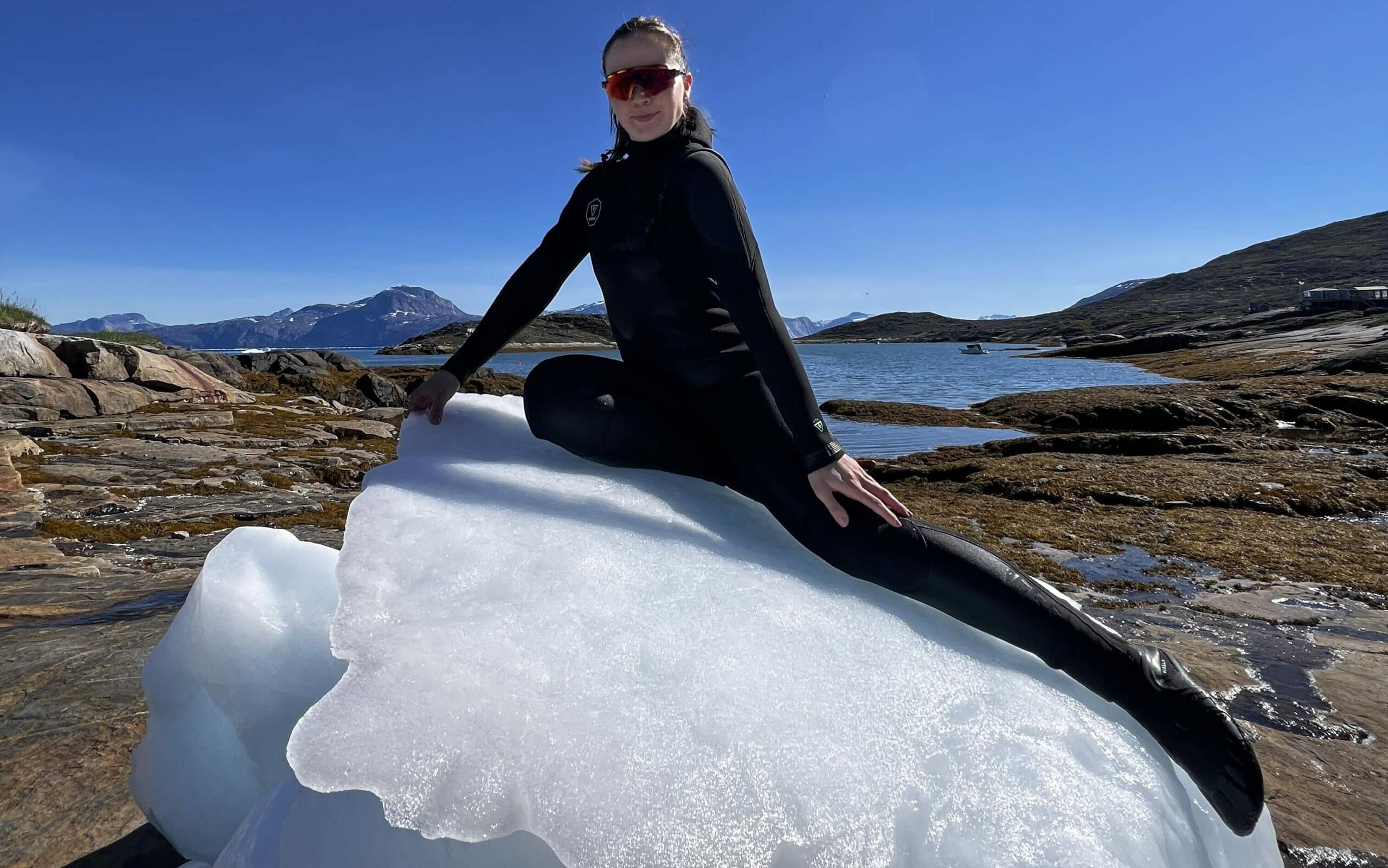 While playing around with the ice, we found this amazing little lagoon by a lake, where we ended up setting down for a few hours and just enjoyed the view. The lake is only exciting when is a low tide because the water from the sea gets trapped in the little lagoon when the tide goes down, therefore the lagoon is a mixture between salt water and fresh water.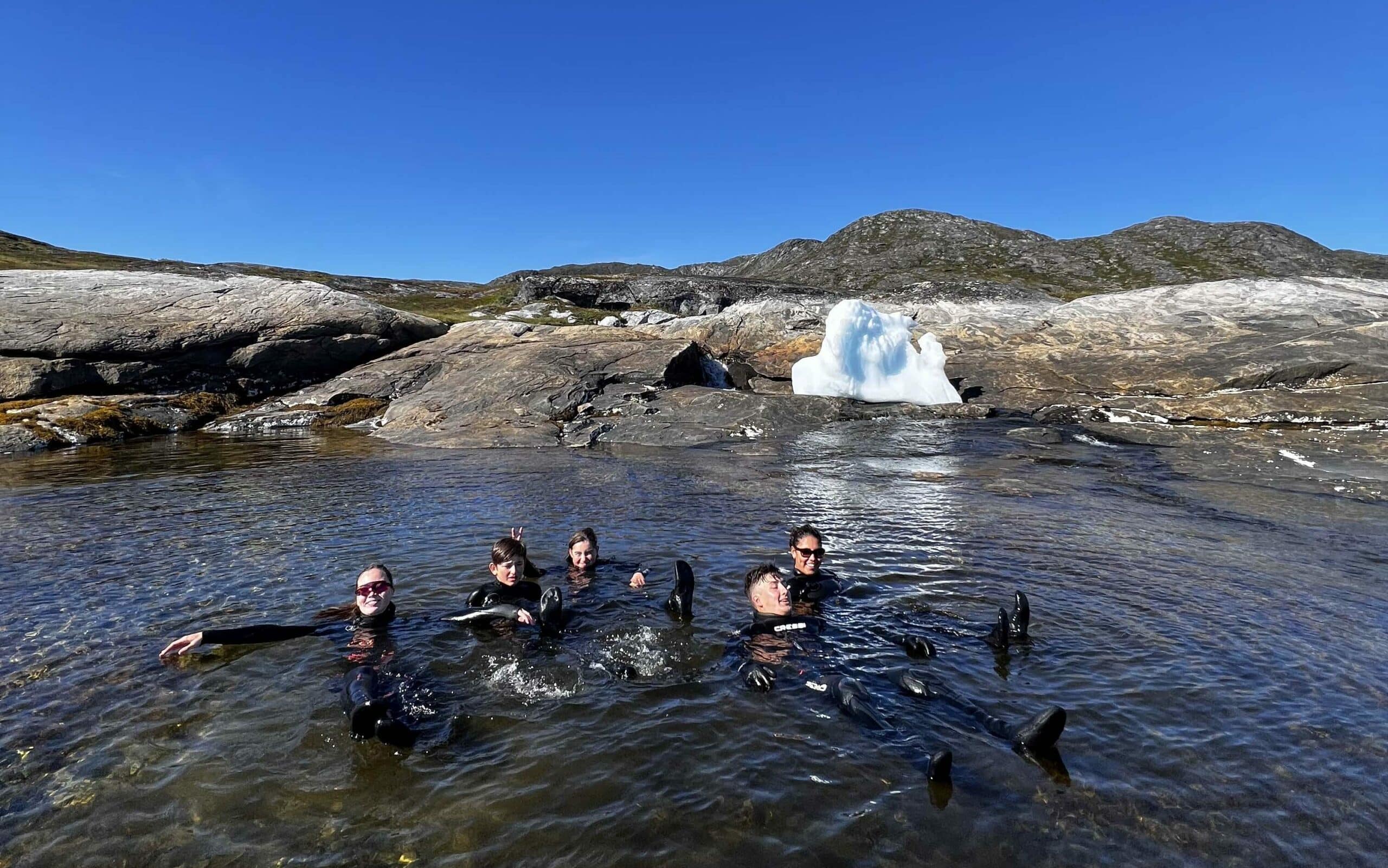 This was so relaxing and just overall the best way to spend a warm day outside. We spend hours in the lagoon just fooling around and enjoying each others company. When you are out in the fjord there is no internet connection, so you are forced to spend time with each other and find creative ways to have fun. Such a nice feeling to feel disconnected from the world around you.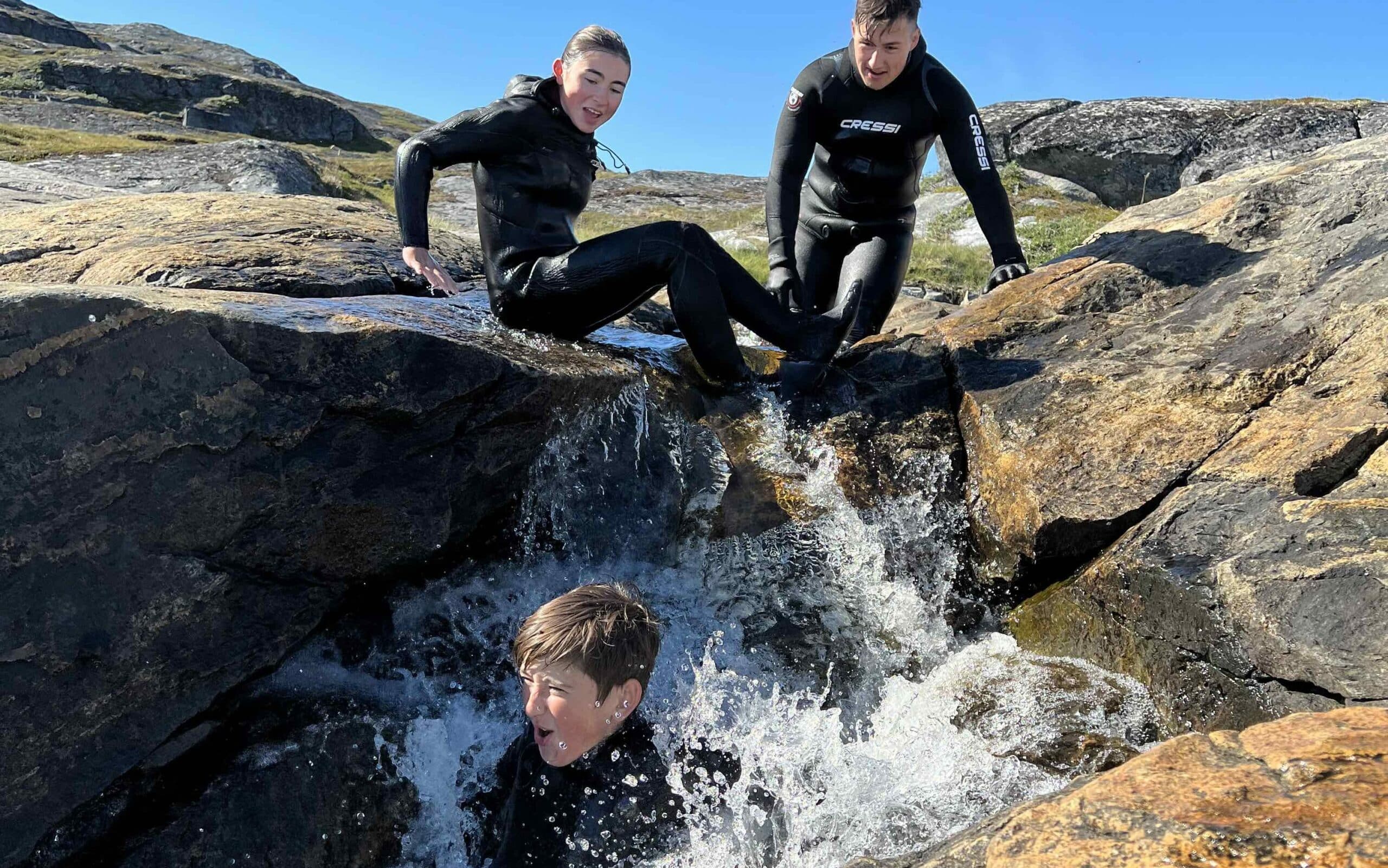 The water in the lagoon was quite warm, since the sun has been backing on it for the whole day, so we used the lake as a shower, and it was amazing and cold. When there isn't internet and anywhere you have to be, you have so much time and freedom to enjoy the surroundings, and we really did:)
Hunting reindeer in Greenland
While some of us enjoyed the day in the water, others went hunting for reindeer. They woke up at 05:00 in the morning to eat breakfast and get ready for a long hike. You never know how far you will have to hike when you are going hunting. The reindeer might be right around the corner, or it might be a 30 km hike before you see anything. Sometimes you can get lucky and spot the reindeer from the boat while sailing, other times you might come home without even seeing anything.
But we got lucky!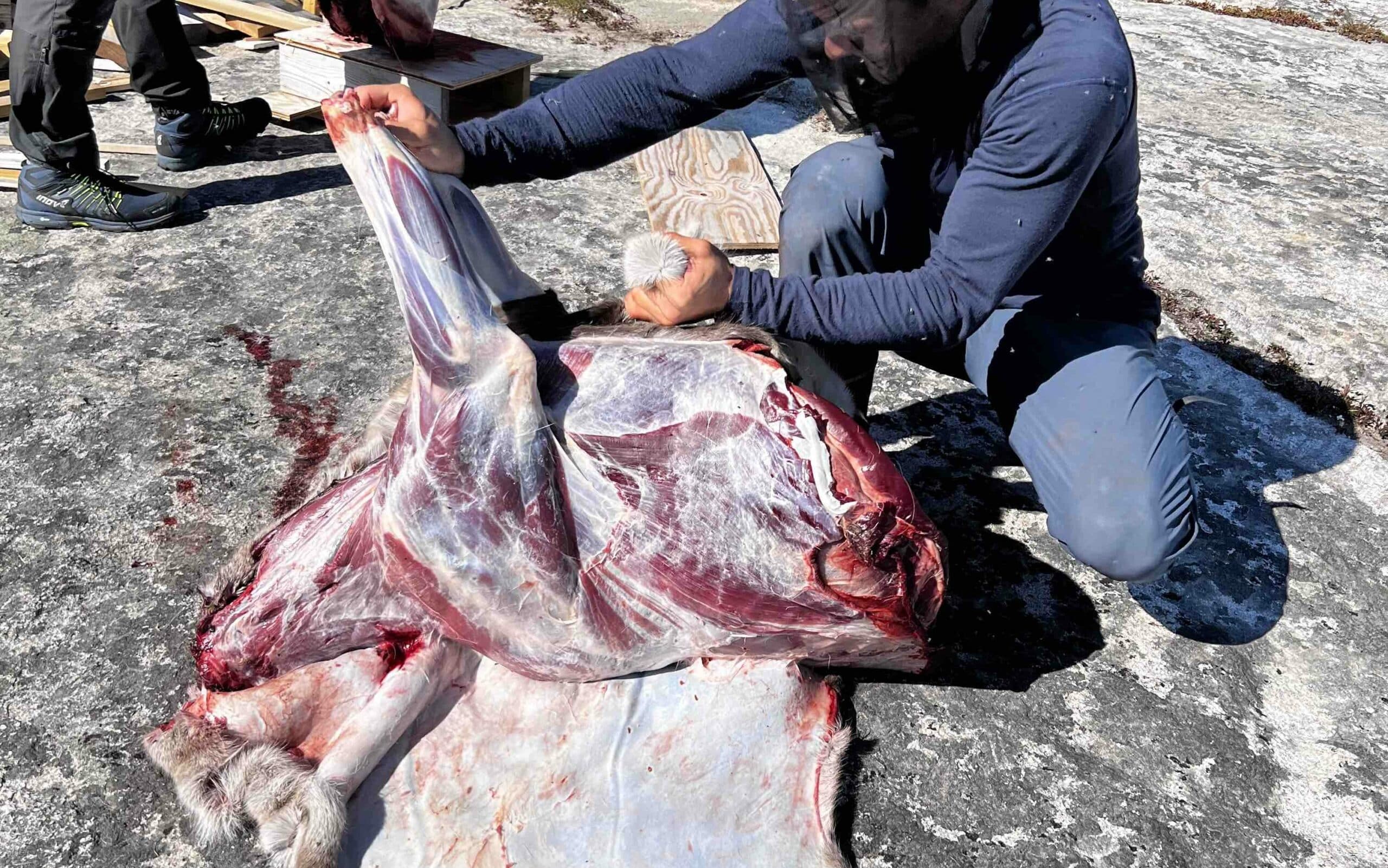 This reindeer was a medium size female. The process of cleaning the reindeer and cutting out the part of the meet is long and difficult when you are sitting in nature and there is mosquitoes everywhere, therefore you seperete the legs from then upperbody, by cutting it at the waist, and then you remove the head. One person carries the legs, another carries the torso, and the last one gets to carry the riffel and bags, if you are lucky enough to be hunting in a group, otherwise you might need to carry it all alone, or go twice.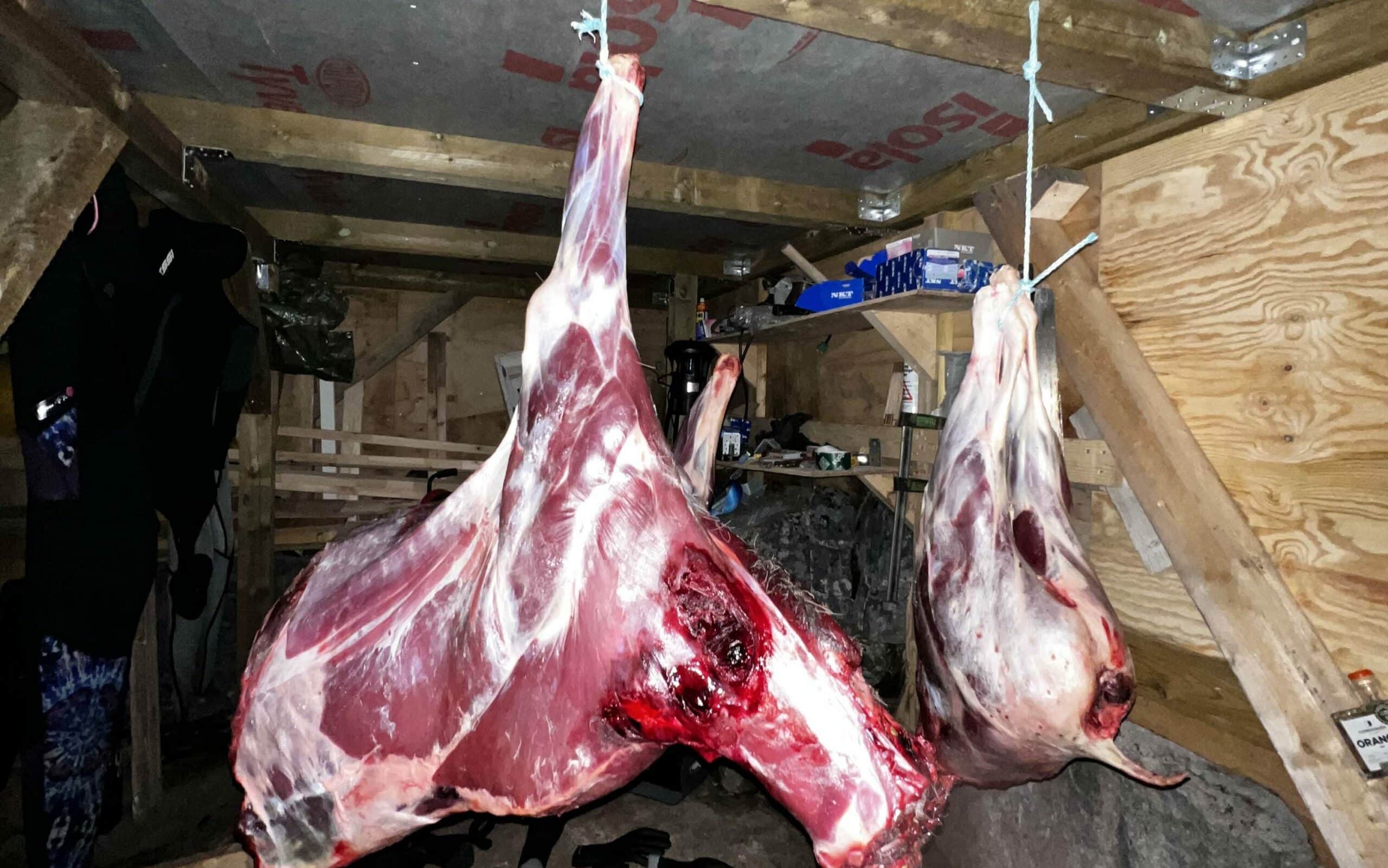 If you ask me, hunting is one of the most astonishing traditions in the Greenlandic culture. In one season you might get around 2-6 reindeers, if you are a regularly family hunter. Which is enough to fill up one big freezer. This means that you won't need to go to the supermarket to buy meet, and therefore this is a very sustainable way to live, especially because the reindeers don't live in captivity but have enjoyed a healthy life in nature. The parts of the animal that we don't eat, we leave out in nature for the other animals to eat. I think it's an amazing circle of life.
The day of departure
When the day comes for the departure, we clean the cabinets so they will be as clean as when we arrived, and this is a group activity. When all is done and the boat is packed, we started heading home. At this point you really need a shower, after have been spending a weekend in nature and having very salty hair from swimming in the sea.
The boat tour home was rough, since the weather quickly changed and it started becoming rather windy and the waves became quit big. It was a very bumpy ride home, which I quite like but it's also very exhausting, since you have to be ready to react if anything should go wrong or if the waves get so big that you have to hold on to something.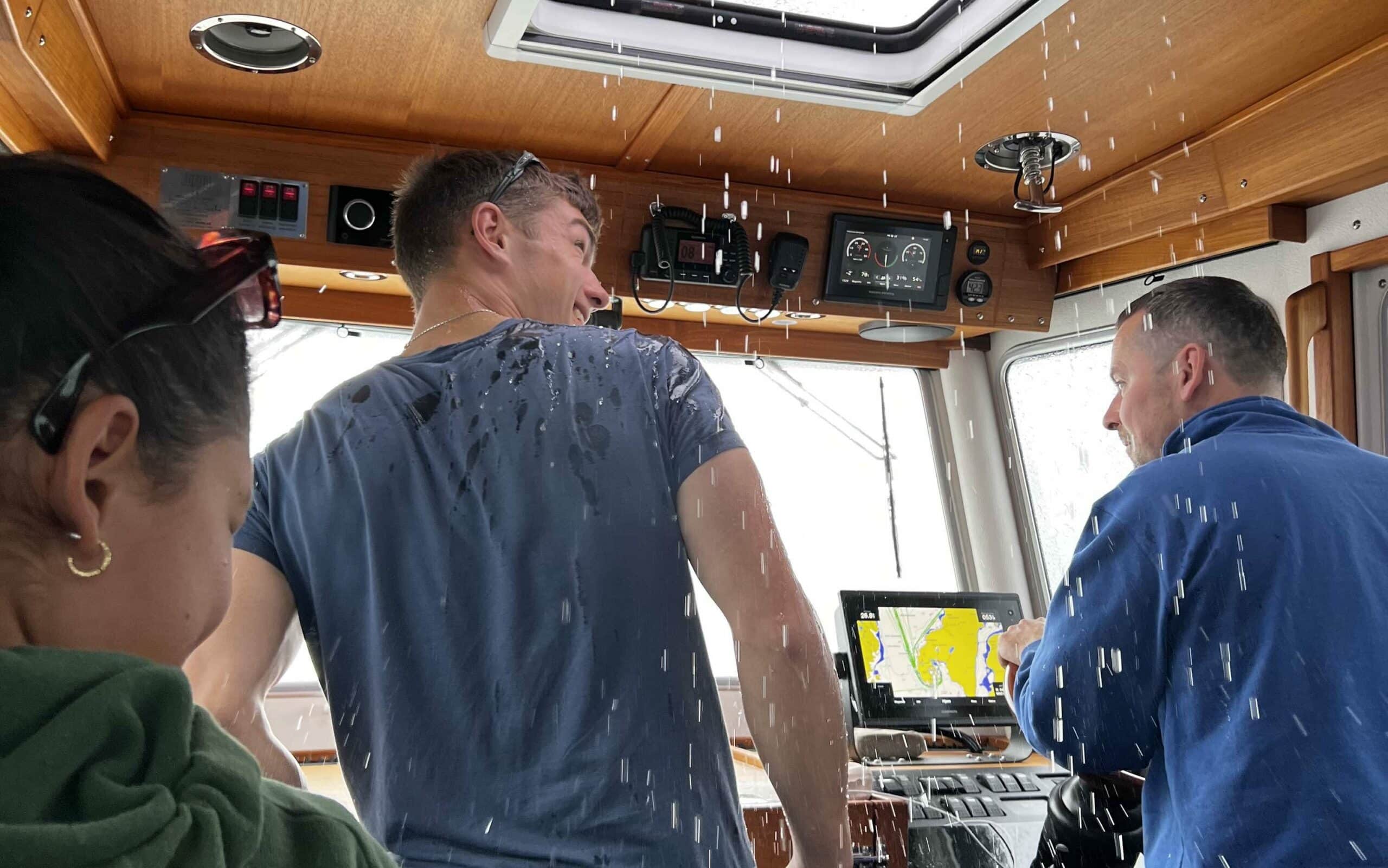 This was a wet and wild ride home, but we ended the tour with a lot of laughter and smiles, which is the perfect way to end an outstanding weekend away. If you ever get the chance for spending some days in a cabinet in Greenland, grab it! You won't regret it!
---
If you are interested in exploring the Greenlandic fjord system on a paddleboard, check out our tours here.
Want to experience a fjord adventure, start your tour by clicking here.
If you are interested in trying a traditional hunt in Greenland or maybe following an Inuit hunter, click on the links.
Other interesting travel blogs