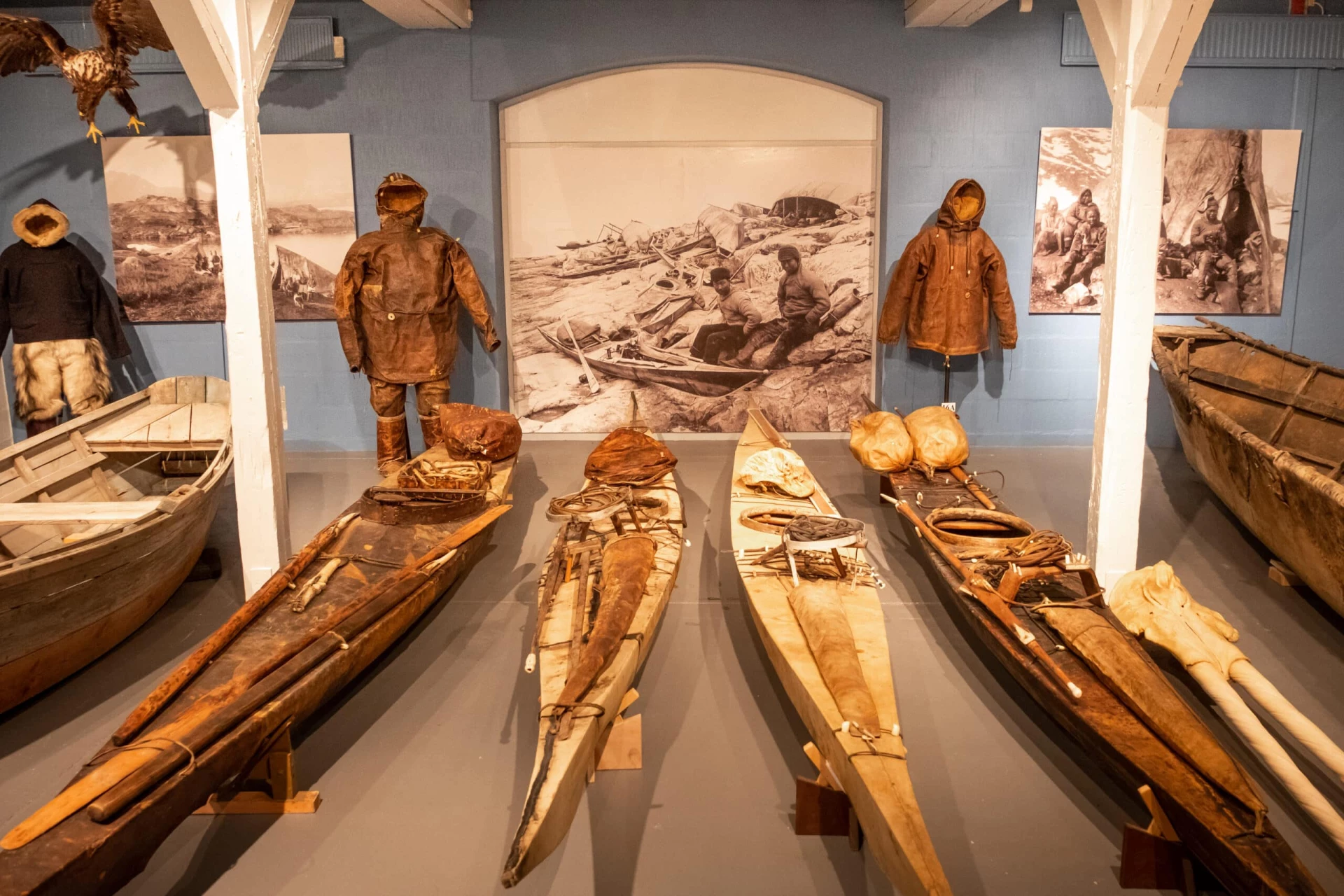 Culture Lovers Guide to Nuuk
Are you an art or music lover looking to discover new talent? A food lover keen to try new tastes? Or simply someone interested in learning a little about the history and customs of Greenland while you are visiting? Read on to explore how best to experience Greenlandic Culture while visiting the capital in this Culture Lovers Guide to Nuuk.
Although it is better known for its abundant nature and stunning fjord system, Nuuk is also the hub for Greenlandic culture. This small capital is the best place to learn about the history of Greenland, discover Greenlandic artists, fall in love with Greenlandic music, and eat far too much amazing local produce prepared in innovative ways by top quality chefs. No matter your interest, Nuuk has plenty of cultural opportunities to keep you busy!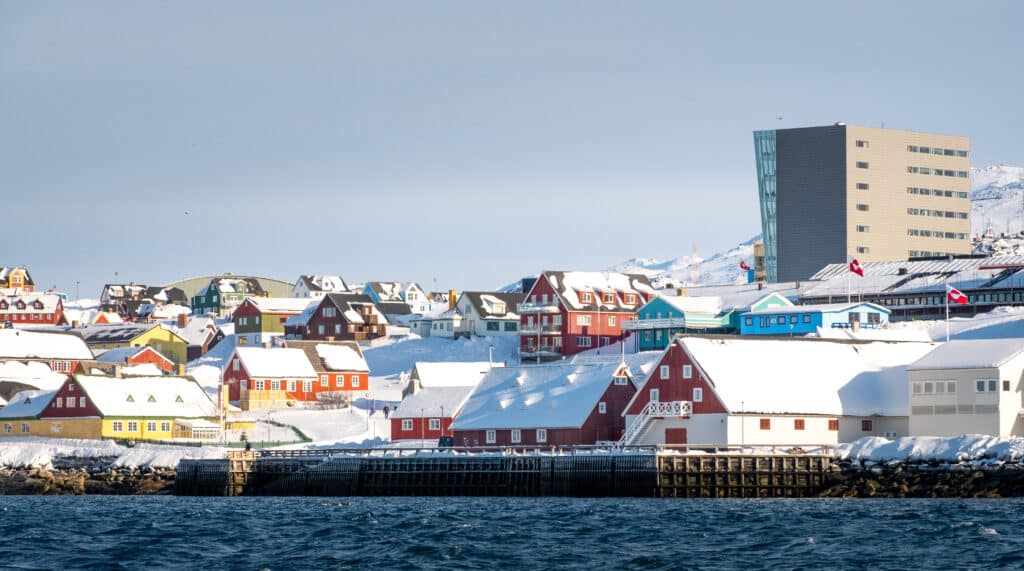 ---
---
Greenland History
Greenland has a long and varied history starting with the early Inuit cultures of 4,500 years ago and culminating in the current process of moving from home rule to self rule to the eventual possibility of independence from Denmark. There are several avenues through which to explore the history of Greenland while you are visiting Nuuk, including:
Greenland National Museum and Archives
For the most comprehensive insight into Greenlandic History, visit the Greenland National Museum and Archives in the Colonial Harbour of Nuuk. Established at its current site in the 1970s, the museum quickly grew to encompass several buildings as the "Utimut project" to repatriate Inuit artefacts from Denmark back to Greenland progressed.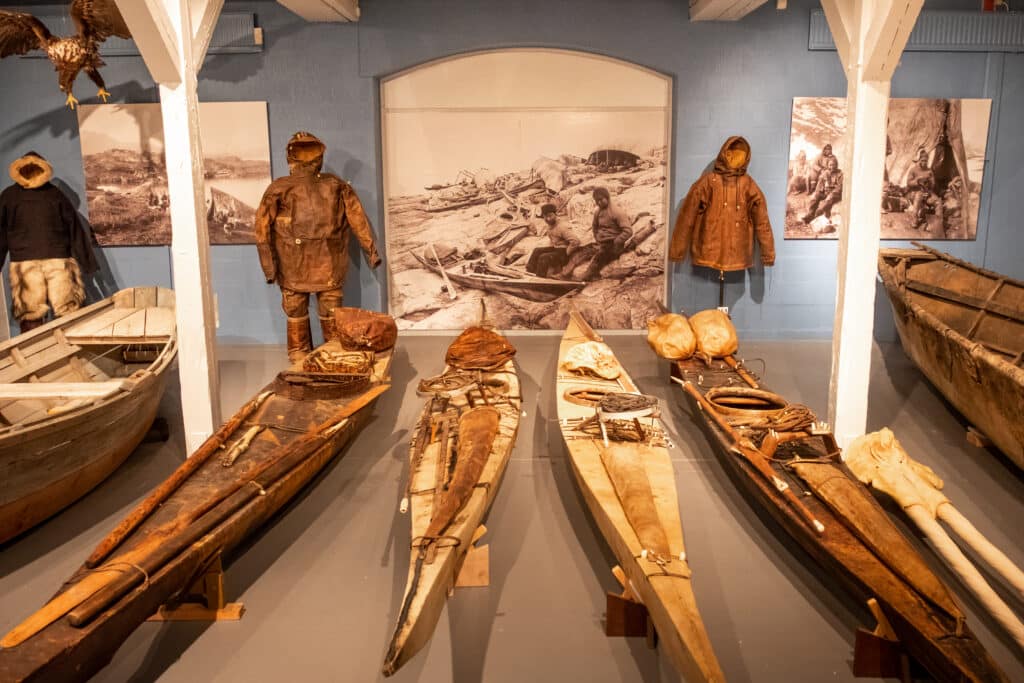 Today, the museum brings together information and artefacts from all over the country and has seven permanent collections that cover the entire 4,500 year cultural history of Greenland. The exhibitions are arranged as a timeline and are so comprehensive that you could spend several hours delving into the past! Alternatively, choose one or two collections that most pique your interest to understand more of how Greenland has changed over the years.
The museum also offers guided tours for groups of up to 10 people. These generally last about an hour and can be tailored to specific interests. Contact the museum directly to arrange a tour (highly recommended!).
Nuuk City Walk
If you are keen to find out more about local history, join a Nuuk City tour. Walking tours start at the Colonial Harbour and will introduce you to the city's historical buildings as well as its newer architecture. Alternatively, sign up for the Nuuk City Drive, which also takes in the newer suburbs.
These are great activities to do soon upon arriving in Nuuk so that you can get your bearings in the city and find places you would like to explore further during your stay.

Nuuk Local Museum
If you want to see what Nuuk looked like historically, head down to the old shipbuilding yard in the Colonial Harbour to find Nuutoqaq – Nuuk's Local Museum. Here you will also find memorabilia donated by local families, a changing exhibition, and a small shop where you can buy souvenirs made by local artisans.
Note that the museum is not open every day, so check their website for opening hours.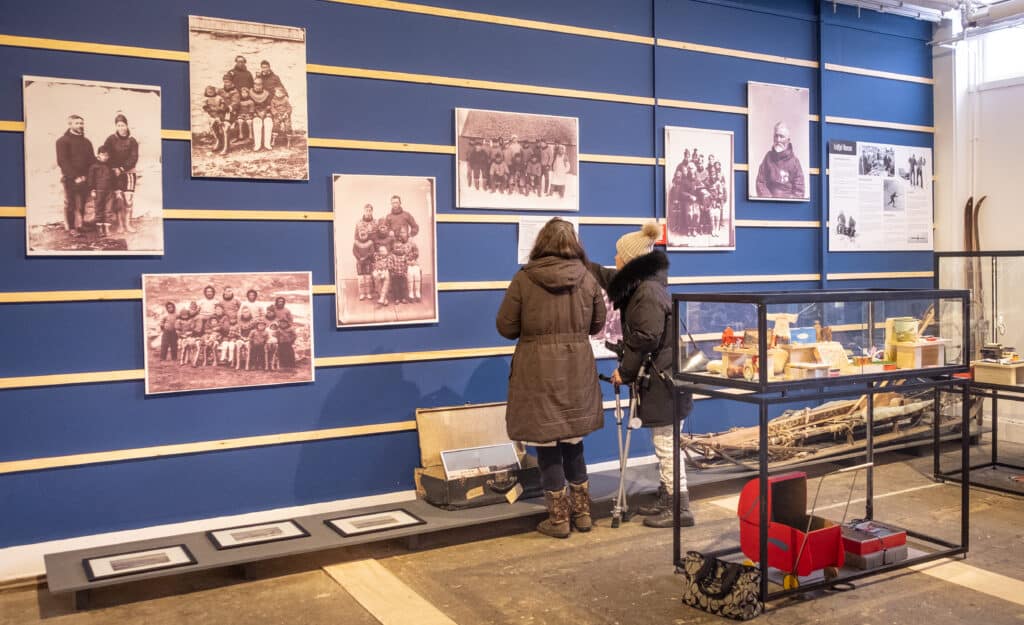 Nuuk Fjord Settlements
In the 1960s, the Danish government initiated the G60 policy – a program to move people from smaller settlements that were no longer thought to be viable to larger ones. This has left Greenland with a significant number of abandoned settlements, 2 of which can be found in the Nuuk Fjord.
The open-air museums of Qoornoq and Kangeq offer an interesting glimpse into when life in Greenland was dominated by hunting and fishing, and are easily accessed by any one of a number of Nuuk fjord tours.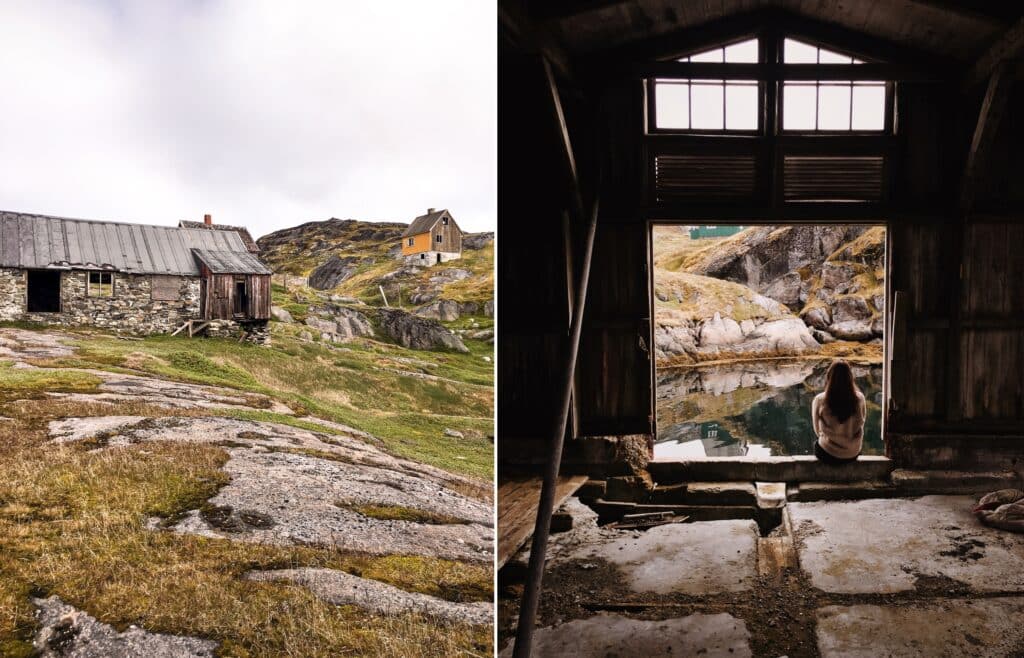 Another option is to visit Kapisillit. This village of about 50 people survived the resettlement program and here you can directly experience what daily life is like for Greenlanders living outside of the main towns. It is quite different!
Greenland Visual Art
Visual art, in the way we most commonly think of it, arose in Greenland in the 1800s. The "father of Greenlandic painting" was Aron from Kangeq, a seal hunter struck down by tuberculosis who went on to create more than 300 works of art that depicted Greenlandic folktales, culture and history.
His pieces, along with those of Jens Kreutzmann (another Greenlandic painter of the same period) now reside in the Greenland National Museum and Archives, but there are several other locations in Nuuk where you can discover both historical and contemporary Greenlandic visual artists.
Nuuk Art Museum
What was once a church, clinic and minister's residence is now home to Greenland's largest visual art collection – the Nuuk Art Museum (Nuuk Kuntsmuseum).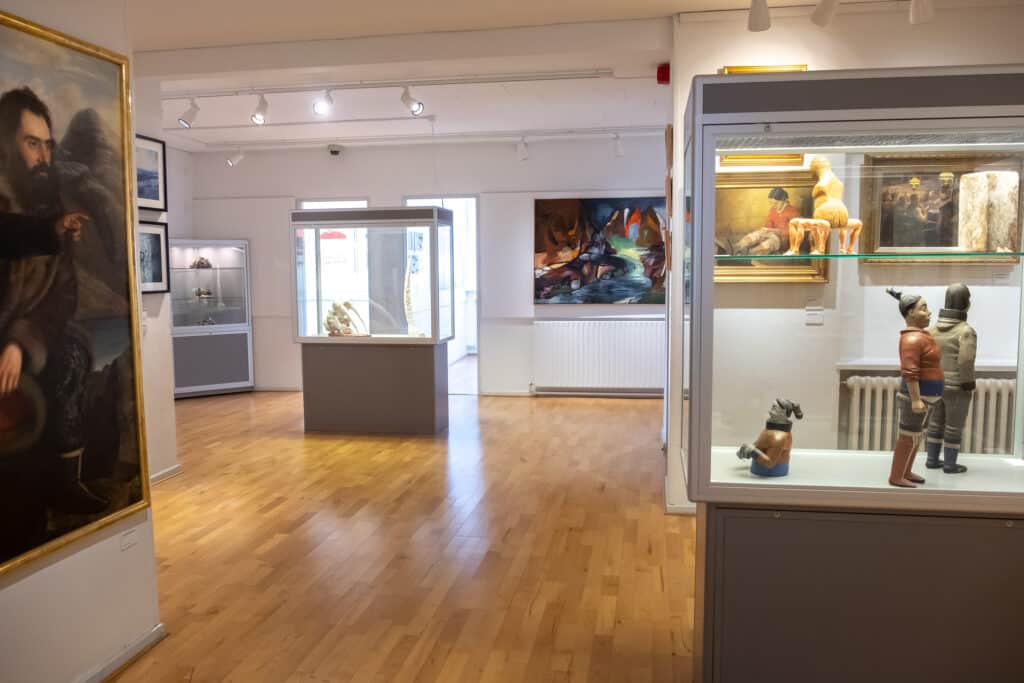 With more than 500 pieces of Greenlandic art, the museum contains historical artworks dating from the late 1800s (the majority of which were gifted to the people of Nuuk by Svend and Helene Junge Pedersen), works from contemporary artists, and a large collection of carvings in soapstone, wood, bone, and ivory from all over Greenland. The museum hosts at least 8 new exhibitions each year (often in collaboration with the Katuaq Cultural Center) and many of these are accompanied by an opening party and artist talks.
Note that the museum is not open every day, so check their website for opening hours.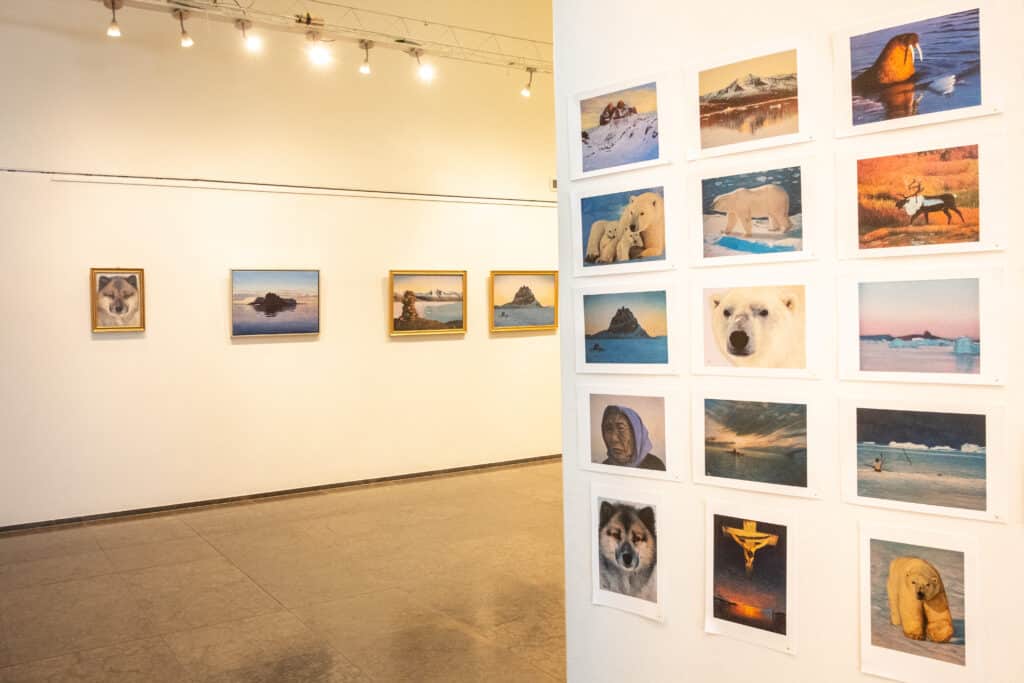 Nuuk Art Walk
Not all visual art belongs indoors and Nuuk boasts a large number of open-air murals and sculptures in the downtown area. The Nuuk Art Museum has developed an Artwalk to guide you around these installations, which range from Greenlandic myths and legends to interpretations of daily life in Greenland. Make sure you download the map and short explanations for each piece. Alternatively, download the Colourful Nuuk App (Android, iOS), which includes the Artwalk and explanations in its "sightseeing" section or call in at the museum itself to pick up a paper copy.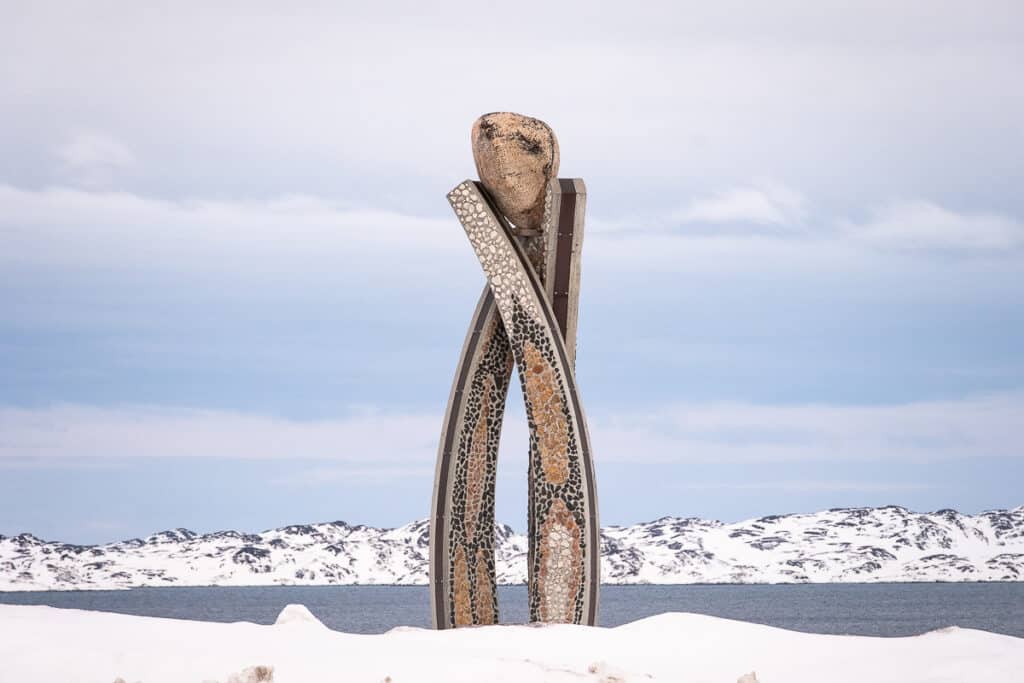 Greenland Institute of Natural Resources and University
This may seem like an odd inclusion, but a tour of the Greenland Institute of National Resources and Greenland University is a wonderful cultural experience of visual art and architecture. These two institutions are housed in some of the most architecturally interesting buildings in Nuuk, and both feature important art installations.
The University (Ilimmarfik) contains artworks by both contemporary and older Greenlandic artists, while the "Paasisaqarusuppunga: Science and Society" exhibition in the Institute of Natural Resources ties the building together and inspires the visitor to explore its architecture while learning about the history of science in Greenland.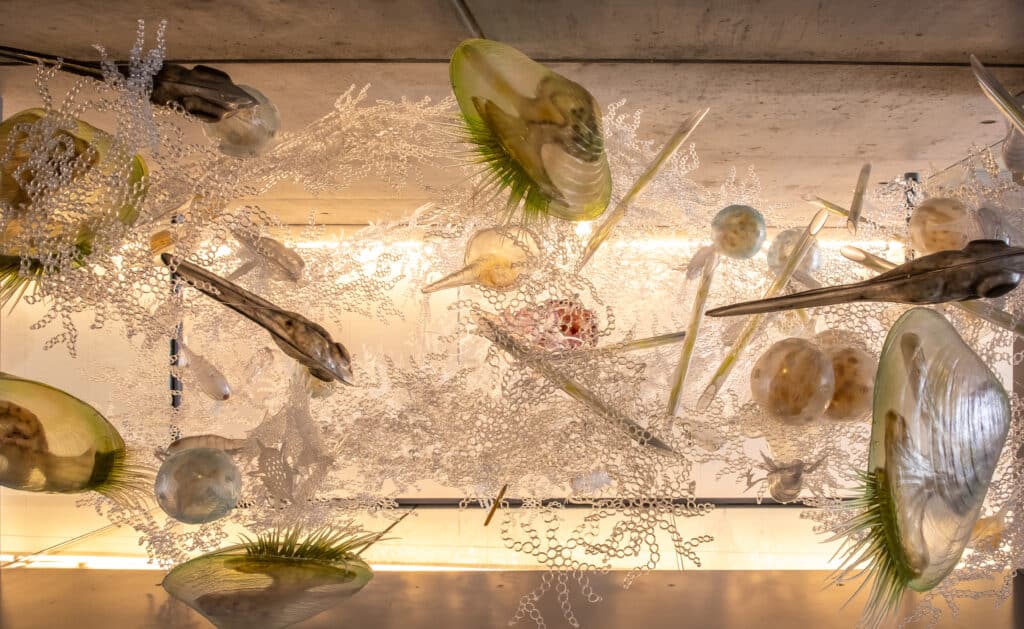 An added bonus is that if you decide to finish your tour with coffee and cake in the cafeteria of the University, you have an incredible view out over the fjord towards Sermitsiaq mountain!
Grønlandsbanken Exhibitions
The Bank of Greenland has two foyer areas (upstairs and downstairs) where there is often an exhibition of contemporary Greenlandic artists. The pieces change regularly and most are for sale.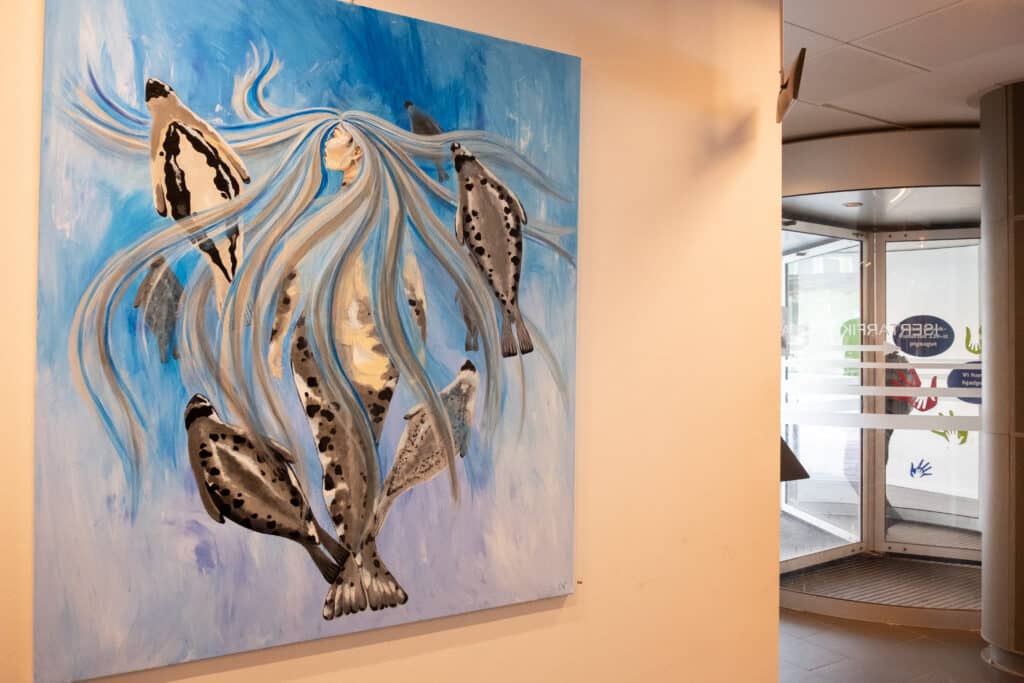 The House of Niels Lynge
Niels Lynge was a Greenlandic pastor, poet and painter who famously turned the walls of his home into art canvases. The house is also a perfectly preserved example of a Greenlandic residence from the 1960s and access can be arranged through the Nuuk Local Museum.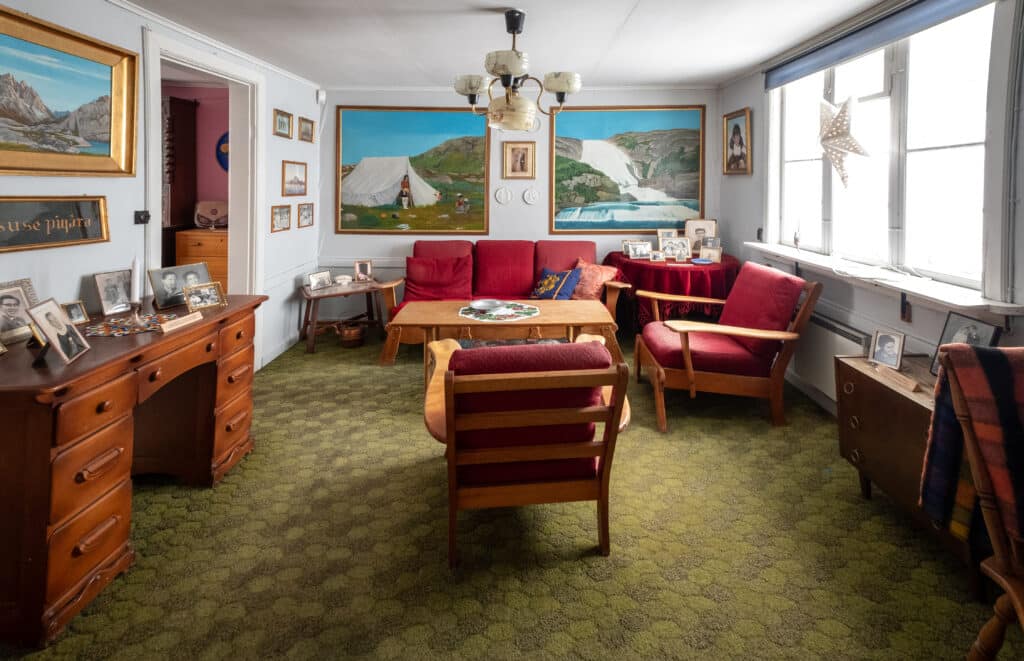 Greenlandic Performance Art / Theatre
The Greenland National Theatre (Nunatta Isiginnaartitsisarfia) was established in 2011 and produces 3-5 performances each year, often based upon Greenlandic culture and traditions. It runs workshops and a school for actors, and also takes performances out on the road so that people in smaller Greenlandic communities can experience performance art.
Most of the theatre is in the Greenlandic language, though several plays have also been conducted in Danish. Although it is only occasionally that there is a performance that transcends language or is carried out in English, it is worth checking out what is playing while you are in town. Use Google Translate to convert the webpage from Danish by right-clicking on any blank section of the page and selecting "Translate to English".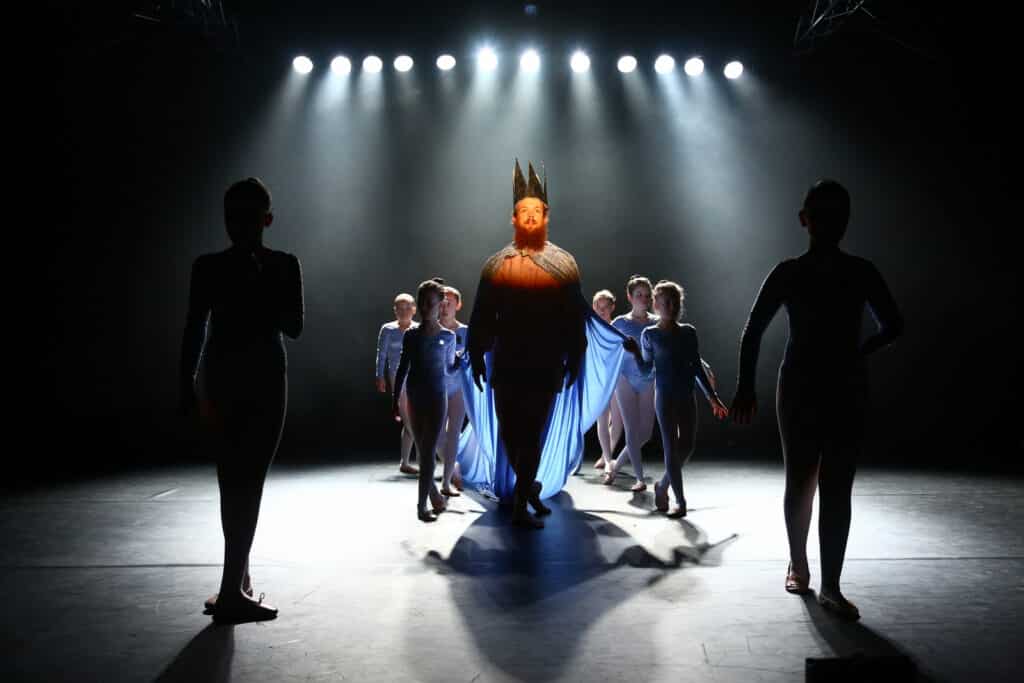 Greenland National Costume
Traditional Greenlandic clothing was made from animal skins and hides and its function was entirely practical. The arrival of the Danish also saw the arrival of fabrics, beads and other materials, which were ultimately mixed with traditional elements and Greenlandic symbols to create what is now known as the National Costume.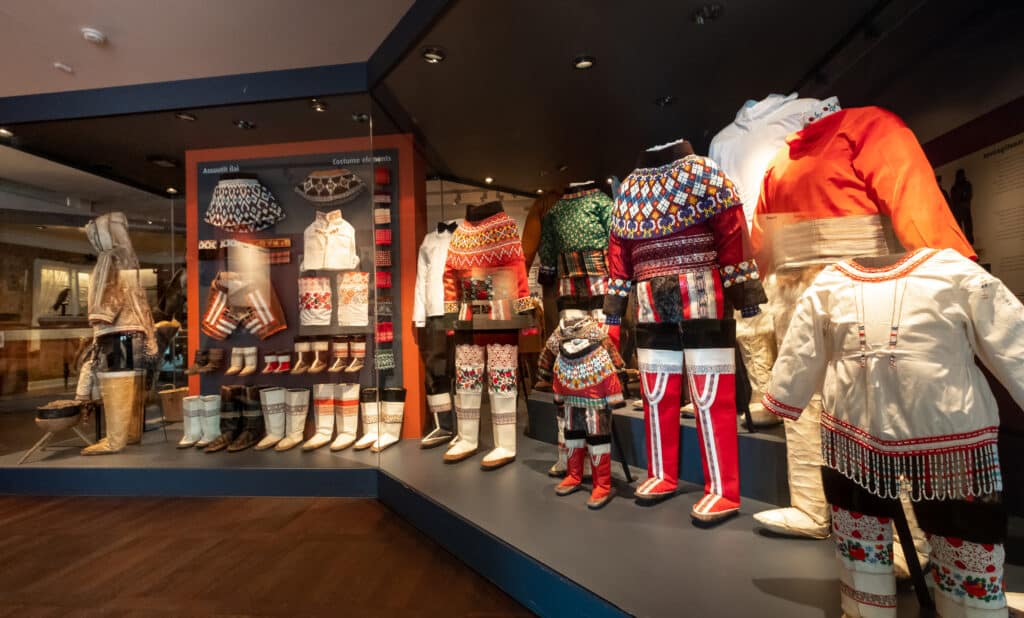 While you are in Nuuk, you have the unique opportunity to learn more about the intricacies of the Greenlandic dress and how it is made at Kittat Economusée. On a visit to this workshop, you may find the staff preparing hides, doing beadwork, embroidering, or working on another component of the immensely complex and time-consuming process to create the final costume.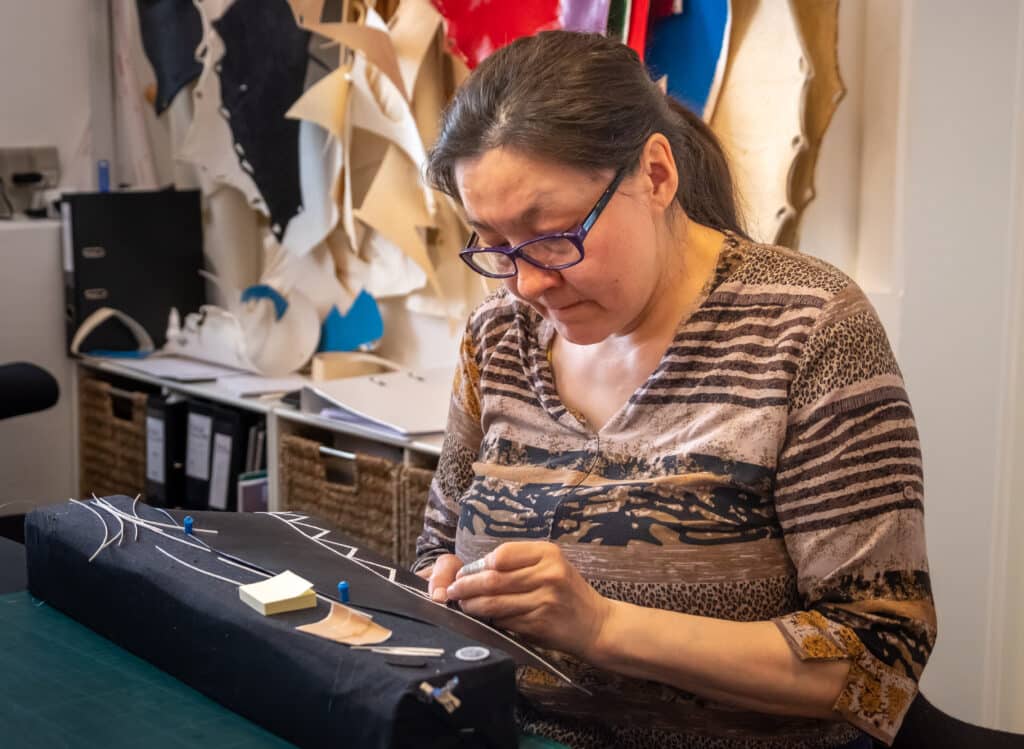 Whatever is happening, it is a fascinating look into the beautiful clothing that most Greenlanders still wear to important ceremonies like baptisms and weddings, and for festivities such as Easter, Christmas and Greenland National Day. You may also be lucky enough to see Greenlanders in their National Costume if you attend a mass at one of Nuuk's churches.
Music in Greenland
Greenlandic music may well be some of the best music you've never heard of. Although some artists perform in English or Danish, there are a large number who only sing in Greenlandic. It is a testament to their skill and musicianship that their songs have the ability to transcend language barriers.
Some of our favourite performers include: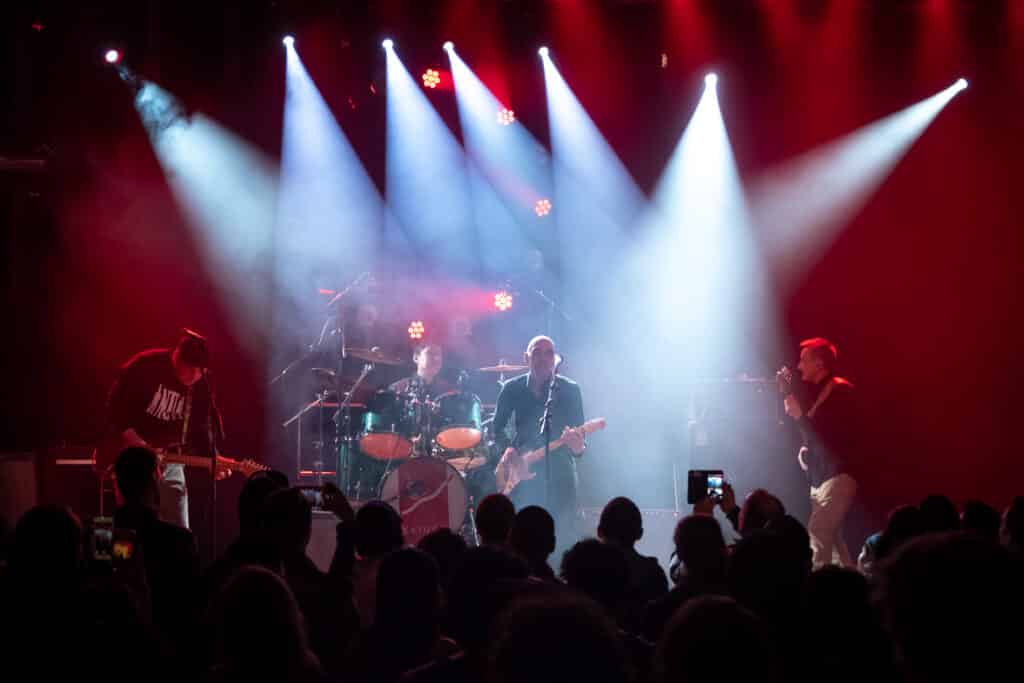 While you are in Nuuk, make sure to stop by the Katuaq Cultural Center to see if there is a performance during your stay. If so – make sure you buy tickets!
If you'd like to take home some Greenlandic music, pay a visit to the Atlantic Music ApS – Greenland's everything-to-do-with-music store and the largest distributor of Greenlandic music. It is also Greenland's main recording company, hosting the country's primary recording studios and receiving submissions from musicians all over Greenland for possible production.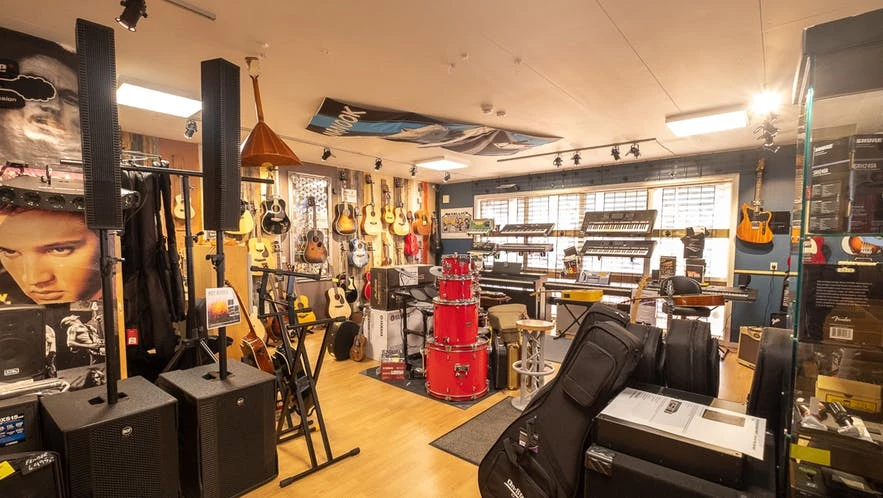 Greenlandic Food
It is best to leave your food sensibilities at home if you want to embrace the full culinary experience of Greenland. With more than 80% of the country covered in ice, the traditional Greenlandic diet is heavy on seafood, fish, and meat products, and light on plant material – the latter reduced to whatever could be foraged during the short growing season out in the wild. Add in the fact that whale and seal are two of the primary sources of meat, and your internal food compass may need some re-calibration before arrival!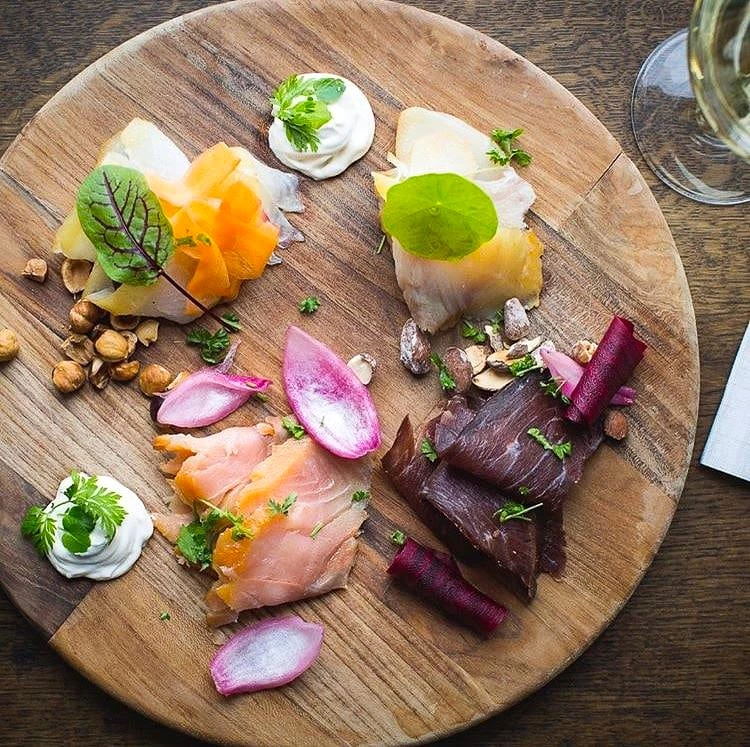 Modern Greenlandic cuisine takes this traditional base and fuses it with both native and external flavours and techniques to create culinary masterpieces. The best way to experience this is by trying some of the Greenlandic tapas or tasting plates that are available in many restaurants and cafes around town including the Sarfalik Restaurant at the Hotel Hans Egede, the Café Toqqorfik in the Colonial Harbour, and Cafétuaq in the Katuaq Cultural Center.
Alternatively, join Anne Nivíka Grødem – the Greenlandic Foodlover – for a 2-hour, personalised gastronomic delight in her "Greenland in a Bite" experience.
Architecture
A key drawcard for any destination in Greenland is the plethora of bright and colorful houses. While Nuuk has plenty of these (especially in the old part of town around the Colonial Harbour), it also offers Architecture lovers a diversity of building structures that is quite unique in all of Greenland.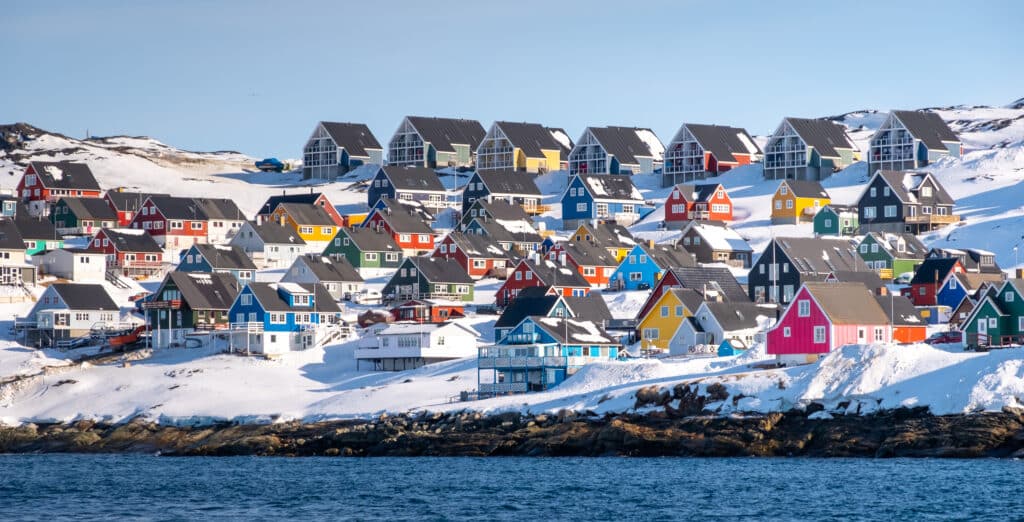 You can tour the Greenland Institute of National Resources and Greenland University to see the interesting architecture of these buildings and the artworks contained within, but we would also recommend: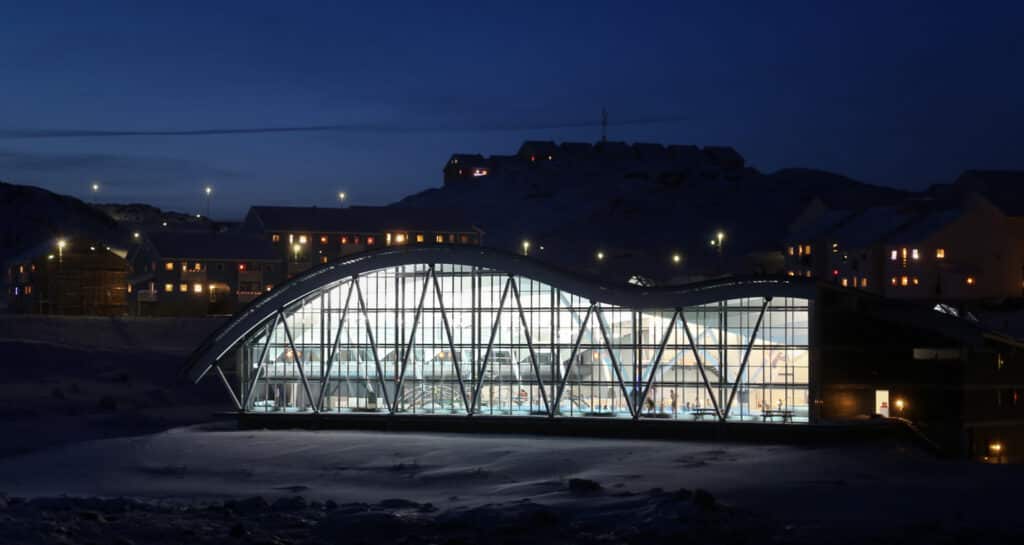 Plan your Cultural Experience
Many of the cultural experiences in Nuuk are accessed by visiting the relevant building near the city center. However, if you would like to book one of the guided tours or visit one of the smaller settlements, Guide to Greenland brings this all together in the one place.
---
Other interesting articles