Flying above Greenland – one of the most scenic flights
I love being above the clouds on a flight, no matter which destination I have. I love having a window seat when it's a shorter flight. Then I can look out the sky and feel the calm and peace… unless you are sitting next to a crying child of course 😛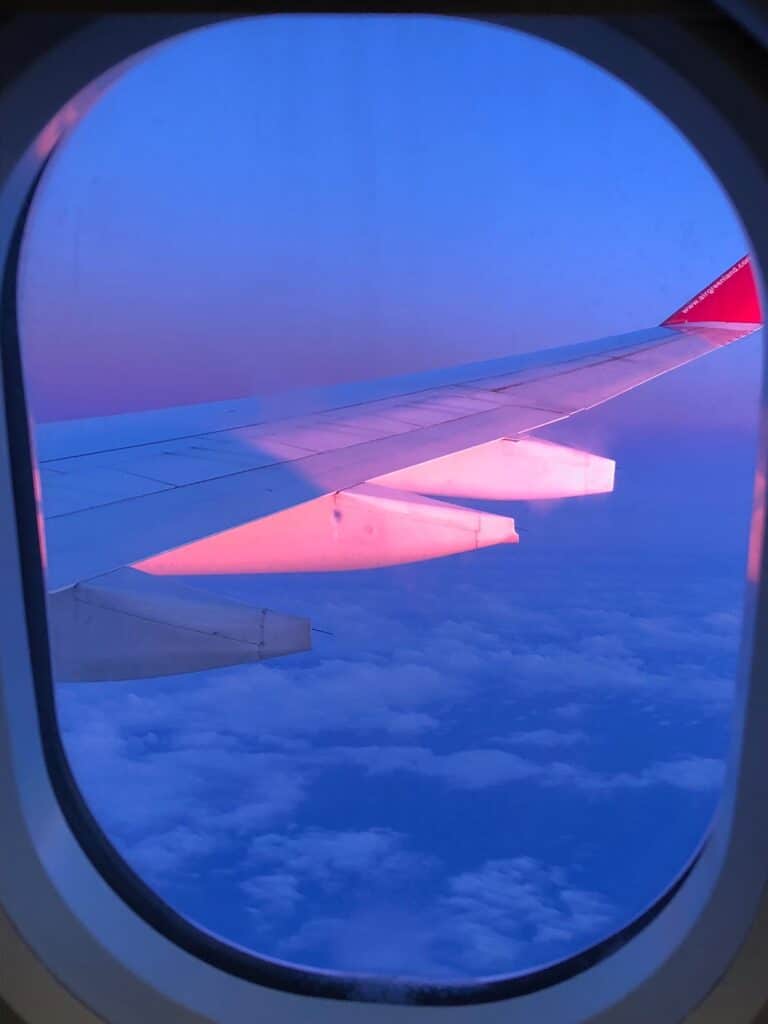 The picture above is taken around 2 pm 29th of December on my way to Ilulissat, while they had polar nights. This means they don't see the sun from the end of November to the 13th of January. 
Once I am below the clouds it is also very beautiful. Whether it's a view of big city lights, mountains with trees and snow, or palm trees with white beaches. But what I find extra beautiful is when I am on a flight somewhere around Greenland. Maybe because it is my home country it brings out special emotions. Or maybe it brings these for anyone who appreciates scenic views because Greenland is indescribably beautiful.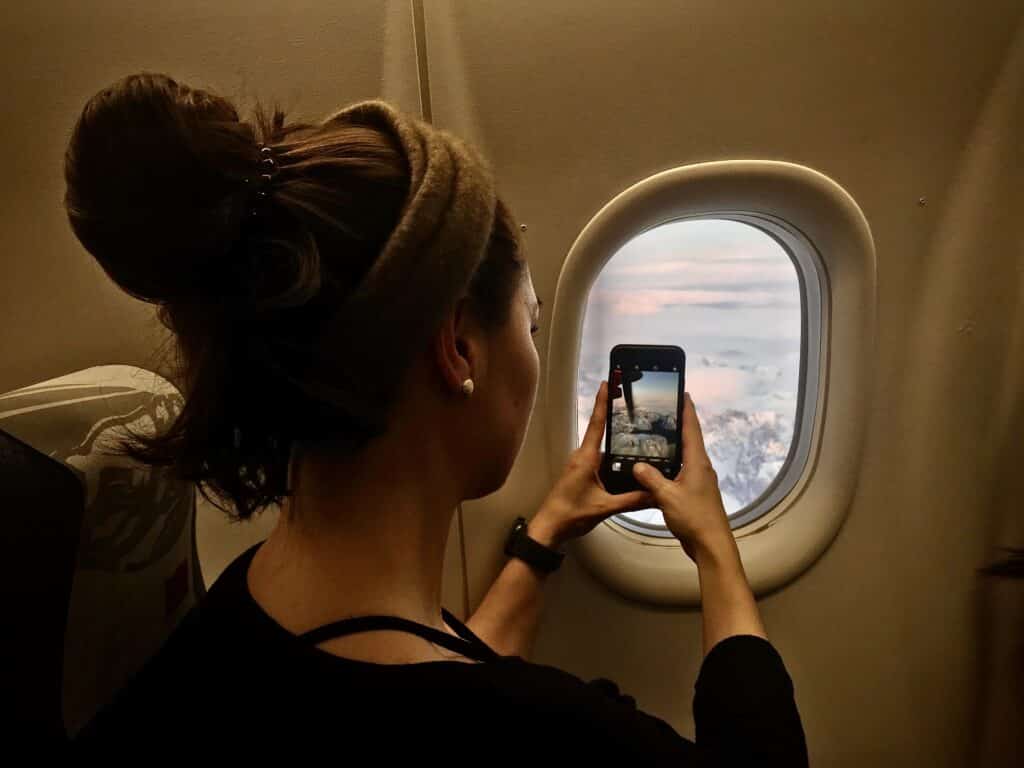 Flying to Sisimiut
Last week I was visiting Sisimiut, and I took so many pictures out the window as if I saw this for the first time. So breathtaking! Look at the beauty of the fjord and the mountains on this route. It was fresh falling snow lighting up the coast.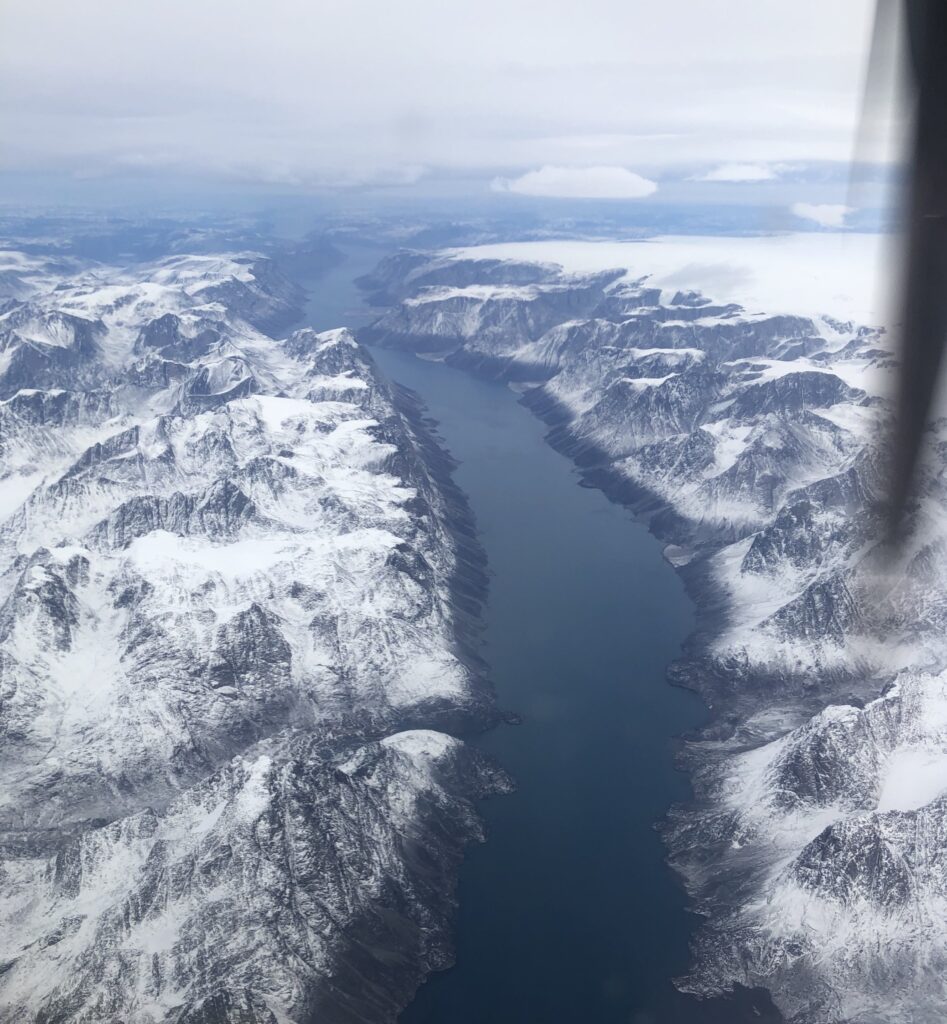 With the low winter sun shining on top of the mountains and the many hundreds of thousands of years old glaciers beneath you, you realize how small you are on the map of mother nature.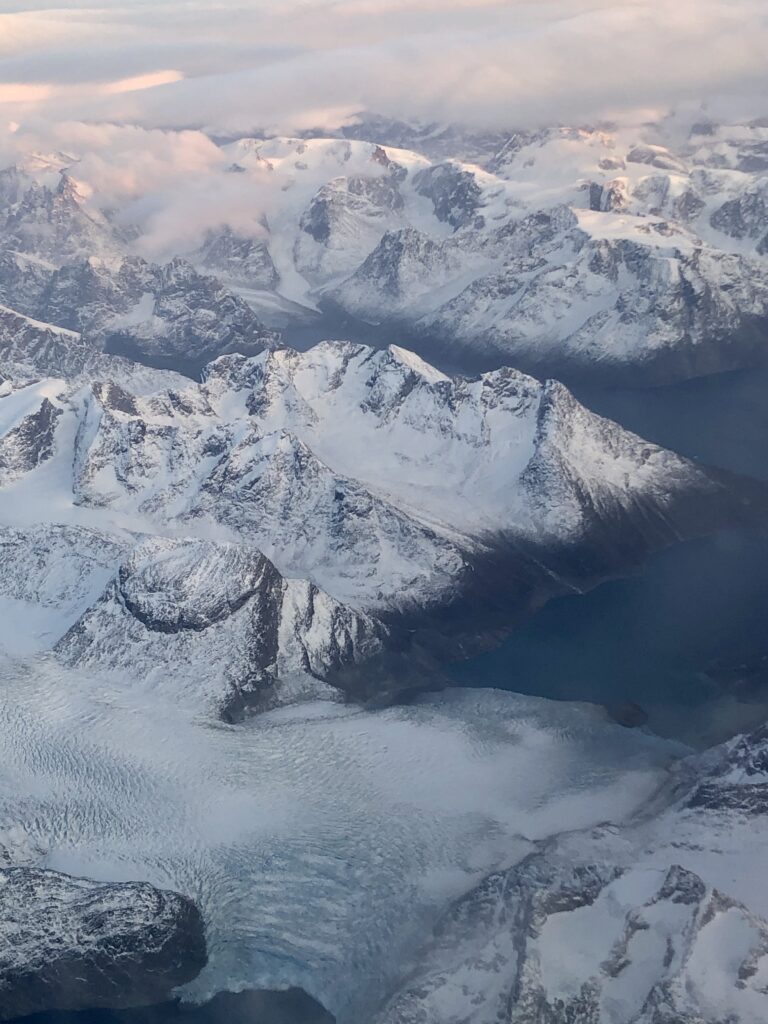 Greenland's Ice
80% of Greenland is covered by ice. The highest point is 3.2 kilometers above sea level, while the ice is 3.5 kilometers thick. It is because of the massive weight of the ice that the bottom now is under sea level. Where the fjords are lowest is where the glaciers are coming out. We have many of these around Greenland's coastline, which many visitors like to visit.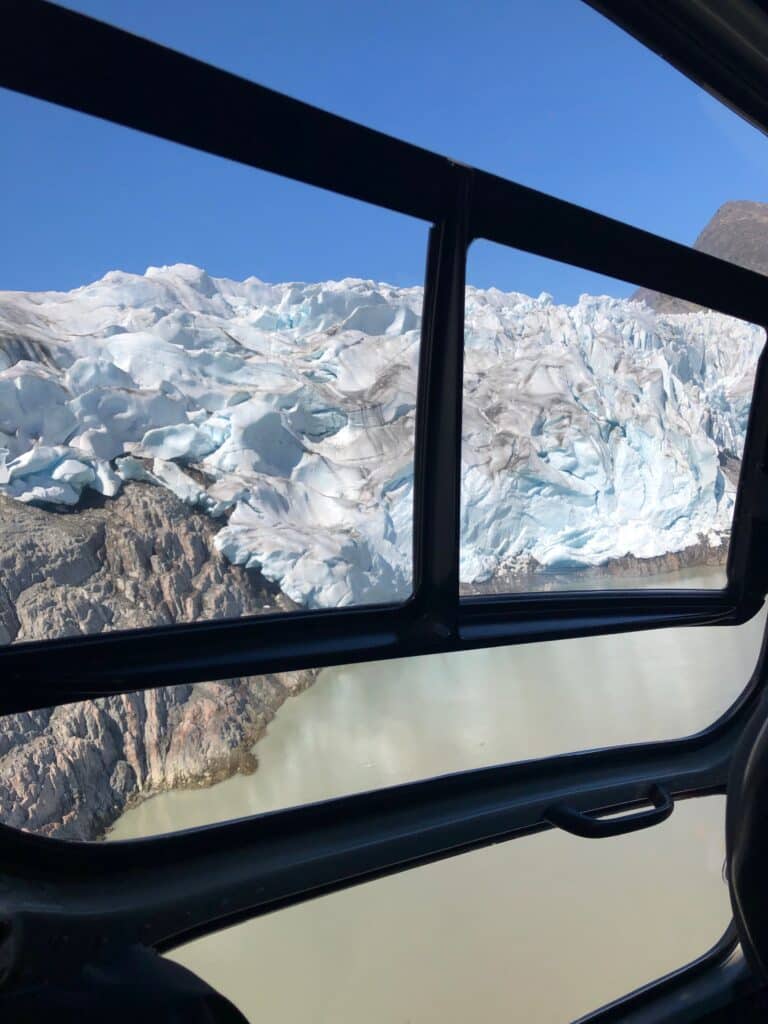 On a flight excursion, you get to come very close to glaciers and beautiful fjords. Some cruise ships and yachts even charter a helicopter while sailing along the coast.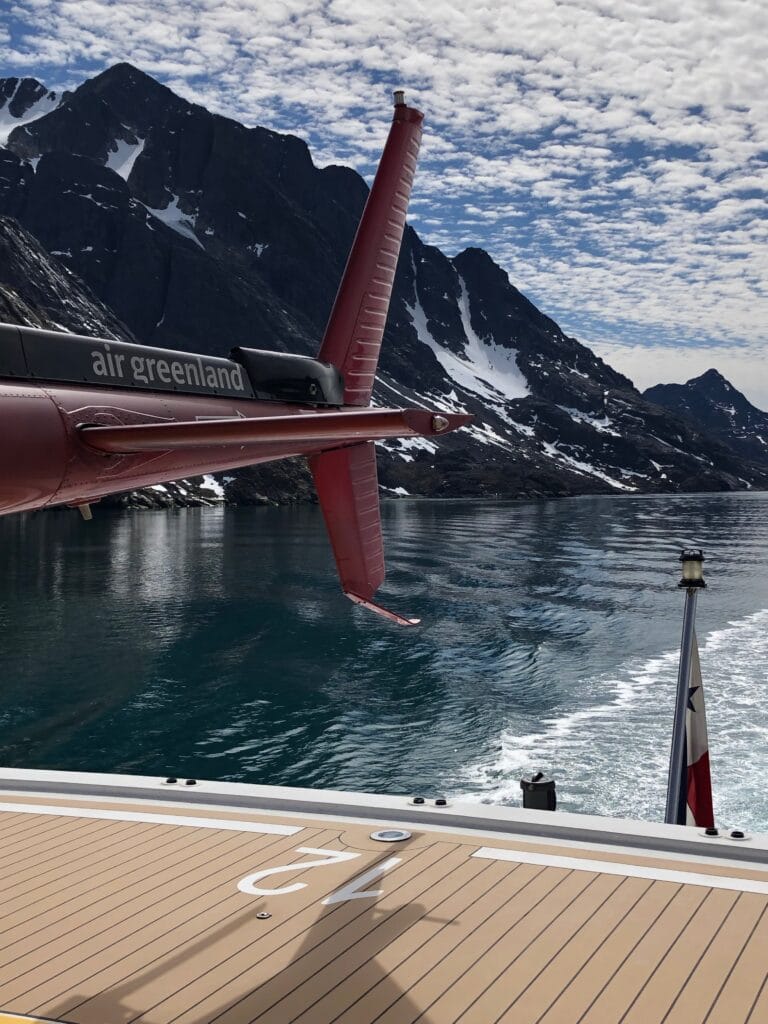 Flying into Nuuk
On my flight back from Sisimiut to Nuuk, I was invited to sit with the pilots in the cockpit. With my many years of work with tourism in Greenland I know many of the pilots. Once in a while, I get this opportunity, which also makes the flight time seem shorter.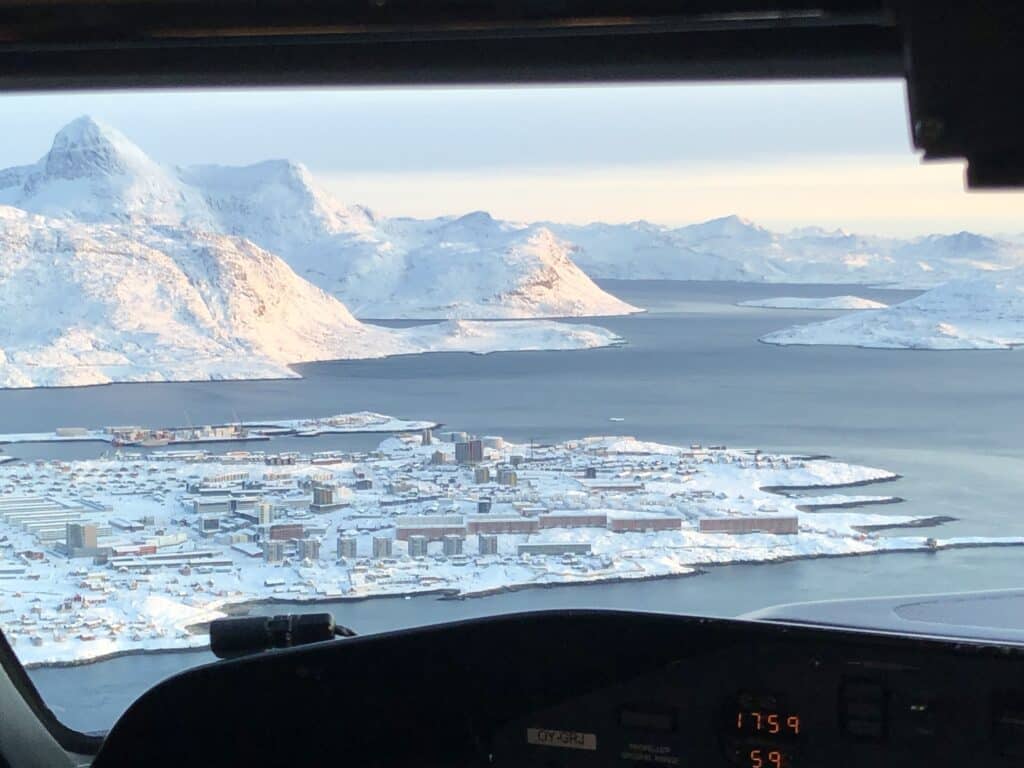 A week before I left Nuuk there wasn't any snow, so on the return flight, it was a stunning view!  It was about time we got snow, the middle of November! 🙂 
Other interesting travel blogs