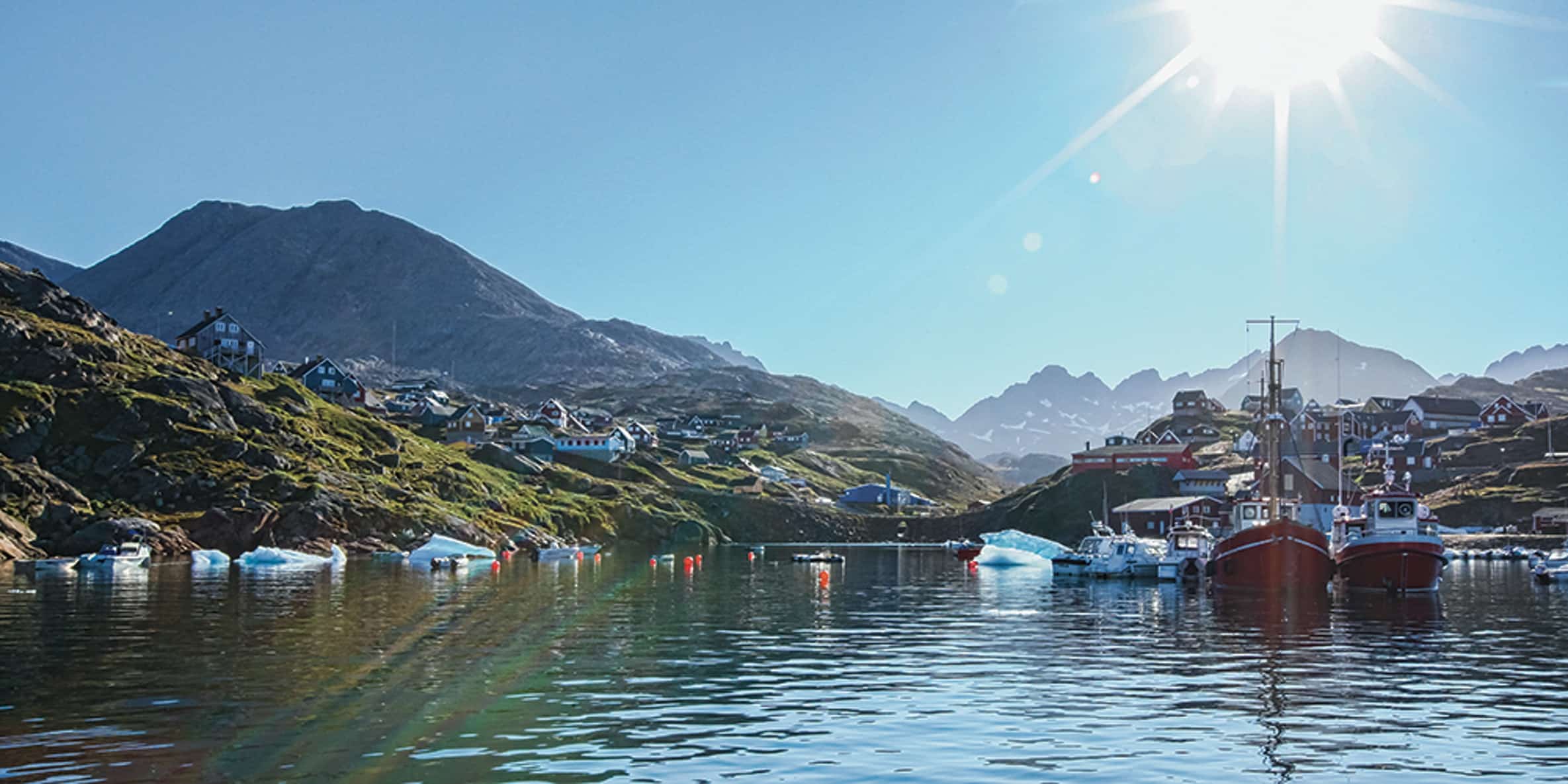 Outdoor adventure in Greenland
My trip from Narsarsuaq in the south to Ilulissat in the north and Kulusuk in the east.
I was given a trip to Greenland by my daughter Sarah, who is a professor and researcher at the University of Michigan. I traveled with her and some students for five weeks as a photographer. They studied meltwater, microbes, glaciers and ice.
Planning and packing
This was the group's first major expedition to Greenland, so there was a lot of preliminary work. Areas had to be chosen with the ideal conditions in which fresh meltwater was available with the possibility to collect it and with a place to stay, whether it was a youth hostel, a house we could rent, a campsite or boat to stay on.
I was given very specific instructions on what I should take with me, and I repacked many times. I was told that I had to bring my mountaineering boots. They weigh about 2.7 kg each, are stiff as a board and very difficult to walk in, but they are perfect for walking on glaciers.
So I ended up taking as little as possible, besides from my computer and my backpack that is designed for camera equipment.
The Nature in South Greenland
It was absolutely fantastic to finally see the ice sheet and icebergs. All you heard on the plane was the sound of cameras as everyone tried to capture Greenland's beauty through the aircraft's small windows.
Trekking in Narsarsuaq
Arriving at Narsarsuaq airport was just like arriving at any other airport, you just followed the flow of people, got your luggage and you didn't notice how small the airport is. The glacier we were here to study was only a hiking trek away. It was so exciting.
The hike to the glacier was eight kilometres each way, along a gravelled path through a lush area with flowers, and up to a plateau where the glacier could be seen. On the way through the Flower Valley, there were several rivers with glacier water and lots of mosquitoes. I always thought that I lived in mosquito country and that mosquito nets are for babies, but now I'm the proud owner of three stylish mosquito nets.
Narsarsuaq glacier
A rope attached to the mountain with large metal rings helped us to reach the top of the mountain and see the glacier without falling down the steep mountainside. When we reached the top, there was time to stop and enjoy the stunning views.
We found out that we had to go around the mountain to reach the foot of the glacier, where the meltwater was that we needed. So 22 km later, our feet were really sore with blisters and we had mosquito bites, and we were very thankful for our first aid kit.
After a few days of hiking out to the glacier to take samples, it was time for us to move on. Some had to go home, others had to fly to Ilulissat to meet with Sarah and another research group, and I was going to Kangerlussuaq to wait for them there.
Lost and found
We checked in at the airport with our backpacks and bags, and then I lost my passport. They were only waiting for us at the gate as everyone else had already boarded the plane. The lady at the gate said I could board the plane, as I had already checked in. She was sure that my passport would turn up, and they would send it on the next flight.
In Kangerlussuaq, I explained how I had lost my passport at check-in, and they called Narsarsuak airport. My passport had already been found there and handed in to airport security, and it would be sent to Kangerlussuaq on the next available flight, I just had to come back later. Wow! I couldn't believe how lucky I was. I really felt that I was not back at home in the U.S.A., and instead, I had very warm feelings for Greenland.
Kangerlussuaq
I wondered whether there was a place in town that sold hiking boots, because my mountaineering boots were so pain-ful to wear that I would be happy if I never saw them again.
I was picked up and driven the 3 km to the Old Lodge Hostel. It was a couple of buildings with rooms and shared toilets, showers and a kitchen. Breakfast was served together with hot water for tea and coffee. In one of the fridges there was room to put bought-in food, and the range of goods at the grocery store was large, because Kangerlussuaq has 600 inhabitants.
There was a bus stop right next to the hostel, and the bus ran every hour. The driver was a nice older gentleman who stopped for five minutes along the way on each round trip to get out and smoke.
Tundra safari in Kangerlussuaq
The next day I went on a musk ox safari. As the only guest, I was allowed to sit in the front. We drove up the mountain and stopped at a place with a fantastic view in all directions. You could see the entire airport, and I got my first glimpse of the ice sheet. An incredible sight! I set my tripod up and started taking photos. The ice sheet is a very different sight to a glacier or an iceberg. I was ecstatic and got goosebumps.
On the way back we saw more musk oxen. What beautiful coats. Although it took many hours, the trip was over too soon. I found out that the ice sheet was too far away to walk with my equipment. I looked at Ilulissat on the Internet. It was very photogenic.
---
Visiting Ilulissat
At the airport I got my passport, oh how nice, and without having to go through a lot of checks with the police or the embassy. I was so happy that I bought a ticket to Ilulissat, packed my camera and some clothes.
Ilulissat a divine place
It was the best decision I had made. If you go to Greenland, make sure that you go to Ilulissat, it's a divine place. My room had a small balcony with a view of the town and the icebergs, perfect! I ate dinner at a lovely Thai restaurant, and then went on a midnight voyage. I set my tripod up on deck. It was so beautiful. The icebergs, churches, hotels and the many pink, orange and blue colored houses.
The ice in Greenland
The boat was filled with people on holiday that experienced the wonderful icebergs. Our guide talked about the changes in Greenland's climate, the ice sheet melting, how Greenlanders adapt themselves, and how, for example, dog sledding is affected, because there is no longer solid ice on the sea to drive on during winter.
---
Work with researchers
Back in Kangerlussuaq, I met with two of the researchers. It was time to collect water samples.
We walked for several hours in the morning and looked for the best place to take samples. In the afternoon we went to the harbour to take samples. There was a cruise ship in the harbour, so we took some funny photos and some good water samples, but we needed samples directly from the ice sheet.
The next morning we took our first trip to the ice sheet. It was a gravel and dirt road, very bumpy, with surprises at every corner. Among the surprises was a beautiful waterfall, a plane wreck, a golf course and a young reindeer who was very interested in the car. We stopped many times to collect samples and we felt very productive.
Blue Ice
Sarah arrived the next day. We had packed the car and were ready to go. The drive to the ice sheet was even more beautiful than the day before. Sarah didn't stop at any of the places we had stopped the day before, but drove straight to the places she had a map of, which required us walking away from the road to reach them. The blue ice right up close, with holes where water gushed out, and a herd of musk oxen with their young, so there was musk ox hair everywhere stuck in the bushes and blowing in the wind. It was a fantastic day!
The animals around Kangerlussuaq
On the last day, we went out to the end of the road and walked up on the ice sheet. We had fun taking photos and admiring the endlessness. On the way back to the town a musk ox ran along the road in front of us. We drove slowly, but it didn't leave the road – when we stopped, it stopped too. And so it went for a long time until it wandered off. Around the next corner there was a reindeer with the biggest antlers I have ever seen. We stopped the car and sat on the roof, called and sang so it would come close enough for us to take a photo. The most beautiful photos of the whole trip were taken in Kangerlussuaq.
Nuuk, the capital of Greenland
Nuuk is the capital of Greenland with 16,000 inhabitants (at least in 2012) and the town felt a bit overwhelming after our time in Kangerlussuaq. Taxis, restaurants, people gathered, many houses, shops and a shopping centre made it clear that our time in Nuuk would be different than the other places we had been.
Travelling to ice sheet by helicopter
The ice sheet was too far away, so we had to fly by helicopter to reach it. It all depends on the weather when flying by helicopter. We arrived early each morning and played a lot of cards while we waited.
I couldn't understand how lucky I was to spend several days in a helicopter taking photos of Greenland. We flew along the coastline and over the mountain tops. It was divinely beautiful.
Our rooms at the Seamen's Hotel in Nuuk were fine, but the best part was their cake buffet every afternoon.
The pilots invited us out to dinner and we ended up at home in a living room with a barbecue on the balcony overlooking the fjord. While we enjoyed musk oxen and reindeer steaks, we could enjoy the view and watch the whales.
The perfect spot on the ice sheet
On the next day's flight, Sarah and the pilot found somewhere that with a researcher's eye was perfect. There was a river formed by melt water that flowed out from under the glacier. When we had to go again, we saw a herd of reindeer. What a sight.
We found a shiny, blue lake on top of the ice, where we could take samples from. It is indescribable how we felt when we stood there and looked at this amazing work of art that nature had created.
We were invited out again on the last evening. We ended up in a house right on the water's edge of the fjord. A group of people with a seriously big bonfire warmed us up this cool summer evening. The house was owned by a couple who were also pilots. Stories flew back and forth told by great storytellers. It was as if we got a glimpse into the lives of people that we really didn't know, but they were very hospitable. If I had gone there as a 17-year-old, I would probably have still been there.
Nuuk Fjord
One of the pilots had a small boat, which was just what we needed to take samples the next day in the fjord. With our picnic basket and research equipment, we spent our last day sailing from place to place in the fjord. It was a good prelude to the East coast where we were to sail for our last week in Greenland.
---
Kulusuk
The boat in Kulusuk was fantastic. There was room for 12 people, private bedrooms and a living room with two bunks. As soon as the captain and his son picked us up at the airport, we knew that this was going to be an adventure.
East Greenland
When we had all of our equipment onboard, we headed off to a glacier that was a few hours by boat from Kulusuk. Even though we sailed along the coast close to shore, there were no towns, villages or people. However, the captain, who always had a lovely smile on his face, told us that a polar bear had been seen in the area a couple of weeks before. He had lived in Greenland for a while, after he had worked as a fisherman in Iceland. He was one of the people who had had enough of the materialistic world and just wanted to live in the wild.
Our goal for the week was to get as close to the glacier as possible and then take the dinghy to shore and hike to the glacier every day and take samples. We had to find a way through the mud when it was low tide, and get back to the boat with heavy backpacks filled with water samples.
Berry picking
The captain dropped us off in the morning and picked us up late afternoon. In the meantime, they ensured there was fresh fish that was served every evening with potatoes and a glass of wine. Delicious.
One day, several small boats came and a family gathered on land. Some older ladies with mosquito nets walked in the mountains and gathered berries. I began photographing the Greenlandic family instead of the researchers, and the men in the boats who shot a seal.
Seal hunting
It was fascinating to see the family drag the seal on land, and the children gather around it and touch it before the men cut it up. Not a single piece was wasted. I had never seen such a process before and it touched me deeply.
I could not have dreamed of a better working holiday. It was not always fun, but it was an adventure throughout. I met some of the funniest, kindest and most interesting people, and I have never seen so much before. Thank you Greenland for a fantastic adventure!
Read more travel blogs from Mindy Cambiar
Other interesting travel blogs