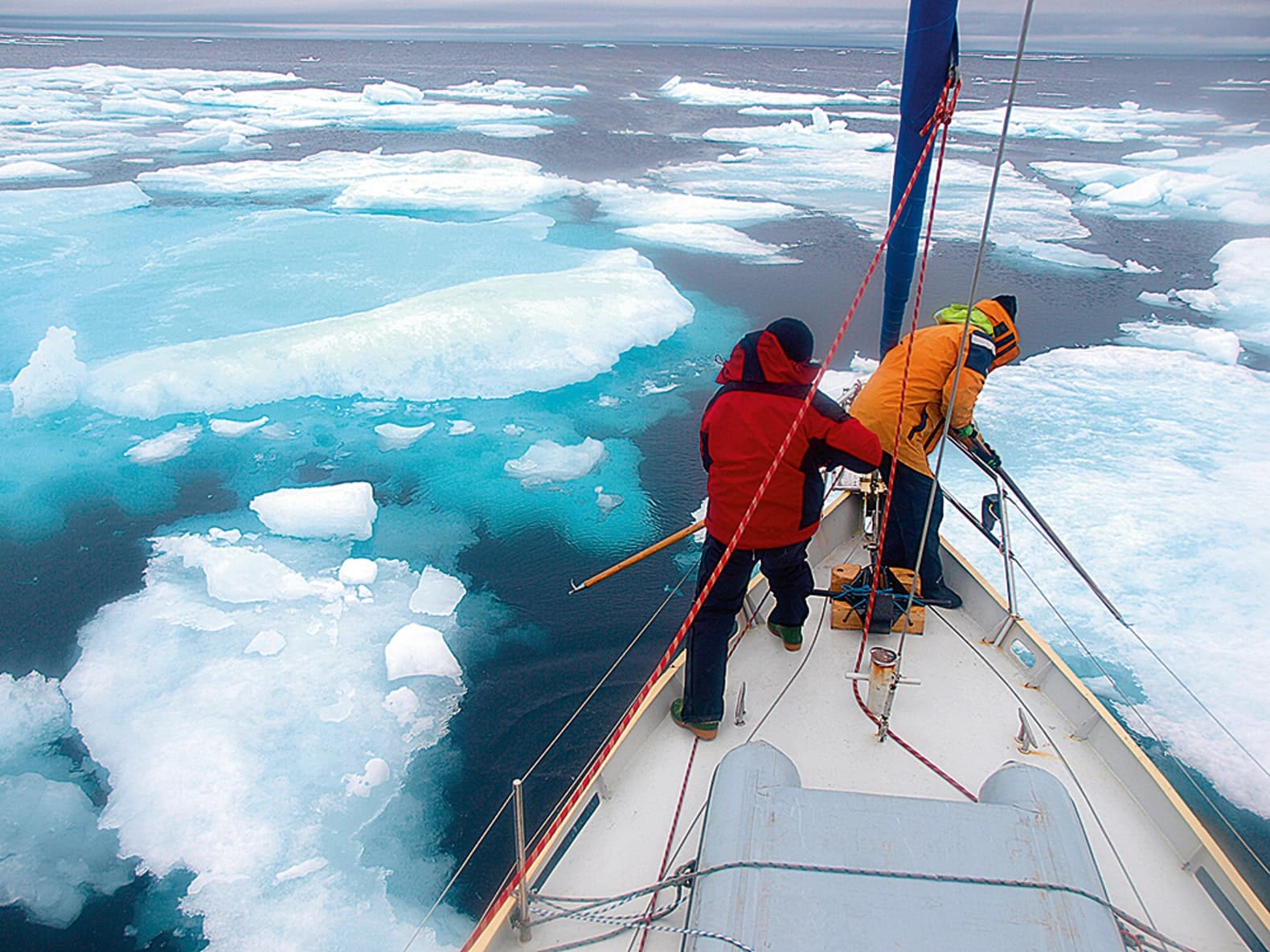 From Nuuk in Greenland to Nome in Alaska
I admit I was a little scared of this expedition. I have been a sailor for many years, but there is a big difference between holiday cruises in the tropics and sailing in the Arctic. In waters where there are almost no ships the chance of rapid rescue in an emergency is slight.
On the other hand, I liked the challenge. Now I know that after three months on a small, 14-meter long yacht and covering a distance of almost four thousands nautical miles (about 7,400 km), partly on ice-covered waters, it was well worth the effort and risk.
Infatuated with Greenland
My first taste of adventure came in Copenhagen Airport. The airplane's Air Greenland livery made me realize that soon I would be on the largest island in the world.
A few hours later, I landed in Nuuk, where our yacht was moored at the wharf. The pride of our sailing club with its red and yellow hull and twin masts, it seemed small in comparison to the fishing vessel moored next to it. 
We prepared the boat for sailing, and during our breaks went for walks in the city. We were particularly impressed by the National Museum, an excellent source of information about Greenland. We also visited the Santa Claus Post Office with letters to Santa, and we found out that that a large proportion of them were sent by Polish children.
On the »road« to Greenland
Finally, we were ready to go. Polish sailors are quite superstitious, so just outside port we opened a bottle of rum and made a symbolic toast to a successful expedition, with the first honorary glass going to Neptune. Of course, we were very careful not to leave on a Friday, as this could bring bad luck to the boat and crew.
Although we live in the twenty-first century and no-one really believes in witchcraft anymore, most Polish sailors avoid going to sea on a Friday. However, they will happily leave at five minutes to midnight on a Thursday or just after midnight on a Friday night.
After several days sailing along the coast of Greenland, we were caught up in a gale, though fortunately the wind was blowing from, what for us, was the right direction. We crossed Disko Bay very quickly, but nothing ever goes entirely according to plan, and approaching Ilulissat we experienced engine trouble. 
Unfortunately, the damage was severe, and we realized that it could mean the end of our Arctic dream. We spent two consecutive days trying to repair the engine, and slowly we began to lose hope. However, there's no cloud without a silver lining, and whilst we waited for engine parts to arrive from Poland we had time to visit Ilulissat and its surroundings. 
Ilulissat in Greenland
Our favorite place was of course the Icefjord, where we spent hours gazing at the icebergs. After separating from the front of the glacier, they glide slowly out towards the ocean. I have travelled to Spitsbergen, Iceland and Antarctica, but none of these places can compare with Greenland.
Of course, we also explored the town. And we spent time with local people. We became good friends with Hans, the captain of a fish transport vessel. Initially, we stayed together, side by side, and when we moved on we often visited each other.
One day, Hans gave us a piece of whale meat, which our captain fried and it made pretty tasty steaks. The arrival of our friends – sailors from the Swedish yacht »Anna« – in Ilulissat, meant we had a good excuse for a party with an international flavor.
Disko Island, the green island in Greenland
The engine repairs took a long time, but at least that allowed me to take a ferry and spend a couple of days on Disko Island. I was very lucky to meet some very nice people at the local Arctic Center.
Before I'd had time to look around for a place to pitch my tent, they'd given me the keys to their private cottage with a view of the bay and the icebergs floating past. I was really surprised – they did not know me, but just wanted to be helpful.
During my trips to the surrounding mountains I was really amazed by the vegetation. I did not expect Greenland to be so green, for example, three types of orchids grow on the island. Despite this, 900 meters above sea level there is a glacier where even in the middle of summer you can go for a snowmobile ride or a trip on a dog sled.
Slaloming between the ice floes in Greenland
Finally, the engine was repaired. To make sure that everything was in order, we made a short trip to Oqaatsut (Rodebay), a quiet village which is only accessible by boat or foot from Ilulissat. Now this too is on the list of my favorite Greenlandic places.
The next morning, we cast our mooring rope and headed north towards the town of Upernavik. At first, the sun was beautiful, but later the weather broke and visibility got worse.
The icebergs which had once enchanted us now frightened us. It was difficult to see them in the mist, indeed, at times, it was easier to hear them as the ice was still »working,« or to feel a sudden breath of cold air. 
The risk of colliding with an iceberg is just one of the many dangers of icy seas. We remembered the advice of a local fisherman: »do not sail too close to them, because the icebergs can break, crumble and turn.«
The wave from a turning iceberg could easily overturn our yacht like a little tsunami. But no less dangerous than the icebergs are the growlers: single, small ice floes which, despite their modest size, are able to make a hole in the hull of a boat. Big icebergs are visible on radar, but growlers aren't. The further away we got from the Icefjord in Disko Bay the fewer icebergs we saw but the more growlers there were. 
Upernavik a small city in North Greenland
After four days at sea we reached Upernavik. When we arrived we saw the colorful houses on the hill and the small harbor emerging through the morning mist. We had a busy day of it as we had to fill the water and fuel tanks and do the last of the shopping.
When everything was ready I had time to walk around the island. I met some local children standing on the pier who asked me to show them the interior of our yacht. It was fun for them to see the inside of a sailing boat for the first time ever.
The night we spent in Upernavik harbor was to be the last one at a mooring for the next two months until we reached Nome, Alaska. In Arctic Canada we lay at anchor and went ashore by rubber dinghy.
The North West Passage
We didn't go ashore in Arctic Canada as we were in a hurry. The ice only thaws for a very short period of time, and we did not want to be forced to spend the winter in the Arctic.
The main difficulty in passing through the North West Passage is the ice. If you are too early, you have to wait until the ice melts. If you arrive too late, you can be caught by the ice. 
Days passed, and we took it in turn to hold our watches on deck. Our boat did very well, but we had to steer manually. Many times I cursed myself for doing this extreme voyage, getting up in the middle of the night shivering with cold on deck. But of course there were also good times where I was really happy – for example when I saw the northern lights for the first time in my life.
In Canada, we only visited a few ports: Pond Inlet, Gjoa Haven, Cambridge Bay and Tuktoyaktuk. To be honest, we missed Greenland a little bit when we were in Canada. Primarily, the many colored houses and the barking, shaggy dogs. 
Three months after my meeting with »Solanus« in Nuuk, we reached the port of Nome in Alaska.
For me, it meant the end of the expedition, going back home. Solanus went on, around South America and passed the famous Cape Horn. And me? I fell in love with the Arctic, and I'm already thinking about going back to Greenland.
Other interesting travel blogs