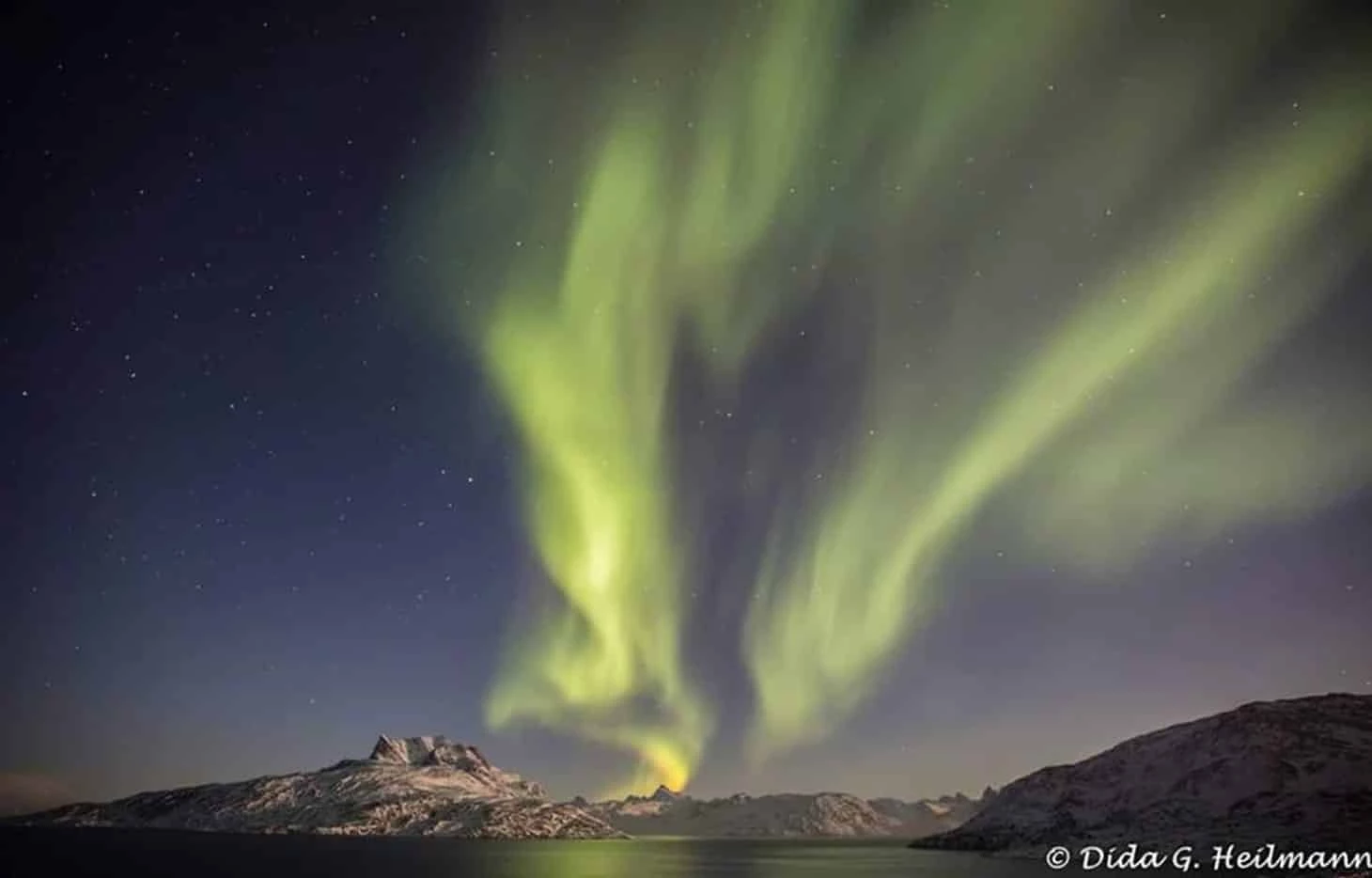 Northern Lights over Greenland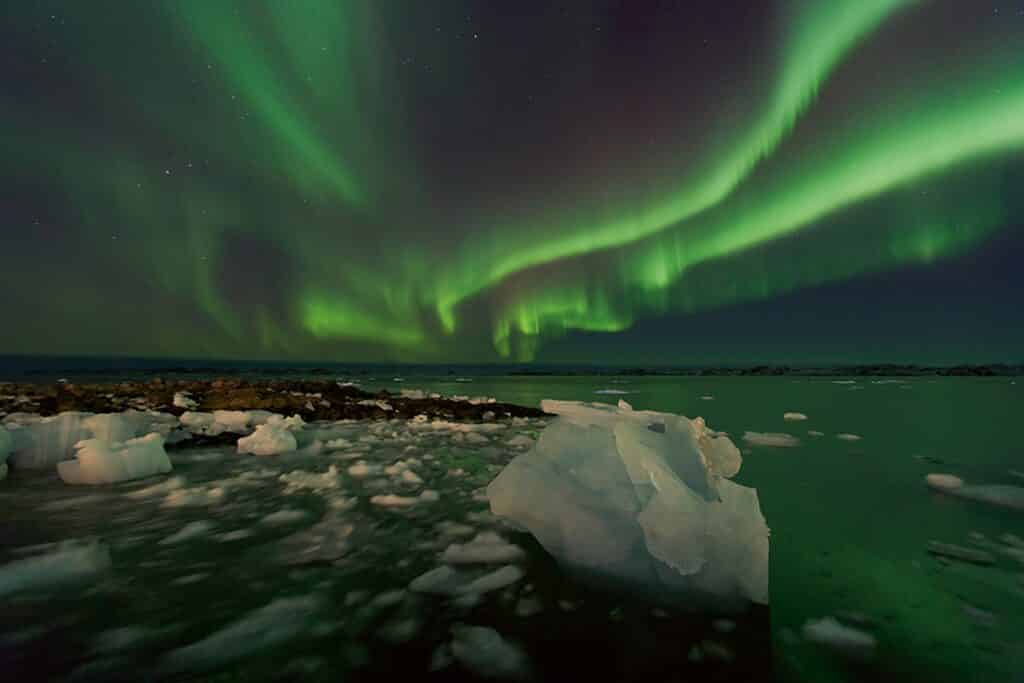 Can you see the Northern Lights in Greenland?
There is nothing quite as beautiful as the Northern Lights dancing across the night skies. In Greenland, you will be able to capture the Northern Lights in their full glory, whether it be in their traditional shades of green and yellow, to rarer colors of pink, blue, and violet.
The Northern Lights, also known as the Aurora Borealis, shimmer over the sky like long curtains. They can light up the night skies of Greenland for hours, while they change in intensity and color.
Some of the Greenlandic legends say the Northern lights are the dead, playing football with a skull. Others say you can be caught up by the Northern Lights if you whistle at them.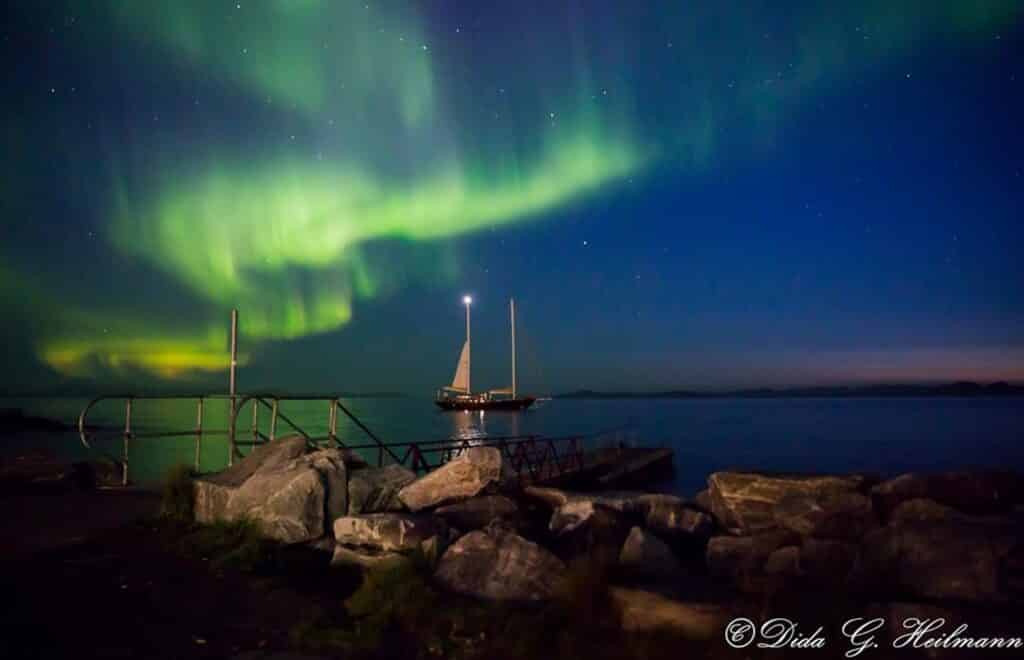 Are the Northern Lights visible whole year round?
It is the sun's surface activity that creates magnetic particles in the sky and increases the visibility of the Northern Lights. In Greenland, the Northern Lights are visible relatively frequently, due to their geographic position. However, you should know that the visibility of the Northern Lights, in general, follows so-called solar flares. Due to solar flares, there are periods each year with unusually high Northern Lights visibility. 
The period in which you can spot the Northern Lights in Greenland gets longer the norther you go. The general rule of thumb though is that they are visible from August and throughout March. There are magnetic particles in the sky all year round, but from April the light is so bright in Greenland, that it is no longer possible to see the Northern lights.
Why are the Northern Lights green?
Back to the most colorful version. There are not many that are lucky to see, but when it happens, it's like fireworks of colors and rapid movement. A bit like a reverse rainbow, because the colors are deeper, darker, and without the transparency of the rainbow. Moreover, there is not one arch, but a large number of wavy lights.
Most of the time, you will experience Northern Lights that are predominantly green. The color of the Aurora is determined by atmospheric gas and its electrical state, as it gets hit with charged particles from solar winds. The green and red colors are caused by atomic oxygen while nitrogen causes blue and deep red shades.
Personally, I am very pleased to see the most normal Northern Lights, namely the green and yellow stripes in the sky in countless many shades.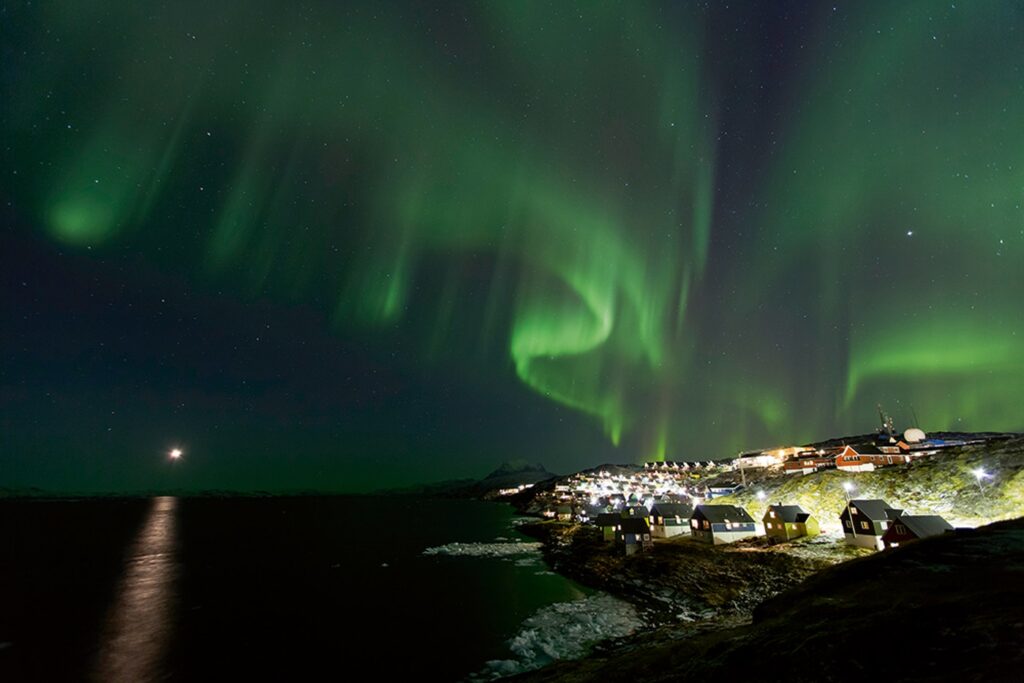 How likely am I to see the Northern Lights?
I would recommend that you see Northern Lights as a chance and do not take it for granted. I have always wanted to see a living polar bear. Perhaps a stupid wish, considering how dangerous it may be. But have you traveled 1000 miles or more – it's okay you want to see Northern Lights.
When it's only a chance and no guarantee, how do you improve your chances?
I would recommend you choose one of the tours that advertise with the opportunity to see northern lights. It may sound obvious, but the tours are designed and done by tour operators who have built up an experience for many years, where and when the odds are best.
In addition, they are on their toes to find northern lights for you. They live by positive reviews and will do their best to make the trip a good experience.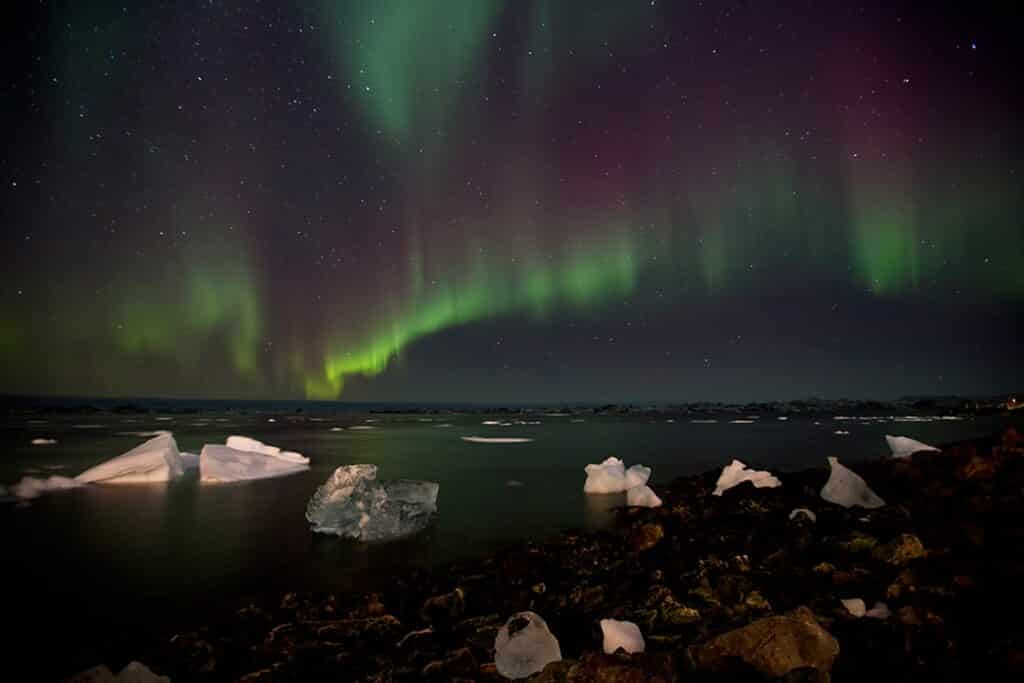 A truly unique experience
After living in Greenland for many years, and being lucky to travel a lot around the country, you might think that you are tired of seeing Northern Lights, or just looking up when it's in all colors. But I never get tired of looking at the Northern Lights. It makes the sky alive in a unique way, and you get a little humble towards one of Nature's very large spectacular phenomena, no matter how many or few colors the northern lights appear in.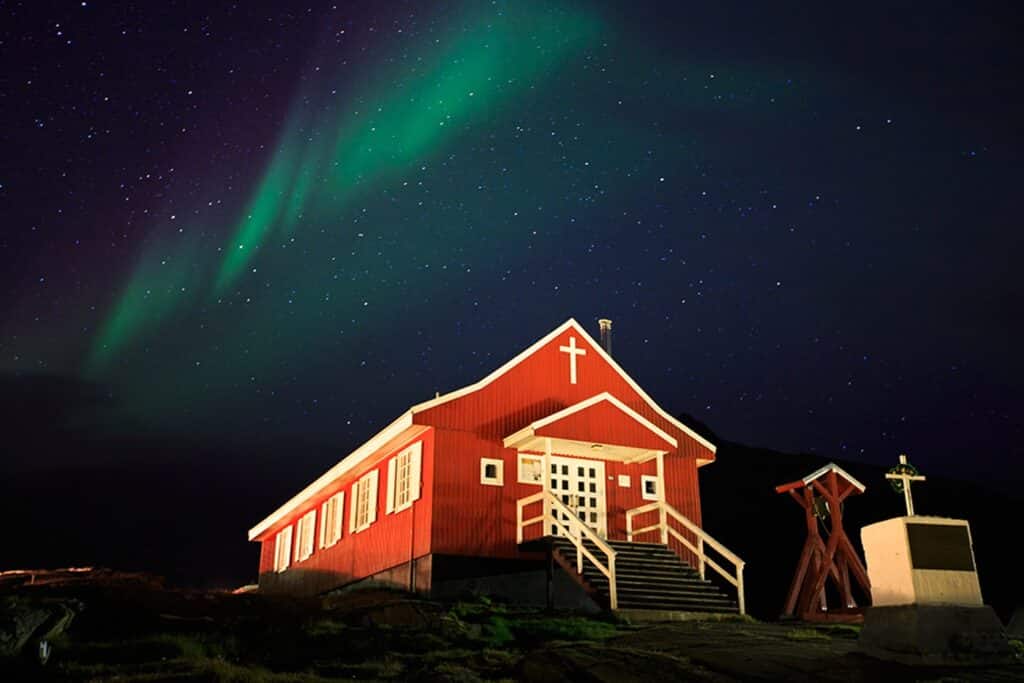 Look up
If you visit one of the world's many capitals, I can recommend looking up. If you only see the shops at street level, you'll miss out on fun balconies, gardens on roof terraces, ornaments, and ancient architecture, with little towers, arches, vaults, and much more.
The same applies to the Northern Lights. One has to look up to see it. It may sound obvious, but you can easily forget about it when driving in a city, with plenty of things to pay attention to. But whether you're driving or walking, stop, go outside, and look up.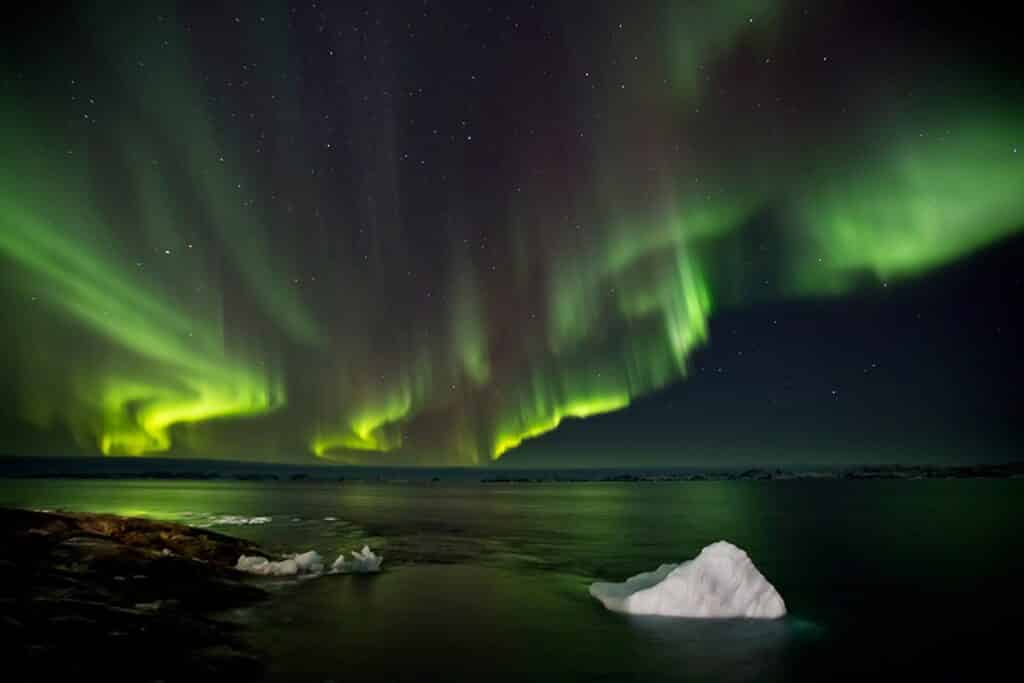 Light pollution
Even in the cities where there is light pollution, the Northern Lights can be visible. You should though, try to go outside to darker areas to experience the spectacle in its full glory.
For example, in front of a house with very much light, or under a street lamp, the light 'pollution' can prevent you from seeing the Northern Lights. You should rather go away from artificial light sources. Out in the mountains, it's amazing. The Starry sky and green waves of Northern Lights pulsating like a living organism.
Most of us are busy when we are on vacation. We will experience most of the country in which we are. We go on day trips, city walks, hiking in the mountains and to restaurants in the evening.
When it's getting dark in the evening in Greenland, remember that in principle there is always a chance to see the northern lights. It's not waiting for you. If there are Northern Lights 10 minutes very early in the evening, then it's the way it is. Is there a break between food dishes? Running out – past the smokers – and away from the restaurant light. Stand with your eyes closed for a moment and turn them into darkness. Then, look away from all artificial light. Maybe you are lucky.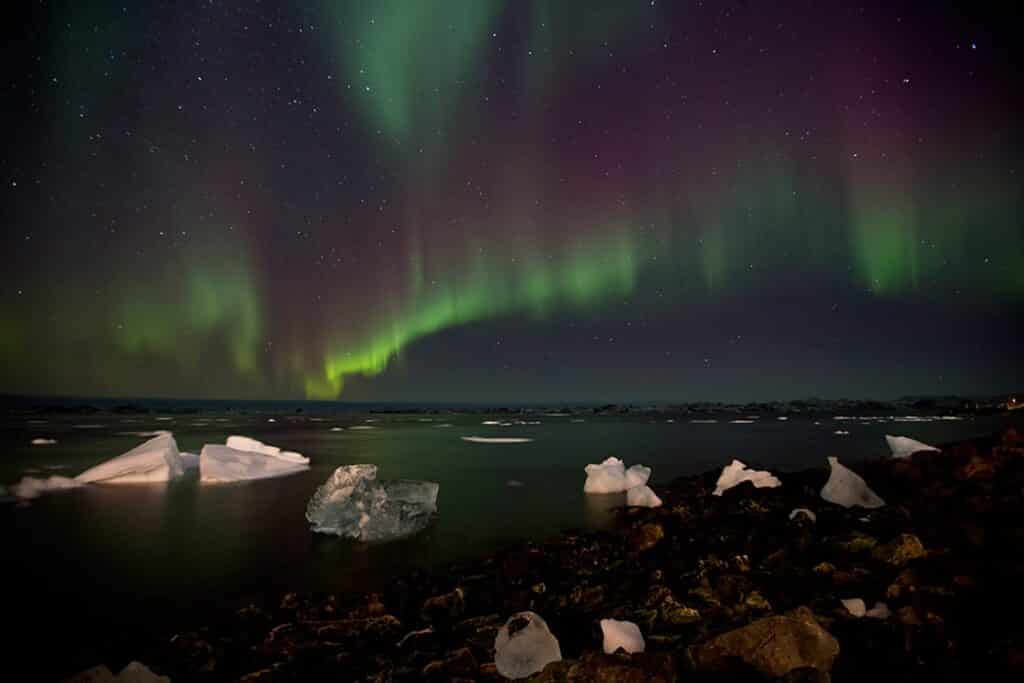 Do I see the Northern Lights during the night?
It is impossible to make a deal with the Northern Lights. It would be fantastic. Imagine a "light advertisement" that said, "Tonight, the Northern Lights plays from 10 am to 12 midnight." But that's unfortunately not so.
If you are going on a daily excursion and cannot keep awake all night, you can set your alarm clock until midnight and get up and look for the Northern Lights. If you stay in a hotel, you may also ask if they will wake you up, if there is a northern light. But, of course, the surest is always to have a plan for yourself.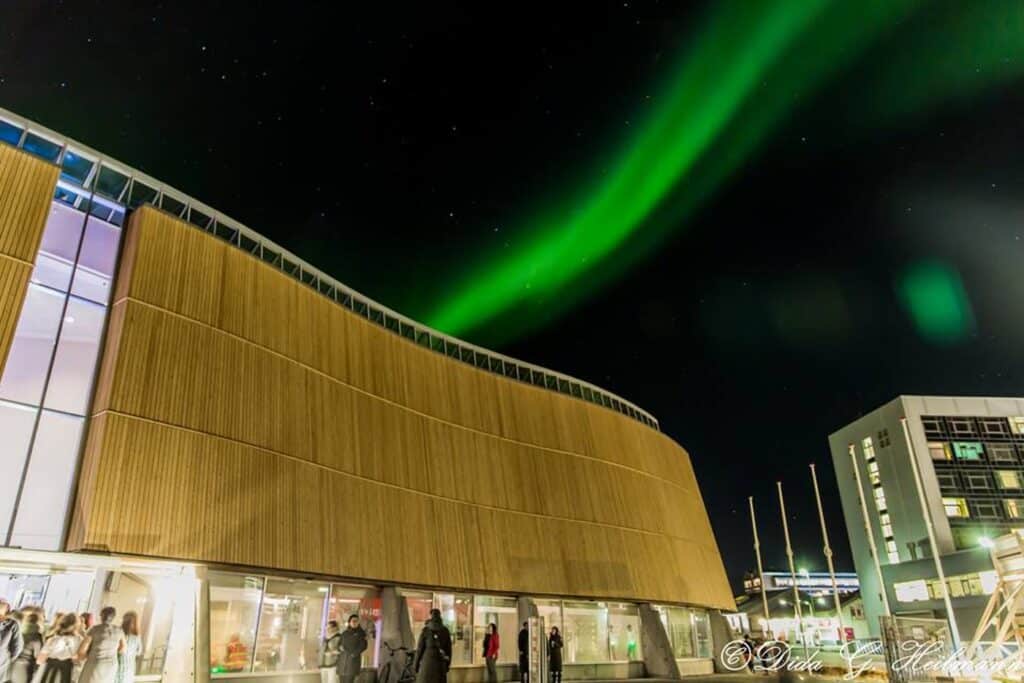 How to capture the Northern Lights?
Taking pictures of the Northern Lights can be very difficult. Especially if there are other light sources around you, that you can not escape. It usually requires more than a mobile phone camera, as a minimum a good SLR camera, and insight into low-intensity light shooting in the dark.
Everybody can learn it, but it's another article. Instead, I will say to all of you who visit Greenland and see the Northern Lights. Go ahead. Take the pictures you can. It does not matter if you take the perfect picture if it helps you remember the moment.
And my point is to be in the present. Enjoy the Northern Lights while it is there. Experience it with the eye and not through a camera lens.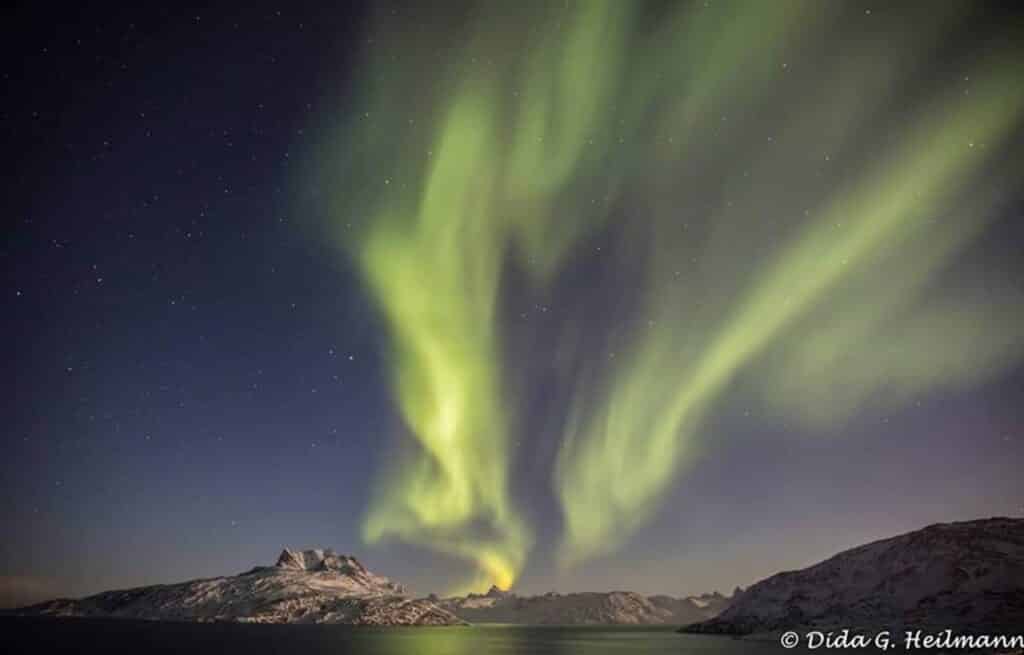 5 tips on how to catch northern lights
The best way to find out if there are northern lights is to ask someone locally. But if they are not sure, then here are some things you can consider.
Check the local weather forecast. There must be clear weather in order to see the northern lights.
Look out into the sky. Is it dark and black, full of clouds? Does a strong wind blow? How much is the likelihood of clarity in the weather?
Find a place outside, without much artificial light. Maybe somewhere on the mountain behind the place you stay. You may need to move further afield. Remember to step outside the restaurant between dishes – you might be lucky.
Check the internet. There are several good sites that provide forecasts for Aurora Borealis / Northern lights. Eg. aurora-service.org and aurora-service.eu
Bring warm clothes. It will be a shame if there is a northern light and you have to go inside because you are freezing.
---
---
Have you spotted or want to see the Northern Lights in Greenland? Let us know in the comment section below.
Other interesting articles