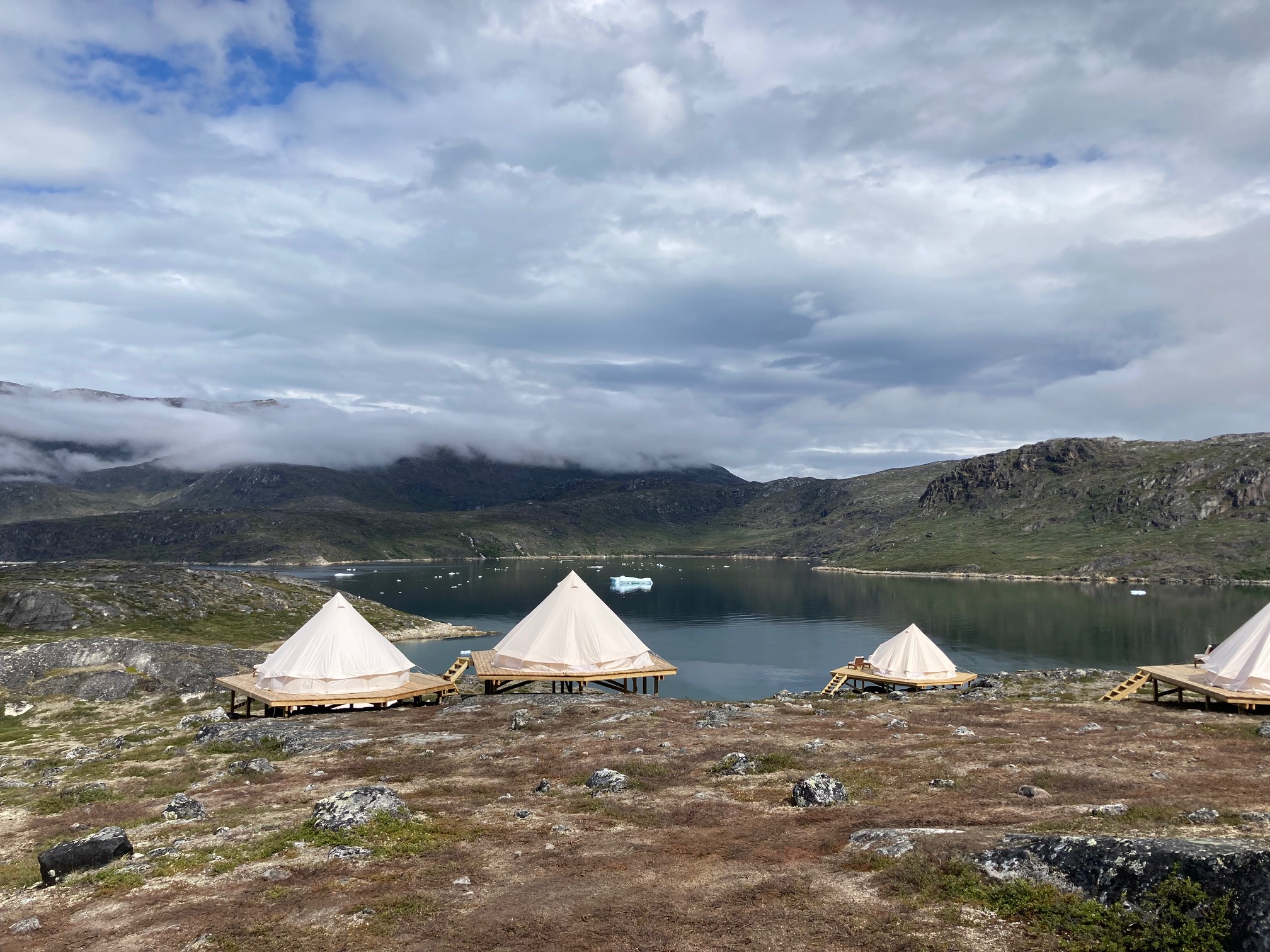 Glamping in Greenland – Camp Kangiusaq
We stand expectantly on the harbor, ready for a two-hour sail that will take us deep into the Nuuk fjord, where our retreat from the city life in Nuuk, Camp Kangiusaq, awaits us.
The tour boat, Ice force V, is docked and we are treated with croissants, coffee, and soft music on the radio on board.
On the way, you are literally taken aback by the many high mountains that surround the Nuuk fjord, before you finally reach the mouth of the Ice Fjord.
As we have come further into the Ice Fjord, we go out on deck to take better pictures of the passing icebergs and steep mountainsides.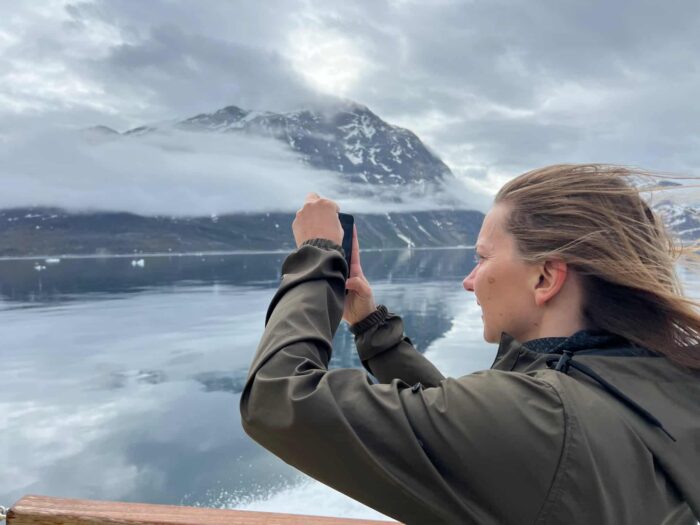 With the wind in our hair, we almost fly over the water, while the captain maneuvers us through the Isfjord in a true top-gun style.
I am asked if it is my first trip to Greenland, to which I enthusiastically answer yes, and I can see my enthusiasm is contagious because she is quick to reciprocate it.
Glamping in Greenland ahead!
When we arrive, we go ashore in bright sunshine to the large tents located on top of a hill with a nice view over the area.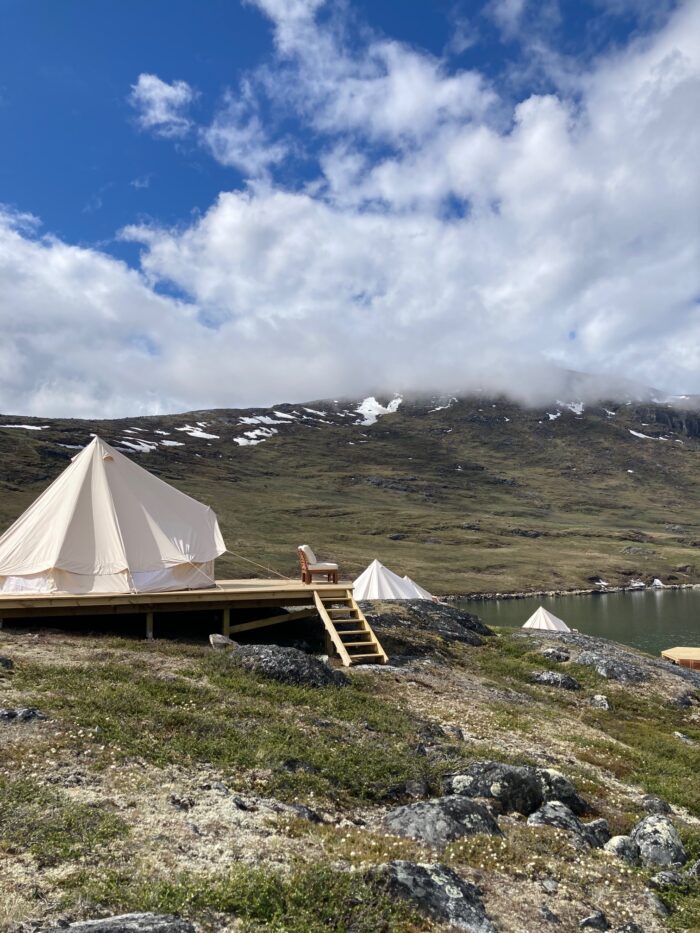 The tents are comfortably furnished with large and comfortable beds, and each tent has its own terrace.
Here, you can enjoy freshly brewed coffee in peace and quiet, with the sound of the trembling river in the background, and count icebergs meanwhile!
Immediately after arrival, you can quickly feel your pulse drop and the calm comes over you. The silence is striking.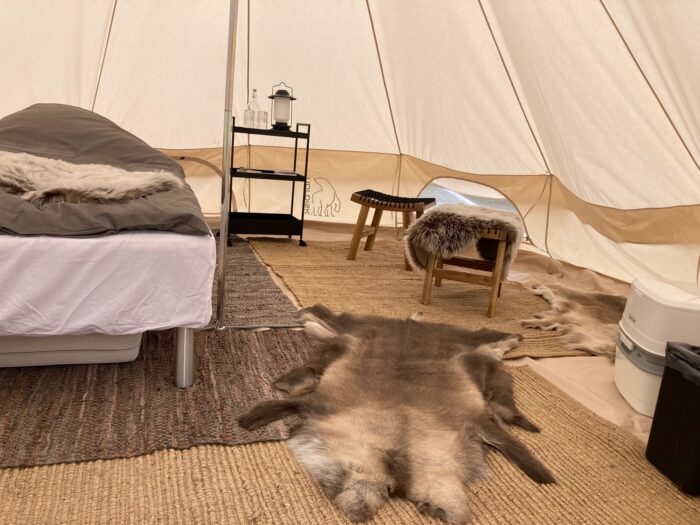 Relaxation and adventure
At Camp Kangiusaq, there is space to relax completely, but also plenty of activities for the adventurous.
The camp offers both kayaks and SUPs (stand-up paddle boards).
If you are not a big fan of water, you can take a hike around the unspoiled nature, and if you are really lucky, you can spot a reindeer.
All meals are included and consist of local ingredients, such as musk ox steaks from the grill or comfort food in the form of reindeer stew.
The food can be enjoyed in the large exhibition tent in a social gathering with the other guests and the crew, or you can choose to retire to your tent or select your very own spot.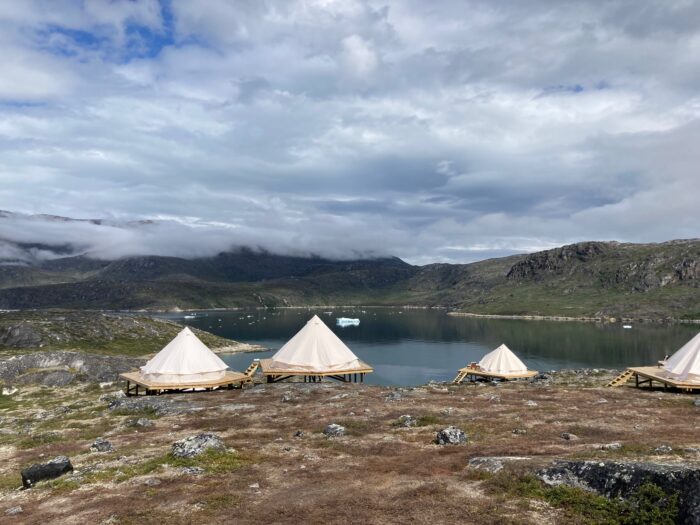 The peace and the view is a very authentic experience that goes directly into the soul. Here, no one else comes by and disturbs.
With Camp Kangiusaq's completely unique location, you are guaranteed a front-row seat to Greenland's unique nature. This is what I call glamping in Greenland!
If you want to try the glamping life in Greenland, I have two pieces of advice you can take with you. Bring mosquito repellant and turn off your phone (you do not have internet anyway) and let the peace of nature fall upon you and let the coziness set in.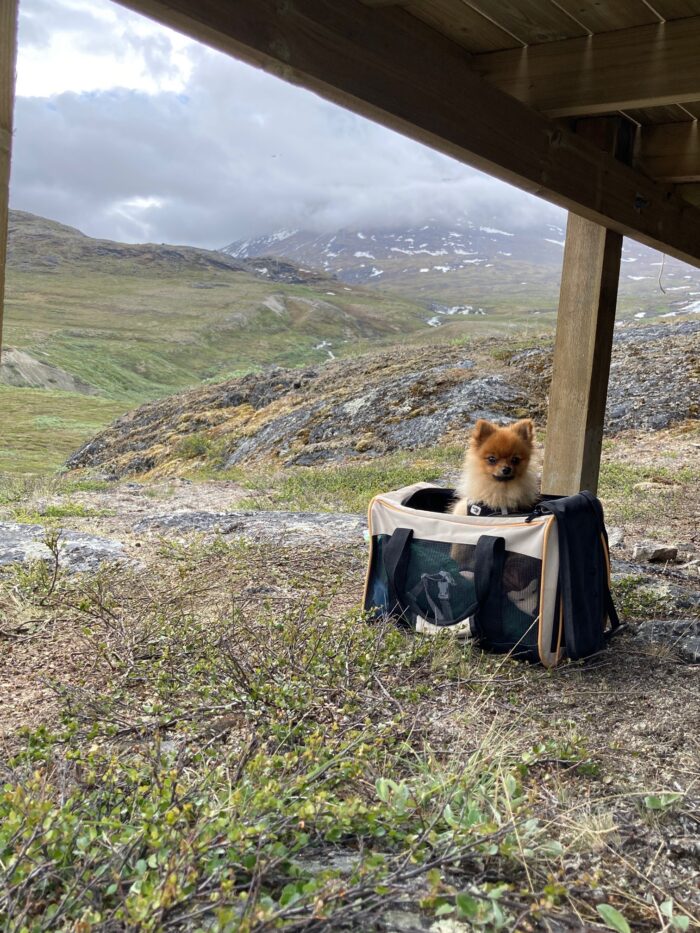 Read more travel blogs from Karen Ulfkjær
Other interesting travel blogs