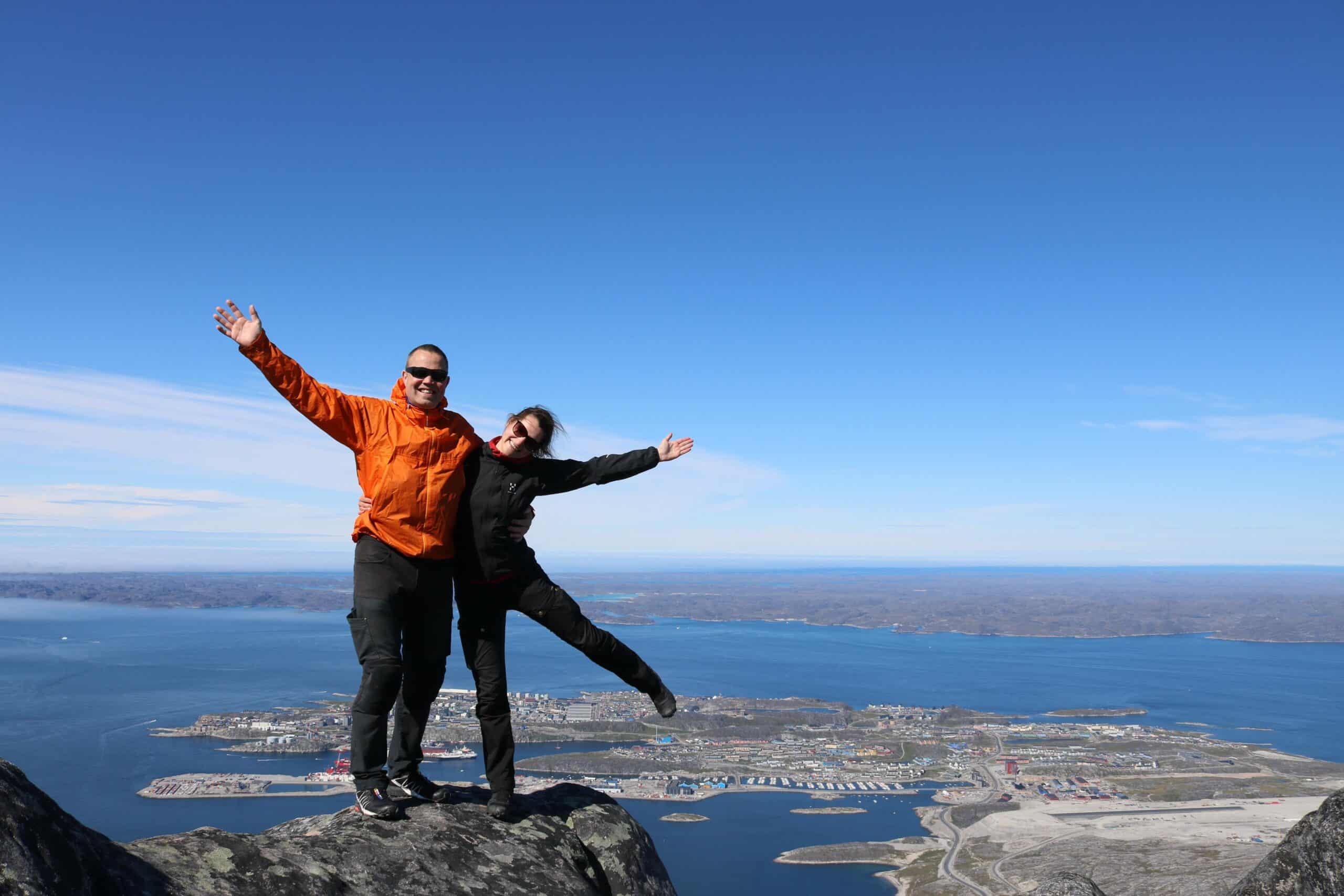 Ukkusissat Hike – Nuuk from above
If you are interested in seeing Nuuk from a new perspective, the Ukkusissat hike is a perfect choice. The hike is beautiful and the view from the top is just spectacular.
The Essentials
When taking the hike, there is a packing list of things that are important to remember:
Hiking shoes and good clothes (dress in layers, so you can always take some of the clothes off if it gets too warm).
A water bottle and snacks (there are waterfalls to fill up your bottle on the way).
A big trash bag (not serving the purpose you think, we will get back to that;)
Ready to go
When you have packed the essentials, you are ready. The hike up there starts by walking up a gravel road to Circus lake. This is not a very steep road and it takes around 10-15 min to walk to Circus lake from the road. You will be walking beside the lake the whole way up, and when you reach the lagoon, it's just beautiful.
When going to Ukkusissat you will have to walk on the right side next to Circus lake, for a little while before you can cross over and hit the bottom of Ukkusissat. The route up there is marked with orange dots on the stones, but it's not super well marked, so I would recommend doing the hike with an advanced guide or someone who is familiar with the hike, and if you haven't tried the hike before I wouldn't advise you to do it alone.
The hike up there takes around 4 hours, since it is quite steep and breaks for drinking and photoshoots are included. The view is breathtaking all the way up to the top. There is this very cool rock that looks similar to the rock from the lion king (just a smaller version) and if you take the picture just right, it can look like you are hanging from a cliff over Nuuk.
Clearly, we didn't manage to do it right;) If you do manage to do it right, you can get a pretty cool photo.
Ukkusissat is 772 meters high, and when you are almost at the top there is this relatively flat spot where people have been building Inuksuks for years. They are so cool and it's amazing to think about all the work that has gone into building them. Definitely, a great spot to take some photos.
You are almost there!
When you reach the last part of the hike up, there will be a part where you will be crossing a path of snow. The snow on the top is there all year around, and it can be quite slippery. If you take the hike in the summer season, the snow can be quite soft, so be careful if it's a warm day where the snow is melting, but nothing to worry about.
When you reach the top you will be met by a breathtaking view. A 360 panoramic view of our beautiful capital. You can see the fjordsystem, Sermitsiaq, Nordlandet and Hjortetakken. Nordlandet is the flat land you see in the background of the image below. They say, if you can stand on the top of Ukkusissat and see the water on the other side of Nordlandet, you can see approximately 100km.
You can easily spend a bunch of time just observing your surroundings, and have a snack and a great break. There is a pole on the top, where people tie things to it, as a mark of being there. I think it's very cool to leave your mark on Greenland, and also look at what other people left, such as buffs and keychains or some kind of souvenir.
Down we go
Now on the way down is where you will need the previously mentioned plastic bag. You will be making two holes in the bottom, where your feet can go through. You jump into the bag and then you are ready to slide down in the snow. The holes for the feet are mainly so you can use your feet to break with since you can get quite a lot of speed on when you go down. This is the fun part of the hike. You will get wet shoes and pants, but it's totally worth it!
The tour down is the same path as you followed when hiking up. It took us around 30 min to get down, which was without breaks and at an unusual speed, normally it will take us around 3 hours up, with a 30-60 min break at the top, and then around 1 hour down to the Circus lake. When walking down you need to take it slow, cause you might be tired in your legs, and there are often spots where the rocks can be quite slippery.
Often there will be a bit windy on the top, and therefore no mosquitoes, which is nice, but I would recommend bringing a mosquito net if you are taking the hike in the summer season since it can be quite annoying to deal with mosquitoes while hiking. The small black dots you can see on the image below is mosquitoes.
When you reach the bottom again, I will assure you that if you aren't a regular hiker, your legs will be shaking and tired. But in the end, it's all worth it, cause it's just an amazing feeling when you reach the top as well as when you are back down and look up at the mountain, knowing that you have been standing on the top. The hike is considered moderate and steep in some places so it's definitely a challenge if you are up for it;)
---
If you want a guided tour to Ukkusissat, check the availability here.
If you are looking for a calm hike, with a great view, look at our hike to Quassussuaq here.
Interested in hikes all around Greenland, click here to explore our tours.
Other interesting travel blogs